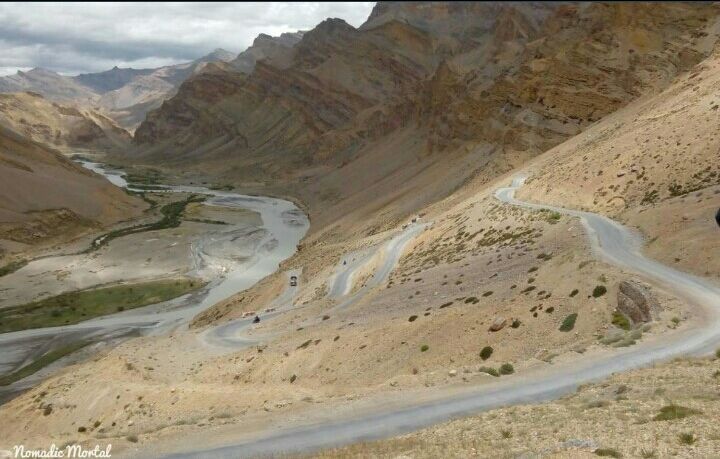 OK, so I've been really busy and this long overdue blog post took a complete backseat. Absolute apologies for that!
If you haven't already read the first 2 parts of this series, here is the link:
1. The Mountains are Calling – Part 1
2. THE MOUNTAINS ARE CALLING – PART 2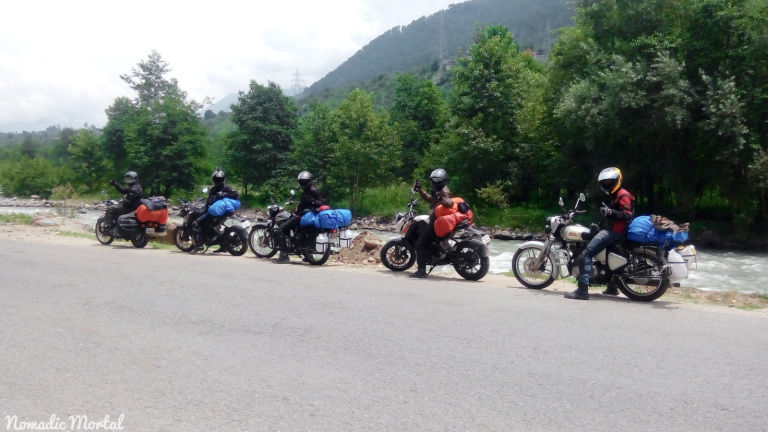 DAY 10: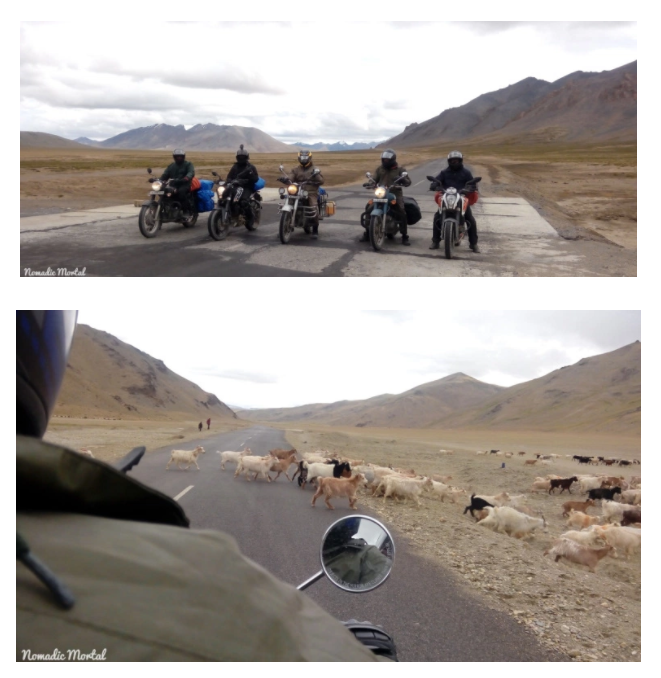 Mandi – Manali (110 kms):

Woke up today with the widest smile because I was headed to Manali. Being a South Indian, this is one of those coveted tourist spots that I always dreamed of visiting. Naturally, I was super excited. The amazing views from my room in Mandi obviously added fire to this bliss. After a quick breakfast, we were all loaded up and ready to set out.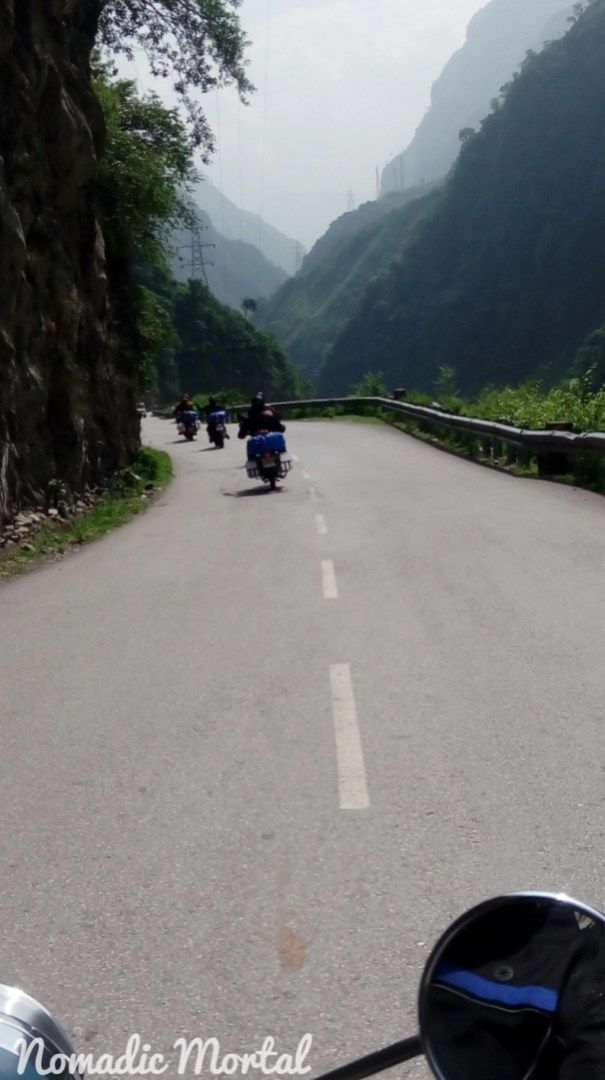 As I write this, I can still smell the freshness in the air that day. The day when dreams were so close, you could almost taste them. Although the distance from Mandi to Manali is only 100 odd kilometers, we took a jolly good time to reach Manali. We stopped at every picturesque spot to click photos and trust me that spot was everywhere. The Beas River kept us company all along, roaring furiously and yet beautifully. Watching her ferocious flow and hearing her roar soothed my soul. It made me smile, it is still making me smile. Small things like this are what journeys are made up off.

We realized we were late when our 'Permit coordinator' in Manali called us up and we had to hurry up. We reached around lunch time and submitted our documents at the SDM Office on Mall Road and our Rohtang Pass Permits were stamped and given to us within minutes. And yes, it was free. And this is when we realized we didn't need her(Permit Coordinator) in the first place and we could have done this all by ourselves. Any who, we had to pay her commission now which was about 100/bike. 

There was something more concerning, the next day was Tuesday. The day Rohtang closes to be cleaned. YUP!

We didn't know this since travelling through this route (Manali-Leh) was not in the plan. Traffic is not closed for Leh-Manali and hence it never came up during our "research". We spoke to the officials in the SDM Office and they told us that traffic will be permitted until 6AM, so we had to cross the check post before that. Now we had two options, leave right away and take a halt at Sissu/Khoksar or wake up super early and cross Gulaba (Check Post) before 6AM. We quiet obviously chose the latter since we didn't want to risk not getting properly acclimatized. Our hotel was a good 25 kilometers from the check post. So we had to wake up super early in order to make it across. The plan was set!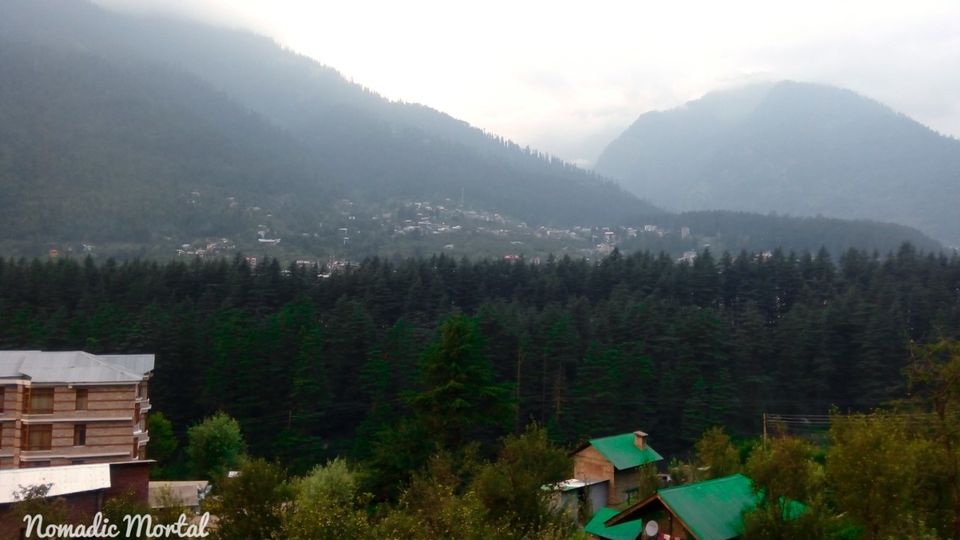 We decided to enjoy Manali for the rest of the day. Manali did not disappoint, the chill in the air, the far off snow caped mountains, prayer flags welcoming you everywhere, the pretty looking apple trees, so many bikers, everything was so perfect. We decided to get all the bikes checked by a local mechanic before undertaking the treacherous Rohtang and I'm glad we did. The bike which one of friends rented from Delhi was in pretty bad shape and he had to shell out major bucks to get the chain sprocket fixed. This was really upsetting but thank lord that it was fixed on time. Being stuck on a high pass because your chain sprocket gave up on you is something you do not want.

We made some great friends here who got us a room at their hotel in Manali and also at our next halt, Jispa. It is always such a pleasure to meet like-minded people from across borders.

Day 10 Stay: Hotel Woodstock Inn, Manali

Pros: Excellent Property. Big Rooms. Superior Bathrooms. Good Staff.

Cons: Tucked away.

FEW POINTERS: For all your Rohtang Pass Permit related queries, you can refer to Wander The Himalayas. Two wheelers need to get permits as well. There is no fee for two wheelers. Permit needs to be applied at least one day prior to travel. Rohtang is closed for Manali-Leh Traffic on Tuesdays. SDM Office accepts application only till 1PM, so plan accordingly. Documents which we submitted were – RC Book, DL, and Emission Certificate.

There is a nominal entry fee for non-HP vehicles to enter Manali.

DAY 11:


Manali – Jispa (130 kms):

We woke up at 3:00AM, sleepy eyed and worn out. But we were excited at the same time to start our official Manali-Leh 490 kilometers of epic journey. We quickly got ready and loaded our bags and bid adieu to Manali at 4:00AM. We started on towards Gulaba Check Post slowly. It was pitch dark with no one around sans a few trucks.

First problem encountered was on one of the many curves climbing towards Gulaba, one of our KTM Dukes wouldn't switch on. These bikes have no kick start and hence our only option was to push it a certain distance and then jump start it. This went on for a few minutes until it started again. OK, so we were a little shaken up by this unpleasant surprise. To add to our dismay we spoke to a couple of truck drivers who warned us that it is too foggy and we should be extra cautious. Thanks for scaring us more!

Alas, we reached the check post well within time, submitted our permits, paid the fee and now we could relax. We waited a while here for the sun to rise. It was so cold, my fingers were numb, my neck was exposed, chilly air seeping in through little gaps and sending a shiver down my spine. But it was fun! We moved on after it became a little bright and took a halt again at Marhi. The joy that a hot cuppa chai and hotter cup of maggi will give you at these temperatures is something that I cannot express in words. I ate that maggi like I had not seen food in days. ???? The view from our little Tea Stall was to die for. We all just sat there and admired the beauty, our first ever encounter with the Himalayas. Love at first sight, I would say.


The climb to Rohtang was pretty decent, the road was not as bad as I had expected it to be. Rani Nala was pretty much nonexistent due to the early hour – Thank god! Second problem was encountered here when our bullet's luggage rest broke off. Great! My entire luggage was on top of that.. We had to shift all the luggage onto another bike and burden that bike unnecessarily. I was really scared that the other bike will have some problem due to this. But we had no option.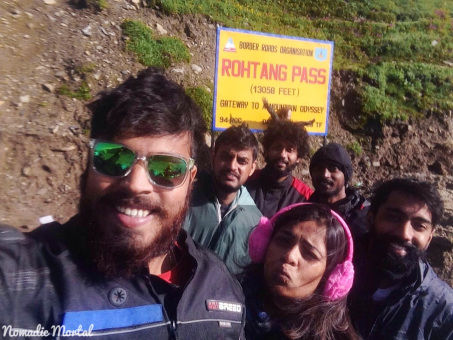 The beauty of Rohtang on a closed day is something that we got to enjoy unexpectedly. No traffic and very few people at the top. Standing on top of my first ever high pass at an altitude of 13000 feet and feeling so small because of the sheer scale of the landscape that unfolds in front of you. Mighty mountains, glacial rivers flowing down them, sparkling snow in the distance and no sign of civilization. Isn't this what paradise is made up of.?

The ride down from Rohtang was harder and longer than we expected. The road was as bad as it could get. BRO with the help of locals were seen at every turn working on making these roads better. A big salute to all of them!

SideNote: Girls, beware, you'll have pee quite often especially if you're travelling on a bike. Do not stop taking in liquids because you are uncomfortable peeing in the open because that will most certainly affect your health and result in AMS.

The first check point was at Khoksar which comes right after your descent from Rohtang Pass. You will need to enter details such as vehicle registration number and your own names, after which you will be allowed to pass. We were exhausted by now and leisurely took another Maggi-Chai break. It was a pleasure drinking water right from a pipe connected to a glacial river here. The water was so cold and refreshing.
We continued on the scenic route, our next stop was Tandi Petrol Pump. It is the only petrol pump on the Manali-Leh Highway. The next petrol pump was another 365 kilometers away. The road in and around Tandi was in horrific shape with so much dirt and dust, there was a layer of dust on my jacket and my luggage. Of course there was a long line of bikers and truckers waiting to fill up there tanks and cans.


Soon after we left, one of our Dukes was having trouble starting, again. We decided to get it checked at Keylong since it was the only major village on this route. We found a mechanic who said it was the battery problem and he could only charge it since he didn't have a new one. We agreed to this and decided to get the battery changed once we reach Leh. We had a scrumptious lunch in the meanwhile. I wasn't sure if it was the hunger, the altitude or if the food was actually delicious, but I have never had such yummy Paneer anywhere.


After the bike was charged, we left to Jispa. We reached around 3PM, crashed in our room, only to wake up for dinner. The temperature was lingering in the single digits and I was too tired to go out and enjoy the night sky with an umpteen number of stars. One of my regrets in this trip would be this.

Day 10 Stay: Yak Hotel, Jispa

Pros: Big Rooms. Good bathrooms. Great Location.

Cons: Expensive.

Few Pointers: Preferably cross Rohtang before 9 AM in order to avoid overflowing Nalas. Wear a muffler to cover your neck otherwise the air seeping in through that gap will make you shiver. A good pair of water-resistant shoes is a must to keep your feet dry and warm. Get enough rest in Keylong/Jispa to help with acclimatization. Only BSNL Network available in Jispa.

DAY 12:

Jispa – Leh (330 kms):

The big day was here, the day us six would get Leh'd. *Happy tears*

Although we did plan to start super early, the weather and the temperature made it almost impossible. It was drizzling and there was a thick dark blanket of cloud shrouding the sky. We packed up and left at the first light of day, it must have been around 6:30 AM. Today we had the daunting task of crossing not one but four super high passes. I was worried and apprehensive. All of us were. Nobody wants to get sick, get hurt, get affected by AMS and ruin every ounce of effort you put into this trip. With a little prayer and a lot of hope we started the journey.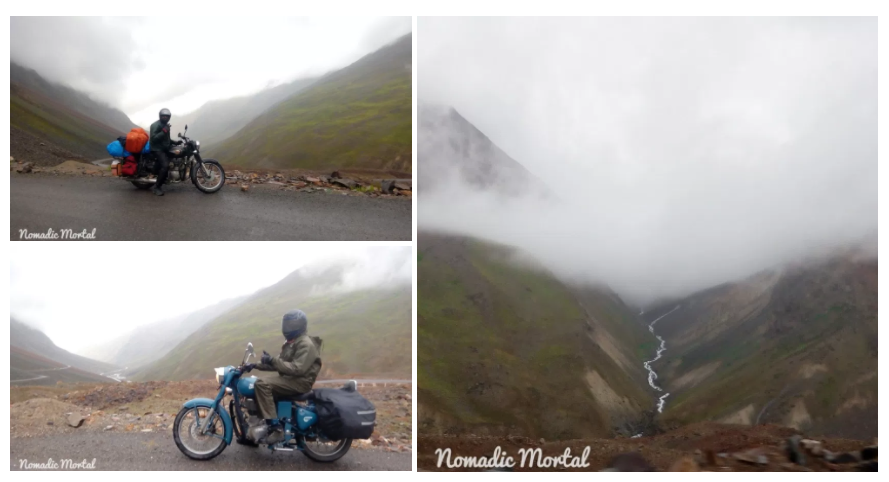 BaralachaLa Pass (4890M):

Our first pass was Baralacha La. The roads were decent, there was tarmac in certain places. We passed by our second checkpoint in Darcha where we had to enter our details again. We passed by the highest bar in the world – ZingZing Bar. All this while shivering even with 5 layers of clothing. Fingers became numb when we took off gloves and taking pictures just got harder. We crossed some Nalas on the way. The first one was super scary and I got down to cross it by foot. By the second and third one, we had gotten used to it. A major area of concern was wet feet and honestly my water-resistant shoes helped a lot in this matter.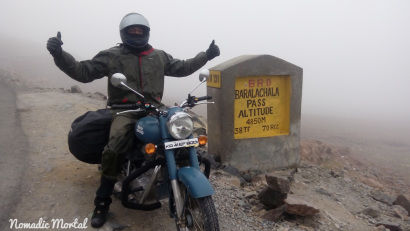 When we started our climb to Baralacha La, the darkness had overpowered daylight. The thick fog had taken over and there was hardly any visibility. In retrospect, it was a bad idea to cross a high pass under such circumstances. The dense fog cover was so thick that a few of my friends completely missed the sign board which says "BaralachaLa Pass". Of course, Suraj Tal was completely covered and we couldn't even figure out which way that lake was. Teeth chattering, hands shivering, bone chilling ride that was. As soon as we descended, we entered a tent in Bharatpur for respite. Again maggi, omelet, chai was for breakfast. Thankfully we had taken these packets called 'Warmee', which are air activated body warmers. At this point, all of us had one inside our gloves and it helped so much. The fog slowly started clearing and I was never this happy to see the sun.
The next checkpoint was at Sarchu, which is also the state border between Himachal Pradesh and Jammu & Kashmir. The road from Bharatpur to Sarchu was bad to say the least. We were hovering over 4000M the entire stretch and it was taking a toll on our enthusiasm.

The straight stretch of road at Sarchu is so scenic with towering mountains on both sides and colorful camps stretching as far as the eye could see. The beautiful luscious green mountains had slowly faded away. They had turned brown and barren and majestic. It was magnificent to ride through this shift in landscape. It reinforced the thought that,

"Nature is the ultimate alpha"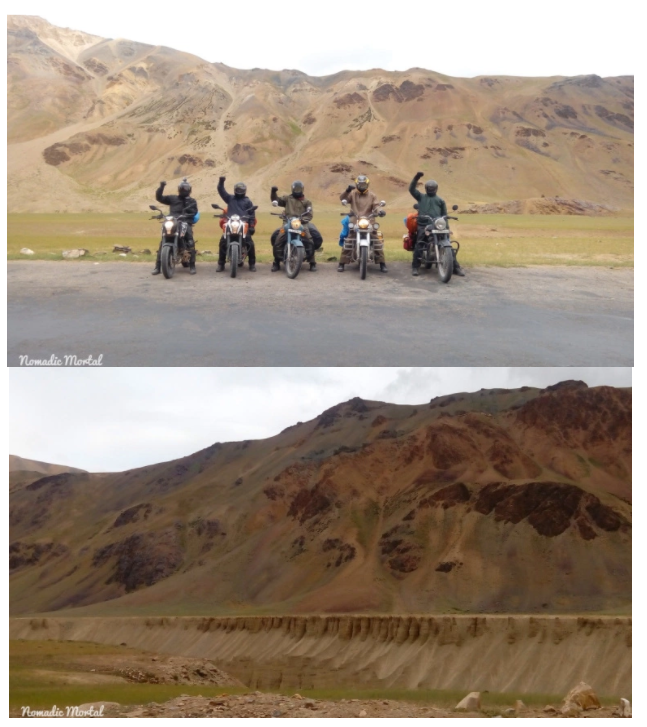 Gata Loops:

This is a series of 21 loops where you gain considerable amount of altitude from 4190M to 4620M. It is one of the most beautiful spots on this route. Here you can truly enjoy the desolateness that Ladakh calls home.

The truck drivers are so considerate, they smile at you and give way and wish you luck. It will make even the bitterest person smile. One of the things that we all followed religiously was to wish luck to other bikers passing by and to salute any Army/BRO persons we came across. It fills a sense of unreasonable pride within you and makes you happy and elated. ❤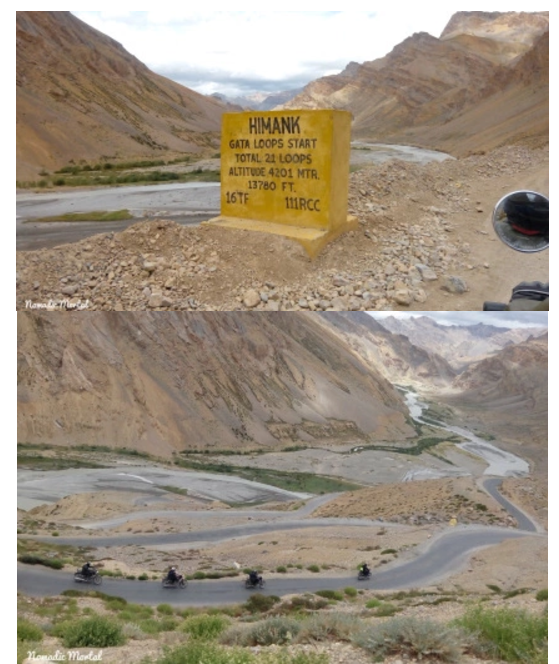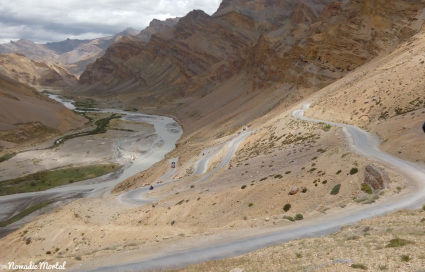 Nakeela Pass (4739M):

This place is so pretty with thousands of cairns (stack of stones) made probably for the safety of all travelers. We too made our own cairn in the hope for a safe passage. There were so many prayer flags fluttering happily. There is something about these flags that gives you a sense of safety. 

This is where 2 of my lovely friends started experiencing certain signs of high altitude sickness. We all hydrated a lot, pushed away the uneasy feeling and moved on.


LachungLa Pass (5065M):

We had officially hit the 5K Mark on the Altimeter. On top of the pass is where we got stuck between trucks and an Army contingent. Traffic Jam at 5000M or for a more dramatic effect Traffic Jam at 16616 Feet. Drained as we were, this was pushing us over the edge. What brought a smile on our face were a bunch of Army men from our homeland-Karnataka, who recognized the number plates and came to speak to us. Hearing your mother tongue in a land so remote and far away is feeling indescribable. They spoke so highly of bikers who take up such daunting journeys, it almost brought a tear to my eyes. ❤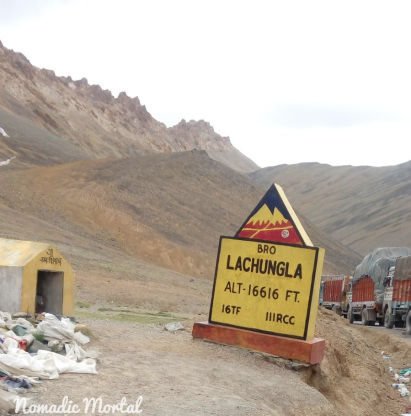 But staying at such a high altitude for so long took a toll on all of us. By now, all 6 of us had headaches and we were completely drained of energy. It was already 2PM when we crossed LachungLa and we didn't want to get delayed anymore. So we decided to ride nonstop until Pang.

The road to Pang was one of the worst roads we experienced on this journey. Gravel and Boulders and what not on the roads. Road conditions kept deteriorating and our enthusiasm kept fading. We were beat! The landscape kept becoming more and more unrealistic. It started giving me the feeling that we were on Mars. Honestly, the beauty here is other worldly. I envy the people who call this part of Earth, home.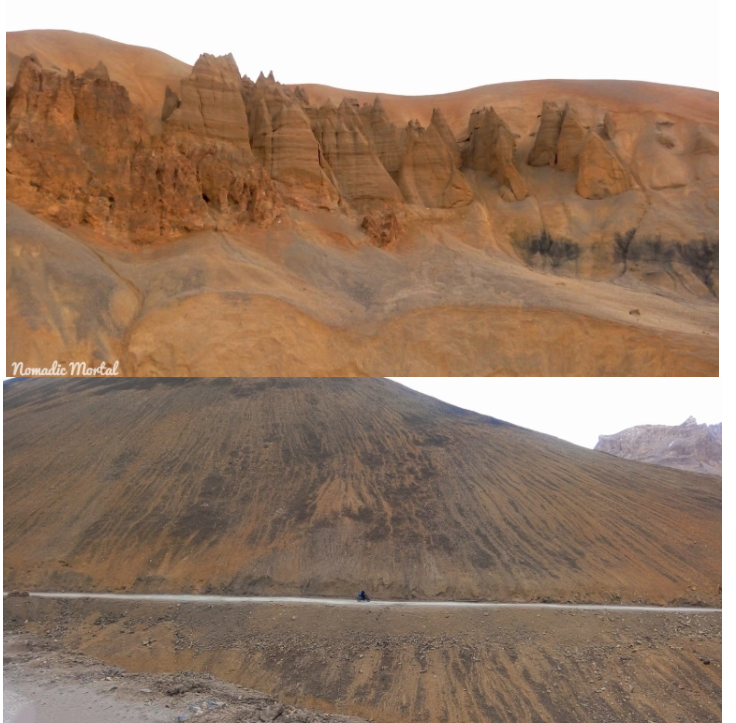 Pang was so far away. Every milestone we looked at and sighed 'OMG! Still that far?' It was taxing mentally and physically. I was prepared to give up. The first signs of AMS had started showing up in all of us.

Pang (4500M):

When we finally reached Pang, we crashed at the first restaurant we could see. Our waiter (Saif Ali Khan look alike) was the sweetest and he got us garlic soup which he claimed would help with the altitude sickness. Sure enough, it did. My headache was fading away and my appetite was back. We all ate until we were sated and decided to rest for a while. We were seriously considering giving up and staying in Pang for the night and heading to Leh the next morning. Over some Garlic infused tea, we got talking with our waiter and he pushed us to go on. He honestly motivated us, told us the roads were beautiful from here on and that we will love the ride. He even went as far as saying you'll reach Leh in another 2 hours. 


Morey Plains (4700M):

After re-energizing and getting pumped up by our waiter's pep talk, we were ready for the final stretch. This also happens to be the hardest one since the next pass is a monster in disguise. But we didn't know that yet.

You'll pass by the highest Transit Camp in the World while departing Pang. This small settlement and the army camp look so tiny and beautiful as you start your ascent to the 40 kilometer stretch of straight road. Whaaat! A straight road that lasts 40 kilometers in the middle of the Himalayas? How is that possible, right? This beautiful plateau lined with mountains in the far distance on both sides is a pleasant surprise. The scenery is almost desert like with sheep and yaks and shepherds dotting the landscape. The road conditions had improved drastically and my soul was jumping with joy again. Morey Plains is an ideal spot to click photos. Anyone could click pictures here that would make wonderful wallpapers. The beauty of this place is such. The weather was still not in our favor, the clouds were still marring the sky. We could not witness the clear blue sky that these plains are known for.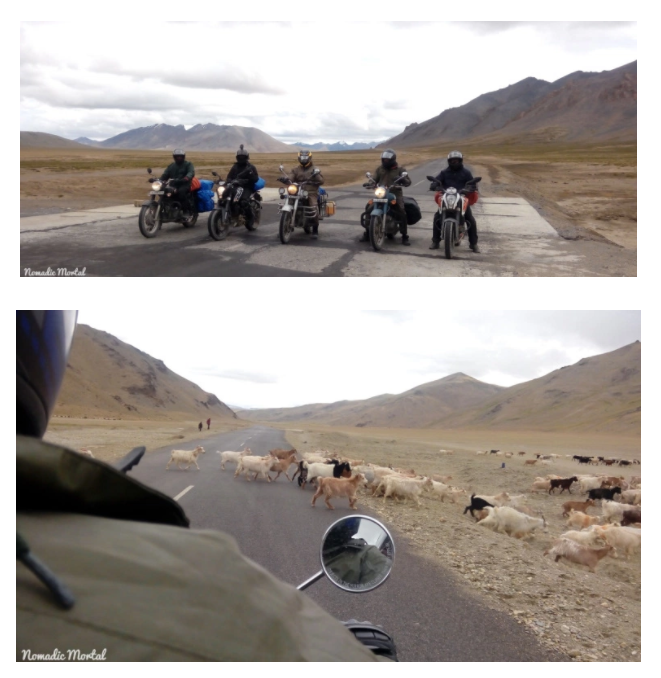 TanglangLa Pass (5328M):

Claimed as the second highest pass in the world, it was something I had been waiting to see. Again there was thick fog, it was drizzling and it was extremely cold. We decided we would not stay on top for more than 10 mins since we did not want to risk AMS. The roads were brilliant all the way and that kept us motivated. The drizzle slowly turned into snow and yes just like that, I was experiencing my first ever snowfall. It lasted for hardly 5 minutes but it was such an awesome feeling. This was where we hit subzero for the first time. When we reached the top, we were all so elated, throwing tiny snowballs and clicking pictures.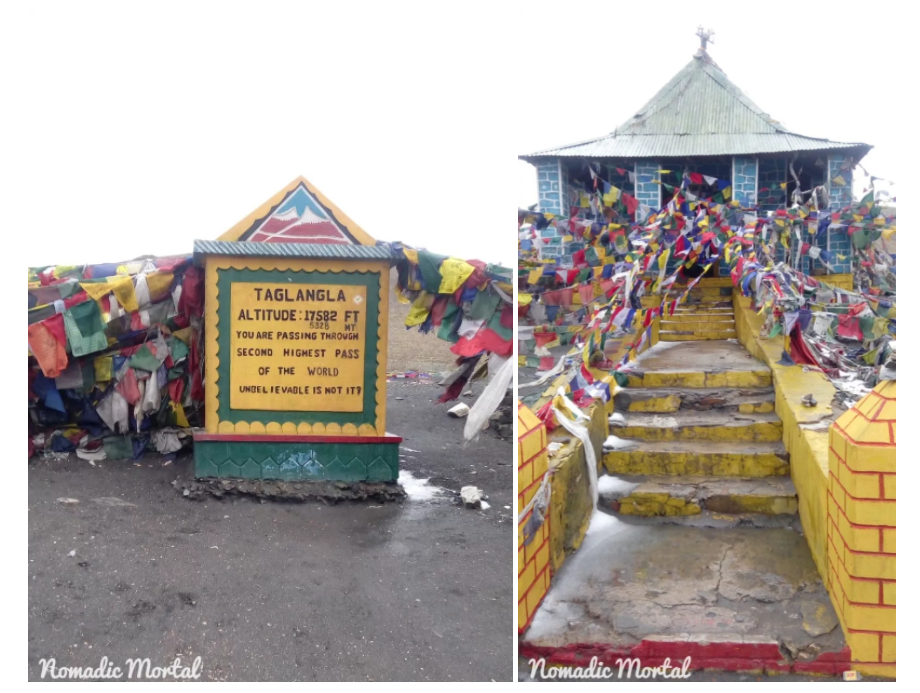 Take a few steps – out of breath, talk too much – out of breath, even breathing would make you out of breath. In all our joy of seeing snow for the first time, we completely forgot about one my friends who was silently suffering inside the lone tent on top of TanglangLa. When I saw him come out of the tent, I realized he was having a very hard time. But he forced a smile on his face, took a photo next to the milestone and assured us that he could go on.

Not even 10 mins after beginning the descent, we find him puking on the side of the road. This raised some major red flags and I was completely freaked out. Quickly we got him to drink loads of water, gave him snickers and a clove of garlic to gulp down. By the time he got better, another one of us was having a hard time breathing. All of this when we were 5000M above sea level at subzero temperatures. All I wanted was to descend as quickly as possible.

On our way further down, we found an army camp and decided it was best to have them checked over there. So off went the two to get pampered by the Army while two of sat outside waiting for them and two others had already reached the nest village, Rumtse. We had no network to call and check on each other. 

While waiting here, the crosswinds affected me a lot and I started feeling extremely nauseous and it took effort to breathe. As soon as they came out after getting thoroughly checked, my other half and I quite literally raced down nonstop till Upshi. After reaching this place, and being force fed dinner, I started feeling much better. Here is where we finally got network to call back home and inform worried parents that we were ok and that we made it.


Leh (3500M):

I was quite ready to sleep in Upshi but my better half insisted that we make it to Leh. Although it was so very late, we rode on one behind the other through a night so dark that batman could fear it.The sky was filled with stars shining bright like a diamond. The roads were beautiful all along and the entire stretch was army area. We passed by Thiksey and Shey Monastery as well.

Dead tired and sleepy but butterflies in my stomach, I was smiling. We had made it, all of us, safe and sound, inspite of all the hardships we faced. We had just got LEH'D. All of us were standing at the petrol pump in Leh at 11:30PM and just smiling. No one said anything, no one wanted to say anything. We were all just happy.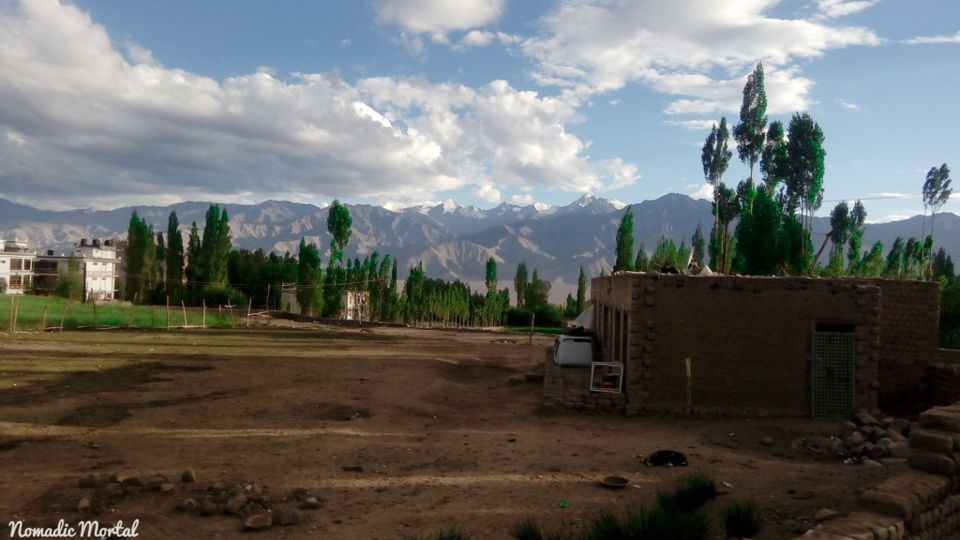 See, dreams do come true! ❤

If something is important enough, you do it even if the odds are not in your favor.

– Elon Musk

This trip was first published on Nomadic Mortal.