Milan as we all know is not just the fashion capital of Italy but a global hub of fashion, art and design.It is very well known for its high end restaurants and shops.
So in the wee hours of the 13th morning we boarded our flight from Delhi to Milan with a stopover at Istanbul . We touched down at about 4 p.m and checked in to our lodging , freshened up and headed out to grab some grub and decided on getting ourselves the signature Italian Pasta !! Being Indians we're used to spicing up our meals a tad bit more than what we got there , but nevertheless , the pasta was rich in flavors.
We then decided to explore the city of Milan and set out on a tour to "Milan Centrale". The central station of Milan is considered as one of the most beautiful European train stations. It was originally built in 1864 and is pretty much in the heart of the city , close to most of Milan's popular sites. The station had some stimulating cafes and was quite a hub for high street fashionistas with shops like Bershka, Parfois etc . ( Beware of the pickpockets though) .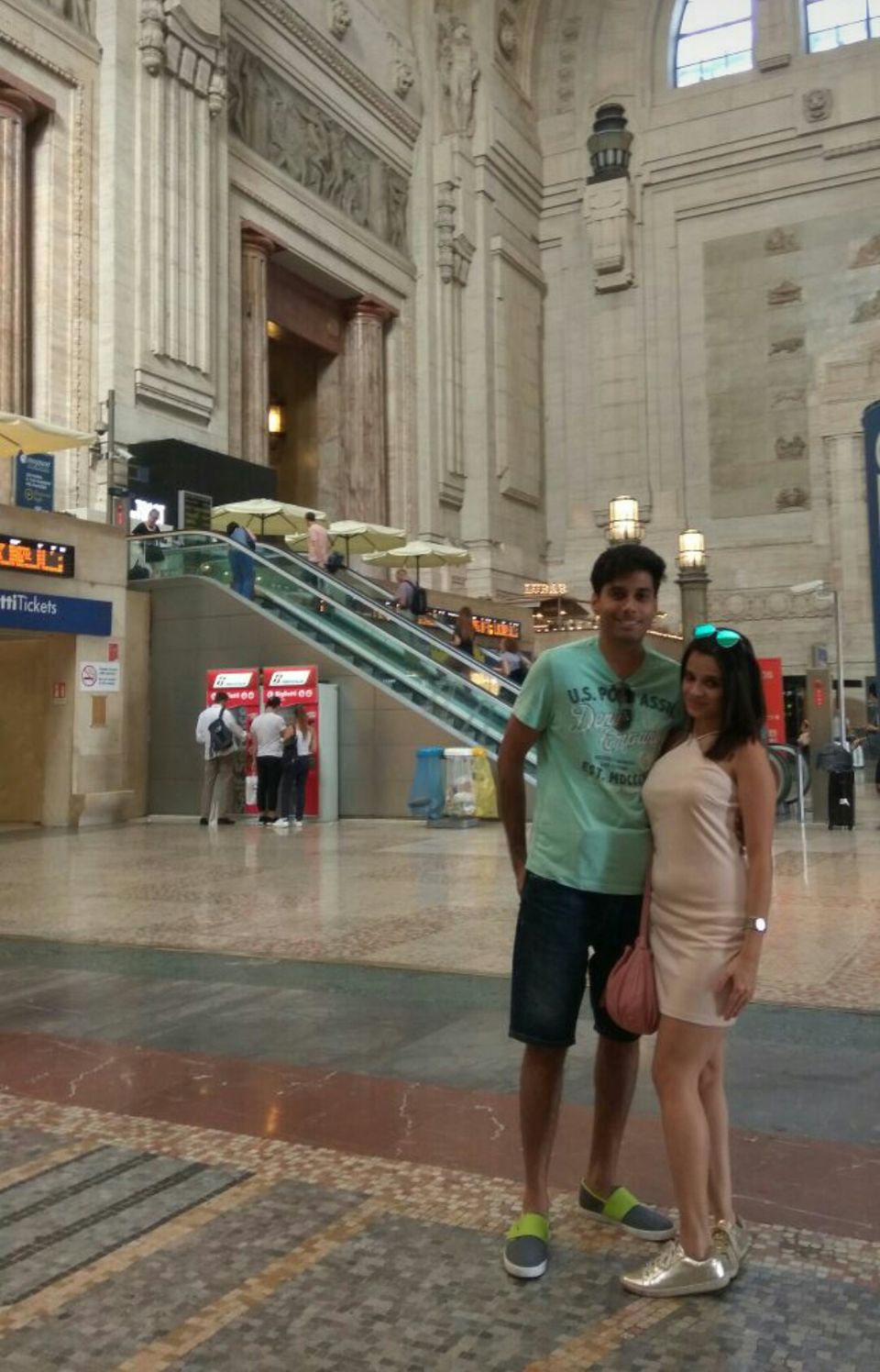 After gallivanting for about an hour or so and grabbing some really exquisite ice-cream blended freddoccino, we decided to board the train to the "Duomo" station .Duamo is a term commonly used for an Italian Cathedral . Duamo houses the very significant Milan Cathedral .Milan Cathedral is the cathedral church of Milan and is dedicated to St Mary of the Nativity. The Gothic cathedral took nearly six centuries to complete. We walked around Duamo for a while , explored the eminent historic sites of Milan . The streets were bustling with activity with all the fancy bars and restaurants and of course , shopping ( which Milan is synonymous with ) around .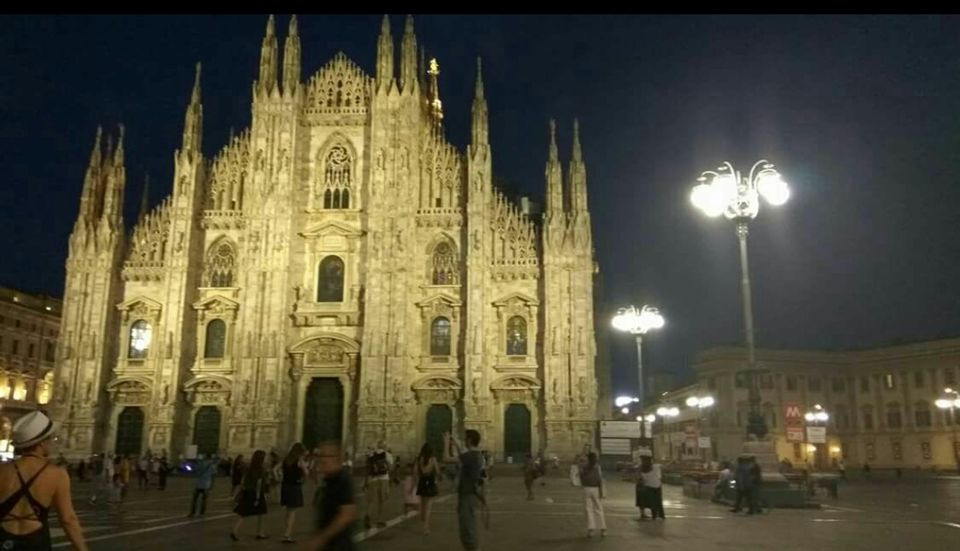 After flitting around for a couple of hours we decided to tread back and get some respite from the little bit of jet lag that we had which was mostly out-shadowed by the excitement level but, none the less.
The next morning we quickly grabbed some breakfast and embarked our journey back to the hub of milan "Duamo". A trip to Italy is incomplete without trying out the much raved about yummy gelatos , hence we decided to gobble up some pleasantly flavoured gelatos from the streetside .After straying around for a couple of hours, feeding the beautiful pigeons, and ofcourse some much essential Retail therapy , we decided to satiate our hunger pangs by making do with some sapid Italian Pizza!!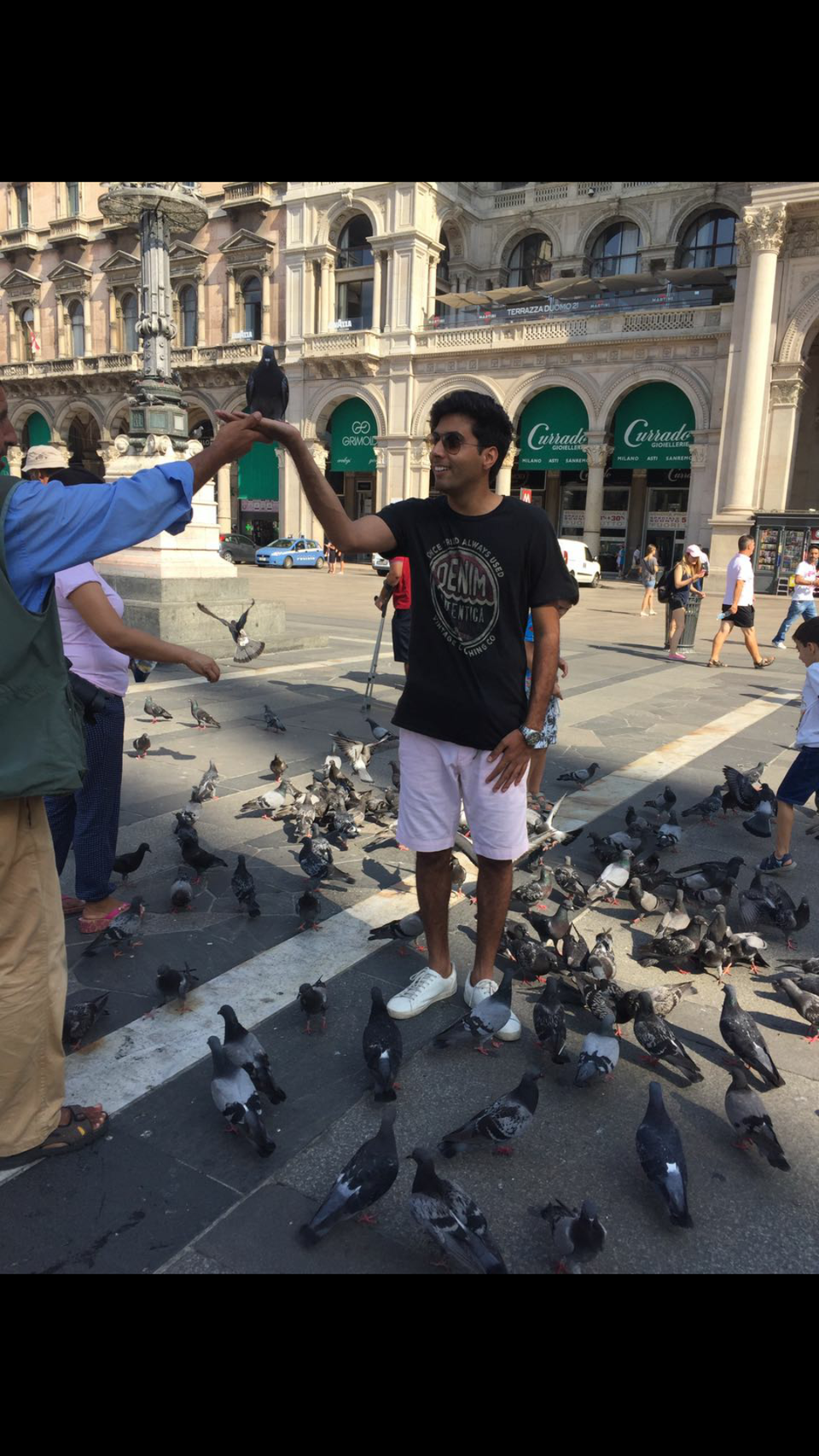 After the event afternoon spent in Milan , we walked a mile ,back to Milan Central to commence our journey to Venice, our next stop !!!
DAY TWO - VENICE
After a train journey of about 3 hours we reached the floating city of canals,Venice .Water taxis, gondolas and ferries ply the waterways and serve as the public transport of the city. We fell in love with the serenity at first sight and couldn't stop ourselves from capturing the essence of the city and I have no count of the numerous videos and pictures that were taken .
We set out for a water taxi at the railway station to drop us to our abode for the next one day . The ride was scintillating and it was wonderful to see people walk in and out of the taxi at every station . The cutest part being , that even pets are allowed to board these taxis something which India needs to catch up on !!.
We reached the hotel and found some reprieve for an hour post which we set out on our exploration . We took the water taxi to St marks Square and the first thing we did was grabbed some caffeine.
After getting all charged up we started parading around St Marks Square and set out on our historic lessons of Venice.We walked through the famous sites . St Marks Square is apparently considered to be one of the finest squares in the world and Venice's focal point. It is well bounded by St. Mark's Basilica, the Doge's Palace,the Campanile, the clock tower and San Marco .We toured along the predominant places in Venice after which we set out for the iconic Gondola Ride which happened to be on one of our many travel bucket lists . A little overpriced I would say . Be prepared to shell out 100 Euros for the gondola post 7 p.m, but an experience that you would certainly tick off your TO DO's .The Gondola took us through some of the canals and trespassed its way through some cozy bylanes of Venice. It is undeniable romantic, but at the same time ,EXPENSIVE!!!
After the ride we splurged on some fancy gourmet at a high end restaurant along the banks. We has some scrumptious fried pork and steamed fish which went well with the pints of beer .
Happy us with our belly deli full , then decided to call it a day . We hopped into the waterbus which carried us back to our abode. The view looked phenomenal at dusk as much as It did at dawn .
The next morning we set out to walk through the bylanes of Venice to explore the local life of the floating city .We also took a walk around the famous Murano Glass Factory.
We then set out for out next destination, Florence . It was a train ride of about 2 hours from Venice . We met a very warm couple onboard and shared tales of our travels with each other so the two hours just flew by .
We touched down upon Florence and quickly checked into our exciting hostel called PLUS FLORENCE. The room was clean and the vibes, positive.
We took a quick shower and head out for our Tuscan Tour to Pisa as the Leaning Tower of Pisa was on our hitlist ! Hence we boarded the train to Pisa. Oh not to forget! Had some really good Thai food on the way at a Thai restaurant that came our way .It was a two hour train ride.
It was time now to fly out to the breathtaking GREECE !!!We fly out to Athens from Rome and by the time we reached our Hotel, it was 2;30 a.m , hence we were totally pooped to do anything and could only think of diving onto the bed!!! HEAVENLY !!! the feeling after a day full of agendes !
We started the next day later than usual!!! Sprung out of bed at about 9:45 am , but we were quick to jumpstart. We grabbed breakfast at the hotel café and I must admit. Greek coffee is the best Ive ever had !!! We also tried the signature Angus burger ( which was also the wifi password at out hotel) for breakfast and it was pretty good, doesn't beat the Cheese Burgers at Mc Donalds though !!
We then set out for a walk to the famous Acropolis. The view from the top is rather breathtaking. The steep climb did turn out to be a wee bit exhaustive because of the scorching heat but was absolutely worth it.It is said to be an ancient citadel located at the peak of the rocky outcrop of Athens. After the exhaustive trek we guzzled down some chilled lemonade and juice and it turned out to be ORGASMIC !!!!!thats how tired we were.We then got on to the hop on hop off bus with the audio features to explore Athens . The bus passed by all the beaches of Athens and gave us an insight on the history of Athens.We passed by the Alimos Beach and what caught our attention was the various water sports that Alimos is famous for.
We got off at Lake Voilagmeni . Voilagmeni in Greek means "Sunken ".It is said to be the hidden treasure of Athens .It is said that The lake's present form was created after the roof of the cave fell because of erosion caused by the high temperature of the running water .The thermal waters and the labyrinth underwater tunnels is what makes the Lake so unique. The depth of the water keeps increasing as you head closer to the tunnel. The Lake is full of tiny fish called "Garra Rufa" that offer exfoliation. The lake is said to have healing properties which have gynecological and skin benefits .It also has an all day bar and café bordering the Lake which serves really nice food and drinks.We quickly changed into our costumes and took a dip In the thermal water
After a truly enriching experience of sheer pleasure and wellness we decided to get a little sun burnt sipping our beer and binge snacking in the café at the lake. We spent a lot of time there and every second was worth it , We then took a quick shower and headed back to our hotel after the long day for a power nap before heading out again in the evening.
After a stimulating nap we freshened up and set out to explore the beach side restaurants . The tram ride helped us get from one beach to another . We strolled along the beaches and then decided to sit for dinner at a very famous ,lively restaurant at Kalamaki Beach ( Alimos) called Penarrubia We spent a few hours there. Th music ,food and ambience were all very pleasant.
We then decided to call it a day early as we had a very important , much awaited agenda for the next day which had been long pending on out bucket list of adrenaline thrills !!! YES , you guessed it RIGHT!! We were going SKYDIVING!!!!Woohoooo!!!!
So skydiving in Athens is at a distant village from the main city called Kastro . We took a bus and It took us 2 hours to get there. When we were about to make an entry into the venue, to tell you the truth , my heart was thumping !!!But little did I know that the whole process right from the time you sign the waiver till you take the leap of faith is not less than 3 hours. So we carefully went through the safety rules and signed to our fate !!!There were a lot of jumps that happened before us which we got a chance to witness. With Every jump that we sited ,the excitement level kept growing higher ,and the heart started beating faster.
It was finally our turn . After the roll call by our instructor we slipped into our safety gear and went through all the guidelines that he very patiently familiarized us with . He recorded a short video of ours and had a little bit of fun with us which we took a lot of pictures of . We then finally boarded the plane . As it flew higher and higher to reach 14000 ft and throw us down ,I started feeling absolutely nothing . There was no looking back now and we had submitted ourselves to fate . I will not fabricate bravado and say I dint feel scared at all but I would like to mention that I did a good job at fine tuning my mind to make me believe that Im not afraid. The view from the top was spectacular but of course we dint pay much heed to it whilst inside the aircraft. All we could think about was the JUMP !!!We finally reached 14000 feet !!!!!!!!!!! I was the first to go!!!!The anxiety levels as I trailed to the edge of door, were way beyond 14000 ft.
And finally I was pushed out !!!The free fall lasts a few seconds and for the fraction of a few seconds you have very bleak idea of what is happening! You're flying !!! your heart just literally skipped a few beats!!!! Ironically in just a matter of a few more seconds you feel alive !!! It's a feeling of just letting go !!!!Of your fear, your worries , of yourself and the feeling is something that words cant describe!!!!! One has to feel it to believe it !!!
In a few minutes the parachute was launched . We were pushed up straight once the instructor pulled the string. A lot of pictures were taken and then we swiftly swung back to the ground. The experience of a lifetime had been ticked off and we were so proud about it !!!!!
The jump took us the whole day , the process of getting there , waiting , jumping out and getting back to the heart of the city was quite a long one.The only thing we wanted to do next once we reached the centre of Athens was have some good dinner since we were starving .
Early next morning we had a ferry to Mykonos , an island in the Cyclades group in the Aegean Sea. The island was popularly called the Gay Island in yester years . It is well known for its party scenes ,blare thumping music, and the beautiful beaches . The port from which we were to board our ferry was rather windy . But the winds came as a spell of fresh air after the searing summer of Italy . The beautiful ocean and the ride to Mykonos with the winds kissing us at some point and pushing us at the other, made us really happy. The winds were teasing everyone around pushing forth and pulling back
We reached Mykonos in 3 hours by around 10:30 a.m and there was an air of positive vibe gushing through, Walking through the winds we finally located the placard that had our name on it and hopped onto the bus that drove us to Hotel .Our check in was at 2 /Pm so we had a few hours to kill which we did with much ease. We quickly pulled out our swimsuits and plunged into the pool for sometime. The water was freezing so we dint stay in too long , and decided to grab one two those recliners and sip our cocktails with French fries and enjoy the soothing winds , which by the way did get quite ferocious at regular intervals !!
After a few hours of poolside chilling we headed to our room and took a power nap . After getting rejuvenated we got our dancing shoes on, rented a car and set out on the Mykonos voyage. Undoubtedly our first stop had to be Paradise Beach. The much raved about wild party at Tropicana Beach couldn't have been missed , We set out for some quick lunch on Paradise Beach. We had really yummy spaghetti and the famous Greek Gyros and then headed for the Mad full moon party. The party at Tropicana starts as early as 4:pm and goes on till the wee hours of the next morning, Extravagant wooden loungers , beach bars, tourists of various regions and the upbeat music contribute significantly to the flavor of the Party. The dancers who've got their moves just right and bodies just in shape are more than just a treat to the eye. It's the ideal place for people who are looking at chilling on the beach beds and enjoy the calm of the waves or people who are looking at going wild partying and having the time of their lives or people who just want to engage in water sports . One could easily spend more than just a few hours here .
After Tropicana Beach we also walked into Jackie O beach which was more of a place for the gay couples but nothing in Mykonos is less than happening for sure . !!!
We also went for a while to the very famous Nammos on Psarou Beach which happens to be one of the high end clubs at Mykonos.
We called it a day as we needed a lot of fueling up for the next few days as well.
The next morning we woke up pretty late and were in the mood for some really exotic freshly picked sea food . One of our friends had recommended a restaurant called Avli Tou Thodori to us on Platis Gialos Beach and believe you me !!! It's a gastronomical delight !!!We ordered for some prawns with rice . The picture below doesn't do as much justice to how much it satiated our palates . The other dish we ordered for was the Greek Souvlaki . The chicken was very succulent and tender, The restaurant is located at the beach side and gives out a really pleasant vibe.Platis Gialos is one of the popular beaches in Mykonos which attracts millions of tourists with its crystal clear water , golden sand and high energy vibe.
We chilled there for a while and then decided to explore the other very talked about Ornos Beach . It wasn't too far from Platis Gialos. We reached Ornos and it was buzzing with activity. Unfortunately a little overcrowded but if you manage to get there on time . It's the right place to be . The beach had a diving school and schools for windsurfing as well.Since , we dint manage to rent out a lounger , and we were full to the brim to sit at any restaurant considering it would mean ordering something and we dint even have an inch of space left , we decided to move on to the next stop .
We then proceeded to Super Paradise Beach also known as the Pinky Beach. Super paradise is a very famous homosexual beach and attracts millions of tourists with its glitzy charm . It is again bustling with energy and is a hot spot to party it all up , however a tad less organized than Paradise beach, but that's totally not a bother. We rented two loungers and decided to chill over a bottle of wine and some fries . The next few hours were very relaxing .Went skinny dipping in the sea, sunbathed , enjoyed the music, and shook that booty up a little bit . And Time!! just flew by .
As pre-decided we then set out for Old Town Mykonos commonly known as the Windmill area or Little Venice to get a glimpse of the alluring sunset . We walked through the old town to get to Little Venice.The windy white corridors and the blue doors had a photogenic appeal to it. There are countless shops, cafes and restaurants as you walk through .One can comfortably spend a few hours strolling through the white alleys with its vibrant energy .The walk through the pathway leads you to the windmill area. Little Venice as we called It.It felt like one of the most romantic places to be in , when at Mykonos .The sunset is one of the best ever seen . You can just grab your seats at one of the restaurants at the edge of the sea , sip a cocktail, and let the wind and the waves literally "blow you away".I could just go back to all of it right now !!!!While I write this blog I realise that of all the places I went to , I had the best time at Mykonos ,The ethereal beauty of Little Venice is intriguing, We stayed there until the end of our dinner and then it was time to head abode.
We had an early morning sail to Santorini , hence we crashed once we got to the hotel. The next morning we started off at sun-up !We started the day with a good doze of essential nutrients. We had a healthy breakfast before we headed to the port to sail off to Santorini. Essentially , Santorini is made of the remains of an enormous volcanic eruption which destroyed the former settlements of this island, and created the current geological caldera.It is known for its sunsets and also its vineyards .
We reached Santorini at about 12:30 p.m and were picked up by the Hotel Transport Services where we were putting up at .The drive to the hotel was splendid. We put up at Oia . That part of the island is known for its picturesque sunsets and serenity. It typically comprises of whitewashed houses.Its a labyrinth of cafes, restaurants and small shops and a very photogenic old town.
We checked in to our hotel which was quite a walk through the maze from the reception. We braced ourselves for a while and then headed out for lunch in a very small, old school , quiet restaurant at Oia . We ordered the fish trout and the a burger made of three different kinds of meat . The food was pretty average but we didn't care much as we had a wine tour awaiting us which we were very kicked about . So post lunch we were fetched for our wine tour by our very charming wine guide and taken to three different wineries,(YES!!! that's a lot of wine tasting )The tour is typically designed to uncock the flavours of local wine and unlock the beauty of the vineyards. It really is a feast of flavours and acclimatizes you to the secrets to great wine making. The tour lasted for 4.5 hours and we were so drunk by the end of it tasting different types of wine at the wineries. They also took us to a Vineyard to get a glimpse of the very famous sunset of Santorini.It was our very first wine tour and it indeed was enriching,and ofcourse, drunken revelry !!!
The next day with we started off with a little re invigoration at the hotel room and decided to loosen up a little in the Jacuzzi and pamper ourselves with breakfast around the Jacuzzi . We had a lot planned for the day ahead and decided not to waste a single more lethargic moment after breakfast and got our butts moving . We headed to the very famous Amoudi Bay which is a hidden gem for cliff jumping and awesome seafood.We had early lunch at one of the greek taverns and the food was a delight!! This was the first time we tried the octopus and I'm so glad that we debuted at this place.After a fulfilling meal we walked through all the taverns and reached a point from where we jumped off the cliff. It was quite an adventurous walk through the narrow rocky ridges but we trespassed out way through the cliff and plunged into the sea. It was nice to sea a lot of tourists getting their undaunted sides out and jumping off cliffs and swimming in the deep blue sea.
We spent some time there and then set out for our Sunset Catamaran which was the most awaited part of our Santorini trip. The cruise was a sheer delight.It lasted some 5 – 6 hours and took us all around Santorini , made us explore all the different beaches , jump into the Volcano Hot Springs , swim and snorkel in the red and white beach, served endless glasses of wine with really amazing barbecued pork and chicken and Greek salad with absolutely flavorful dips. At the end we cruised to the caldera to see the breathtaking sunset.
Most of us take out time for sunsets only on vacations,but the truth is sunsets are a reminder that every day can end beautifully. It helps you appreciate life's little gifts but unfortunately most of us do it only at vacations.
We knew that this would be a highlight of our trip and it truly was. With the end of the cruise , we reached the end of sunlight to our trip However we had one last stop before calling it a captivating vacation. The FIRA town .
After the cruise with a slightly heavy heart as we had reached the fag end of our holiday , we headed to the townside ,FIRA . The town is very high on activity level and has a huge number of cafes, restaurant's,shops etc .Some of the restaurants have a view of the Caldera so I'm guessing , must be expensive.A good time to go is in the evening, walk around the hub-bub ,have some really authentic greek local gyros and ofcourse end it with a refreshing geleto.