Bugyal in the local dialect means "High Altitude Meadows". The trek to Dayara Bugyal is one of the most beautiful treks in Uttarakhand, at an altitude of 10000 feet. We got the opportunity to experience those lush green meadows accompanied with the eternal beauty of the Himalayan peaks upfront.
With the crack of dawn, we started from Dehradun. I was dead on my feet after a 9 hours bus ride when we reached a small village Barsu nestled between the mountains. After checking into the guest house over there and with nothing more to do that day, we decided to explore the village and interact with the people. The wheat harvesting season was at its peak. Whereas village women were busy working in the fields, some village boys invited us to play volleyball with them.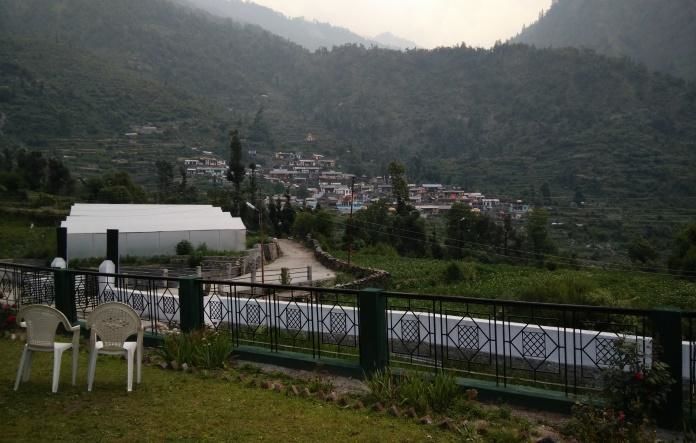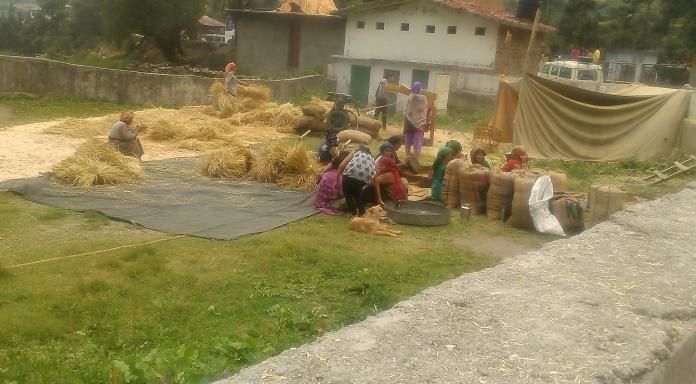 In the morning of next day, with a hearty breakfast in stomach and a 20+kg bag on shoulder, we departed for our 8km trek to Dayara. Being more of a non-talker, I preferred to trek alone reminiscing with the beauty of the trek. During the initial part of the trek, I could get a complete view of the Barsu village with Mt Srikant in the background. The sun was intense though it was not hot. I was sweating due to exertion but a gust of wind would cause a shiver through the body due to sweat.
We reached Barnala in 5hrs which is known for its lake (tal). The guide told us that since the lake is surrounded by 26kms of meadows and remains in semi frozen state in winters ,it offers a great prospect of alpine skiing.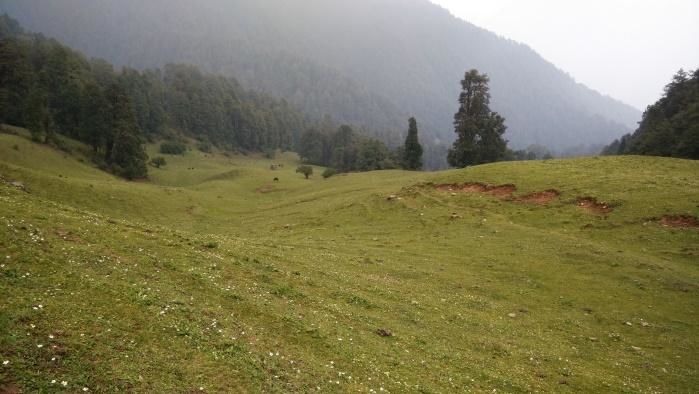 A lot of Gujjar huts could be seen at the distance from there. Our guide told us that the gujjars live in makeshift summer homes high on the mountains so that their cattle could have the huge lush green meadows to graze on.
The path to the Dayara was getting steeper as we progressed, but our excitement kept us going. The whole area was covered with a thick jungle of oak and rhododendron trees. Munched onto some MARS bar and listening to EDM songs, I kept my focus on the trail I was treading. After travelling for 5hrs, we could witness the vast meadows of Dayara. Our camps could be seen in the distance surrounded by a herd of buffaloes and horses munching on the fresh grass.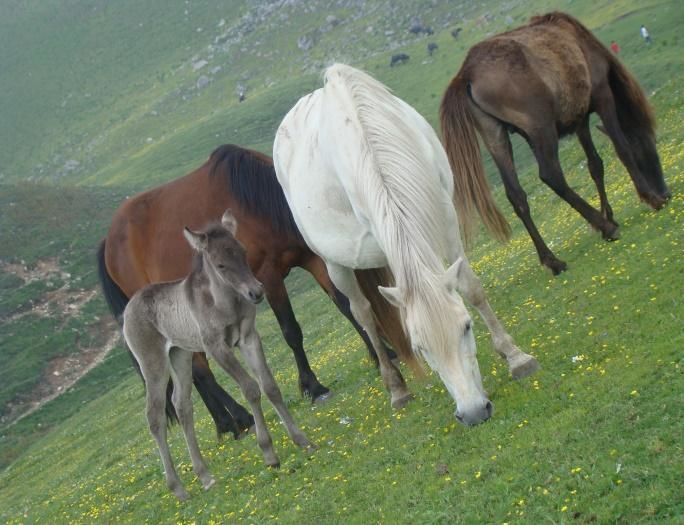 With a welcome drink made of Buraans flowers, we threw ourselves in our camps and decided to explore the meadows later in the evening.
For the first time, we were witnessing the Bandarpoonch and Kala Nag peaks in the extreme left with the peaks, Draupadi ka Danda and Joanli , standing tall in the north. We had a breathtaking 180 degree view of the Himalayan ranges. The weather gods were kind enough to give us a clear sky to marvel at this spectacular view. There was a heightened sense of gratitude over witnessing such pristine beauty and for a moment the chilly cold winds had no effect upon us as we were transported to a completely different world. That was one of the moments when it seemed that time had stood still for me.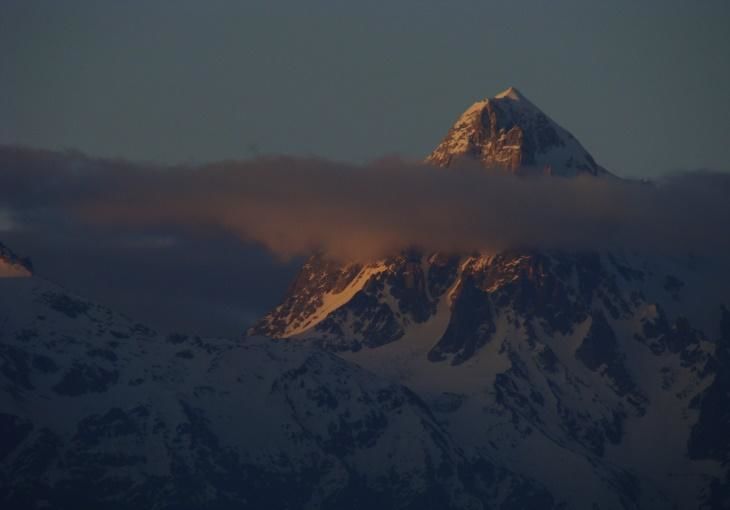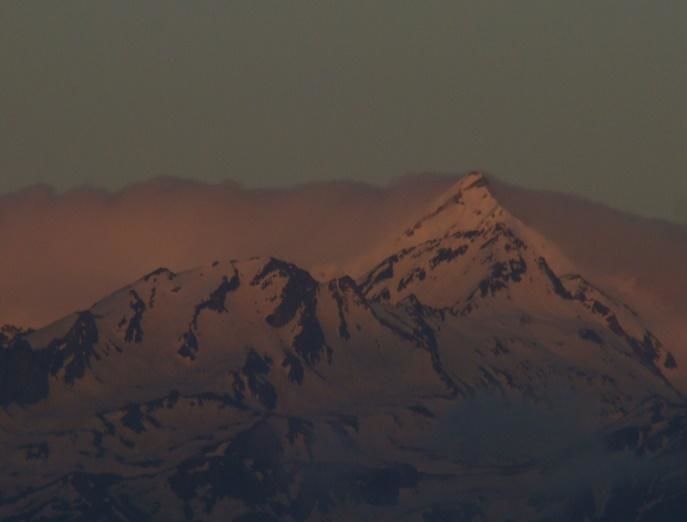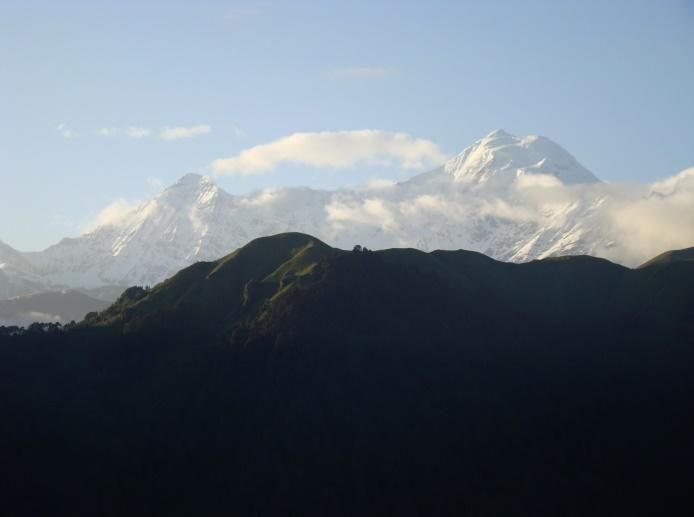 It was sunset,I watched those peaks with an unwavering gaze. With the sunset,the frigid air started penetrating our skin. So, we were asked to collect wood from jungle. After searching for dry wood for an hour or so, we had enough that could last a couple of days. We spent that night playing dumb charades and antakshari. We got to know about the mountains and the life of people there. I developed a new level of respect for these people who had to face so many hardships which we, the people living in cities and towns take as granted.
They don't have electricity, they don't get proper food and moreover, could anyone of us imagine a life without a basic phone connection. Nah!!
Next morning, we woke up early and had a quick breakfast. Our plan was to traverse all the way to Siyari top and return back before the sun sets. With the only bag carrying some essentials, our group marched forward up from the Dayara Bugyal. It was to be a 6kms trek with lots of ups and downs. Along the way. We passed many mountains before we could see the Siyari top covered with pure white snow. Walking through the ridges surrounded by vast meadows from both the sides, I felt that I was on the top of the world.
None of us wanted to come back from that beautiful place which had a kind of ecstasy encircling it. I wanted to sit there for some more time, to be alone or to dream with my eyes open admiring that sky with stars twinkling in its lap.
On the way back to our campsite, we made a new friend, a dog Sheru, who was there to guard the cattle against us(the infiltrators).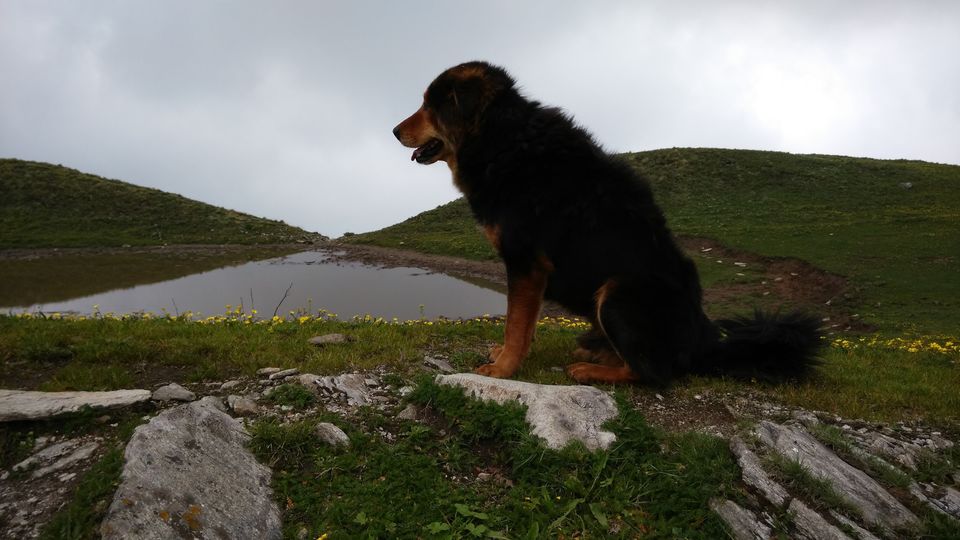 I thought that we have witnessed pretty much of all the awesomeness this place had to offer but I was proved wrong as soon as the stars lit up the night sky. I couldn't believe my eyes as to what the night sky had to offer. Be it the stars, the milky way, satellites, shooting stars- we saw it all that day. With no man-made source of light blocking our view, it felt as if the silence of these mountains was reflected in the sky as well. I was in a beautiful, exciting and enchanting world at that moment. It was seemed to be a beauty of hidden paradise. Its beauty was flowing in to me as the sunshine flows into trees.
On our way back to Dehradun, I was recalling my whole trek, it was nature whose beauty gave me a blessed release from care and worry and the troubled thinking of our modern lives. I realized how fast we move in our lives without appreciating the small yet beautiful treasures earth has in store for us.
Whenever the pressure of our complex life thins my blood and benumbs my brain, I seek relief in remembering my whole trek, and whenever I look at the sky lit up with those thousands of stars, I could feel my connection with that world which I witnessed a month back, my cares fall from me.