I don't think I'll ever forget my trip to Kerala. Not because of the reason every other traveller has because let's be honest, Kerala is beautiful beyond all descriptions, but because of how hard it was to reach there.
A traveller from Jammu and Kashmir, the true North travelling to South for the first time (all because of ghoomophiro.com). It wasn't just going to be the weather that would be a shock (though it got pretty bad), but the culture and most importantly, the journey through Mangla express.
'Jo b ho jaaye, Mangla mei ni aane ka'.
That was the phrase we all were repeating by the time we got off the train. It was half because of the three-day journey (that was supposed to be just two days but the train was late by 8 HOURS) and we all were so disappointed to have lost a WHOLE DAY that we were supposed to spend in Cochin, sightseeing, stuck in a train cabin.
But at least it was all of us girls together, and with some music and dance, and fun moments, even the weight of that lost day didn't pile up.
The other half of the reason for the phrase though reminded me of why I love travelling in trains. You get to see so many things, have new experiences with people that leave an impression on your mind, without even directly indulging in the situation.
So while I was trying to wear off my exhaustion of the day from dancing too hard and laughing like crazy, I got disturbed by a noise of fighting.
A South Indian vendor fighting with another vendor who dared to sell stuff on her turf.
And the way she kept yelling 'Mangla mei ni aane ka' got stuck with us for the rest of the journey.
So yes, me and 20 other girls, all travelling to a new city, thinking how wonderful it would be to see Kerala at its finest were left with nothing but a wasted day and a fun memory just as we had begun that trip.
But that didn't faze us because my first impression of Kerala was seen through that train only.
I was in awe from the moment I saw that scene and just Had to capture it. Not afraid to say that the shot turned out to be amazing and is till date stuck on the lock screen of my mobile. The waters that looked so serene and the tree bending on it, making its shadow spread out. The boats and the people rowing in it. For a person (well persons, because it was all of us) surrounded by mountains all her life, just the view of spread out backwaters was incredible and unforgettable. I just wanted to sit on the shore and dip my feet in or maybe dive right into the water even though I didn't know how to swim.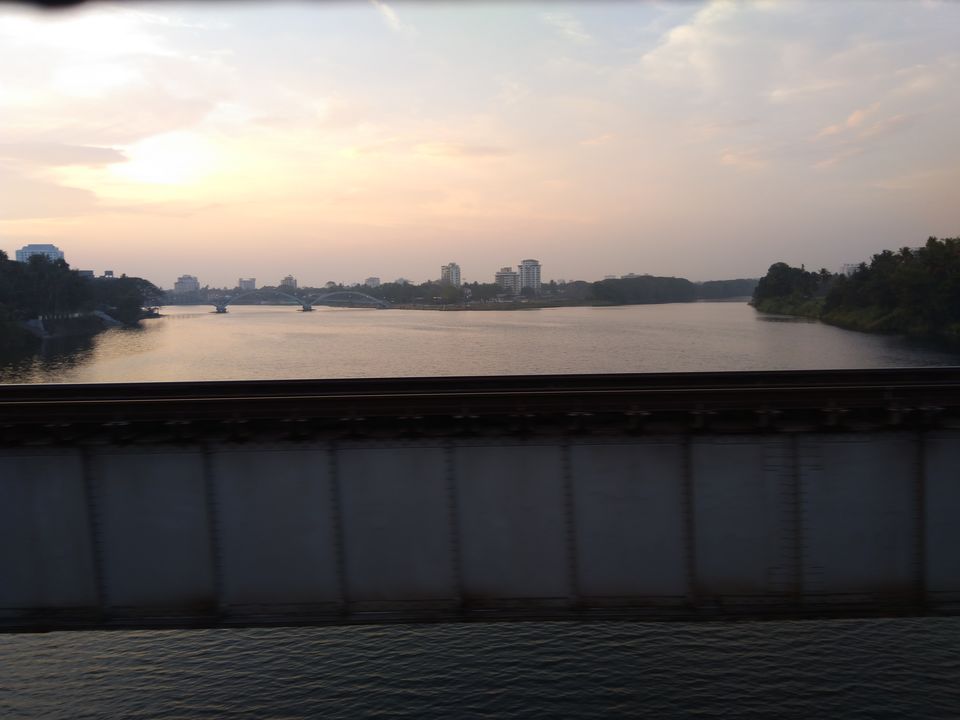 Another view of sunset making such perfect hues and shades on water while the background bridge looked all majestic. I wanted to jump off that bridge and just take a dive. But all that couldn't be possible as long as we were shackled in that cabin of Mangla express.
We did make the best of it though, by yelling out 'Vanakkam' the classic Malayalam greeting, in synchronisation to people on the station. Their smiles and responses were worth it. Other random fun things include singing Punjabi songs out loud and chatting up other passengers. Well, there are always things to do when the plan goes off the path.
The first minute we landed on the Cochin station, we were all so relieved to have finally left Mangla behind, never to see its face again and we made the point clear with another shout of 'Mangla mei ni aane ka' aka 'Never again would we enter Mangla'.
The minute we ended up in our hotel room which was more of an apartment, all thanks to ghoomophiro.com and Hotel Mermaid in Cochin, half of our traveling frustrations washed out with a hot shower. The other half we took care of next morning while we finally set out to sightseeing. The weather was terribly hot and humid and I couldn't even think of leaving the room without my shades and sunscreen.
The first place we went to was the marine drive. A beautiful road and even more beautiful sights along it. As we got on to a boat to head to Willingdon Island (our first actual stop since the marine drive was a drive-by). The boat had good music playing and I stood on the deck seeing the water making waves and sun sparkling diamonds on the water's surface when my eye caught a few figures moving and would you believe it? I saw dolphins for the first time in my life. Sorry, couldn't capture it because, by the time I had my camera out, they had disappeared. But it was still a view I treasure.
Yet, it would be a shame not to mention how I felt walking through the entrance gates of Willingdon Island. You have to pass through a narrow street to reach the gates and that street is as colourful and vibrant as the day is bright. Plus, it had a wooden window which was probably the side window of a wooden furniture or handmade carving shop. But it looked incredibly quirky and went just great with my moonglasses. You never could expect to see such a thing in a place like that but wonders are all around when you're travelling.
The island itself was no short of wonders either with Museums, old bookshops, antique stores, markets and local food shops. Plus the views and beauty from there was a sight in itself. Since I can never really walk past a bookstore, I entered the one that came along my way and had a conversation with the owner. Turned out he had owned that store since 1950. And many travellers passed it, bought books, yet no one really asked him about the store. He felt so good sharing things and asked me to try out the Idli at a local shop only a few steps ahead.
Well, who am I to say no to authentic South Indian food? And that too when you can get two delicious Idlis with Sambar and coconut Chutney at just a price of Rs 30.
I had more conversations with other locals over there and one turned out to be a big Bollywood music fan, listening to Kishore Kumar while working. As soon as we got tired of walking and exploring the place, we got back on the boat with more than just stuff we bought in our pockets. We had the memories, experiences and a story to tell as well.
On the way back, we had the ghoomophiro.com guide announce to us as we passed by palaces and the Chinese fishing nets. He explained to us the significance of each place with a little backstory.
When we reached back, the first thing we did was get a glass of Lime water and would you believe, even that was a show. The man threw the glass in the air, shook it like he was mixing a drink as a bartender putting on a show and only then did we have a glass of lime water which turned out to be too sweet but the heat demanded us to stay hydrated.
The next spot we went to was the Alleppey backwaters. So a long journey in the bus with me listening to Rock Music and heavy metal to be able to stay awake since I didn't want to miss out on a single view I could see from the bus window. In the end, it was Punjabi music that kept me awake when Linkin Park failed. Going for the boathouse tour at night was the best idea ever because I had already had one boat ride during the day while reaching the island and that was enough water views for a day. But as the ride started, I was amazed at how beautiful the backwaters looked under the moonlight. With shining bright lights on the sides denoting other boats and the backwater actually looking like Blackwater (I did make that joke once or twice) looking so serene and beautiful. If it wasn't for all the mosquitoes biting me and the humid air making me seat like crazy, I think I would have been satisfied to just spend a week in that boat doing nothing but stare out at the vast amount of water that flowed like black gold, with silver reflections on it.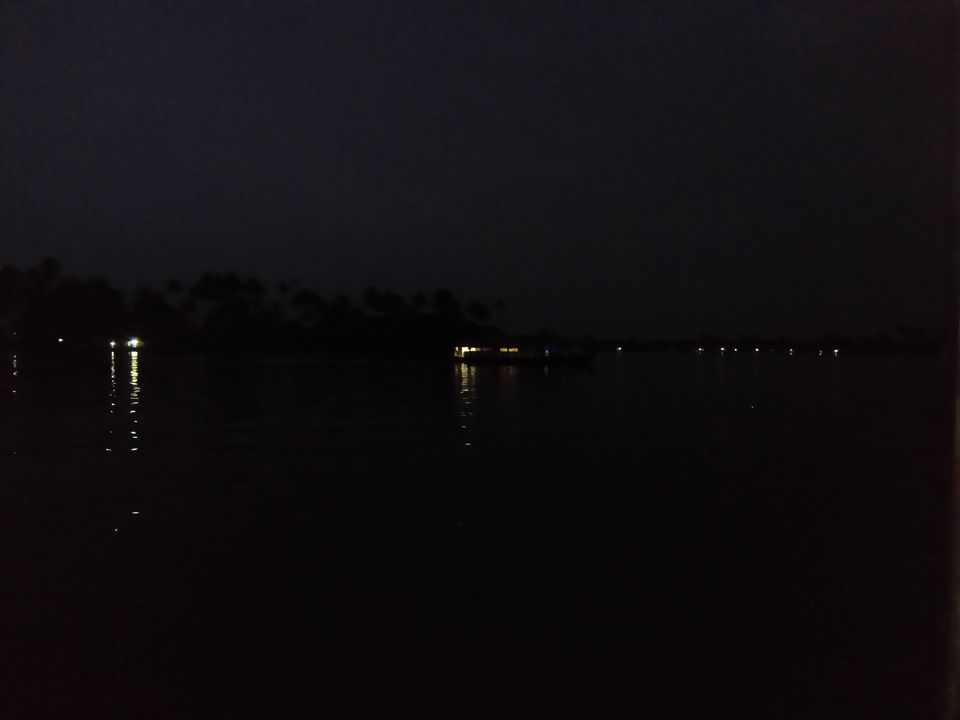 In the end, it was such a memorable trip and all the more so because of the arrangements made by ghoomophiro.com. Kerala turned out to be so clean, serene (Not Sareen like my name) and incredibly hot. But totally worth it.