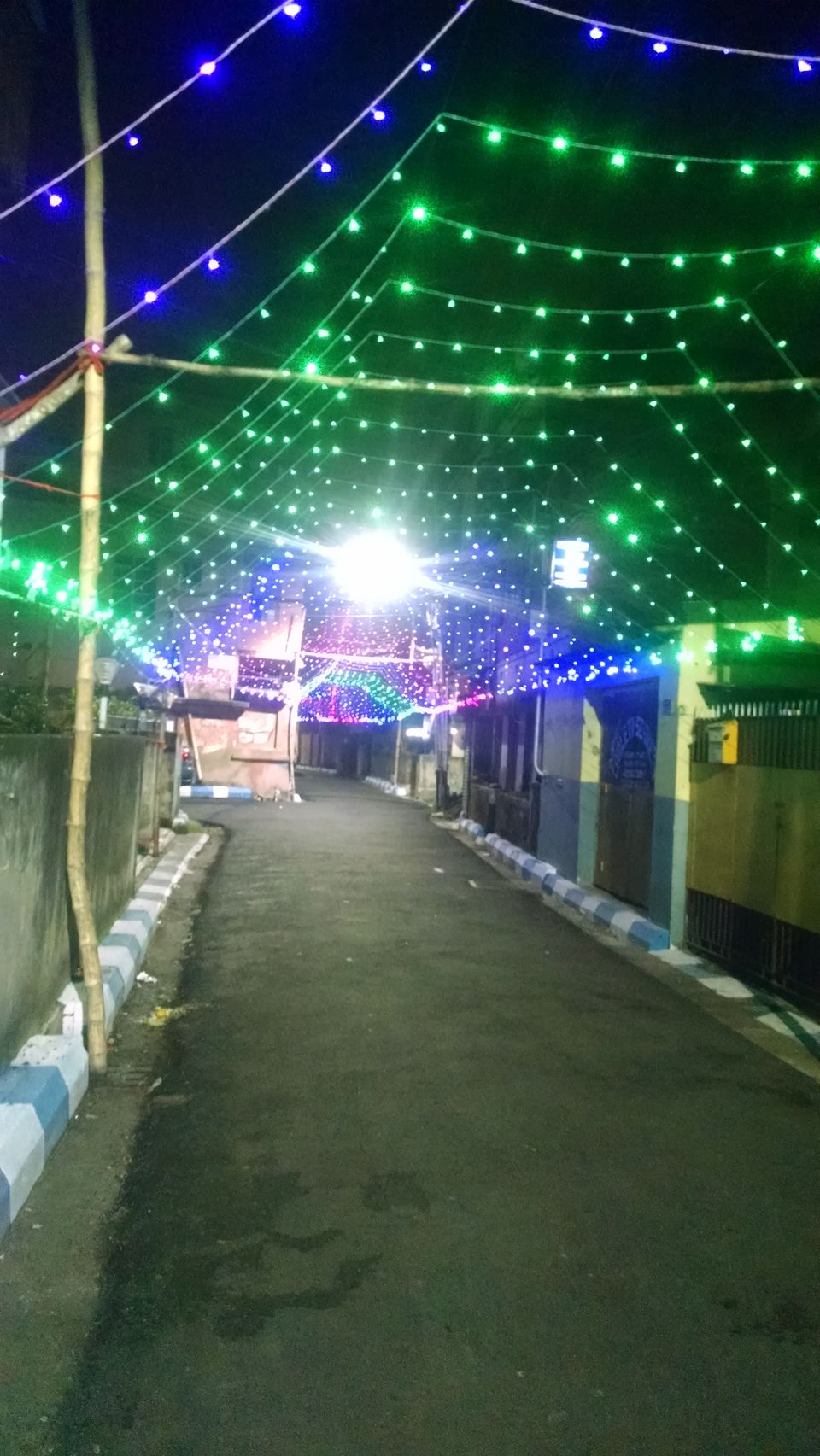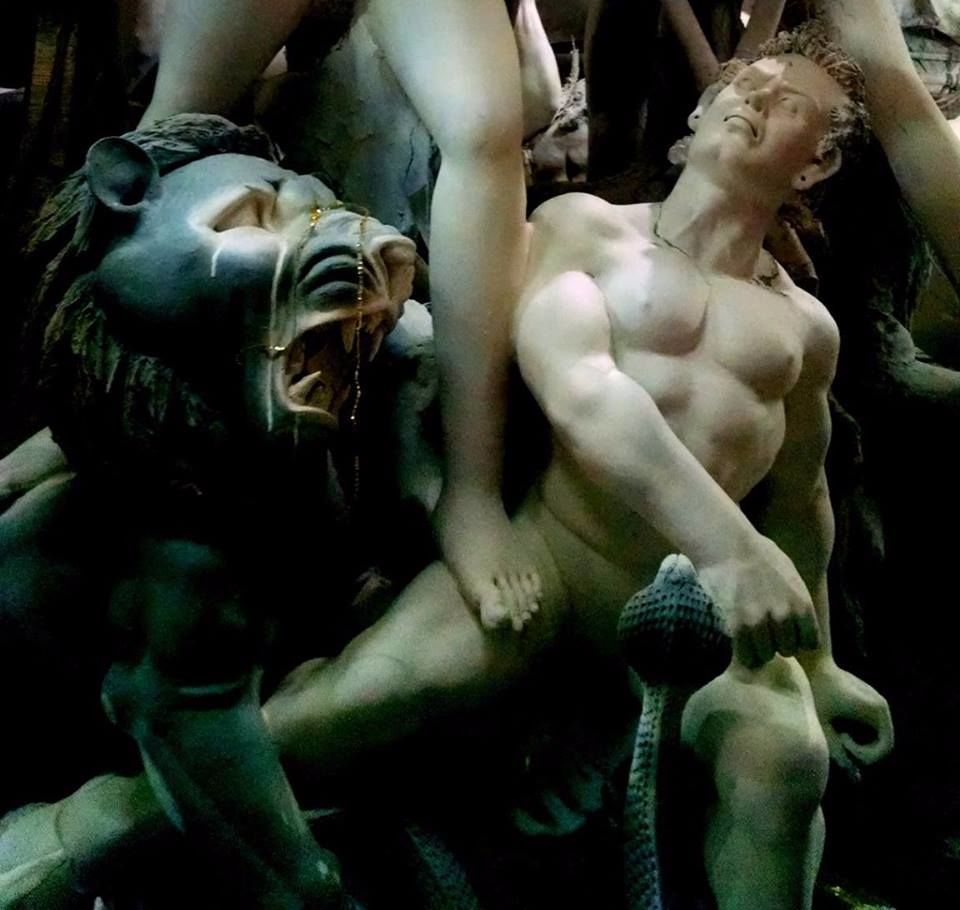 Durga puja, also called Durgaotsav is an annual Hindu festival in the Indian subcontinent that reveres the Goddess Durga. The celebration last long for a week that features elaborate stage decoration (pandals),scripture recitation,performance arts, revelry and processions. The sculptor all over Bengal beautifully carve these Idols with there love and artistic skills. kumartuli , in kolkata is the place which should not be missed . The place has its own charm and history. The place is famous as a sculpting hot-spot which not only manufactures clay idols for various festivals but also regularly exports them.
The festival is most popular in the city of joy Kolkata. The city takes a different look during the week long festivity. Every nook and corner is decorated with lights and glitters. Thousands of devotees gather at the pandals to worship Maa Durga. over 4000 pandals are decorated all over kolkata. Each and evry pandal has its own story to tell.
Panchami or the fivth day of Durgaotsav is of great importance . The city can be seen in the festivity mood. The traditional dhaki's can be seen on the street playing dhaks(dhols) which marks the beginning of the festival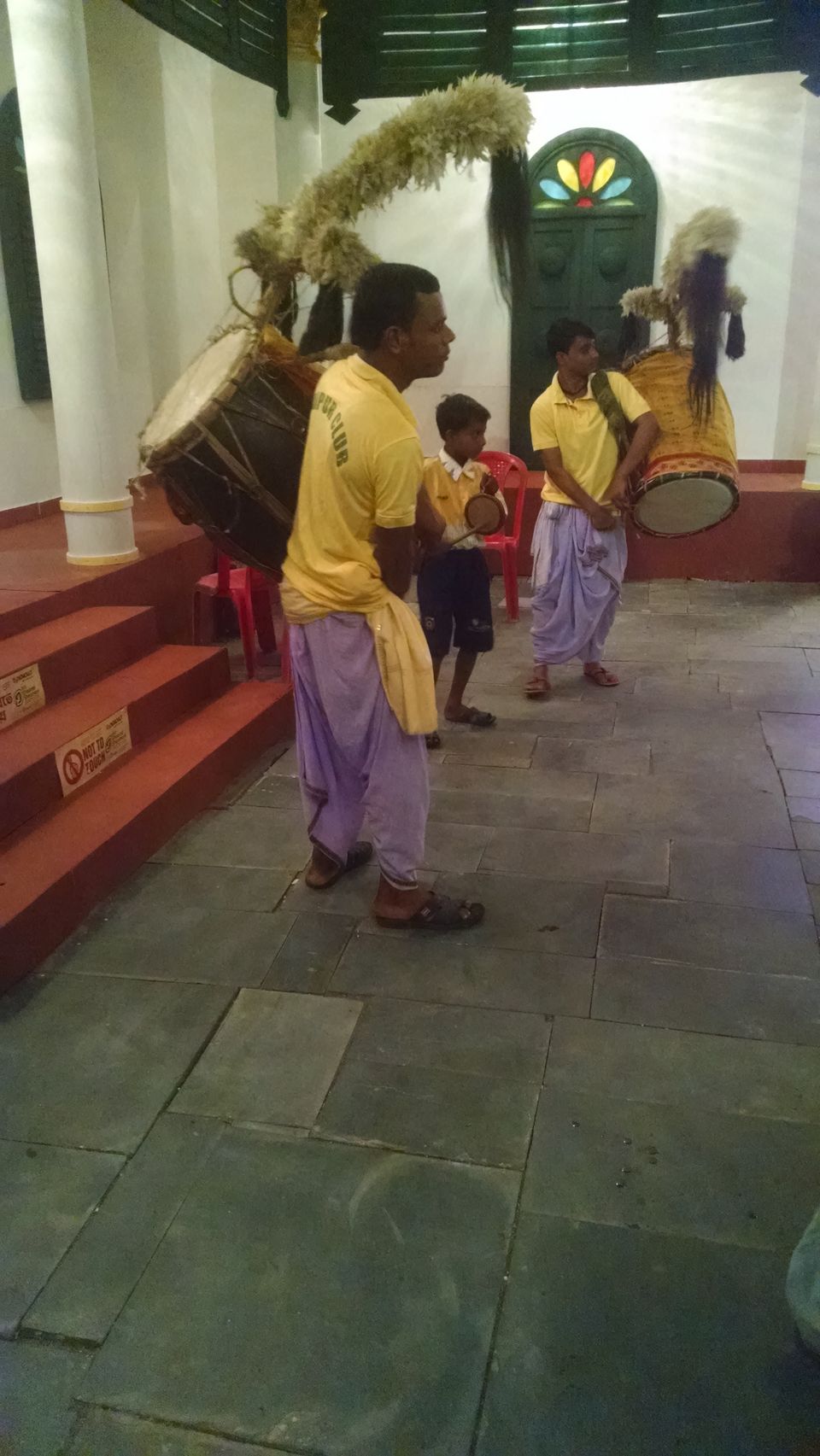 There is something important about this celebration, people not only enjoy at night but also during day time.Many events are planned for the day to make it fun and frolic. I thoroughly enjoyed my stay in kolkata and by being part of this grand celebration.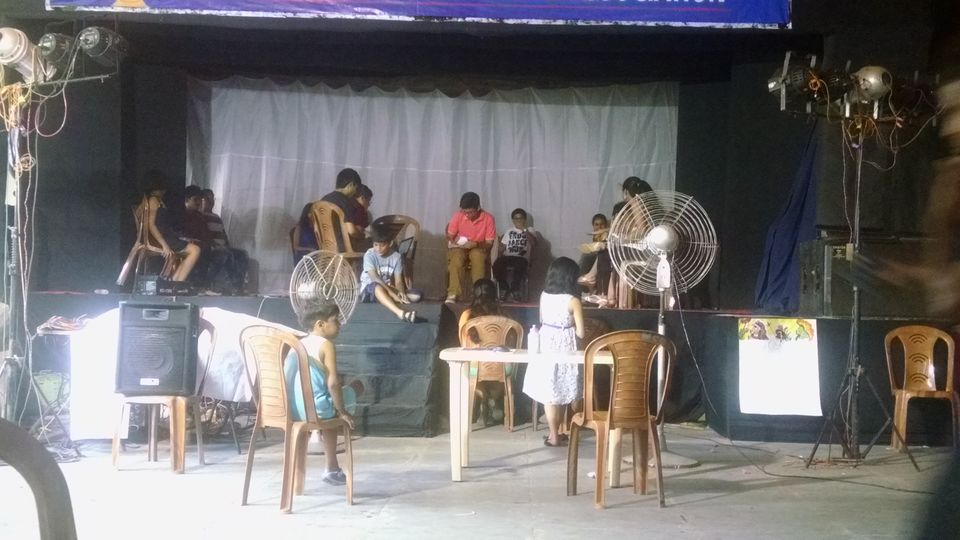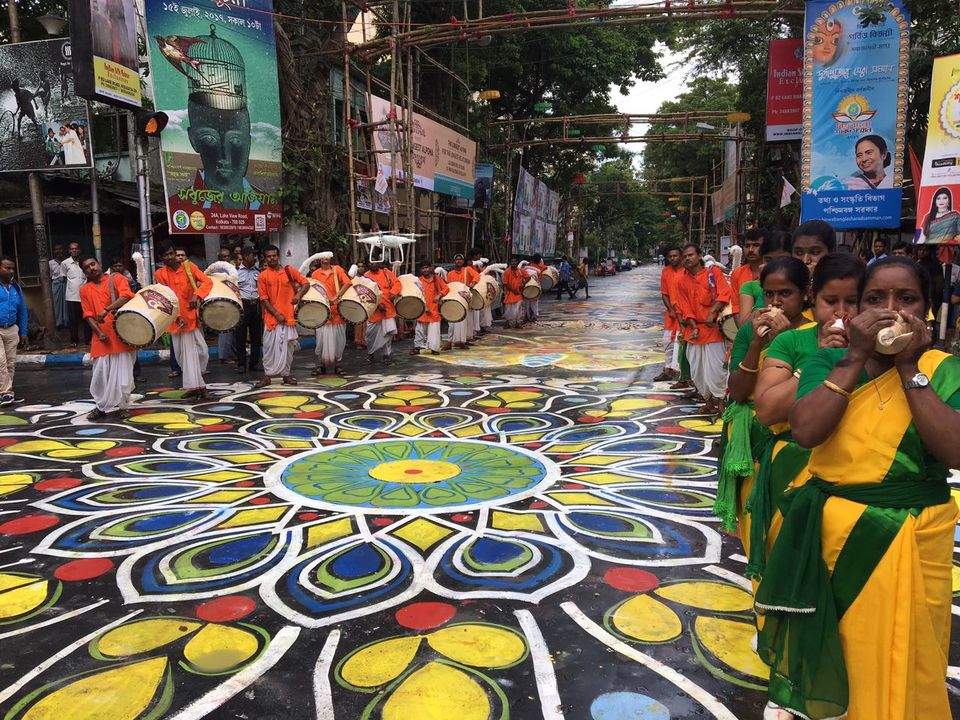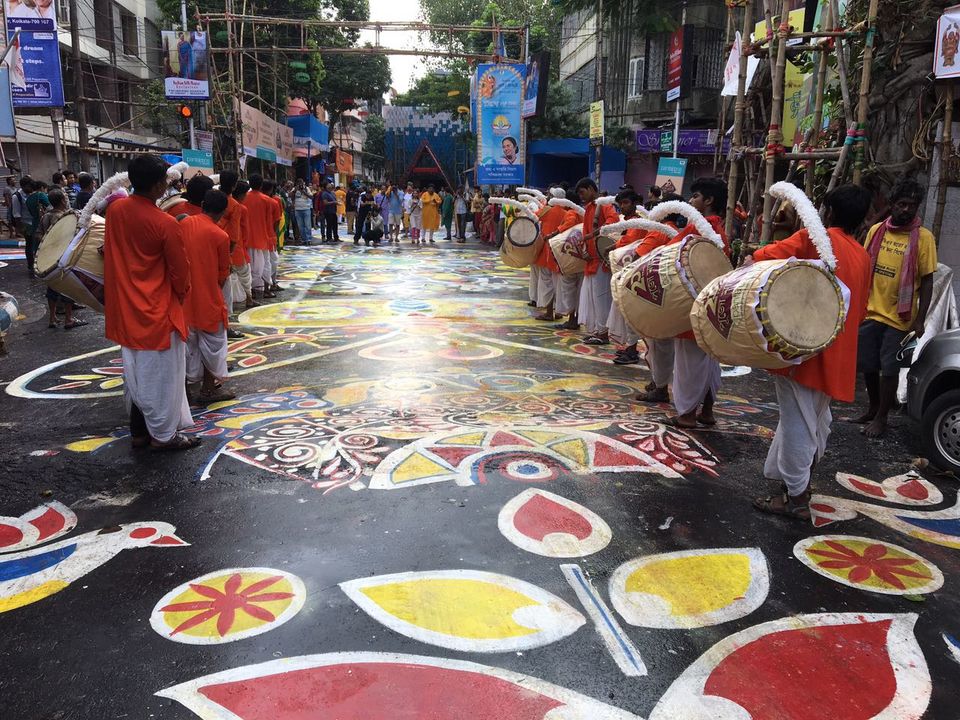 More than 400 people came together to create the 'alpana' on a 1 Km stretch of Lake Road as part of a corporate initiative. I too visited this beautiful stretch on lake road. The art work was highly impeccable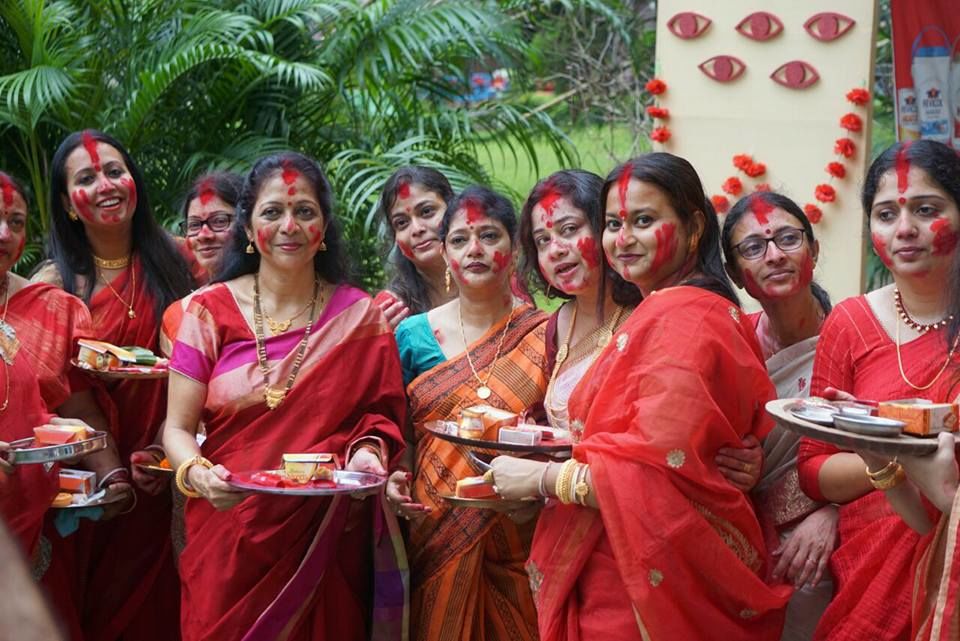 Sindur Khela is a Bengali Hindu tradition where married women smear each other with sindur on Vijayadashami, the last day of the Durga Puja. On the day of the Vijayadashami after the conclusion of the ritual worship, married Bengali Hindu women apply sindur on the forehead and feet of the goddess and offer sweets to her. Then they put sindur on each other's faces and offer sweets to each other.
I happen to be a part of all these beautiful ceremonies. Thanks to my Bengali friends with whom I share a special bond. The bond of love. Do visit the city of Joy during Durga pujo and make your wow moment happen.