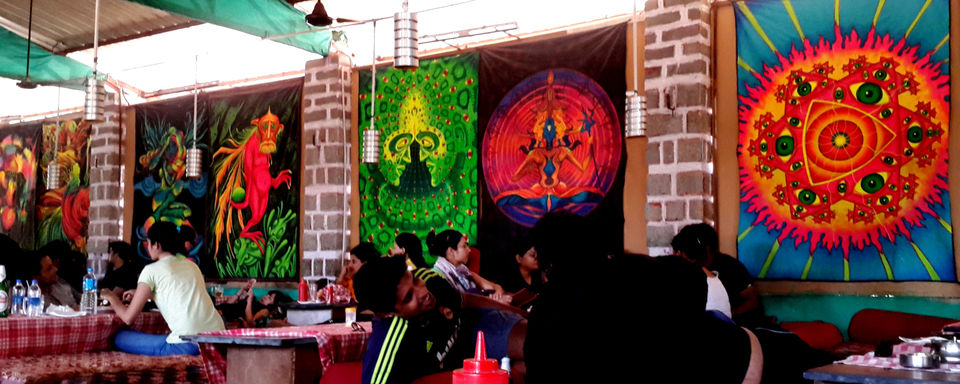 Majestic temples and the forlorn ruins of Hampi, the then capital of Vijayanagara empire, is undoubtedly one of the most popular historical places in Karnataka.
When I first visited Hampi years ago, as a student, it was surreal to see the ancient ruins from the pages of history come alive. However my recent experience in this very town of Hampi that has metamorphosed over time, was surreal in many ways. An erstwhile temple town is now also a place to relax and unwind.
An article on the same was published in Deccan Herald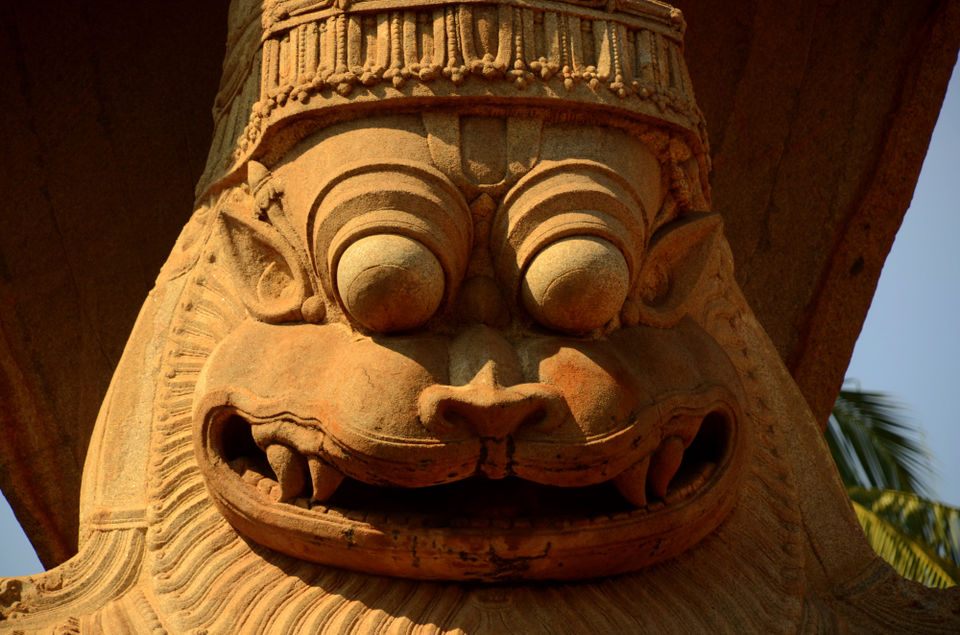 As an UNESCO world heritage site, Hampi has seen quite a few changes over the past years, attracting more tourists in the process. On the flip side you would notice this historical town is more commercial than ever.
While Hampi is filled with tourists soaking in the magnificence of ancient temples and ruins , the other side of Tungabhadra river is a world of its own. Virupapura Gadde as it is called, has transformed in the recent times adding a hippie vibe to the place . To cater to the needs of growing tourists a number of new guest houses and resorts have sprung up around the paddy fields offering basic yet comfortable stay, cafes serving almost every cuisine and music that gets you into the rhythm.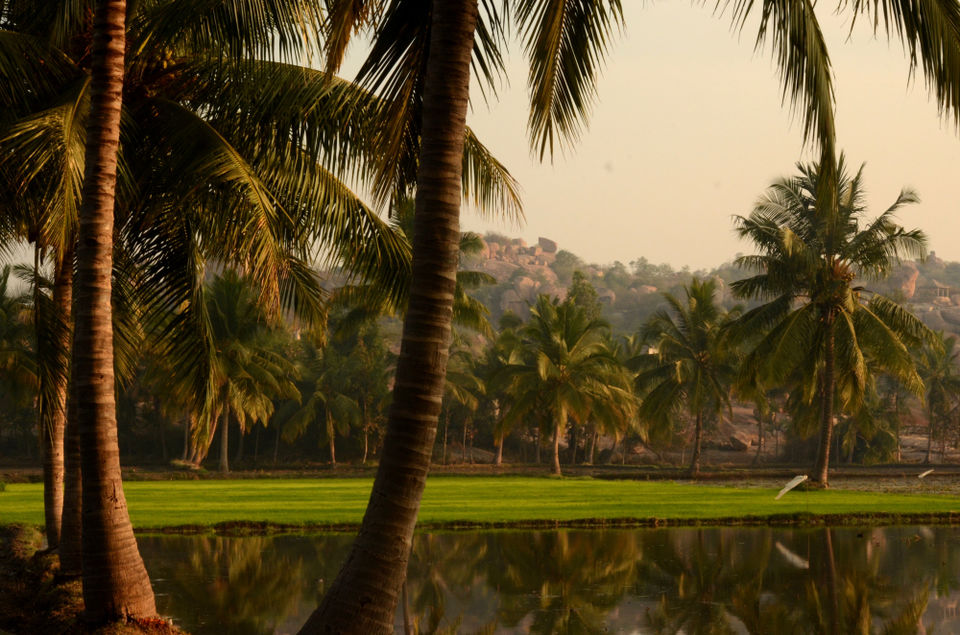 An early morning coracle ride brought us to the other side of the Tungabadhra river. We spent part of the day relaxing in the cafes looking over green paddy fields, taking a stroll in the evening to watch the sun set and later making ourselves comfortable in one of the guest houses for the night. Next morning we set out to explore the less beaten roads beyond the row of cafes leading us to lush green - boulder strewn landscapes, pure air to soak in, pristine lake and silent river - what more could we ask for!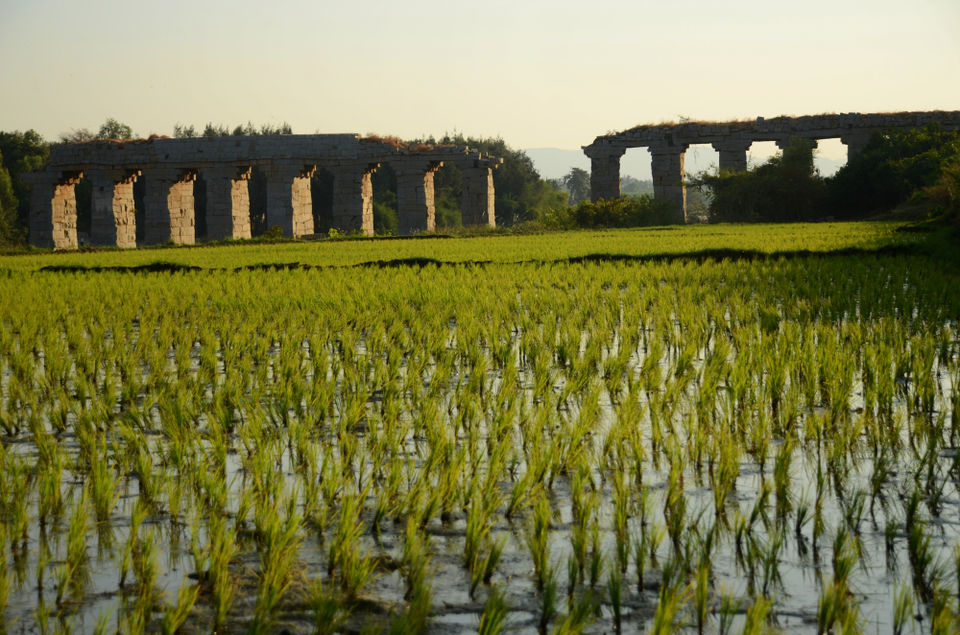 About 10 kms from Virupapura Gadde is the village of Anegundi which is also part of world heritage site that Hampi is. This quaint little village is mostly devoid of tourists making it a peaceful hamlet . Overnight stay in the heritage homes would be a good idea if you like to get away from the crowd. There are few temples of religious importance in and around this place like Anjanadri, believed to be the birth place of Lord Hanuman and Chintamani, a Shiva temple by the bank of Tungabhadra river, also a pushkarani of mythological importance adds to tourist attraction. We took a dip in the river, watching the sun set behind the piles of huge boulders, while the local kids eagerly assisted tourists to get into and out of water safely.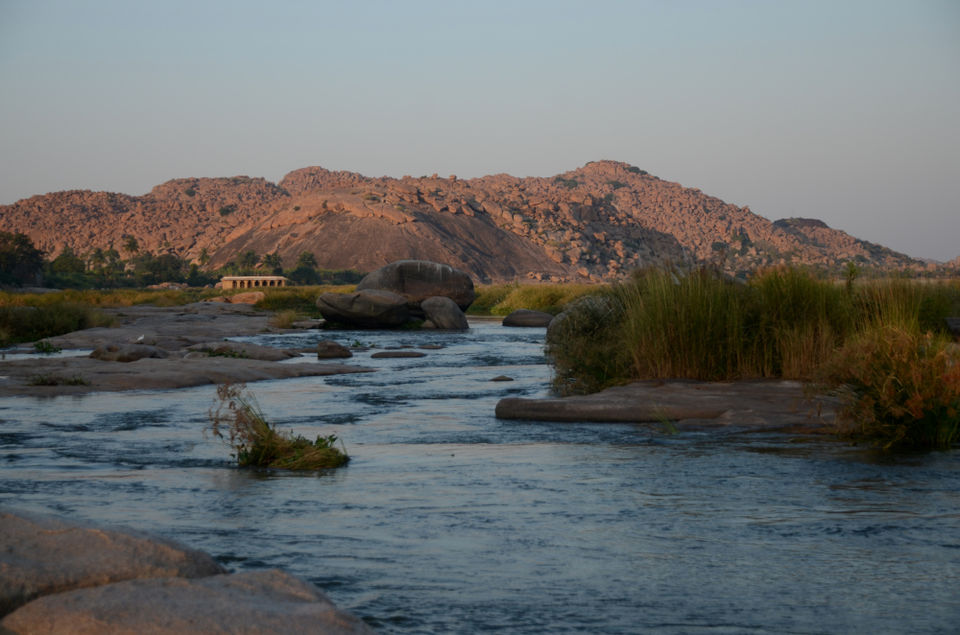 Pristine lake of Sanapura , about 5 kms from Virupapura Gadde is something you do not want to miss. It is largely a reservoir , serene and blue. A refreshing swim (only if you are a good swimmer) in the lake and a coracle ride during sunset certainly makes the trip worthwhile. There are guest houses very close to the lake if you wish to spend a night here.
3 days well spent unwinding amidst nature, relaxing in tolerably crowded cafes and revisiting the majestic ruins of Hampi - a perfect getaway I would say. As much as we enjoyed the magnificence of the ancient ruins, laid back yet vibrant life on the other side of the river left us relaxed and rejuvenated.
Travel tips:
Two wheelers are available for rent only on the other side of the river but cannot be brought over to the temple side. Great way to explore the temple town is on bicycles that are available for rental though most tourists resort to auto rickshaws
Private buses, if you take an overnight bus to Hampi, stops at Hospet. Only Karnataka government (KSRTC) and local public buses ply to Hampi. Auto rickshaws are your best bet to get to Hampi from Hospet if you reach during wee hours.
Winter (Dec-Jan) is the peak time here, if you want to beat the crowd consider visiting during Sep - Oct.