Planning and Flight to Delhi: To be at the rainbow gathering happening from May 5th till June 6th, was on my wish list since a couple of months now. As days nearby and the required leave was approved, the feeling of being close to nature was exciting each passing day. The flight was around 10:00 AM, and the packing rather to say shoving things in the backpack for the week long trip starts at 8:00 AM. Few tees and jeans, sweater, tent, blanket and torch – nothing else came to my mind that time, which I realized very much later was the craziest packing list for such a trip.
Delhi to Bhuntar, Chasing the Bus: I reached Delhi on 13th Night and was told by a friend to take the Night bus the next day from the Kashmigi Gate bus stop in Delhi to Buntar, Himachal. This is the place in Delhi from where all the buses to Himachal and Kashmir start from. But somehow I managed to miss my planned schedule and ended up booking a day bus at 8:00 AM. May 15th, started from my uncles place and comfortably reached the bus station by 8:30 AM J. When I checked that the bus has already left, I realized that yet another adventure chase has begun. Thanks to the Himachal Tourism Bus Dept, I was allowed to board the next bus at 9:00 AM, which sometimes is supposed to meet the first bus at the common lunch stop around 1:00 PM. Reaching the lunch stop Dhaba I rushed out to find my bus and luckily spotted it, got in and it started, chuck the lunch on Day 1.
It was only at night 11:30 PM, he dropped me at Bhuntar which is 2 hours before Manali, 10 kms before Kullu. My plan was to spend day 1 night at Kasol, the hippie place which is again 20 km from there and head to Kheerganga the next day. At that point of time not even a single soul on the roads, pitch dark, what do I do, sleep over in the bus stop or maybe get a cab or something to reach Kasol. Luckily found this young guy walking by who says 'bhai ye pura katharnak area hai, aisa kuch math karna, raath ko room lelo aur subha ko niklo Kasol'. Thought to myself, not to be a superman trying stunts, but its better sleep in Bhuntar itself for the night. Day 1 ended in some X hotel, travelling all the day on that hot sunny day.
Parvati Valley: From Bhuntar, I started at 7:00 AM in the morning by a cab (Charges Rs 750 per person, faster than the bus which charges Rs 25) passing Kasol and Manikaran to reach Barshaini. Just few kms on the road and I can feel and see the beauty of the place, roads winding through the hills and Parvati river flowing through the side of the road all along. Passed Kasol to see it was more of tourists and crowds everywhere more than expected, with any few backpackers or hippies. 10:00 AM reached Barshaini, little skeptic about how I would manage the 15 km trek. As a motorcycle traveler I normally ride till the point my bike takes me, but this time, had to do this trek. So Flight -> Bus -> Jeep -> and now Start of Trek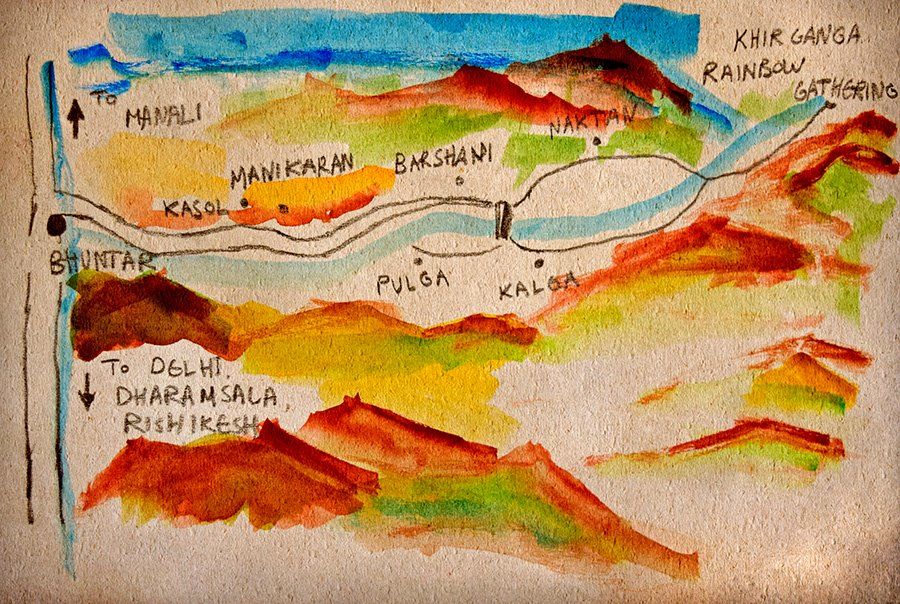 PC: Chai Lovin

Trek to Kheerganga: Paths to Khigranga are two – one from Barshani side of the valley, and the second one from Kalga (not Pulga) and this second one though a little less convenient when going first time, I took that as its more picturesque. Once you cross the Barshaini dam and climb up the steps, you find direction markings every few 100 meters to reach Kheerganga. I was walking and walking and climbing and climbing but never reaching anywhere close as per the distance. However the landscapes and scenery keep you get going and is all worth the trek even for beginners into trekking.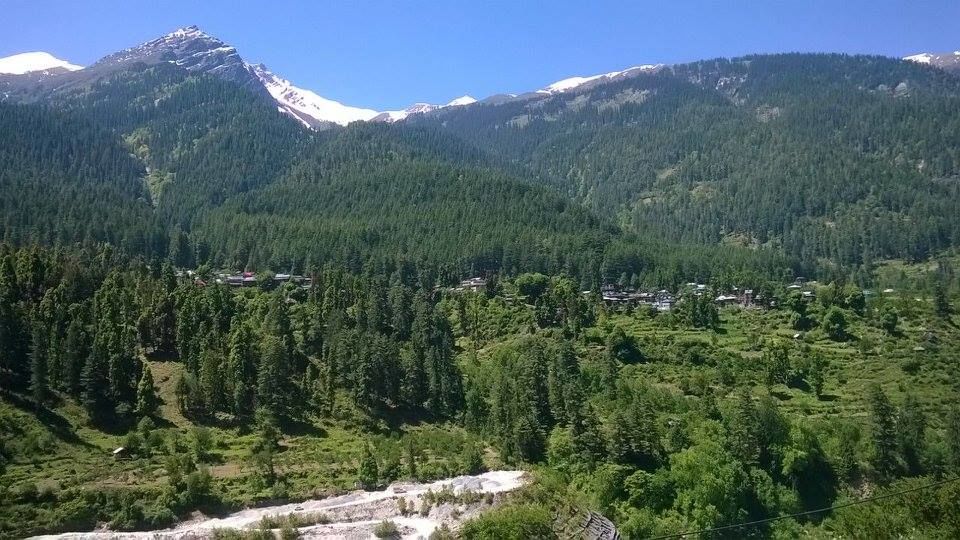 After around 2 hours I reached Rudranag, where a beautiful waterfall flows and got to know that the actual trek starts from here which is uphill. Passing through streams and rocks reaching Kheerganga was a challenging trek, but thanks to the friends you make on the journey and the people to direct and motivate you to reach the top.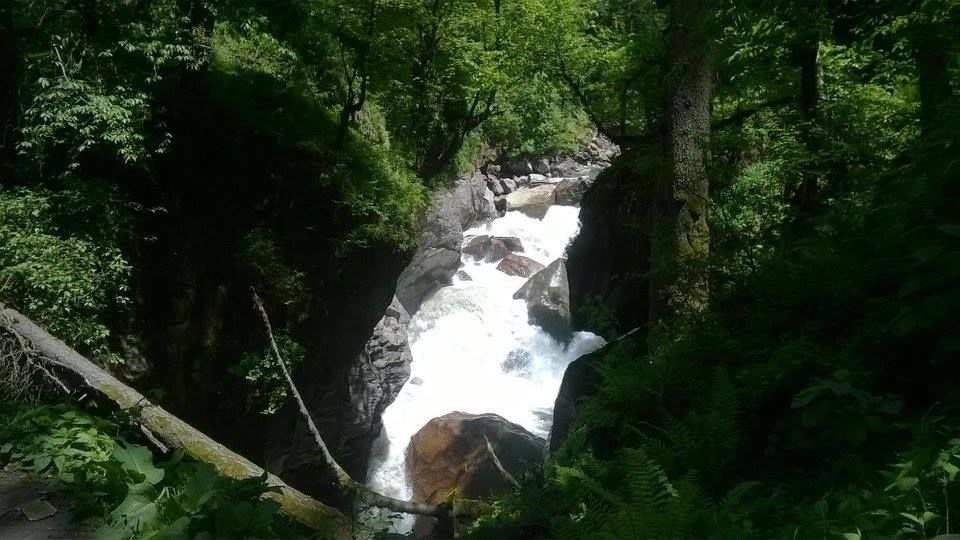 Kheerganga: Ah finally after a 4.5 hour trek I managed to reach Kheerganga, exhausted but with a feeling of accomplishment. Sat in the first café to relax a bit and got to know that the trek hasn't ended yet, the rainbow gathering is another 1.5 km from there beyond Kheerganga. Ah, Phew! No problem, Lets do this and I started again after a decent break and a snack. Hot water sulfur spring is located a bit above the steps. I can see it from below the steps leading there and all the cafes either side of the steps reaching to the hot water spring. Gold star cafe from where we gathering sourced most of the items. But first have to meet the rainbow family. Passing through the rocks and cliffs, I was going forward in the direction told by the café guy hoping to find someone or the other on the way to guide me to the gathering. First encounter with the Rainbow family: A brother "Welcome Home, the gathering is there, follow the noises". Wow, I have almost reached.
What is a Rainbow Gathering? These are temporary gatherings to which people from the rainbow tribe travel from various places to spend a couple of weeks close to nature. These gatherings take place in the woods far off from the civilizations and share the same ideologies of peace, harmony, love, light, freedom and respect. The lifestyle is hippie and community living.
Rainbow Gathering at Kheerganga, India: New moon May 5th till the New moon on June 6th. The first things you come across the path which leads to the gathering are the small waterfalls from where the rainbow kitchen fetches water, then you pass few tents of the tribe members to reach the central community tents area and the fire. It's a small plain land with uphill on one side, tress to one side, a stream flowing on one side and mountains to the other side. The setting is bliss to the eyes and soul.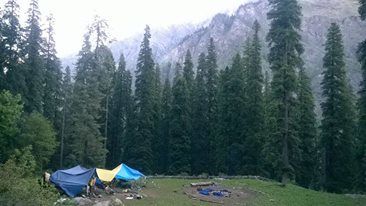 First night after spending some good time around tried to pitch the tent before sunset, only then I realized how great my packing list was. The tarp covering the tent is not seen, sleeping mat not seen, sleeping bag not seen, no chappals, no extra blankets, nothing to keep warm. Ooopsie, the temperature was freezing, but thanks to the fire, survived those nights. Days passed with short treks to near by hills, visits to the hot springs, black gold in the cafes, workshops, songs. Weather was never predictable with rains and sunshine dancing all the time.

Meeting people and Days at the gathering: The most common lines you hear in the gathering are 'Welcome Home' and 'I love you'. I have met some wonderful people over talking circles, workshops and dinners. Still remember the morning few of us went into the woods to collect some edible leaves to be served along with breakfast. Whenever you hear a shout like water connection or wood connection means some helping hands are required to get things done and anyone can volunteer.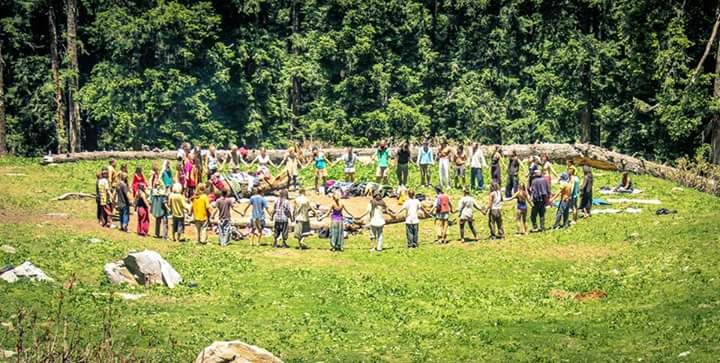 PC: Tatiana
It was only 4-5 of us from India, else everyone are travelers and hippies from other countries. Met this beautiful couple Dai and Bhumi. Dai who was the first rainbow member to start the gathering at Kheerganga in 1991, when he walked all the way from kasol till Kheerganga carrying the Teepee. They reached the gathering a month before when still there was snow and were waiting for the rainbow people to arrive. The calm and composed Chai Lovin, who is focalizing the gatherings since a couple of years now. Ask how are you? He every time says 'It's a beautiful day'. Tatiana, Rishi who guided me through all the places, Eleena the first person to interact this gathering and helped in pitching my tent, Danielle who explained me the uppers and lowers of holy substances J and few other hippies all beautiful people. The rainbow hugs which lasted more than usual along with songs, guitars, jambe, ukulele, didgeridoo, there is magic and love everywhere. These days reminded me of Bob Marley's lines 'I wish we were all hippies and did yoga, lived in cottages, accepted everyone for who they are, and listened to wonderful music. I wish money didn't make us who we are I just wish we could redo society'
Few things which touched me: First is the food circles for which the rainbow family gathers two times a day for breakfast and dinner, holding hands together round in a circle and singing rainbow songs before having food. It is community cooking for which members volunteer to help in the kitchen, to fetch water or to fetch firewood. Magic Hat: In which donations are collected after every meal to run the gathering. Leave No Trace: Though there were a lot of people living there for so many days, the gathering makes sure everything is clean and neat once it is over, as if no one have visited there before. Central fire: It remains on through day and night throughout the month and the songs around it. No electronics, no electricity and no question of internet: I still remember the question I asked this question to Samsam a couple of days before about electricity, to which she just laughed.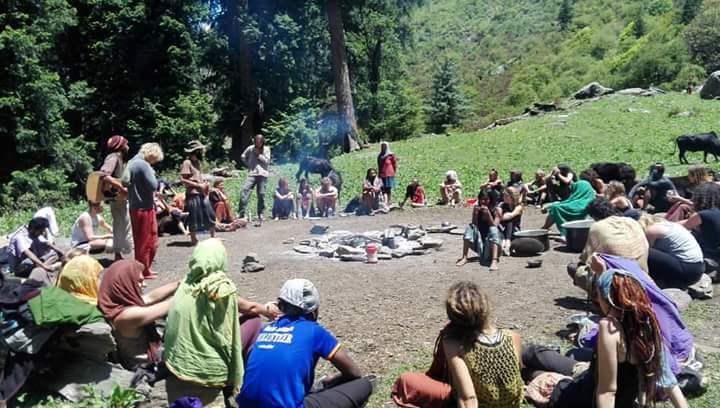 PC: Tatiana
While my time to leave has come, I was sad to leave the gathering just before the full moon party for which all preparations are being done, also happy to carry lot of memories and experiences which I never expected that I would come across. The return trek is along with Dai and Bhumi, who made sure to stop every while for me to catch up to their pace. Was waiting to pick a bus from Kasol and a guy says hi and hugs me, its Parshva and friends with whom I was in touch but they got delayed as they came later after attending the rainbow gathering at Ujjain. Small world we live in. I also missed meeting the super cool Fernando who focalized the Ujjain Rainbow gathering during the same time. Two gatherings on almost same dates happened first time in India this year, means the rainbow tribe is growing and wish to see you all next time soon when our paths cross in our individual journeys in this beautiful world.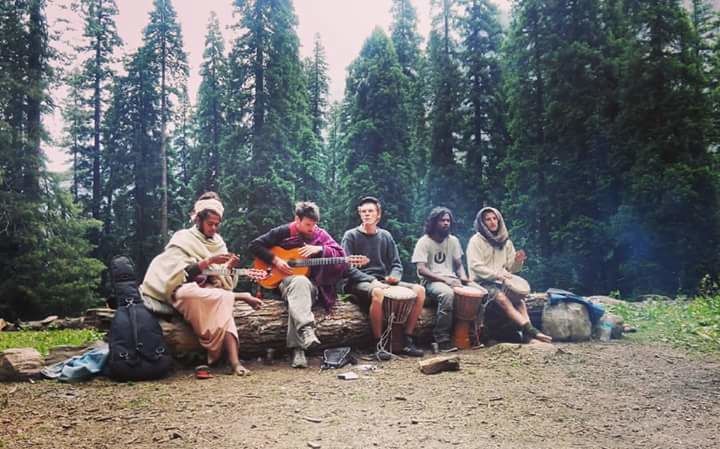 PC: Tatiana

###################################################
Some Songs from the rainbow gathering I remember:
I'm so glad
I'm so glad… Every little cell
In my body is happy and well!
Every little cell in my body is happy
Every little cell in my body is well
Mother I feel you
Mother I feel you under my feet
Father I see you where the eagle flies
Heya heya heya… Ya heya heya ho!
Heya heya heya heya heya heya ho!
We are circling
We are circling, Circling together
We are singing, Singing our heart song
This is unity, This is family
This is celebration, This is sacred..
Uh Ale le (My Fav)
Uh Ale le…
Ale le Quita Tonga…
Amasa masa masa…
Uh !! Alowe Alowe Alowa…
Tall Trees
Tall trees.. warm fire
Strong winds.. deep water
I feel it in my body
And I feel it in my soul
Magic Hat
Put your money in the magic hat…
And the more that I give
The more Ive got to give
It's the way that I live
Is what Im giving for