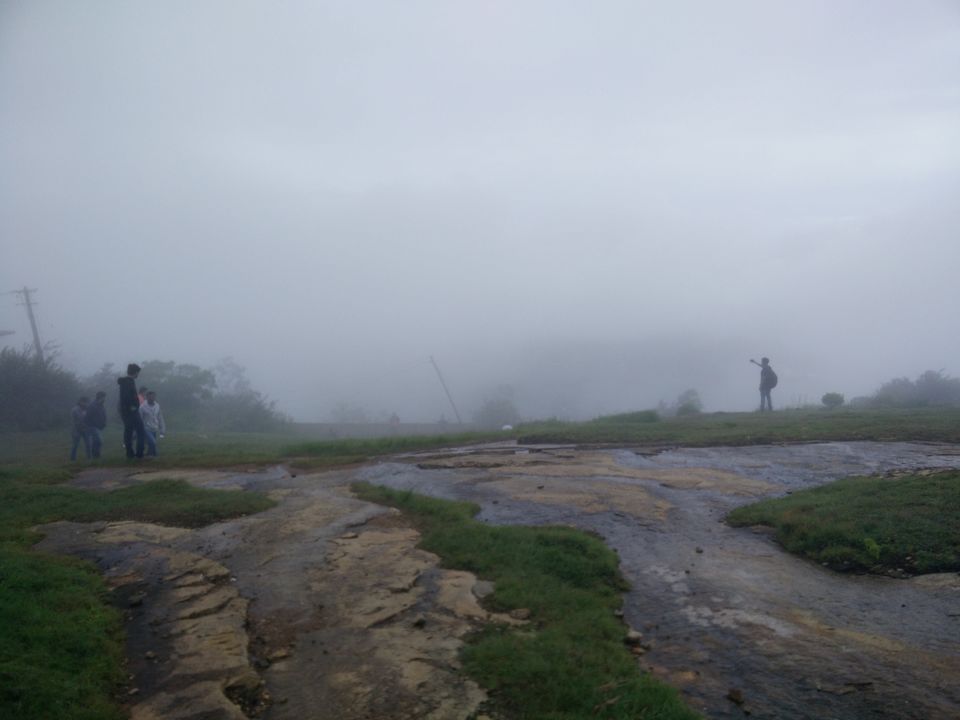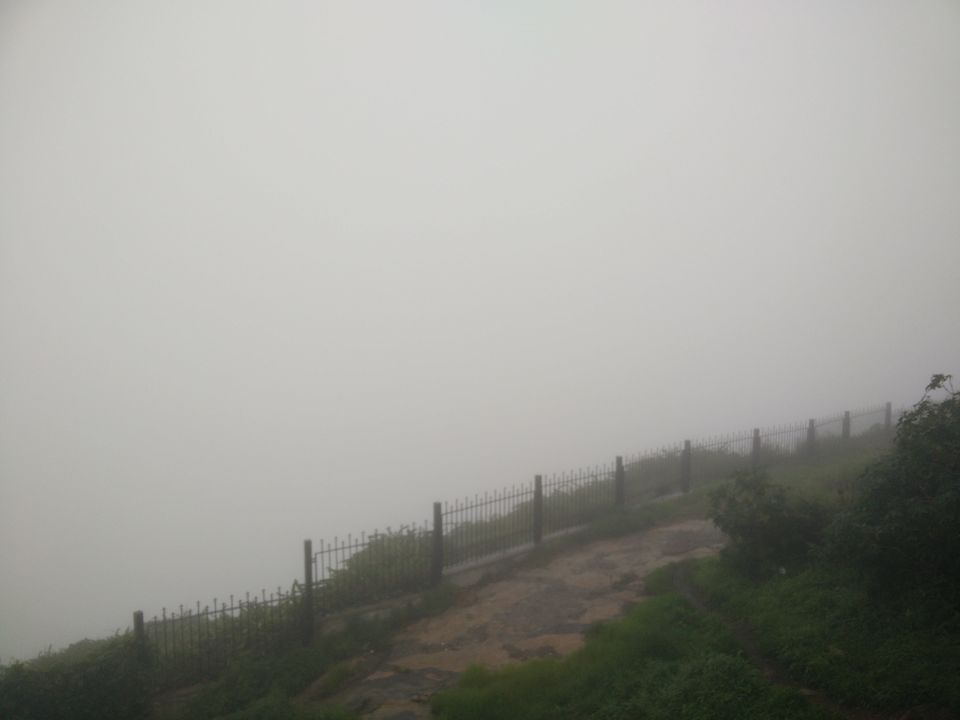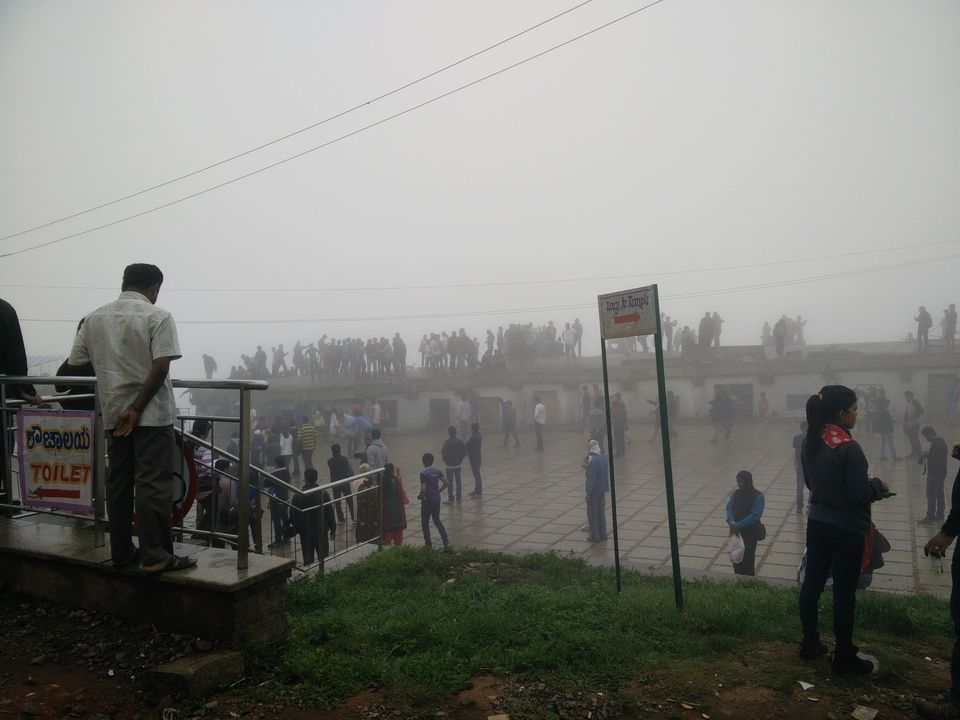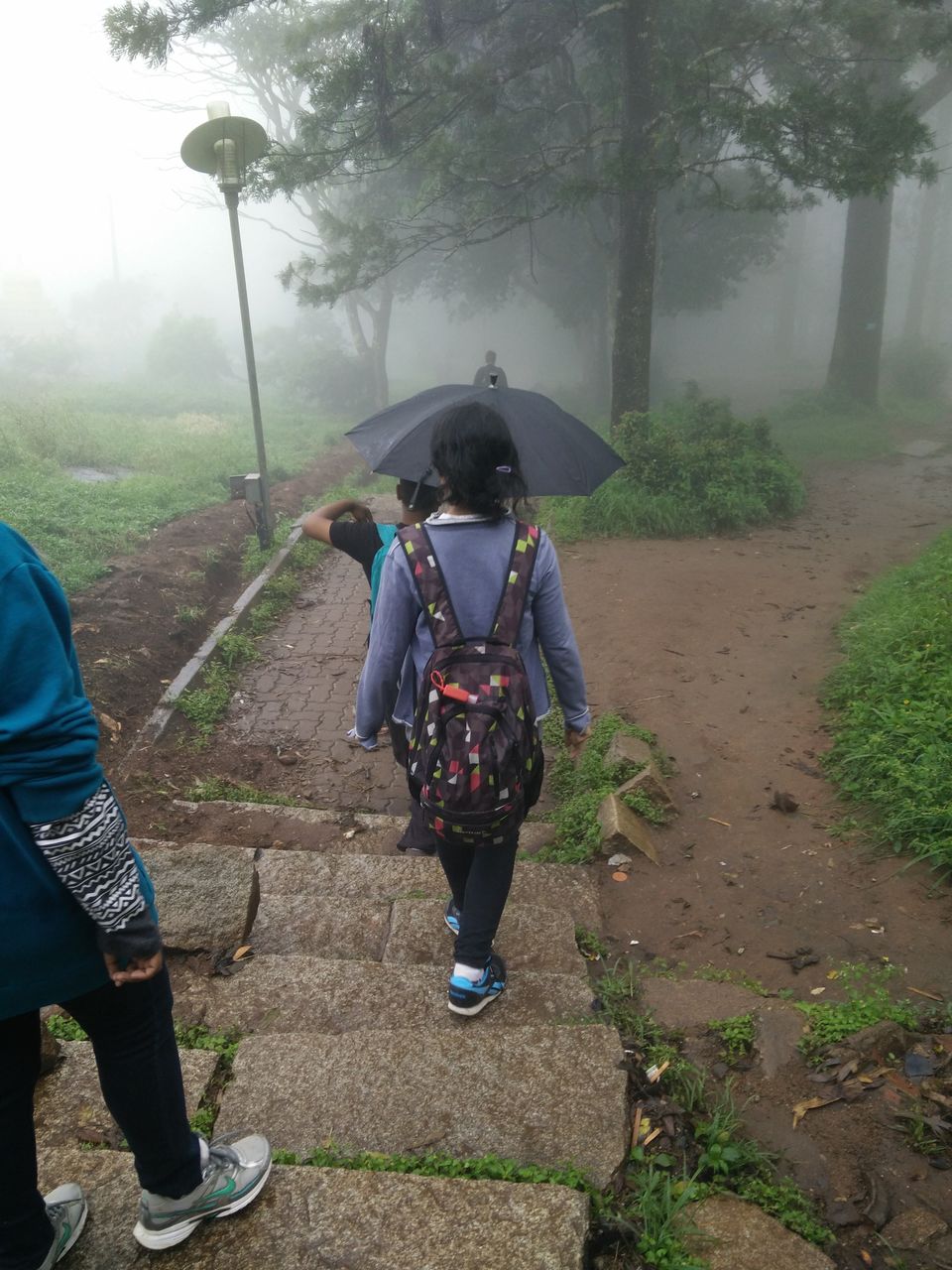 Nandi Hills is all-time favorite getaway for Bangaloreans.
Making a trip up to the picturesque hills, made me realize why. 
Disclaimer: There is not much to really do at Nandi Hills; it's more of a scenic viewpoint, if you'd call it that.  
We started our two hour car journey to Nandi Hills in the wee hours of the morning, amidst a faint drizzle and cool mist hanging over Bengaluru city. The rows of cars and throngs of people thickened with every further kilometer we traveled. After a slow (but scenic) climb through hair-pin bends and precariously narrow roads, we made it to the top of the hills, where we noticed tourists getting off their vehicles and preparing themselves to walk the distance, rather than wile-away time in their stationary vehicles. We too, decided to do the same. (The fresh morning air, and cool mist was indeed a welcome break from Bengaluru's permanently polluted atmosphere!)
Once at the top, you will see the following (I'm writing in retrospect, so I may have forgotten a few minor details; please bear with me): a couple of food & drink stalls (including South Indian food, snacks, ice creams, coffee, tea, the works), a large, open space where most tourists gather for a view of the sunrise, a temple to the side, and random pathways here and there (which lead you in different ways to the same spot), and a parking lot.
Yup, that's Nandi Hills for you.  
Personally, I was disappointed about not seeing a perfect sunrise (due to the heavy mist around us), but I was more than happy with the pleasant weather. In my opinion, it's also more fun to escape the throngs of visitors and find a comfy spot for you and your group, from where you can just chill and look at the view below you. There are tons of much-less crowded spots: you just have to walk around to find them. 
All in all, Nandi Hills is a one-time visit kind of place, (for me at least). 
Go to Nandi Hills if you: 
Like touristy, well-planned out, and already explored destinations. 
Don't mind crowds of people. 
Like taking photographs of special scenery, and such. 
Like long drives and road trips with your gang. 
Aren't really looking to DO anything adventurous, and just want to chill-out. 
Are looking for an inexpensive weekend day trip. 
Don't go to Nandi Hills if you: 
Dislike large groups of noisy tourists. 
Dislike conventional travel spots. 
Dislike sitting idle to watch a scenery, but rather want to be active and do something energizing. 
If you don't like road-trips or mountains. 
If you don't like/are afraid of monkeys, and stray dogs (who are harmless and adorable, by the way).