We were in Darjeeling in January 2017 on a family holiday after a lull of more than a year. I was lucky to get a confirmed booking at my company's holiday home in a short span of time. The holiday home was located at a strategic point from where Mt. Kanchenjunga was visible in all its beauty and might.
The trip to Darjeeling included visits to the regular spots like Ganga Mayya Park, Rock Garden, Batasia Loop (an engineering marvel), Tea Garden, etc. and I had a good time taking pictures of waterfalls, hills and ofcourse the heritage toy train. But the thrill factor seemed to be missing as I was looking for some unique view points to satiate my hunger for photography.
My driver mentioned about Tiger Hill Observatory from where one can see a beautiful sunrise and also the Kanchenjunga bathed in morning light. But then comes the cache. One needs to wake up early and be there to grab a good vantage point as it gets pretty crowded with tourists. As much as I love photography, I am also sucker for sunrises and sunsets. Knowing very well that it was my only chance to be able to witness nature's magic at Tiger Hill, I decided to wake up at 3 am and be at the observatory well in time.
It was a cold wintery night with temperatures in the lower single digits and it was a real challenge to not only wake up, pull myself off the blanket and head out, but also stay put at the location for a good 2 hours before the sun actually started popping up. I reached the observatory at 4:30 am and immediately located an isolated spot from where I was sure to get some amazing views. Luckily no one had spotted it before me.
The cold was unbearable and my only solace was my camera with which I kept experimenting taking pictures of the night sky, thus diverting my mind. As the morning light set it in, the enormity of the vast landscape was palpable and the layers of hills in the soft morning light mesmerised the senses.
After a long gruesome wait, the first sight of the sun was finally visible at about 6:15 am. The atmosphere had turned into one of excitement with the crowds roaring at the sight of the rising sun. The beauty of the rising sun was simply mind-blowing and I could sense a feeling of chill down my spine.
Those few minutes were pure magical and divine. I spent the next 30 minutes capturing pictures of the rising sun along with the beautiful Himalayan landscape around.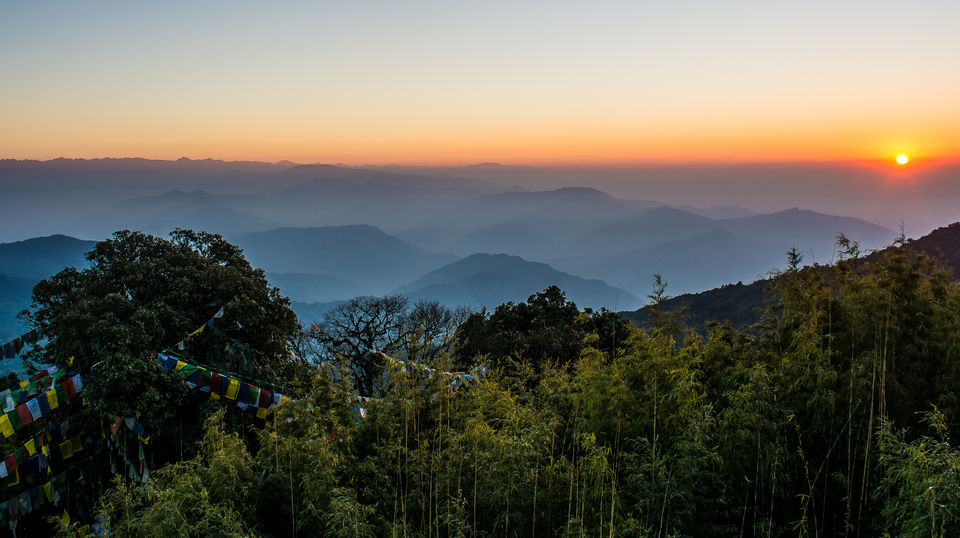 With the morning light setting in, one could see the Kanchenjunga peak bathed in golden yellow. The mountain stood tall in all its might in the distance and one can get a clear unadulterated view of the peak from the observatory.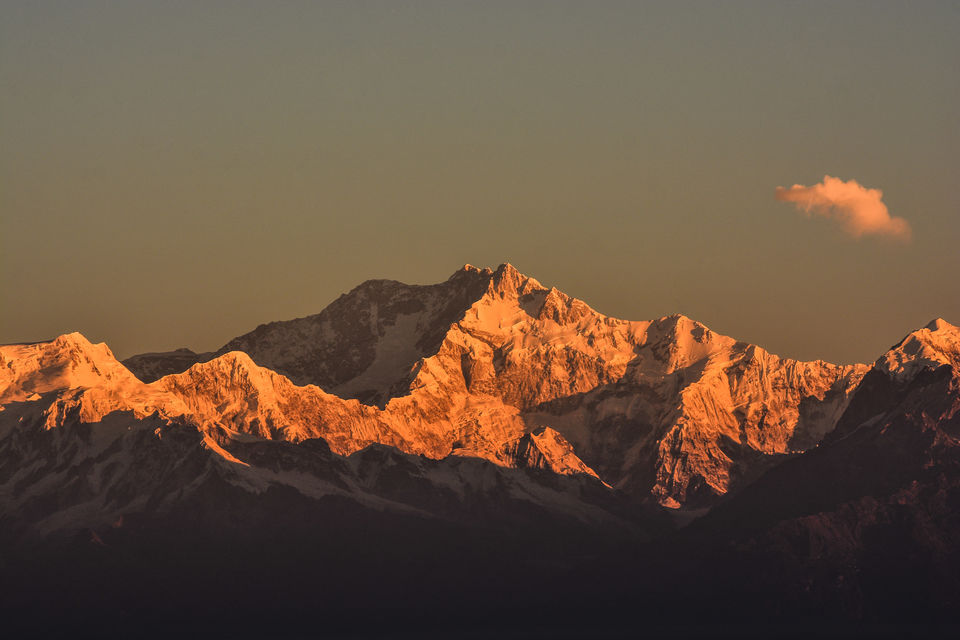 It was one of the best moments of my trip to Darjeeling and my hunger for photography was fully satiated. Ofcourse, we headed off to Gangtok later that day and I had some adventurous time with my camera including a slip which damaged my lens. But that's a different story to be told later on….