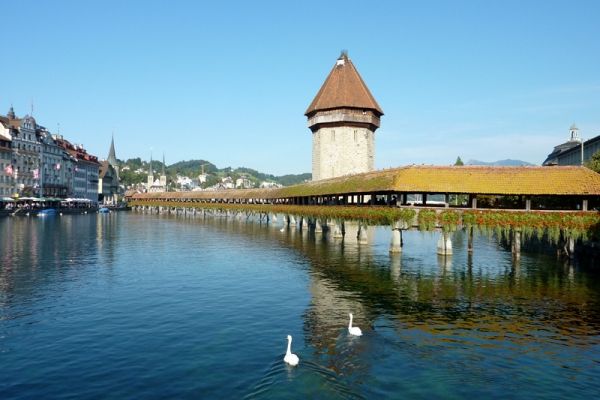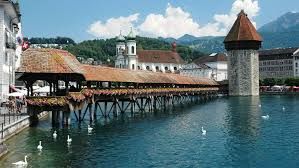 It was in the year 2009 and I was lucky enough to enjoy a sudden trip to Switzerland planned by my family and relatives. Although due to certain official circumstances, my parents could not accompany me, but I managed to endeavor in this journey. I am about to describe one of the beautiful location of Switzerland. We were mesmerized and you would too.
In the city of Lucerne, in central Switzerland, across the Reuss river resides the wooden footbridge, named the Kapelbrucke, which now named as the Chapel Bridge. The name originates from the neighbouring St. Peter's Chapel and it was built almost 682 years ago, in 1333, during the 17th century. The Chapel Bridge serves as the city's virtue and also is one of the main tourist attractions of Switzerland. The oldest covered wooden bridge in Europe, its originality lies in the series of paintings created on them, which dates back to the 17th century, but unfortunately many of them were destroyed due to a conflagration of fire in the year of 1993. 
The most iconic place of Lucerne, the Chapel Bridge OF Switzerland provides not only a covered bridge but also a diagonal path which avails the tourists of the benefit of strolling and viewing the panorama as per convenience. It's often called the "water tower" since it's positioned above the river and also during the year 1303 (when it wasn't a bridge yet!) it was more of a use of lighthouse.
The Chapel Bridge possesses some very intriguing interior paintings. They belong to the time when artists had an innovative sense of painting. The paintings also represent Swiss history, mythology and other traditional pictures. It is believed that the painter of this bridge was a Catholic painter Hans Heinrich Wagmann. The main motive behind these artistic pictures was to promote the faith in Catholic Church. The paintings were created on wooden planks, especially maple wood. Every painting in the Chapel Bridge has an interpretation of what the picture depicts. Almost all the portions of the Chapel Bridge are umbrageous with the legends of Switzerland.
August 18, 1993 was indeed a horrific nightmare for the people of Lucerne and Switzerland as well. The Chapel Bridge was virtually demolished by a fire breakout and two third of the interior paintings were gutted. But within a short span of time, it was again reconstructed and opened publicly on April 14 1994, with an estimated cost of 2.1 million U.S.D.
Indeed a breathtaking view and pleasant for an evening stroll.