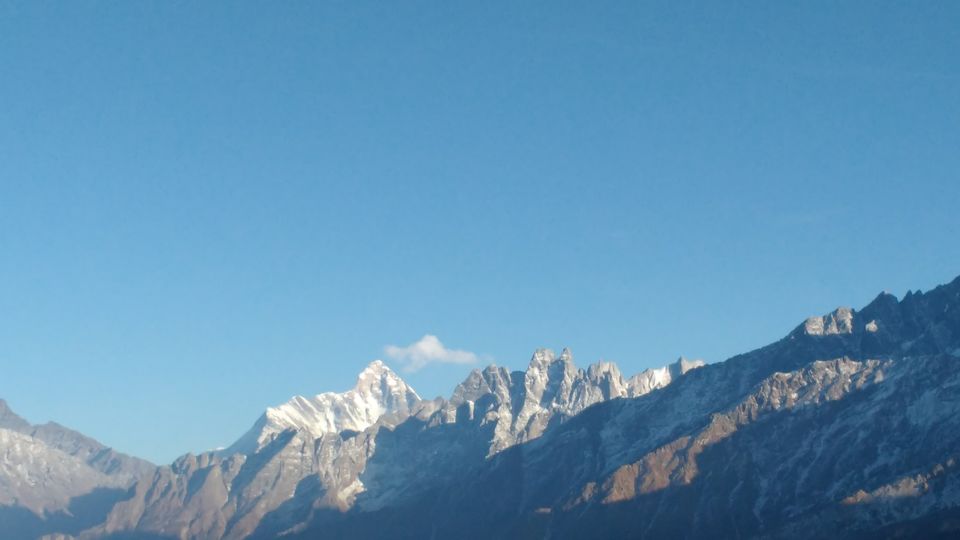 It's the end of December, the peak of Winter and we are at the Himalayas-what would one expect, a snow storm perhaps. But it was a scorching sun over our heads on the first day of the trek starting from Dhak Village. Few minutes in to the trek, I could hear my team mates complaining "I thought there will be snow and weather would be cold" type of conversations; that was it, we started sweating-Jackets Off and Sunscreen On.
As we ascended further we reached Tugasi village (our water refilling point), where the little kids welcomed us with sweet smiles and posed with us for the cameras. The people of Tugasi village were using the kinetic energy (Oops! Forgot to mention that I am an Engineer) of water stream flowing down for rotating the grinding wheels for grinding flour with simple mechanisation. This simple water driven grinder was appreciated by almost all the members of the team. One more hour of ascend; we have reached our campsite Chitrakhanta at an altitude of 9700ft.
I have to admit that TTH has pitched their tents in a perfectly astonishing location, from where you could see 180o view of the snow-capped peaks of Dronagiri, Hathi Parvat, Ghodee Parvat, Bramhatal and the Mighty Nandadevi Herself. The view was worth the pain and pain disappeared with passing minutes admiring the view. Our guide Dabbu Ji explained about each peak and said there are lot of unnamed peaks which can be named after us if we go on an expedition and reach the top!
After a tiresome day we had our tea, soup and meal in our dining tents. We played dumbsherads on Bollywood movie names.(I was literally dumb, I didn't understand most of the words in the game!!) When my term came, they provided me a simple Hindi word, which was not so simple for me to act, yet I survived.
Before going to the tents and sleeping bags, I must say about the night sky!! The million star studded sky, gives you goose bumps. ( I swear I am buying myself a DSLR to photograph stars for my next trek). The truth is, with my limited English vocabulary I couldn't find the right term to
describe the night sky. Finally into the sleeping bag, a first time experience but owing to the tiring day I fell asleep around 11.30pm.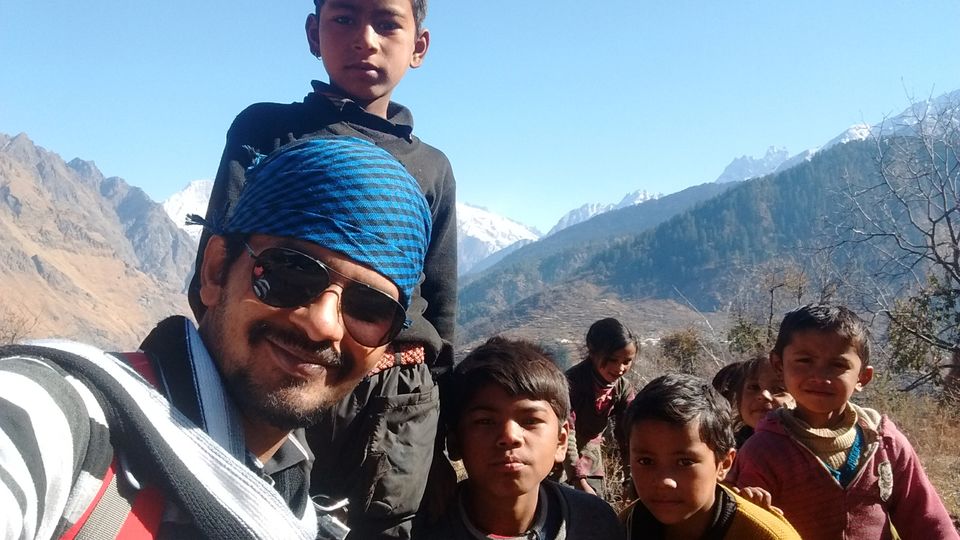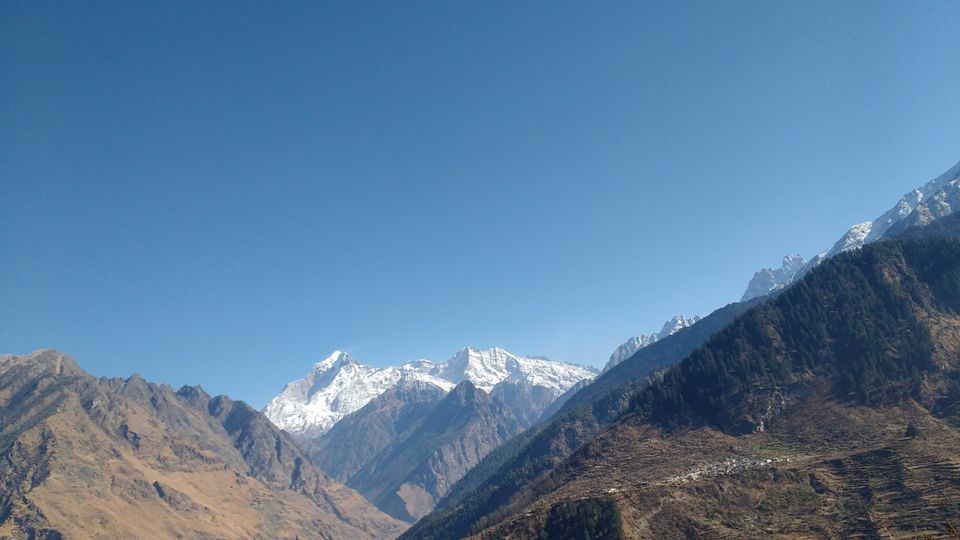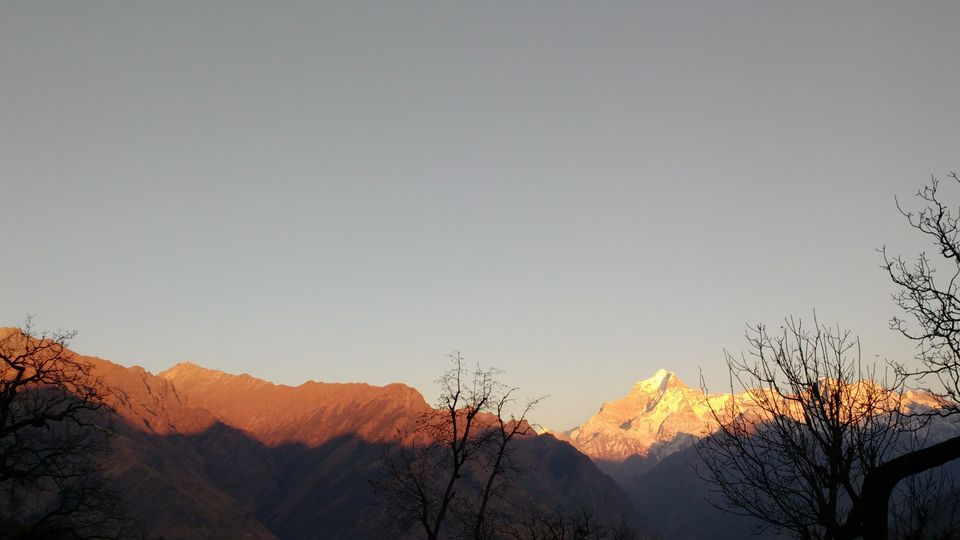 We woke up to find a stick covered with Ice put out in display front of our dining tent-a ray of hope emerged that we will encounter snow that day.
The second day was more cooler, as we had to climb through dense Pine forest in a very steep terrain. We had witnessed one of the finest ecosystem existing at such an altitude with golden oaks and blue pines towering in to the clear blue sky.
Out of no where we found a skull of an Ox left hanging in a pole. Dabbu ji, our guide told us that the skull marked the halfway mark of the day 2 trek. We had our share of pictures along side the skull before we started trekking again.
First it appeared like garbage and took me a second to realize it was ACTUALY SNOWWWWW!! And finally we found patches of snow, scattered on the forest floor. This was my first encounter with snow, though not much as I expected but still the mere sight of snow delighted me.
We reached the Tali forest camp sight at an altitude of 11,600 feet,a little quicker than the previous day and once gain the location where the tents were pitched were really beautiful. Unlike the first camp site, this one didn't have any view points but had SNOW around the camps!!
Post lunch after a little rest we started our march to the Tali top, where one of the most exquisite landscape on the planet rolled out right in front of our eyes. The tali top has a small lake(more like a pond) in which you could see the reflection these majestic peaks like a mirror. The still water without any ripples made my mind and soul feel lighter, all the pain of the body vanished in thin air; it made me realize the mind& soul without ripples can reflect the strongest will, just like the mountains reflected on the lake. With all these philosphical thoughts on mind, one can get high without alcohol owing to this serene place.
One of our guide Sanju Bhai, was teaching the group about rock climbing while I was away gazing at the still waters of lake. Few indulged in rock climbing over a 12 feet vertical rock and were successful.
We descended down before sunset to the Tali forest camp where hot soup awaited for us. By end of day 2 our body got acclimitized to the environment and the entire group was pumped up for the next day-The Summit day.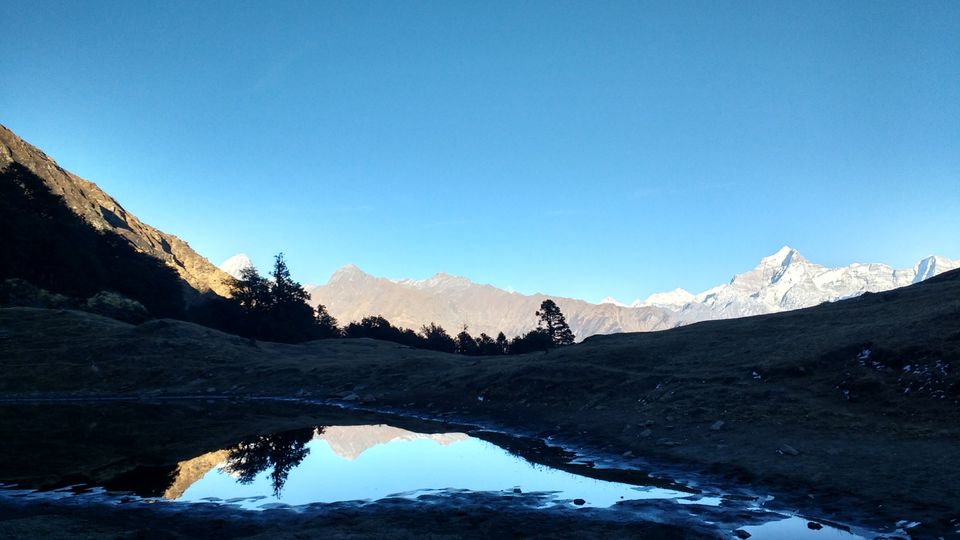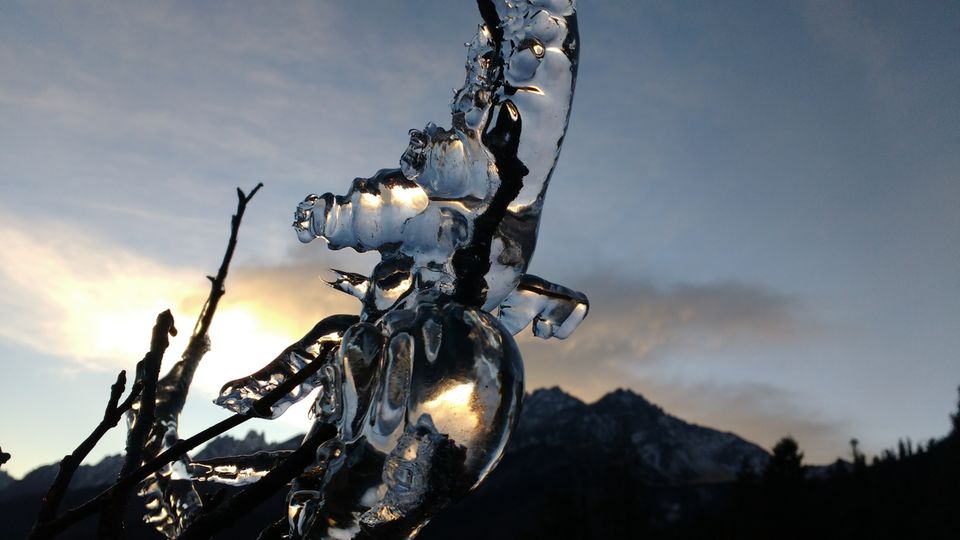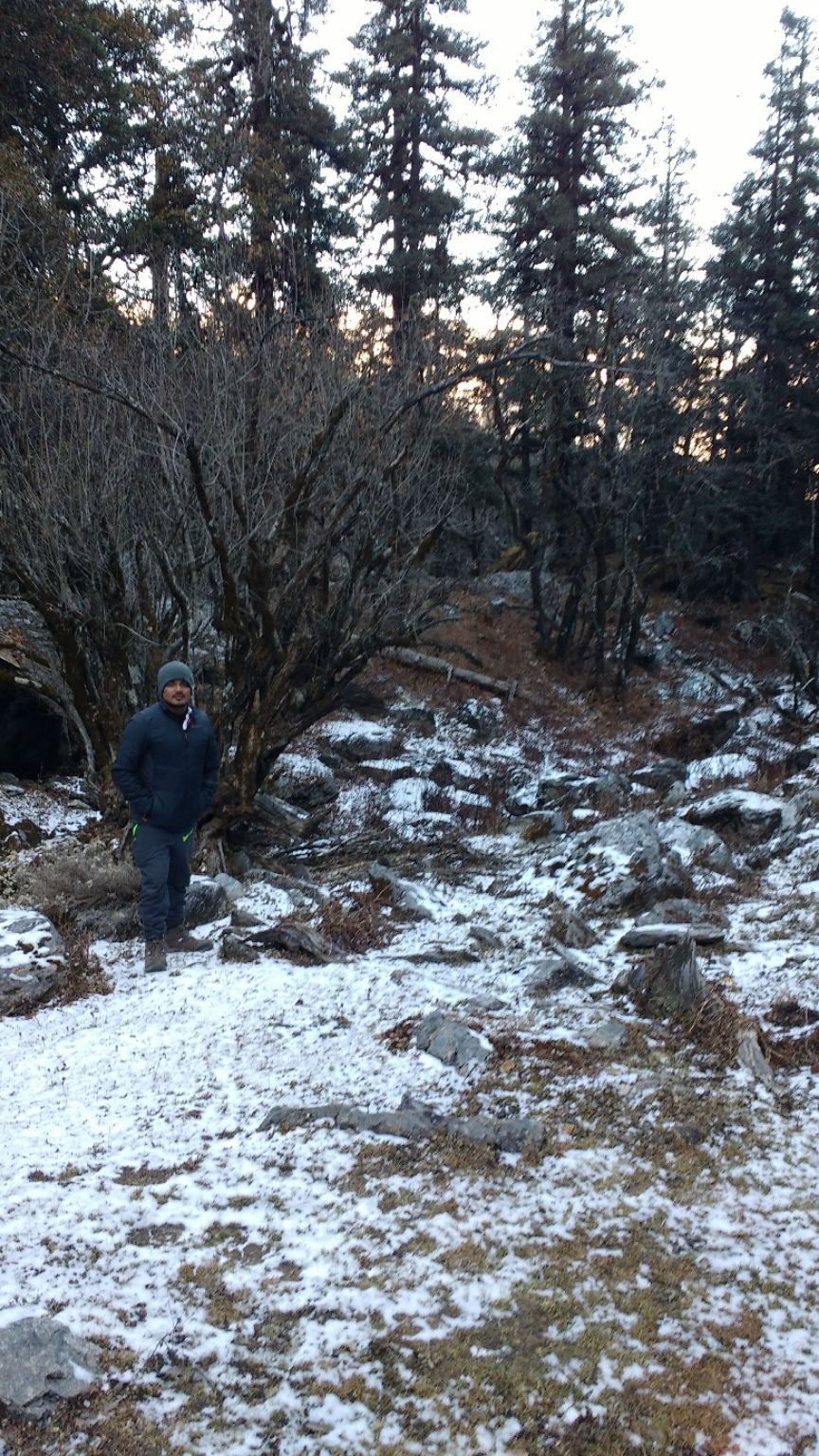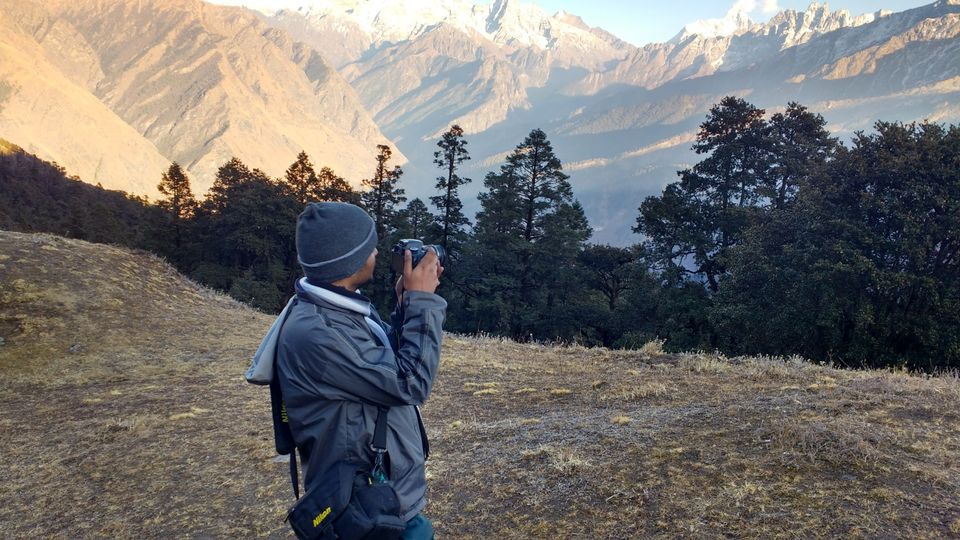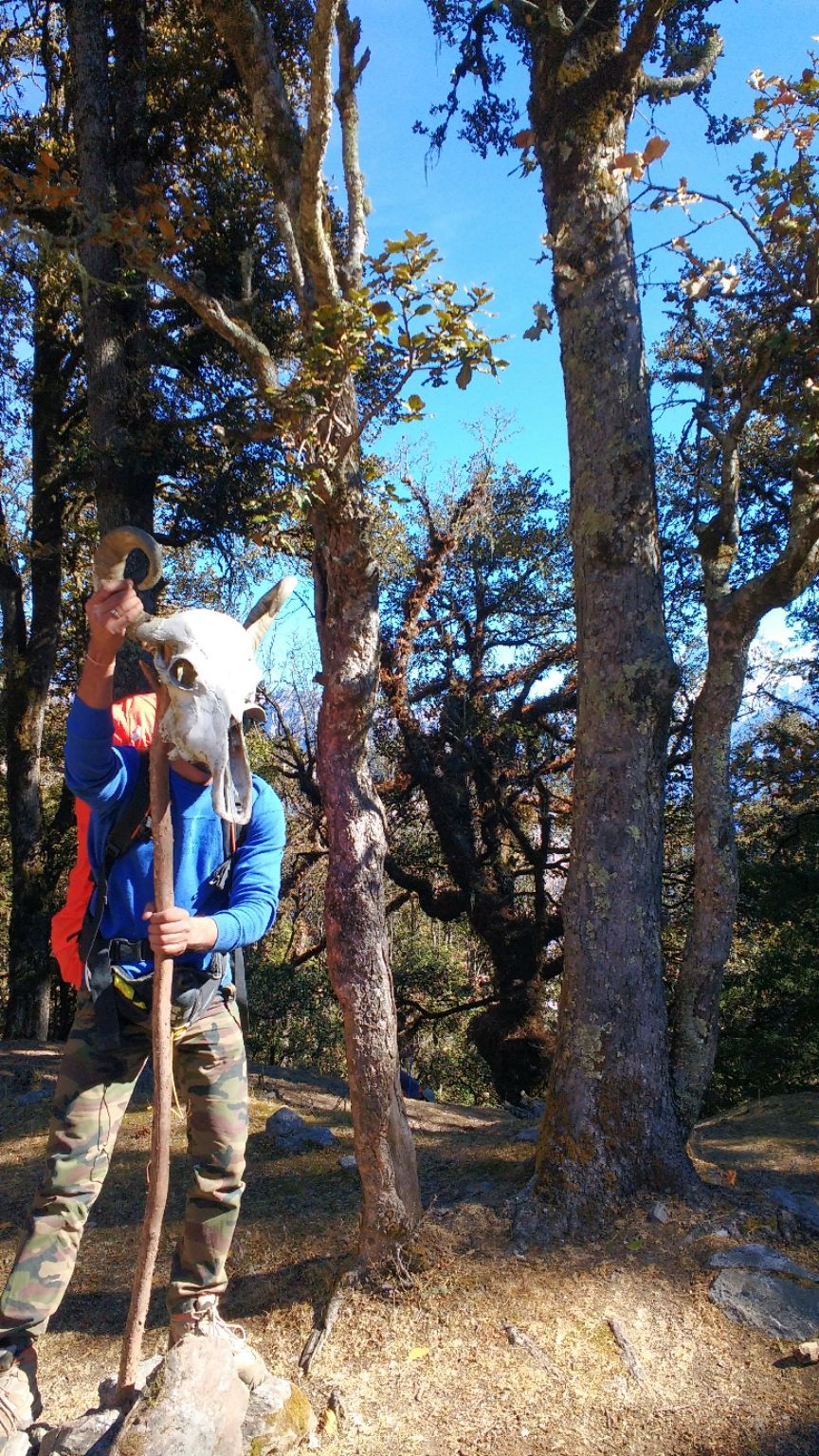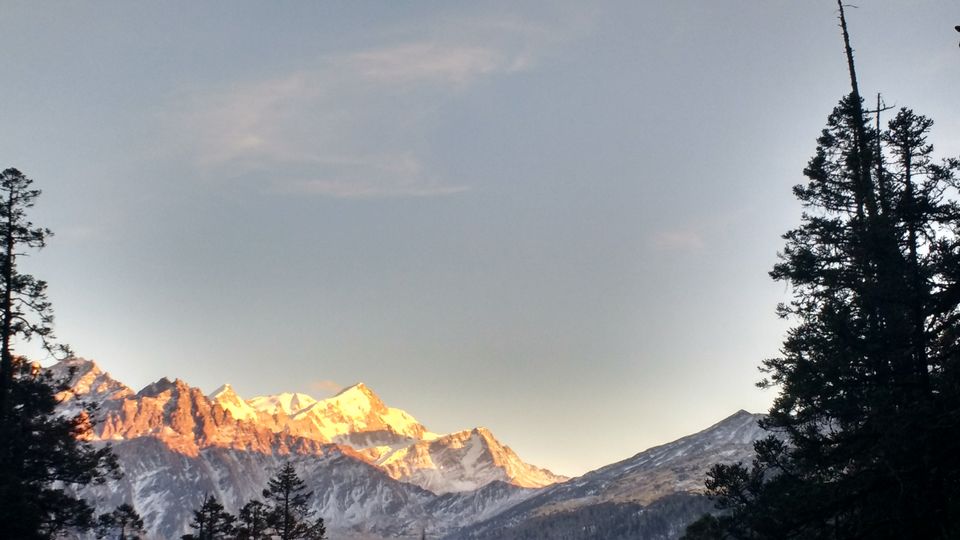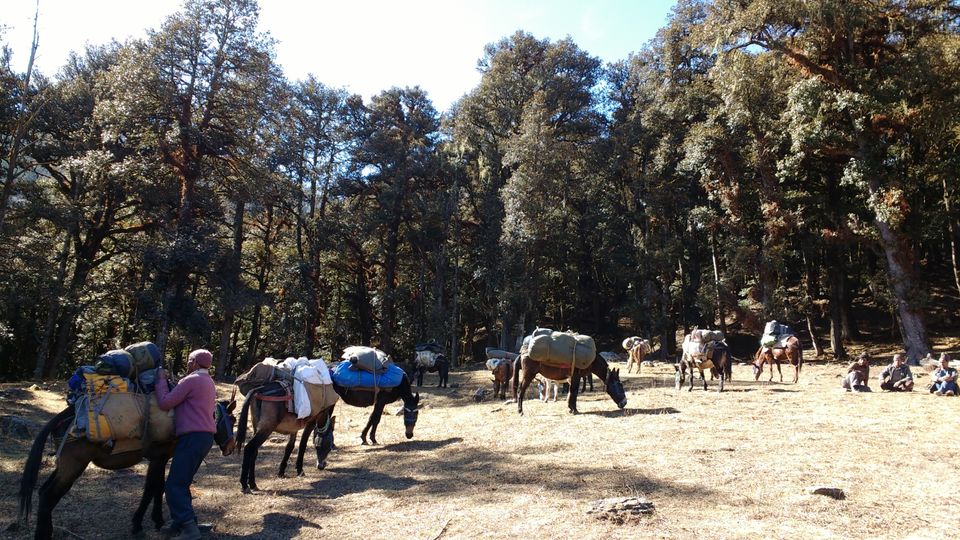 Kavita Ji, our trek leader has already warned us that it's going to be the toughest day since we have to reach the summit and climb down to Tali campsite before sunset. Most of the team carried a day bag, in which they carrier lunch and other essential supplies leaving back the heavy back bag at the camps.
I didn't carry a day bag, hence decided to take up my usual bag, dumping unneccesary items inside my tent and still my bag would easily cross 7kgs. With a heavy luggage on my back(Anil gave me company, he too carried a heavy bag), we had an early start at 8am.
Really that was one really long walk, almost all of us ran out of water before our next water refilling point i.e., the broken bridge. Since snow has became a common sight after day 2, the broken bridge stunned me once again with a large frozen water stream and a broken concrete bridge. We had to climb down the slopes alongside the bridge and cross the icey stream and filled our bottles in the stream.
Few of the quick climbers Harish(who had done 4 himalayan treks prior to this one), Shilpi(the adventure girl, I would call), Ravi, Shanay( we called him Krish-a Hrithick look alike) and myself crossed the broken bridge much ealrier and decided to wait for the remaining team to cross.
I didn't remember who started it, all of a sudden we went all out playing in snow and started hitting each other with snow balls. It was soooo much fun playing in snow( I owe a special thanks to Harish for all the fun).
After the entire team crossed the bridge, we continued our climb and finally after 5 hours of beautiful walk we have reached the summit-Kauri Pass at an altitude of 12,763 feet! This is the same place explored by Lord Curzon, the then viceroy of India in 1905.
We welcomed and congralutaled each one as they reached the summit one by one. We had our packed lunch at the summit. After the entire team reached the summit, the photo session began! Dabbu ji(in red in the photograph) got our Indian national flag from one his dosth at the summit.and we have held the flag together for the pic. Then the team carried the Kauri pass banner for the group pic.
Around 2pm we started our descend down the summit. Trust me, climbing down is the toughest part! You will be pushed down by your own weight under gravity and you have to keep your balance to prevent slipping and falling.
Because of the difficult descend the group halted at several places. To reach the camp site on time before sunset, the other guide asked the fast movers to proceed ahead. Myself, Shanay, Shilpi and Anil gave a head start to the group. I trailed back few meters when I had to tie up my shoe laces. Then the distance between me and the other three increased significantly and I lost sight of all of them. In reallity I was lost in the vast Himalayan Meadwos. I could see no human neither ahead nor behind.
I decided to trust my instincts and continued climbing down. Intitally I had a mixed feeling of fear and courage and as the time progressed fear subsided. The two long hour of lonely walk, made me feel the blessings of the mountains-raw beauty.The walk made me realise why sadhus go to himalayas for attaining enlightment.
With this divine feel, finally I reached back the campsite and joined Shanay and Shilpi who have reached 10 minutes before me. Slowly with every passing minute each of the team member reached the camp
We had hot samosas and chai waiting for us in the camp and it tasted heavenly.I had a very good sleep, with dreams of peaks that I saw on my lone walk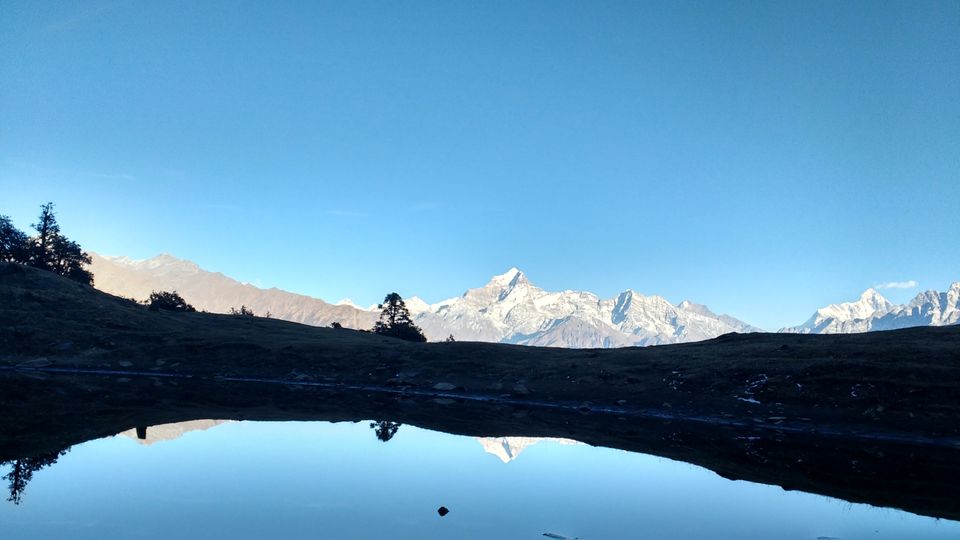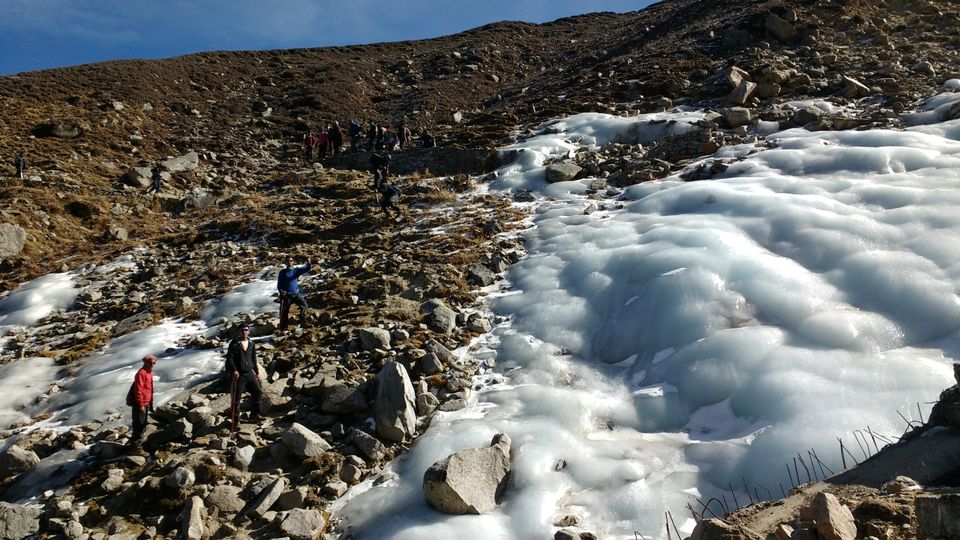 This was my first Himalayan Trek! So I decided to exercise utmost caution for selecting the trek and more importantly Trekking agency. After peer selection and going through reviews of almost all Trekking agency, I shortlisted India Hikes and Trek the Himalayas (TTH).
Both TTH and India Hikes had very good reviews however, the itinerary of TTH was Haridwar to Haridwar, that included pickup and drop from Haridwar railway station, so I decided to stick with Trek with Himalayas.
The trekking cost was Rs.9300/- including pickup from Haridwar, food and accommodation during the trek and at base camp. However, the food enroute Haridwar to Joshimath was on us.
With so much excitation I landed on Haridwar station on December 25th and was picked up by the TTH sumo, and a group of 6 Trekkers including me was accommodated  in a large sumo, which was spacious. The ghat road took us through the beautiful routes comprising of Devprayag, Karna prayag, Rudra prayag.
The 7 hour ride was sufficient to get to know each other. We were briefed about the trek at Joshimath and were served hot dinner in a homestay at Joshimath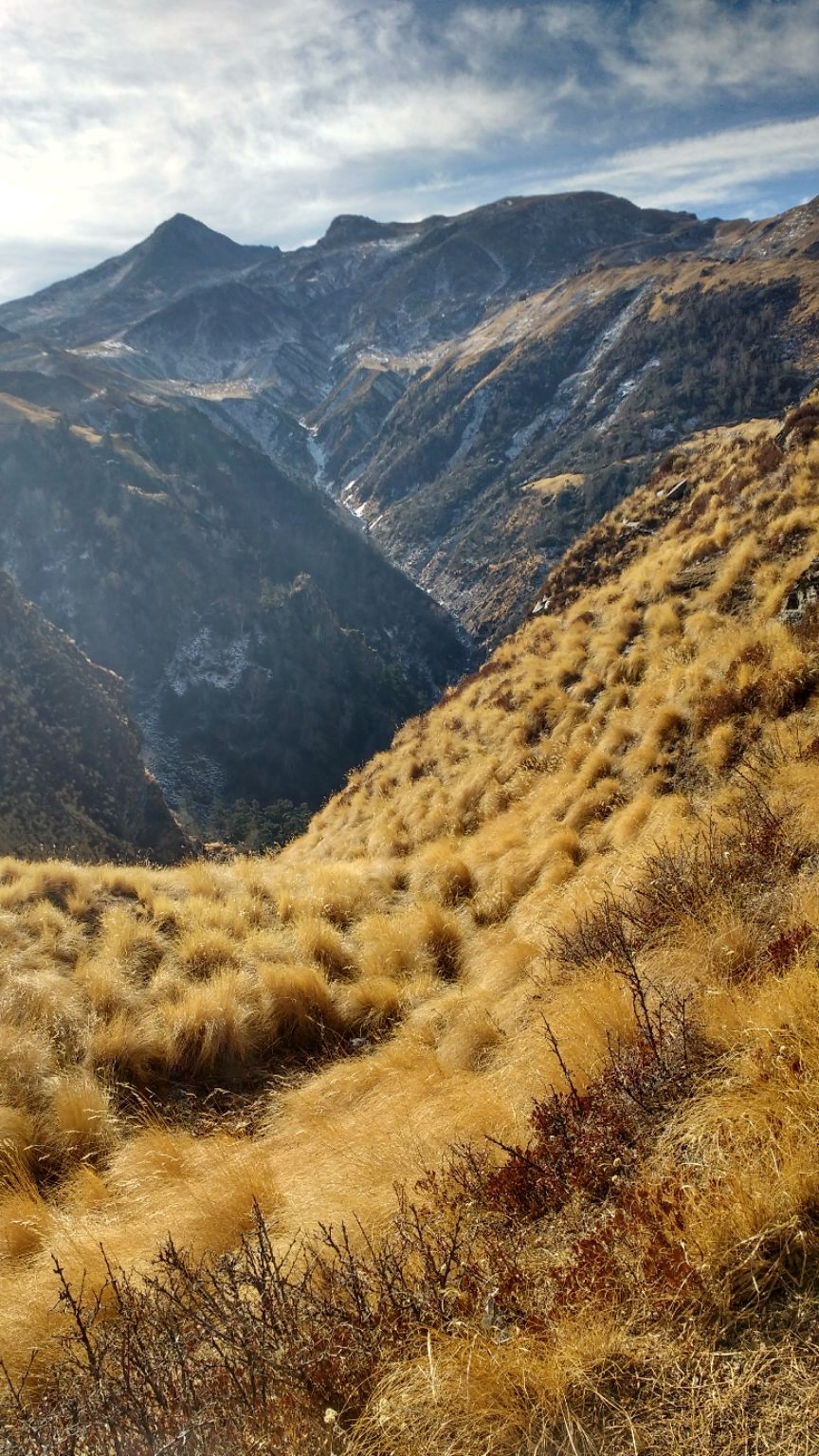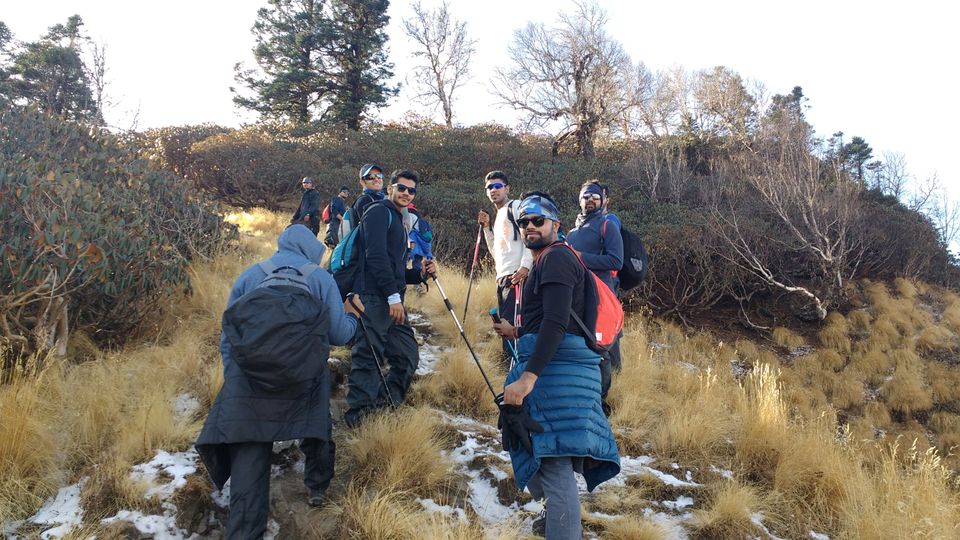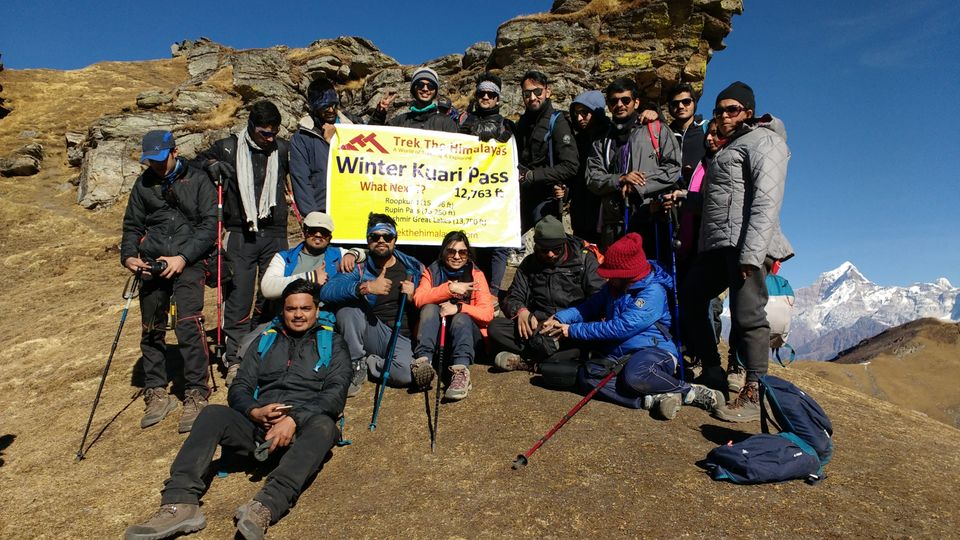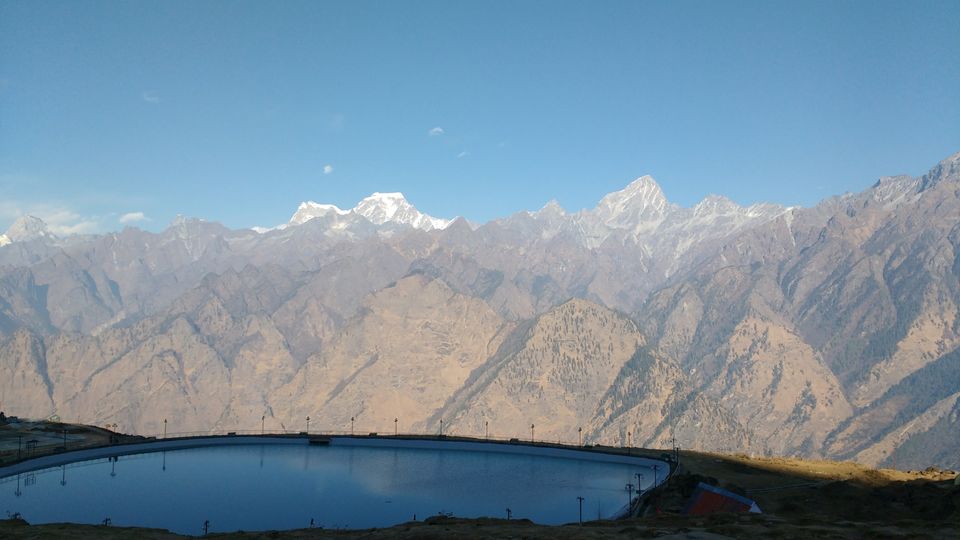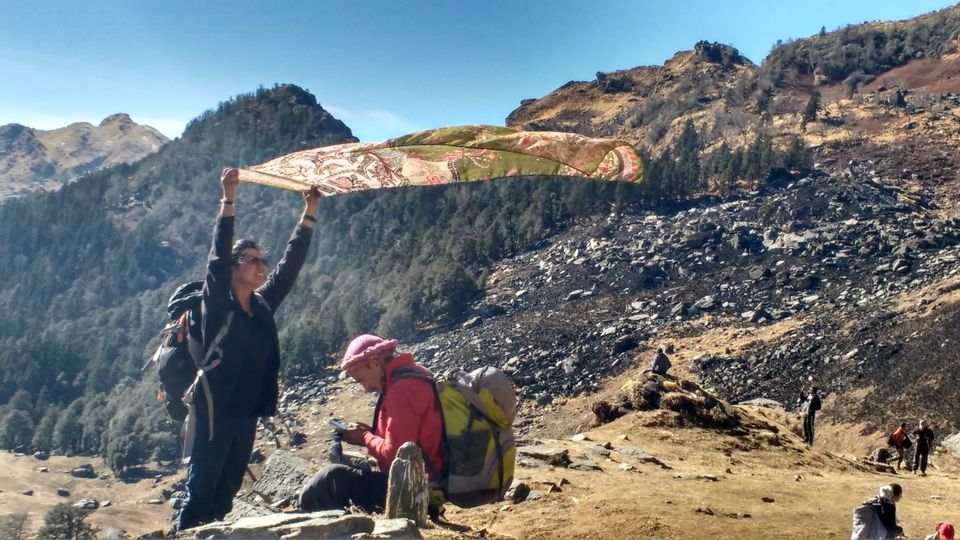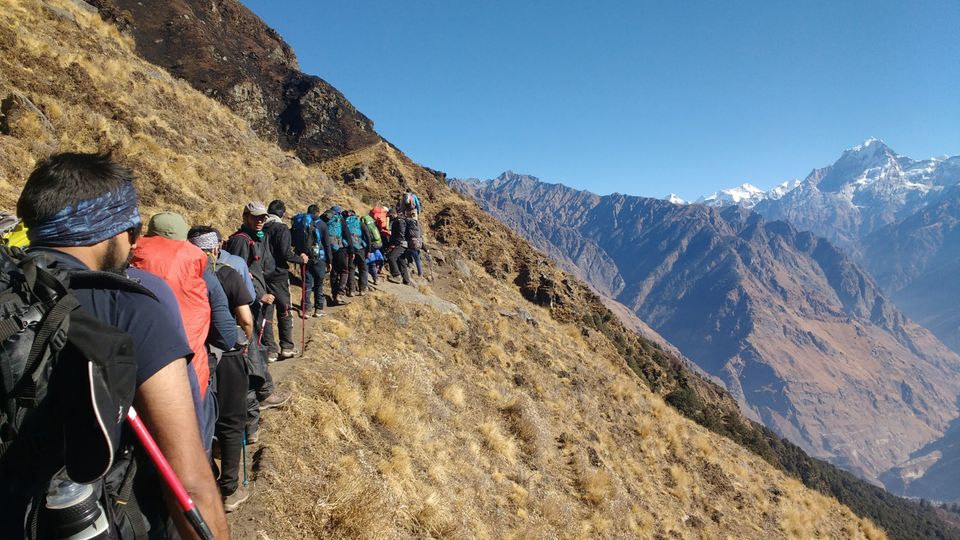 After the past 3 days experience, day 4 was a piece of cake. I didn't feel any pain or strain and enjoyed the last day of the trek admiring the view of these majestic beasts as much as I can. For the first time I saw an eagle flying below my line of site, we were at a higher altitude than the eagle's hovering altitude and clicked it.
The return route was through tali lake and descend to Auli, Where our ride was waiting for us to take us back to Joshimath. As we came closer to Auli, my heart begin to ache and refused to reutrn back to my usual life. Finally I had leave to the Himalayas, leaving back my heart and carrying the memories of a life time. As I reached the pickup point at Auli, a tear rolled down my cheek and I knew why. The awsome trip has come to an happy ending.
While people were busy talking about the trek and singing songs in our cabs to Joshimath from Auli, I was staring away through the windows at Hathi and Gowdee!