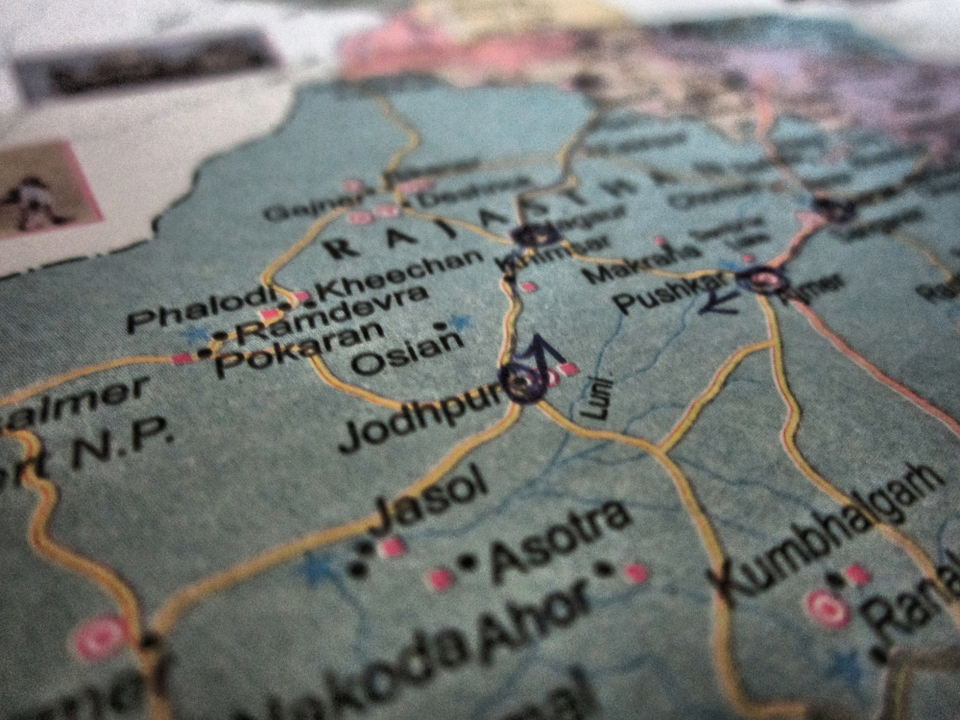 One fine day my friend call me and said
"hey Nick, Lets go Backpacking somewhere I got Fucking bore, want to do
some crazy thing and I have just have 9 days....now all up to you"
I am like wooohh wait I am just back to my Backpacking trip so lets do
something different this time.
'Different'!
He laugh and replied you always do something Different,
Without a wallet, done.
Hitchhiking, Done.
Gorilla camping in Himalayas, Done.....
Let's done with Nepal, what's say?
Again he said, I have only 9 days, let's go Shimla.
I said wait, we go to Nepal and Shimla Both with in 9 days don't worry!
He didn't believe Me, I said... "That's the Adventure is all about
dude."(Inside my mind even I don't Know, How?)

Jodhpur(Rajasthan)- Delhi- Chandigarh- Shima- Haridwar- Krishnanagar(Border)- Butwal(Nepal)- Katmandu(Nepal)- PHOKRA(Nepal)- Sounoli(UP)- Lucknow- Agra-Jaipur- Jodhpur.

The whole 4500km affair which we have to complete it in 8 days at its max!
Our Route is quite odd, its like not accepted by my Rider friends all around.
Everyone is like..if you want to go to Nepal go straight why you go
Shimla first and then Nepal its not the correct route.
Our Route is a plan for Two People , One want to go for Shimla and
other(that's me) want to go to Nepal, so collectively we decide to take
both included in our route, rather it increase our distance by 1000km
, as we are the traveler not a bus driver who scared when distance
Increases. For us its an opportunity to see more, eat more, meet more
people.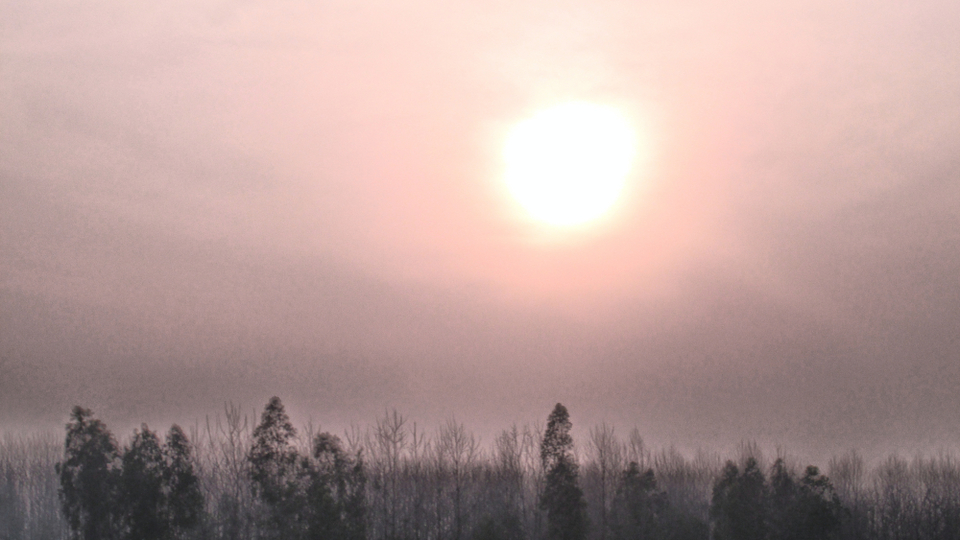 On one beautiful morning before the sunrise, Two people, one 100cc
Machine, with a Dream finally Move to complete this Journey.
I am really Nervous about this because somewhere even i have doubt
because the route which we are taken through U.P is little bit Unusual
with the worst roads,potholes
and into the worst slum areas.
I believe that Travel become Victim, When we Look like a victim.
So i am in my James Bond Look, with a Mindset that nothing ll go wrong,
We tie up all the possession, fear, excitement, wanderlust on the back seat.
We finally Move!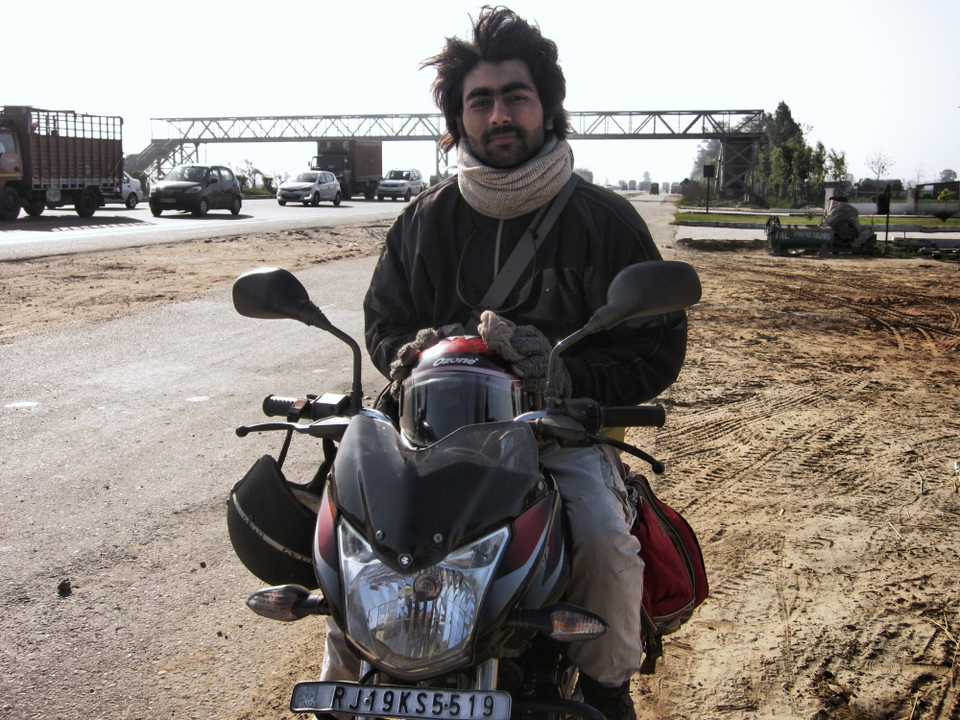 its has been just a few Km on the same day, everything is changed.
We are not in doubt anymore, we are more confident, happy, excited ,
fearless and amazed by Just 500 km ride.
Now i suddenly have a feeling, and i told myself
"we will do it",
"we will do it ..its easy Nick" and that's my GUT.
And everything is the way easy.
We reach to a 50 km from Jaipur, where v got our first couch and he is
the amazing person, he give us place to rest, some sandwiches, and a
cup of coffee. We stop here for 55 Min and then again we move to Delhi.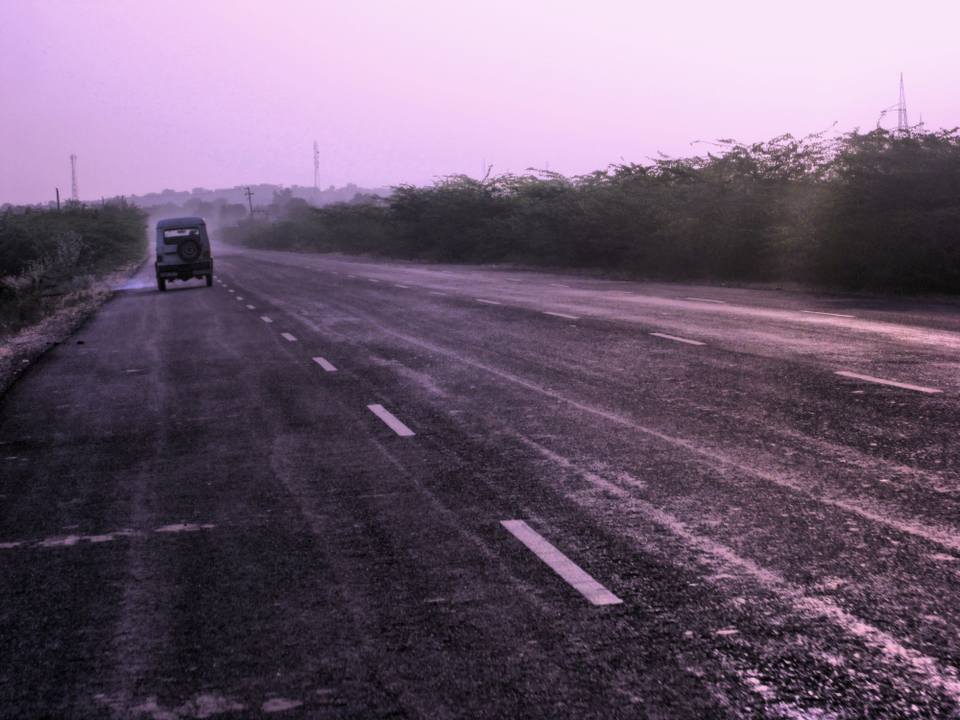 Highway's are always Boring, I must say.. it is.
whenever I am riding at night 2 am or it ll be afternoon 2 pm on an six
lane super classy highway some of the distance i was literally sleeping
because of the unchanged sound, vision, motion and do believe me its very
difficult to stop falling asleep and when a BMW or Honda is passing
Just from the next with a speed double to you like ssshhhhhhssss and I
woke up! I said "Thanks bro, for the wake up call i really need it. Yaa
I am feeling fresh Now, Hope to see you soon after 100 miles."
These are my personal favorite roads in the complete Journey, full of
surprises and thrill sometime you are just riding near to a 1000ft
deep insane valley, and next you are in between the clouds, i really
fall in love with these roads and I cherish to ride more on these kind
of roads very soon, I am again addicted!
These kind of roads i got, while riding from Shimla, some part of
Dheradun, and complete Nepal
My Favorite riding part

I never forgot while I riding, looking back ...there is just the moon, the
black valley, a small little light below and the reddish spark of
our tail light.
Believe Everything is just go with the flow and i am wishing that these roads never gonna end! Its the experience of a live time when you really feel strong.
Same part when we ride through Kathmandu, the complete road is just
near the river and it really give a scenic view and some part is seems
like mount song in China.
We are returning through Pokhara to Butwal in
night around 9 pm to 10 pm and we are literally in between the clouds
and that whitish snow in front of the headlight is Magical. at that time i was really feel blessed from the almighty that you give me this opportunity to experience your's beautiful creation!
And while riding I will speak to roads and said "I will definitely came back
because I know that is lot many you want to say to me, for the sake of
conversation i ll be there again soon"
This is the all time favorite question by traveler friends and
colleagues. They often ask me "hey Nick. What your budget?"
"How many Bucks you have this time?"
"Please don't say wallet less"
This type of question i go through most frequenty on my facebook page nickthevagabond and
that's the reason I have to make it clear this time about our
budget and how we manage.
The only thing which I don't like about solo traveling that its almost
double expensive then if you go with the group.
Yes when you were travel with group everything divides like hotel rent,
you can share a cab, share the food, sometime I share the Ice-cream
too.
So if you travel with the group of 2-3 people it will probably half your budget.
Our budget is very tight it doesn't means that we skip our dinner or
lunch, or we sleep on the roads.
No nothing like that happen we are always have a choice to save or spend.
we stay in total 5 Dhabas, 3 hotels and you didn't believe one hotel is
three star which is at Pokhara(Nepal) which is the most expensive one
but actually the fact is that, Pokhara is our last destination in Nepal
and we already save a lot of Nepalese currency. As we plan to
spend all the Nepalese currency into the Nepal itself. So we took a
amazing hotel and it's too very cheap i.e. 700 Nepalese rupees i.e. around
$12.
And we did Rafting, and ate special Nepalese sea food and even they
didn't know the name it doesn't matter, I am so Hungry at that time, so least
Interested in having a name of the dish which i am eating.
(but it was good)
After crossing the border we stick to our Budget and proud of ourself.
But at Lucknow there is a place called Tunde kababi(a famous restaurant ), it's the most
Famous for Tunde ke kabab, Beef, biryanis and many more, its a restaurant in the messy street of Aminabad, Lucknow.
Never ruin your Travel experience, for the sake of fucking money.
"Money" that we ll make it.
But we never be able to make those moments which we leave for that
fucking $10 to $15 or $50 sometimes.
So at last we are happy spending and it don't matters whatever our
Budget is but one thing I would like to say that we didn't miss anything accept
the Para gliding at Pokhara, but there is always a next time.
Nepal does not have a distinct cooking style. However, food habits
differ depending on the region. Nepali food has been influenced by Indian
and Tibetan styles of cooking. Authentic Nepali taste is found in Newari
and Thakai cuisines. Most Nepalis do not use cutlery but eat with their
right hand.The regular Nepali meal is dal (lentil soup), bhat (boiled rice)
and tarkari (curried vegetables), often accompanied by achar (pickle).
Curried meat is very popular, but is saved for special occasions, as it is
relatively more expensive. Momos (steamed or fried dumplings) deserve a
mention as one of the most popular snack among Nepalis. Rotis (flat bread)
and dhedo (boiled flour) also make meals in some homes.
As I always say that "Travel is all about people you meet in the Journey".
And its so damn true,
On that day sitting on the table and i am wondering that
Why I didn't enjoy my travel?
And that whole day i spend with talking to the cleaning staffs there
with a plenty of bear and drinks and you guys don't believe that i have
a amazing time because of those people there, At that very time i
realize that Travel Is All About People.
People Make Any Place A Piece Of Haven.
Although this is my riding trip, we are under the time boundation on
the Highway, and riding for 17 to 18 hours a day, but then also i meet
amazing people all my way.
Although thoughout my Journey there is many friends Messages is waiting
to reply in my Inbox. And I am really sorry, but due to time frame It
cant be possible for me to meet everyone and that's why wont be able to meet some of the beautiful people waiting for me!
About the people of Nepal.
They are very Genuine, Humble, very helpful
and Friendly, and personally I love them all (although they didn't get
convinced for giving anything less then a marked price)
They very beautifully work in a family in a restaurant and this very
interesting thing i saw in Nepal that the person have a restaurant,
hotel, home, drawing room, study room, kitchen, and bedroom just under
one roof and that too well organized, and that's amazing.
Dhaba is a roadside Motel and it is known for serving Punjabi style of
cuisine(Not everywhere)
If you are riding in India and didn't eat at the Dhaba near a
beautiful Highway under the moon and with the fellow truck drivers
then i think you didn't take a real essence of riding on Indian highways
In India you should take a cup of tea (that's too optional) and ask
owner that you want a place to sleep, he ll provide you a place to
sleep with a special bed which is called Khatiya, and in morning they
ll also give you advice about the local cuisine and places and further road
condition and shortcuts all for free.
The best parts about Indian Dhabas in the Paratha(My fvrt), there is
generally three type of Parathas everywhere
Firstly The Aalu one means they use Potato mesh.
Secondly the Piyaz one means the use Onion.
Third is Mixed and that's my favorite and it's always to have one.
Believe me or not 1 Paratha is more then enough in the breakfast till
the lunch and by mistake for the sake of taste if you ate 2 then
direct dinner is required.
I stay at more then 5 Dhabas (all in India) all around my trip and ate
at more the 18 included Nepal.
The best food i got at Karnal, Haridwar, Lucknow and the worst at Gorakpur.
I never forget that 11pm Dhabha near Gorakhpur,U.P when we are just returning
from Nepal through Sounoli Border,on that Dhaba everybody is drunk,
some are paralyzed, some are just behave strange and its all seems
like planet of apes kind of hell and finally when the food came its more
worst then all of them.
At a time a Dhaba lunch or dinner doesn't cost you more the 100 Indian
rupees that's Include the stay for a night, and some guidance too. All
under $2, very cheap and value for money the a local restaurant.
As it was said..
"Everything looks beautiful from inside of a Motorcycle Helmet"
& I got this thing while I was on the road to Kathmandu. As I rode on I got to meet with many amazing people . The roads were magnificent (as they always are) & "the dhabas" were amazing. We stopped many times at the dhabas & ate some really delicious Parathas.
The traffic in Delhi sucked but we managed to conquer that too.It takes 5-6 hours to get out of Delhi itself.
As we entered in Nepal the sun set off & it was not a good idea to ride in night so we took a quit nice & cheap room in a guest house in Butwal. We woke up at in the morning, again pack the machine, hop on & go towards Kathmandu .
The roads were full of potholes & muddy but somehow we managed to ride through. After riding some miles we reached Khatmandu,Nepal's capital, rather i didn't like cities but Kathmandu is really beautiful.
From Kathmandu we are headed towards the most amazing place i.e Pokhara, Pokhara is the situated between the beautiful valleys, waterfall's, temples.
There is a place named Sarangkot in Pokhra its the highest place and i thing best place to do camping, from there we have an Mesmerizing view of 'Annapurna circuit' which is the most beautiful part of my trip, it was just majestic & we were hypnotized by beauty which Himalaya's serve. This all was so magical & jaw dropping that we sat there & kept on looking at the landscape just for a while because "its important to feel strong rather then to be strong" .
The mighty Annapurna circuit was the best part of the entire journey.
Then we headed towards Uttar Pradesh ,In U.P we our roads were smooth & we loved these roads after conquering potholic roads. As we reached Lucknow the night was taking over & we spent our night in a nice roadside motel. Next morning we rode on & headed towards Agra then continuing our ride we entered in Jaipur (Rajasthan). We took a little break on a motel & had some light food & snacks.Then riding non stop we reached the final destination Jodhpur.
And again we are there from where we start,
But I am Not the same person I was, each mile teaches me something, I learn that how people appreciate the basic pleasure of life.
I never forgot those smiles, those miles, those Parathas, insane night rides, mighty Himalaya's, people i met, and lot many!
after every journey i got to know 'How Wrong I Was About Places, People, Food, and Myself'