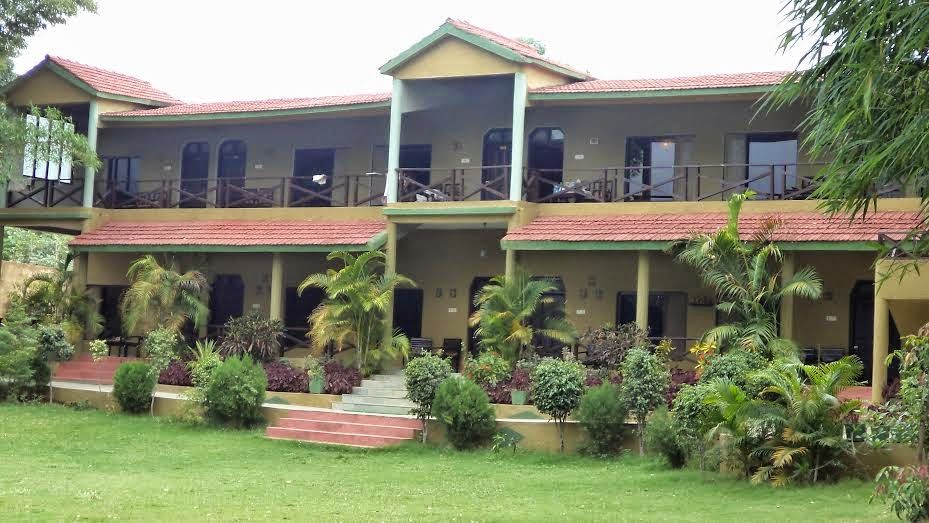 When we were in school they use to teach us about alphabets A to Z, and we were also taught about numbers 1-100. It was called learning English and Mathematics. Never in your life would any teacher or your great intelligent classmates would have talked about the combination of the two. The combination was recently discovered by me in one of my trips.
Before I give you a combination of math and English let me create a scene for you. Take a deep breath, close your eyes, and make sure you are in a silent place before the exercise. Don't worry this is not a yoga class. But do practice yoga for some time in your day to day life on lighter note. Just imagine yourself around huge green Sal trees. Clean pristine blue sky with pockets of cloud passing above non chalantly. They are playing with the delicate rising sun and creating a small show exclusively for you. The breeze is crisp clear and pleasant. Big bamboo trees are standing erect and there leaves are dancing to the beats of the wind. You are circling a big majestic plateau with rocks protruding out of it. The top of the plateau is famous for its fort (now in shambles) of maharaja of Rewa and an old temple cut out of stone dating back to almost 5000 years ago. All around you a pleasant breeze is keeping you energized. Various birds (almost 92 types) are chirping around you in their own tunes which are creating an effect of some sort of Yaani Concert. Open your eyes. How you felt. Wasn't it great? Words are weaker than the experience.
Let's come back to the real world. I was trying to take you to Umaria District of Madhya Pradesh India. I don't know how far I could reach. Take your pick and go on your own to this place. I invite you to 105 square KMs core forest area. Buffer Spread over forest division of Umaria and Katni. Buffer and core area collectively spread 437 square Kms. Welcome to Bandhavgarh which was declared a National Park in 1968. This park is Famous for its old residents B1, B2, B3, Mohini, Langru and their Mother and father Mr. Charger and Mrs. Sita. This family is no more there. But almost the entire Bandhavgarh is somehow the descendents of Sita and Charger in one way or other. Current popular residents are Bamera from Tala Zone, Blue eyes of Magdhi and Mukunda of Khitauli zone. Also some tigress and many cubs.
I think that's too much of tiger information for the trip as if now. Just for your travel information there are 4 safari zones in Bandhavgarh. Tala Zone, Magdi Zone, Khitauli zone and Panpatta zone. Tala is the most popular zone for safari.
The heat of Delhi forced us to plan this retreat to the jungles in a bid to get away from the humdrum and fast life in. The journey started on a Saturday evening from Delhi to Katni on a lovely train best way to travel. We had a gala time and our journey for the forest was rolling. We reached the station at around 6.00 am. Our pick up was arranged by the resort we were put up in.
For this trip I was put up in Tiger Den Resort Bandhavgarh National park. The SUV took us all 5+1 to the resort. Tiger Den was an exclusive resort for its residents. The location is right on the main road towards the National park. I was little taken aback with the location. I was expecting something that gives a jungle feel. Little disappointed I entered in the main gate. I was taken aback by the ambiance. All my doubts vanished in the thin air. In spite of location the movement you enter the gate you are transformed into a different world all together. Real jungle feel. You know in your heart that you are in the right place. The property is spread in almost 30 Acres of land and has 18 great cottages for the tourists. It has the right combination of jungle feel and city life. The swimming pool is the best which has attached bar. The team is so supportive that you feel as if you are at home. Mr. Gyaynander the manager is there for you at all times. My daughter loved the pool and majorly the kids pool and the souvenir shop. Her love for the souvenir shop cost us a Bandhavgarh T-shirt and a beetle key ring (Not costly I can say). I loved the Library at the property which has some great books for all ages. I sat with my daughter and read her Panchatantra stories that she enjoyed a lot. Later she was telling the story to all the people she comes across. I would like to thank the team from all my heart. The food was sumptuous. We indulged in over eating. The best part of the food is that it's too tasty and also very healthy. No excess oil etc but great taste. The chef has done a commendable job. We were eating more still the food was pretty light. The team goes out of the way to entertain your taste buds as you want.
We were lucky that night as we were coordinately invited to a marriage ceremony of one of the staff's sister and a ring ceremony in the resort. We left in the night for the village marriage which was a great experience too. We did not spend much time there as we had a safari in the morning. On our way the staff gave us the first look into the wild life. We were greeted by a fox that was crossing the road. The people in Bandhavgarh respect the wild life. The driver stopped the jeep and allows the fox to cross the road in his own leisure. We were also able to see 2 most poisons snakes of MP in the path. The snakes were swift and passed in a jiffy. Welcome to the wildlife. In the resort we attended the tribal dance that was organized by the management and shared some jokes with the ring ceremony people. Had a sumptuous dinner and slept early.
Next day we were all excited to go for the safari. Based on our last experience in Ranthamboore Rajasthan we had prepared our daughter that she might not see the tigers. As usual she was not worried but was informing all the members that do not be disheartened if you missed the tiger. Girls learn fast.
We were all dressed up in subtle shades we sat on our jeeps and left for the safari at Taala zone. I would like to advice you at this point that make sure you do not wear bright attires. In the jungle bright attires are a distraction for the driver as well as wildlife. Also carry your photo id cards that you have used to book safari. The forest authorities can decline you if the documents mismatch. They are too strict on this. We were all lined up in the entrance in no time as the resort is close to the gate. While we were waiting we saw another snake group. The locals call it 9 sisters. These small snakes move in a group of 6 to 7 in the jungle. We could see 4 together. They do not have heavy venom. After all checks we were Okayed to go in along with a guide.
There is an MP tourism guest house as you enter the complex. Exclusive for government people I believe. The first welcome party was of black faced baboons. They are too common in this area. As we moved in we saw great trees standing in erect position as if they are the guards of Buckingham palace though dressed in green and brown. It is a welcome sight and tingle your senses. The guide had informed that there have been regular cases of tiger fights for territory these days. The mating season is about to start so the tigers are building the infrastructure for family. The park is closed in rainy season as it's the mating season for tigers and many animals. The safari started in a great note as we saw some great birds which have migrated to the jungles. There colorful display was like a great tv show on the highest version of HD tvs.
And then suddenly our guide said" Bammer is on move or around. Can you hear the alarm the marks lead to the river". Bammer is a majestic tiger of Talla zone. Alarm is a special sound made by birds to inform other animals that the tiger is on the move. Like a swift formula 1 racer our driver took us to the bank of the river. They're lying down was Bammer the tiger. I was highly impressed by the guide. I was wandering how on earth just by hearing the alarm he could tell the name. Curiosity took the best out of me and I finally asked. He smiled and said "sir this zone of talla is the area of Bammer tiger. He has been traveling to other zones as well to increase his territory. The pug marks confirmed of Bammer."
Bammer was lying lazily on the bank and we could only see his head peeping out. The driver informed us that the tiger had water and would move through a predefined path over the rood opposite to where we stood. He said iil take you there in some tome once he moves. Few more jeeps also came to the bank to watch Bammer. After 10-15 min Bammer got up and started moving towards the river. He was majestically walking, as if nothing bothers him. He stretched himself and gave all the onlookers a great shot. It was as if he was modeling for us. We had some great snaps of him. My daughter was all excited but maintained her poise and did not shouted or spoke. She was just keeping her hand on her mouth and was all awed. She did asked some questions but in whisper. She had learned to respect the tiger and all the wild life. She made all of us proud.
The driver pulled the jeep and took us to the main road which he was expecting would be the rout of Barmer's return. It was UN believable. He was too accurate. The tiger took the exact rout. I have some great video which I would like to upload and share soon for you all to enjoy. The tiger was going back into the thick. He would have taken the exact rout right in front of us. Unfortunately another jeep just pulled in and blocked the path. Without any issues the tiger looked at the jeep as if scolding him and crossed below the road and vanished into the forest in some time. I think 30-35 mins of Tiger viewing was great.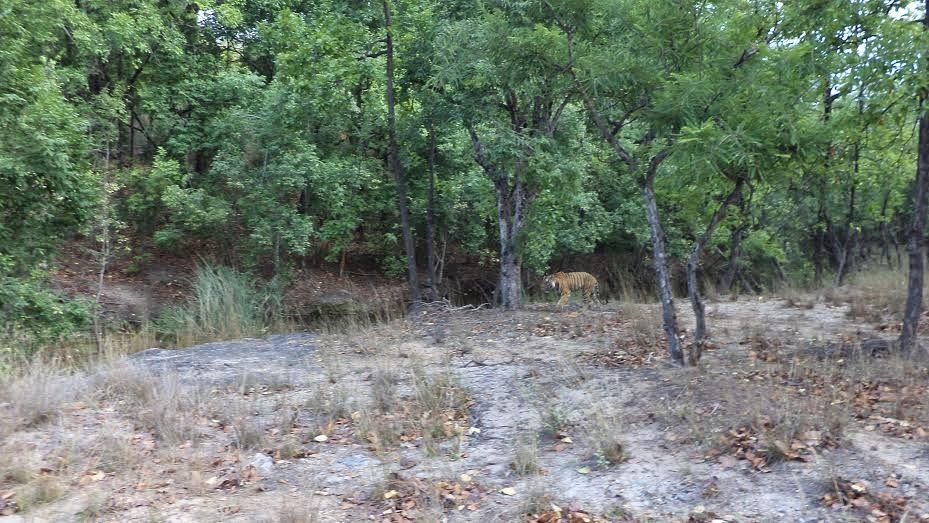 Our trip continued in the jungle. We witnessed some great flora and fauna. Spotted dear. Chital, Wild boar, Gray Mongoose, Sambar, Chausingha, Nilgai, and Chinkara. There are many more like Bengali fox, Asiatic jackal, gaur, wild dog, Stripped Hyeena, Sloth bear, lepord, jungle cat. These I have left for next trip. Another family that was staying in the same resort could not see any tiger but were lucky to see 2 most rear animals the leopard and sloth bear. They say if you see a leopard or bear in bandhavgarh then your trip is a major success.
The trip to bandhavgarh was a great success for all of us. Now we are moving to kanaha . I still bore some great tanning and burn in my skin because in our free time we did lots of swimming in the pool. I was also babysitting my daughter in a kid's pool that burned my skin. All well that ends well. Lets move. Kanaha is calling.