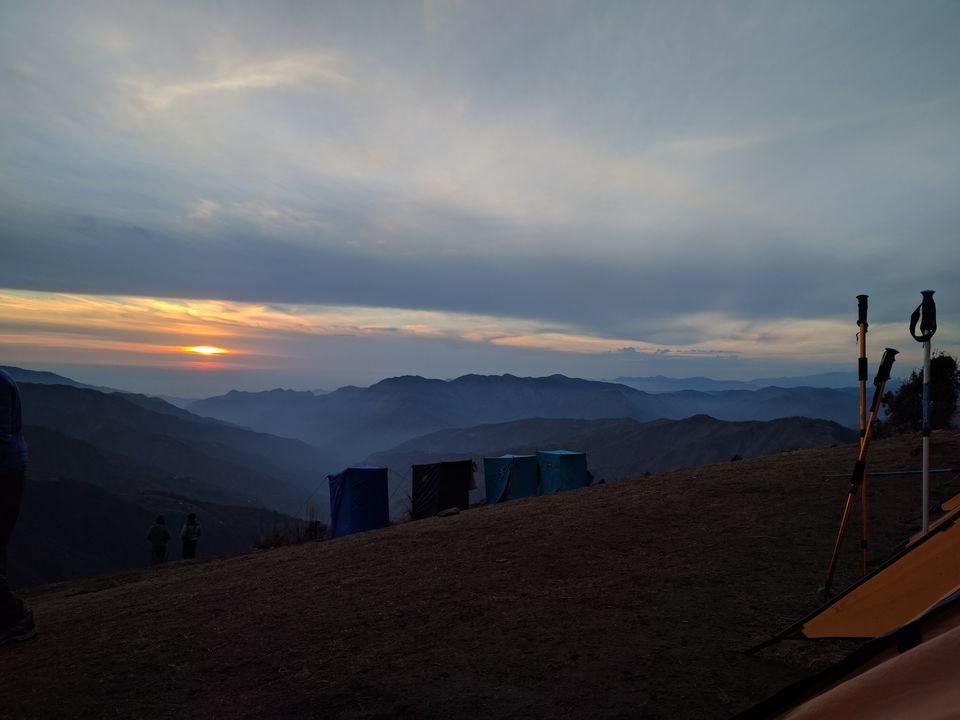 I was constantly being pushed by the Co-leader for our trek. He kept telling me Just 15 minutes more. Almost there. You can do it. Do not sit down.
I finally reached the base camp and started gazing around the place when I found the perfect spot to capture the beauty of the setting sun. I sat inside my tent and captured this mesmerising scenery.
It was 10th of January, 2017 and just a normal day at the office for me. BTW, I'm a software developer by profession. I was exploring India Hikes for a while now and was searching for some easy trek to embark upon as my first trek. I came across a couple of these. Nag Tibba trek and Prashar Lake trek. Though Prashar Lake seemed a bit more tempting to me, I decided to go for Nag Tibba.
I convinced four others to tag along on this. All of us were first timers and had zero experience regarding treks, the equipment required, the physical preparation needed for the same etc. I have noticed a common problem with trying to finalise a trip. The more you discuss it, the difficult it becomes to finalise it. So I decided to go ahead and make the bookings for our start and return journeys for Nag Tibba and I also booked 5 slots with India Hikes for 28th Jan-29th Jan batch.
I felt exhilarated as this was the first time I had taken any initiative and headed a trip all on my own. The next step was deciding what all to purchase for the trek.
As this was my first trek, I had to buy some basic equipment for the same as we were told that the temperatures would be sub zero and we might have to trek in snow as well. So I started exploring Decathlon for hiking products. I searched a lot online as to what all needs to be taken to a high altitude trek. India Hikes has pretty much covered up a lot of things in their documentation for each trek and their videos were extremely helpful.
One recommendation. Never buy products from the Decathlon store online. Always visit the store near you and explain your requirements and future plans for treks, the Decathlon guys will suggest the best possible products with maximum durability and reliability for your seamless trekking experience.
I ended up purchasing Forclaz 60L bagpack, Rainwarm 3-1 jacket, Trek Shoes, a pair of Fresh warm thermals and a couple of water bottles for the trek. My stuff before packing it up in the bag-pack looked like this -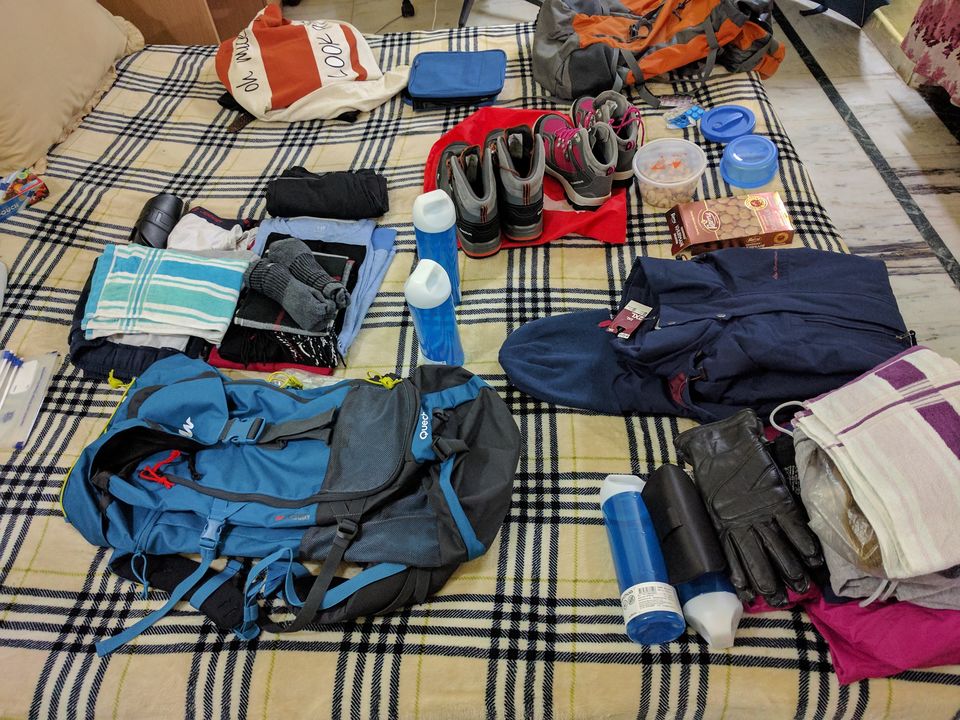 Finally, on the eve of 27th January, 2016, we left for Dehradun. We took the HRTC Volvo from ISBT Kashmere Gate, New Delhi to Dehradun and the fun filled journey took around 7 hours. We reached Dehradun around 10 p.m. and we went straight to Treebo Queens Pearl Inn hotel right next to the ISBT Dehradun. We had already booked a couple of rooms for the five of us via Cleartrip.
Next day, we had to assemble at 6:30 a.m. at the railway station from where we were to be taken to Pantwari village, the starting point for our hike. There were 22 of us in the group and there were two tempo travellers which took us on a 4 hour journey from Dehradun to Pantwari via Mussoorie.
It was an exotic ride with a lot of fun filled scenery. I decided against taking any shaky pictures during this time as I knew I'd get plenty of options during the trek itself. Hence, I controlled the photographer in me ;)
The Trek begins
We reached Pantwari village somewhere around 11 a.m. and this was supposed to be our starting point for the trek. We were given some instructions by our Trek leader Chetan from India Hikes regarding our trek. Some do's and don'ts and some hands on tutorials for using the trekking pole, tightening the bag-pack etc.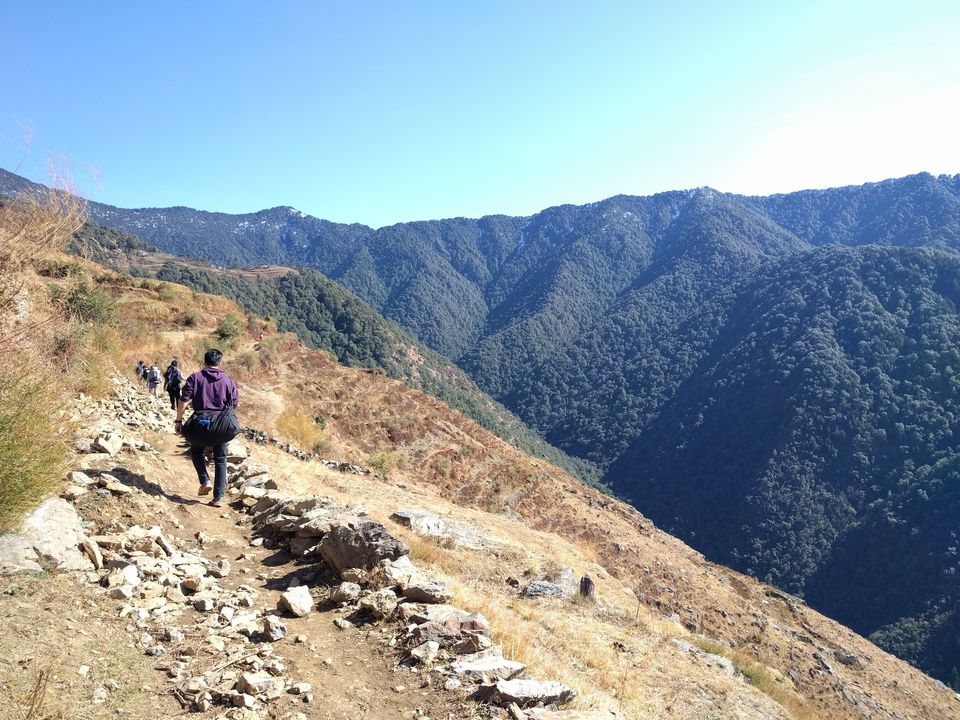 On day 1 we had to trek for a distance of about 4 K.m. Our journey took us across rocky terrain initially and then through dense forest cover. Me and my girlfriend were the last ones climbing on. We were constantly motivating each other and the India Hikes co-leader for the trek was also with us throughout the way. We had immense support from him as well.
The 4 K.ms had a total of three checkpoints. The first checkpoint was fairly simple and this is where we filled our water bottles. The second checkpoint was where we had our lunch composed of biryani and salad and some achaar. One point to note here is that you need to take your own plate, spoon and a small tiffin box on the trip. These items are a must.
The third checkpoint was very near to the base camp. Here we had our first group photos and we witnessed the full view of the majestic mountain ranges surrounding us for the first time.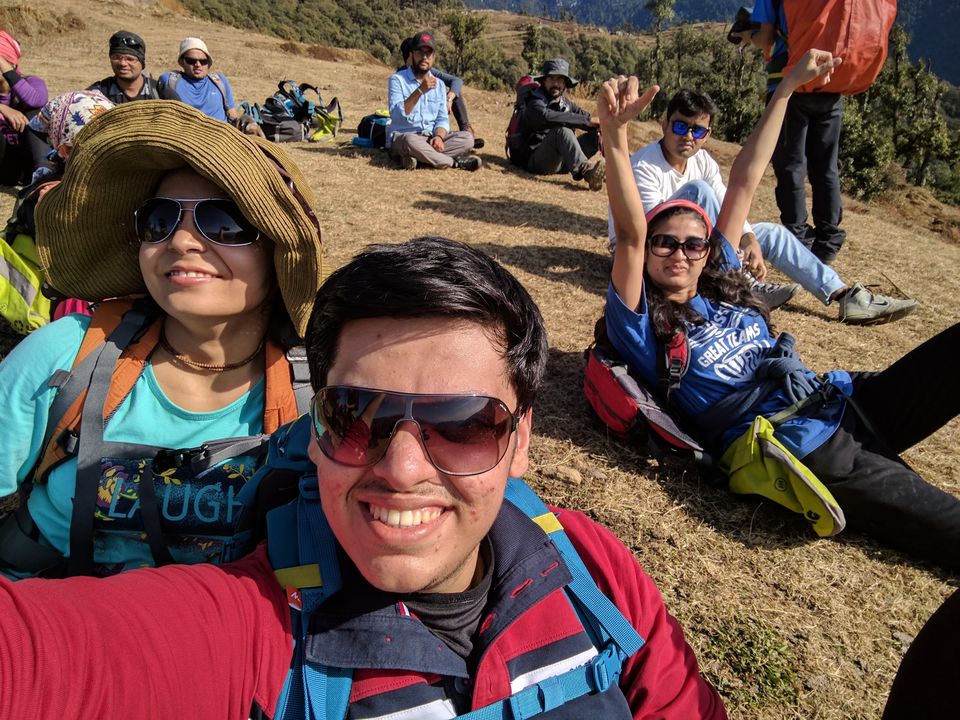 We reached the base camp somewhere around 5:30 p.m. and then we had 15 minutes stretching sessions organised by mentors from India Hikes. These were really helpful for our sore shoulders and backs. We put our stuff in our tents and had a helping of Pakodas and some hot pipping tea.
Trust me guys, I have never seen more beautiful sunset view anywhere else. It was simply majestic. It's so peaceful and serene that it makes you reflect on your life and the things you have done and the things you want to do in the future. You get to connect with nature in ways you never knew before and that changes you as an individual.
We were also given hands on tutorial on how to use our sleeping bags. The night temperatures were sure to go below 0 degree celsius and so we had to keep ourselves warm enough to get a good night's sleep.
The next day we woke up at 5 a.m. Yup, you read it right. 5 a.m. was the time when our tea was served. We had about an hour to pack up our stuff and then by 6:30 a.m. we left for the Nag Tibba peak. This again was a 4 k.m. ascent but it was going to be a pretty hectic day for us with over 12 k.ms of trek (4 ascent and 8 descent).
We were told we'd be trekking half of the distance in snow and so we were issued Micro-spikes and Gators as well. This part of the ascent was at a whole new level than the one we experienced the day before. The view was majestic and gasping for breath.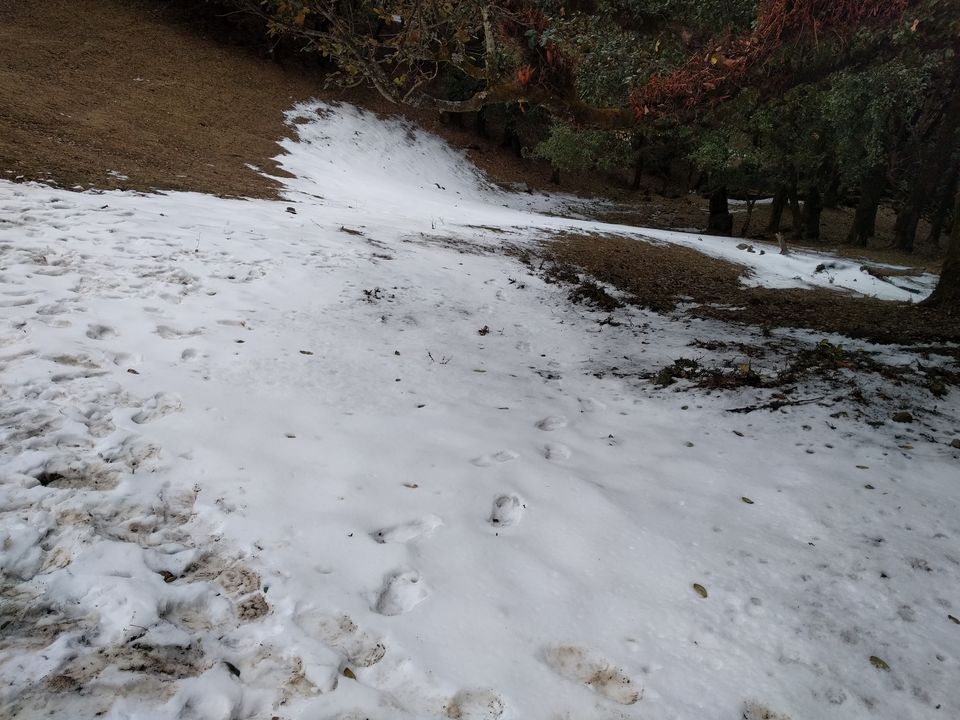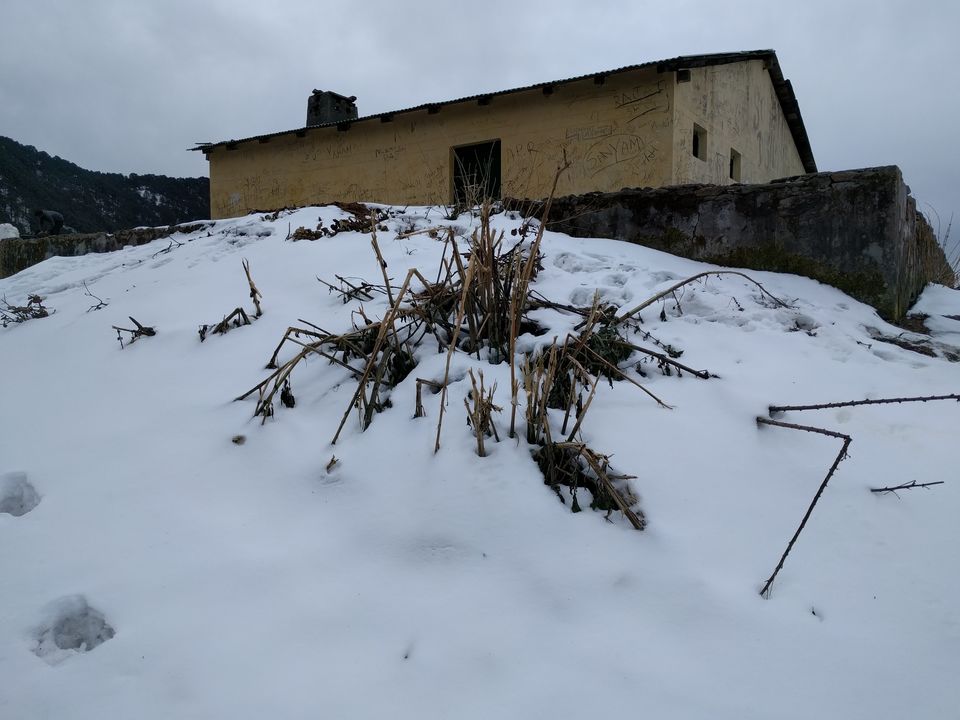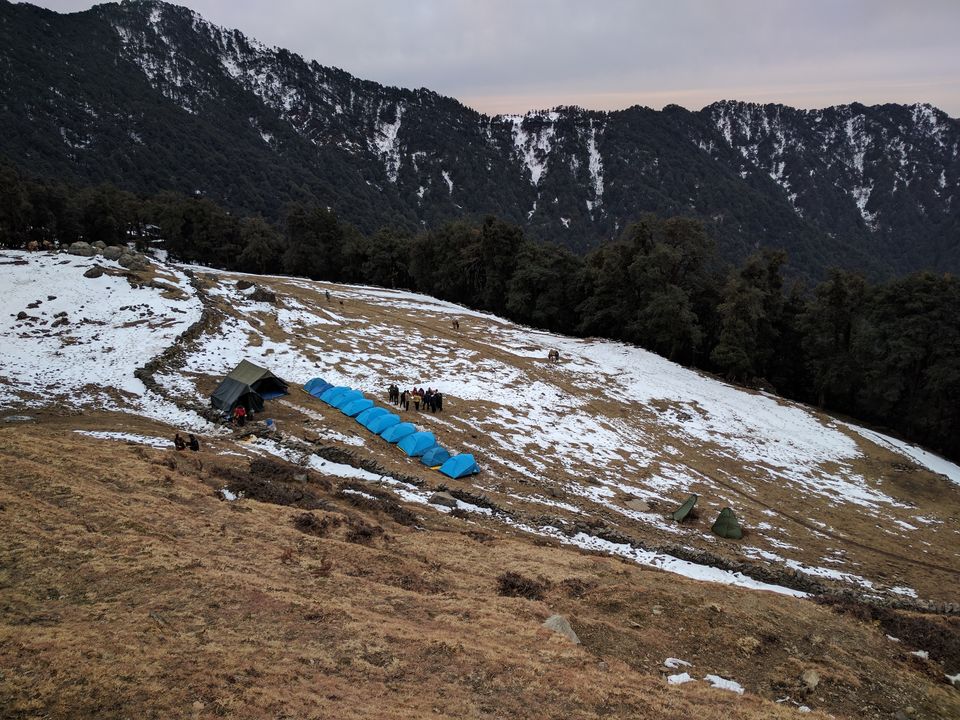 This part of the trek was tough one for me. We needed loads of water and inspiration to get through to the top. We reached around 10:15 a.m. at the peak and we had around 30 minutes to capture the beauty ahead of us.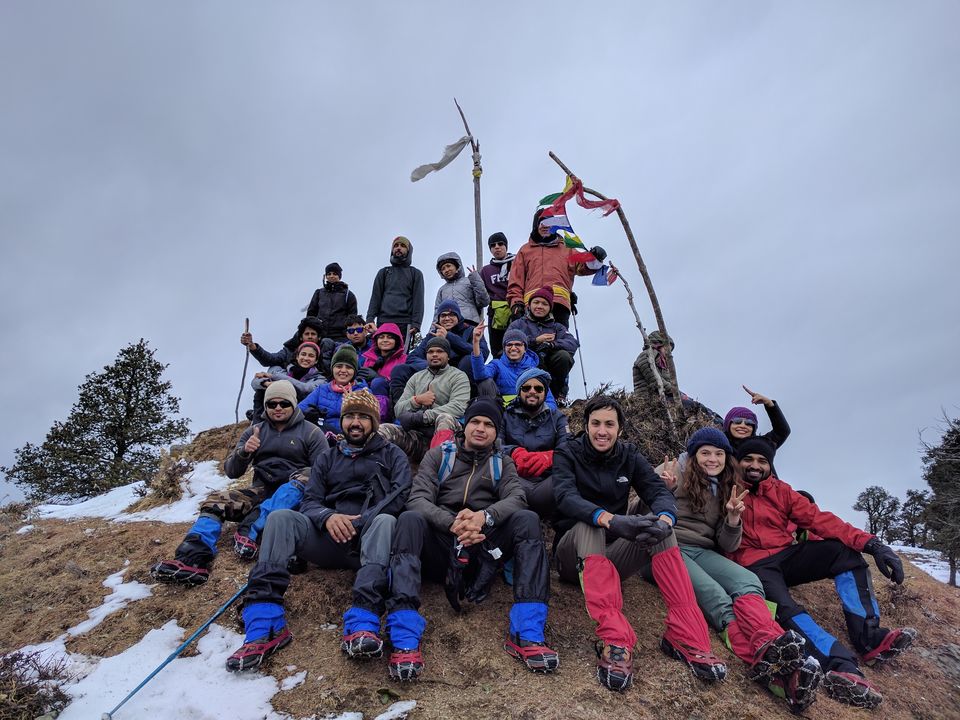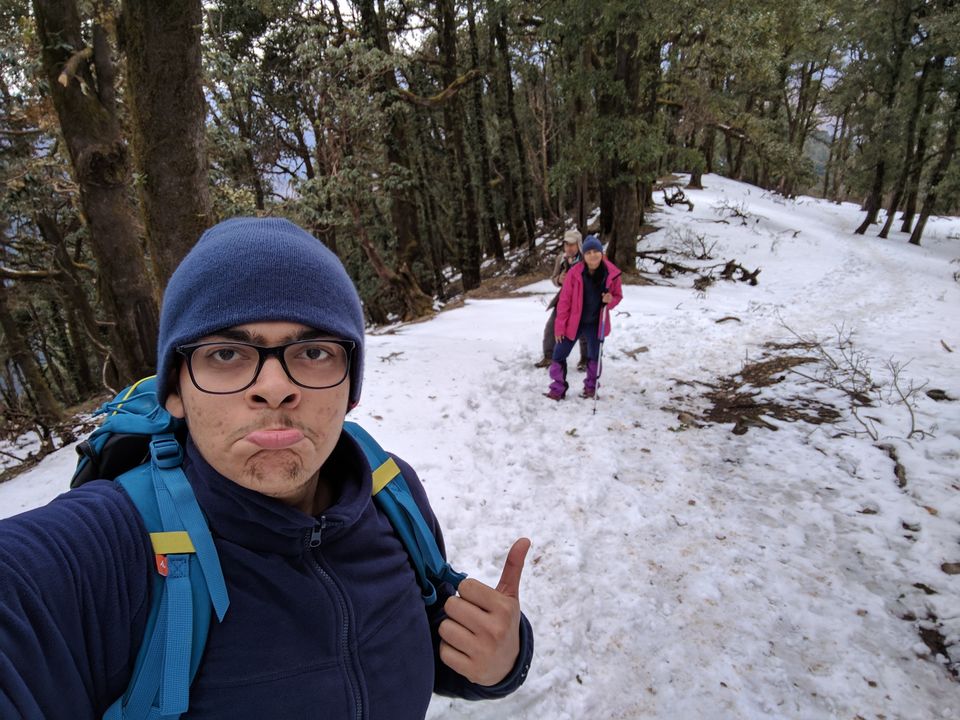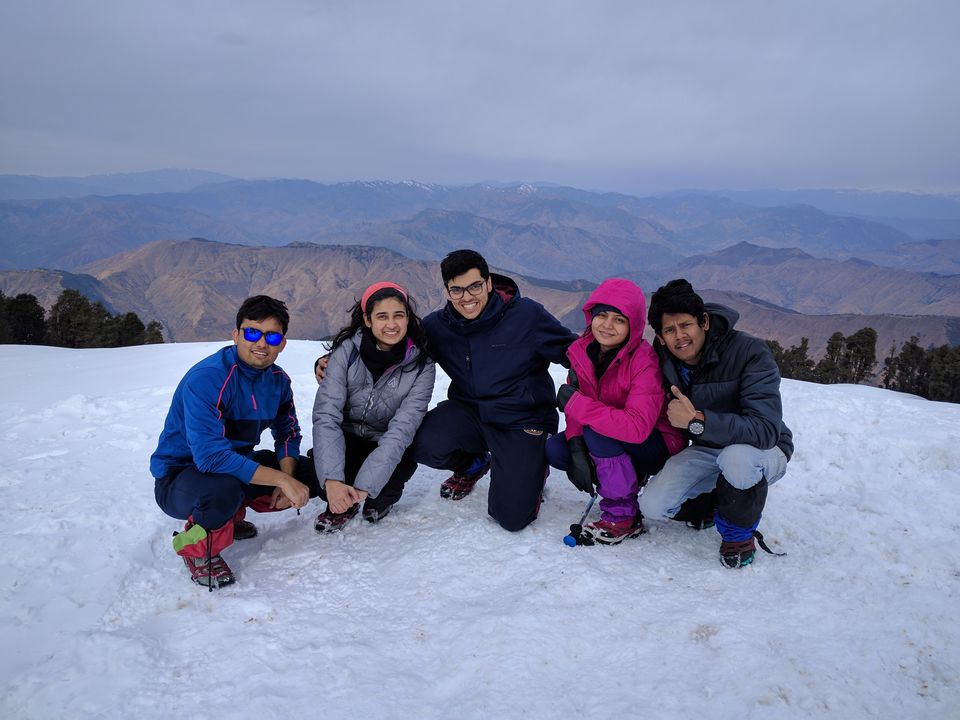 We began our descent somewhere around 11 a.m. It was a 4 k.m. descent to the base camp first and there we were to have our lunch. Thereafter we had to go down another 4 k.ms all the way to the Pantwari. The descent was MUCH difficult as compared to the ascent. Our knees had started to give way and the toes were paining like hell.
In case you are looking to buy new hiking shoes, I would recommend you buy one size larger than your normal size. Eg:- my normal size is 10, I should have bought 11. I went with 10 and realised my mistake during the descent. If the shoe is larger the toes get enough room to move freely as opposed to tight shoe where the toes bang against the shoe every time you control your descent speed or try to pause and that is really painful.
Somehow, I went through with the entire trek and we reached Pantwari around 4 p.m. in the evening. Our tempo travellers were waiting for us and they dropped us at Dehradun around 8 p.m. The return was slightly delayed owing to the huge rush we encountered in Mussoorie.
Finally we said our goodbyes to all of our new found friends from the trek . We waited in a restaurant for our return bus to New Delhi which was at 10 p.m. All this while I kept thinking about what all I had experienced during these past two days and what all as a person I wanted to change in myself. A lot of parts of your inner self emerge for the first time during such trips because of things we have to do like washing our own utensils or getting up at unearthly hours like 5 a.m and collaborating with complete strangers.
All in all this was something I was craving to do since a long long time. One of the best weekend getaways from New Delhi and a must do on every travelling enthusiasts' list.