It wasn't love at first sight.
Logically, Thiksey Nunnery was supposed be in Thiksey. But the local taxi I took from Leh had already whizzed past the Thiksey Monastery long ago and now I was quite cluelessly sitting inside a Maruti Omni with some Ladakhi women who just gave me a death stare and spoke nothing.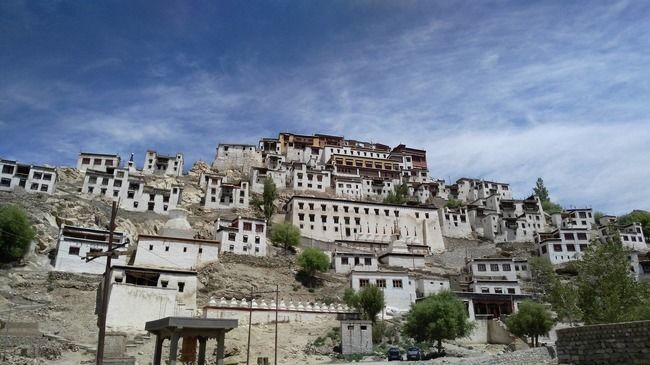 They all knew exactly where to get off and hopped out one by one. Now I was the last one sitting next to the driver. I made a quick call to Dechen, who was the head nun at the Nunnery.
"Me Dechen bol rahi hu," she said in her heavily-accented Hindi.
I handed over the phone to the driver thinking he would communicate better with her in their local language. The driver only spoke a few words on the phone and handing me my cellphone back, he said, "Aapko Nyerma jana hai? Ek kilometre paidal chalna padega."
He did enlighten me on the exact location, which was not Thiksey but Nyerma, just a few kilometres ahead. In moments like these, when I don't want to walk at all, I think I should travel with a 45 litre backpack and fly around all the time. But I did walk that straight long road with my own big rucksack.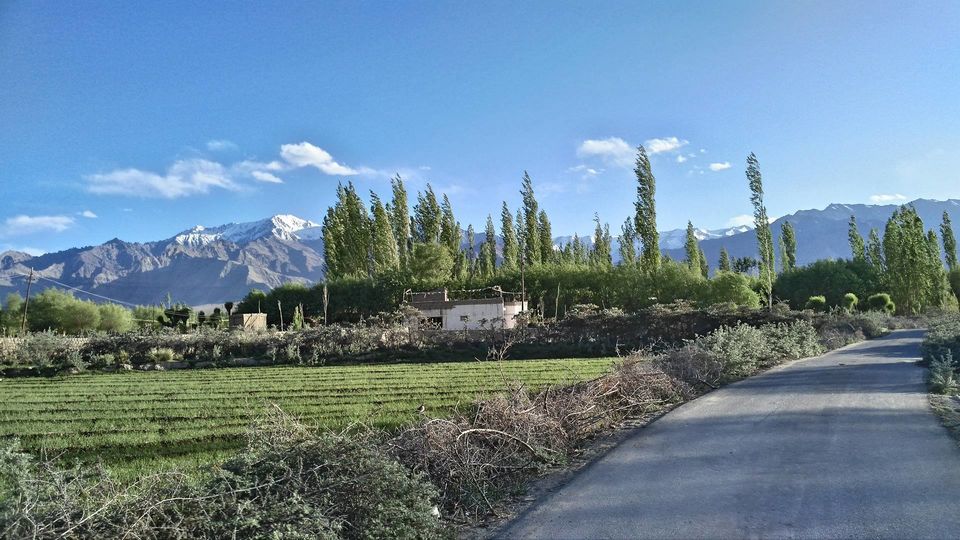 I knew I would take my usual detours – especially because it's difficult not to once you see the beautiful Ladakhi fields. On this walk, I saw these intricately constructed canals along the fields that have over the years converted this cold desert into a cluster of green villages.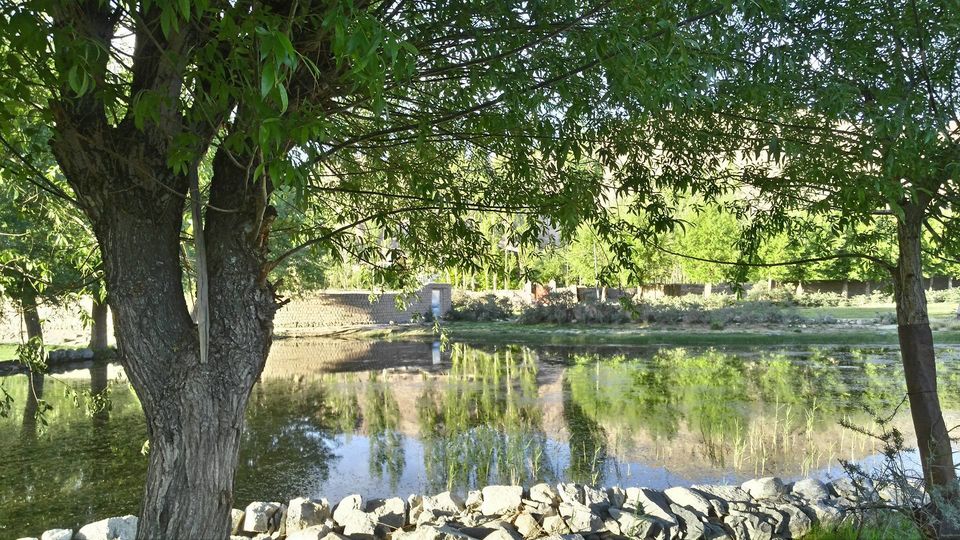 I noticed the first sign board for The Taras Homestay after walking for just 20 minutes and I knew it wouldn't be anything like I expected it to be. It was quiet, not the kind of quiet that would make you smile and appreciate the quaintness of the place, but quiet in a very confusing way.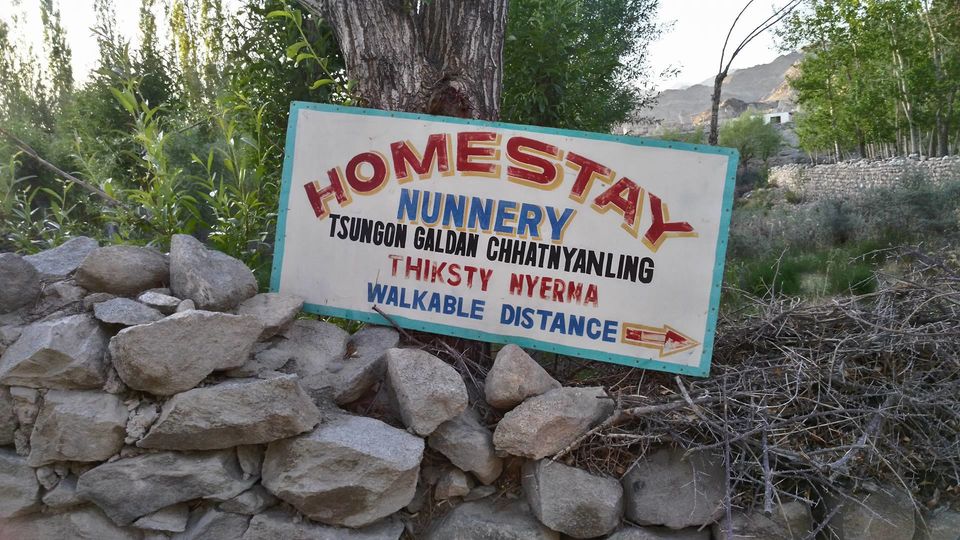 It was a straight road and there was nowhere to get lost. I saw the first sign of my destination. It was a parking lot and not the kind you would see around usually. It was a school bus parked in the middle of two chortens (small stupas) and the row of chortens extended to an unending desert. This was the last structure at the end of the road.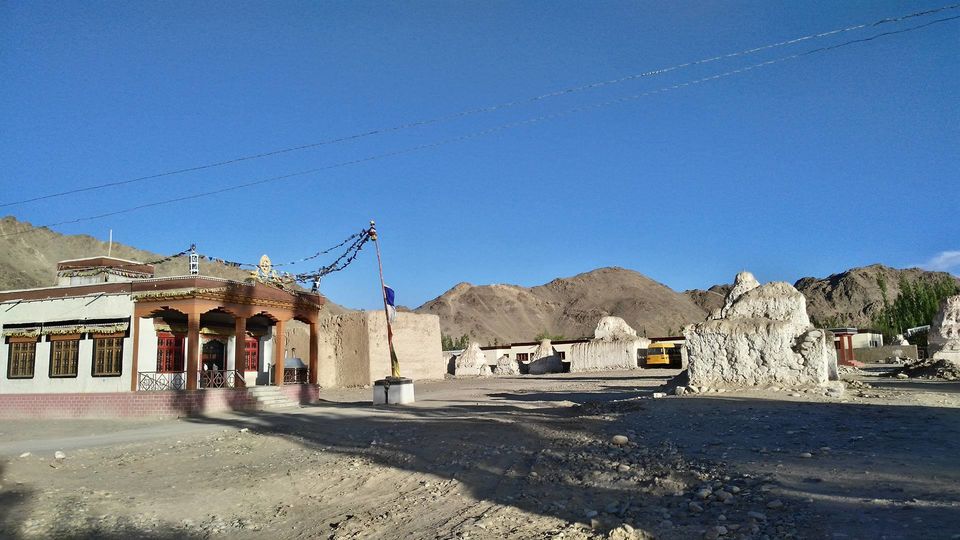 The premises of the nunnery were now easy to locate. I had read about a nunnery near Thiksey that operates as a homestay, and this too was something I had come across after a casual Google search.
On reaching this spot, I thought that maybe I should have checked some reviews, but there was no going back now. I directly entered the dormitory of the nuns and started walking around hoping to see someone I could talk to. I saw a few old nuns sitting near the garden, but I guess they mistook me for a passerby, because they didn't respond to any of my questions.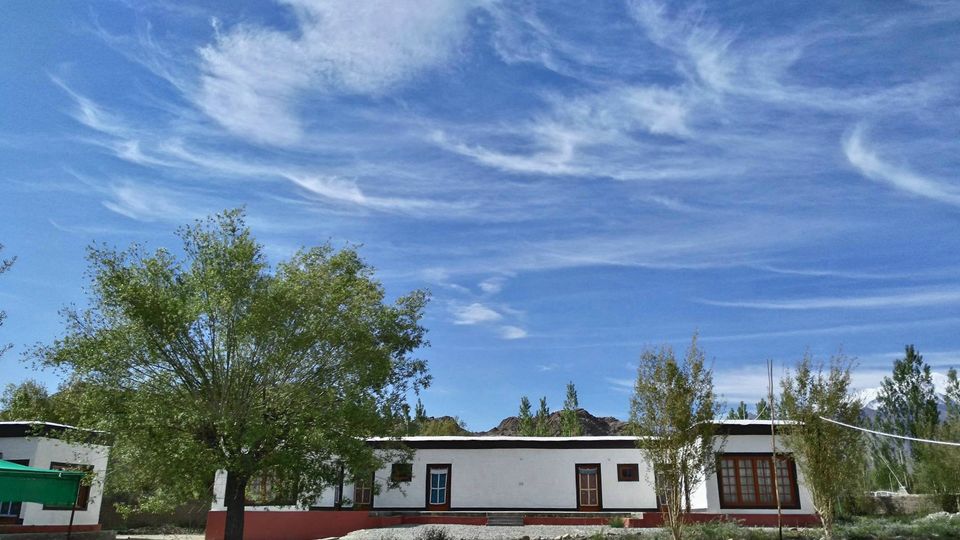 Then entered the woman of the day, Abbey. I could see her jumping out of a window and running towards me from a distance. She was working as a volunteer at this homestay, run by The Dutch Foundation for Ladakhi Nuns (DFLN). I had read about the organisation online before planning an itinerary for Ladakh and I knew June was too early to expect any crowd at this place since volunteers come only by July. Abbey had been here for the past two months and she was indeed having the time of her life.
She showed me around and took me to my room and it was indeed that perfect sight I had waited for the entire day.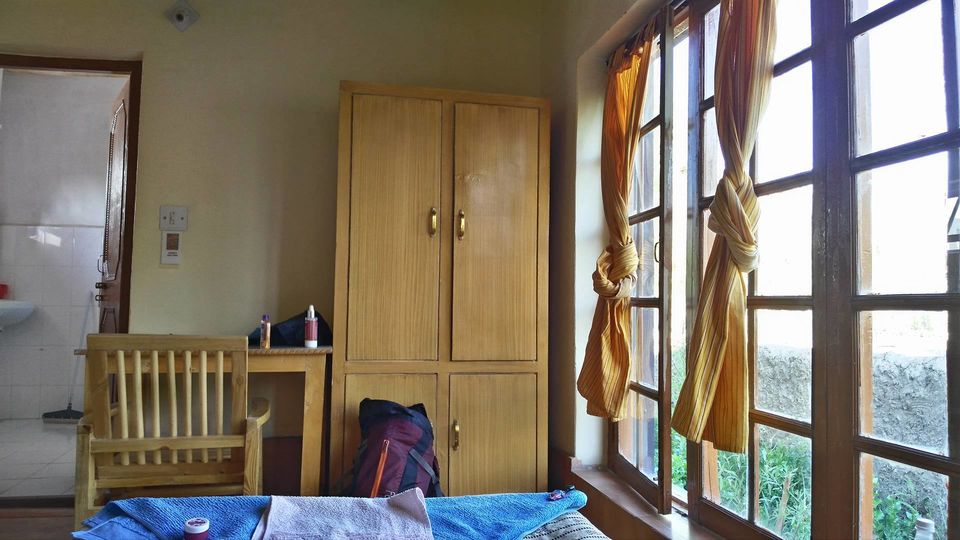 It was now time for some recce. I was told that there was a separate kitchen for guests that I could use and I couldn't wait to see it. It was a perfect setup with all the essentials one could possibly need along with a quaint dining area with a library.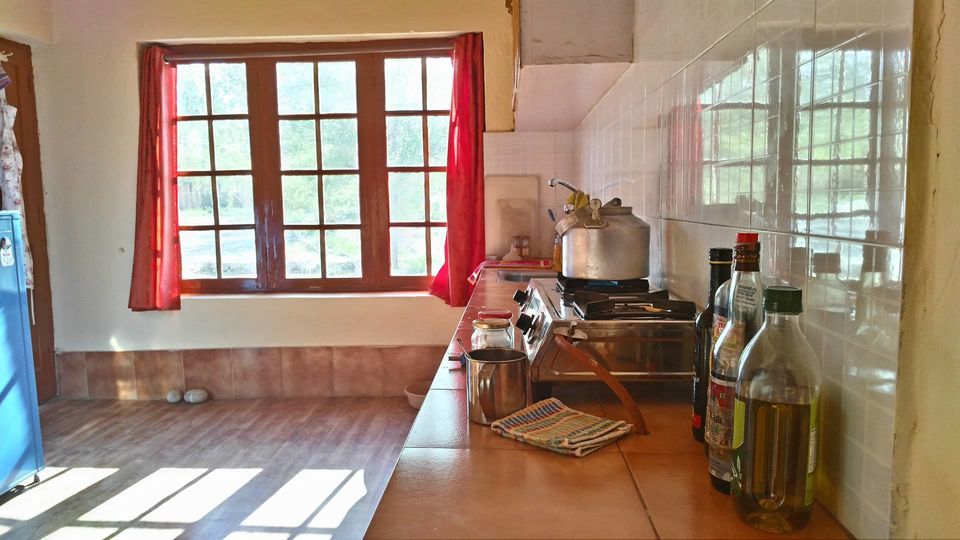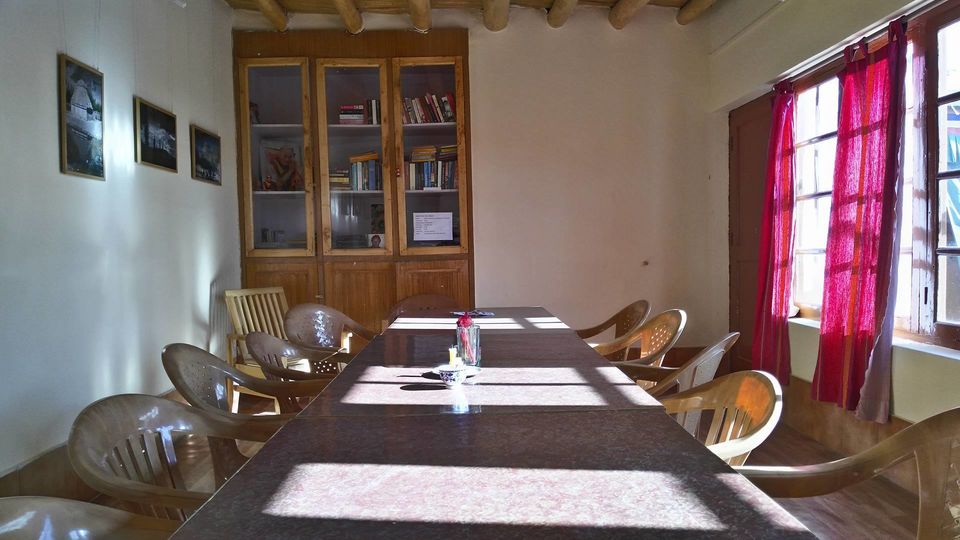 While casually searching for something interesting to read on the shelf, I came across a book that gave me a sneak peek into how this homestay. It had been built in collaboration with a Dutch Organisation to improve the miserable living conditions of Buddhist nuns. These nuns, who till recently were not entitled to receive full ordination, would work as household helps for monks and even do heavy jobs as road workers.
The Dutch Foundation for Ladakhi Nuns came up with a plan to build a homestay cum nunnery to uplift their living condition and help the nuns through "voluntourism". The organisation welcomes volunteers throughout the year who look after the functioning of the homestay and also help young nuns with their studies.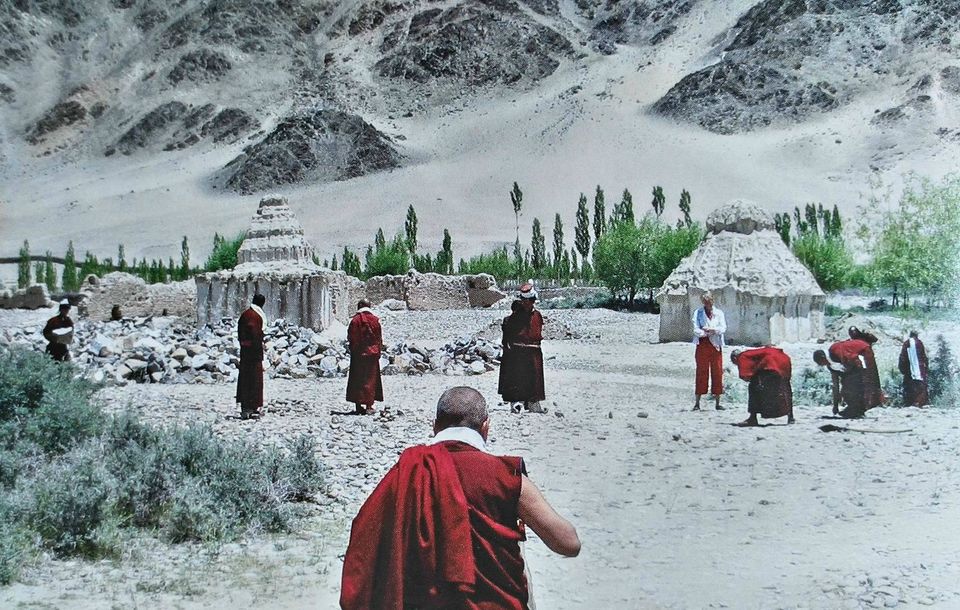 That entire evening I was busy reading up on how this homestay came into existence at a location so interesting. I also discussed a few hiking routes around the area with Abbey for the next trip to Ladakh, because in every possibility I will be visiting again.
It was dinner time way too soon. Dinner was a simple, delicious meal of tingmo and curry and I ate surrounded by young nuns busy finishing their homework. From what I heard, I got to know that the bus standing near the stupas was their school bus that takes them to their school in Thiksey every single day. The elder kids were busy taking a kind of mock viva of the younger kids on geography while we all sat at the dinner table.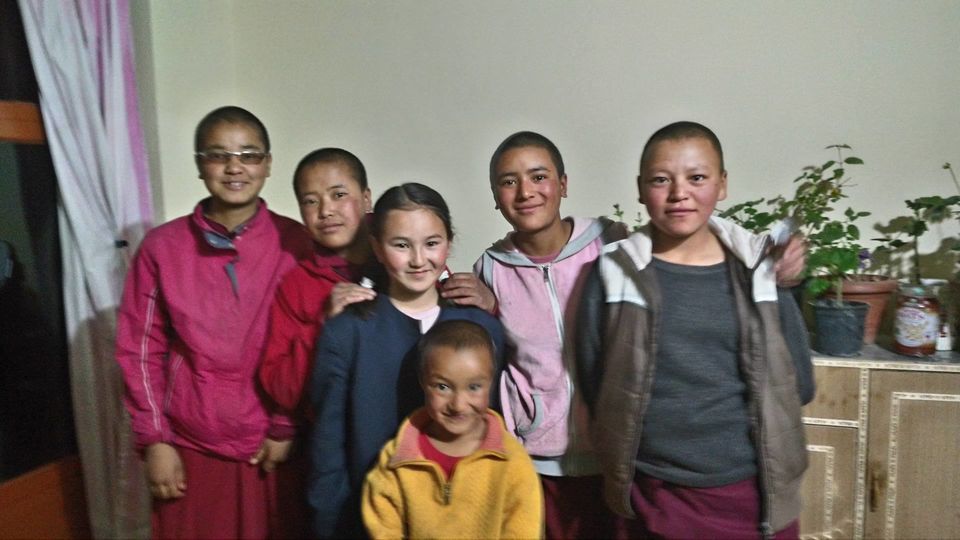 The greatest joy of travelling to places so remote is to experience the different realities and the everlasting memories they create, which you can relish your entire life.
That night while doing the dishes with Abbey, the kids surrounded us and began playing with an insect that crept inside the kitchen from the garden outside. It was an amusing sight to see these little nuns trying to play with it.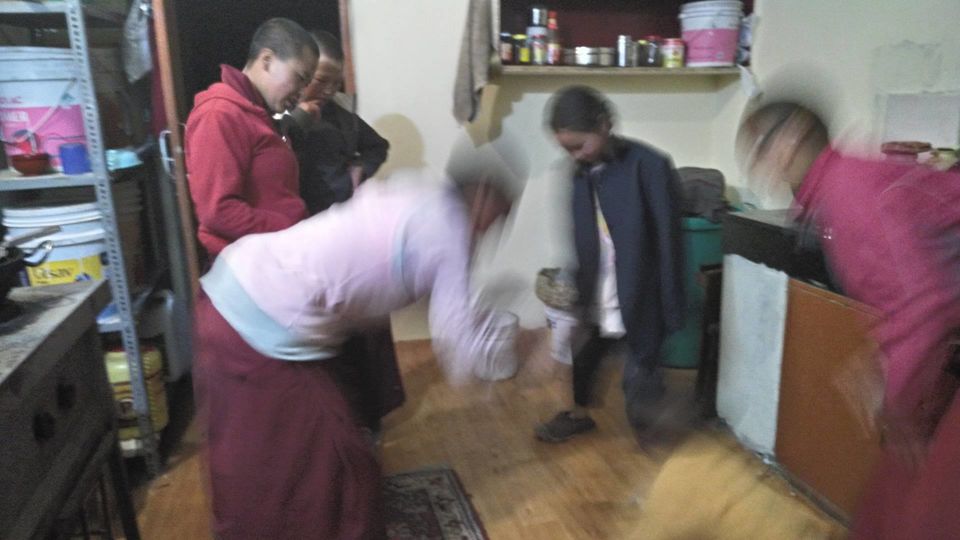 After a while when they were bored they started talking about ghosts. By bedtime, they were too scared to go back to their rooms, which were on the other side of a small garden. We guided them to their dormitory, while they held each other's hands.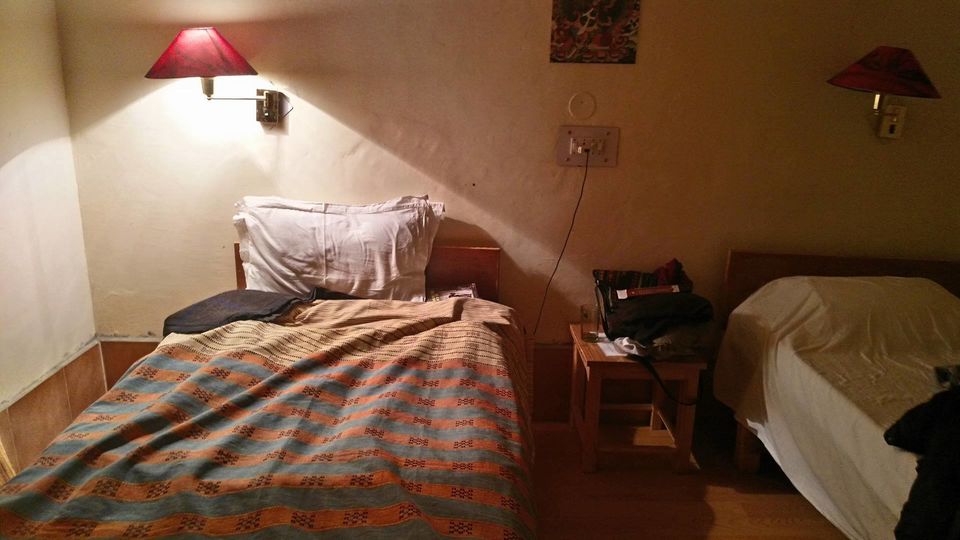 The next morning was tough. To bathe or not to bathe was the question and I decided to take the high road and be a clean person. Abbey helped me get a bucket full of warm water and in a failed attempt to help her, I hurt my toe. It was more of an inconvenience than pain.
Later in the morning when I decided to take a short walk with Abbey, I wore my hiking shoes anyway. We took a short hike to the Thiksey Monastery, crossing a short patch of desert.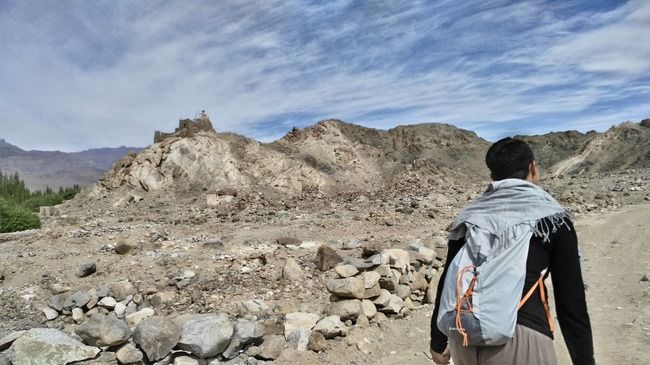 Abbey told me about how on some mornings she would walk up to these small abandoned fort-like structures, sing out loud and run around. We even went inside one of the stupa-like structures, which used to be a little meditation cave for Buddhist monks when they went on dark retreats for months.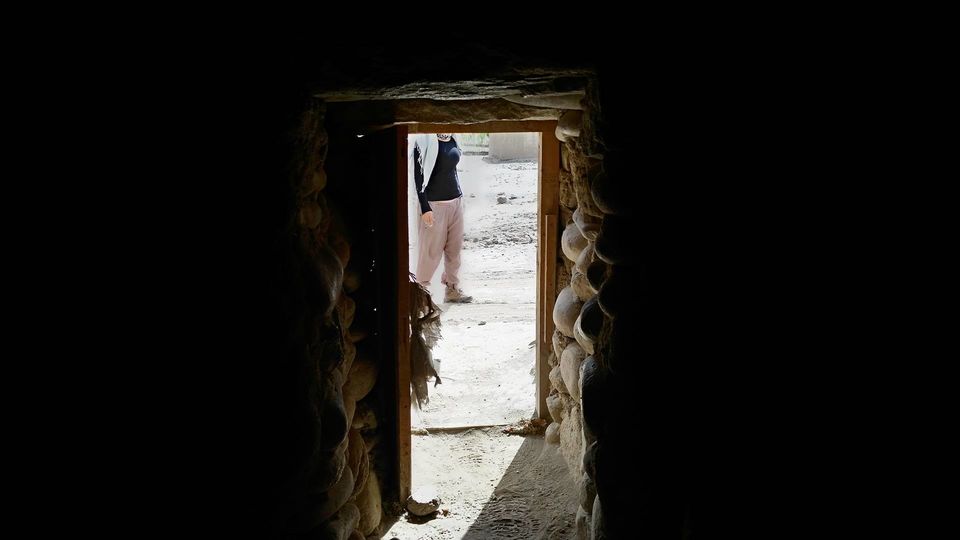 A short walk in this amazing Himalayan desert became the highlight of this trip for me. The sight of the Thiksey Gompa at the distance is the one of the most surreal sights I've come across.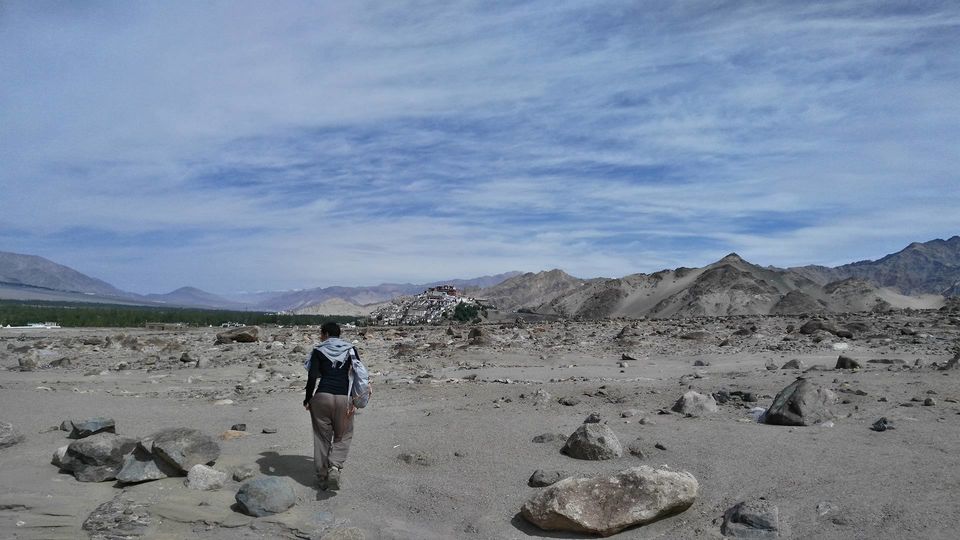 We reached the road in no time and Abbey suggested we hitch a ride to the top of the monastery. I was just beginning to start the next day of this trip and what a start it was. I don't remember the last time I experienced so much in a single day.
On a normal day I spend in Delhi, I usually do not remember the meals I ate in a day. Travel is definitely more than just hopping destinations and seeing new places, it's an impact experiences leave on you where each day on the road is remembered for life.
Frequent Searches Leading To This Page:-
best homestay in ladakh, best homestays in ladakh, homestays in leh ladakh, homestay in leh ladakh, homestay trek ladakh