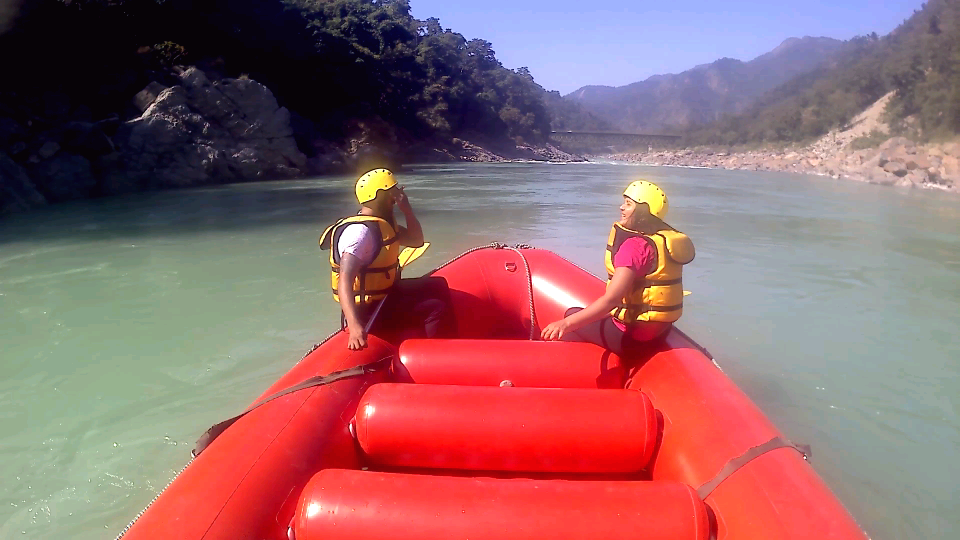 Rishikesh River Rafting : 2018, a year of travel where I traveled to a total of 7 different destinations across India. Amongst these destinations, ranged sie and the bustling city life of Coorg, Bangalore, one place that stood out was definitely Rishikesh. Srinagar, Ladakh, Goa and Dalhou
rom hiking to rappelling and from Flying fox to ikesh is more than meets the eye . It is not just a land of holiness, ashrams, white sands and blue waters, Rishikesh is the place that offers a lot to the thrill seekers, f bungee jumping, one adventure hugely popular in Rishikesh is " White Water Rafting ".
Rishikesh River Rafting had been on my bucket-list for quite a while.
The River Rafting experience was not new to me. I had enjoyed the thrill earlier in Ladakh and Kolad, however, I have heard that river rafting in Rishikesh is most thrilling and exciting adventure amongst all.
The 16 Km raft is divided into six levels (Roller Coaster,Sweet 16, Cross Fire, The Blind Mice, The Wall, and the Golf Course). It covers three grades of rafting. With each rise in level the rapids grew in strength. Ganga's potency was better understood as it came with full force, dwindling the balance as it smacked you across the face. The cool refreshing water was a delight.
Getting on the raft was fairly easy but as the raft headed towards the first rapid, we had a mixed feeling of 50% fear and 50% fun & excitement. The raft instructor positioned himself at the back of the raft and was continuously shouting out what to do and what not to. Confidence begins to build up after the first couple of rapids but there's no looking back if the raft overturns, and that's exactly what happened. The rapids are challenging themselves, giving a thrilling ride from start to finish.
We did jump into the Ganga with the support of our raft; however, our guide was reluctant to let us float due to the dangerous water level and water currents in the river.
There is one Maggie/tea point in between where you can warm yourself again. You will get a chance for cliff jumping; you can jump directly into the river from around 15-20 ft height. And was an amazing and unexpected experience.
The rest of the rafting experience was pure unadulterated fun. Jumping down into the waves and coming up again screaming on top of our voice is an experience in itself. Our laughter and fun filled screams echoed in the mountains around us as we crossed one rapid after another. Gliding on the icy cold Ganga River, in the midst of towering mountains is a sight to behold.
We started off from Shivpuri and went till the Laxman Jhula where we changed our wet clothes in the office and started off for Dehradun Airport right away.
A short but an absolutely refreshing trip ended before we even realized. But the trip gave us some precious memories to treasure for our entire life.
Rishikesh River Rafting takes your experience to whole new levels thanks to the breathtakingly beautiful surroundings. There are a variety of rapids, which makes it an appropriate spot for everyone according to their level of experience and expertise.
Best months for rafting in Rishikesh : September - November and February - June Stretch Length: 16 Kilometers Grades of Rapids: II and III Approx time of the ride: 3 to 3.5 hours
With rapids of intermediate difficulty level, Shivpuri River Rafting can make you skip a beat. Rafting in Shivpuri is neither too easy nor very tough and therefore is an apt spot for the second timers. A perfect blend of pleasure and thrill to the adventure enthusiast, it is an amazing rafting experience.