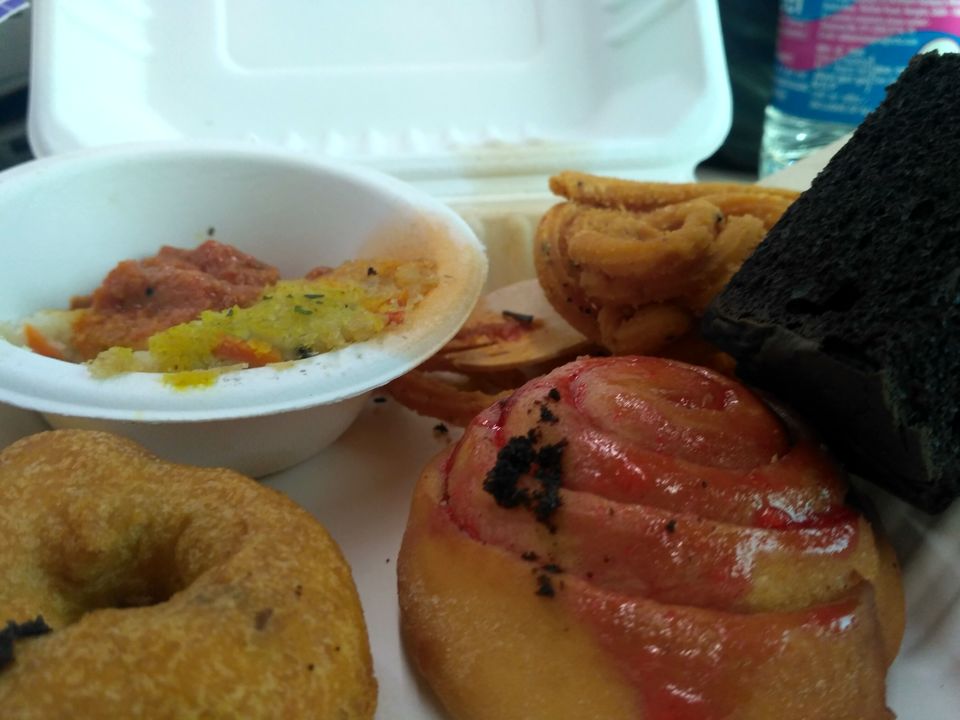 The Train that is not only the fastest in the country, but serves you delicious food as well. The first fully developed Semi High Speed Intercity Train in our country under Make in India, Vande Bharat or commonly known as Train 18 menu going to make you crave for food. The Train runs between New Delhi to Varanasi and covers the distance in just 8 hours, as its maximum speed is 160 km/hr.
There are so many special features in the train, which is first introduced in India i.e. WiFi, LED screens for infotainment, GPS-based tracking, modular toilets with bio-vacuum flushes, disabled-friendly toilets, interconnected rotational seats (Executive Class), automatic doors between compartments and a mini-pantry with state-of-the-art equipment.
The train along with the above facilities also worked hard to collaborate with the established players in the food market like Chaayos, Nescafe, Pind Baloochi, HPMC, Landmark Hotel and many more so that they can provide the flavorsome food to the passengers.
The train charged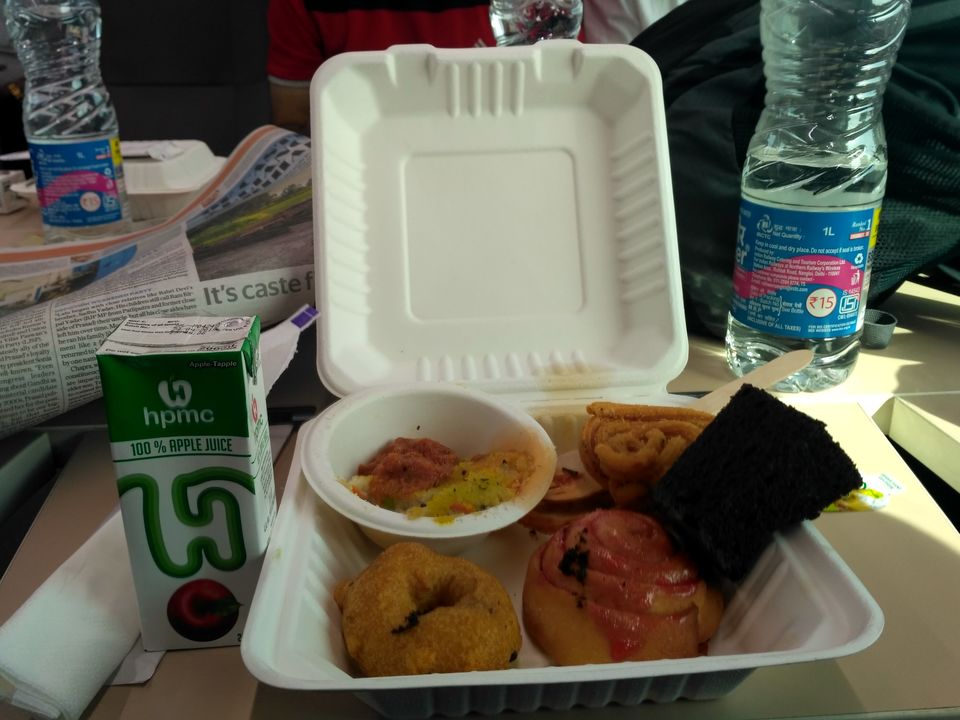 There are so many new features in the train, but the most important specialty that we will discuss is the menu of the train.
Breakfast is served in the train, in which there is nothing special as served in all the Rajdhani and Shatabdi Train of our country.
But in Train 18, you will get the mix variation of Typical Indian and Continental Food. International brands are served in the train's Itinerary. Let's have a look on the mouth - watering dishes
Morning Tea/Coffee
1. Tea/Coffee
2. Packet of 2 digestive biscuit probably from Unibic
As, the train starts from 6:00 AM from New Delhi and we all need Tea or Coffee, and if this from famous brand Chaayos or Nescafe and what is better than this. The train serves Tea from Chaayos and Coffee from Nescafe, which makes the s this train different from others.
Breakfast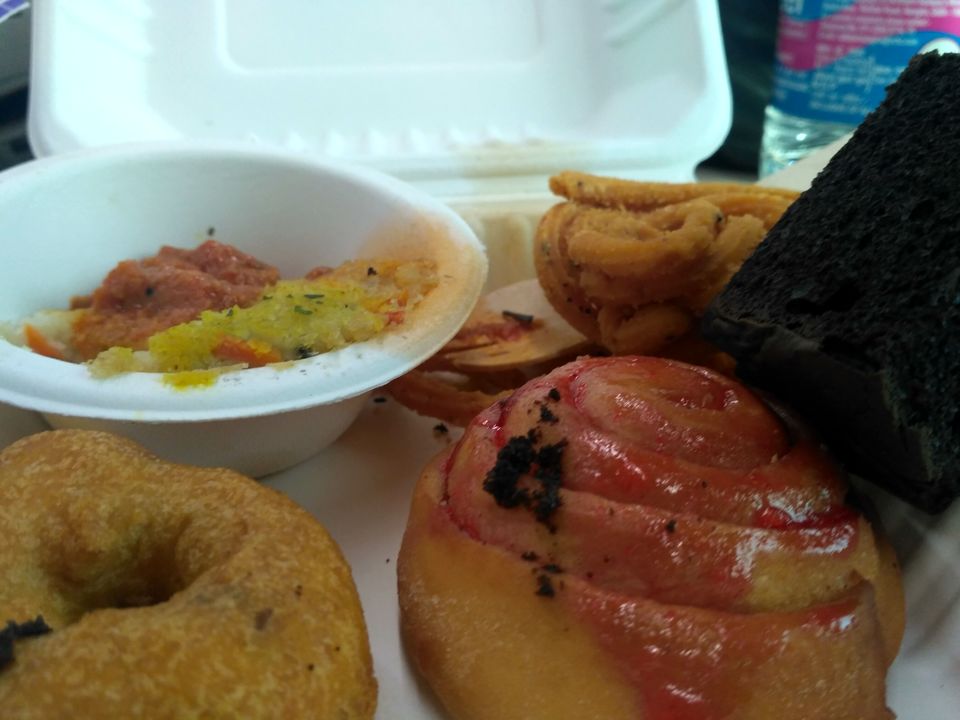 Menu of the breakfast is also very different and authentic, as they serves
1. Sambhar Vada
2. Upma
3. Tea/Coffee/Juice (The juices are likely to be from HPMC)
4. Doughnut
5. Croissant
6. Bruschetta
7. Vegetable cutlet or Omlette
The Menu of the breakfast is very balanced healthy and delectable, which includes typical Indian flavor with the merger of European Croissant and other items. So, just few years back we even cannot imagine these kind of professional attitude and services from Indian Railways.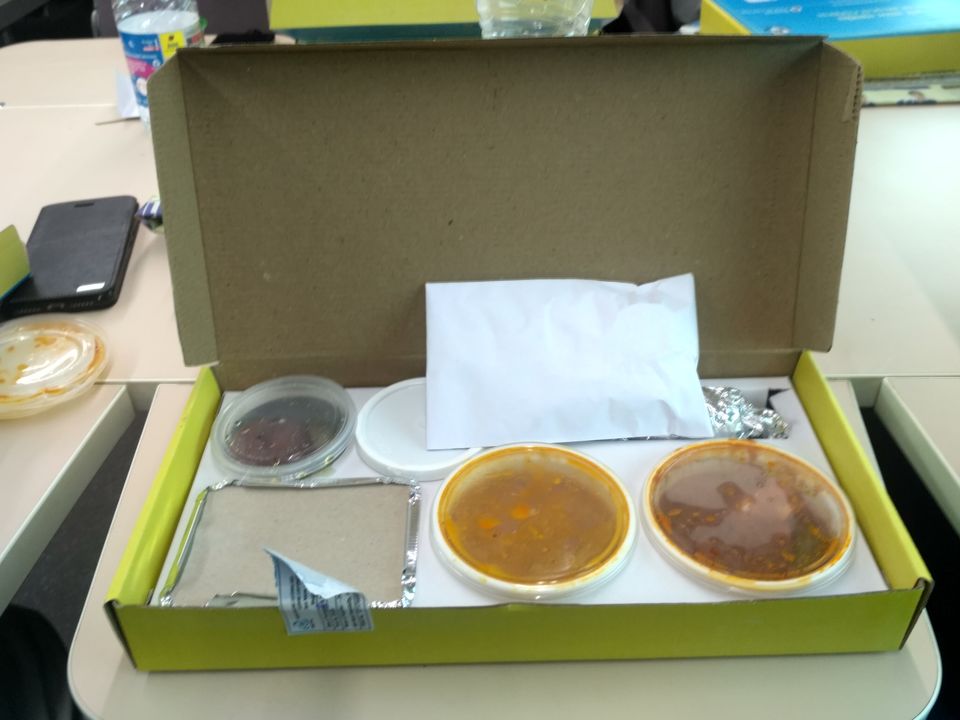 Lunch
1. Pulao
2. Dal
3. Paneer or Boneless Chicken
4. Dry vegetable
5. Roti/Parantha
6. Pickles
7. Gulab Jamun
Lunch in the train is provided by the famous restaurant 'Pind Baloochi', which is also fresh and hot. The most important thing is you feel that, you are in restaurant. Non - vegetarian people can enjoy Chicken and for the vegetarian there is Paneer with the sweet dish 'Gulab Jamun'. 6-7 Items in the lunch makes your stomach satisfied. The packing of the lunch is also new and improved and looks compact, which is exclusively packed by the Vande Bharat Express.
You will feel happy to see this kind of services provided in the train and Indian Railways are paying special attention on the food to make the journey cozy.
Evening Tea
Vegetarian baked (not fried!) samosa
Muffin
Sweet popcorn (Gourmet)
Amul Lassi/Tea/Coffee
After the Lunch, here comes the evening tea which is also very rich in menu, it contains the above items all are from branded companies, fresh, and good in taste. You can opt Lassi, Tea or Coffee depending on your mood.
The food is distributed in a very professional and hygienic way as you can see in the photo, and that's make a sense in New India, who is very keenly focusing in cleanliness.
Dinner
1. Pulao
2. Dal
3. Paneer or Boneless Chicken
4. Dry vegetable
5. Roti/Parantha
6. Pickles
7. Gulab Jamun
The dinner is from famous Landmark Hotel of Kanpur, which has almost the same items as lunch, and quality too. 
Last but not the least, this is a very good experience for a passenger which has a typical set of mind that in train even in executive trains like you can get food but not taste. But, this train proves that wrong.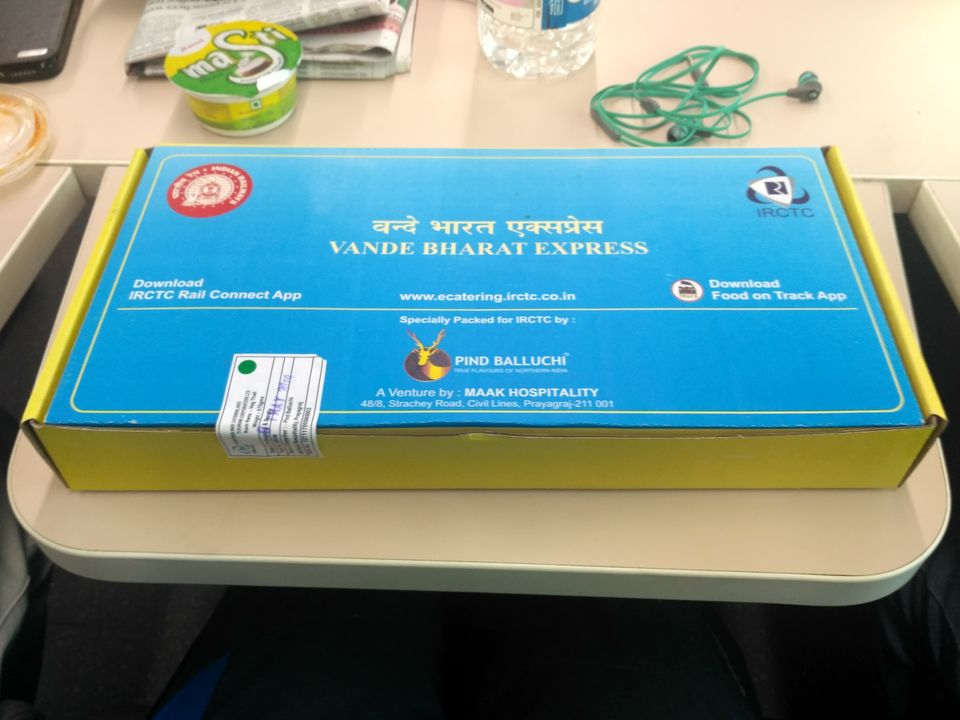 IRCTC invests hefty amount on the food served, according to IRCTC the catering charges for a full journey between Delhi and Varanasi are Rs 399 and Rs 344 for Executive Chair Car and Chair Car respectively. On the return journey, the meal charges are Rs 349 and Rs 288 respectively.
So we can conclude like this that, Train 18 is fast, advanced, classy, and have a fantastic food, now what more you expect from this 'make in India' train. 
#foodmemory #IWillGoAnywhereForFood