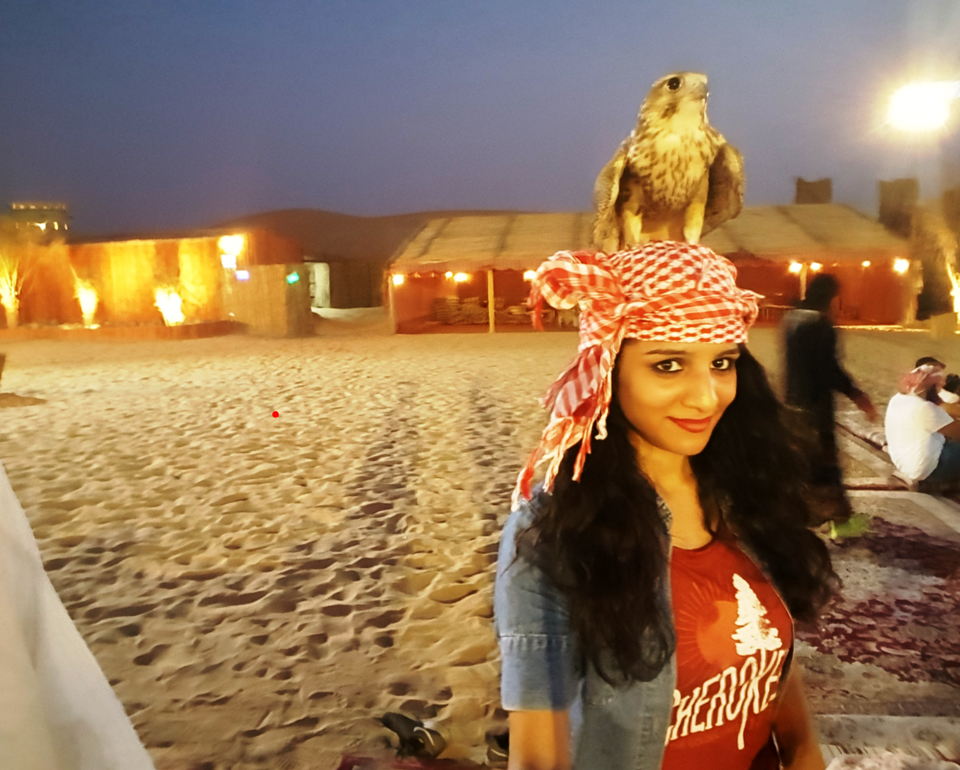 Before i start i would like you to pull on your headsets and listen to this song while you read and i promise you a whole new experience . PS. It worked for me and the entire trip i had it on loop :P
https://www.youtube.com/watch?v=bWLCHnzZ_8M
There are those times in life when you want to run away – not to escape from the reality but to find yourself so maybe that was the propellant for this trip when one fine day I logged on to makemytrip , found the farthest international destination with a direct flight from Pune because in no world did I want to go from Pune to Mumbai for a whole lot of reasons and so I booked my tickets to Dubai .I got it pretty cheap (15.7K Return ) and the visa for 6.2k from Musafir.com. With no trail on my mind at all and a map downloaded from Google I began planning for my Arabian adventure.
Going back 23 years in reverse, I was born in Iran and have already been to a couple of Middle-Eastern countries like Oman and Saudi, I already had a hint of the middle eastern flavor but this time I wanted it to be self-exploration and all. So I arrived in Dubai at like 12:00 am but thanks to the never ending immigrations I got out of the airport at 3 in the morning but thankfully had some relatives there, so I didn't have to struggle for a place that night.
But obviously couldn't sleep the entire night with the adrenaline rush so without an alarm clock I woke up at 7 am, thanked the nice people for letting me stay and began my solo Middle Eastern adventure.
Day 1- Destination 1-Souk Madinat Jumeirah
Located near Jumeirah Beach area, the Souk Madinat Jumeriah is a perfect amalgamation of traditional Arabian culture and luxury.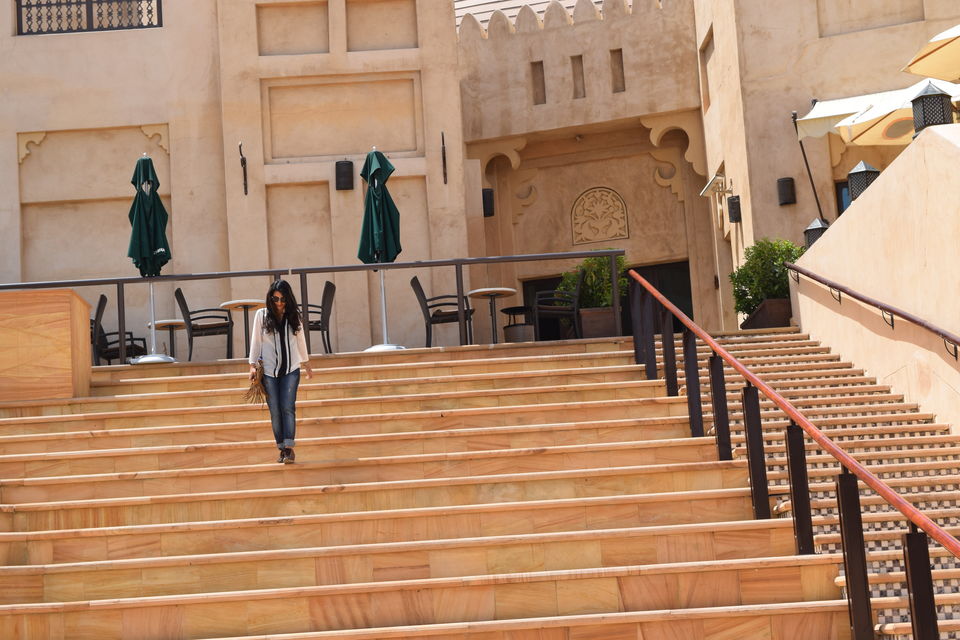 I didn't take it because I was too immersed in the architecture and the wooden ceilings but you surely can take magical and relaxing Abra(water) tour and meander waterways and wide open seascapes.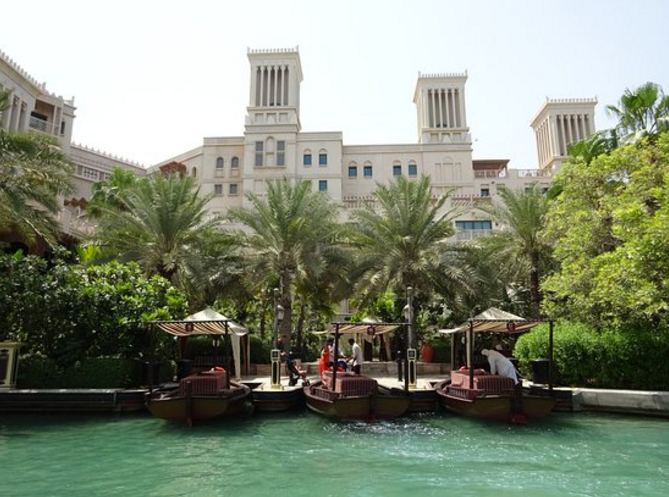 Madinat Jumeirah encompasses three boutique hotels; Al Qasr which literally translates to The Palace, Mina A'Salam, and Dar Al Masyaf..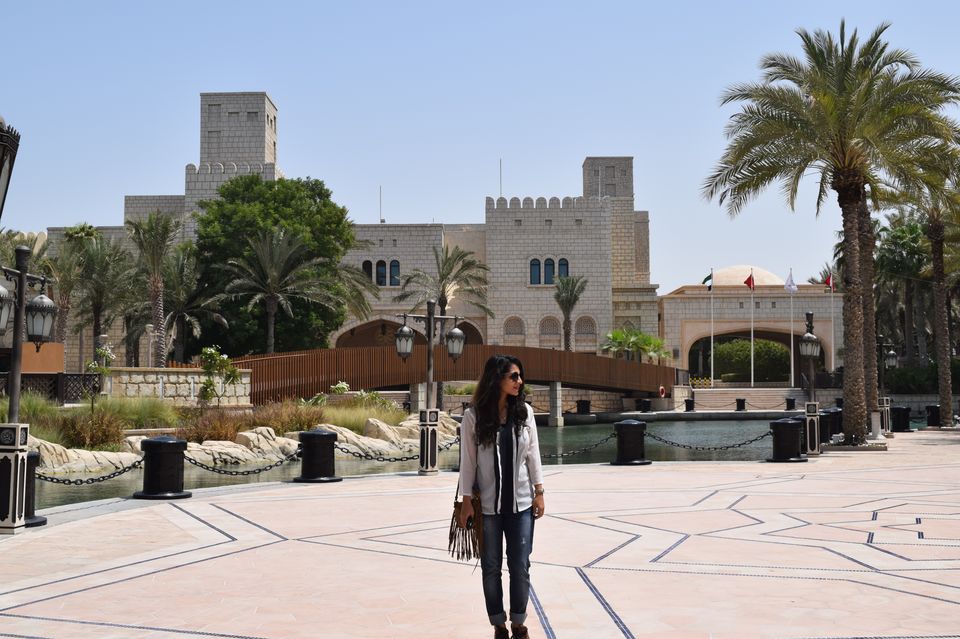 After I decided its too much luxury for me at the moment, I took a cab and my map showed Atlantis next.
Day 1-Destination 2 – Atlantis- Palm Jumeirah
So Atlantis is the magical faraway fairyland which everyone who goes to Dubai keeps gushing about.. But honestly, its not overrated because it actually stands really tall and on the tip of the man-made island of Palm Jumeirah overlooking the beautiful blue waters of the Arabian Sea.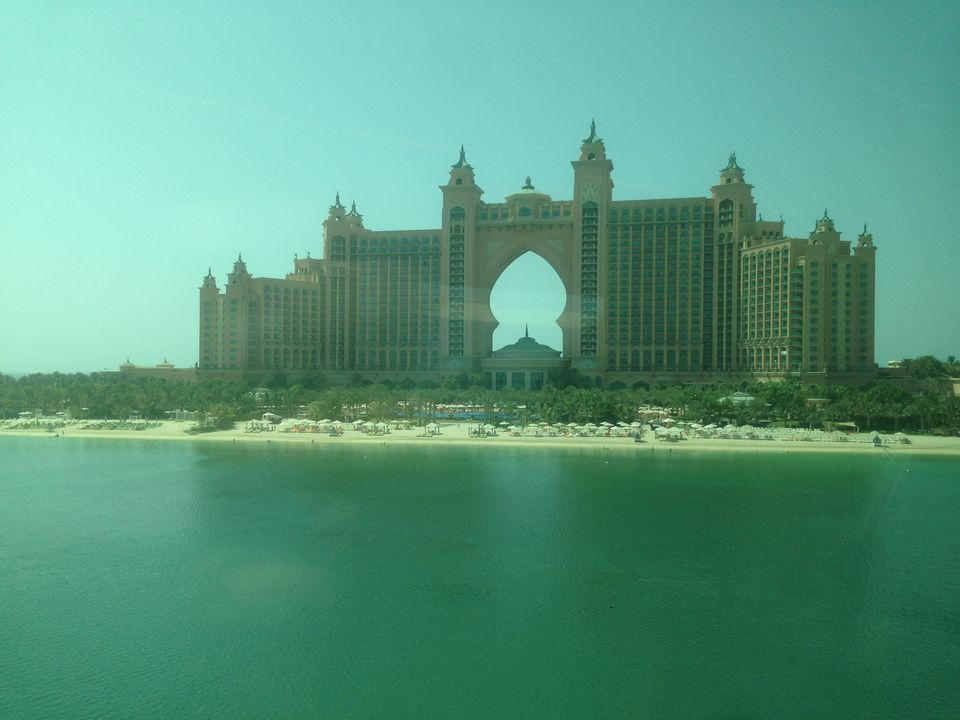 Not to mention that to reach Atlantis you have to cross a tunnel under the sea so that was pretty cool.
So once you reach Atlantis and admire the sparkling sea and all , take the metro which gives you a half n hour tour of the Palm in like just 20 Dirhams ( INR 380).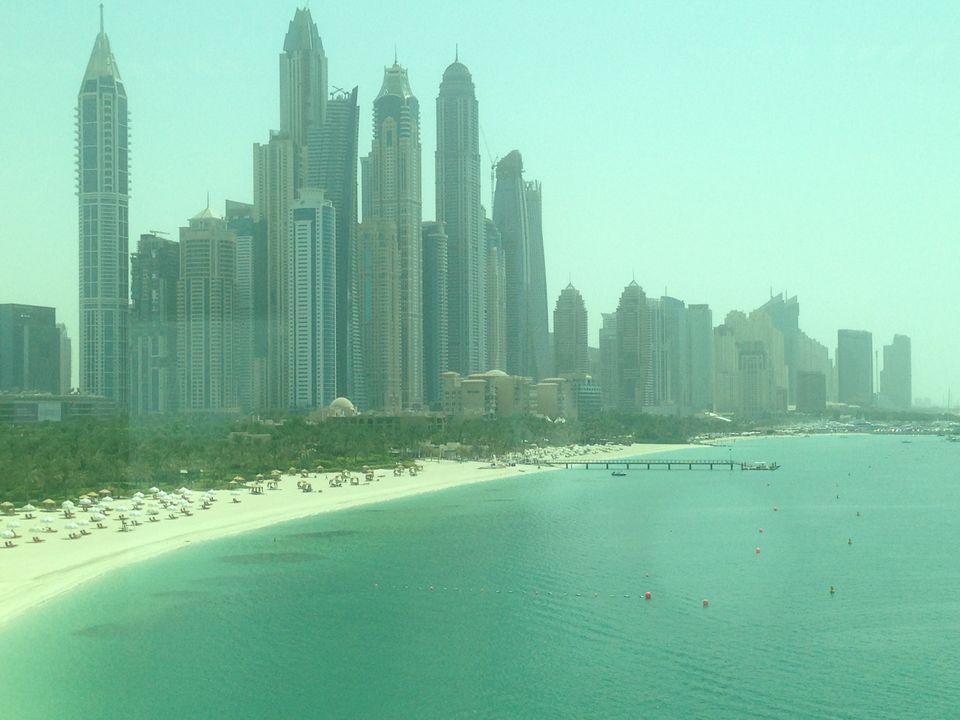 Believe me this is one of the cheapest things to experience in the otherwise super-expensive Dubai.. I stayed by the ocean till dusk and my day ended with traveling to Sharjah – one of the 7 Emirates of the UAE and I chose to stay there because of the cheaper Airbnb hostels and also because Dubai was too happening all day and I chose some peace.
Day 2- Destination3-Burj Khalifa
This should be on every travelers to do list not because its like really fancy and all but because its truly an architectural marvel- it takes you less that 10 seconds to reach the top and skip 123 floors and I guess an airplane takes longer than that to reach that height. Another tip here- Make your reservation for the 124th floor in advance and the ticket will be cheaper. I got it for 125 Dirhams (INR 2400) through a company called Rayna tours and make sure you carry your passport. Being as irresponsible as I am, I forgot it as I was trying to keep it safe at the hostel and had to use my Desi tactics of "Bhaiya Please" to make them let me go in :P .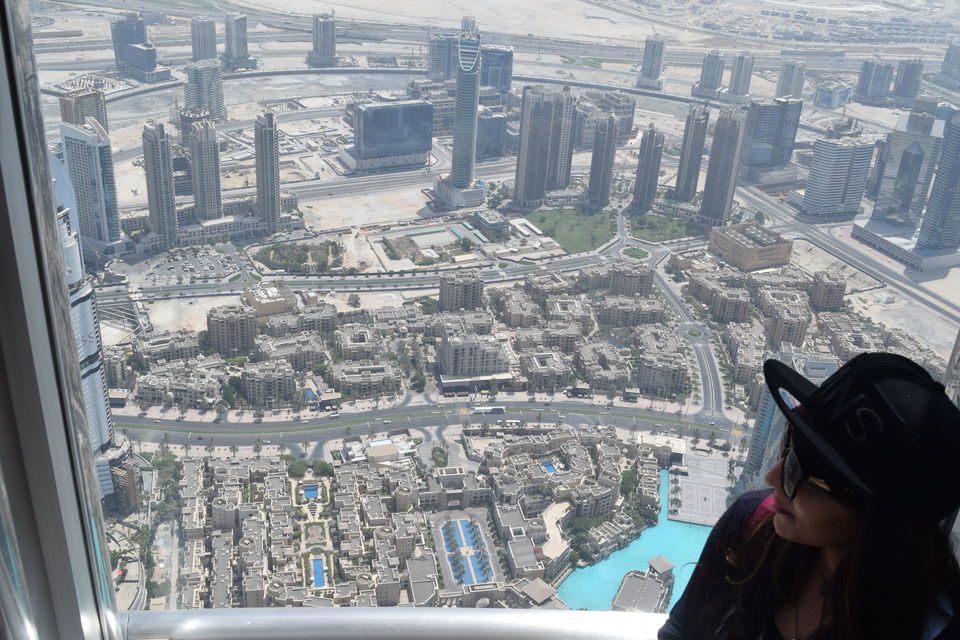 The experience is exhilarating with just glass around you on the skydeck and a far far horizon to see,its really worth the money.
So back from the Burj into the Dubai Mall, I ravished on the Subway-the height made me hungry I guess:P and started planning the rest of the day
Day 2-Destination 4- Underwater Zoo- Dubai Mall
Okay so I never really fancied aquatic life but the "underwater thing" pulled me in and it was really a different experience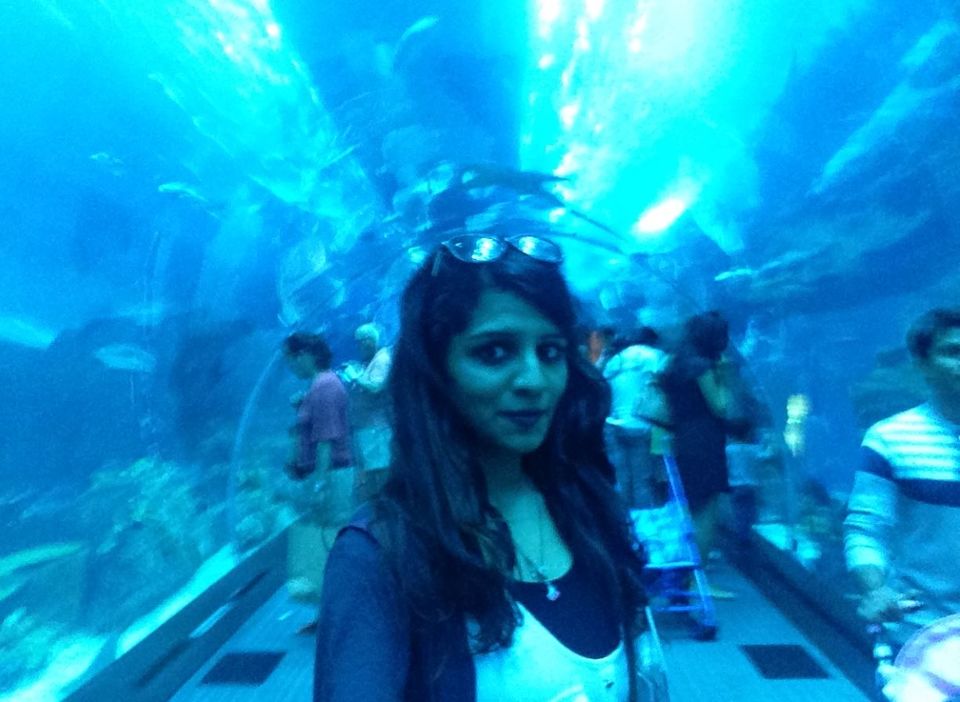 But behold- the best part is yet to come. I don't know how many of you think that penguins are like really exotic and pretty so I actually jumped out of my skin when I saw them – last of all in an underwater zoo in a mall..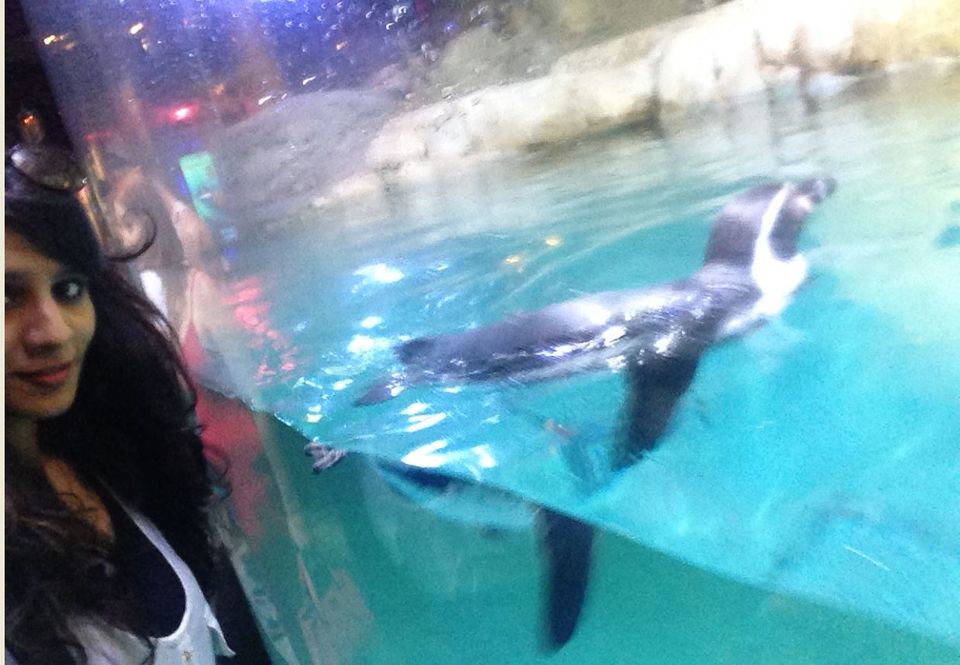 Day 2 - Destination 5- Dubai Museum.
So aided by the map, I decided to delve into the history next and took a cab to the Dubai Museum, Thankfully it wasn't a traditional museum with weapons and shells in glass boxes but they had actually tried to recreate history with life –sized people and shown the occupation and culture with moving figures.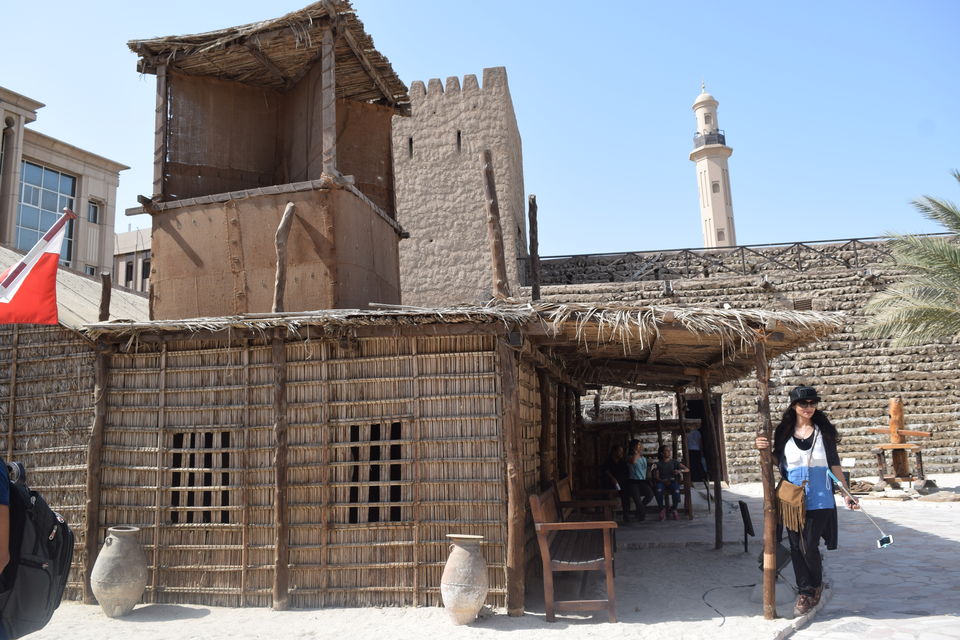 Don't miss this boat just outside the museum and plan to spend atleast 2-3 hours here to get a feel on the Arabian life and culture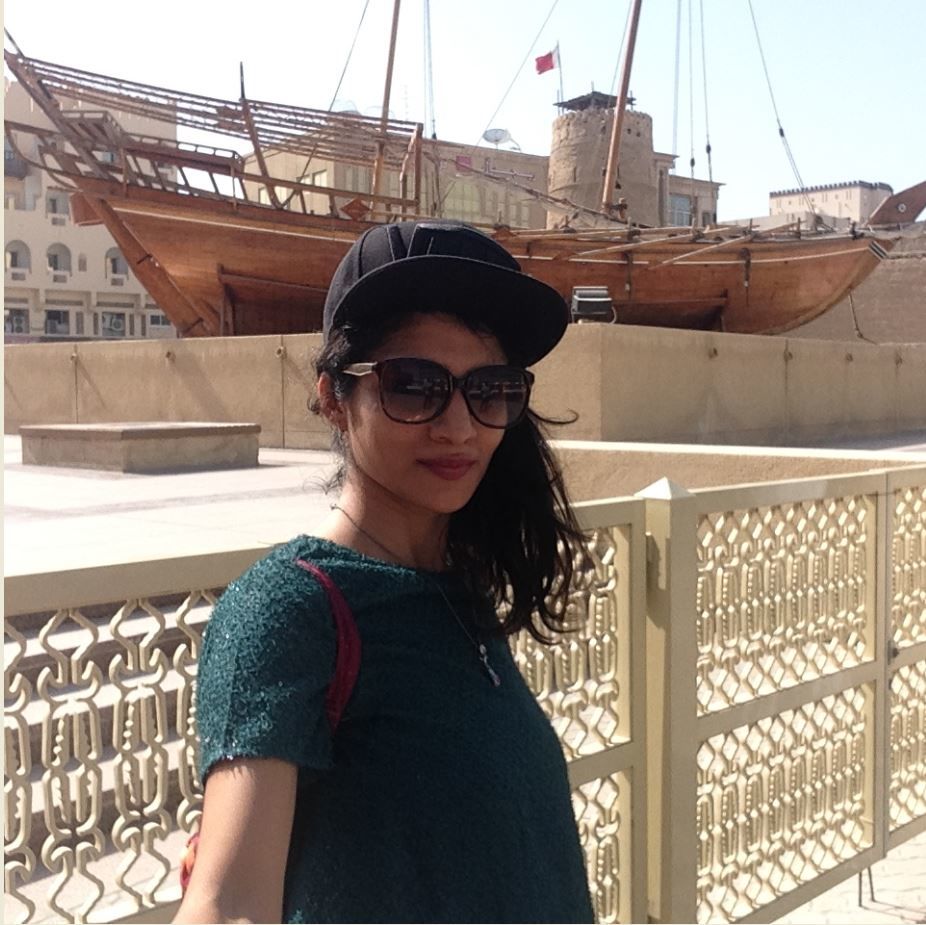 Day 2- Destination 6:Dhow Cruise
The next leg of the day was going to be a relaxing cruise tour of the creek. So , Dubai is separated by a water canal (creek) into two parts- Bur Dubai and Deira Dubai and there is this Cruise which takes you on the city tour through the canal so that's where I was headed next.
The Museum is in Bur Dubai so I took a boat to cross to Deira Dubai as I had to catch my cruise from there. The boat ride costs like 5 dirhams (INR 90) and it leaves u in Deira Dubai in like 5 mins.
From there, the Dhow cruise departs every hour and takes you to all the parts of the city along the canal. Get ready to calm your senses and enjoy the sight for an hour.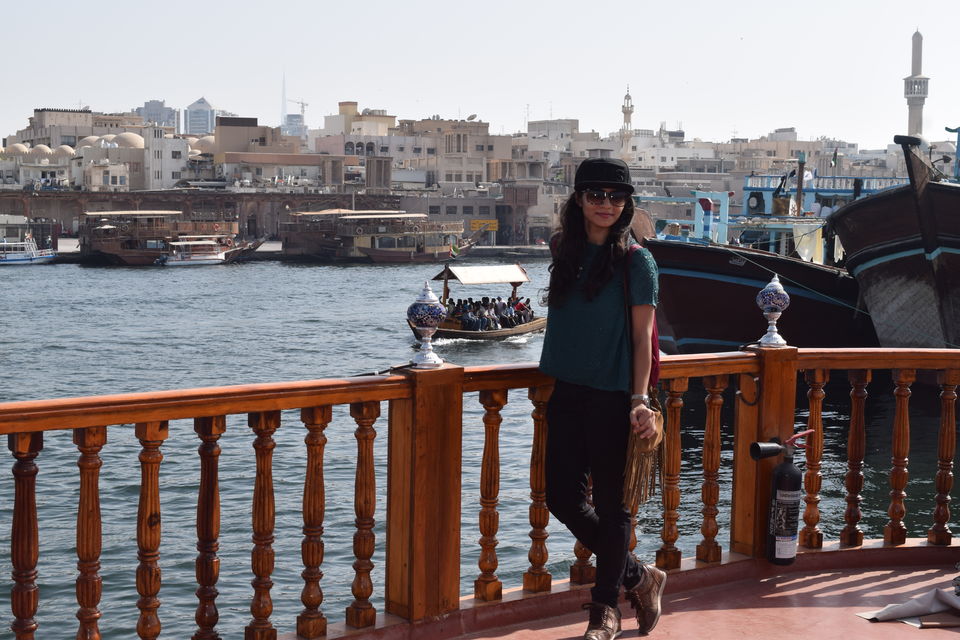 There is a Gold Souk which is considered to be one of the best places in Asia for Gold Trade so you may care to take a stroll if your pockets are loaded. :P .. I didn't really bother.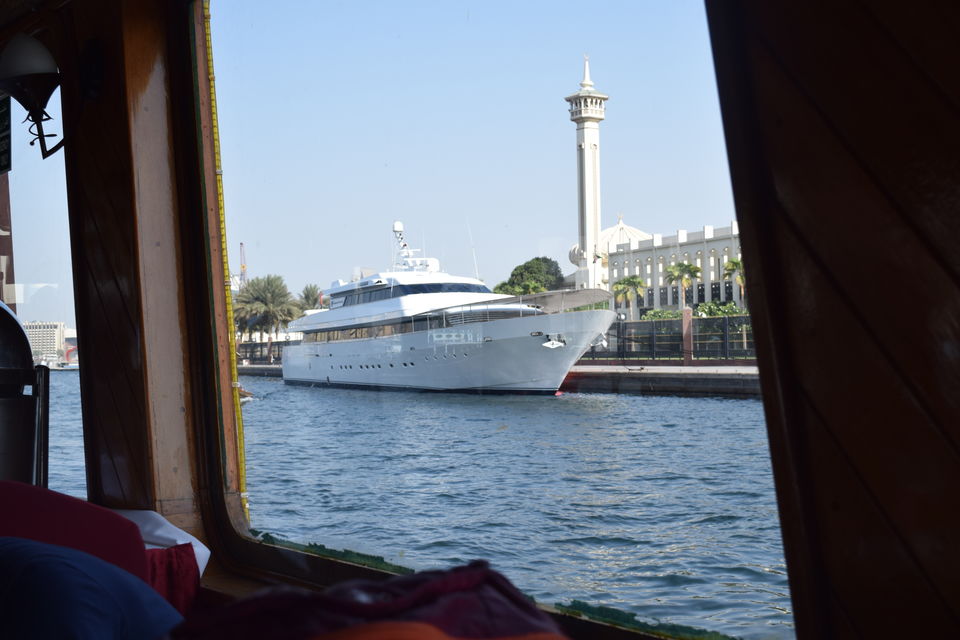 By the time the Dhow Cruise dropped me, it was dusk and I headed back to my humble abode in Sharjah.
Day 3- It wasn't very eventful expect that I ravaged the local markets, sat at a lot of public places to observe people and tried like 4 different cusines- Afghani, Israeli, Moroccan and Yemeni. So anyone who is an ardent non-vegetarian- DO NOT miss eating at the Al Afghan Al Kabab Restaurant at Al Nahda in Sharjah. It would be like a crime and I for one ate like a nutcase.
Also, i found some really pretty doors :D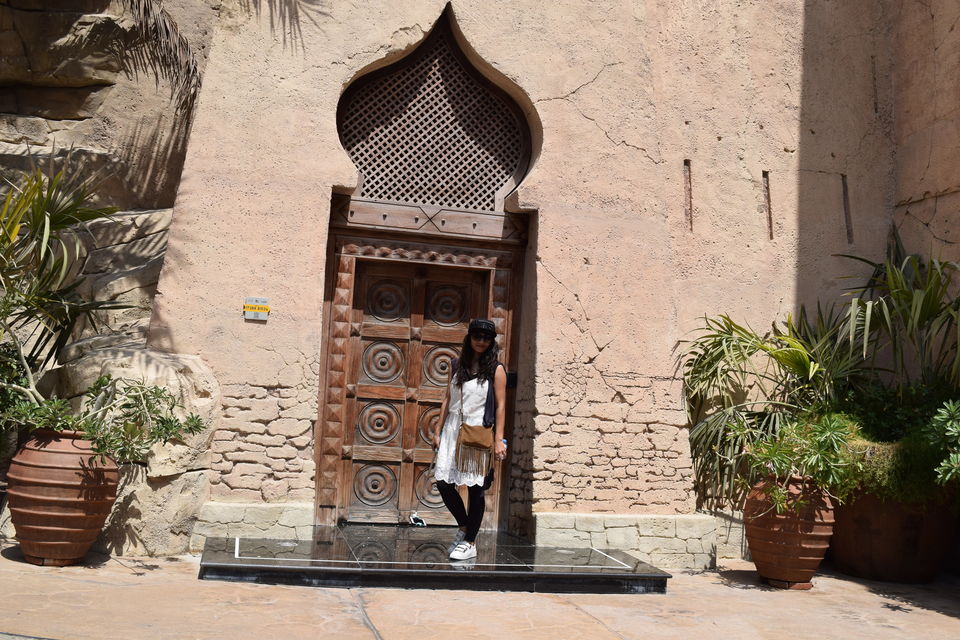 So now the adventure was to begin , I had to leave in the night for Abu Dhabi. The distance is not more than 3 hours but I was planning to stop at a couple of place in between. I left Sharjah at 3 am and boarded a shared mini-van to Abu Dhabi.
Day 4-Destination 7 – Sheikh Zayed Grand Mosque
Around 6 in the morning I reached the Sheikh Zayed Grand Mosque.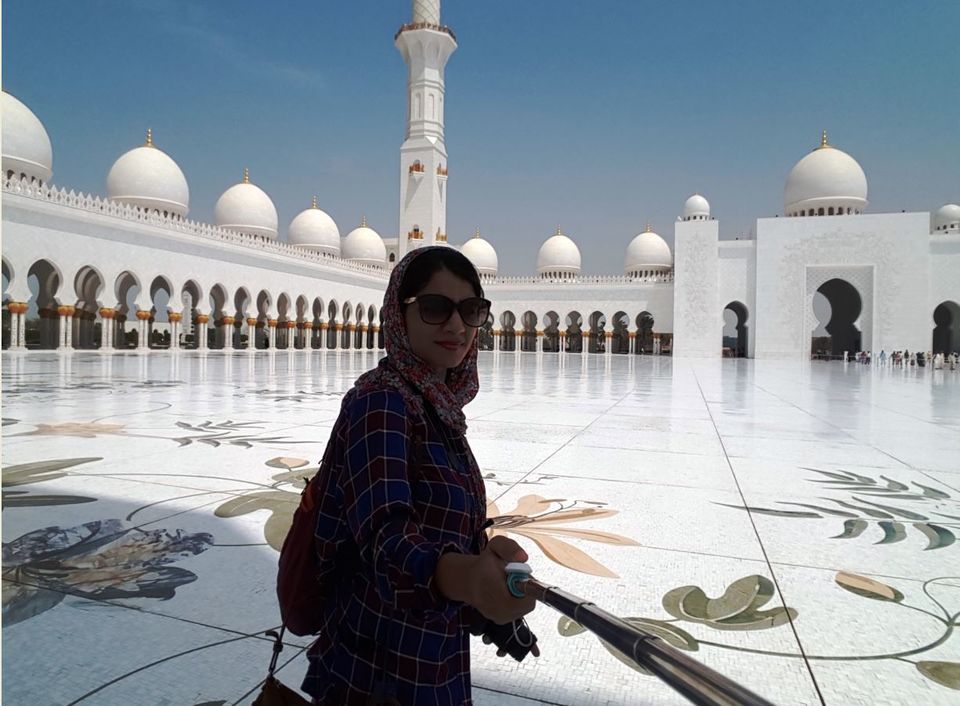 Following the legacy of great structures , this structure came out the winner.. It was truly grand and peaceful beyond comprehension.I could hear my own heart thumping and nothing else.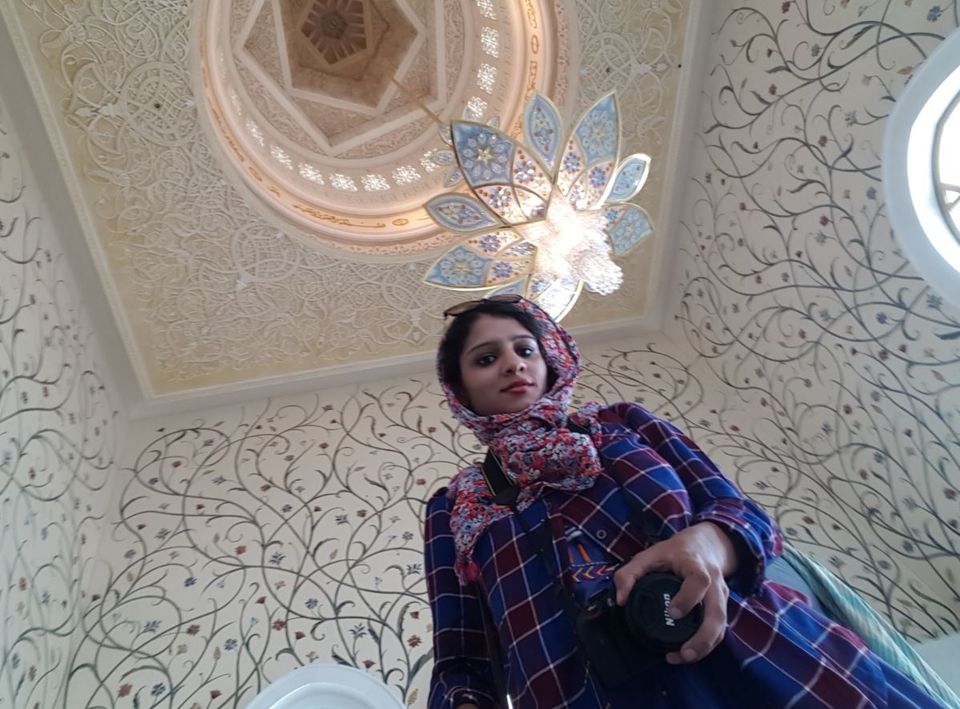 For females, remember to wear something in full-sleeves and keep your head covered to enter the mosque.
Day 4-Destination 8- Emirates Palace, Abu Dhabi
The I headed next to my dream destination - The Emirates Palace and that is where the movie "Sex and the City 2 " is shot. . I was kind of bugged by the entrance fee (INR 3500) as you have to make the booking two days in advance by reserving a table but as lucky as it gets, the cab people turned out to be the opera performers at the Palace and I tagged along as a free guest :P.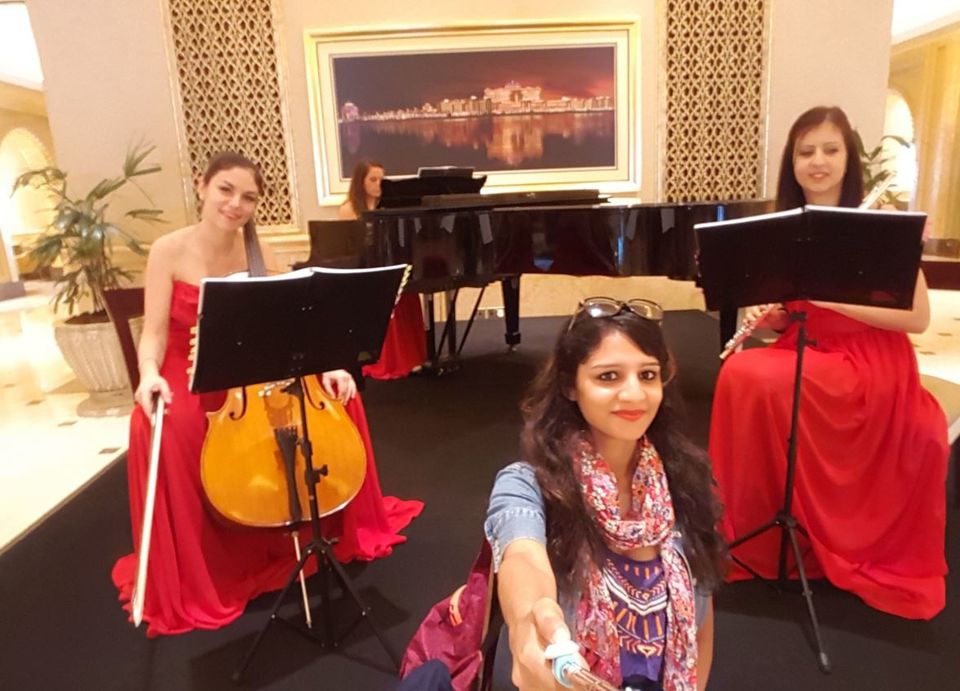 Enter ROYALTY- as if what I wrote above wasn't enough :P
Have you like seen those castles where you imagine running around as kids with those grand staircases and chandeliers? Multiply that by 1000 and that's how royal the Emirates palace is.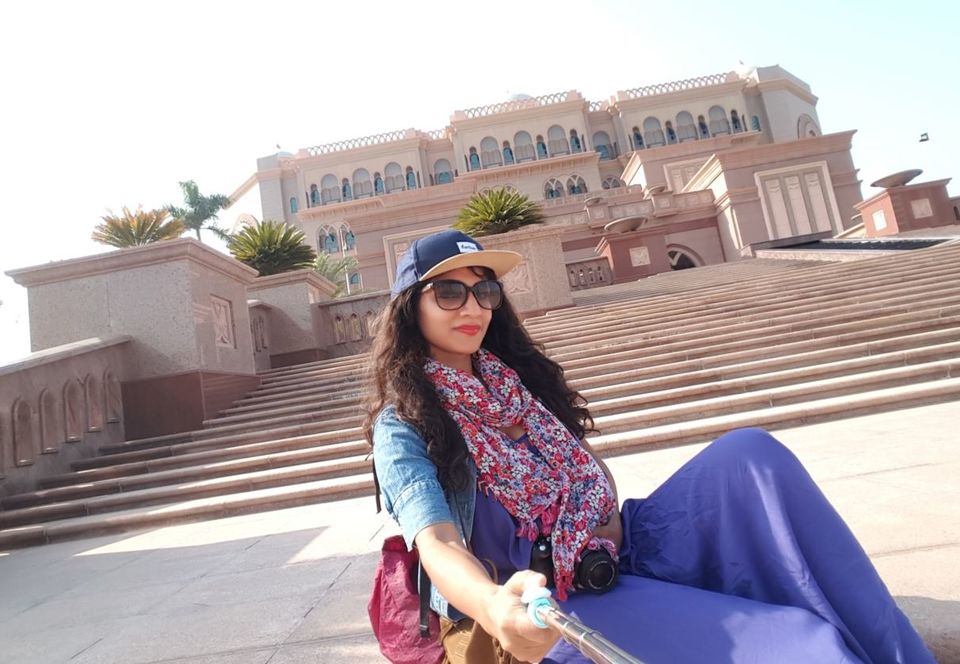 A 3 hour stroll wasn't enough to cover all the parts of the palace- not to mention I got some good shots of the Private Art Exhibition..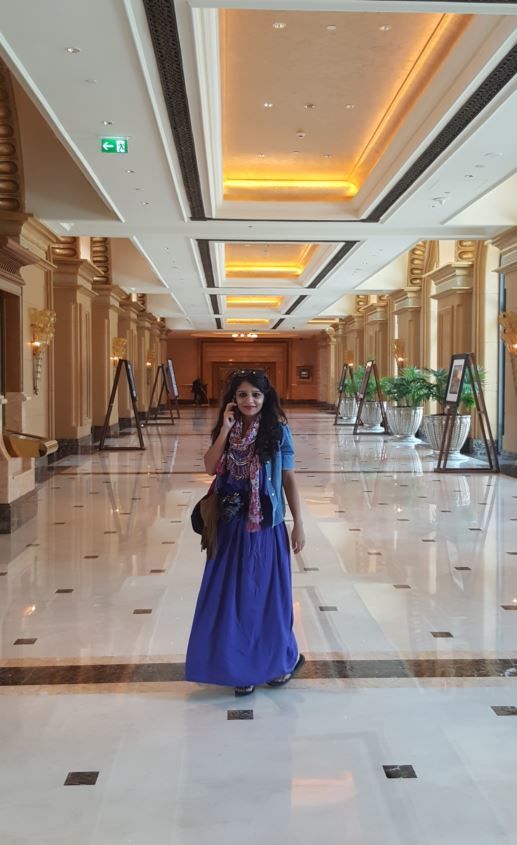 Okay so fast –forwarding to the biggest desert adventure. I got back to Dubai , did some decent shopping and lipgloss search :P at the Dubai Mall and prepared for the night in the desert.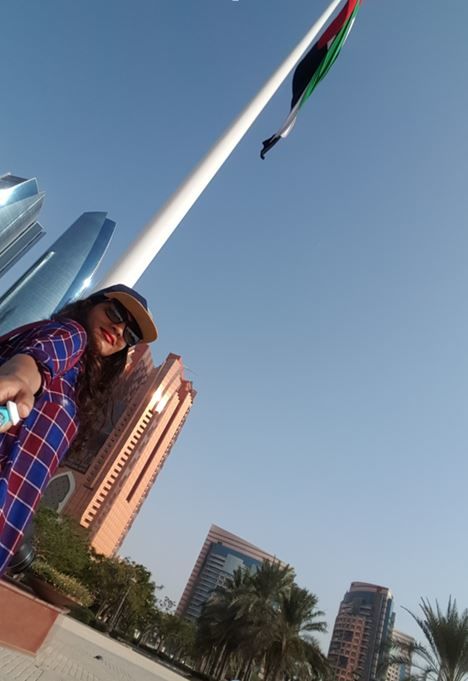 So I booked a cab from Bur Dubai to the Hatta Mountain ,Arabian Desert which costs like 70 Dirhams (1430 INR) This is the part of the desert where the treks start and you can make this as a base . This place is like the desert heaven- They take you in a desert safari jeep somewhere 20 kms in the middle of the Arabian Desert where there are tents and all.
Day 4- Destination 8 –Hatta Mountain, Arabian Desert
Enjoy a heavenly barbeque dinner here with Belly Dancing and camels around. So this was the most surreal feeling for me and my selfie-stick. The Arabian music, desert winds, the sands, hookah and the belly dance added up to be just perfect and this was one hell of a thing to experience,
See it for yourself
I slept at this camp till 3:30 ish and it was too cold so I curled up with this camel and it was such a beautiful fluttery feeling that I didn't mind my hair looking like that :P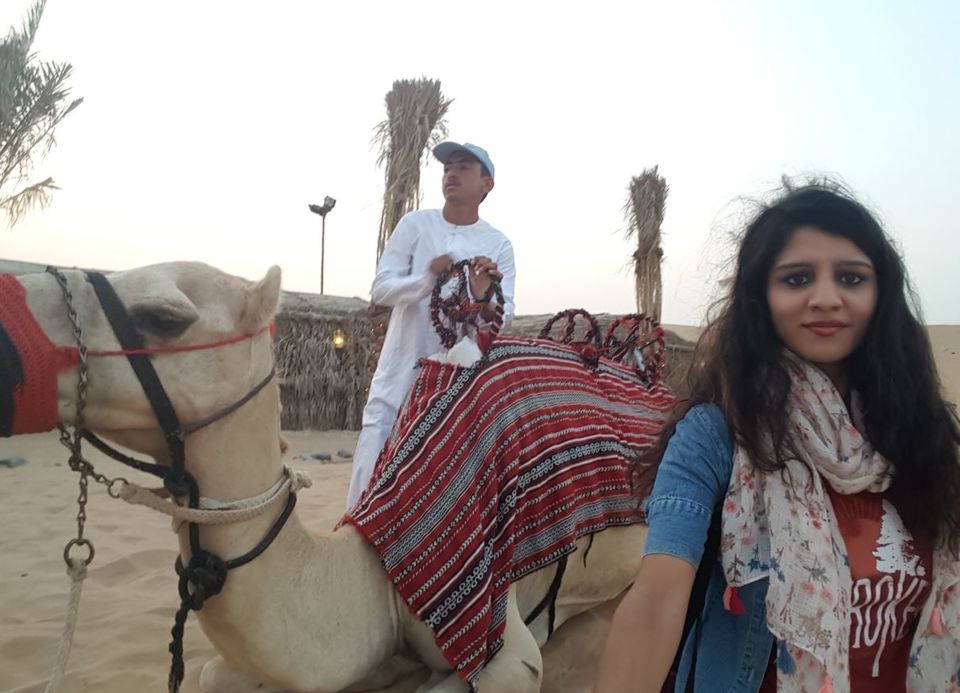 Day 5- Destination 10 – Sohar Desert, Oman
Post this, I started from Hatta towards Sohar in Oman, We drove around 70kms and trekked the last 10-12 Kms through the desert till we reached the Oman border . I am not really sure about an on-arrival visa but since I already had an Oman tourist visa, it was pretty hassle-free for me to cross the desert border.. Also make sure you carry Omani Riyals because I couldn't see any exchange counter nearby. An Omani Riyal costs like 173 INR.
The feeling though can't be described. At 7 am in the morning I was crossing a desert border into a different county.. Handsdown- Best experience ever.. As I lay down on the sand I thought to myself- Although I am a big time mountain person but for the first time in life- maybe I needed deserts more than the mountains.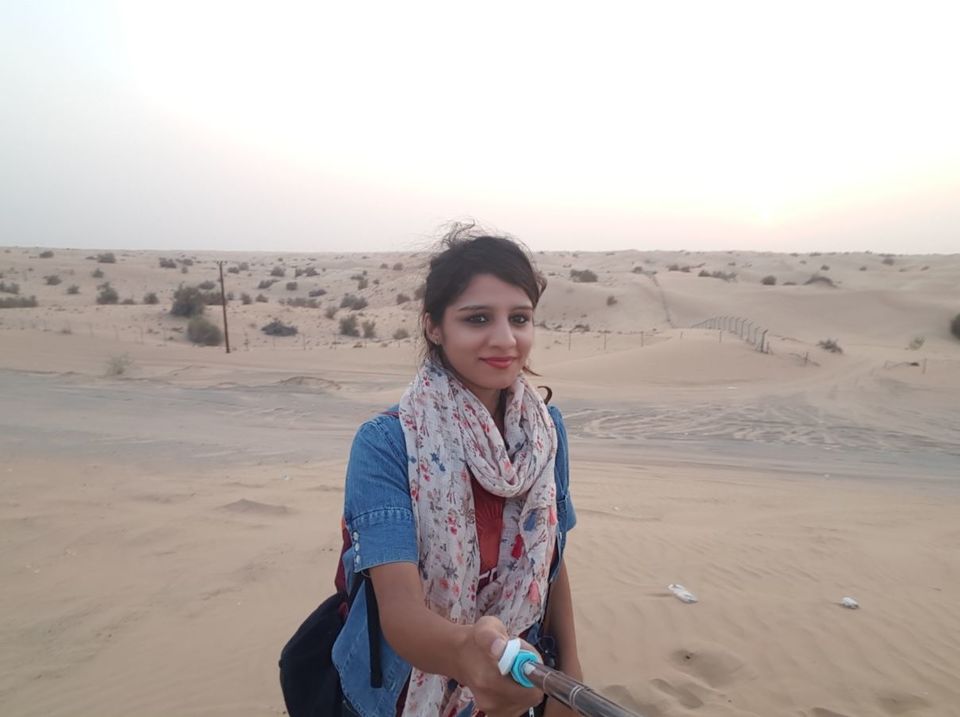 I got back to Dubai with a million memories, experiences of a lifetime and yummy dates, of course. The same night I was flying back to India finishing my Arabian nights story with a Duty Free Sandwich Turkey:D
As always, I was not the same person anymore-Something had shifted with this trip.
Things to keep in mind:
1. If you are traveling alone, be sure not to attract attention and wear covered clothes
2. Its damn hot this time of the year-so stock up sunscreens,scarves,sunglasses and caps although I was too high on the trip to feel the heat.
3. DO NOT mess with the police/hotel owners/shopkeepers. They might "Yalla" you. I got that a lot on my trip :P
Until the next trip,
KP
Frequent searches leading to this page:-
Dubai tourism best places to visit, Dubai tourism best time to visit, Dubai tourism honeymoon packages from India, Dubai holiday packages for family, cheap Dubai tour packages, how much does a honeymoon in Dubai cost