I was eagerly waiting for this trip to Bodh Gaya. I had never been to any place in Bihar, so I was a bit skeptical and confused but something in my heart was telling me that everything will be perfect. After travelling solo to lot a of places in India, it wasn't much of a tedious task for me to plan this trip although I always suggest my friends and colleagues that too much of planning ends up nowhere, it just makes you confused and more worried and finally you end up going nowhere and get stuck again in your routine life.
So, as I had my college holiday in Friday, I decided to catch a train from Kolkata on Thursday evening after my classes. I booked my tickets 1 week before hand for HWH-MUMBAI MAIL - 12321 which was scheduled to depart at 10pm and reach Gaya at 5:22 am (the closest railway station to Bodh Gaya). I found this train perfect because it will save you a lot of time as you will travel during night and also you get the whole day to cover all the places next day without rushing.
So, I reached Gaya station early in the morning, saved from the city hustle I reached out for a share auto to Bodh Gaya which will cost you just Rs 15-20. Also they won't drop you till Bodh Gaya but till Domuhan which is around 3 kms from Bodh Gaya from where you can take another share auto directly to Mahabodhi Complex or the Bodh Gaya city center just for Rs 5.
One of the best part of travelling in Bodh Gaya is that if you wish to visit (which is must) the monasteries built by various nations like Japan, Bangladesh, China or Thailand you don't have to worry about hiring a guide or booking a cab basically spending money. You can just walk and reach all this places which are located in a U-Shape manner along the road.
On reaching Bodh Gaya I could suddenly see a change in the atmosphere, I already felt like I teleported to a totally different place with unusual peace. I booked this hostel called Charity Backpacker which was located in nearby village just 1 km away from Mahabodhi Complex so quite nearby in just Rs 120 from an online booking website. The best thing is that the hostel is located just at the shore of Phalgu River and also they have a huge Peepal tree, so you get this unique village vibes and feel like a local with the village kids playing around and also they run a school in the ground floor so to make this trip even more unique you can play and interact with the kids.
I reached this hostel, checked-in quick, took shower, packed my bag and left to discover Bodh Gaya - The Holy Land Of Buddha.
Mahabodhi Temple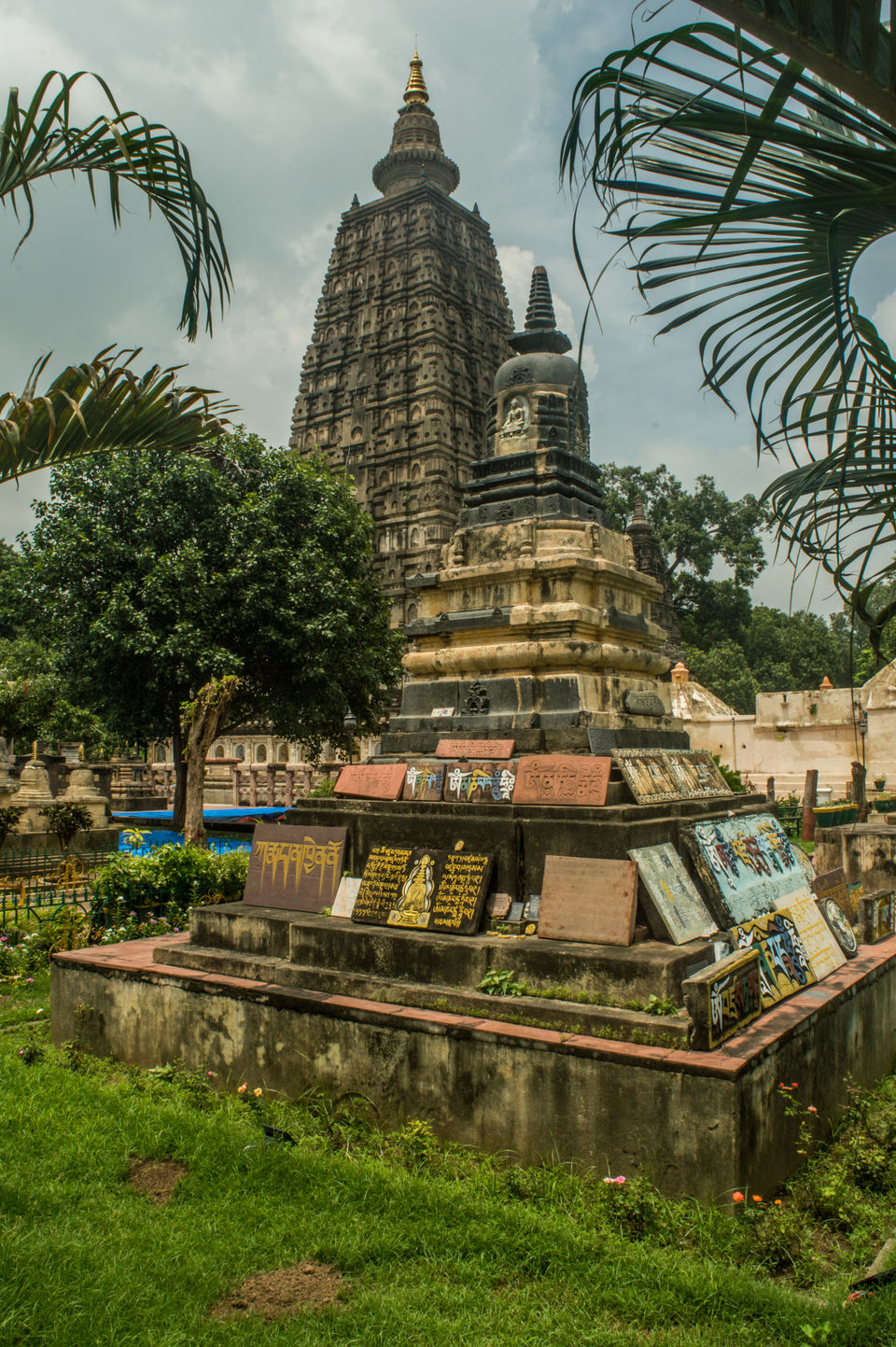 There's no entry fee but if you wish to take camera you need to pay Rs 100. Also you cannot carry your phones inside and can keep it in a locker in the nearby counter for free. If you wish to get rid of your backpack while you are inside the temple complex you can also submit it. There's so much to say about Mahabodhi Temple but I wonder if I can put that into words. But there's a tip: "Don't ever miss the sight when a number of monks and devotees worship together around the bodhi tree". Also around the Bodhi tree you will find a lot of monks meditating and so can you or maybe keep waiting for a might leave to fall from the tree which you can collect as a souvenir or reward and frame it like one of my friend's parents did.