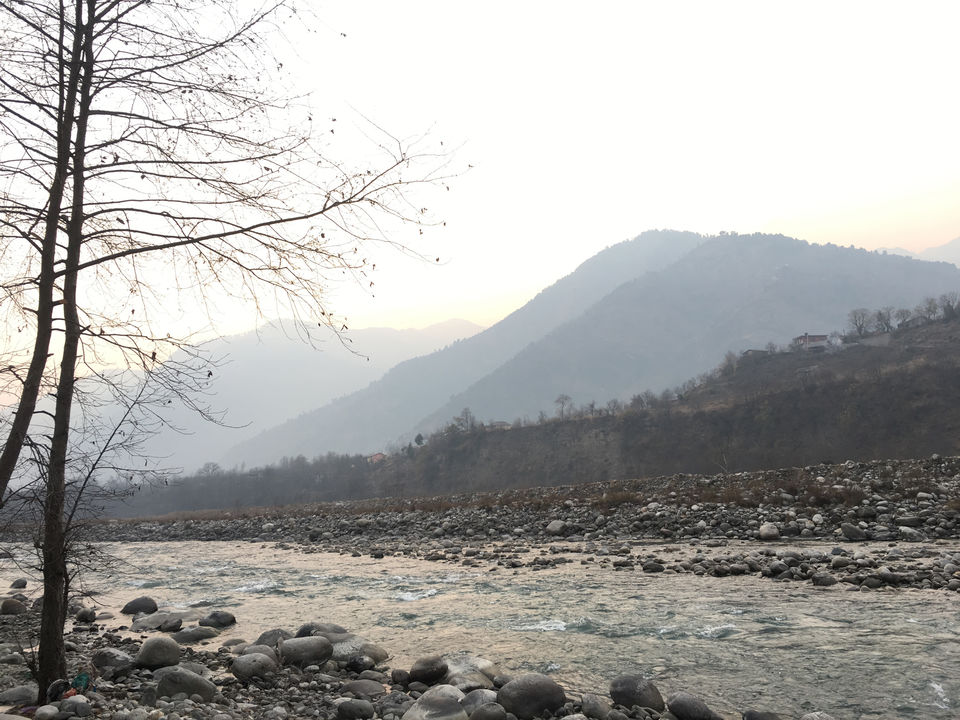 Manali in the recent time has become very famous as the ultimate place for trippin due to the increasing craze of kasol in the youth but it is more than that. It can turn out to be one of your memorable experiences if you know what to do and where to go, from ancient temples to adventure sports, snowcovered valleys to waterfalls you can find everything in manali. Manali is an overnight journey from Delhi and a bus ticket will cost you around 1300. The hrtc buses are also very good specially the Himsuta bus.
Starting with where to stay and this is where a lot of people make mistakes, alot of people don't know that in manali we have old manali and new manali. Most of the people book their hotel in new manali which is unneccesarily overcrowded by tourists so, i would suggest you that if you are a traveller who wants to explore the place, meet people and talk to locals old manali is the place for you. The hotels and guest houses in old manali are comparitively cheap. I stayed in a guest house in old manali called Tiger Eye and believe me it was too good for the price they charge(₹500 off season,in season time it may be upto ₹1000),the room was clean with tv,geyser,and towels what else would you want. Zostel is another place which can make you stay in manali for 1 extra day, both of these are situated inside a local village and you can also see the old wooden houses of manali.
Now talking about places, there are some good places and some overrated places i am gonna mention all the places in the order i visited them.
I reached manali in afternoon, rested for a while and then left. I like to start my journey by visiting a temple so there was a nice temple nearby and i left for that.
Hidimba devi temple
It is a 20 min walk from old manali. This temple is one of the rarest temples that belongs to Hidimba devi(the wife of bhima from mahabharata). The temple is raw and is still how it was made and is beautiful it is not like one of the temples that you come across usually. It can be crowded some times because there is not much space inside so it can take you upto 30 min there.There is also a Ghatotkacha temple nearby. You will also find one of the best restuarant in manali in your way to the temple. ll Forno serves the best italian food and is also famous for its ambience. Unfortuantely i was not able to eat because the place was closed
that day.
Mall road
It was evening by then and it took me 15 mins(walk) to reach Mall road and i decided to stay there for the rest of the day. The mall road is just a place where you can shop and eat, sometimes various activities are conducted at mall road for entertainment. Chopsticks is a famous place to eat in mall road which serves authentic chinese.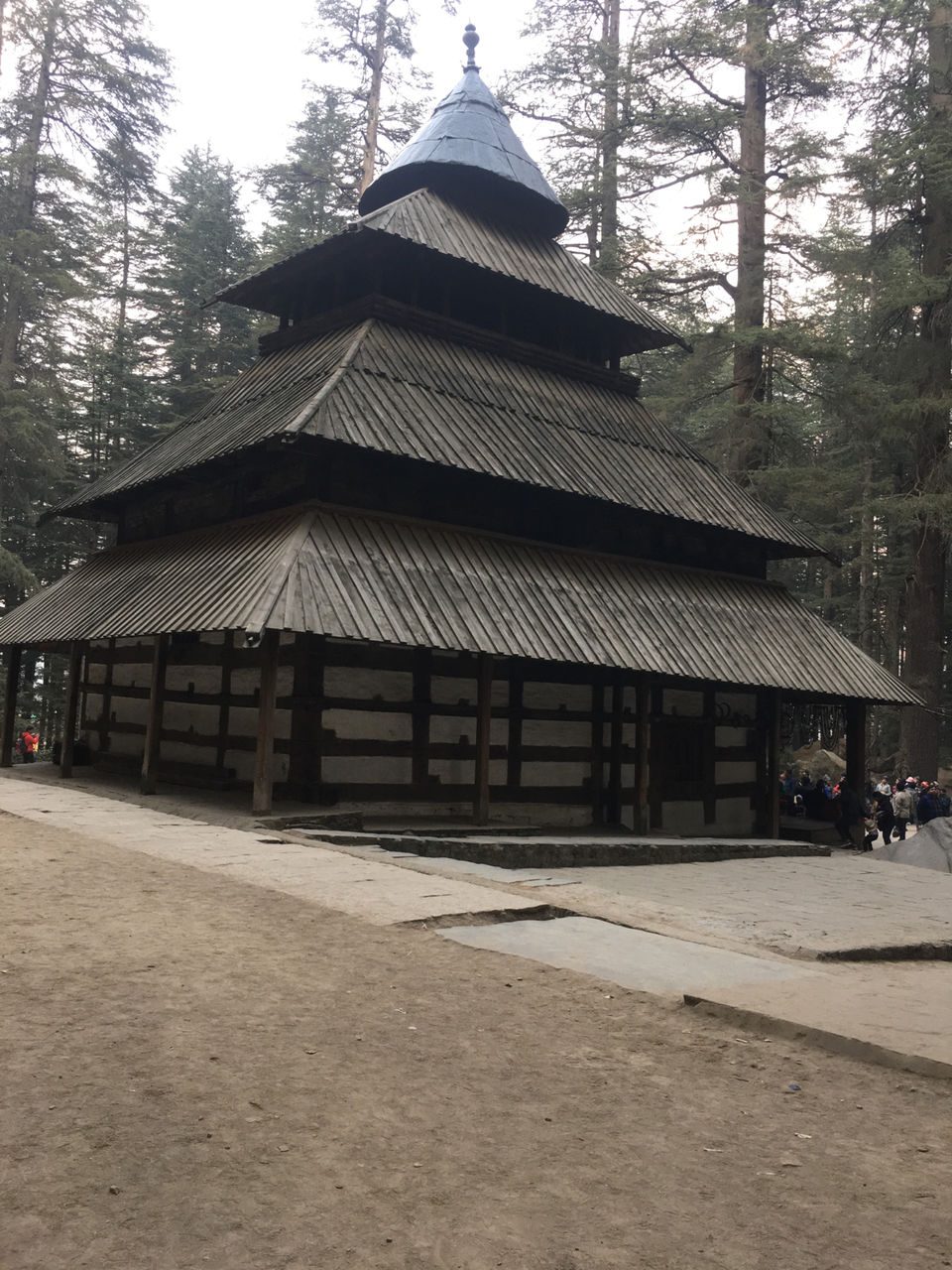 I want to a beautiful place for breakfast.
Renaissance
This is in old manali and serves authentic italian and mexican cuisine. I had omelette taco for breakfast and that was served as a main course item which is very hard to find in India(in india taco is usually served as snack), it was more than sufficient for breakfast.Thin crusts pizza,taco and lasagne are their speciality. This a place that you remember for food quality not for ambience or setup and the man who runs the kitchen(Vijay) is also very warm. He is a local and he can provide you valuable information which can help you in your travel, moreover you can sit and talk to him about various things and he will share with
you his experiences if he is free from kitchen. After visiting this place my plans for the day changed he suggested me to go to vashist and i found out about another intersting place to satisfy the adventure junkie in me.
Vashisht & Jogini fall
Vashisht is 3km manali you can take a rickshaw or walk on the steep road for 25-30 min. The place is named after Maharishi Vashisht and has an ancient temple. The temple is an old wooden temple with beautiful carving on the wooden walls. There is also a hot water spring in the temple whose water is said to have medicinal values i could not try that because i was carrying a lot of stuff with me. The baths are made in turkish style and are seperate for both males and females, taking bath in naturally occuring hot water in a place like manali can be an experience that i missed but the place can be overcrowded in evening so the best time to go is early morning.
When you come out of the temple on your right there is a narrow street that goes towards jogini falls. The street leads to the forest area and you have to walk 2km through the forest to reach jogini falls, it is a fun trek through the forest. You can carry an empty bottle with you and fill it with fresh water from the waterfall and sit there and enjoy the weather.There is also a small zip line in your way to the fall.
Alternate terrain
This is an experience i wanted to tell everyone when i come back home, it is located in patlikuhal(17km from manali) you can take a bus from manali bus stand and it will drop you at patlikuhal in 30 min and then you can call(+918894099821) them and ask for directions or take a rickshaw(₹100), most of the rickshaw guys know about the place and they will drop you there. They offer you to drive ATVs and Quadbikes on track and they have a 45 min trail in which you drive the ATV on a 15km offroad trail all by yourself accompanied by a instructor on another ATV. I would recommend this place to every adventure junkie they are setting new benchmark for indian adventure sports. The track is 15 km long in which you pass through mostly rough terrain, through sand, water,rock obstacles. The cost for the trail is 3500 which includes a 15 min training session,they also have an option in which two people can drive the same ATV, you can switch the driver at halfway and that costs 4500, i would recommend this option because 30 min ride can become boring to some and also it is expensive so this way you can experince it without getting bored and save money. If you are thinking about what to eat then they have a perfect answer to your question, they have a kitchen that serves food that is a treat for you palate from falafel and pita to three bean salad and a cup of perforted coffee they have it all and the seating space is also beautiful surrounded
by lush green trees in spring season and beautiful trees without leaves in the autumn. The setting is alltogether beautiful and is adjoining beas river.
beautiful trees without leaves in the autumn. The setting is alltogether beautiful and is adjoining beas river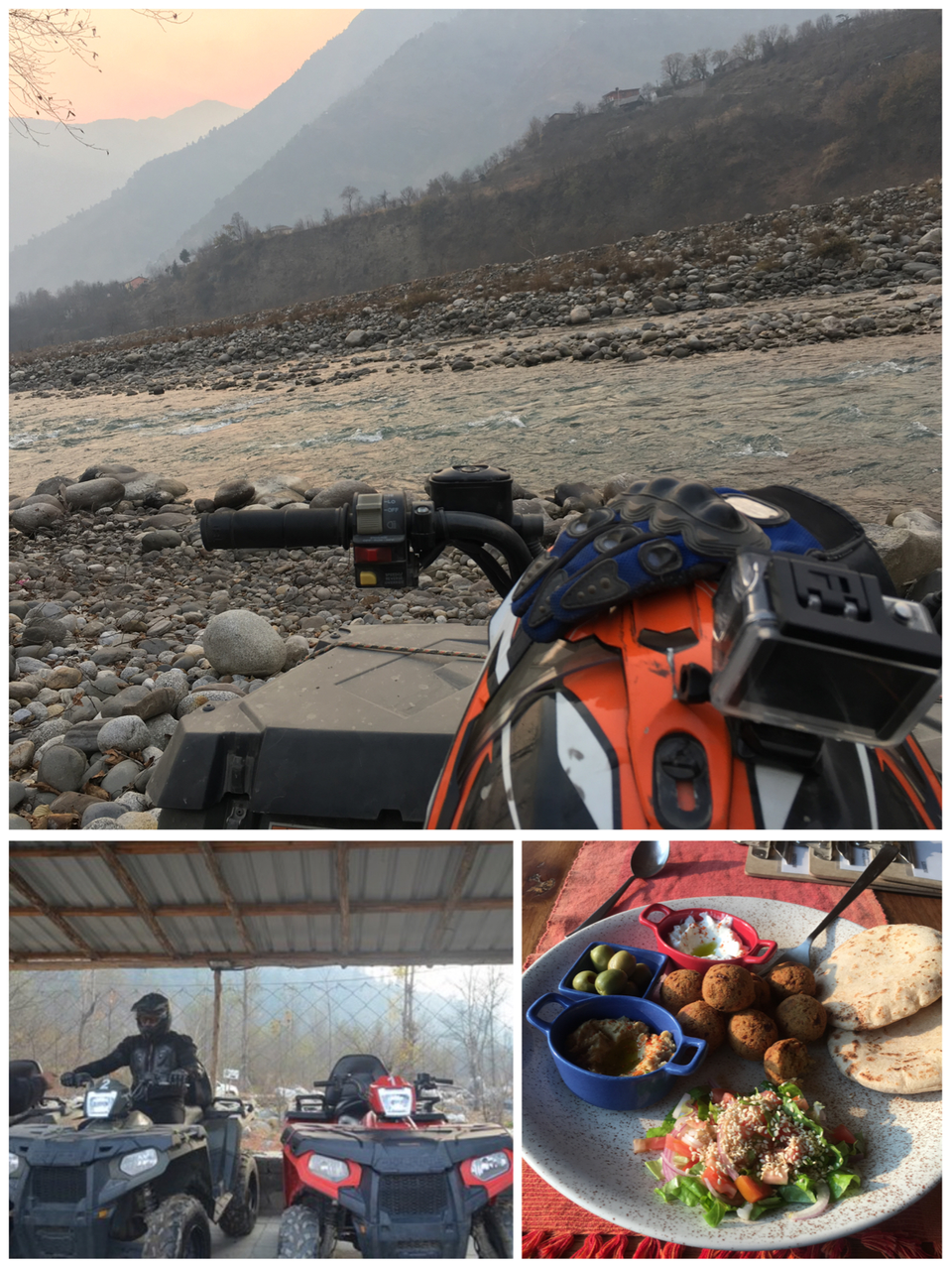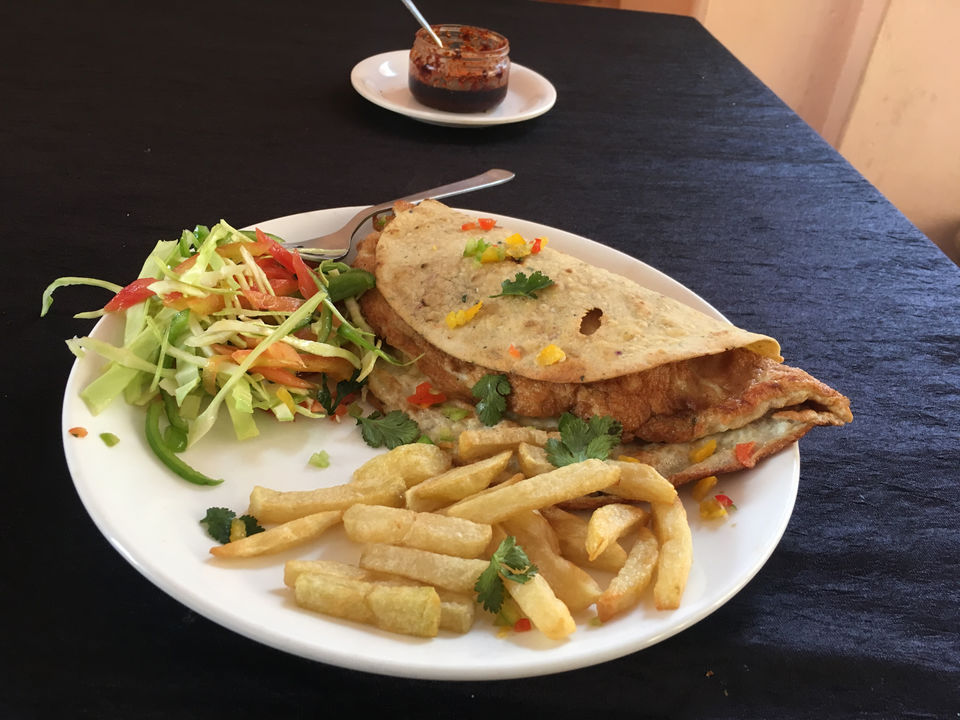 Solang Valley
You can take a bus it will drop you at palchan and then it is a 2km walk but instead of walking on the road you can walk through the path that goes across the roads and you can reach solang in 15-20min or you can hire a bike or bicycyle from manali. There is a ropeway that takes you up and you can come back by using the ropeway or by paragliding. The paragliding is of two types short fly which is a mere 30 second flight costing ₹900 and high fly which a good eperience costing ₹3000 including ropeway. You can also do skiing and snow sledging when there is snow. Unfortunately there was no snow and even the ropeway was not working so I decided to leave. Also the place is filled with tourists and locals so avoid this place if you
dont like crowd.
Gulaba
The next stop was Gulaba it is considered as the alternative to rohtang pass and you can enjoy snowfall & snow when rohtang is closed in the month of january,february. You can also trek in snow, it is good with snow otherwise there is
nothing much to enjoy.
Beas River
Sitting near the Beas river and enjoying the cold breeze is another fun thing that you can do. Water and Fire are two things in life that i can see for hours without even thinking about anything else.
I was not having much time so i had to leave that day so these were the main attractions from my trip.
Places to eat
Rennaissance, ll Forno, Chopsticks, Amigos german bakery, English bakery,People
Places to hangaround with friends
Johnsons,Drifters,Cafe 1947
Some travel tips
If you are travelling in winters instead of carrying heavy woolen clothes try to carry one warm jacket and under that wear two or three layers of clothing, layering your clothes will keep you more warm than thick clothes.There is a socket near your footrest in the volvo bus(i came to know this when i was leaving the bus). Dont eat where the bus stops,carry your own food or even if yoi want to eat ask for the price before(i paid ₹500 for two rotis and sabzi at a dhaba) Buy a pair of woolen socks from the local market and wear it over your usual socks, believe me this will make a huge difference in fighting cold.