This is going to be my first Travel photography blog ever. I always have dreamt of travelling, exploring new places and people and capturing the most I can wherever I go and making a blog out of it - for all you people out there and most importantly for myself.
Unfortunately, I haven't yet created one in all these years.
I finally am!! I'd like to thank my sweetheart best friend for this :) I am dedicating this blog to her. It wouldn't have been this crazy and memorable without her.
One fine day, we meet up at a cafe (me and Neha) and we discuss the stress about life that we all have and it's mostly common amongst youngsters. What changed things was that we suddenly made a plan for a trip to Udaipur and our stress level was so high that we didn't give a damn about what problems are we gonna face if we just go without any planning. So, we were going next day!
We left for Udaipur by bus ?? in the afternoon successfully confirming that the plan was for real. We were just travelling like aliens. We had no clue where do we have to go, what will we do there or where do we stay. One thing I had in mind was The Badi lake where I always wanted to go. It is a beautiful lake and there's a view of that lake from the top of the mountain which is freakin amazing view and the best sunset you could witness.
On the way, I searched for places to stay and I was mainly searching for Hostels as it's the trending concept these days which provides cheaper stays with great ambience new faces and mainly clean and neat place to stay and sleep.
By the time we reached it was already 8pm and we checked in one of the hostels named Whereabouts. Pretty cool place and it was just 400/- bucks for 1 person in a 6 beds mixed dormitory.
As Udaipur is knows for being lit in the evening, without wasting our time we freshened up and left for a walk, again without knowing where to go but just exploring the place.
Luckily, the place where we stayed had popular places all close by which worked really well for us.
Neha was awestruck with the lights and she was completely lost with amaze. She was just smiling with nothing to say because she was speechless. I guess there has always been a connection that she has with lights which takes her back.
So I took her to The Village restaurant which has one of the best rooftops from where you can actually see the city lit from all possible surroundings and corners.
It was one cold evening and we were freezing as we didn't really expect it to be so cold at this time in Udaipur. We sat there until the guy had to ask us to leave as it was closing.
The view was magical and it was the perfect time for us to look back in time and think and talk about all the good things we came across. It felt like a dream. It made us realise that just a little bit of change and just one step different in life can make so much of difference.
We left the place around 12 and went to Ghangaur ghat. Although it was mostly dark by then we sat there in the cold and peaceful weather deciding what next to do the next day.
I couldn't sleep at night though as I'm not habituated much to sleeping and then we had 3 more mates sleeping on their bunk beds and snoring like a dinosaur. It literally felt like they were competing in their sleep to snore the loudest out of which there had to be a winner as one uncle was accurately snoring the entire night without a break. Must have been a world record!
Neha did sleep peacefully as she started snoring too, later on!
Anyways morning we had our breakfast on the rooftop at the hostel itself where we met an Italian guy. He had the most differently groomed moustache ever and his name was Roberto. A very friendly guy as he spoke to every single person in the room. He had come alone for a tour and he worked as a Bartender in Italy. Isn't that amazing?
We hired a vehicle later and spent our morning at Gangaur ghat again. One should definitely visit the place in the morning. You'll get a beautiful day view of the lake palace and thousands of pigeons having a morning assembly there.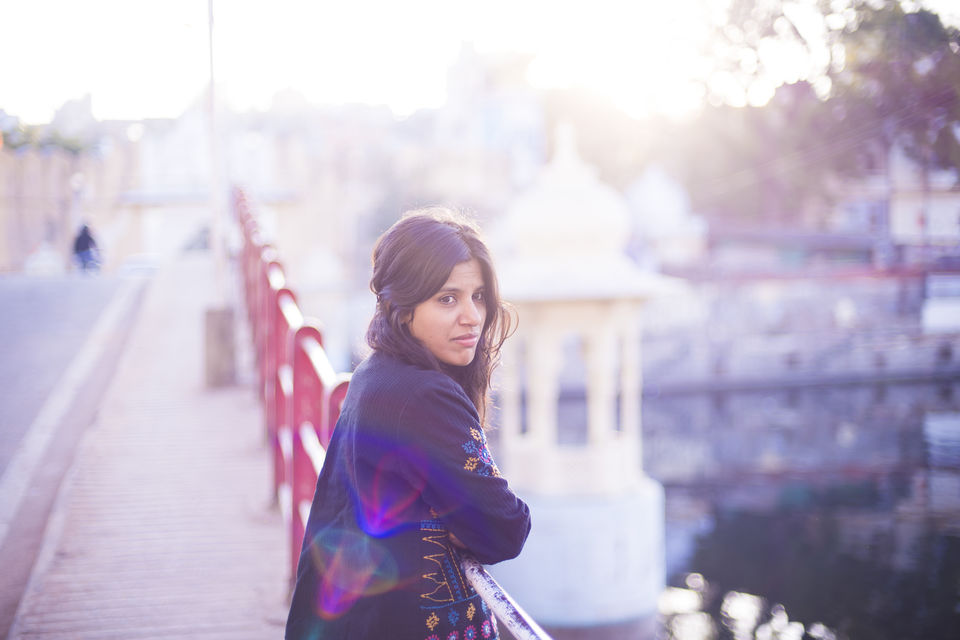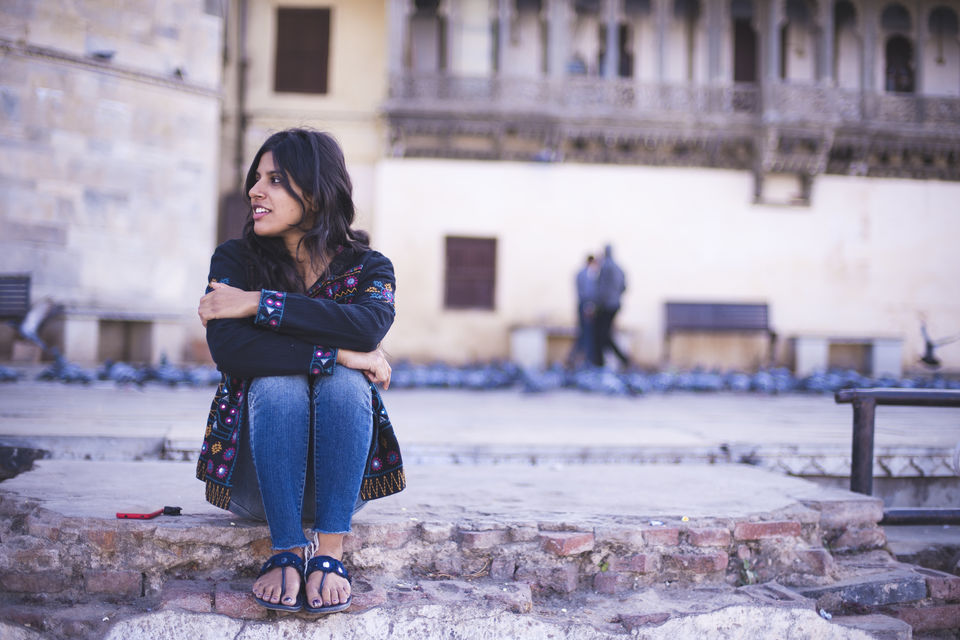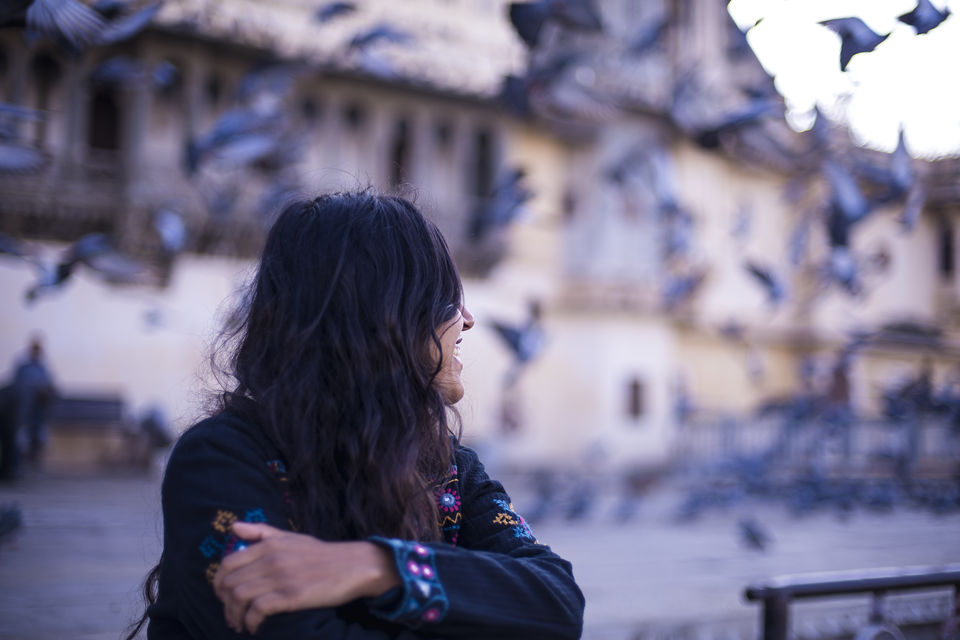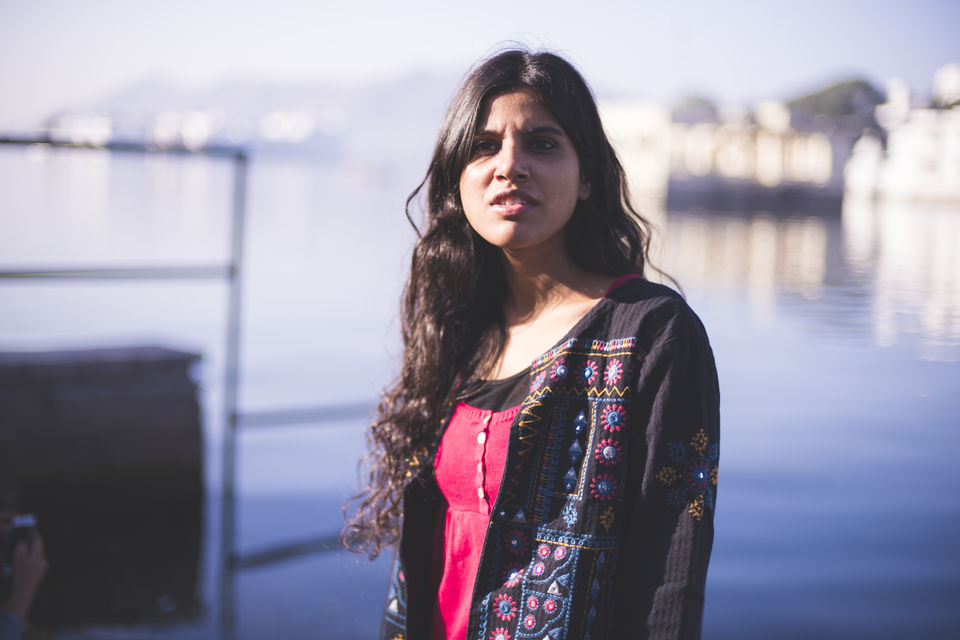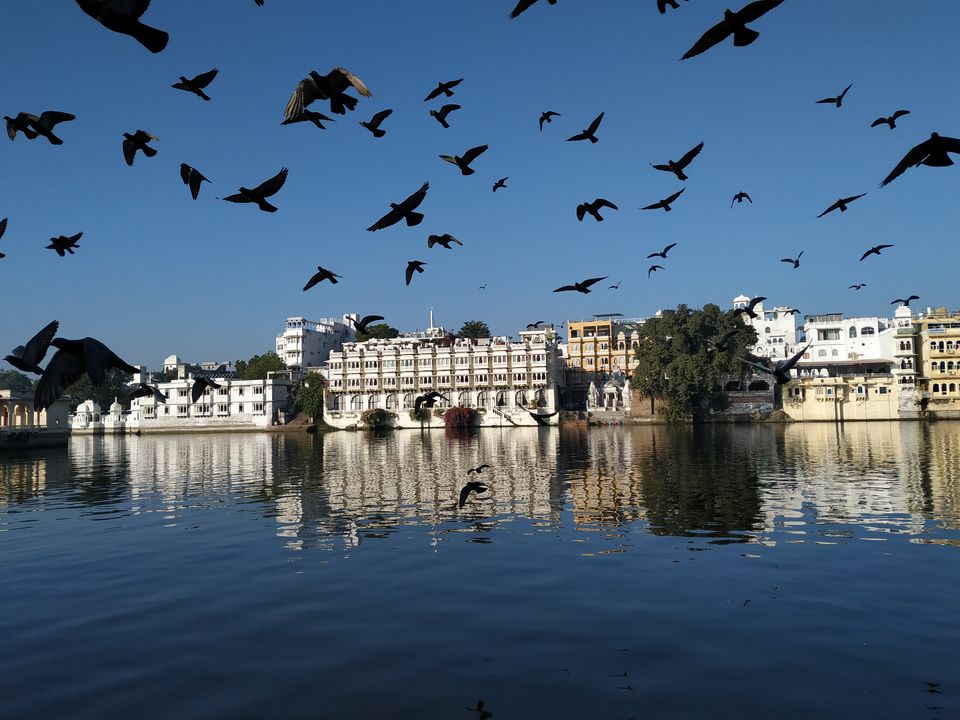 For lunch we went to "The Bungalow " as suggested by one of my friend. Quite a place to go. Well. Sophisticated and rich place to have your lunch with drinks as well :)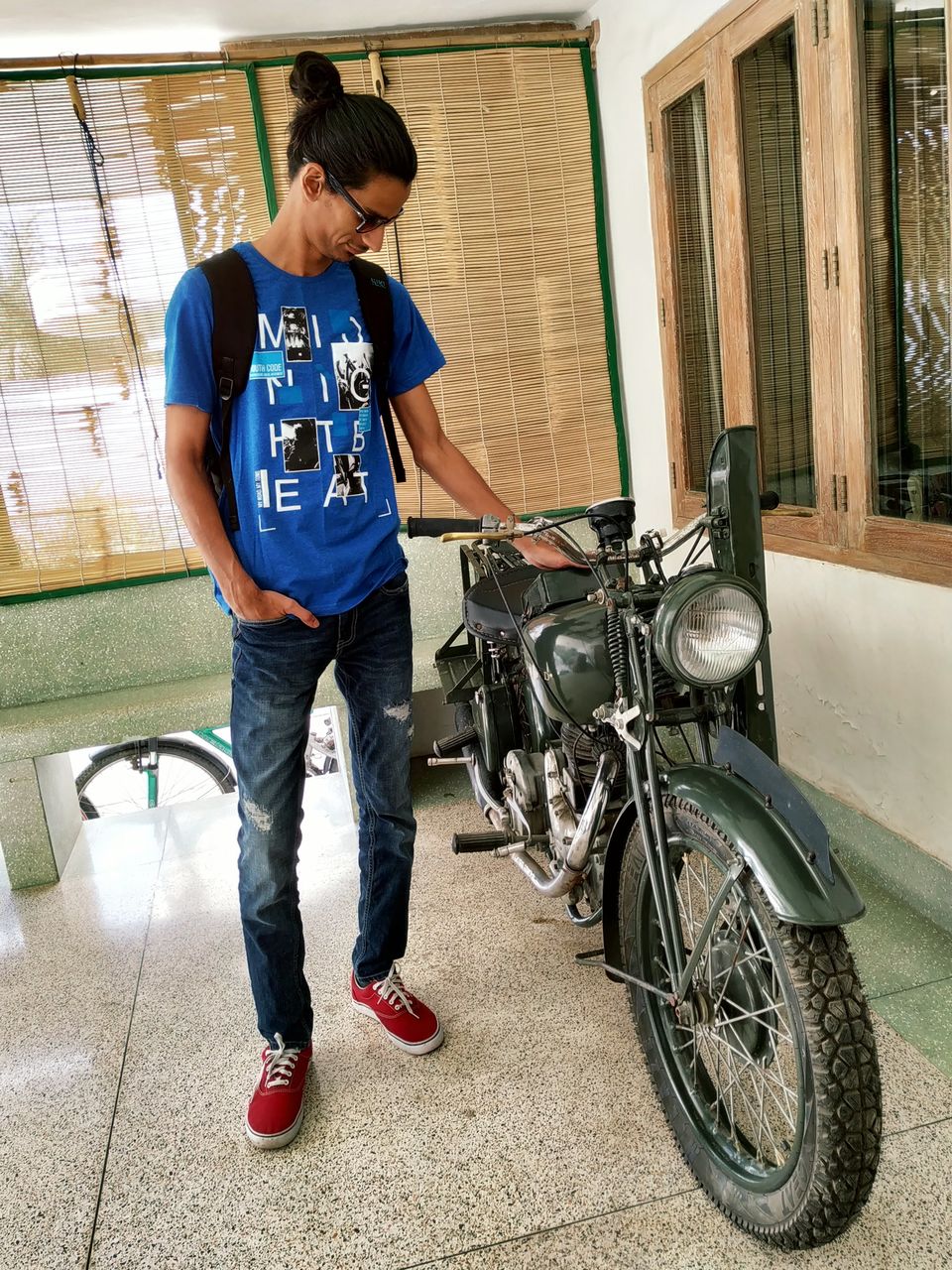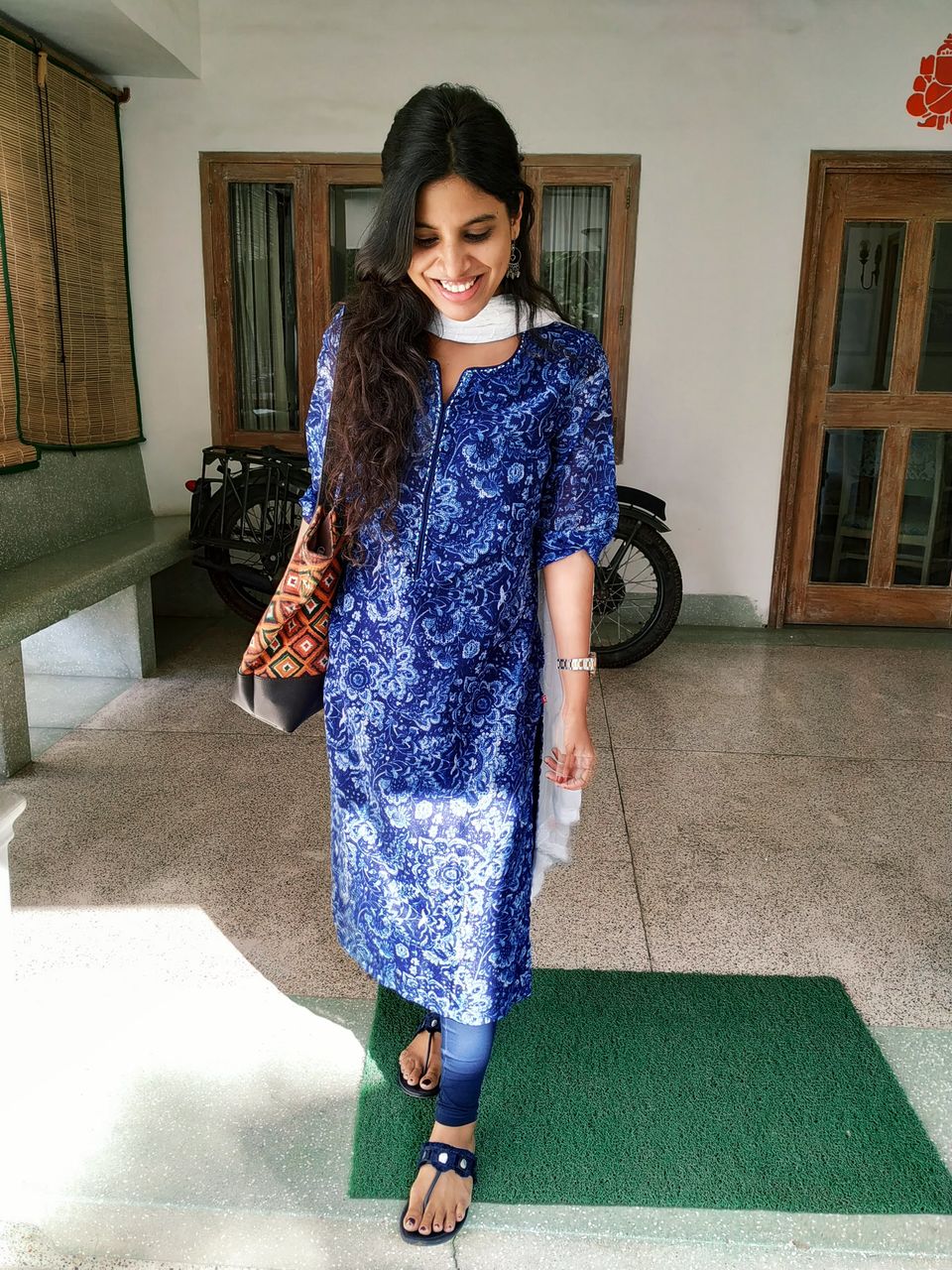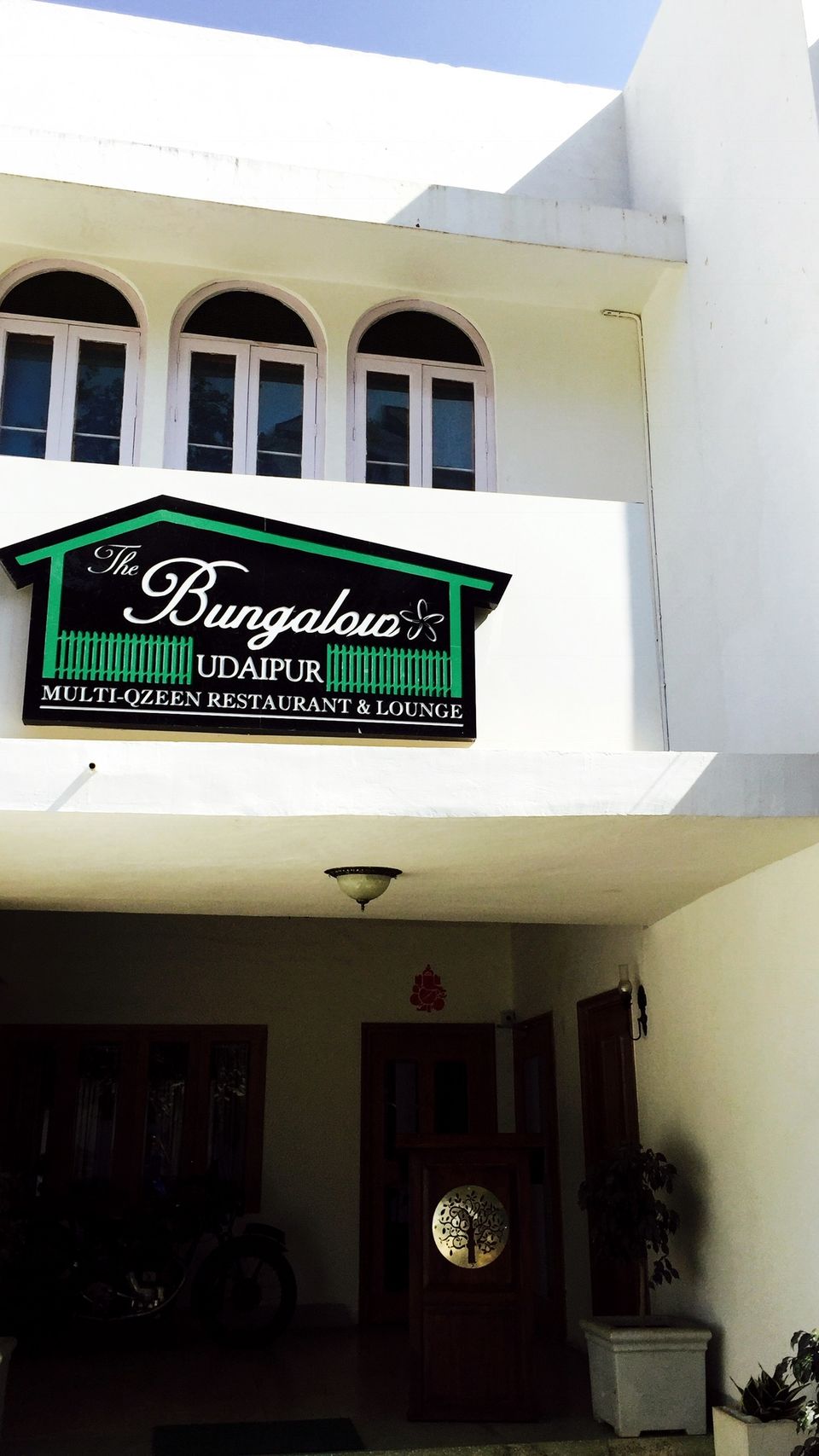 We took rest for sometime and finally it was time for us to go to Badi lake. It was showing 10kms in the map so we thought we are quite on time. We left from our hostel by 4:45pm and we had less than an hour to reach.
One important suggestion: When in Udaipur, never follow the maps. Rather ask localities there as they are way friendly and they are more than happy to talk to you and guide you.
So, the funniest thing happened with us. We followed the map and i drove 10 kms already reaching nowhere so I stopped to check if we were going right. Guess what! Coincidentally we were standing at the exact location from where we left ?? and the map was still showing the direction. It felt like the maps had a great prank plan for us. So we were sure that we ain't reaching on time. We still left again anyway. It was a silent and dark road and it was getting cold. We did reach the Badi lake before the sunset. However, the mountain where we had to go was something we couldn't find out that day as it was already dark. So with a little bit of sad feeling we left from there in sometime. We had to leave the next morning so even though we were quite happy but as we couldn't accomplish what we actually thought of, it felt like our trip isn't that good. We then went to sukhadiya circle where there's a chopati and you good all sort of fast food to eat.
So, all this while both of us were so lost like actually lost that we failed to find any of the locations on time or in one go and so that way we drove all around the city unknowingly.
We had to return the vehicle by 10 so we went back returned the vehicle and then went walking to Ambrayi lake. The best place to end your night we can say.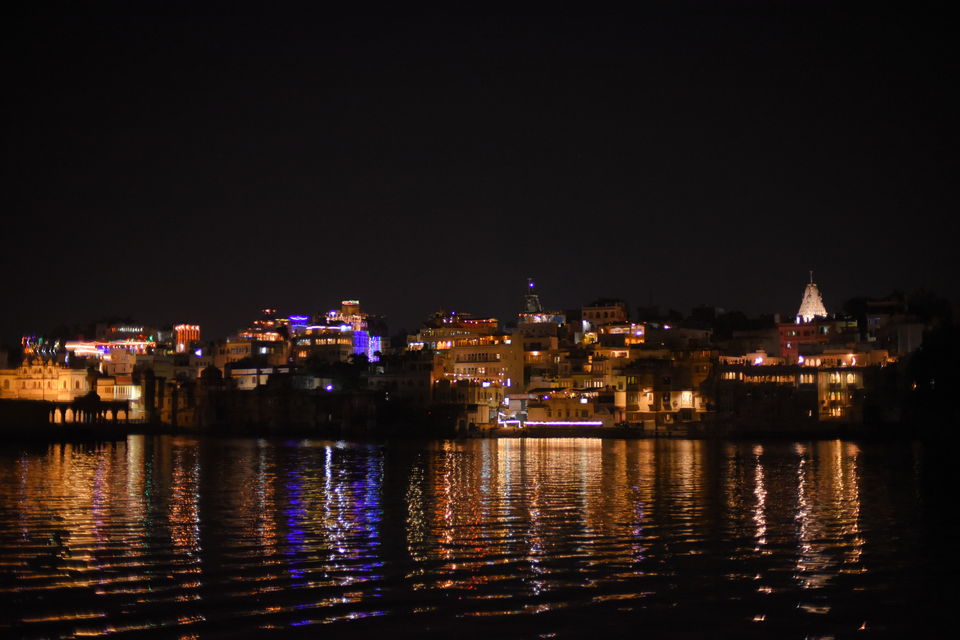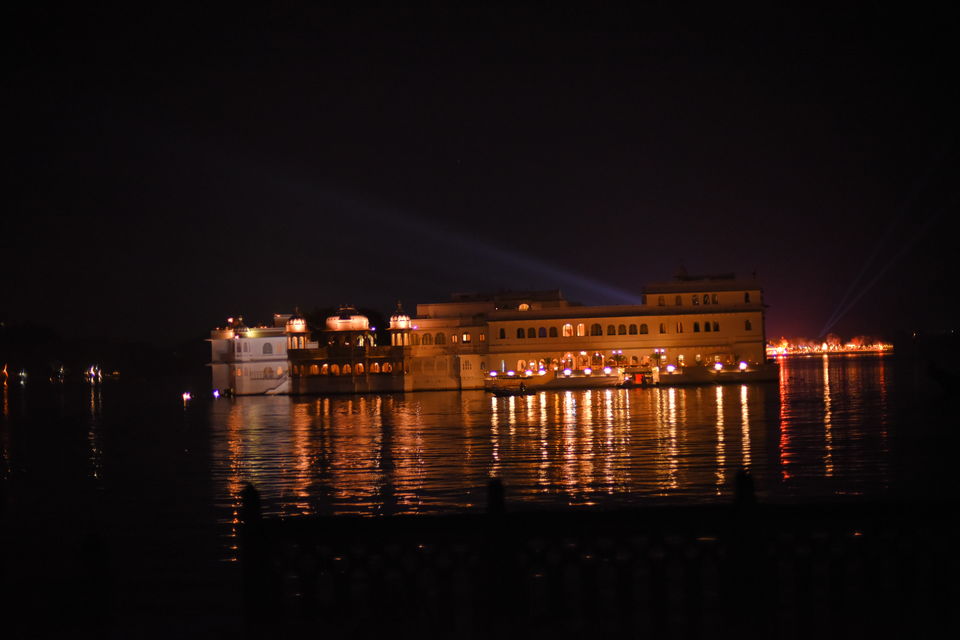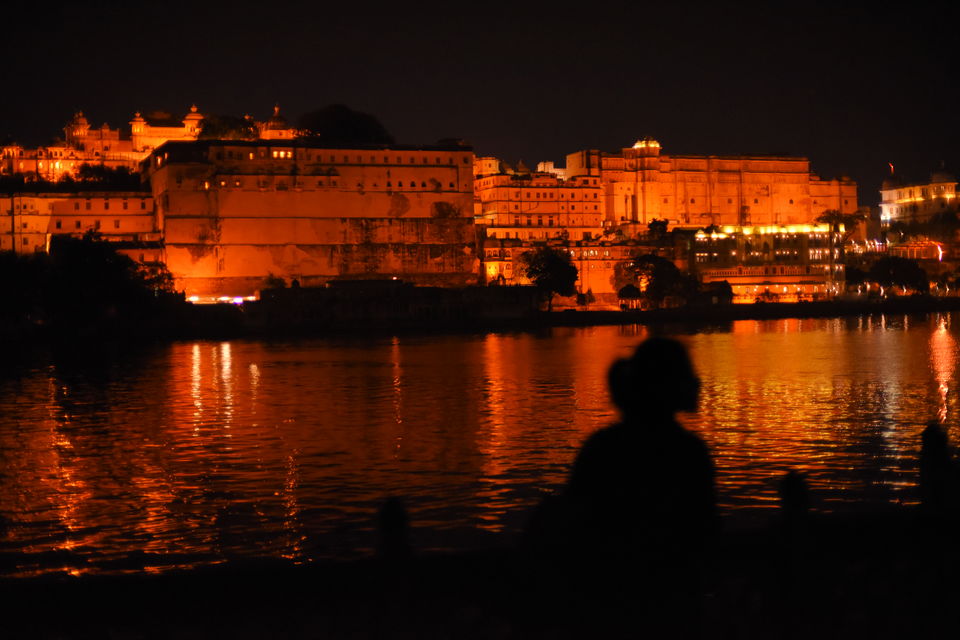 You can just sit staring at the lights and the reflection bouncing smoothly on the lake and everyone in their peaceful space just sitting.
You can see the beautiful and famous city palace and the lake palace right in front of you as bright as anything and the guides taking their boats to give a closer look to the traveller.
We were quite nostalgic as we had to leave and Neha wasn't even getting up and cribbing like a baby that she doesn't wanna leave this place. Somehow I managed her to pull her up and take her from there as we had to go and we were hungry too.
I feel quite blessed after recalling everything that we have been through in the last three days while were in Udaipur.
We were then moving back towards home and we came across a coffee place. It was already 12am so we weren't sure if anything would be open.
While we were thinking about it, one sweet guy just comes out of the cafe and invites us in asking what would we like to as he'll check. We asked for hot coffee if he could make to which he readily said yes and asked us to have a seat. They were so good to us that they opened it again and made Maggi and also a Cheeze veg Burger for us. The entire cafe was strangely lit with completely Red lights. It felt so trippy.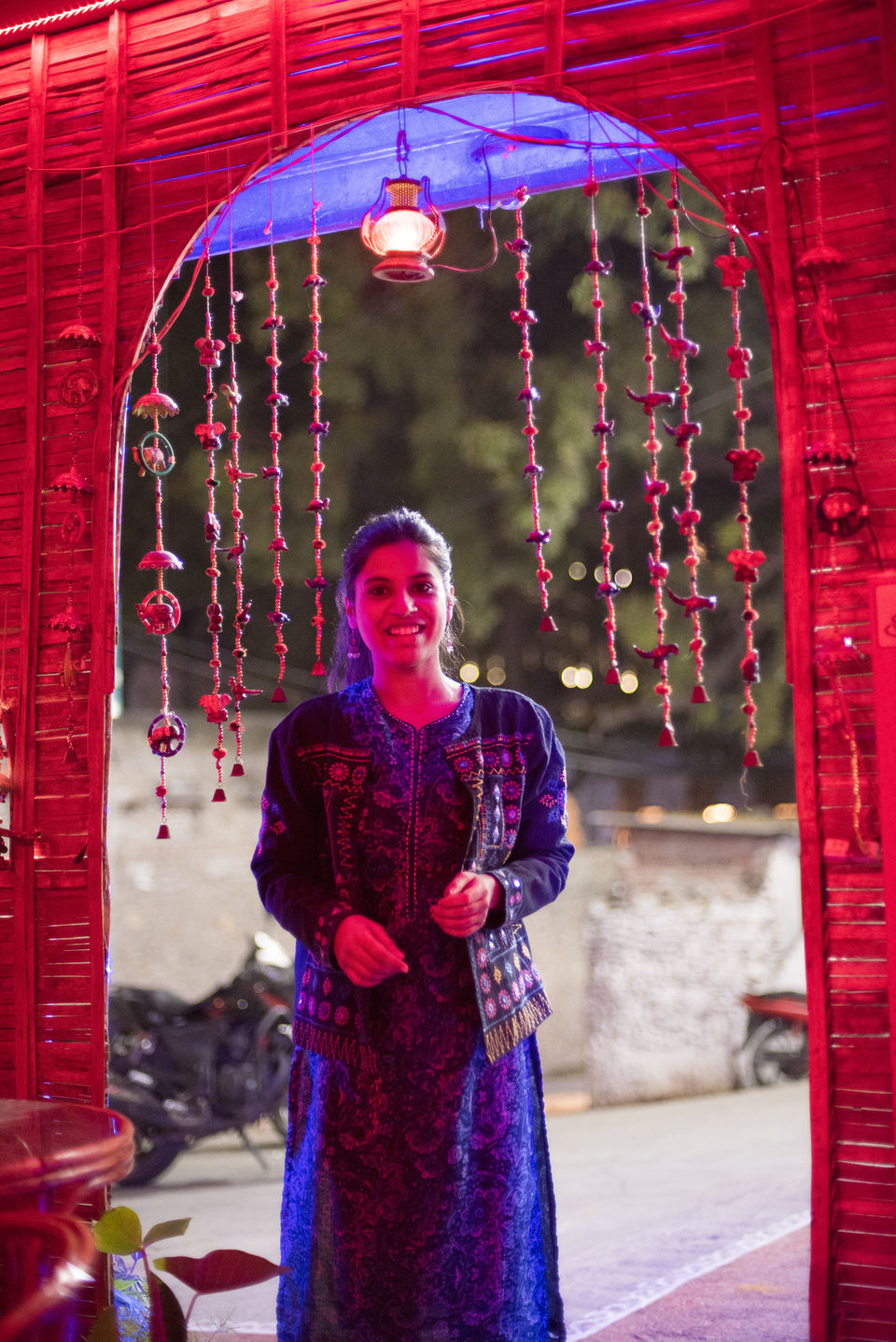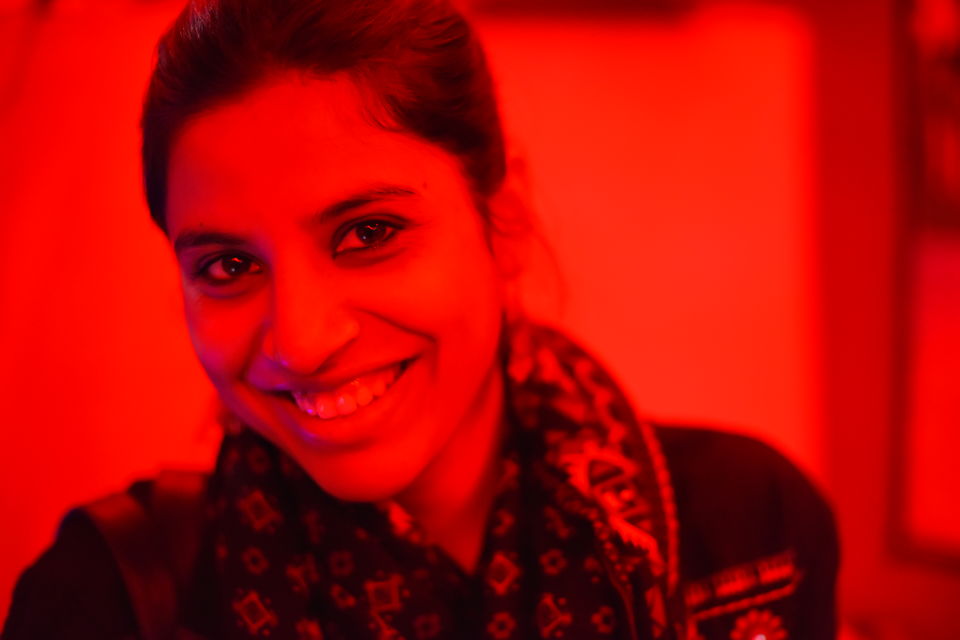 They also let us sit for as long as we wanted and we were quite overwhelmed with how people in Udaipur had been to us.
I also had few people approaching me for a selfie with them and few taking my solo picture as well! I wasnt sure why though but it felt good ??
We got back home quite late and we had to checkout in the morning. We did have our own simple and sweet memories but Neha wanted to stay back for another day even though it was she who had work the next day but for no reason I didn't give an affirmative. She did try convincing but in vein. When I woke up in the morning, something changed. All of a sudden, I was like - "Neha let's just stay back" and she was like, "what? Shut up and lets just leave now, huh!
So, we did check out and left for the bus stand finally. But guess what? It was some festive day there so the bus fares were 4 times higher which freaked us out. We were still ready to leave but we didnt have that much cash with us. We asked few people and walked 3 kms searching for an atm. We did find 3 of them but none of them working! It wasnt too late for us to realise that this city still wanted us to stay. And yes, we stayed back for the day and booked our tickets online for the same night. The next task was to get a vehicle on hire so we can go somewhere. It was actually a different day for us. A guy just walks towards us and offers us his bike for 400 bucks. It was a brand new Avenger and it took me few minutes to digest why would someone offer his new bike to a stranger and so I was quite sceptic. Later, I ended up taking the bike from. Of course, we were on an adventure, so why not? :D
We decided to go to Badi lake, the place for which we came for and we had to go there now. This time we did reach on time and at the right destination. It was our happiest moment to finally be there. The sunset was breathtaking and the whole view, oh what do I say!! Splendid shit!!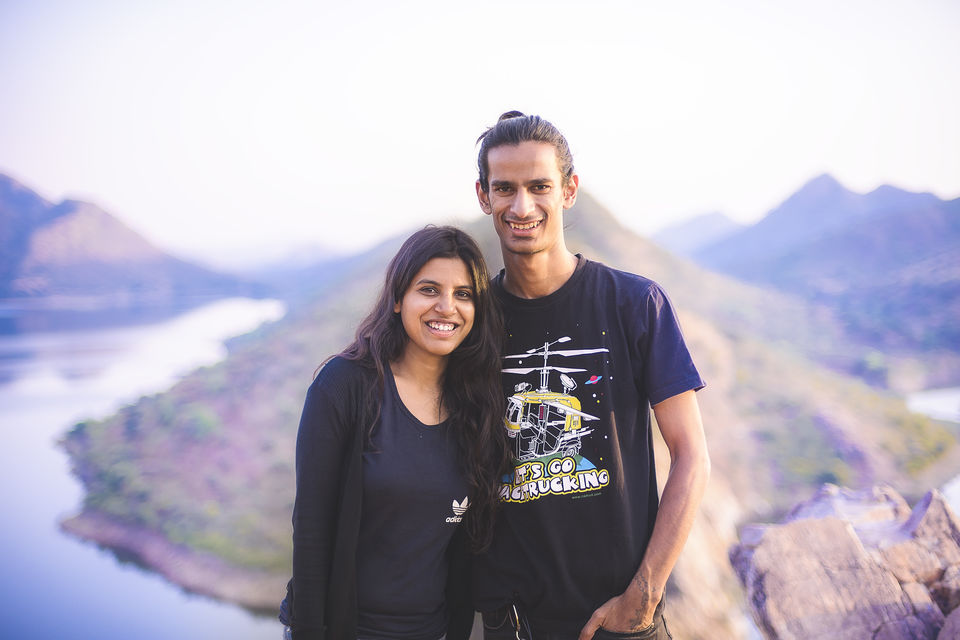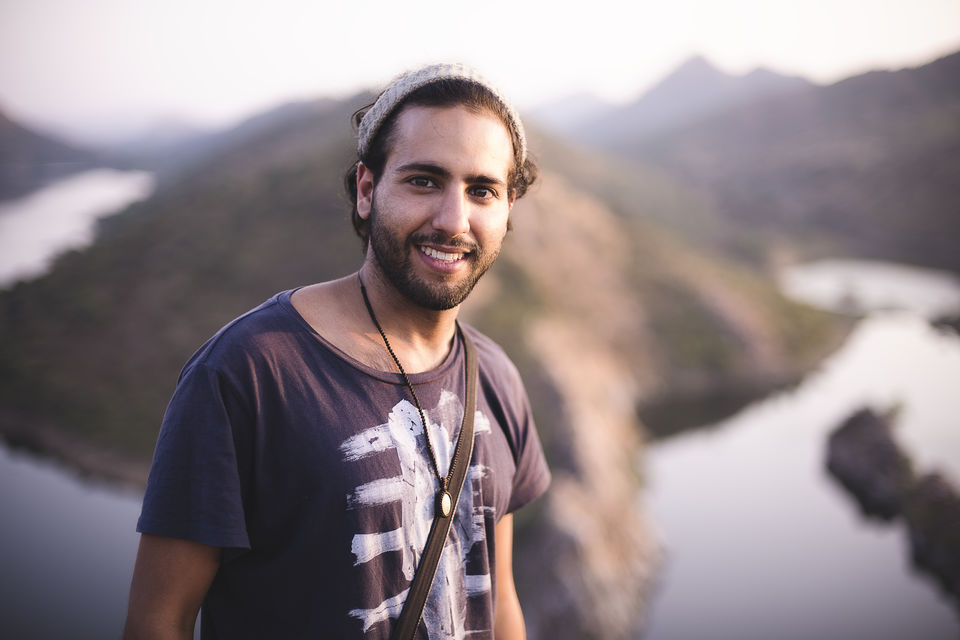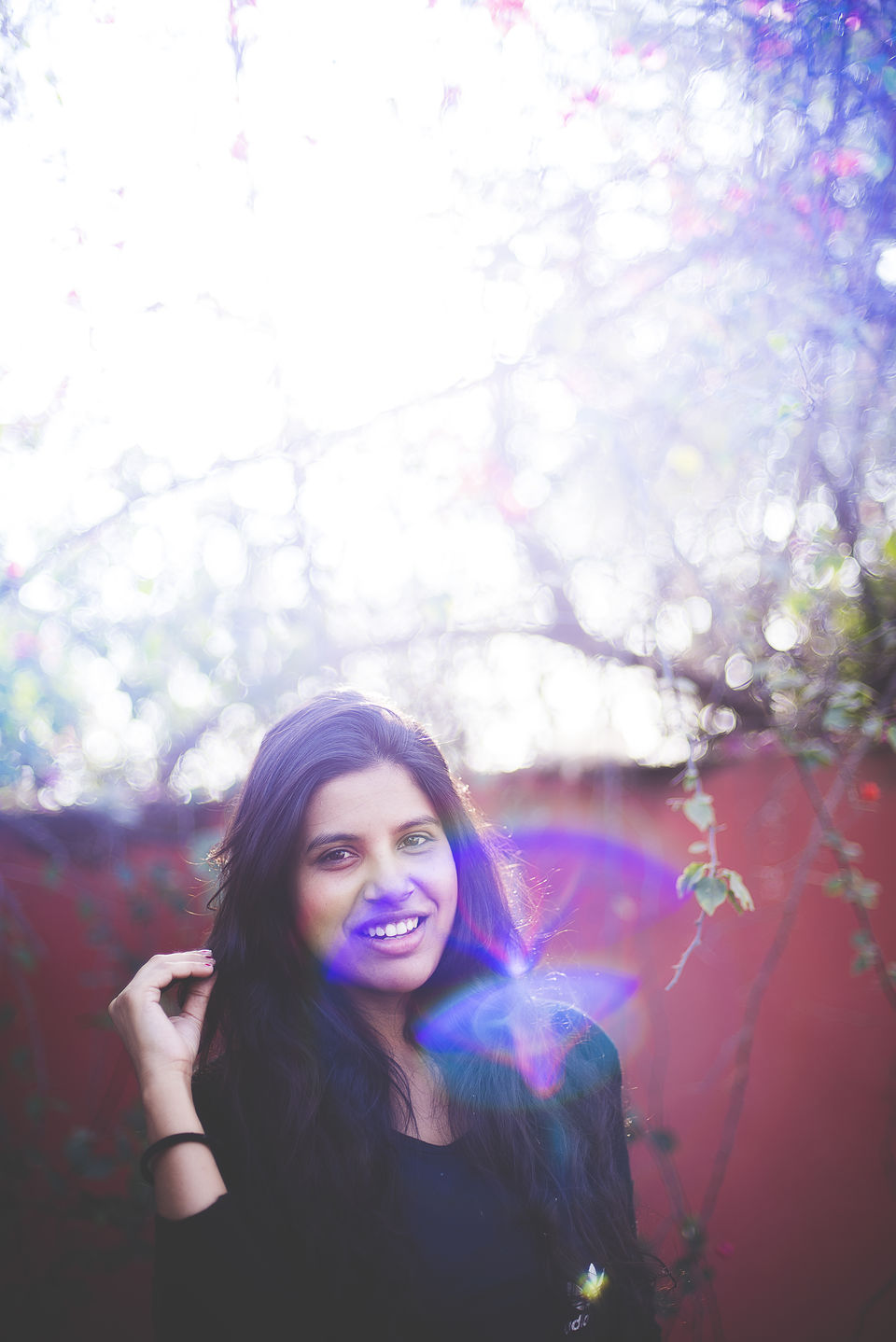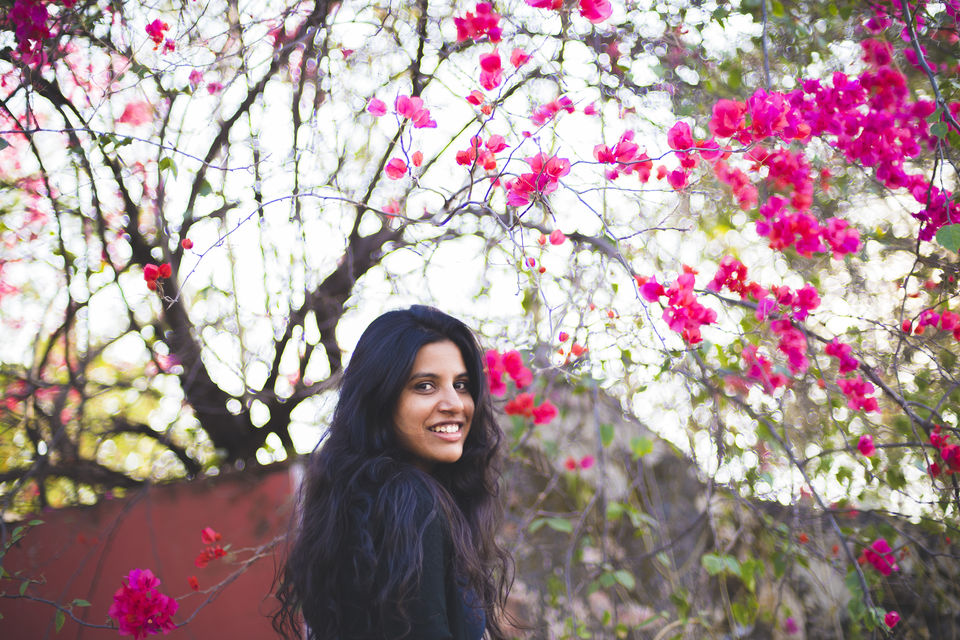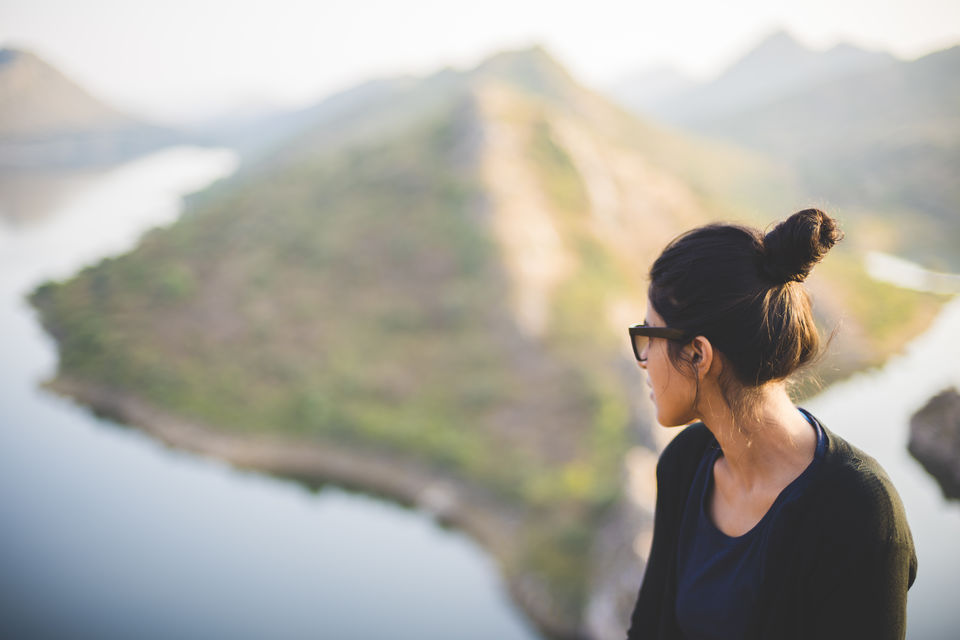 All tired, exhausted and with smiling faces we returned back from Badi lake and took a long long ride on the bike like a tour of the whole city and got back to the bus stand.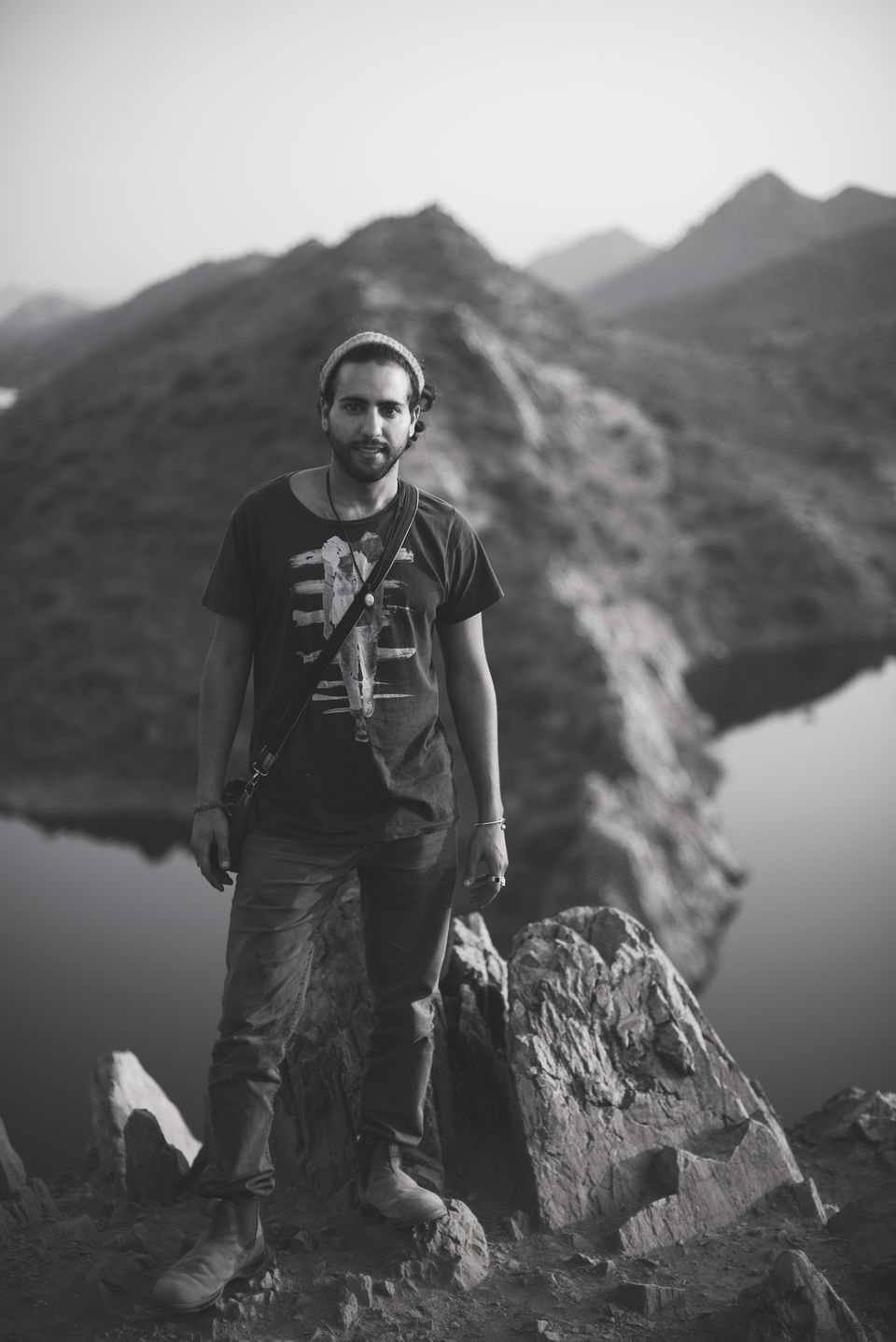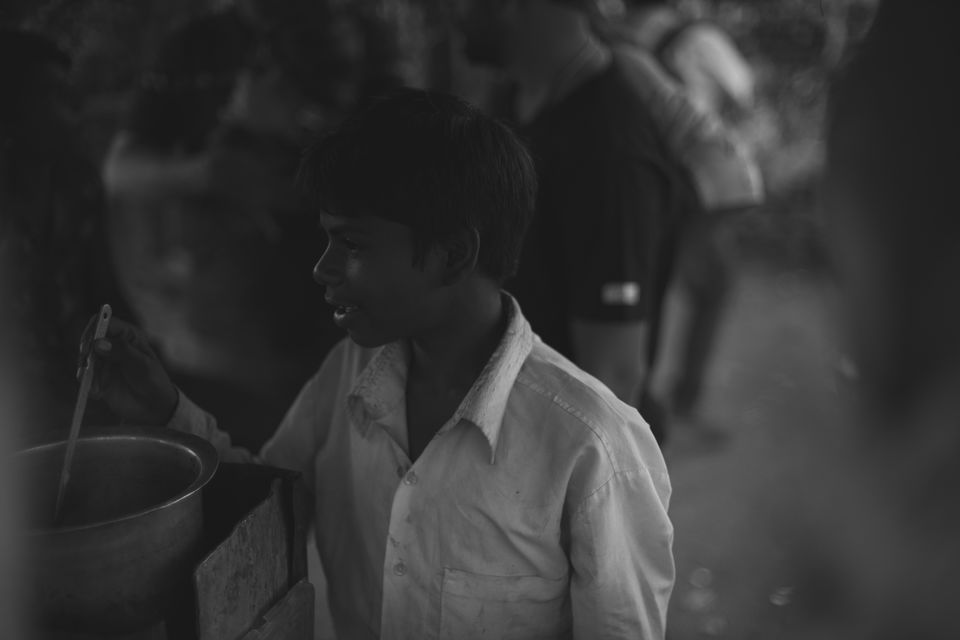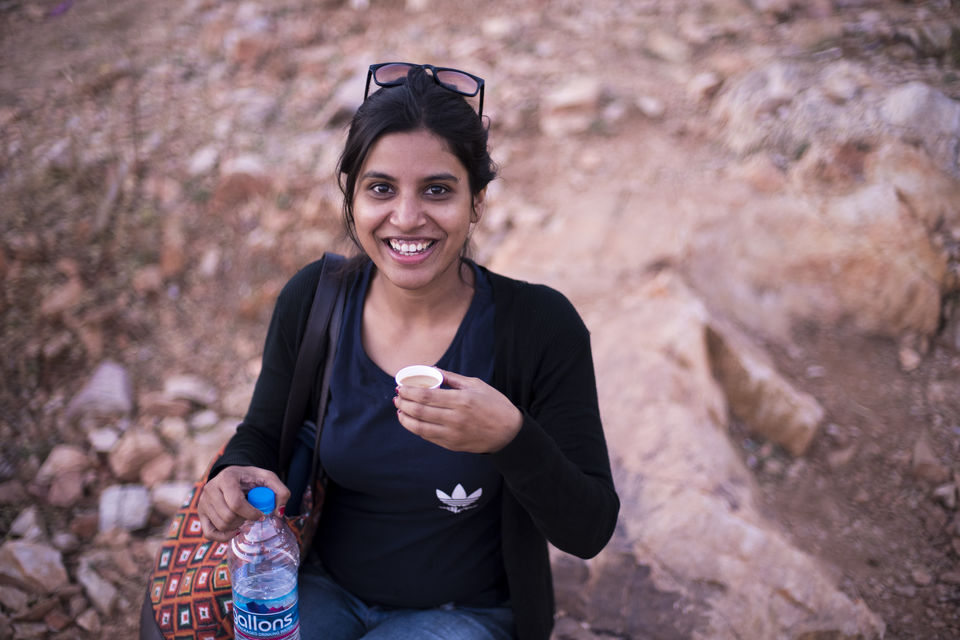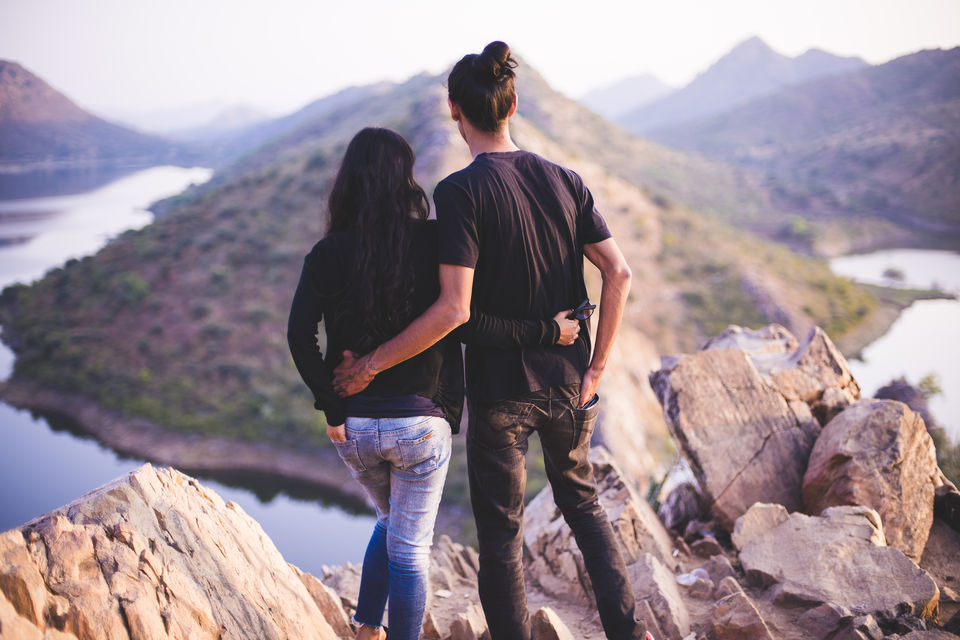 It was time to go back to where we came from :(
A trip to remember! Indeed! Hoping we all choose for such unplanned journeys in life and always go for it.
Thank you all for going through it all. Cheers!