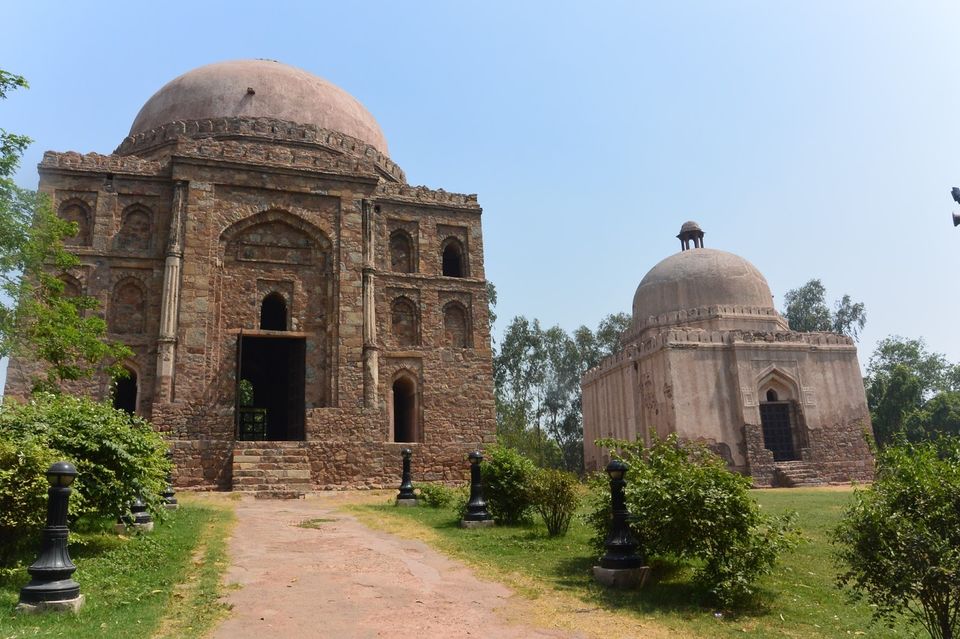 Since the time I have started exploring the hidden nooks of the city; I realized that Delhi is truly a world unto itself. I truly discovered the joy of exploring. Each and every corner has a story hidden.
I was reminded of the vastness of the storied city of Delhi while entering the gateway leading to the duo tombs of Dadi - Poti which literally translates to grandmother- granddaughter tombs. It's name is absolutely ahistorical. A plausible opinion says that names were simply coined because they stand next to each other and one is notably larger than the other.  There is no known relationship between the twin tombs and in fact, who's buried here is an unanswered mystery. The two tombs don't belong to the same era.
The twin tombs are also called Bibi-Baandi ka Gumbad (Mistress-Maid tombs).  
The smaller (poti ka maqbara), with its slanting walls and unusual beacon on the dome, is supposedly from the Tughlaq period while the larger (dadi ka maqbara) is apparently from the Lodi period as the curved panels on the exterior are typical of Lodhi era. The traditional entrance to a tomb is southern but here one notices decorated northern enterance.
Poti ka Gumbad  with three cenotaphs is less impressive than the Dadi ka Gumbad with six cenotaphs. Dadi ki tomb has decorative ceiling with Quaran inscriptions whereas poti ki tomb has plain ceiling.
At night, the duo tombs light up with purple, blue and yellow colors and you can locate them from the far away.  They look surreal. 
We can just assume because the legend, genesis and history behind these structures remain conundrum.
I spent some time looking at the tombs and the garden pondering as to why these tombs, associated to the different eras, were built in the same premises. Do the people buried here are somewhere related? Does a bigger tomb holds someone relatively significant person of those times? History can indeed be fascinating at times!