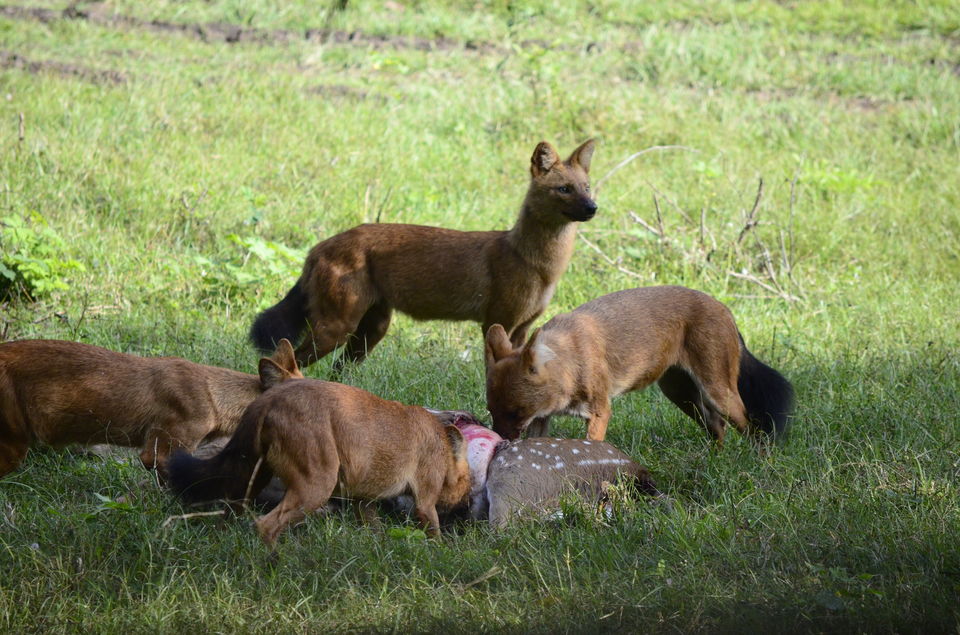 It was just another day at work when I was going through places to visit and Inn the Wild started taunting my eyes. I immediately called up my friends and went ahead booking this place. It was a 5 -6 hour drive. On the way we came across a lot of spotted deer and monkeys. Once we reached the town , a diver picked us up from the bus stop. Reason: only 4*4 can take you to the resort.
It was 20 min of work out sitting on a 4*4. This place was truly Inn the wild and the place was fabulous. Staff made us feel home and we were informed that we would be taken on a night safari around the reserve which happened from 7pm to 8pm. Didn't have much luck with any of the animals that night except our very cute spotted deer, quite disappointing I thought (I love them, No offense). Dinners get served in the room as we were not allowed to walk out of the accommodation due to animals wandering. Hmmmm was my expression when he said that but still abide to the rules. Having few drinks sitting on the veranda and munching on the good food, i heard a growl. What was it? everyone whispered! We waited to hear it again. TIGER!! Dayum!! yes, Indeed we heard the tiger for couple of more times and then disappeared in the bush.
Morning we had an option to go on a walk, since it was pretty crowded i decided to stay back for an extra hour sleep. Man, did i realize i would wake up to a sound right below the tree house i was accommodated at. Jumped out of my bed to peep from my window to check what was the sound all about - Pack of wild dogs (Dhole) getting down a spotted deer right below my room. Awestruck! Goosebumps, all teared up as this was my first sighting of wild dog ever. Walked out of theroom with my DSLR to get some good shots and my camera went nuts with click click click click click. My entire trip was made. Watched them for good 2 hours. Must say this has been one of my best wildlife sighting ever. Sat there peacefully after lunch we went on top of a watch tower which was by the lake hoping to have some more luck of elephants or leopards. But i guess my jinx with leopards has been carried, Nevertheless i had the sighting of wild dogs on a hunt. Night safari continued again where my guide kept assuring me the black panther and leopard was sighted few days back and you might be in luck again. Hoping for it we waited and went around for few more mins with no luck of anything apart from our spotted deer which had one less in number today. Watching the stars - mesmerized by the beauty of the nature I thought it's all about survival of the fittest. That's what I love about wildlife. Everyday is a new beginning or the end. And the next morning we head back to Namma Bengaluru.
Accommodation : Inn the wild ( cost varies from 5k to 8k per night)
Food : Amazing, Totally delicious
Tips: If you are not wildlife enthusiast and planning to go there to party and play loud music. This is not where u want to be. It disturbs the nature.
Wildlife lovers - MUST GO!!!!
You can follow for more of my adventure on Instagram : shettypraj_wild