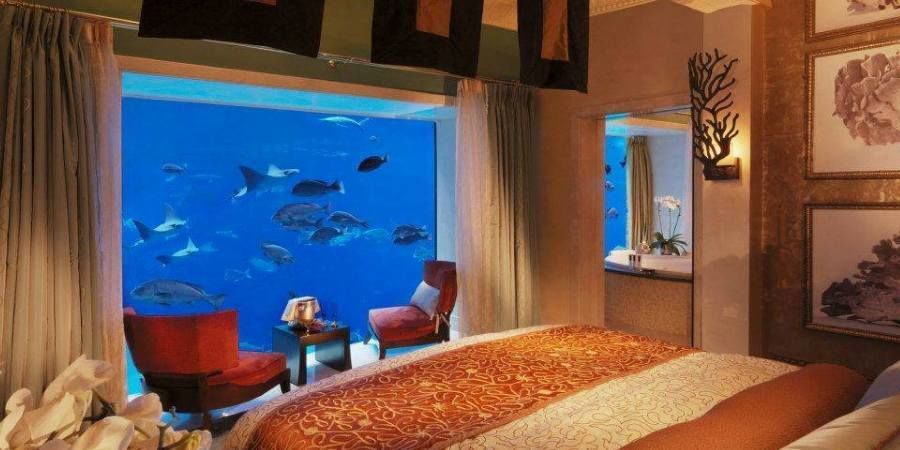 A perfect dining at an exotic restaurant has always been one of the craze among Foodaholics. They want to enjoy exotic tastes in some exotic ambiance. So here I have come up with some exotic locations offering Foodaholics with some exuberantly different ambiance to enjoy world class cuisines.
Ithaa Undersea Restaurant, Conrad Hotel Rangali Island, Maldives
Maldives has always been in the wish lists of the travel lovers for the pristine beauty of the beaches and the serene ambiance over there. But this exotic destination also has some hidden surprises for the foodaholics.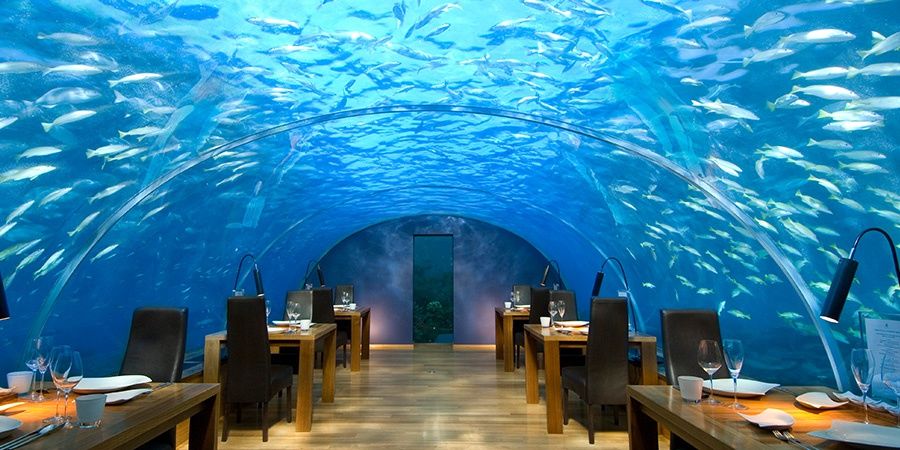 Ithaa Undersea Restaurant is world's first and only all-glass undersea restaurant established on a secluded island five metres below the surface amidst the Indian Ocean offering 12 restaurants and bars along with 20,000 bottles of wine to their itinerants to choose from with the splendid 180 o panoramic views of the vivacious coral precincts. The resort enthrals their valuable visitors with the grand experience of water villas on pillars and a well-equipped bar serving a variety of 101 of the world's finest cheeses.
The resort serves best taste fresh green pea soup, green mango and papaya salad along with dark chocolate mousse.
Subsix, Niyama, Per Aquum, Maldives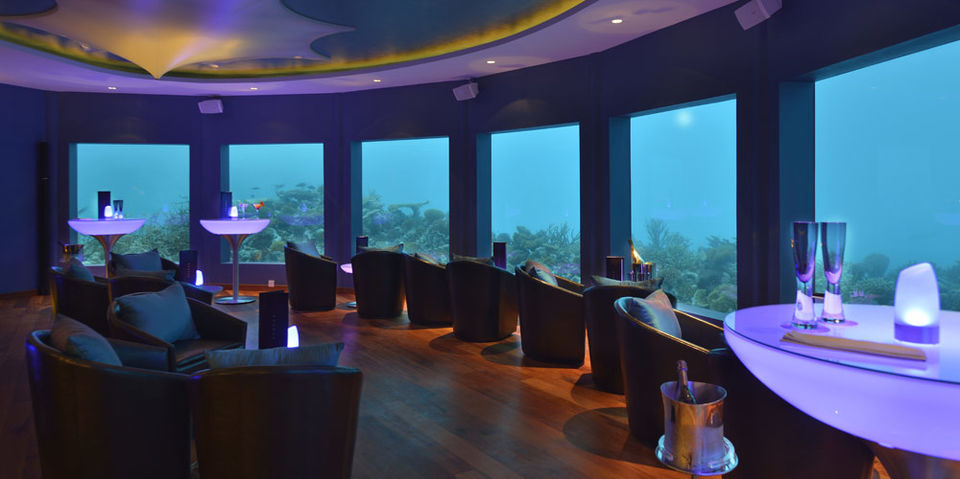 This is another exotic resort in the lap of Maldives spread out 500 metres out in the ocean and six metres below the waterline to boost up the enthu in the party lovers facilitating them with an exotic club and restaurant. The resort host the visitors with world class range of cuisines, drinks, wedding blessings, themed evenings, wine tastings, and enchanting club nights. The delicious cuisines ranges from fresh crab, cous сous and pomelo garden, lobster medallion and Wagyu beef tenderloin accompanied with fresh juices.
The Al Mahara, Jumeirah Burj Al Arab Hotel, Dubai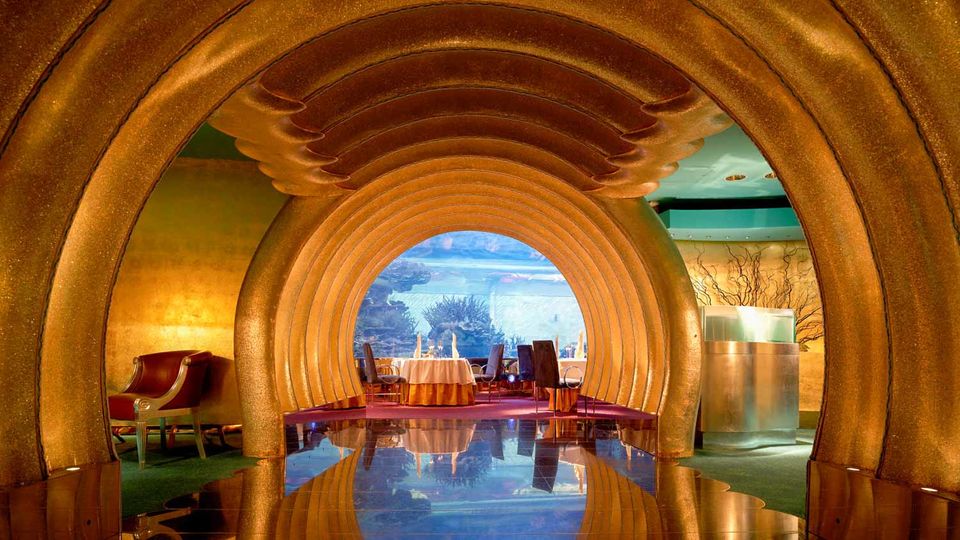 This resort looks like an aquarium giving you immense pleasure to view an floor-to-ceiling aquarium serving their visitor's with the best seafood accompanied with their famous delicacies like Wagyu Beef seared on the plancha, poached Tsarkaya oysters short rib in orange syrup and angostura ended with shortbread and lemon curd.
Cargo Hold, uShaka Marine World, Durban, South Africa
This resort is not underwater but enchants the visitors with its location over the stern of the South Africa's legendary ghost ship 'The Phantom', with superb views of the ocean and a shark tank.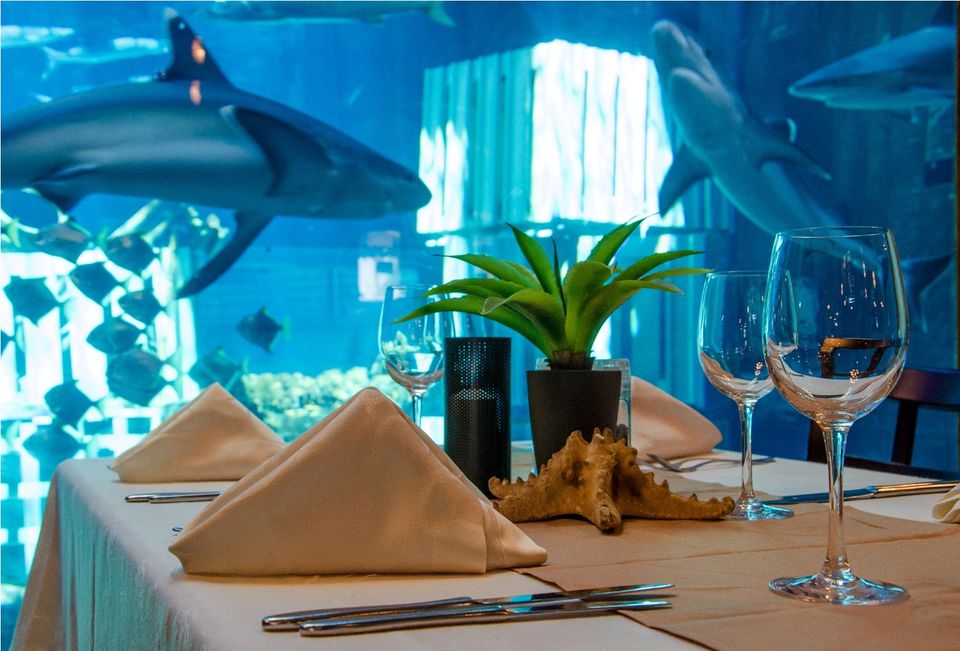 But on your visit to this restaurant don't forget to get your table close to glass to experience the thrilling impact of being close to the sharks along with a grand feast of shucked oysters, white wine mussels, seared salmon with a sticky teriyaki sauce, , platter of crayfish, mussels, pesto mashed potato, calamari, prawns, line fish and langoustines.