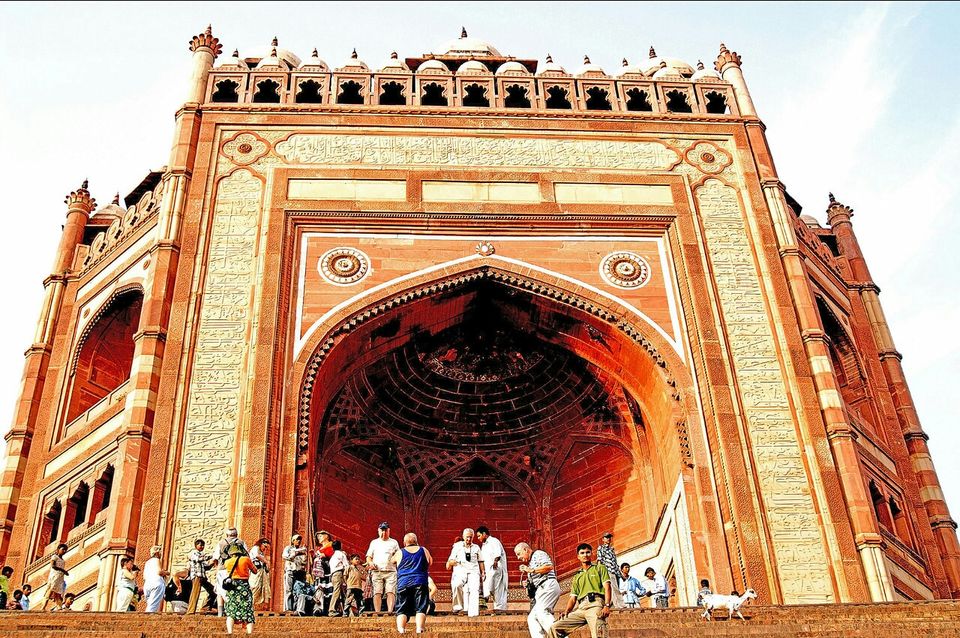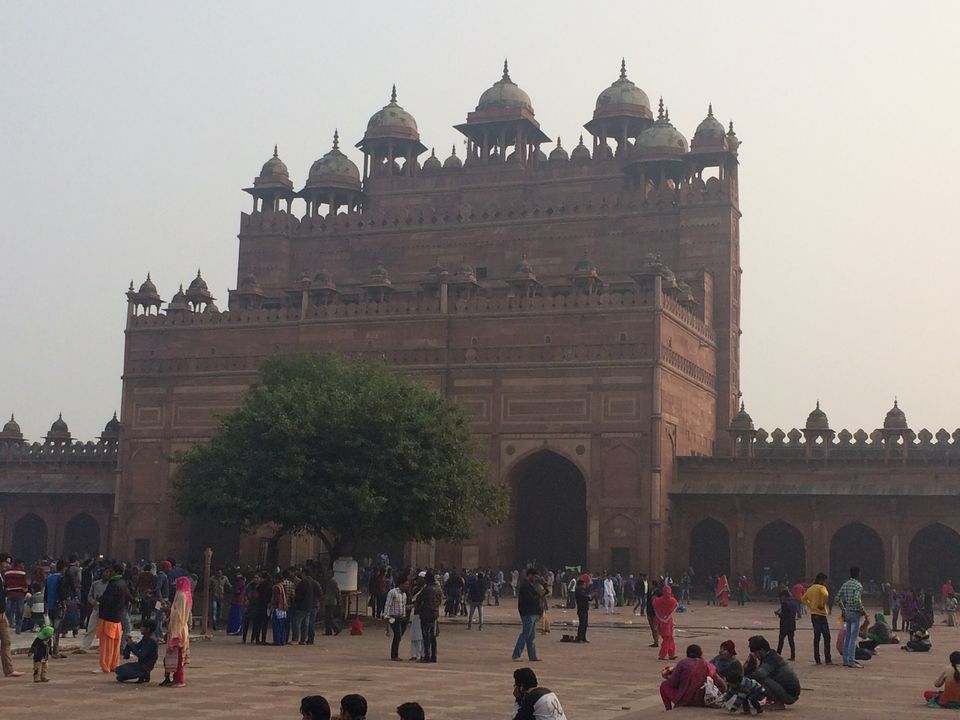 We Went To Fatehpur Sikri And No, We Didn't Enjoy It!
From blog posts to Instagram to travel magazines, it appeared that Fatehpur Sikri is one of the most recommended weekend holiday destination from Delhi. I searched length and breadth of internet before planning a weekend trip to this historic city and wanted it to be a nice educational trip for my daughter. Considering the recos, I was excited to visit this ancient city. I thought it'll be a great opportunity for my daughter to know more about Mughal empire.
I've grown up listening to stories of how my mom visited and enjoyed this City of Victory in 1975. I was happy to finally get a chance to visit this Mughal abode. But the place is not the same as it was when my mom visited there. It has become messy and a hotspot for obnoxious sales tactics.
I've been hesitating to write this post for awhile. It's hard to admit that you don't enjoy a particular place, especially considering its popularity. But there were no moments where I can say that I truly loved the Mughal masterpieces.
Given its spectacular history, architecture and legacy, Fatehpur Sikri was granted the status of UNESCO World Heritage Site in 1986. The WHS status of Fatehpur Sikri has turned 30 this year. I assumed that being UNESCO World Heritage Site, the place must have been preserved and well-maintained. No. It wasn't. Fatehpur Sikri was disappointing!
Internet will have you believe that Fatehpur Sikri is all...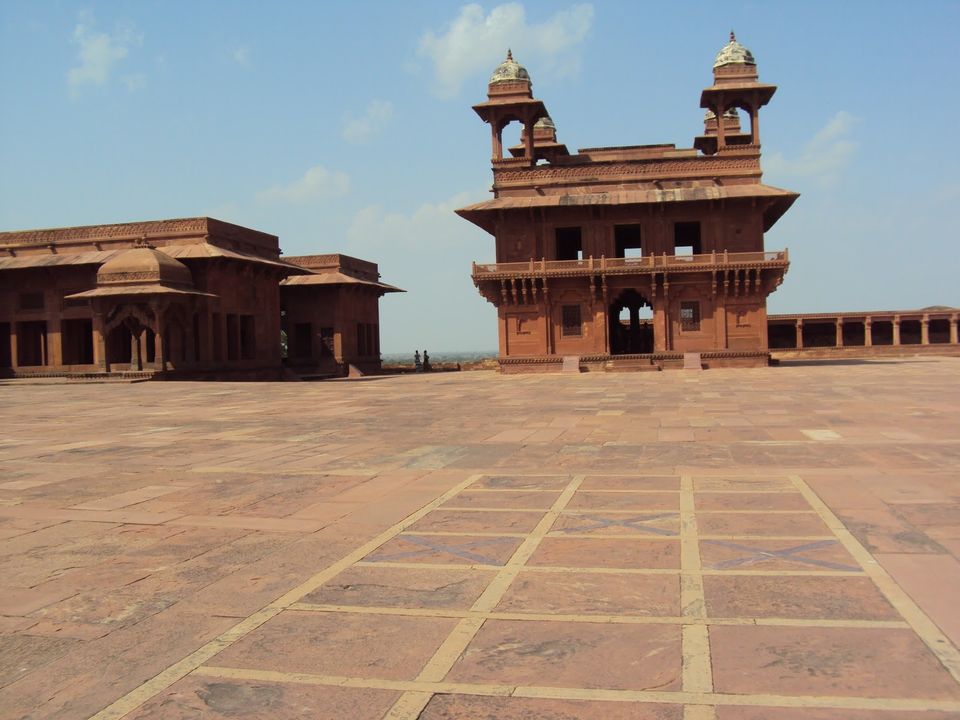 When in reality, Fatehpur Sikri is a little more like this...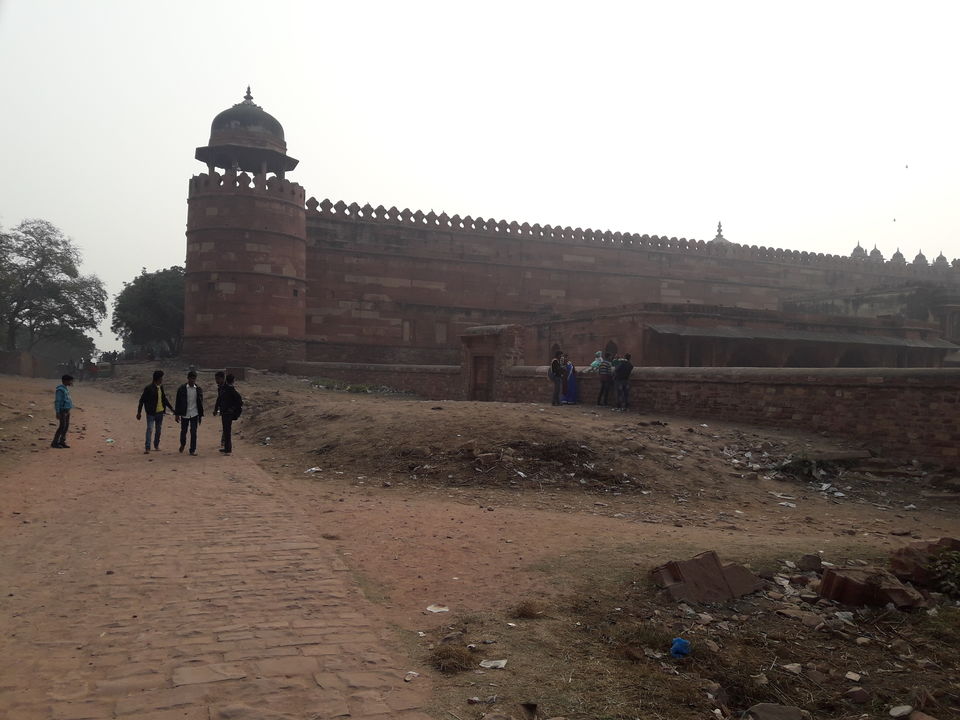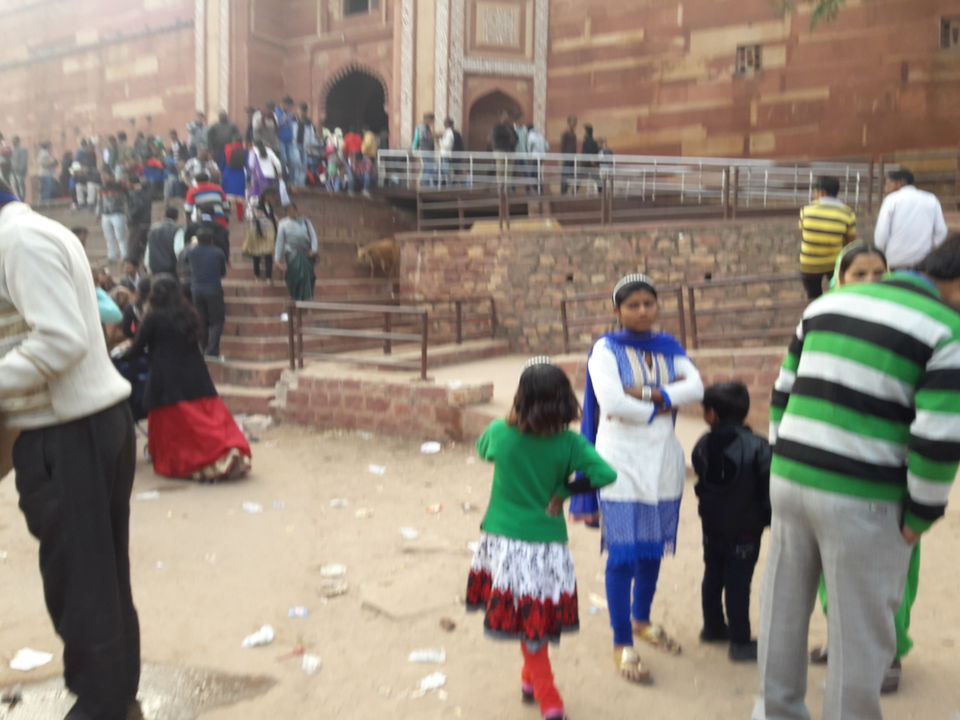 They don't tell you that to get to the awesome Mughal architecture, you need to pass piles of garbage and howling dogs. There were local people all around. They were throwing garbage here and there; some were roaming around on bikes around the complex; some were teasing and bullying travelers and tourists.
Fatehpur Sikri was all about being scammed into buying a stupid overpriced elephant stone carving, getting harassed by some kids, fake guides, and all others trying to be "helpful".
Our moments in this short-lived capital of Mughal empire felt a little rough. I felt like we were constantly getting bamboozled. And I know being scammed is a major part of traveling, but I felt like I could never have my guard down for One. Single. Moment. That kind of alertness is so exhausting, that it's very difficult to enjoy a place and get the most of out of it.
And somehow, we were bullied into paying unreasonable amount of money for absolutely nothing. It was my most embarrassing travel moment…
We felt dejected and dispirited.
When we were about to enter the city from the highway; our car was stopped by a person who offered us his services as a guide. We refused and tried to cross the road but he didn't allow us to move and forced us to hire him. He pretended to be concerned informing us about long queue for tickets; no parking space and extended help saying that he can buy us tickets, arrange for parking and also guide us to see places. Being unaware of the place, we got lured into that quandary. He asked us to follow his bike and to our surprise these guys have spoiled the highway sign board showing directions to the fort using some paint so that nobody could find the right way and fall into their trap. Upon reaching, we realized that the guy brought us to the back gate of fort and didn't even pay for parking and tickets.
I wonder if the Archaeological Survey of India could ensure that tourists are not disturbed by these touts in front of the monument and also check that they are not allowed to enter the premises without tickets. I am sure the security is arm in arm with these tricksters. The fake guides block your path almost forcing you to pay them for their services and they use every ploy to get people to submit.
Surprisingly, People who offer their services as guides are primarily children including a few who look no older than ten. The children seemed too smart for their own good. They could have put their minds to use at school, but instead they were clamoring to give people a tour of the fort. It was heartbreaking.
We could make out that the guy has fooled us to make money. He took us to places in hurry and lured us into buying flowers and cloth to offer inside Dargah. When we denied; the person selling the stuff tried to intimidate us, saying, "You can't go from here without draping chadar on Dargah, and if you do, It'll bring bad luck to you and your family."
The fake guide took us to Tomb of Salim Chisti. It was overcrowded. There was a long queue. Guide took us to a small tomb adjacent to Salim Chisti's Tomb and persuaded us to tie a thread and place the chadar on Salim Chisti's daughter's tomb. There, I felt conflict between my mind and my heart.
The Buland Darwaza was guarded by over a dozen of honey bee hives!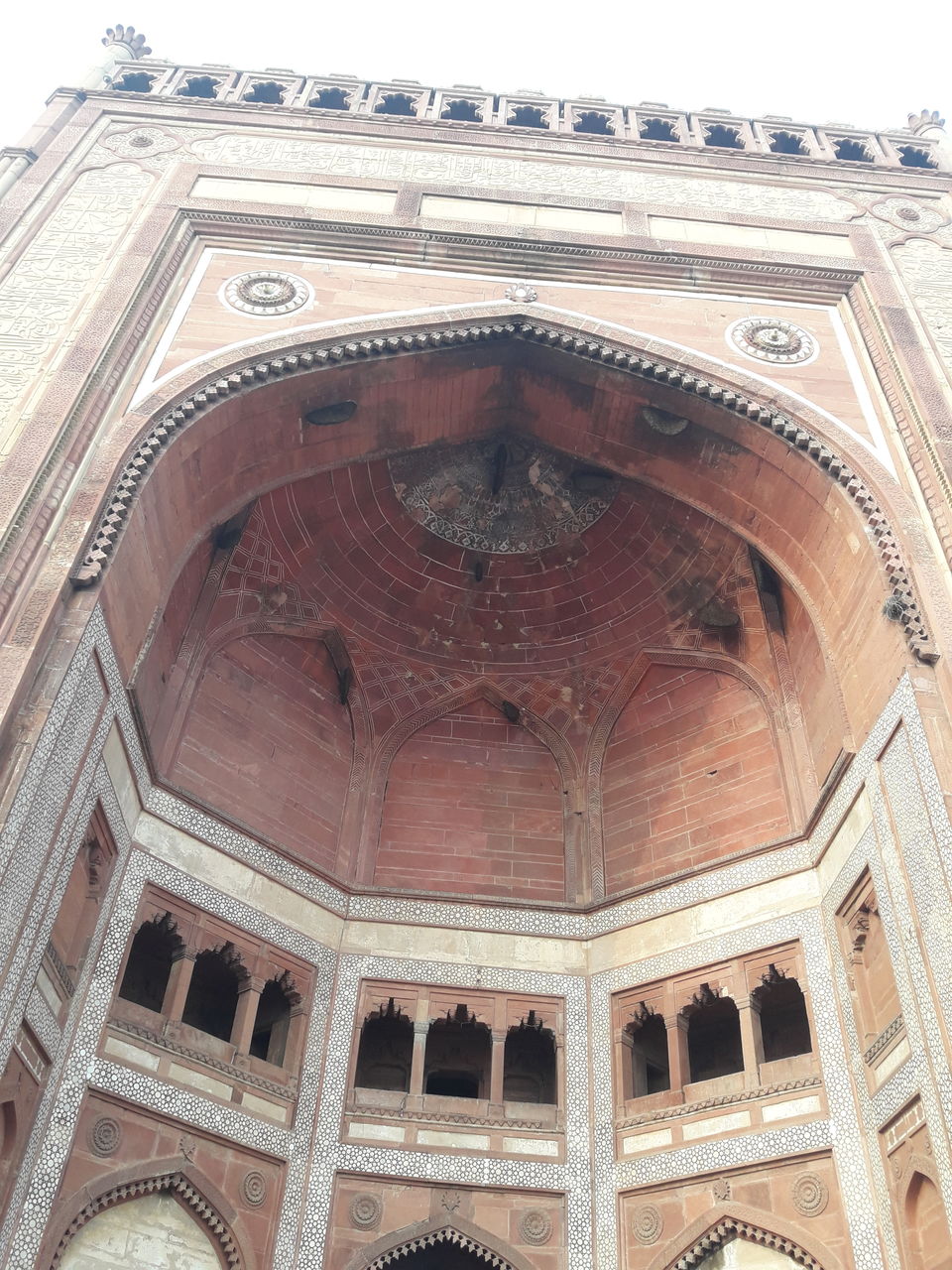 We couldn't enter Jama Mosque because of tons of bee hives at the entrance gate.
We didn't know how to react. Is this the way tourism works? Fooling people, robbing them and making their trips miserable?! We were amused at the negligence of management and Archaeological Survey of India towards such a grand and significant ancient monument.
Why can't they just clean up Fatehpur Sikri instead of bugging the tourists?
After showing Buland Darwaza, Salim Chisti's Tomb and Jama Mosque; that fake guide demanded money. We inquired about Fatehpur Sikri Palace. He told us that it's one minute walk away from Buland Darwaza but he would not be able to accompany there. Then we came to know that we have to pay for tickets to see Fatehpur Sikri Palace! There are various monuments inside the premises - Jodhabai's palace, Panch Mahal, Birbal Bhavan, Astrologer's seat, Diwan-i-Khas, Diwai-i-am etc. But, we couldn't enjoy the site after all that happened.
So, we walked away feeling lukewarm about the whole place.
The men pushing their services as a guide and coercively selling marble elephants represent such a small subset of the Indian population, yet they speak volumes about our nation. Mostly, these uncomfortable encounters between swindlers and tourists give bad reputation to India. Sadly, through these odd filters tourists perceive our country.
On the roads around this iconic sight, a person(Indian or Foreigner) can't take three steps without being stalked by guides, shopkeepers, or hawkers advocating relentlessly for whatever goods or services they hope they provide. Most of them will say whatever it takes for people to give them money, and they'll keep talking long after they have lost the will to listen. They knowingly or unknowingly spoil the image of their own country.
I not only felt disappointed in the trip, I felt disappointed in myself.
It had been an eye-opening and exhausting day. This trip taught me to be naturally suspicious of such altruistic behavior in strangers.
Travel Tips for people planning to visit Fatehpur Sikri -
1. Always have a map of some kind. Book, paper map, smart phone, compass, whatever. But always have one!
2. Don't ever trust anyone but each other. Several dodgy-seeming men will approach you trying to be your Johnny on the spot; shun them. SHUN THEM! BEWARE OF FAKES!
3. Do not ask for help, I insist, do not ask for help from anyone.
3. You're not supposed to wear footwear inside the complex. Carry a plastic bag with you in which you can keep your footwear and take it along with you. That way you can avoid some head-ache of having to deal with people there.
4. Never plan on weekends. The best time to visit is on a weekday.
5. In summer, visit during early of the morning when the sun is not yet hot or before sunset is recommended.
6. Always have bottled water with you.
7. Stay away from street hawkers around and inside the fort. They swarm like vultures over a corpse.
So yeah. I went to Fatehpur Sikri and no, I did not love it. But should that stop a traveler from returning to a destination for a do-over?
So, would I go back again? …Yeah. I think so. I would definitely do it differently next time. Who knows, maybe it gets better with time!
Fatehpur Sikri, is a wonderful place with some mind boggling, unique red sandstone architecture, but it's one of the most annoying places and one of the untidiest places I've ever been in India. Despite all this, I would visit again for it's historical significance and proximity to Delhi! But with caution and different approach. I will not let the same flame burn me twice.
Has this experience ever happened to you? Have you ever visited Fatehpur Sikri? Let me know and share with other travelers so they can avoid the mistakes you and me did and can enjoy their trip to this historic destination!