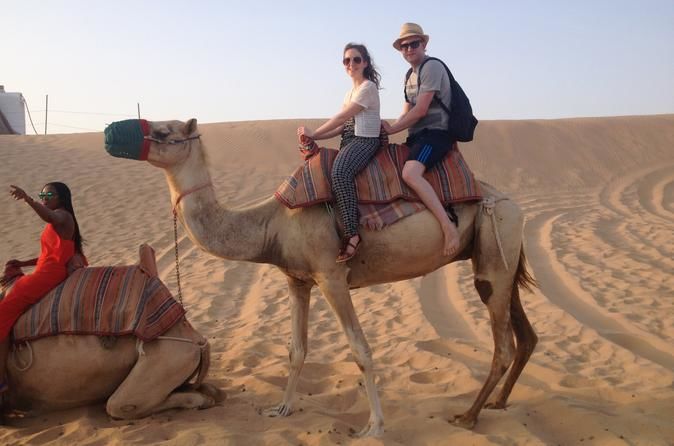 There's a reason why they call Dubai the desert city. Make the most of our serene sandy landscape with a range of fun activities, whether you're looking to raise the adrenaline with quad-biking or relax on a luxury overnight escape.
There are few experiences that are as desert safari Dubai. Take a backseat (unless you prefer to sit at the front of your four-wheeled drive) and hold on tight as an experienced driver whips you around the sand dunes, teetering on the edge of seemingly sheer drops, before dipping down sandy slopes and back up again. There's a couple of stops for sunset photos before you're safely whisked away to a traditional-style Bedouin camp, where an Arabic buffet dinner awaits.

Rev up for quad biking
Direct your taxi driver to Dubai's most famous sand dune, Big Red, where you can hop on a quad bike and navigate the sandy landscape yourself. Available to hire by the half hour, the quad bikes are speedy and a helmet must be worn while riding. Follow the natural trail of the dunes, kicking sand in the face of your fellow riders as you hurtle and bounce over Dubai's most iconic patch of sand. Big Red, or Al Hamar as it's locally known, is easy to spot along the Dubai-Hatta (E44) highway. Ask your driver to wait, or hire one for the day.

Go sandboarding
This is one for true adrenaline-seekers. Strap this snowboard-like contraption to your feet and glide down the dunes just like you would at the slopes of Ski Dubai. While it's possible to rent a sand board at Big Red, there are a number of companies – such as Dream Explorer Dubai – that offer the full experience. The five-hour morning safari and sandboarding package starts off with a desert safari in a Hummer and ends with a sandboarding session, where you'll learn all the tips for making it down the dune smoothly.

evening desert safari With BBQ Dinner, Henna Painting, Camel Ride and Belly Dance.
Experience the thrill of cruising through the desert with this evening safari with BBQ dinner. Head out on a six-hour adventure through the stunning landscapes outside of Abu Dhabi and make your way to a Bedouin-style camp tucked into the iconic sand dunes. Race over the rolling hills on 4x4, sand board down them at breakneck speeds, climb atop a camel for a once-in-a-lifetime experience or even rent a quad bike (additional cost). This trip includes round-trip hotel transport, henna painting, sheesha smoking, and even a belly dancing show, plus a savory BBQ dinner with fellow travelers.
Read more about Evening Desert Safari With BBQ Dinner, Henna Painting, Camel Ride and Belly Dance 2018.