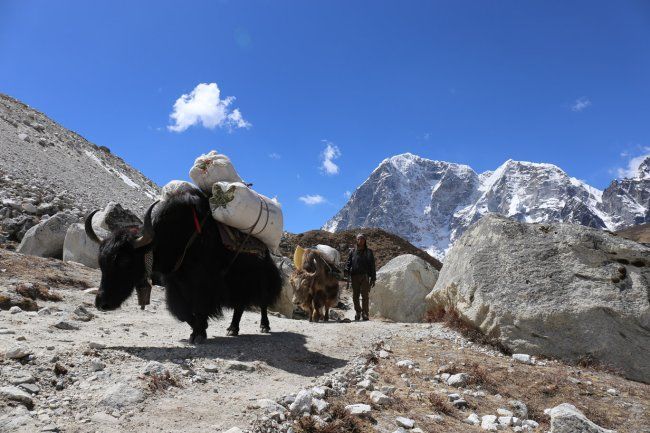 Trekking in Nepal is one of the most popular and most appreciated holiday package to the travelers. Nepal offers a wide array of trekking routes in various regions which is customizable as per the requirements of the visitors. Trekking is mostly carried out in the Himalayan region. There are different grades of trekking from easy, moderate to challenging. Trekkers need to be moderately fit and use to some kind of exercise. Things that are to be considered while trekking in Nepal are:
Trekking hours:
The trekking hours generally differs from person to person as well as the area they are travelling. The itineraries are designed to fit the requirements of the normal person. The altitude severely affects the walking speed. The zigzag trails along with the ups and downs takes different amount of time. Trekkers will have to walk for around 4-7 hours in average for a day.
Accommodation:
Accommodation during trekking depends upon trek style. If you are camping you will be accommodating in the tents. Other options for accommodation is at the local tea houses which might be quite basic. The rooms are normally small and is generally prepared for the twin share accommodation. Some also offer the hot shower for extra charge. Tea house treks are less expensive then Camping trek and are largely suitable for small group. Usually during busy seasons if private rooms in smaller villages are fully occupied you might have to sleep in dormitory.
Meals:
During the camping trek trekkers will be provided tasty, plentiful and nutritious meals daily with a variety of local and western dishes. Special dietary requirements can always be catered for. On the Tea House treks we provide standard breakfast, lunch and three course dinner, tea or coffee will also be included with each meal. For meals, you will be served sufficient hygienic food. Our service includes a full board meals (Breakfast, Lunch, Dinner and Tea/Coffee) based on lodge menu. Normally, for breakfast; porridge, cereals, toast or chapattis, omelets and a range of hot drinks are served. Likewise for Lunch and Dinner; you can taste some Nepalese food (esp. rice, lentils and curry), Sherpa food, Indian food, Italian Spaghetti, noodles, potatoes, even Pizza in some areas. It is obvious that you will receive fresh and organic food in the Himalayas of Nepal. Your breakfast and dinner will be served in lodge where you stay and lunch on the way during trek.
Drinking Water:
On camping trek, our staff will boil and cook meals treated by potassium permanganate or iodine. On GAP trek, you will be able to buy safe hot drinks in the tea house. We recommend you to bring water purification pills. On the trail, water from the streams is safe if away from settlements.
Acclimatization:
Acclimatization is generally a spare day which is designed in your itinerary in order to help the trekker adjust with the increasing altitude in the mountains. It is generally kept when the trekkers travel for more than 1000 meters for a day as the air becomes thinner as you go high. In the acclimatization day, rather than staying in the hotel can explore the nearby villages and learn the culture. Doing this will help the trekkers to adjust to the altitude faster.
Medical Hazards:
Altitude Mountain Sickness (AMS):
AMS is the abbreviation for Acute Mountain sickness also termed as the High Altitude Sickness. AMS is one of the challenges that the trekkers/ climbers might face during their climb in the mountains. As you reach higher in the altitude the oxygen level gradually decreases. If a person tries to climb too quickly then there is a higher chance of getting AMS.
However, AMS can be prevented if you use precautionary measures. Drinking plenty of water (4-5 liters per day) and eating plenty of food (4000-5000 calories per day) and walking smoothly can be basic precautions. Our experienced guides who have been working in the Himalayas for several years with their expertise in implying proper trekking techniques like Climb High Sleep Low for proper acclimatization, these veteran guides will lead you to your destination making it a memorable trip of your lifetime. They will guide you with your food habits in the Himalaya. They will care about your walking pace and they treat you in the friendliest manner so that you will listen to their guidance properly.
While, trekking in the Himalayas, you will walk in the Ups down trail taking you to the elevation over 2500 m. Hence, you might feel difficult to breathe or your breathe speed up. Hence, it is most important to familiarize with the altitude and let you adjust with the decreased availability of oxygen at high altitude. Our itinerary is designed with sufficient days to acclimatize. In case of gaining certain height, there is a rest day when you can explore the area as well as walk to high altitude and sleep at low land. Likewise, you are suggested to walk slowly and carefully without getting any stresses. Also, for proper acclimatization, you should care about your eating habits. Don't focus on Junk food and eat as much liquid as possible. Hard drinks are not recommended. The right way to acclimatize properly is walk high, sleep low.
Diamox (Acetazolamide) Diamox, a mostly recognized drugs for altitude sickness prevention and treatment. It allows you to breathe faster so that you metabolize more oxygen, thereby minimizing the symptoms caused by poor oxygenation. This is especially helpful at night when respiratory drive is decreased. While using a Diamox, it is advisable to start taking it 24 hours before you go to altitude and continue for at least five days at higher altitude. The recommendation of the Himalayan Rescue Association Medical Clinic is 125 mg. twice a day (morning and night). (The standard dose was 250 mg. but their research showed no difference for most people with the lower dose, although some individuals may need 250 mg.) Possible side effects include tingling of the lips and finger tips, blurring of vision, and alteration of taste. These side effects may be reduced with the 125 mg. dose. Side effects subside when the drug is stopped. It is more appropriate to contact your physician for a prescription. Since Diamox is a sulfonamide drug, people who are allergic to sulfa drugs should not take Diamox. Diamox has also been known to cause severe allergic reactions to people with no previous history of Diamox or sulfa allergies. Frank Hubbell of SOLO recommends a trial course of the drug before going to a remote location where a severe allergic reaction could prove difficult to treat.
Travel Insurance:
Travel Insurance While travelling to Nepal is a must, you are requested to have a travel insurance that should cover any comprehensive cost that might occur. Since you will be travelling to the Himalayas possibly doing some kind of trekking, climbing or any sort of adventure activities you must make sure that your travel insurance covers helicopter evacuation charge, treatment charges, delayed or cancellation flight etc.
Emergency Evacuation:
In the case of a serious sickness or a casualty, which we believe will not happen; you shall be rescued by a helicopter. Since you are entirely liable for all the expenses incurred in evacuation please make sure that it is covered by your insurance before assigning for it or be prepared to pay on your own after getting back in Kathmandu. Ask your guide to arrange a runner to the nearest communication point and inform office about requirement of a helicopter. While asking for the helicopter, please send name of the sick person and give exact location from where helicopter can airlift you. Do not leave the place although you are getting better once you have ordered Helicopter.