August 2017 was our second visit to Phuket, the beautiful island destination in Thailand. It was an incredible feeling to realize that Phuket was the first international destination travel keede visited together. Since then in 2012 to 2017, we had traveled to so many places together and been on such incredible journeys. When we revisited after 5 years it was almost like celebrating 5 years of wanderlust.
We thoroughly enjoyed Phuket on this second visit. Here are our suggested things to do on this wonderful island.
1. Explore the beaches – there is a beach for everyone in Phuket. From busy ones like to Patong to laid back ones like Paradise beach only a few minutes away from Patong, to a long sprawling one like Karon. Moreover, these beaches are lined with F&B joints across the road so that chilled beer or fresh coconut water is not far away
2. Sunsets <3 – for sure you don't want to miss the sunsets. We surely didn't at Patong beach. We chose the area away from the hustle and bustle where a few shacks are set-up right on the beach. We selected one selling thai spring rolls and settled in with the finger food and drinks. You take your shoes off, dig your feet into the sand and enjoy the waves and if you are lucky … an incredible sunset :)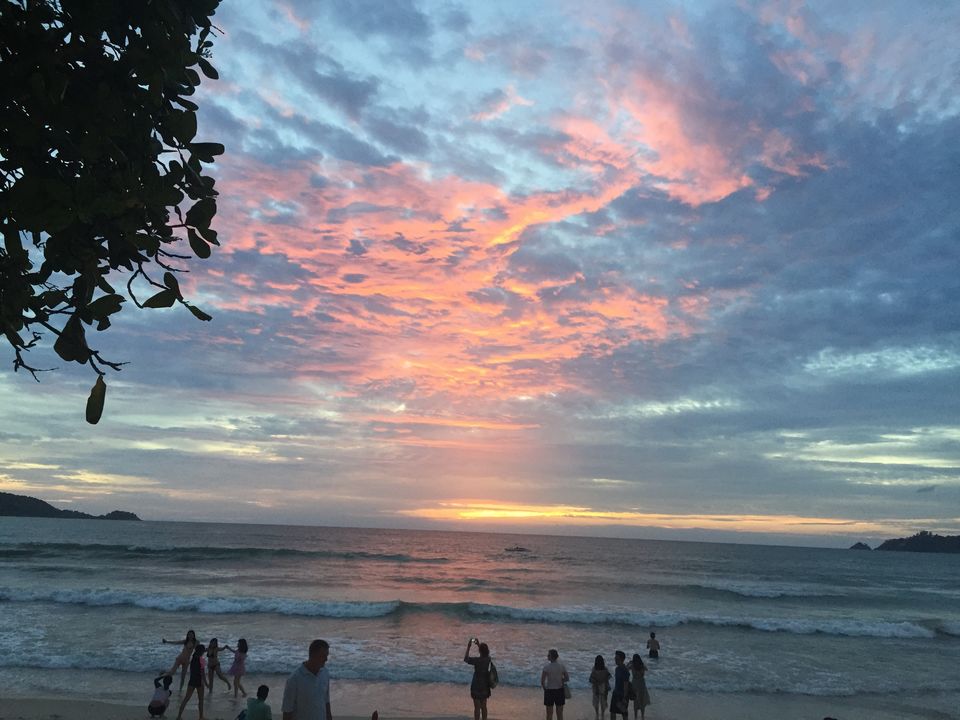 3. Visit The Big Buddha – driving upto the Big Buddha takes you through some hills, valleys and lush greenery. On a good day, you will be able to catch beautiful views from above. The site is still under construction so there is not a lot to do there but the drive and views are what makes up for it
4. Beautiful temple architecture – there are several temples in Phuket, each one depicting the unique architectural style. If you have only time for one, stop by at The Wat Chalong. It's only a few mins from Big Buddha and you can cover it on the same day you visit the site
5. Bangla Walking Street – this is one of the most touristy things you can do here. However, we suggest to go at least once. The street is choc a bloc with drinking holes and place to have a quick bite. There is music blaring every few steps and locals are peddling all sorts of souvenirs and knick knacks. It's an interesting vibe with an extremely generous dose of mental stimulation
6. Natural limestone karst formations at Phi Phi islands – a day cruise to Phi Phi is highly recommended. The limestone formations looming in the middle of the seas is a really pretty sight. There are all sorts of cruises that go there – from large ones to private ones on smaller boats. You can even choose to spend a day or more at the islands as well
Lastly, of course thai food! Being vegetarian did not deter us from our culinary explorations. More on it in a subsequent post.
How to commute, you ask? Well, if you are comfortable on a two-wheeler then rent your own scooter. It works out really cheap and gives you the freedom to go around. Renting one is very easy from the many bike rentals.
We rented a stable Honda from 'Cheap as Chips'. Take note that you should carry your passport and driving license when renting one but should never leave them with the shop owner. Providing a copy of both should suffice. At the same time, always keep your helmets on and your DL on you as there can be random police checks here and there.
Check out our travel vlog from Phuket below. For more videos hop-on or subscribe to our YouTube channel, link here
This post was first published on our blog: travelkeeday.com