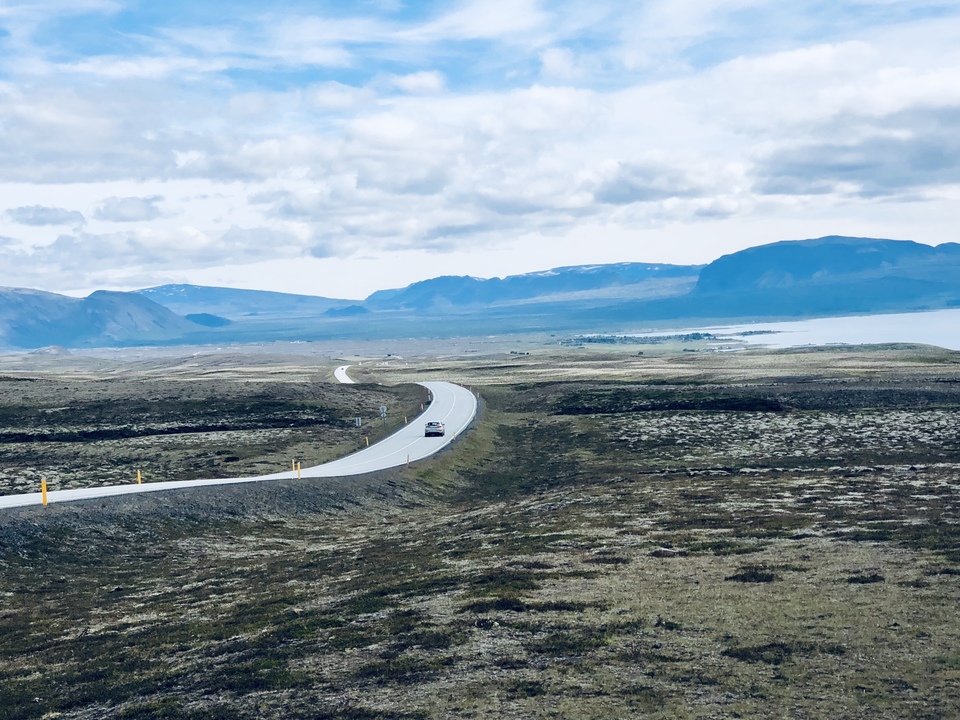 Iceland is known as the Land of Fire and Ice. The unique combination of volcanoes, glaciers and its arctic location has made Iceland's landscape otherworldly. A trail of neon green lights weaving through the night sky, clouds of steam rising from the Blue Lagoon, colourful streets-cape of Reykjavík, rainbow producing waterfalls, and an artistic arrangement of melting ice from glaciers is all that you must have imagined to see on a trip to Iceland.
Undoubtedly, they are the epitome of all that this country has to offer. But apart from these must sees there are things that are unique only to Iceland. There are a few crazy-but-incredibly-cool things that you can expect to find only here. This is probably why Iceland has become such a hot travel destination; it's just so different from anywhere else.
A tour to the inside of a real volcano
Ever wondered how a journey to the centre of the Earth, would be? You might have climbed all the mountains of the world but climbing up to a volcano's crater only to descend inside it, would be an experience like no other. Iceland is the only place in the world where you can enter inside a volcano's crater, to see a perfectly preserved magma chamber of a dormant volcano. The Þríhnúkagígur Volcano was once filled with steaming hot lava 4000 years ago. It now lies rested and shows no signs of coming to life again anytime soon, making it the only place on Earth where it is safe to explore a magma chamber of a Volcano.
The activity attracts science nerds and adventure lovers alike. You need to do a moderate 45–50 minute hike to the Blafjoll mountains, just a 30 minutes from Reykjavik. Once you reach the Blafjoll Mountains cabin, you'll leave your transportation behind and begin an easy and very scenic hike through the lava fields to reach the opening of the crater. An open elevator will then take you 400 ft below to a site of unimaginable geological violence. Once you are settled with your emotions, there is an opportunity to enjoy the awesome subterranean arena. The rock dome has been scalded and charred, torn and ruptured; the gases, pressures and extreme temperatures have stained it a mishmash of yellows, reds and blacks.
Ride an Icelandic horse
An Icelandic horse is one of the purest horse breeds of the world. In 982 AD, the Icelandic parliament passed laws that prohibited any importation of other horse breeds into the country, meaning that for over a thousand years, the breed has been kept in complete isolation within the island. Although individual animals may be exported, once gone, they may never return. These horses are short, colourful and known to have a pleasant temperament.
They look more like model ponies with their long flowing manes. Even if you've never sat on a horse before they are very easy to ride. The horse is also unique as it is the only horse breed in the world that can perform five gaits (ways of walking), while other horse breeds can only perform three or four. The Icelandic highlands are stunning and really, exploring them on horseback, just like the original settlers did, is the only way to go.
Snorkel between the two continents
There exits is a crack between the continental plates of North America and Europe, called the Silfra Fissure. Located in Thingvellir National Park of Iceland this is the only place in the world where you can swim between these two continents. The water in between is filtered from lava. Being some of the clearest water on the earth, it doesn't come as surprise that it is one of the top diving sites in the world. The only catch, however, is that the water is freezing cold. But if you can brave the frigid temperatures, the reward is the view of submerged glaciers along with aquatic animals.
Visit a natural ice cave under a glacier
There is a hidden world under the ages old glaciers of Iceland. The world of the ice caves. Ice caves are formed by melted water draining out of the glacier. They are the plumbing system of the glacier. There are both man-made and natural ice caves in Iceland. The man made caves have an all year round accessibility but a natural cave can be visited only during winters.
The main difference between a man-made ice cave or a natural one is they're constantly changing from one season to the next. Every year the ice caves are different and you will never know until late autumn or the beginning of winter if the cave from last year's winters will still be accessible. Every year guides go out and explore for new caves, but it's never sure what they will find. Most of those that have been found and are visited are in the south-east of Iceland.
The Breiðamerkurjökull Crystal Cave is one of the most famous ice caves in Iceland — it's also the largest within Vatnajökull National Park. To get there, you'll need to take a super jeep up onto the glacier. This cave gets its name from the crystal-clear ice it's made up of, but be warned, it'll take your eyes a minute to adjust to the low light so the brilliant blue colour you see in the photos won't be immediately evident! The stunning blue colour seen in this ice cave is the result of the ice containing almost no air bubbles, allowing it to absorb all the visible light except blue.
An amphibian boat tour of a glacial lagoon
Formed by the melting of ice cap of the Vatnajolull National Park, Jökulsárlón is a powerful and elemental place of surreal landscape. It is filmed in movies, various TV shows and documentaries. The rapid growth of the lagoon is a testament to the power of Icelandic nature, cycles of change and global warming.

There much to do at Jökulsárlón than simply ogle at its beauty. Given that Jökulsárlón is a partially aquatic attraction, there is certainly no shortage of boating tour. But riding on an amphibious vessel that was employed in combat during the war, is a unique experience like no other. These versatile boats were designed to navigate Vietnam's tepid, jungle-like atmosphere and tropical waters, but they also traverse Iceland's freezing glacial lakes just as adeptly. If you're lucky, you might cruise right past some seals! The tour guides are also known for breaking off hunks of iceberg so that tour-goers can feel the weight and texture for themselves.
Driving across the largest lava field of the world
Eldhraun is the largest volcanic field in the world. As beautiful as the lava field is, it disguises what is one the most violent and devastating eruptions of our time. The volcanic field was formed in 1783 due to Laki eruption that killed 1/5th of the total population of Iceland at that time. The enormous 565-square-kilometre site is now covered by centuries old green moss. Sharp black lava rocks can be seen jutting from beneath the soft green moss, making undulating shapes that seem to hide more than they reveal. Due to its similarity to the surface of the moon, the Apollo 11 crew trained for their impending moonwalk here. 

Getting to Eldhraun lava field is a lot easier if you are self-driving as you can see these from the Ring Road (Route 1) in south Iceland. The best way to photograph and explore the area is by stopping at one of the parking lots just off the ring road.
Gawk at a black sand beach with strange basalt stacks
You must have visited a white sandy beach on a tropical island with palm trees curling around it. They're great! But what if I told you there's a lava beach that has risen from the ashes surrounded by lava formations, towering cliffs, and caves. This beach is the second most beautiful beach in Europe and is on the ring road of Iceland.
Reynisfjara is hands down the coolest non-tropical beach you'd ever visit. And the best part is that you don't have to worry about a beach body because it isn't the tanning kind of beach. More look than touch, the beach is windy, cold and dangerous. Stepping into the water isn't allowed, for something like sneaker waves are known to sweep away people from the beach. Opposite to the sea is an insane natural pyramid made of basalt columns that looks like a staircase to the sky. It's hard to imagine how nature shaped the basalt rocks so perfectly, it almost looks like the steps to a throne that isn't there.
After you are done checking these off of your bucket list, check out the complete list guide to this gorgeous country with expansive lands, here. 
Find like-minded explorers, learn from expert travellers or become one yourself and help others on Tripoto's Travel Forum!
Think we missed out on something? Tell us about it in the comments below. Or write about it here on Tripoto and earn Tripoto Credits!