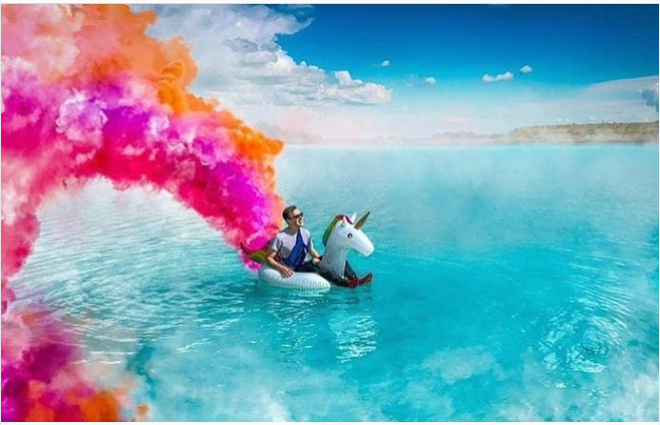 An artificial pond nicknamed the "Novosibirsk Maldives" is receiving a large number of tourists who pose here to post a stunning Instagram picture. What's strange is the fact that it is a power plant's toxic waste lake but people don't seem to care that its bright blue hue stems from an ashy brew of calcium salts and metal oxides.
As the location became popular on social media owing to its attractive colours, tens of thousands of people have visited the site and the number doesn't seem to come down even after requests from authorities.
A quick search on Instagram reveals tons of pictures featuring newlyweds, small babies and bikini-clad women. One picture showed someone floating in the water on an inflatable unicorn float and the person revealed in the caption that his legs turned slightly red the next morning and itched for two days.
While some people claimed that the lake is was not so dangerous, the lake's owner, Siberian Generating Company, called it an "ash dump" in a post on the Russian social media platform, VK.
He also requested people to refrain from taking selfies down in the dump.
According to the company, the lake is highly alkaline with a pH higher than 8—roughly the level of sea water. Though the water is not radioactive or poisonous, it is said that it may cause skin irritation. The attractive blue colour of the water is due to a particular combination of calcium salts and metal oxides, both of which are byproducts of ash from burning coal at a local thermal power station.
The company's VK post also stated that swimming here was not allowed and getting out from the water is practically impossible as there is a sludge under the water.
There are signs posted around the lake to warn people against trespassing.
However, this is not the first time that some users have been berated for posing at a particular site as a similar incident occurred at Chernobyl in the abandoned Ukrainian city of Pripyat.
So, in case you are travelling to Siberia, we request you to exercise caution. The rash is not worth the picture.
Share your travel stories with the Tripoto community here.
Get travel inspiration from us daily! Save our number and send a Whatsapp message on 9599147110 to begin!