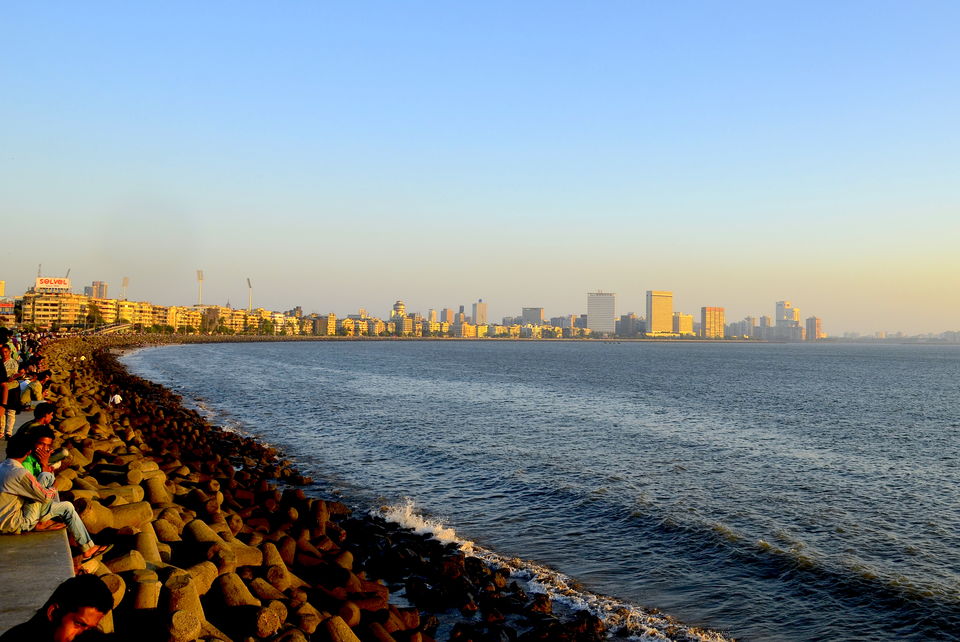 Yes, The Mumbaikars must have recognized by its name and image. The one's who haven't yet, this place in Mumbai, Maharasthra is known as the Queen's Necklace - Marine Drive & the official name of this road is Netaji Subhash Chandra Bose Road. It is a C shape six lane road along the coast of Mumbai, which is a natural bay with palm trees on the walk. Marine Drive is facing the south west direction and on the northern side of the marine drive you will reach Chowpatty Beach famous for its Bhel Puri.
This Drive is joining Nariman Point to Babulnath with Malabar Hills. As I already told you that this place also looks like Queen's Necklace, that view is only be justified at Night when the roads are lit up with lights and if viewed from any elevated angle from anywhere around the road you will see C shape road will form a Necklace as light looks like pearls in it.
That was all about it. When I visited this place that too only once, it was night time but I didn't have a view from the top, thought the place looks amazing with street lights on and all silence except few vehicles passing by. You can just sit there for a while and listen to the ocean sound hitting the rocks there but the visibility of water will be 10 to 20 percent.
If you are hungry there are many stalls there to eat and drink tea, coffee, boost and what not is there, but that too when you are there at particular time. We were there at around 12 AM, so everything was closed but few restaurants there across the roads were open. So, you can have munch-bites there also.