Once in a while, we all want to escape from the city life and break the monotony and head to someplace which is less known, less crowded and beautiful in its own way. One such place is Pelling in Sikkim. It is a small peaceful town at the foothills of Mount Kanchenjunga. It is indeed nature's paradise. The place is situated at an altitude of 2,150 m (7,200 feet) and offers a breathtaking view of snow capped mountains. The greenery you find here is beautiful and the landscapes are unbelievable. If you've always fancied a luxurious stay along with beautiful and picturesque views, well we've got you covered.
Ideal For
The Chumbi Mountain Resort & Spa is ideal for anyone and everyone. It is meant for couples to spend private time, kids to play around, solo travellers to unwind and for parents and grandparents to soak in the sun and witness the beauty around.
About the Property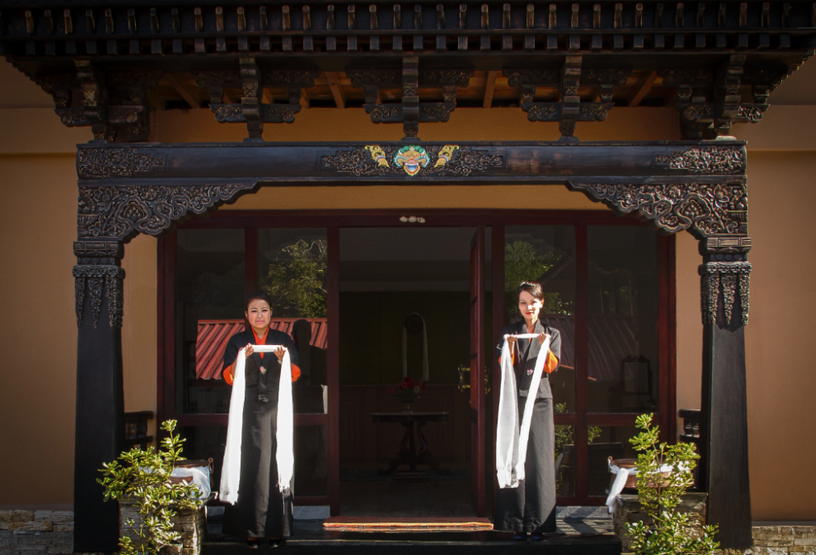 This beautiful ultra-luxurious resort in Pelling gives you astonishing views of snow-capped mount Kanchenjunga and other Himalayan peaks. The moment you open the window of your room you are bound to get lost in the paradise. The place offers you a perfect blend of modern and contemporary conveniences along with a traditional ambience to give the guests a feel of Sikkimese culture and tradition. The five-star luxurious resort has been ranked as one of the top hotels to stay in pelling with great value for money and the satisfying customer experience. Chumbi mountain resort is truly inspired by traditional architecture and has an appearance of a Sikkimese monastery. The property has earthy muddy tones with a blend of stone and intricately handcrafted woodwork. A lot of other historical places can be seen from the sun decks and rooms of the resort.
Rooms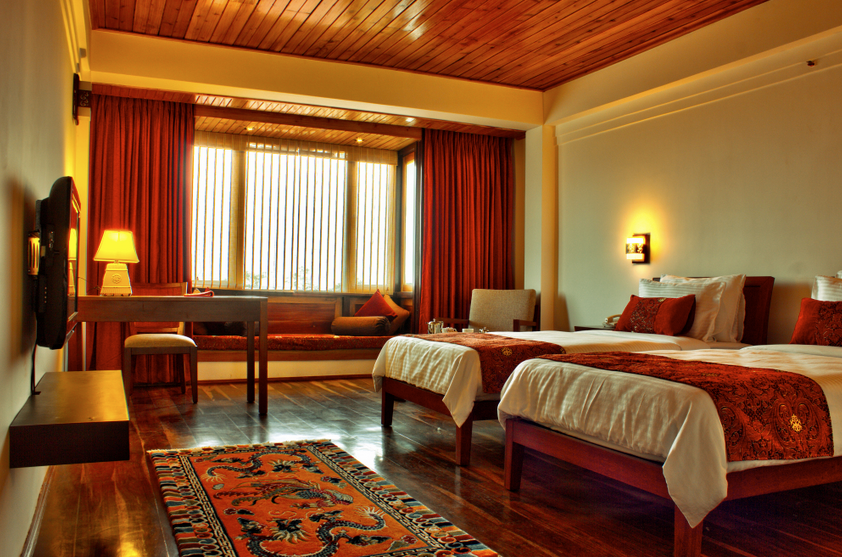 Every room in the resort has been aesthetically designed with wooden flooring and minimalistic interiors, but complete in all aspects of modern amenities. The bathrooms are big and spacious. If you are in a mood to treat yourself to the royal luxuries, stay in one of their three suite categories namely Raj suite, Yuksom, Rabdentse.Raj sweet is chic and classy with antique furniture and a colonial feel, whereas Yuksom and Rabdentse offer all contemporary conveniences with a traditional touch in terms of ambience.
Food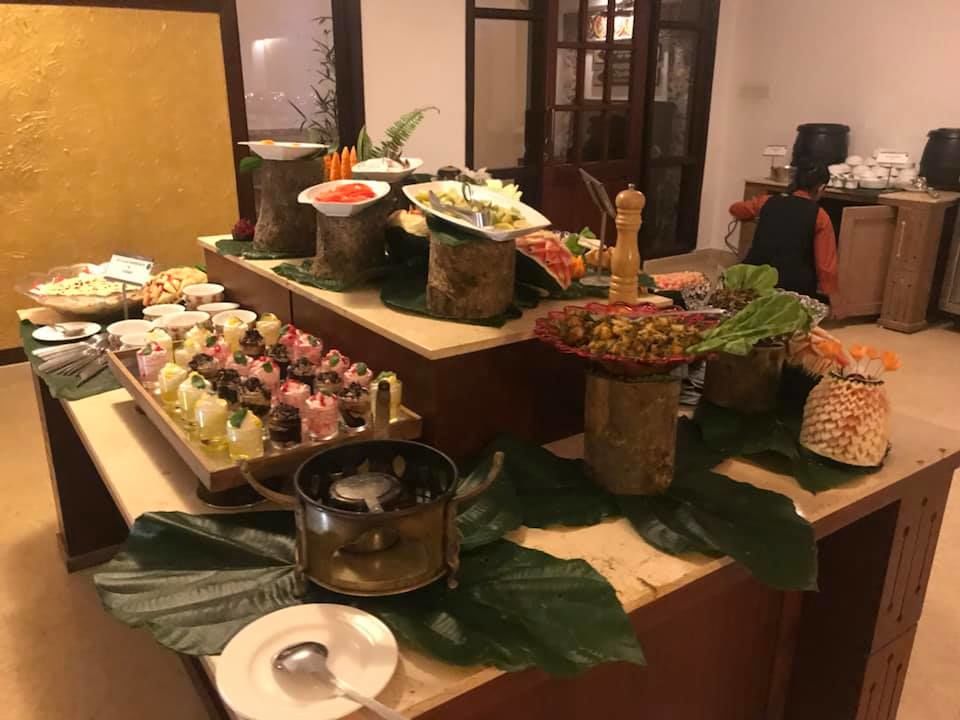 The property boasts of restaurants that serve every taste and multi-cuisine along with traditional Sikkimese restaurant. All the ingredients are organic and harvested in the region. The Resort has its own garden with vegetables, spices, herbs, tea as well as fruits. A traditional restaurant called "Dyenkhang" is a typical Sikkimese restaurant with low seating and traditional Sikkimese tables to enjoy the local dishes. One of my personal favourites is Base Camp -17,400 ft. This place offers a panoramic view of the highest peaks. So, sip on the coffee and sandwiches."Golden Bamboo" a multi-cuisine restaurant offers you the unique flavours and serves you continental and Indian meals.
Cost
One night stay in a double room at Hermitage block with beautiful views will cost you approximately Rs.10000 (buffet breakfast included).
Best Time to Visit:
October - May is an ideal time to visit Pelling. Winters are biting cold, while summers are pleasant and the place hosts many tourists and enjoy the view.
What to Do Around the Property
The Sangachoeling Monastery is one of the oldest monasteries in Sikkim. It is at a distance of about 2.5kms from the hotel. Situated at a very scenic location, it is one of the must-visit places in Pelling. To visit the monastery, one has to do a little hiking and trekking, though it is a pretty easy and pleasant climb.
Pemayangtse Monastery is located at a distance of 3 km from the hotel. It is one of the oldest and famous monasteries in Sikkim situated on top of a hilltop, it offers a picture perfect view of Kanchenjunga on a clear day. The monastery is decorated with paintings on Buddhist themes and statues of Buddhist deities and also house the intricately carved, wooden, 7 tiered wooden sculpture of Rinpoche's Paradise.
Darap Village is one of the few undiscovered places where people head for a laid-back and relaxing holiday. Away from the hustle-bustle, Darap is emerging as a spot for village tourism. You can relax and stay in the beautiful homestays, or indulge in various activities such as hiking, visiting the Limboo house, bird watching or just sit back and sink in the beauty.
The Rimbi waterfall is just above the rimbi river which is approximately 5 kms from Darap Village. It is a small waterfall as compared to other waterfalls in Sikkim. You can visit the Rimbi river for various recreational activities like swimming and fishing. If you are a fish lover, try a local preparation of Assala – a variety of fish which is famous here.
One of my personal favourites, this serene and scenic location is a must visit. Buddhists and Hindus both consider this lake divine. This one is a bit hit with trekkers and explorers for the amazing views it offers.
How to reach Pelling
By Air: Bagdogra Airport is the nearest airport from Pelling, located approximately 145 km away roughly five hours drive from Pelling.
By Rail: New Jalpaiguri Station, at a distance of 152 km. Taxis are easily available outside the station.
By Road: The roads in Pelling are in decent condition, thus taking a bus or a rented/private vehicle is a good idea. However, due to high elevation, it's better to take a Sumo or bolero or similar vehicle.
I surely know where I am headed for my next vacation for some quality time with myself.
Do you know of any other hidden gem with breathtaking views. Please share your story here.
Checkout Tripoto's Youtube channel for some interesting videos.