A tantrik temple riding on a gigantic frog in India.
Got your attention, didn't I?
India is home to thousands of peculiar and unique revered temples, rituals and legends. Some surprise us, some intimidate us and some leave us outright curious wanting to know more about them.
One such place of worship is the Manduka Mandir formally known as Narmadeshwar Temple in Uttar Pradesh, that has surely been off-the-radar for quite some time.
Legend:
In the early 19th century, there lived a rich Zamindar in Oel called Raja Bakt Singh who had no children and wanted an heir. He came across a Tantrik baba who told him that it was his destiny to build a Shiva temple. However, it had to be done with austere occult practices, one of which was to sacrifice a frog. Frogs symbolize good luck and fertility, hence the massive temple was built on the spot of the sacrifice. The Shiva temple was constructed riding on the frog as a homage to the Manduk. Soon after the temple was erected, the entire area flourished with sugarcane and rice cultivation.
Even to this day, the descendants of Raja Bakhat Singh visit to worship the shrine from time to time. Some also cite that he wasn't a Zamindar but the king of that area.
The Temple:
The sanctum sanctorum or the "garbh grih" is a hundred feet high and has to be reached by climbing steps. It houses a Shiv Linga which is placed in the middle of a tantrik yantra (an octagonal lotus). Locals vouch that the Shiva Linga inside the temple is supposed to change colours. During monsoons, when the area would be flooded it would create an illusion of the temple floating in the water. There are only two doors to the temple, the inner walls are covered with paintings in vegetable colours and the outer walls are carved entirely with figures.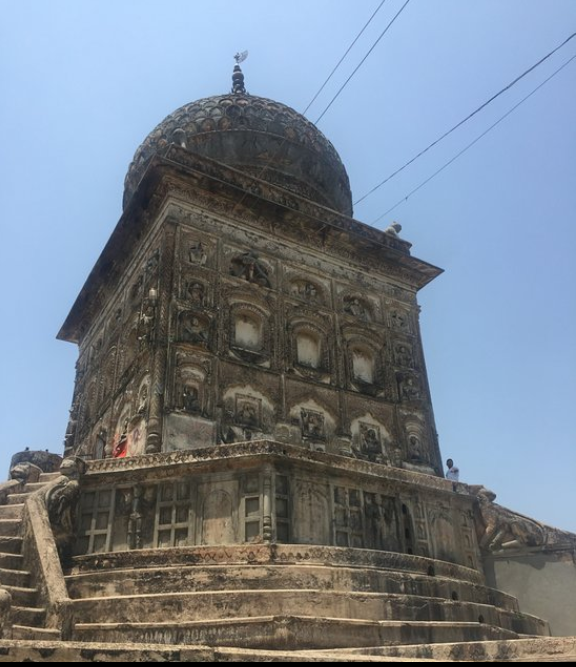 In fact, the entire temple architecture is constructed in lines with a deep occult science that probably we can't decode today and was probably used to perform some mystic rituals back in the days.
Though, the tantrik practices have stopped, people from the surrounding areas, especially married couples throng the temple to seek blessings, as it still is a sign of good luck and fertility.
Unique Point:
In every Shiv temple in the country, one finds a sitting Nandi opposite the Linga, but here the Nandi statue is actually in a standing position!
Where: 120 km from Lucknow in a small town called Oel near Lakhimpur.
Nearest Railway Station: Lakhimpur Khedi (14 km from the temple)
Nearest Airport: Amausi International Airport (approximately 130 km from the temple)
An exciting structure of architecture, with an even more exciting history. There are no lines of devotees, no shops selling pooja essentials, no pujaris fighting for your attention here, unlike the other temples we have been to. Hidden from the world for so long, it's definitely time to visit this magnificent Tantrik Frog Temple of Uttar Pradesh and discover its tale.
Write your own travel experience on Tripoto to get likes and comments from travellers around the world. Start writing now! The best trips will be featured on our Facebook and Instagram page.