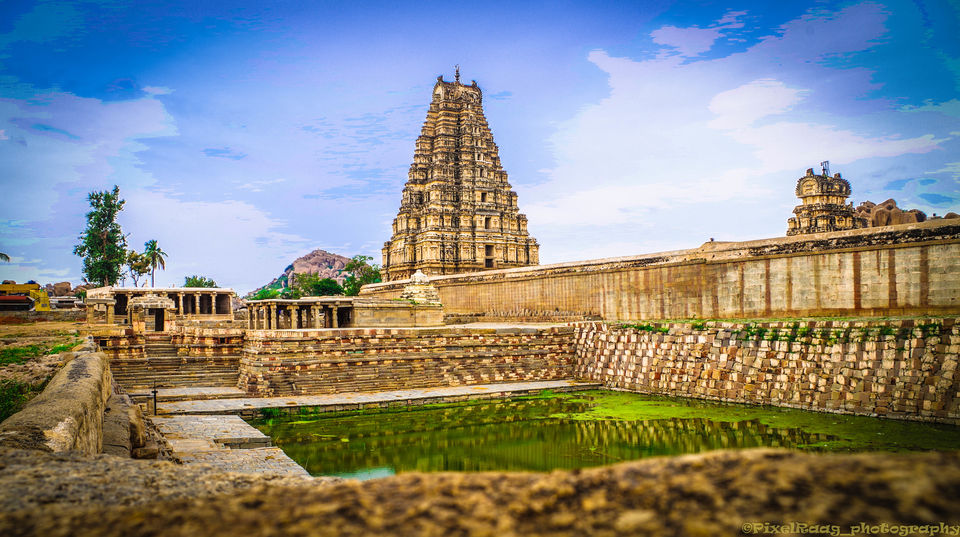 This was my first solo travel. After realizing that I get more time to focus on photography I decided to travel solo without hesitation or fear. Another reason to travel solo was that my roommates were new and were not much interested to travel. " Better to travel alone rather than travel with a bad company..."
ROUTE I TRAVELED
Kundgola - Hubli - Koppala - Hospete - Hampi
AMOUNT I SPENT
Transit(Buses and Auto) = Rs 1700/-
Food = Rs 400/- per day
Guest House = Rs 400/- per day
PLACES I VISITED
I started from Kundgola, Dharwad , around 4pm and reached Hubli at 5pm. After waiting for around 45min I got on to Koppala bus as Hospete buses were not available. Then I took Hospete bus from Koppala. When I reached Hospete it was around 9.30pm and the last bus to Hampi had almost left the station. Fortunately I got on the bus.
I could have stayed in Hospete and left for Hampi in the morning but I wanted to climb Mathunga Hills to witness the sunrise. So I had decided to reach Hampi no matter how late it was and wake up early the next morning to reach my destination.
While I was travelling in a bus from Hospete to Hampi I met a auto driver named Parshuram who was also travelling with me in the same bus that night. Earlier I was told by my friend to take auto in Hampi and roam around with a nominal rate around Rs 800/-. Although it was not my first visit to Hampi,that night I felt tensed like how to find the hotels that late night and find an auto early morning. Fortunately this guy helped me out to find hotel to stay and have dinner even at around 10.30pm. Also I booked his auto for the morning. He promised me to come at 5am the next morning. The hotel that he showed was a small Guest house (400/- per night). It was a decent Guest House. I slept peacefully that night. You can find many Hotels and guest houses easily in Hampi at any time of the day.
The next morning he came to the guest house exactly at 5am. By then I was ready to leave. He then took me to Matunga hills. He parked his auto at the base of the hill and he accompanied me till the top. Usually other auto drivers don't accompany us but this guy was friendly and helped me show the path till the peak as it was pitch dark and the place was . Thanks to this guy. He was also showing the right path to the peak for others going in the wrong direction.
We waited at the top of the Matunga hill till 7 am but unfortunately sun didn't show up as it was cloudy and I felt heartbroken so does the other travelers who had came all the way from Germany, Canada, China etc that day. But I consoled myself as I had already witnessed the majestic view of Hampi and Achyutaraya Temple from the peak. It was a brilliant sight from the hill top. Then I told myself that I should come again to witness the sunrise from this spot. Autowala Purshuram told many stories about him and the city and we left at 7.30 am. I took some photographs there.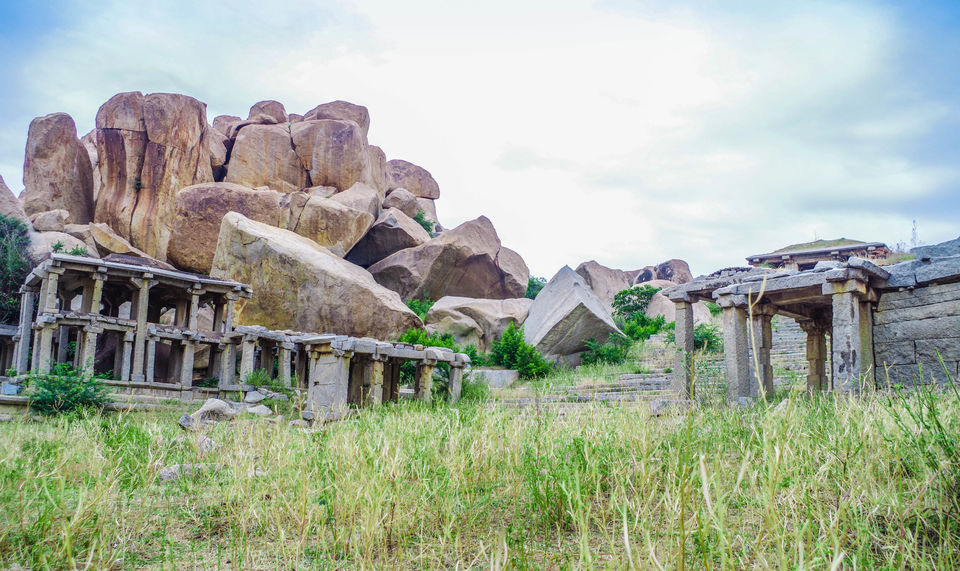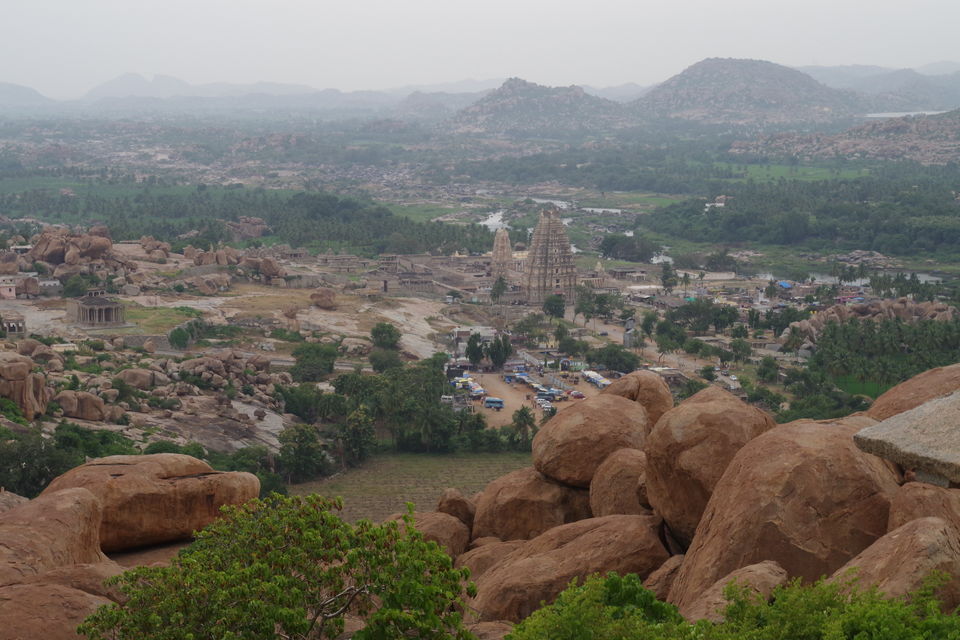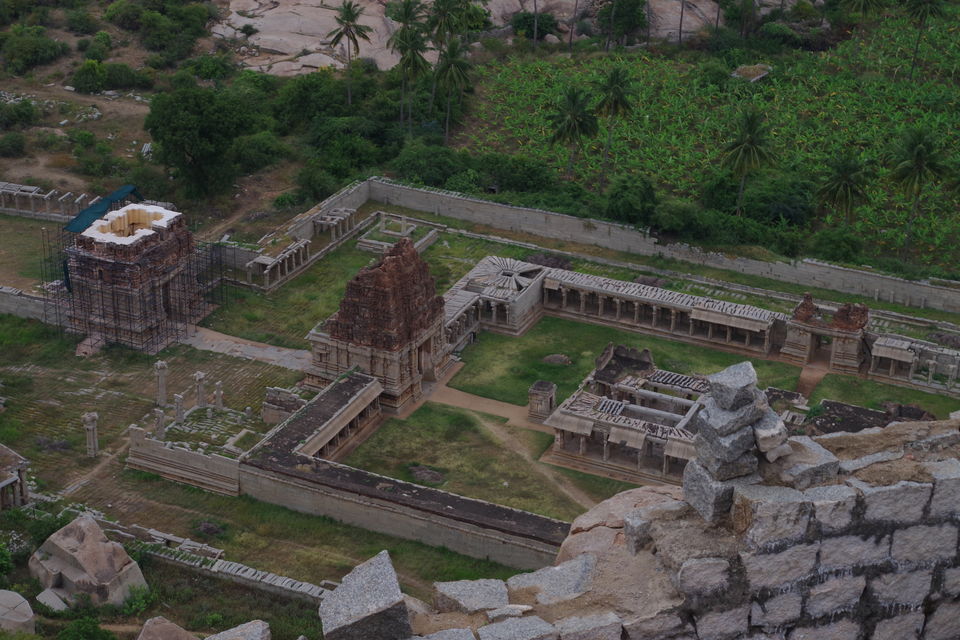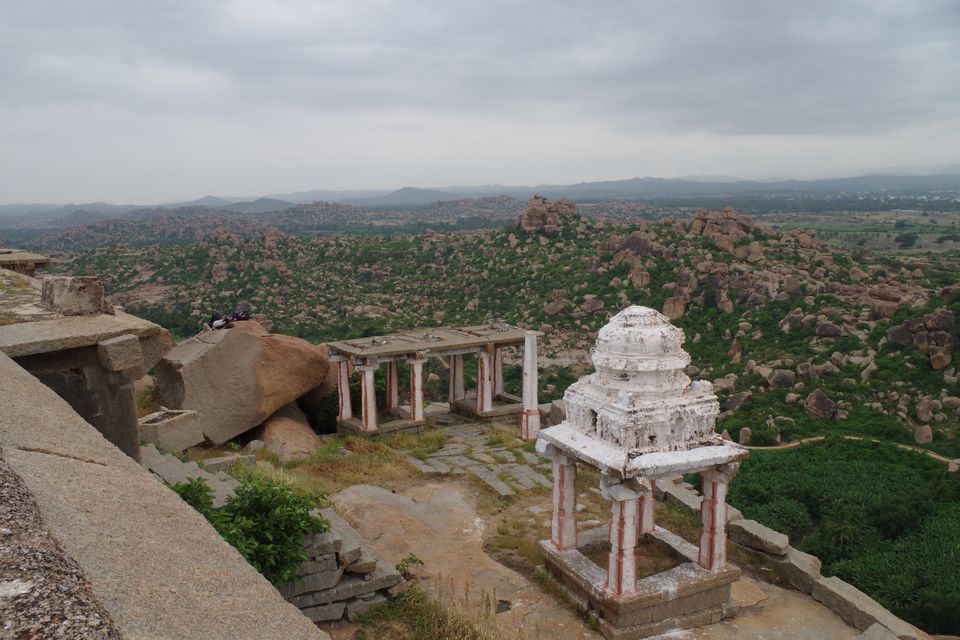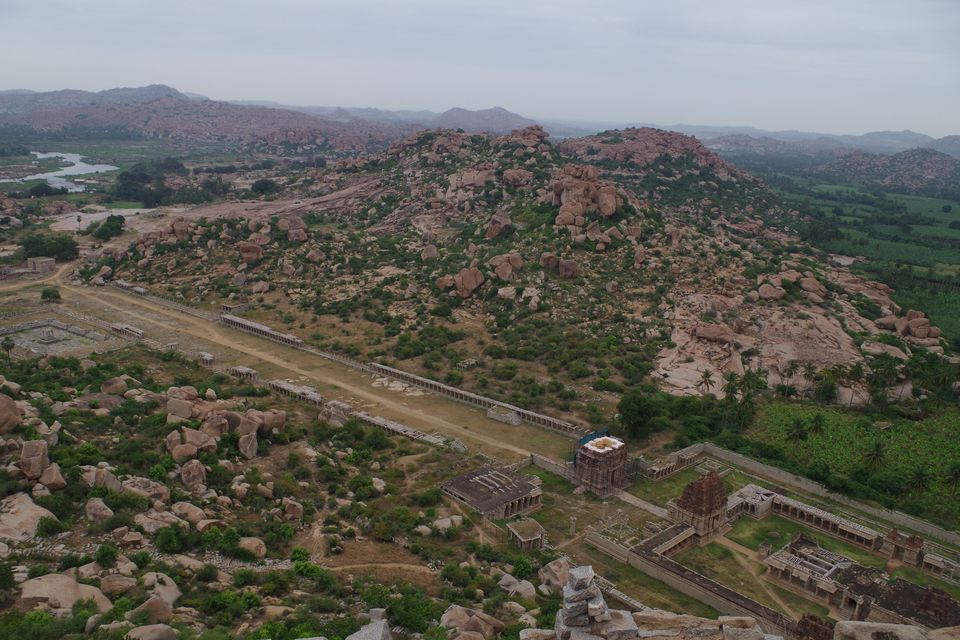 I had breakfast near my guest house and got ready to visit other places. The next place that I visited was Virupaksha temple. Then I visited Hemakoota group of temples. I was completely mesmerized by the way rocks and boulders showcased their beauty in both their natural form and as a part of architecture. They say Hemakoota is a great place to witness the sunset but I had just one day and it was not possible for me. 'Next time' I said 'I shall stay here for at least 3 days'. Later Saasive Ganesha and Kadlekalu Ganesha temples were visited. Parshuram was waiting on the other side of the hill, then he took me to see other places.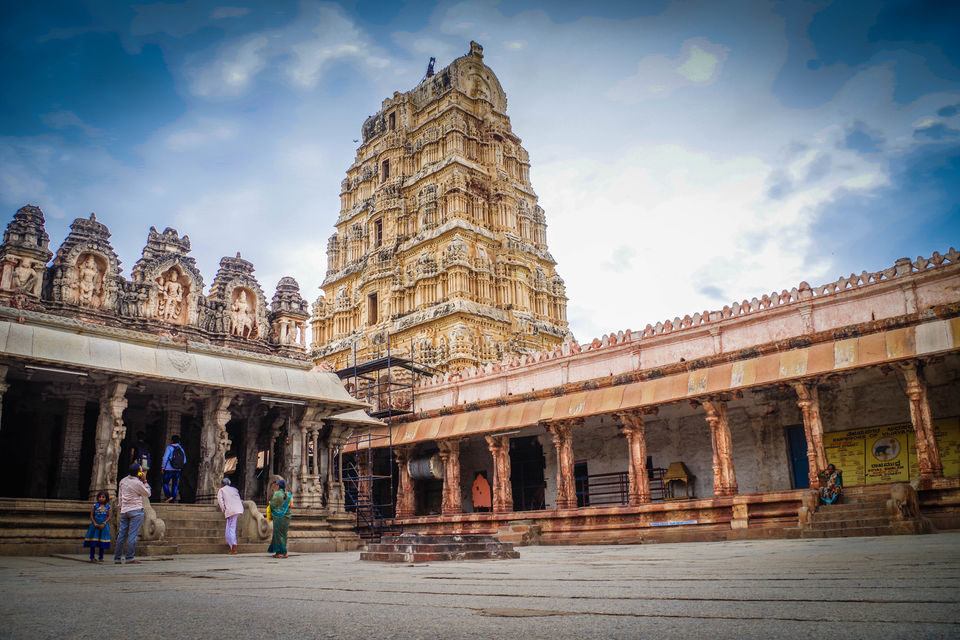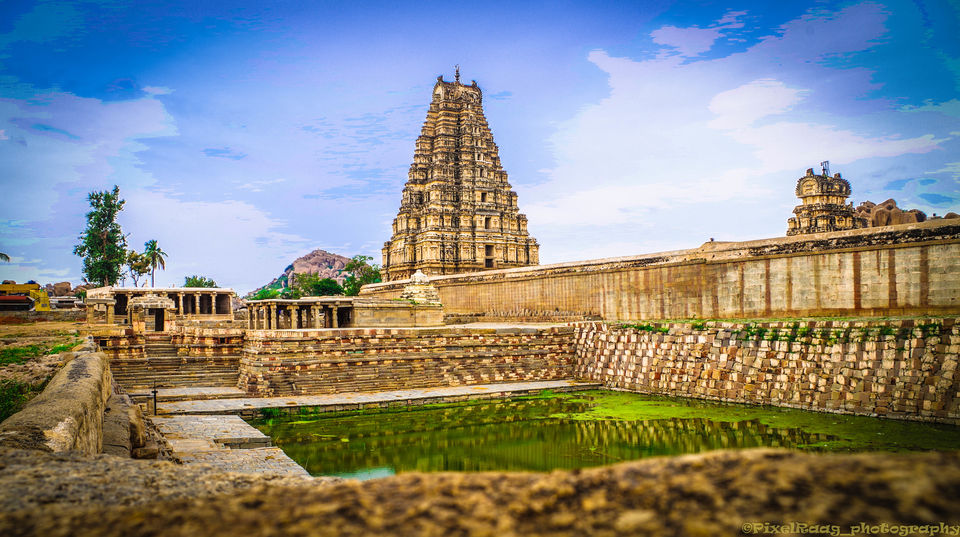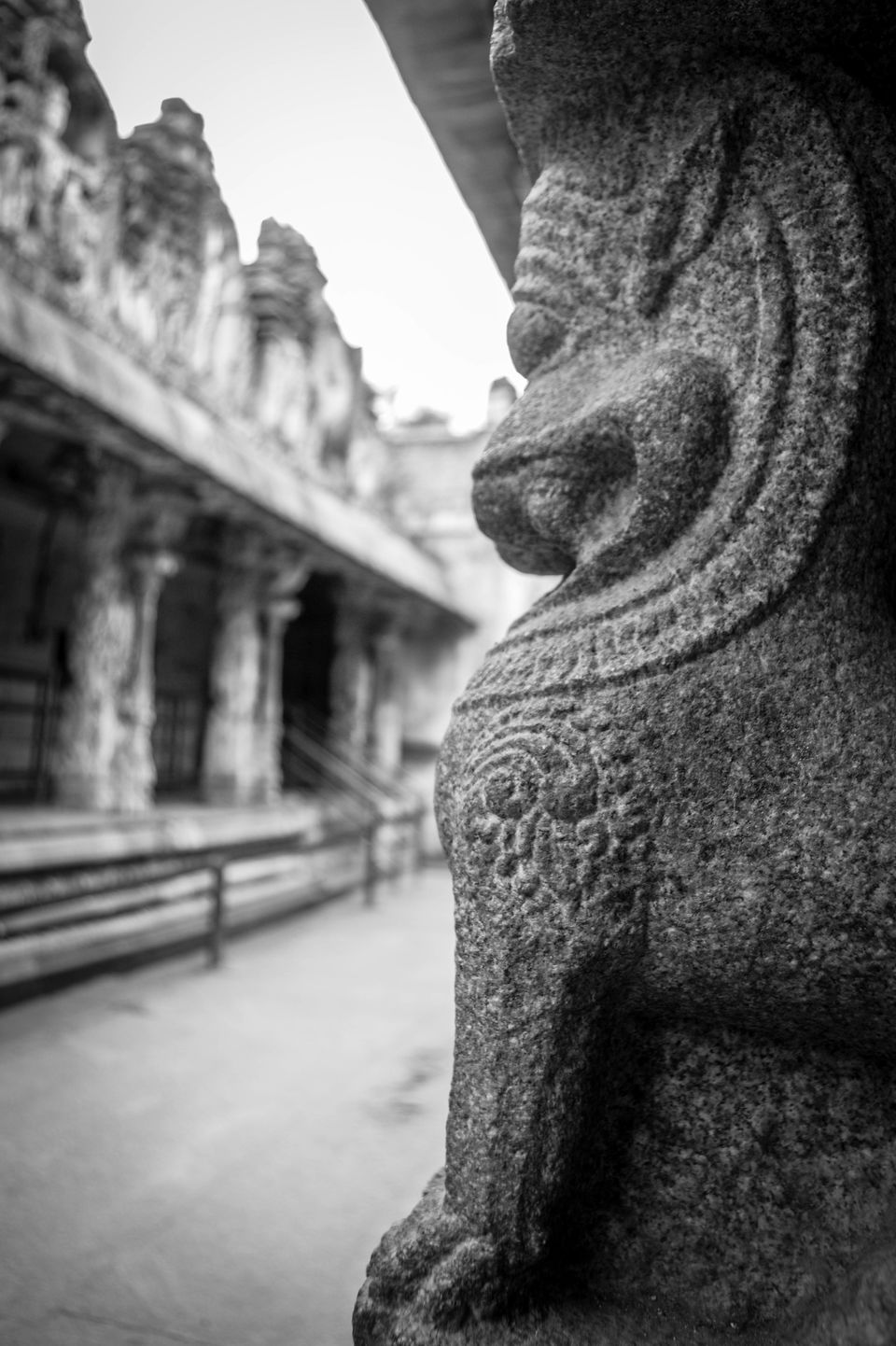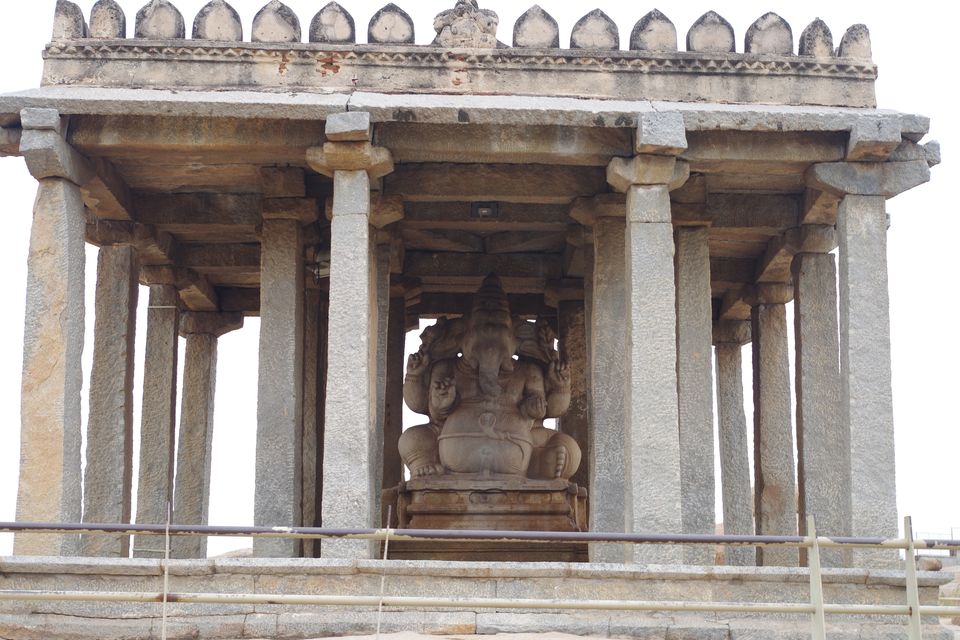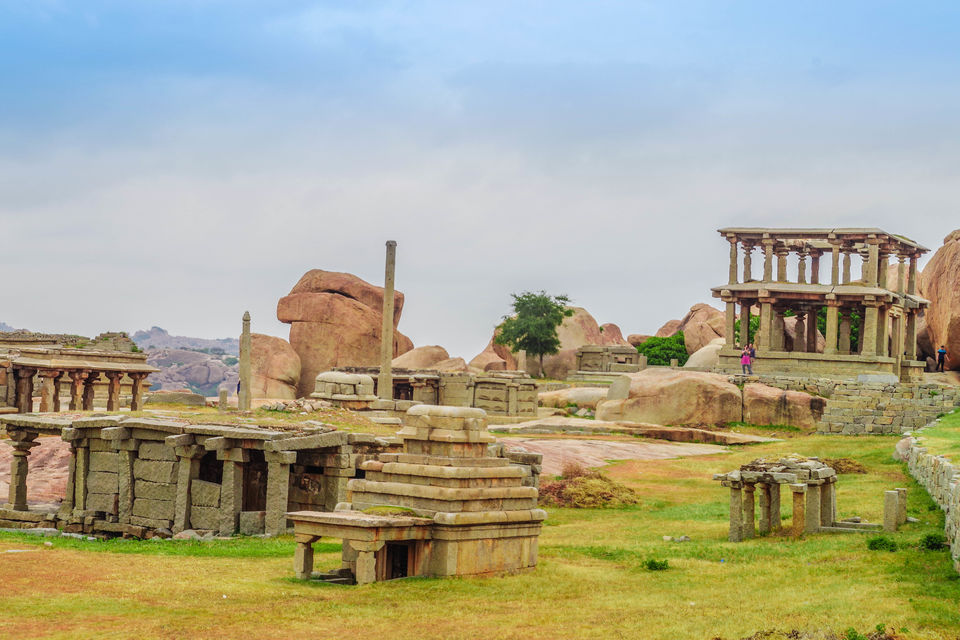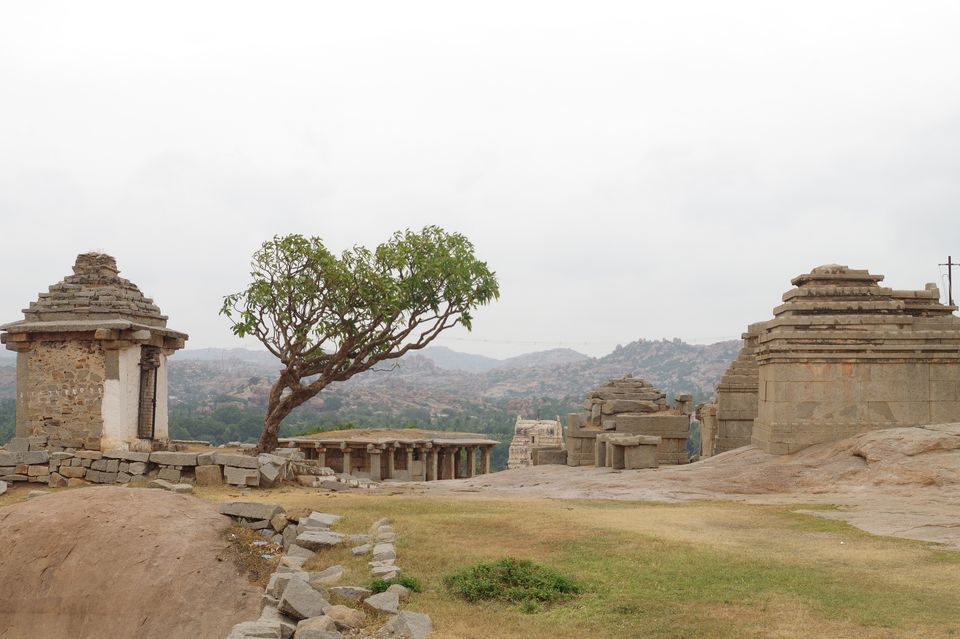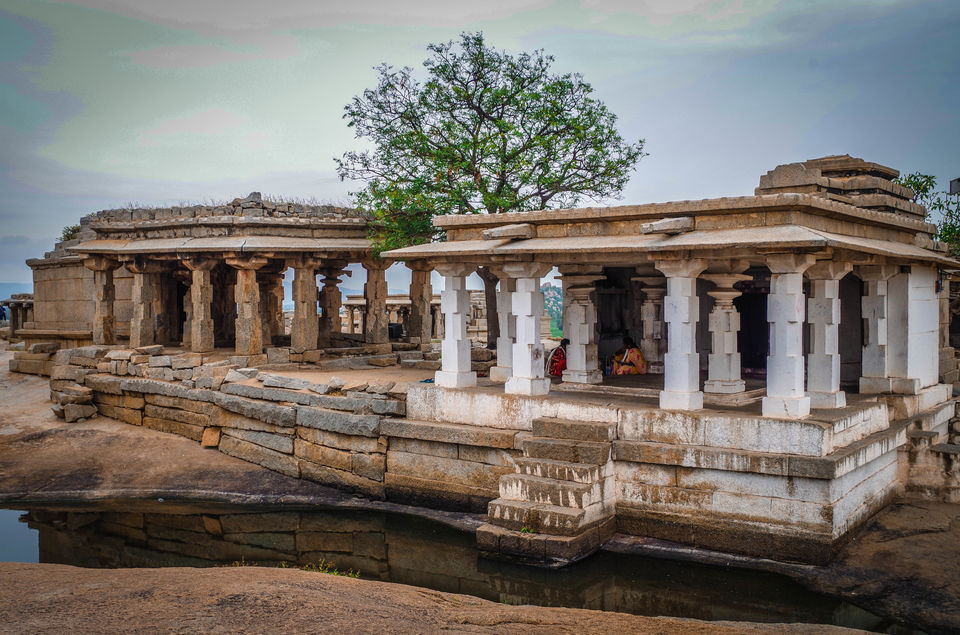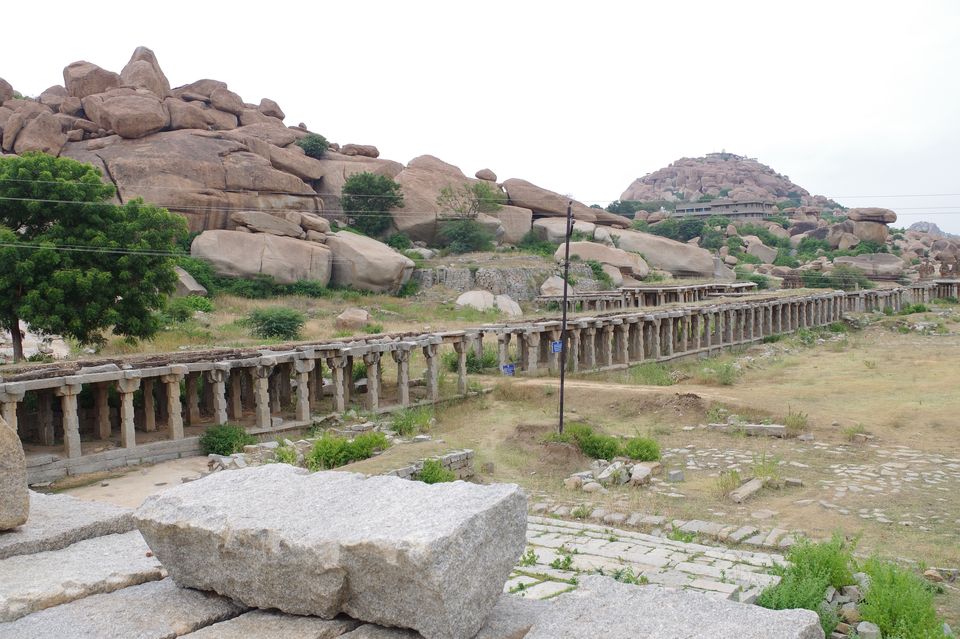 Other places that I visited were Hampi Bazaar ,Lakshmi Narasimha statue, Lotus Mahal, Queens Bath, Watch tower, Palace Area, HazarRama Temple, Vijaya Vittala temple, Underground Shiva temple and few others. I visited the place where gold and diamonds and other ornaments were sold in bulk and foreigners often visited for shopping. Standing on the ruins of Kings palace felt great as though I had conquered the Empire. And I was completely astonished by the beauty and Engineering of Lotus Mahal where cool breeze flows even during the hot Summer. I appreciate the concern of the whoever king of VijayaNagara Empire to his QUEENzzz!! :D And of course 'The Stone Chariot' of Vijaya Vittala temple which houses Lord Garuda is a world famous piece of architecture.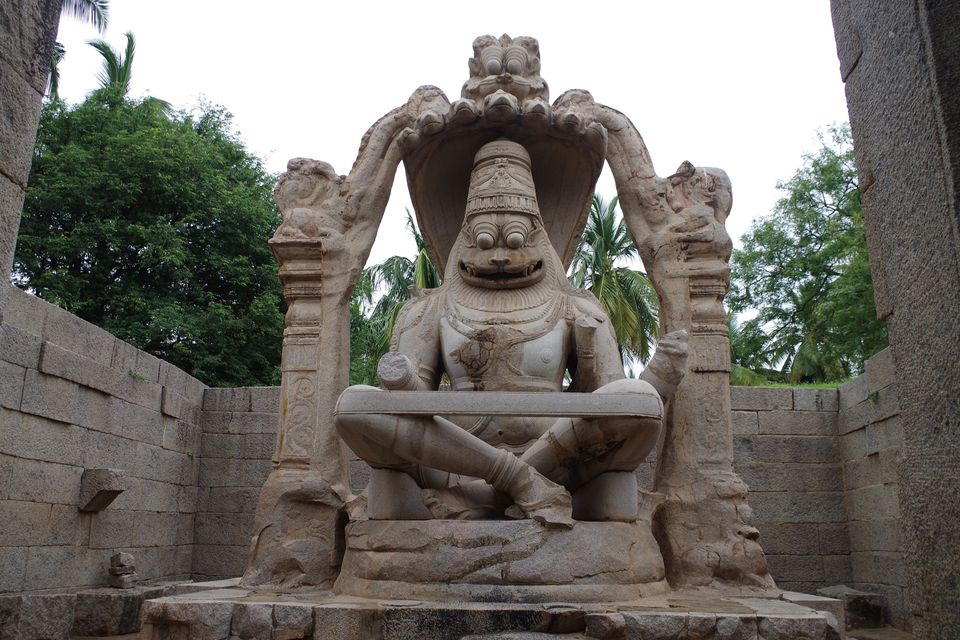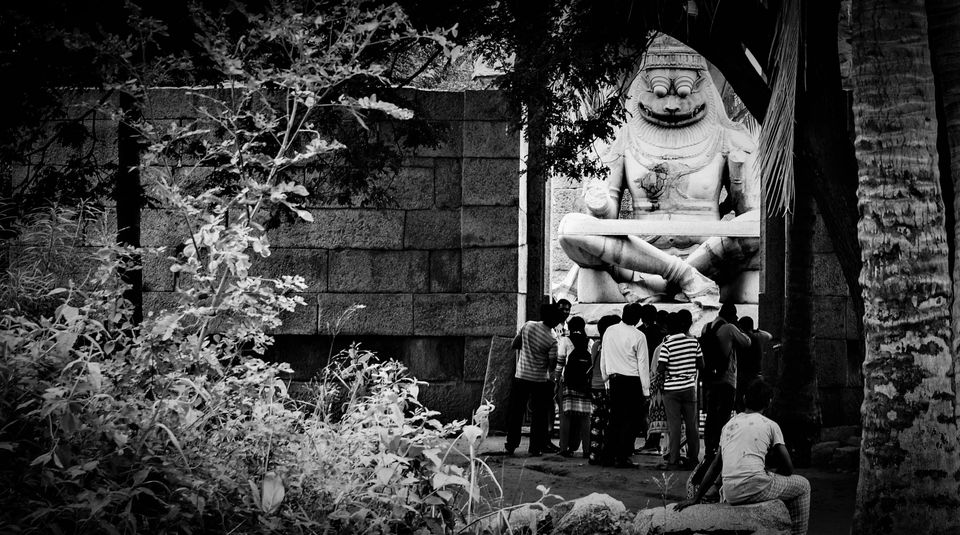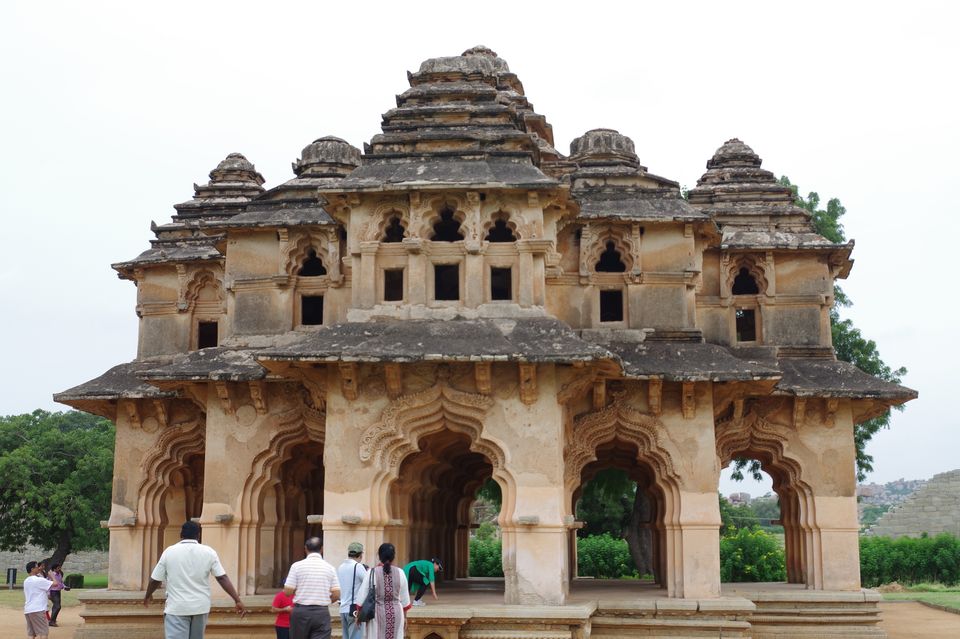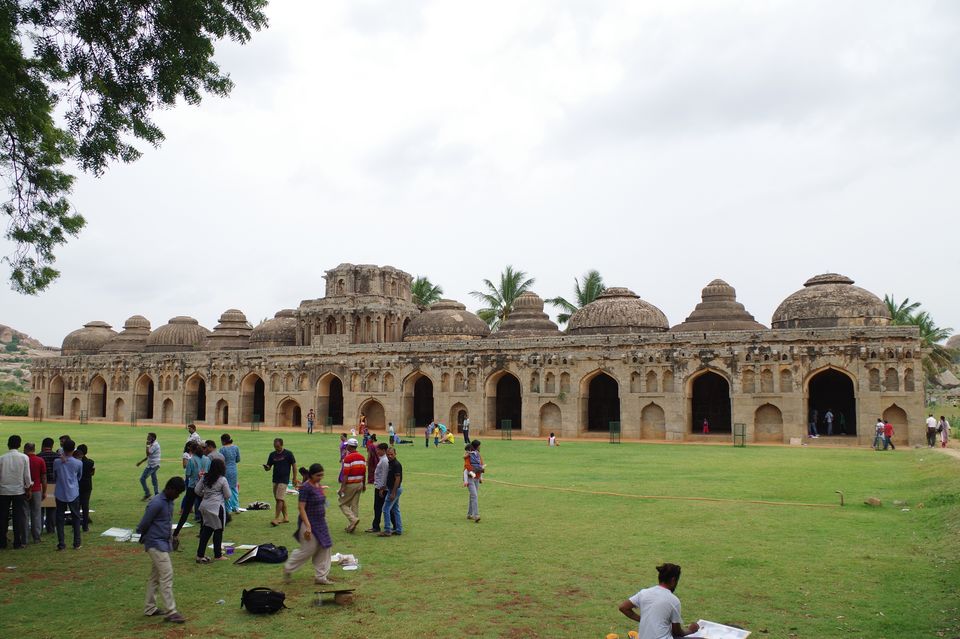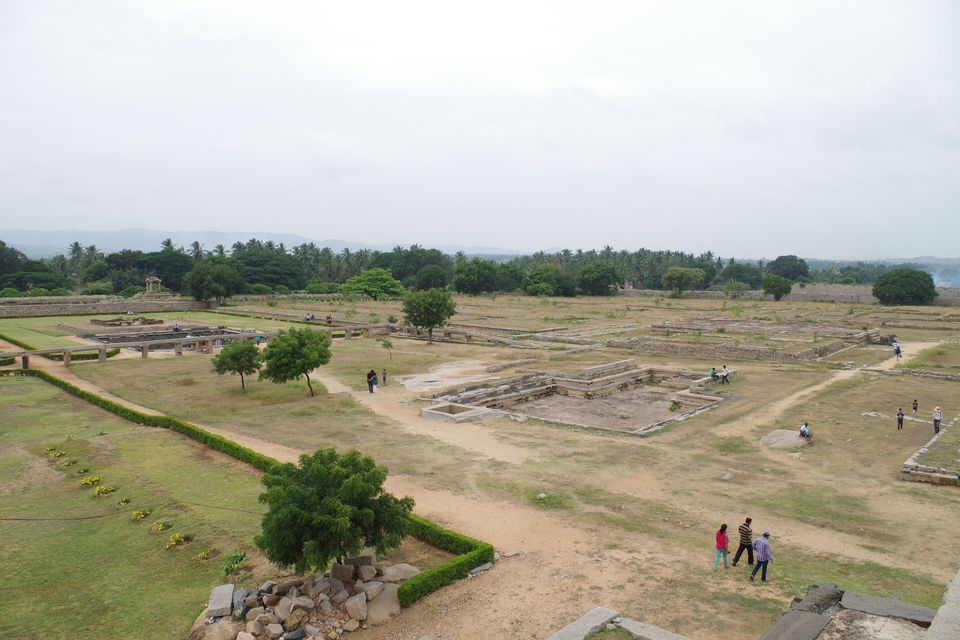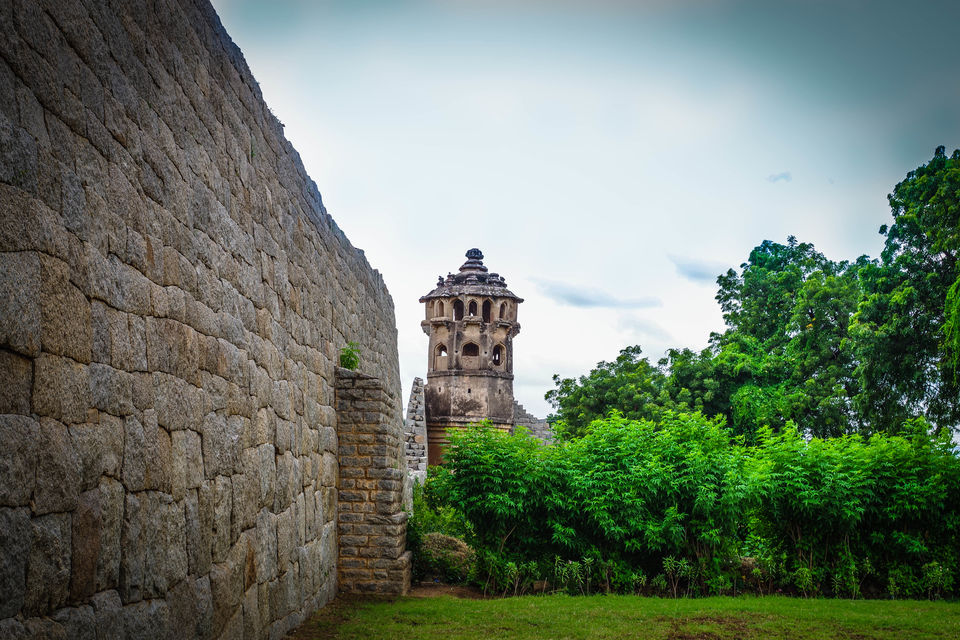 Another memorable event that happened during this journey was that my battery was depreciated at around 2pm before moving to Vittala temple and I was completely saddened by that. I had no extra battery .But an idea struk me there. I told Parshuram to stop at a daba where we could have lunch and charge my camera battery. Fortunately I charged my cam for about 20 min before moving to Vijaya Vitala temple with which I ended my Hampi trip.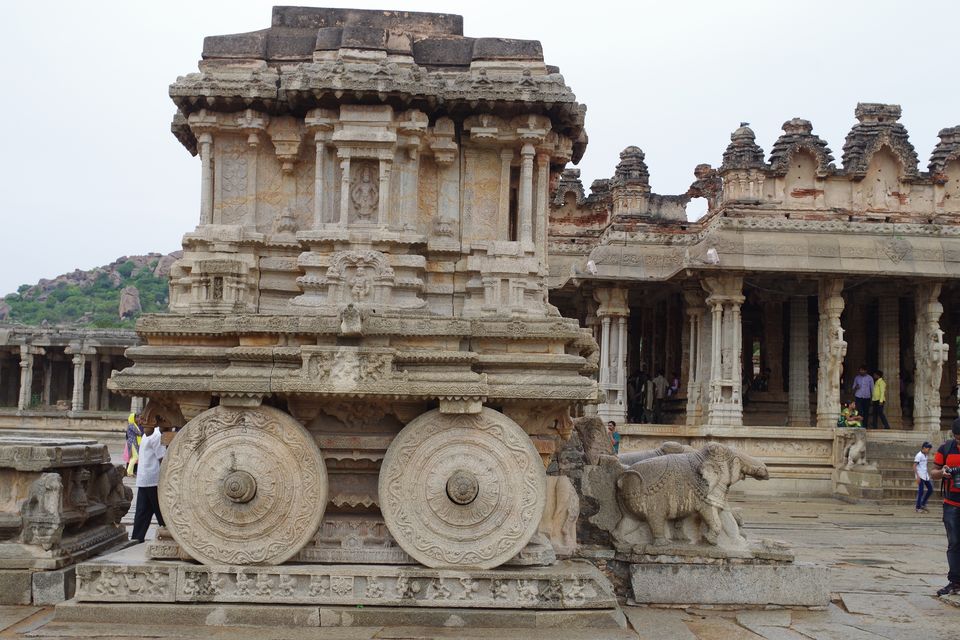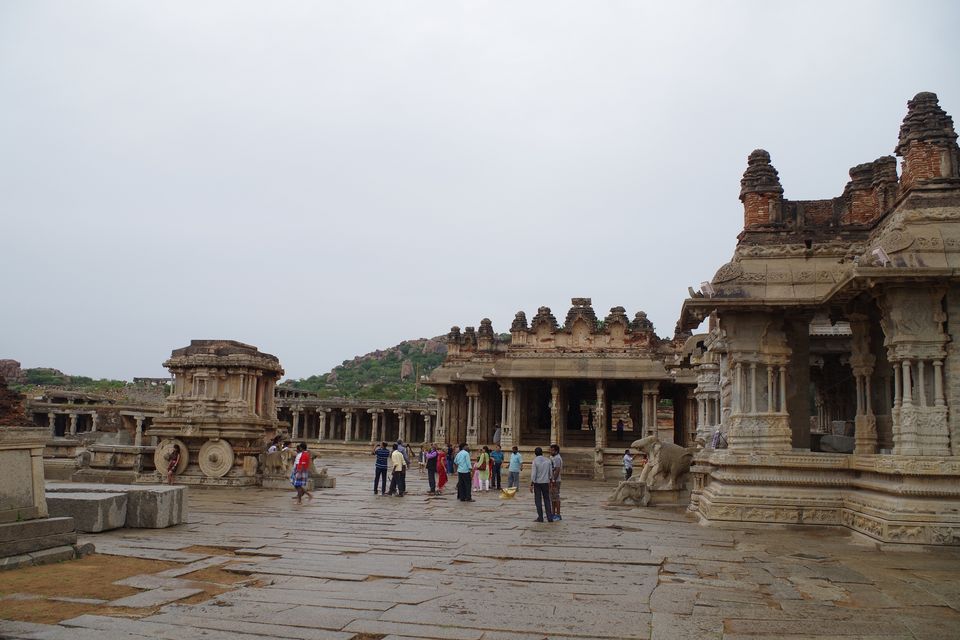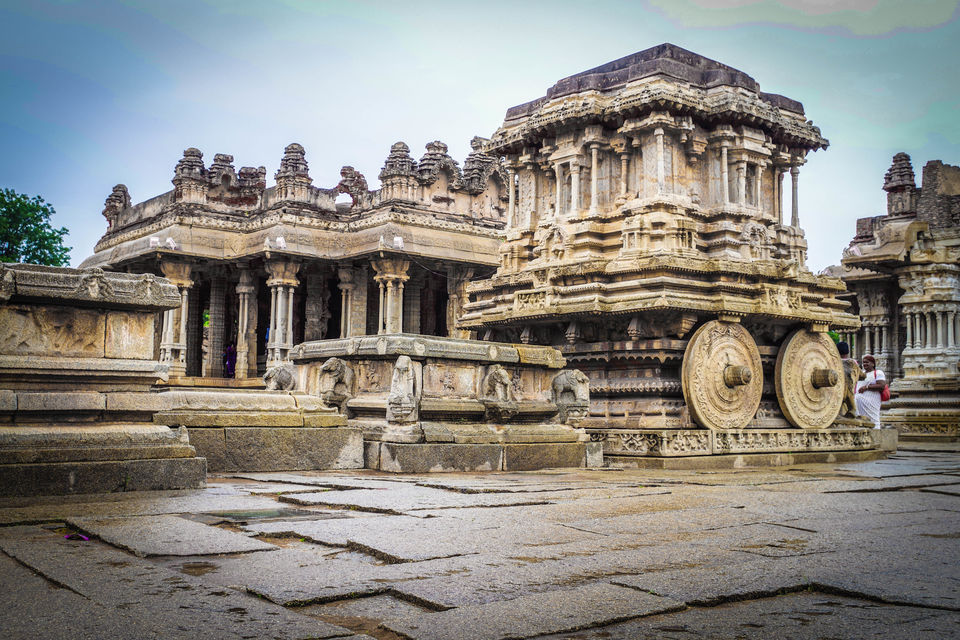 My journey was limited to one side of the river Tungabhadra , I was unable to visit the other few less explored places like Hippie Island due to the time constraint. But I had covered almost all important places in a day.
YES! This place reveals more and more marvels as you explore and it cannot be captured in one attempt ! Salute to the builders of this great Empire. Lets see If I can shoot and capture this empire with my camera next time!
Autowala dropped me to Hospete and I took his number and said "Good bye .Phir Milenge".....