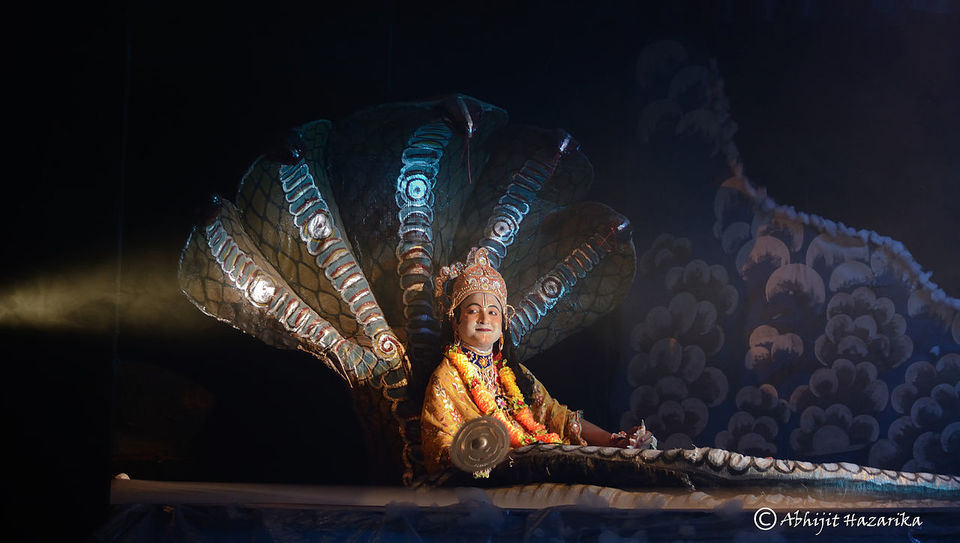 The festive season begins with Janmashtami and ends with Diwali. In between, we welcome Ganesha, worship Durga, dance for nine nights, burn Ravan effigy and reenact Ramlila. Just as the rest of India brings an end to the festivities, the largest river island in the world starts preparing for its biggest festival - Ras Leela.
Majuli Island in Assam is a complex amalgamation of Vaishnavite sects and indigenous customs. The island is home to five tribal groups - Mising, Deori and Kacharis. Each of these tribes has a very rich culture, diverse cuisine, vivid practices and their own languages. To add to the cultural cocktail, Srimanta Shankardeva, a social reformer and Vaishnavite scholar, arrived in Majuli in the 16th century. He introduced the local tribes to Lord Krishn and Vaishnavite ideologies.
Today, there are numerous Sattras in Majuli preaching the same ideologies and contributing to the culture of the island via literature, dramas, plays, dance, music, paintings, handicrafts and other artworks. It is difficult to experience the art and culture of all the different Sattras in a few days. However, for those who want to experience and understand the glorious cultures of Majuli, there is hope.
Majuli Raas Leela Festival
Every year, in the third week of November, Majuli hosts the Raas Leela Festival. This festival is a celebration of 500 years of cultural and artistic contributions of the various Sattras and the diverse tribal traditions. Medieval saint Srimanta Sankardev used dance dramas to share the stories of Lord Krishn with the tribals who didn't understand the texts written in North Indian languages. In the earlier days, only Sattras' monks and saints used to perform Raas.
That changed a few years ago and today locals participate alongside Sattra monks in the three-day festival and enact Lord Krishn's life via songs, chants, folk dances, puppet shows and plays. Some participants live a life of austerity for a few days prior to the festival in order to gain full focus on their performances.
Some of the best enactments are – birth of Krishn, Krishn herding cow in Gokul, childhood pranks, Makhan Chori (stealing clarified butter) and his killing of demons such as Bakasur, Kaliya and Kans. Bhaona dramas, where performers wear masks made by monks, are very captivating. Another highlight is the classical Sattriya dance that can be witnessed at various Sattras. Raas Leela festival is a remarkable amalgamation of neo-Vaishnavite and Assam's tribal culture.
When is the Raas Leela Festival in 2018
Raas Leela Festival is from November 21st to 24th
How to reach Majuli Island
The only way to reach Majuli Island is via ferries from Neemani Ghat which is about 14km from Jorhat.
How to reach Jorhat
By air: Rowriah Airport (JRH) in Jorhat has decent connections to/from most major cities of India.
By train: Jorhat Town (JTTN) Train Station has regular trains to/from Guwahati.
By road: There are regular buses between Guwahati and Jorhat.
Where to stay in Majuli Island
Okegiga Homes (₹2,000 for double), Subansiri Vacation Homes (₹900 for double). For more options, check here.
Have you experienced Raas Leela in Majuli? Or, witnessed any other little-known festival anywhere in the world? Write your own travelogue and share it with millions of other travellers. And subscribe to Tripoto YouTube Channel for stunning videos.