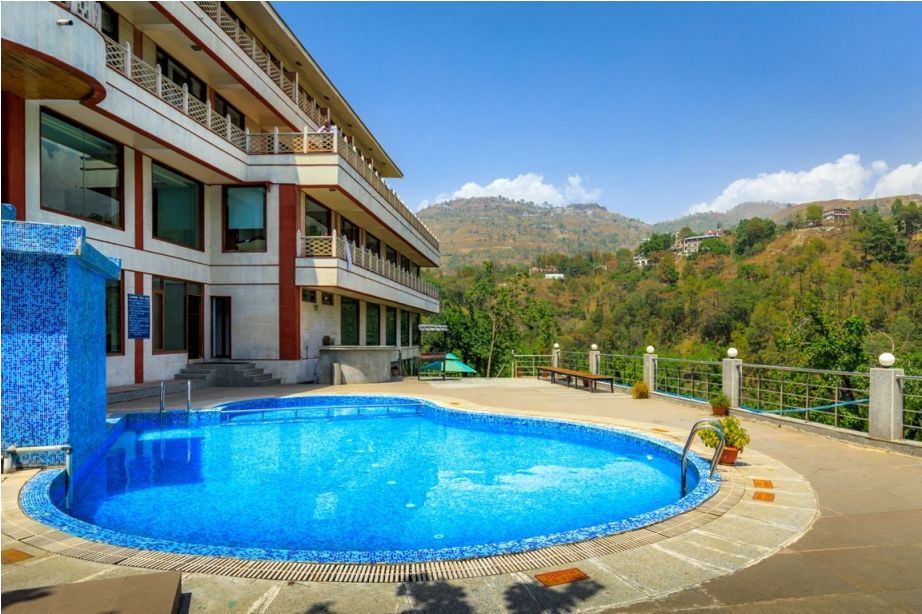 This secret property near New Delhi is just what you need this weekend!
Are you looking for a luxury vacation near New Delhi which can be done during a weekend, is easy to reach and is also pocket friendly? Not far away from New Delhi, Gurgaon and Noida is a property which will win your heart with its unparallel location, great weather and unbridled beauty.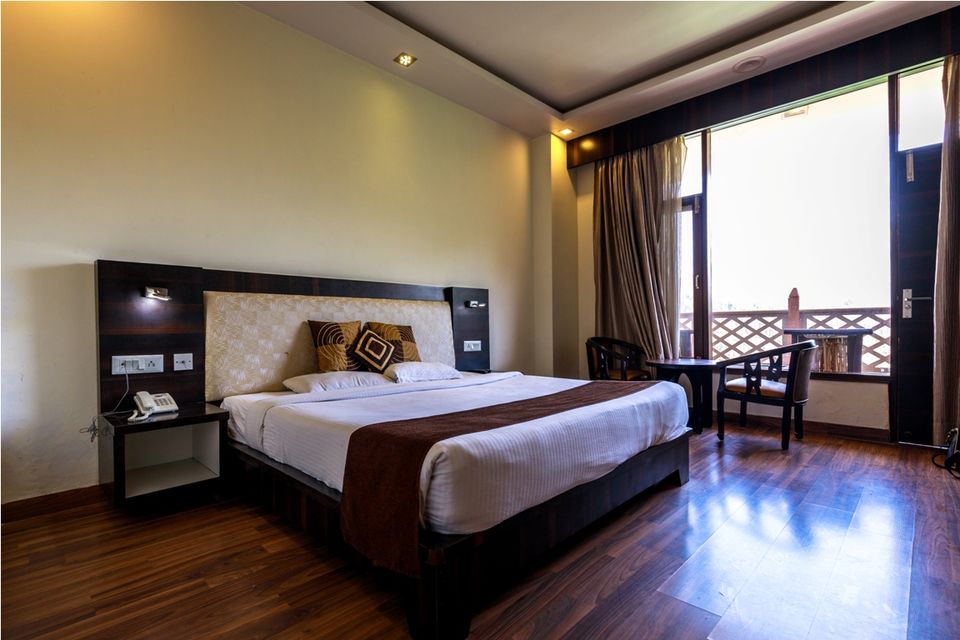 Well, I am talking about Aamod At Bhimtal. The property located at an elevation of 1370 meters above sea level is great for a weekend vacation with family and friends. Imagine staying in a hotel surrounded by dense oak and pine forest!
Ideal for
It is great for young and elderly alike. Not only is it suitable for couples, even friends and families can bond with each other by engaging in the many activities available in and around the property.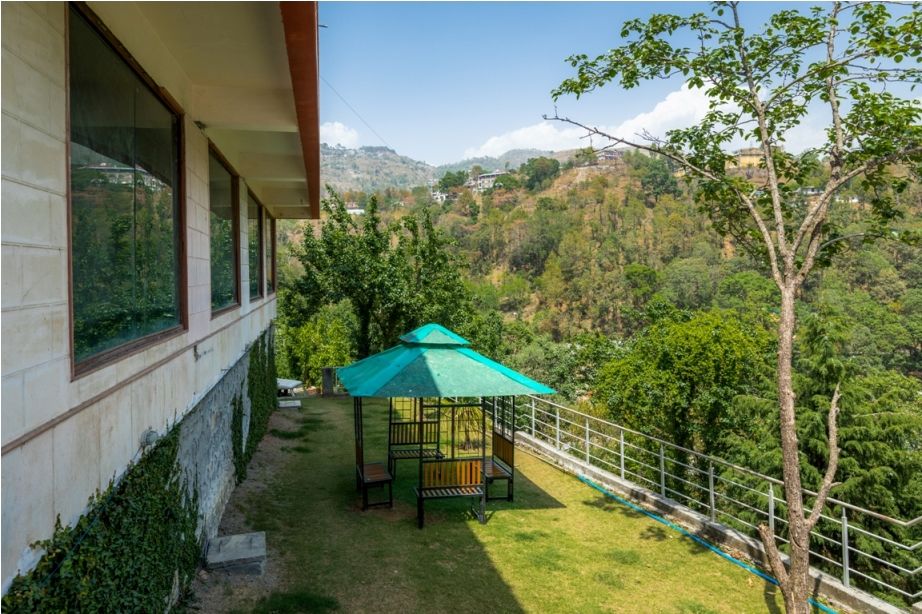 Aamod At Bhimtal, Uttarakhand:
As soon as we arrived in Aamod At Bhimtal, we were welcomed with rhododendron juice. It is a mountain flower found in abundance in Uttarakhand, especially in the month of April-May. Locally, it is called buransh.
Despite it being a weekend, me and my friend were pleased to see that Bhimtal is still pristine and unspoilt. Compared to its more famous cousin Nainital, Bhimtal and Sattal are much more secluded and quieter. Aamod At Bhimtal, thus is a preferred destination for those who want to escape their daily grind and commune with nature in silence.
What attracted me the most about Aamod At Bhimtal was its location. As we drove through the clean roads, canopied by dense forest, we arrived at the main lake of Sattal within 10 minutes. En route, we stopped to soak in the panoramic views of the famous, yet less frequented Sattal lake, garuda lake and Studio point. The birds's eye view put the beauty of this region in perspective.
The awe inspiring views encouraged many travelers to make a pit stop too. They sat by the roadside and enjoyed the breathtaking views. The best part is that you can walk upto this point from the property.
About Aamod At Bhimtal: Paradise unplugged!
The tagline of sprawling Aamod At Bhimtal is 'paradise unplugged'! I couldn't agree more! As soon as our car entered the premises, our eyes were treated with greener in every direction. The property is inundated with trees, plants and shrubs of all kinds. Despite being built on many levels, the property is suitable of senior citizens to as there are elevators and the dining area is on the ground floor. What's more? Other facilities such as the recreation room (table tennis, snooker), activity room, the pool area, restaurant, bar, banquet and the conference hall are built in proximity of each other. This is a very good feature since it allows the guests to move quickly from one place to another and they can also be engaged in different activities and still be close to each other.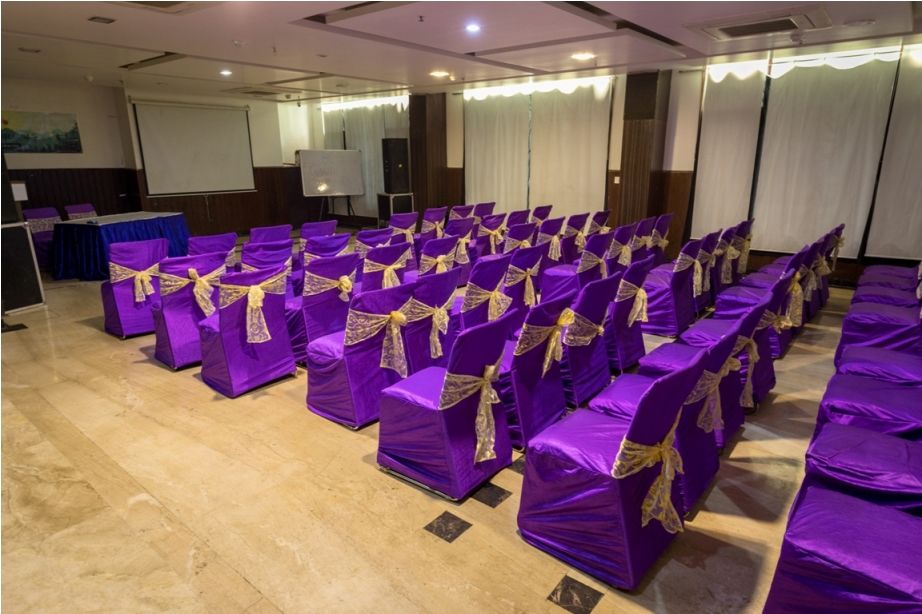 The property is also a great venue for celebrating special occasions such as birthday parties, kitty parties, engagement, wedding anniversaries, honeymoon and even a wedding. The property has established itself as an offbeat wedding destination. Imagine being married in the midst of nature!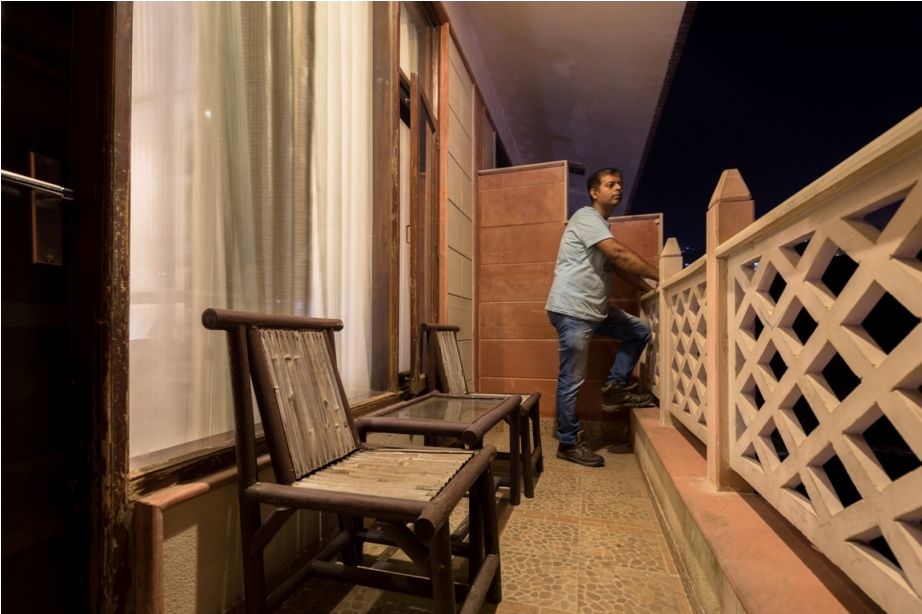 The cozy rooms of Aamod At Bhimtal:
Some of my friends who had already been here before had told me great things about the private balcony of the rooms at Aamod At Bhimtal. So, needless to say, as soon as I entered my room, I checked out the balcony the first. I was overwhelmed by the views of the greenery all over. I could hardly see any man made construction. It was unending greenery all the way! No wonder, I spent much of my time in the balcony. Since there were two chairs and a table, we even relished our room delivery order here.
In case you want to lie own in the comfort of your bed and still enjoy the views, it was possible. The large windows allowed unhindered views of the valley.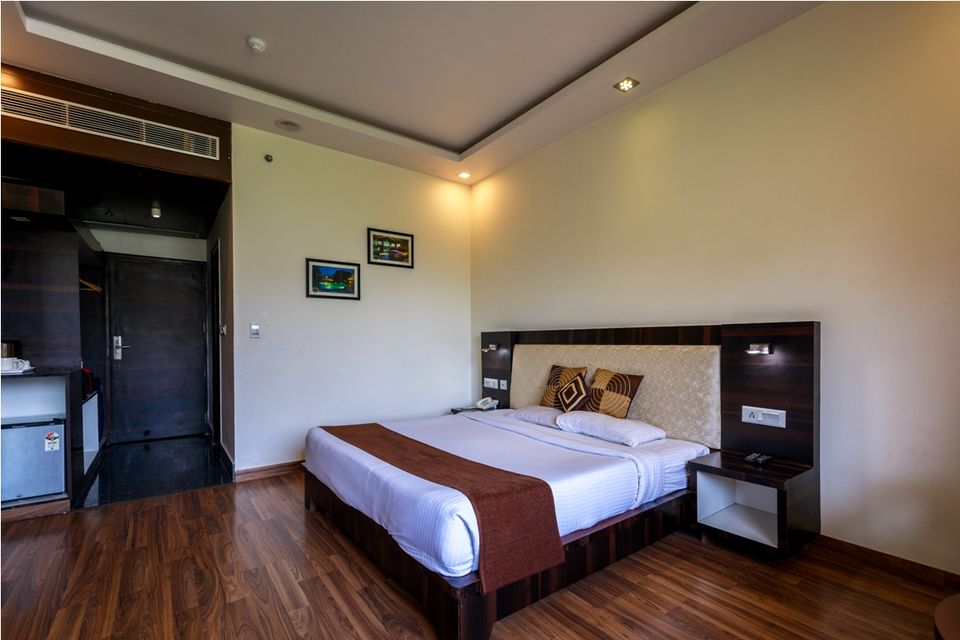 The spacious room was well stocked with amenities. It had a TV, lamps for mood lighting, side tables, intercom phone, safe and a wardrobe. They even had a guide to places of interest nearby and of course the menu card for room delivery.
The bathroom was of decent size and had a glass panel to separate the shower area and the W.C. and wash basin. The hot shower was set to the right temperature.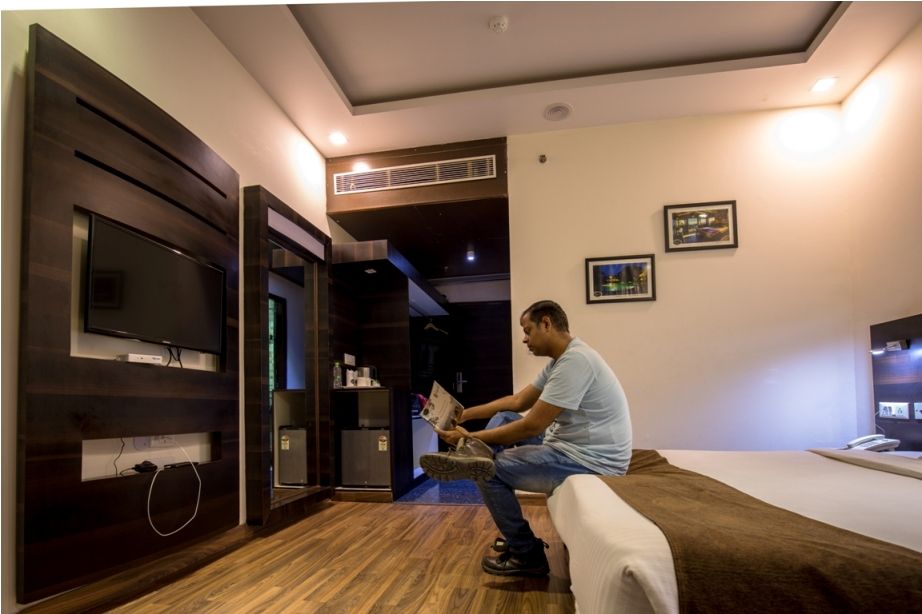 What to do here and around the property
We were spoilt for choices in Aamod At Bhimtal. There was so much to do here. However, w e had only 3 days but we still made the most of it. Below mentioned activities are arranged by the property under the tutelage of their expert in house activity manager.
Bird Watching: Both Bhimtal and Sattal is a heaven for birdwatchers and photographers. More than 400 hundred species of birds are found here. No wonder, it attracts birdwatchers not only from all over India but also from many other countries. The best part is you can even spot many birds within the huge premises of the property. For example, we spotted the rare Mountain bulbul near the pool area.
Treks and hikes: You can explore some of the trekking trails near the property. The trails pass through dense forest, water streams and local villages.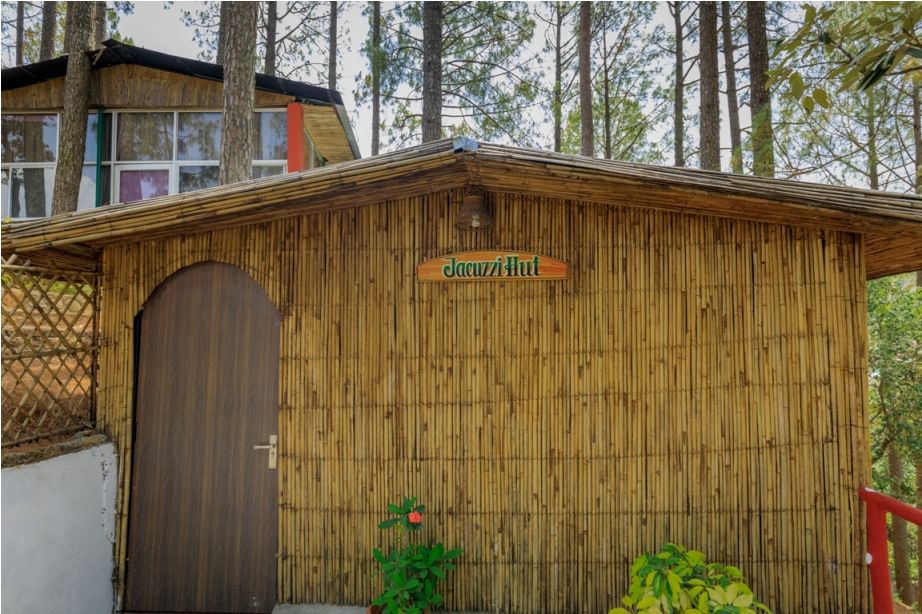 Jacuzzi: It is one of their USP. They have an exclusive private Jacuzzi room. It is made up of wood. One of its walls is entirely made up of glass and faces towards the verdant valley. So, you can enjoy a private Jacuzzi session in ultimate luxury and of course with gorgeous views. What's not to love?
Lake hopping: It I unfair to come to Aamod At Bhimtal and not visit lakes such as Nainital, Bhimtal, Sattal, Garuda Taal, Nal Damyanti Tal, Naukuchiatal etc. Sattal is the most beautiful one where you can indulge in boating and a walk around the lake.
Temple hopping: There are many famous and old temples in the vicinity such as the Bhimkeshwar temple and Godhakhal temples.
Excursions: Many exciting destinations such as Binsar Wildlife sanctuary, Almora, Ranikhet, Shitlakhet Nainital and Mukteshwar etc are just few hours away from Aamod At Bhimtal.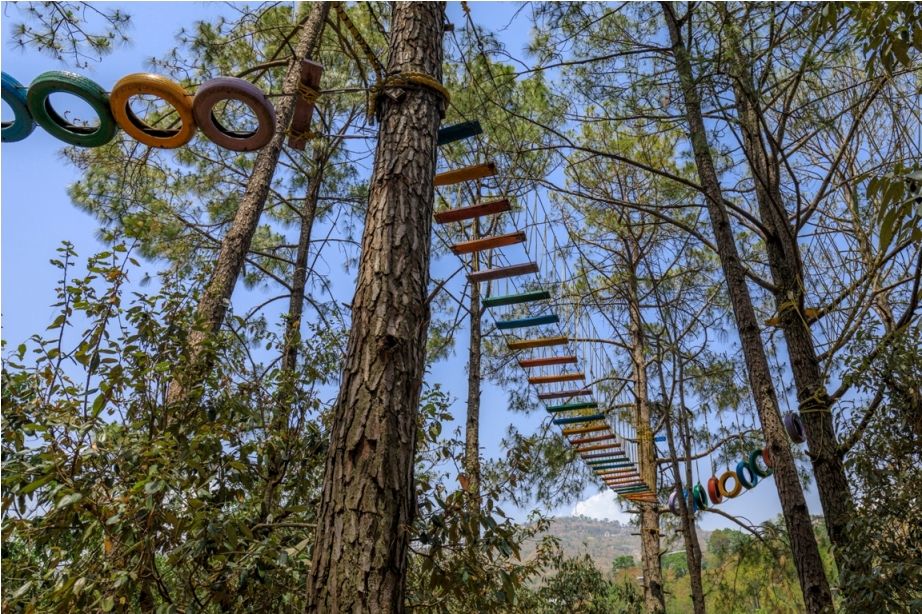 ADVENTURE ACTIVITIES AT AAMOD AT BHIMTAL, UTTARAKHAND:
For those who are into adventure, Aamod At Bhimtal offer varied activities within its campus. There is a lot one can do here. For example, one can try ziplining or rappelling or Rope Bridge Walk, Commando Net or cross the Burma bridge or even enjoy a session of paintball, basketball or badminton. For those who like indoor games, they have facility of table tennis, chess and carom board.
This place is apt for cycling enthusiasts. I would suggest that you should do cycling from the property to the beautiful Sattal lake. The route is picturesque and pollution and vehicle free.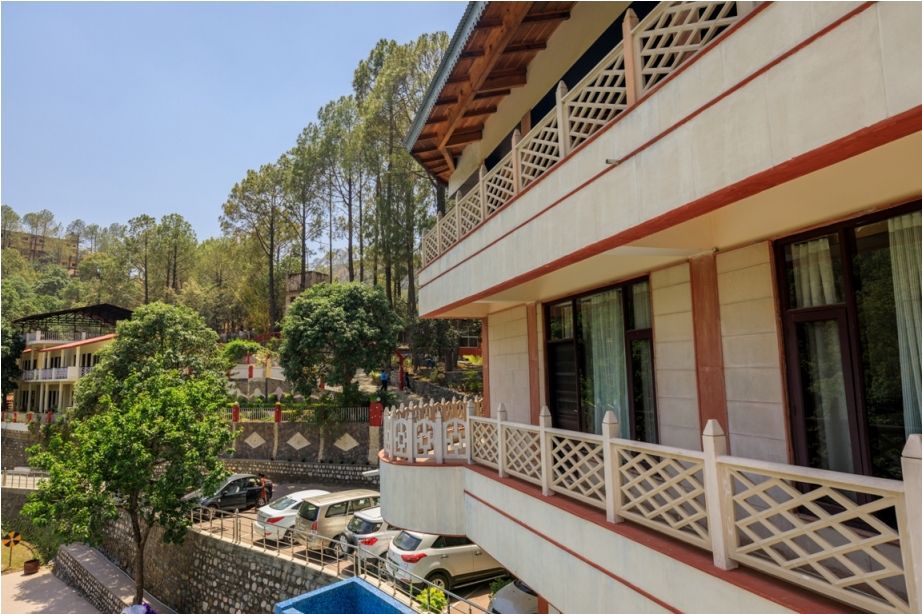 FOOD:
Having sampled both a la carte and buffet food, I can vouch that the property excels in both.
We ordered dahi ke kebab, penne a la arrabiatta and cold coffee in the room. The service was quick, the portion size huge and the taste was perfect.
The breakfast buffet had something for everyone. I binged on my favourite poha, idli, litchi juice, buttermilk and sprouts. The option of chola bhatura, poori bhaji and stuffed parathas was also there but I stuck to the healthier options.
The main course buffet was lavish, what with a variety of Indian and Chinese food available. My favourite pick was Paneer kali Mirch and Chinese noodles and mix vegetable in sauce. The healthier tawa roti, daal tadka and steamed rice was also on offer every day. For desserts, they served ice creams and kheer.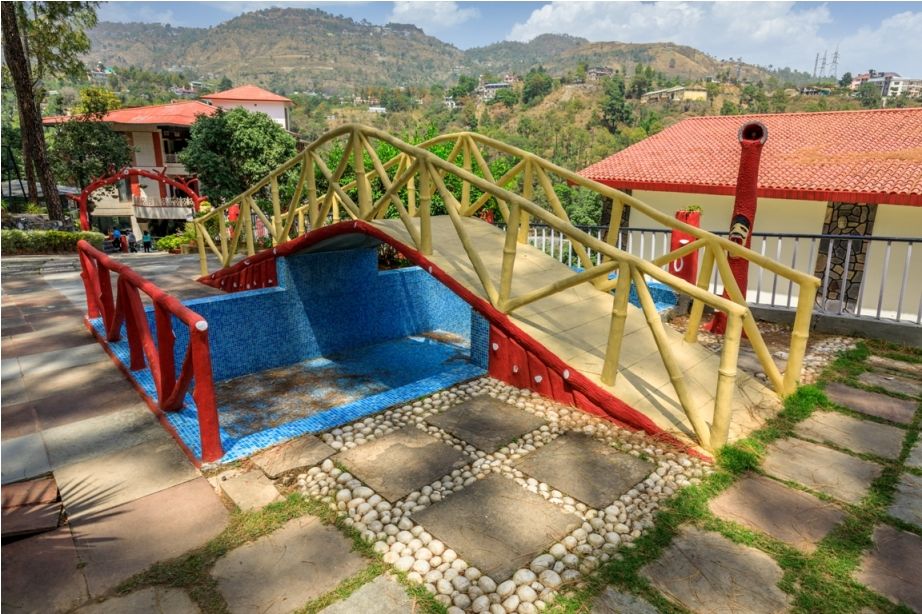 Cost:
Their executive room rate starts at INR 4,000 per double and Deluxe suites start at INR 7,400 per double. Pls check this page for details as the tariff changes as per the season.
HOW TO CONTACT AAMOD AT BHIMTAL?
You can book with them by visiting their website or on below contact details:
E mail: reservations@aamod.in
Phone: 9213022540 | 9213022541 | 9213022542
Best Time for bird-watching in Bhimtal and Sattal:
Bhimtal is a year round destination. If you are into bird-watching then October to June is the best time.
Getting there:
By Road: It is an easy 7 hours drive from New Delhi.
By Train: The nearest railway station is Kathgodam which is just 45 minutes away from Aamod At Bhimtal.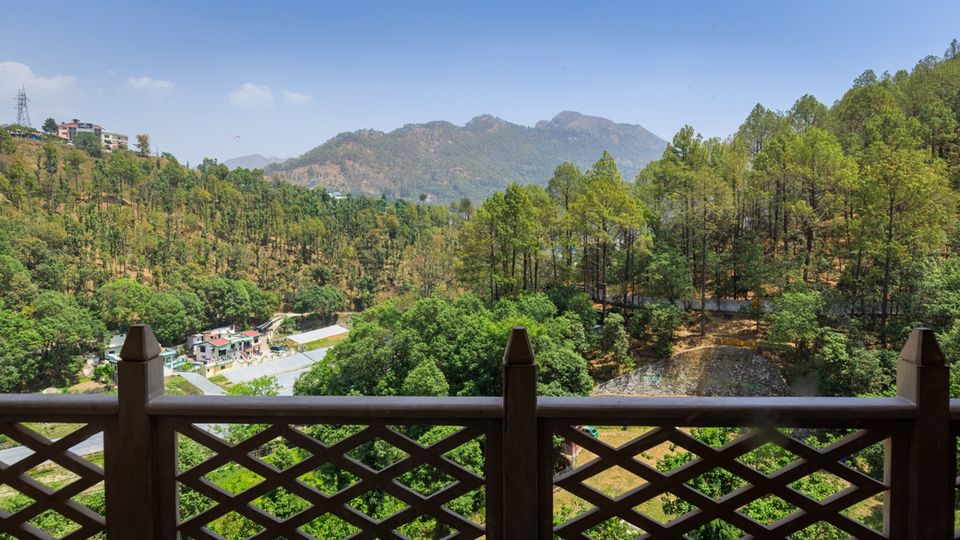 About author- Abhinav Singh is a New Delhi based award winning travel blogger, writer, photographer and V Logger with 18 years of experience in writing. Abhinav has been listed as Top Travel Blogger from India many times. He has been to more than 200 destinations since last 10 years. He writes about his travels on his blogs and social media channels. You can follow Abhinav at-
Blog- A Soul Window
Social media- Twitter - Facebook Page - Instagram - You Tube