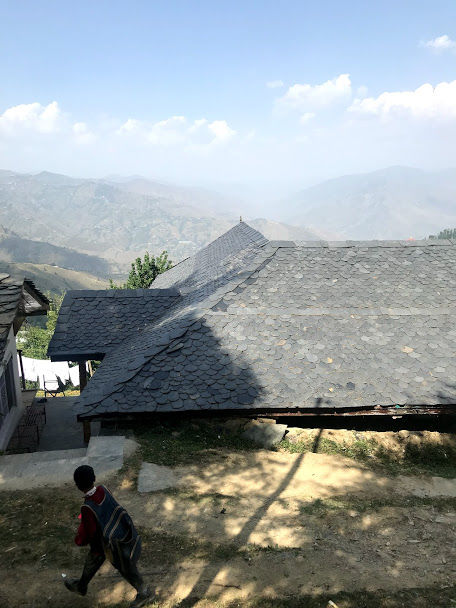 This summer was dedicated to the majestic hills of Cheog, and as such allow me to walk you through the experience.
Cheog is a hidden gem located in Theog's Shimla district , which certainly makes for the perfect place if you want to give yourselves a break, away from the hustle and bustle of the city. Amidst the lush green apple and peach orchards, this little village sits with utter innocence, and houses people that are generous, loving and kind-hearted. While the trees covered with white nets are certainly eye-grabbing, this little village is easy to miss, so take notes fellow travellers!
This quaint beauty, located 1000 feet above Shimla, is an ideal stop to amble through fruit trees, soak in their refreshing aroma and pluck some fresh fruit off the tree. Enjoy gorgeous views of the exuberant green hills, terraced farms and low hanging clouds playing hide and seek with the mountain slopes.
How to reach: Upon reaching Fagu, take a right turn and drive for 4 km till you reach Cheog.
By Bus: All the outstation buses come via Shimla and from thereon you can either hire a cab/shared taxi or board a local bus to Cheog.
By Air: The nearest airport is Shimla Airport which is located 43 km away from Cheog. You can make the onward journey to Cheog by bus or taxi, with the approximate fare for taxi being - INR 1000 - 1500.
By Train: The nearest railway station is Shimla which is located 25 km from Cheog. You can make the onward journey to Cheog by bus or taxi, with the approximate fare for taxi being - INR 800 - 1200.
We started our journey on a Thursday night, and decided to stop at Shiva Dhaba in Murthal to satiate our hunger. We filled our bellies with the ever so tasty Dal Mkahni, White Butter and Aloo Pyaaz Paranthas. With a couple of hiccups along the way, we finally reached our destination - Mariners's Homestay, Cheog the following morning at 11.
Upon our arrival, our hosts waved at us enthusiastically making for a warm welcome, after a tiring journey. Our host, a seafarer, who lives with his beautiful wife, and they both cater to the guests as a team. The one thing about them that struck the chords in us was how they incorporated practical science, or as us millennials have termed it, 'hacks' into their day-to-day lives. For instance, they had attached a pulley used at ships as a lift for the luggage which ended up being a tremendous help.
At the beginning, we were a little hesitant to talk to the locals, we obviously felt a little out of place amongst them. And if I am being honest here, we had become the talk of the town (not bragging, and certainly not proud of it) in those two days.
But after a while, we warmed up to them, and asked some of the locals who were quietly farming if we could just stroll around the orchards. And being the generous souls that they were, they agreed and welcomed all of us with open arms. But alas, their german shepherds didn't. Their continuous high-pitched barking terrified us to our very cores, but gladly the locals came to our rescue and calmed them. After that incident, they let us pluck some tangy green apples and undeveloped sour peaches to take back home souvenirs.
We then went to a forest nearby, and there we spotted some school boys who happened to be playing Volleyball at the moment, and we joined in on the fun. My friend, an amazing volleyball player, taught the little boys some tricks to woo the girls. But much to our disappointment, we couldn't explore much because it was getting dark and returning back to the main market where the homestay resides, was necessary. On our way back, we indulged ourselves in some delectable Pakodas and Samosas.
As the sun was about to set, we were ready with our drinks and snacks on the terrace to make the most of the night ahead of us. A couple of drinks later, the moods were set and we sat there, with drinks in our hands listening to hearty unplugged Bollywood music, we experienced the cold breeze sliding through our faces, and the warmth of our hosts while they were serving us the snacks.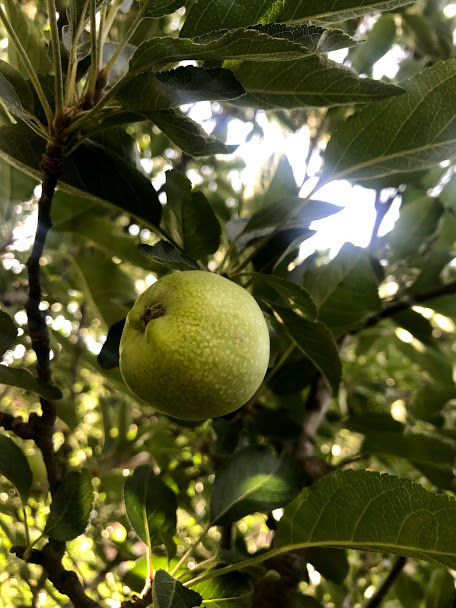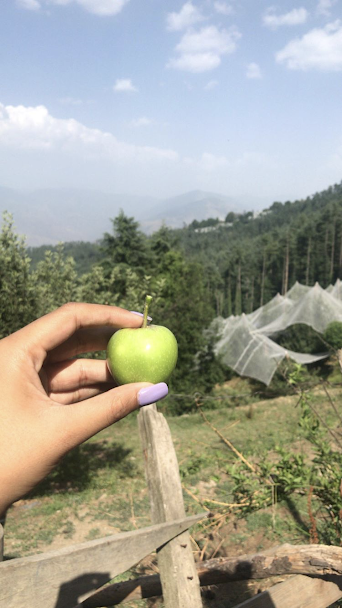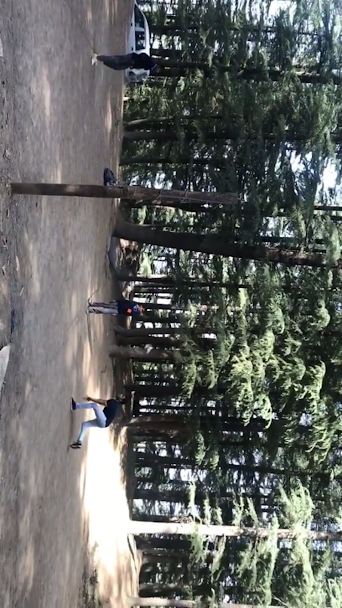 DAY 2
When the sun rays struck, my best friend and I got up and went to the terrace to enjoy the hills clothed with thick Oak and Deodar trees, and soak in the gentle warmth of the sun. After a while, we saw our host coming with a glass of warm milk in his hand, and then the three of us ended up chatting for over two hours! Since my brother also happens to be a seafarer, we talked about the oceans, lands, ships, and the food around the world. Apart from that, we had conversations about the most randomest of things - Wines, Dough Mixers, gardening, the Delhi metro and what not!
Next, we went to the Apple Farms restaurant, Kufri. Along with sumptuous food, varying over a couple of cuisines, this place also doubled up as an aesthetic picture spot. While we were waiting for our food to arrive, we captured MANY Instagram-worthy shots. And then the food came, and all the cameras were tossed aside, and all of us had an amazing meal in the luscious green outdoors.
We then headed over to the Shimla Mall Road to fill our bellies further (don't judge!). Since, Travellers can't go any further than Deheli, we boarded a local bus, and it cost us only Rs. 5 per person! The bus dropped us off at the bypass, and then we boarded another bus which finally took us to Lakkar Bazaar. Moving upwards to the Mall Road, the clouds were floating and simultaneously touching the brims of the mountains. After catching our breath, we witnessed kids running around with the staple Ice Cream cones you get at a Hill Station and families sitting around The Ridge clicking pictures (Ah! The classics!).
As established earlier, we were there for the food. As such, we headed towards The Krishna Bakery to eat their famous Momo, Kukrej and the delicious Pastries. Along the way, we stopped at many eateries to satiate all of our Mall-Road-Cravings - Pahadi Maggi, Ice Cream, Cold Coffee, Cakes, Shakes. To give our food-walk the perfect ending, we stopped at Baljee's to indulge in their ever-famous Gulab Jamun with Vanilla Ice Cream!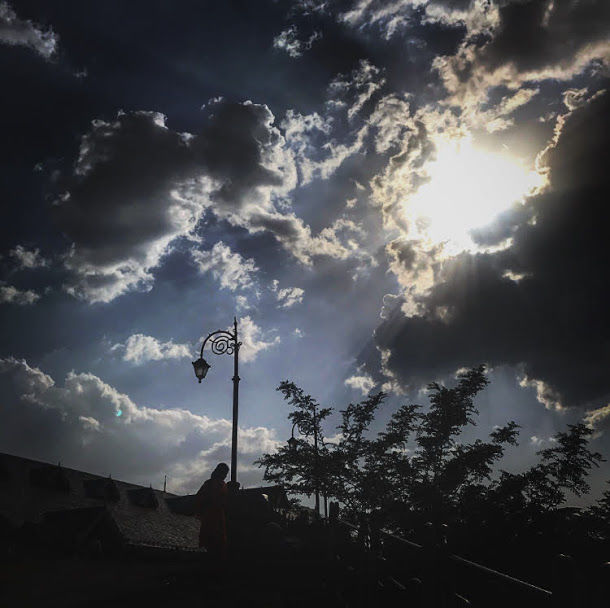 On our way back, we couldn't find a bus so we asked for a lift from a local tempo, and that ride made for an experience we won't be forgetting anytime soon. To explain how it felt, it stood second to the graphics from one of the Bollywood songs called Nazrein Milaana Nazrein Churaana. If you happen to be a Bollywood-buff like me, you'll know how surreal that was!
But, it didn't stop here. When we reached our homestay, we saw the village was all lit up for it was SP's son's wedding. We were overwhelmed with joy when our host offered to take us to the wedding. We went there, enjoyed hearty conversations with the SP and our host, and savoured local dishes which only added to our already wonderful experience.
The next day we headed out for Delhi, and a good 12 hours later (credits to the traffic), we were finally back home, in our beds!
If you ask me, Cheog should be an ideal getaway for you if you want to experience the cold breeze of the mountains, and something offbeat to do. Escaping to this unsung hill made me realise how numb my mind and body were in Delhi's chaotic jungle.