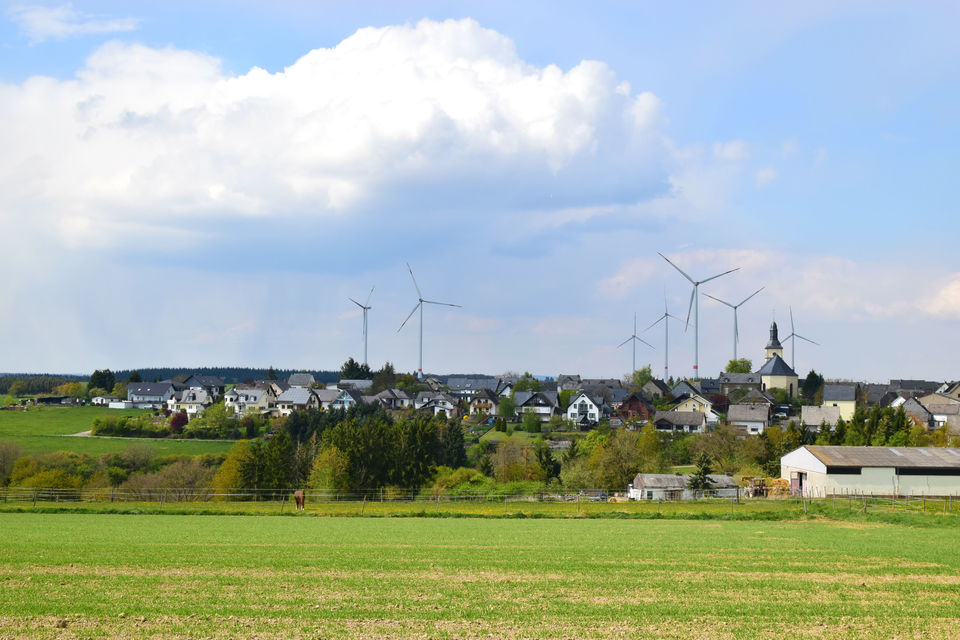 Acrophobia is the word. For most people, any activity or adventure related to heights is a huge adrenaline rush. But to a lot others, it might be a scary challenge. My fear of heights forbids me from standing close to the edge of a terrace or sitting on its parapets, stooping from the windows of a tall building, riding the fancy giant wheel, or for that matter, walking across bridges.
I came across images of the Geierlay Suspension Bridge for the first time on Instagram, where people were either bucket-listing it, or tick-marking their lists. It was not really a part of mine. Setting foot on a narrow swaying bridge with a gorge beneath was not exactly my idea of an adventure. However, I have to admit that the photographs lured me for a visit. And when a plan of driving down to Germany popped up, visiting this bridge became an indispensable part of the trip. Soon enough (with my personal plan of only watching the bridge from a distance) we found ourselves driving to a quiet German village.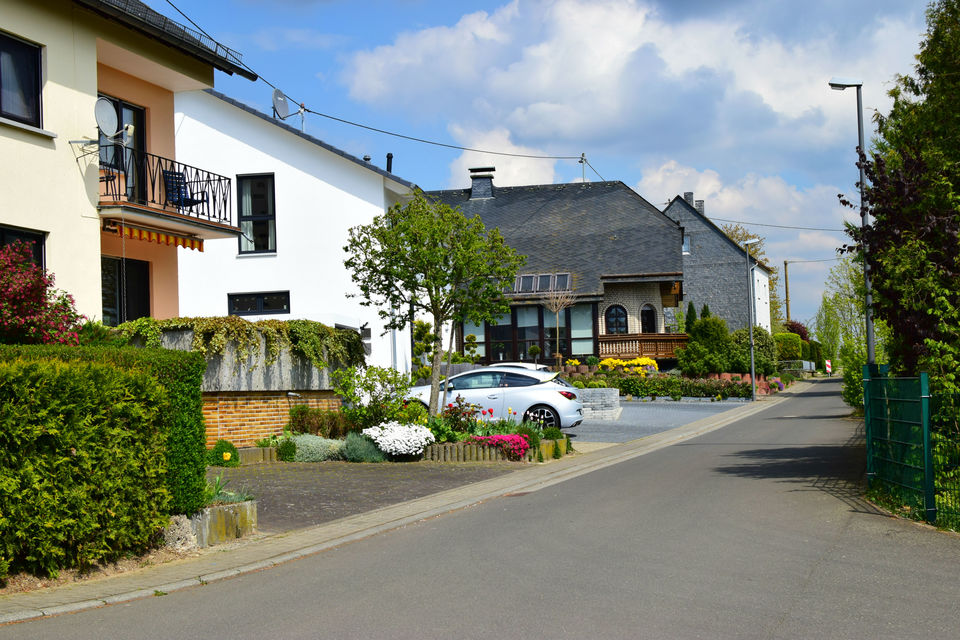 Where To Head To?
Morsdorf is a little village in the western part of Germany, with less than a thousand people. The Geierlay Suspension Brigde connects Morsdorf to a village called Sosberg on the other side, all located in the Hunsruck mountain range. Though the bridge is accessible from both the villages, it is Morsdorf that promotes and attracts all the tourism associated with the bridge, and that is where one needs to head to.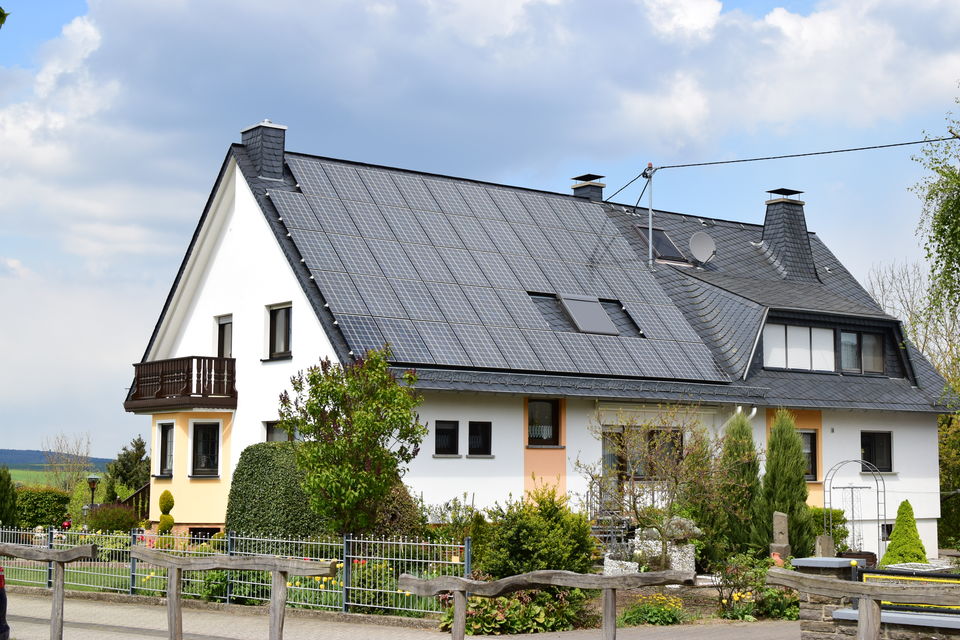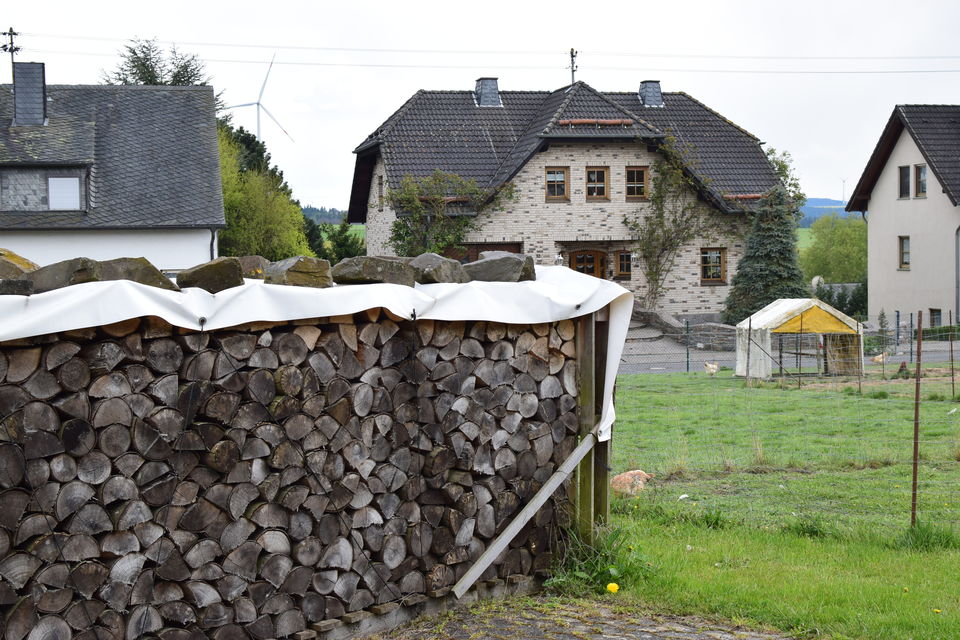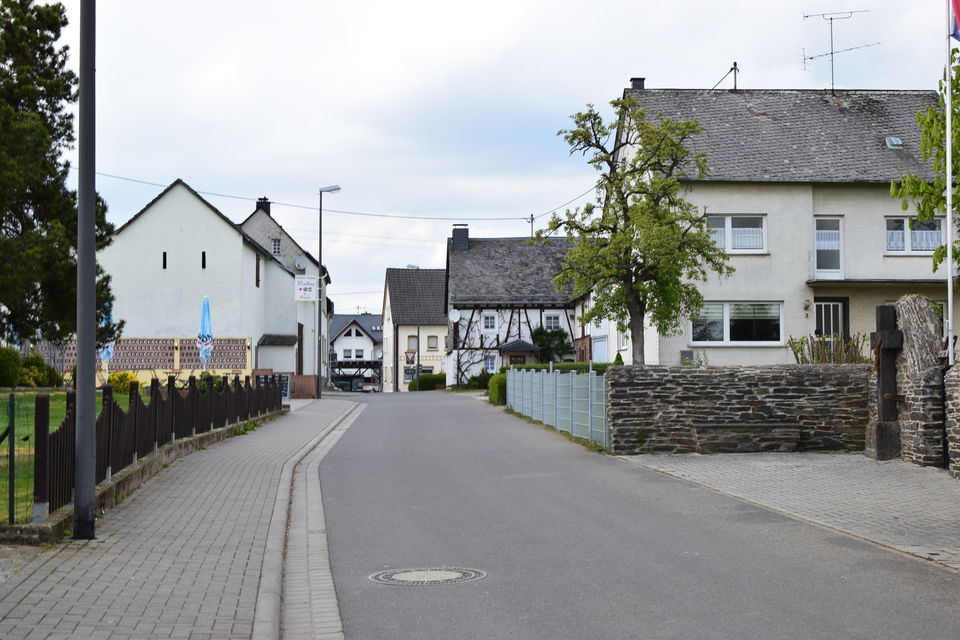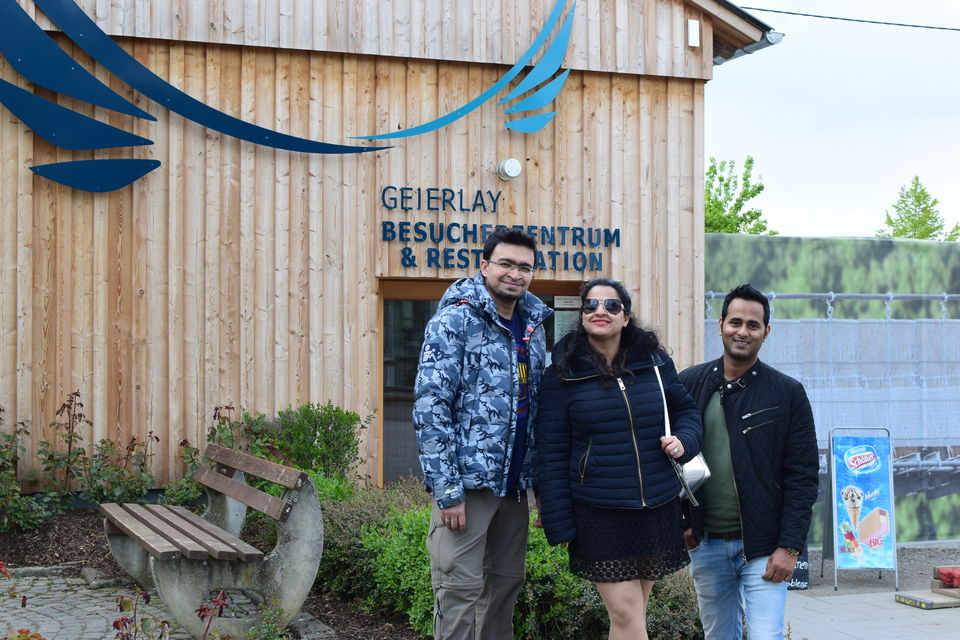 Walking To The Bridge
The Visitor Center at Morsdorf is the primary point of contact for anything related to the suspension bridge. It has a considerable area for parking for the visitors and a pleasing cafeteria with both indoor and outdoor seating. There is no entry fee to the bridge and all one needs to pay for is the parking fee. The long but pleasant walk to the bridge begins from here.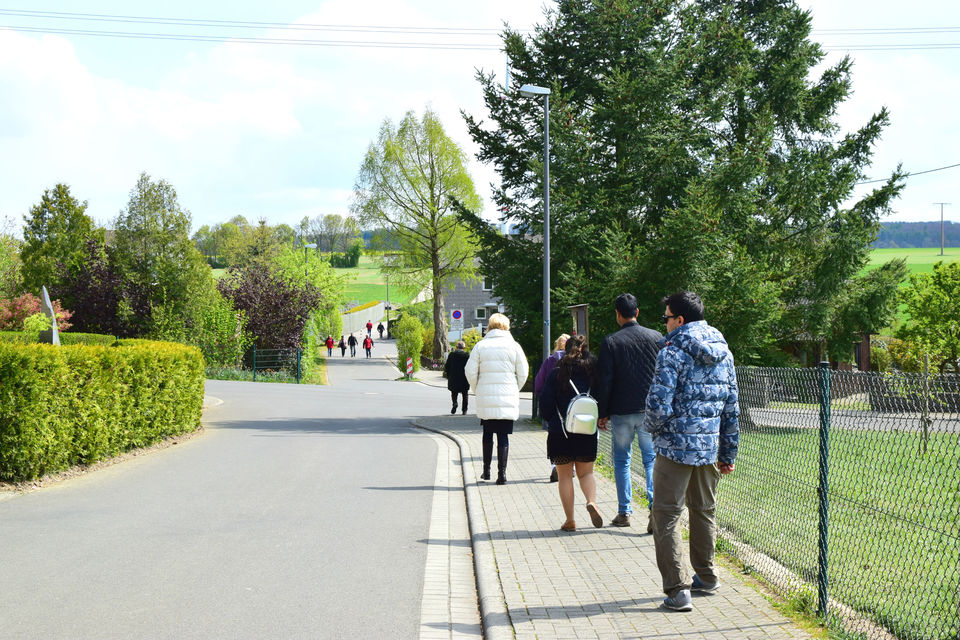 The village resembles one of those places that we visualize while reading classic literature; pretty cottages, stacks of firewood in the barns, a distant church, expansive undulating lush green fields, horses grazing, vast beds of seasonal flowers, windmills at the backdrop, and a perennial silence all around.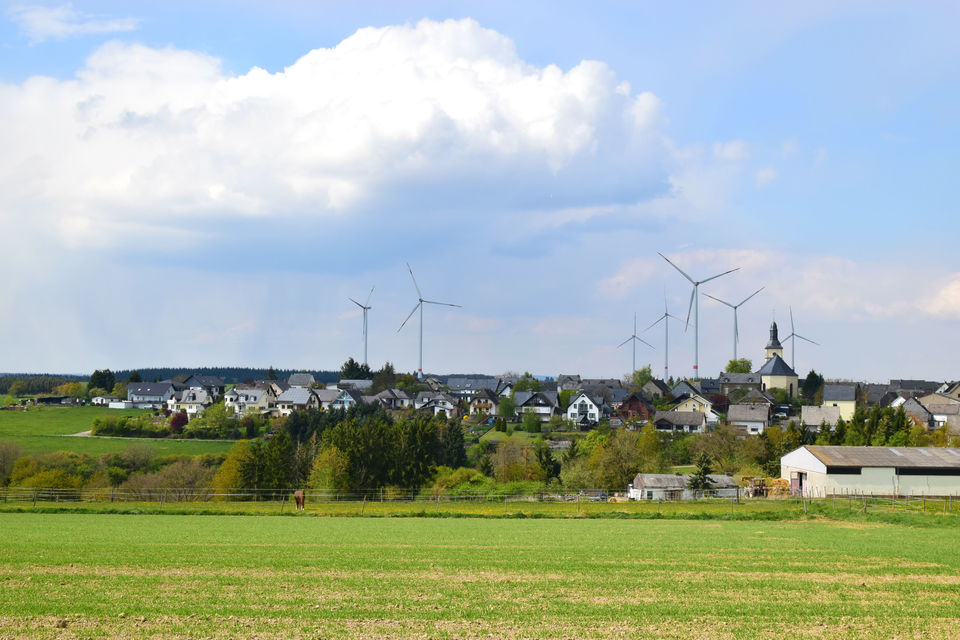 The only people on the streets are tourists who are making their way to the bridge. The road ahead does not cater to any amenities like public toilets or snacking kiosks as yet, since tourism here has just about begun.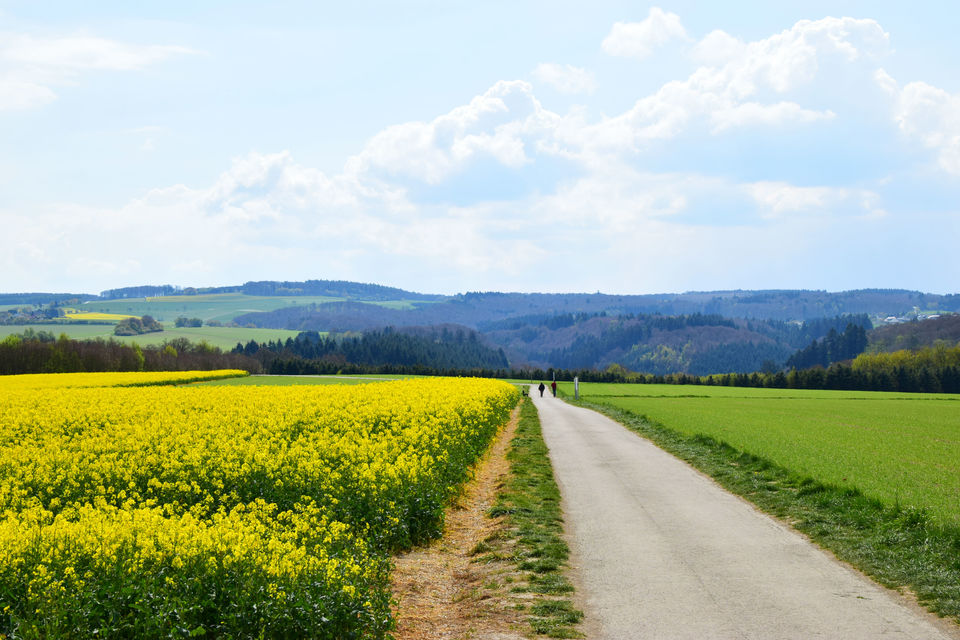 The bridge was inaugurated in 2015 and the area has had a footfall of around half a million visitors since then. When just two steps away, the bridge looks both enticing as well as intimidating.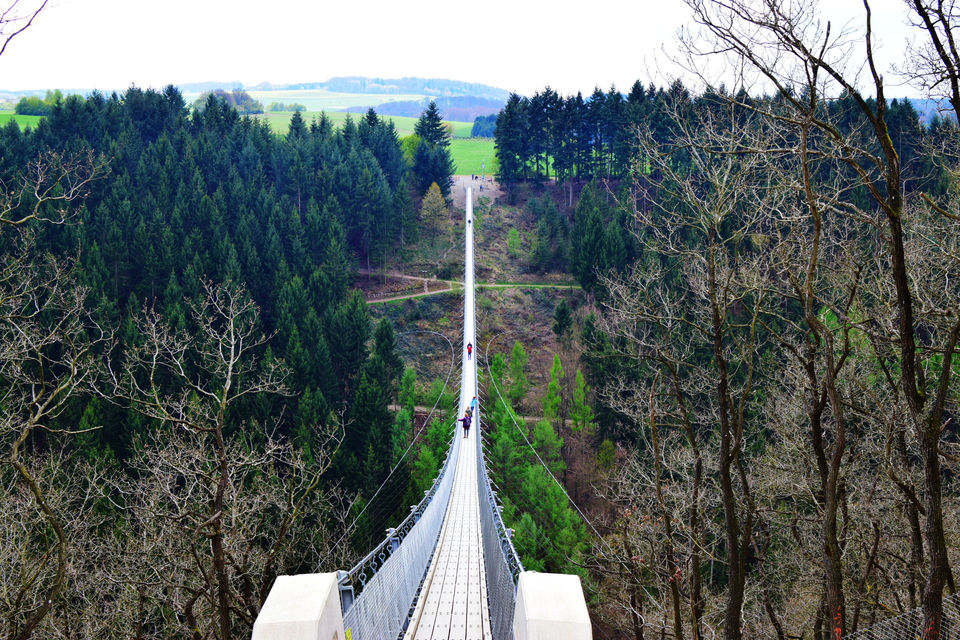 For most visitors , the 360 meter long and 100 meter high bridge is a pleasant walk with a little oscillation here and there. But for the ones who are afraid, that swaying can send butterflies in the tummy. Survey has it that while most people make it through to the other side, many also return halfway through and many others just watch, without any attempts of walking on it. It can get a little terrifying when windy.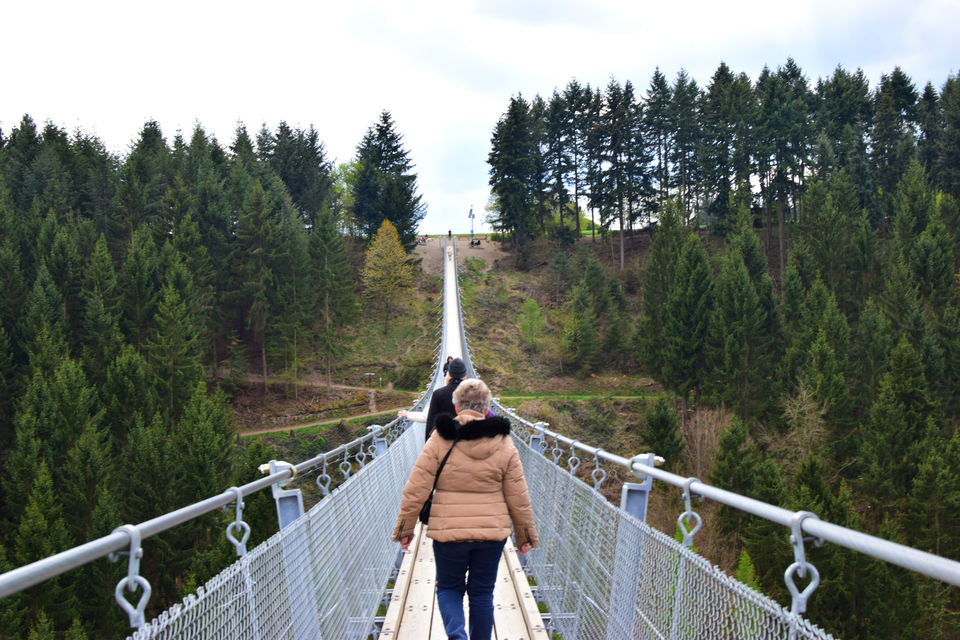 The view as you walk along the bridge: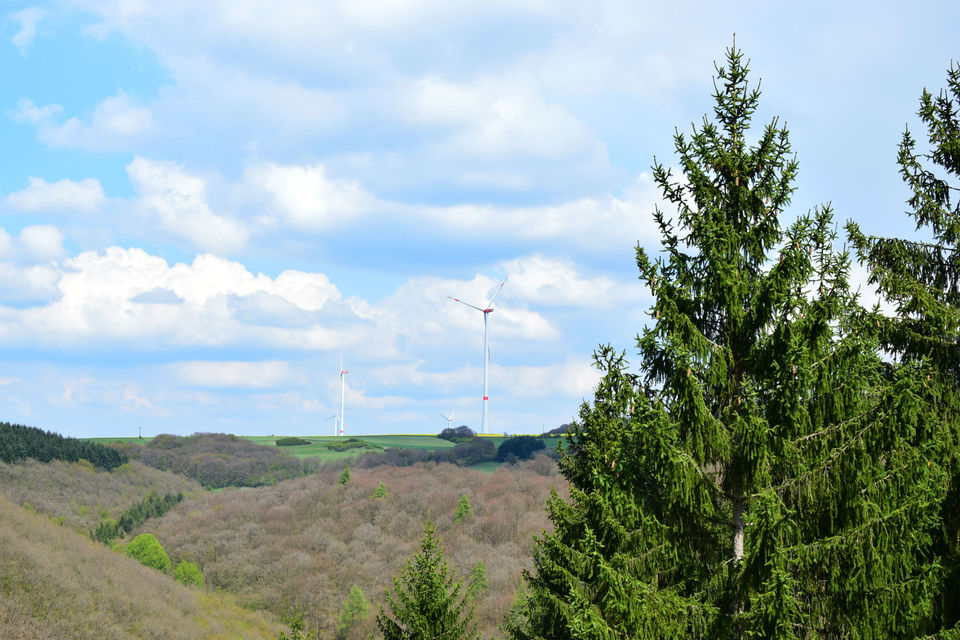 Hiking Around
With a stunning landscape around, this area is an ideal place to hike, and is home to some of the very beautiful hiking trails in Germany. Route maps are available at the visitor center. The signage boards make it quite convenient for interested hikers. There are different kinds of hiking routes. The shortest one is a 3 km long route while the longest is around 14 km, and both start and end at the visitor center. There is also a 6 km long route for those who do not trust the bridge but would like to cross over to the other side. The visitor center points out that two particular routes offer some striking landscape and interesting spots
There are guided hiking tours available but the frequency of the number of tours is very limited, and could cost around €15-25. A tour takes place every second Sunday of the month, but only if there are a minimum of 10 people.
Where To Eat?
The Visitor Center, Gasthaus Wendling, Guest House Wickert Adams, Rosie's Stehcafe, Museum Cafe, Traditionellar Holzbackofen. The number of cafeterias in Morsdorf is really very limited so in case hungry I would recommend to head to the nearest one instead of looking for more options. The Visitor Center offers a wide variety of food and drinks in their menu.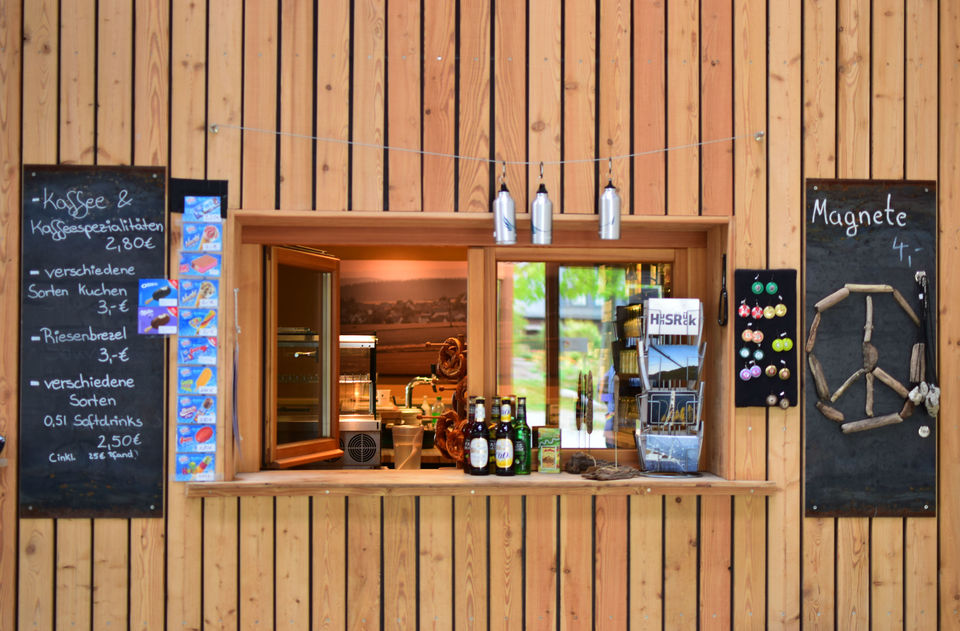 Explore Sosberg
Visit Cochem in the Mosel Valley
Places to Stay
The visit calls for a half-a-day trip but hiking can take more time, and with all the calmness around you might as well want to stay back for a night. There are guest houses and B&Bs in and around the village, some of which are Pension Christ, Pension Plates, Pension Kolzer, Guest House Wendling.
Prices start from €35 per night
How To Reach?
Nearest International Airport: Frankfurt
Nearest Town: Kastellaun, and Cochem
Bottomline
An important fact to note here is that this trip is best made by a car. Since its inauguration, the Geierlay Suspension Bridge is increasingly gaining popularity as a newly sought tourist attraction in Germany. If you are traveling through western Germany, or planning to do so, especially in a car, then a trip to Morsdorf is definitely unmissable.
With a lot of apprehension, but inspiration around, I made it through to the other end of the bridge, and then back again. And today, I am little lesser afraid of heights. Do you want to cross it to?