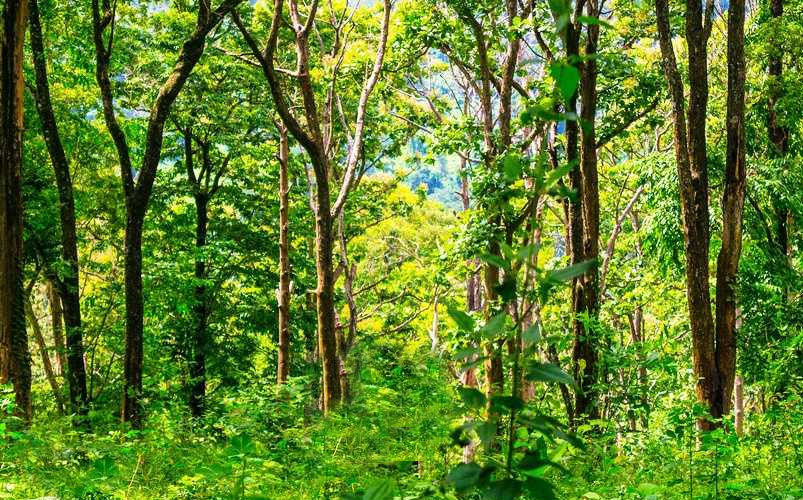 Assam is a rewarding paradise for forest and wildlife sanctuary lovers. Travel 100 km in any direction here and you stumble upon a canopy of green, a forest so thick in its nature that you wouldn't be able to see the sky.
During my recent travels to Majuli Island in Assam I happened to visit one such wildlife sanctuary that was special in many ways.
Gibbon wildlife sanctuary, or Hoollongapar Gibbon as locally known, is popular for its distinction as a host for India's only ape species -- The Hoolock Gobbons. But that's not the only original charm that made me want to visit it recently. The fact that its forest is so dense that the only way to explore it is by opting for a walking safari reason, was the other and the more prominent reason -- a rarity for any national park to have in India, especially when that it hosts big cats like leopard, and also even so, the gigantic elephants.
Planning Your Visit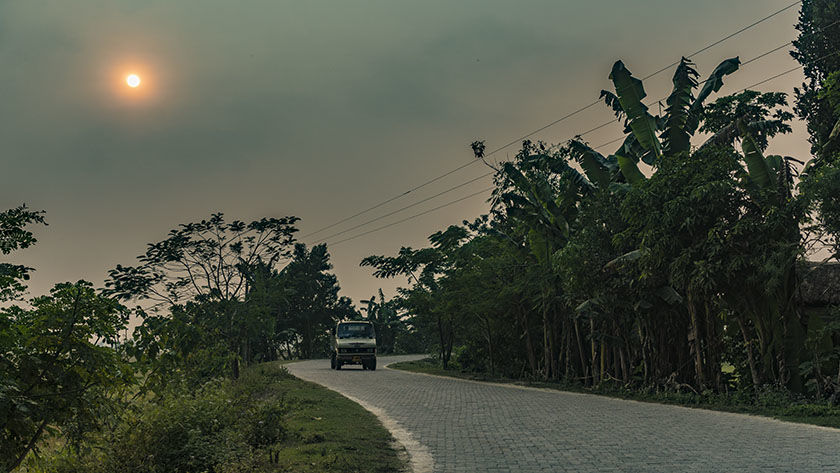 I eneded up visiting Hoolangapar Gibbon wildlige sanctuary during a trip to Majuli Island, when a group of locals told me that from Jorhat getting to Hoolangapar Gibbon is more easier and quicker than Majuli itself.
To get to the Gibbon wildlife sanctuary, all you need to do is catch any shared taxi or an auto-rikshaw from Jorhat to Mariani (Mariani also has a big train station and have regular train connections from Guwahati or Tezpur) for 25 Rupees and you're already there. From Mariani, the sanctuary is only 5km away and ready to hire auto-rikshaws can be readily hired for only 120 Rupees.
The only problem is, if you're looking for a place to stay inside the premises of wildlife sanctuary you only have one basic campsite called Gibbon Eco Camp that comes at a price tag of 1000 Rupees per night. So if I were to advice anything, I'd say advise for staying in Jorhat on a much cheaper price and with better prospects, and do a day trip to Gibbon, unless of course, you want to wake up to the sound of the birds.
A Few Practical Tips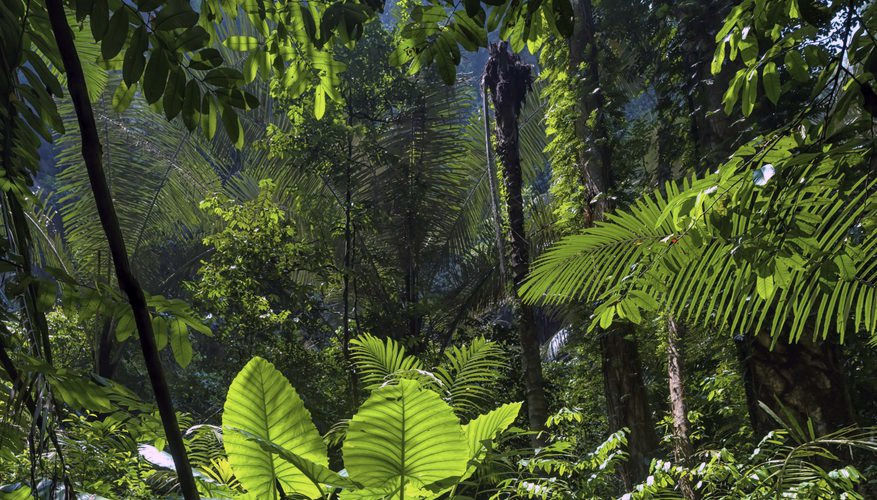 Since the jungle inside the national park is unbelievably dense, no vehicles can technically be driven inside the sanctuary, making walking safaris the only way of exploring it.
It is moreover mandatory to have a personal (or a group) guide to walk inside the sanctuary.
Entry to the park costs 250 Rupees per person, with DSLR camera fee being 500 Rupees. Professional filming is not allowed, unless taken a prior permission.
If you're visiting on a day trip, it's best advised to plan your trip in advance, as prior permission from the Divisional Forest Officer is required to visit this Sanctuary. The permission can be obtained on the spot as well, at the entrance of the sanctuary.
The best months for travelling Hollongapar Gibbon when the chances of spotting wildlife is highest, is between June to July and November to March.
Early Morning is moreover the best time to spot the Gibbons.
Do wear leech socks and carry salt to sprinkle on any leech bite. The sanctuary becomes highly prone to a leech bite during and after the monsoon, making August and September the least suitable months for a visit.
A Bit About The Wildlife Sanctuary
Declared a sanctuary in 1997, the Hollongapar Gibbon Wildlife Sanctuary was once an extended forest connecting Assam with Nagaland. But with aggressive expansion of tea gardens and human settlements the park got fragmented and isolated with the connecting forests. Railway lines passing through the sanctuary further fragmented it. So what's left of the park (only about 200 hectare of land area) is an extension of dense northeast with some of the rare animal species, flora and fauna and birds. The remaining bit of the forest is protected today as a part of India's rare wildlife reserve.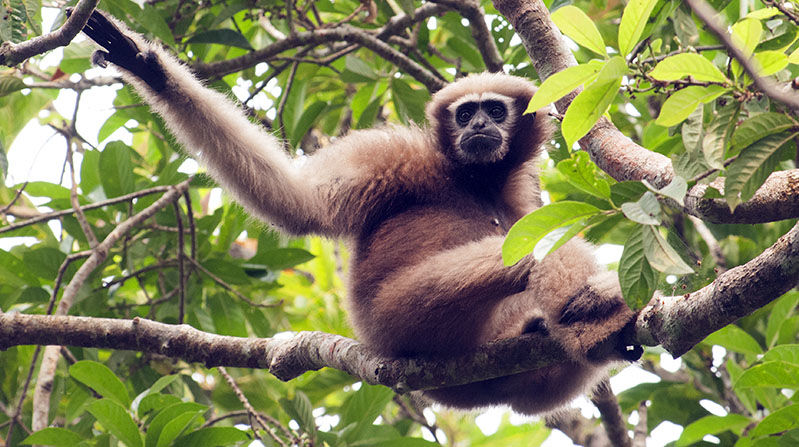 It is now the only home to India's own apes the western Hoolock, as well as the only nocturnal primate in the northeast India, the Bengal slow loris. Other species include Indian elephants, tigers, leopards, jungle cats, wild boar, civet and other things. At least 219 species of bird and several types of snake also live in the park.
The sanctuary has a rich diversity of flora too with different canopy layers. The tall Hollong Trees (that go as high as 90 feel from the ground) form the upper canopy of the forest, and this where you find most money species. Middle canopy is dominated by the Nahar trees at around 30 feet. The lower layer of canopy is made by shrubs and herbs.
You can walk around the jungle for an entire day (or even two) and keep spotting species. And with all the effort for trekking and spotting wildlife on your feet makes it an even better experience. If you're visiting eastern region in Assam and want to explore a town that is Hollongapar Gibbon is an ideal place. And the fact that no vehicle can enter in the park because of natural reason makes the park safe from any commercialization at least in the coming years!