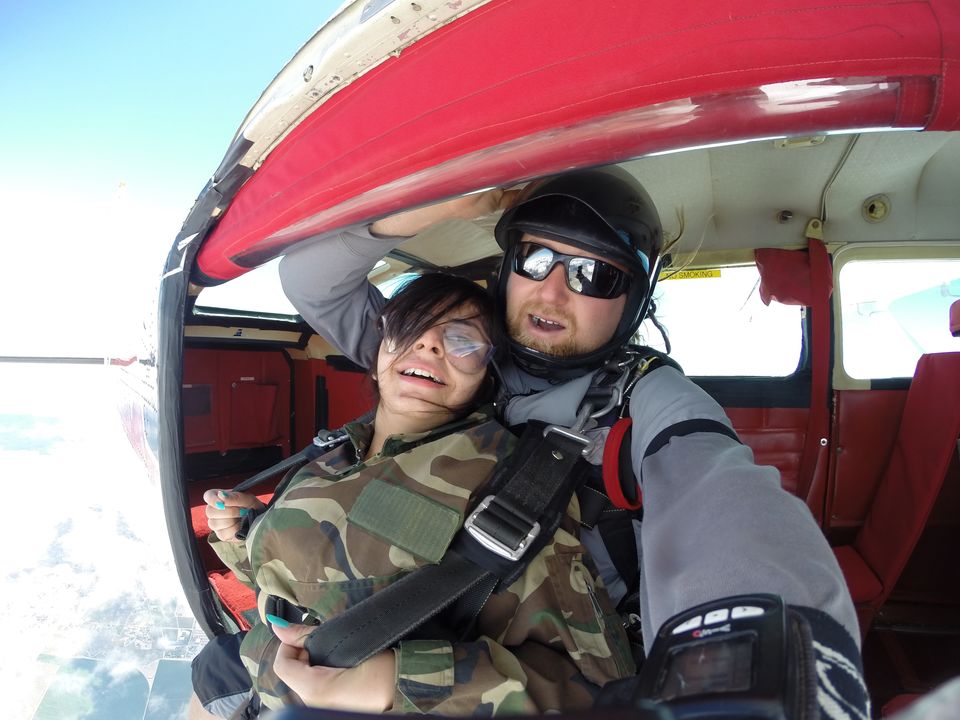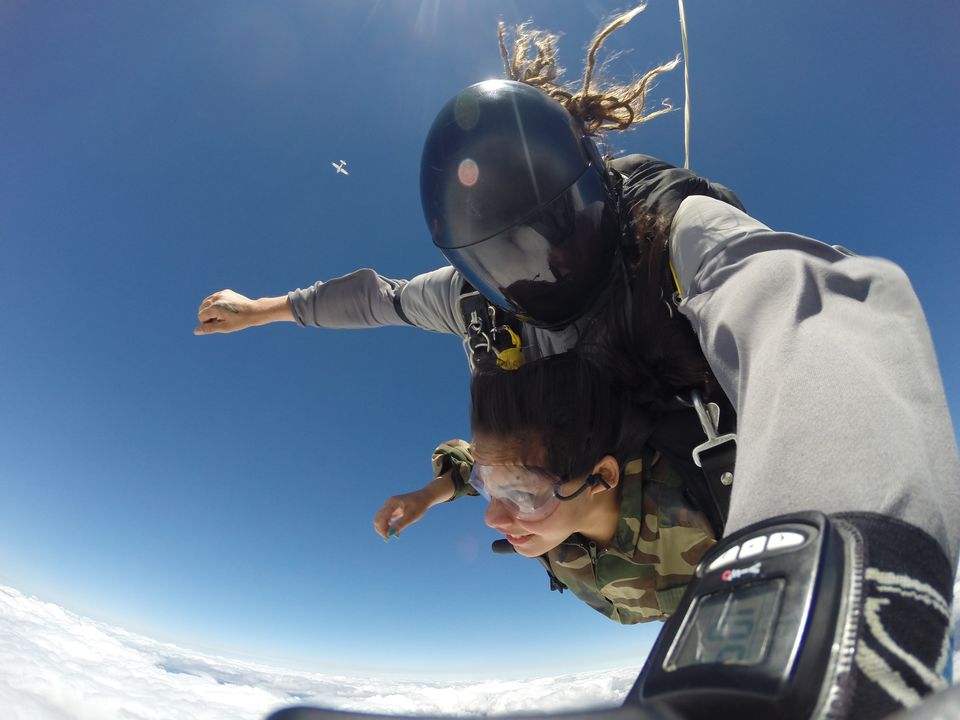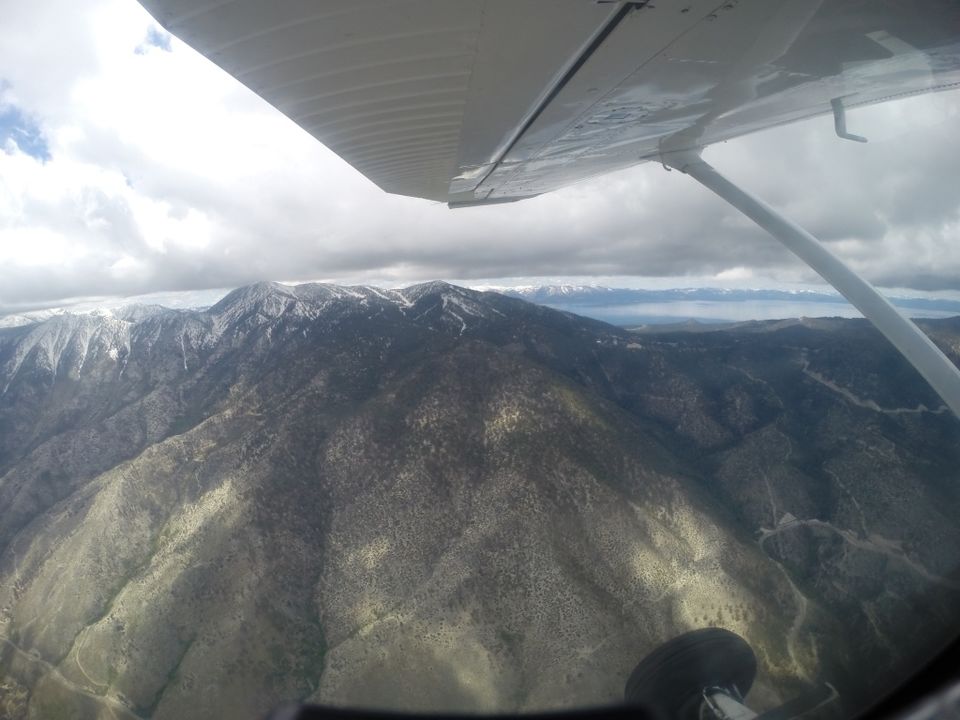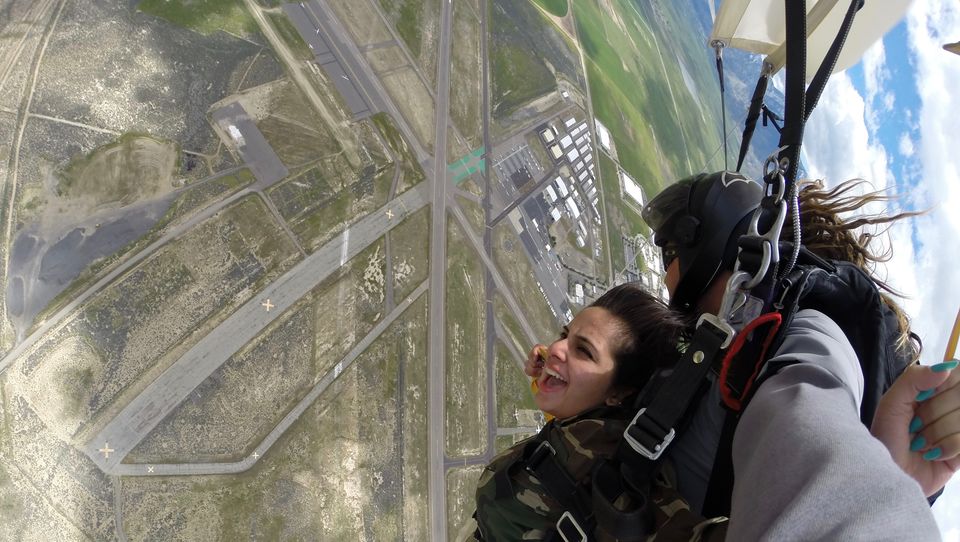 Draining 10 tequila shots in one evening or skydiving, I won't remember what happens on the tequila-fuelled night, but I'll never forget my first dive. Sun glowing mountains, a sea with shades of blue and lush green carpets below and witnessing the best of god's creation.
My nuclear family decided to do something that we have never done before and make a lifetime experience out of it.Our reservations were made at skydive Lake Tahoe, Nevada. We were given instructions and forms to fill in our details on, followed by a short video. Our training took approx. 25 minutes, and we were instructed on the landing positions and laughable floating positions. Then we changed into our diving suits which made us look comically huge, and put on our safety measures, followed by harness. Our instructors drove us to the little airport where choppers and other planes were parked.
Butterflies in my stomach kept growing as the airplane went higher and higher and the land, visibly became smaller and smaller. My face was cold and fingers went numb, which made me feel absolutely paralyzed. My instructor Jerry rubbed my palm in order to make it warm, as I did not have any gloves on. Every time we leaped higher the view of Lake Tahoe surrounded by snow capped Sierra Nevada Mountains became better and it truly was magnificent. And that moment my eyes captured the picturesque nature around and added it to my mental photo album, which I can always preserve. I enjoyed every moment inside the airplane with bewildering scenery in all the directions. Jerry took out some photographs and videos on the GoPro camera, which was fastened on his left hand. He asked me to share what I felt that very moment.
We were flying 12,000ft above the ground, and it was time to get the amazing sensation of falling down through the sky and Jerry who had a record of 3000 jumps and was about to add another one to his record! He folded the small plastic curtain, and we sat as if we were dropping our legs from a balcony but the only difference was there were floating, flirtatious white clouds, and we were right above the Sierra Nevada mountains. Jerry captured some of the final moments in the plane, as it was time for the jump. Nervous as looked down the clouds resemble the whipped cream he said "all you need is 60 seconds of insane courage" and on the count of 3..2..1 we fell backwards and as I opened my eyes I saw that within no time we were floating with the clouds!  Hooting, screaming out of joy, it felt superb, seeing the bird's eye view and wondering how lucky they are to experience it all day, in fact when ever they wished! 60 seconds of exhilarating free-fall! With an incredible eyeshot! The emerald fields displayed the most refreshing view. On an altitude of 5,500ft above the ground, Jerry deployed the parachute and we were floating under a yellow canopy. This 5minute parachute ride funded to more sightseeing. We practiced landing and in few seconds touchdown and landed safely.
My parents hooted, hiving and hugging and asked about my experience, as they were next. I strike skydive from my bucket list. My first dive was truly made memorable!