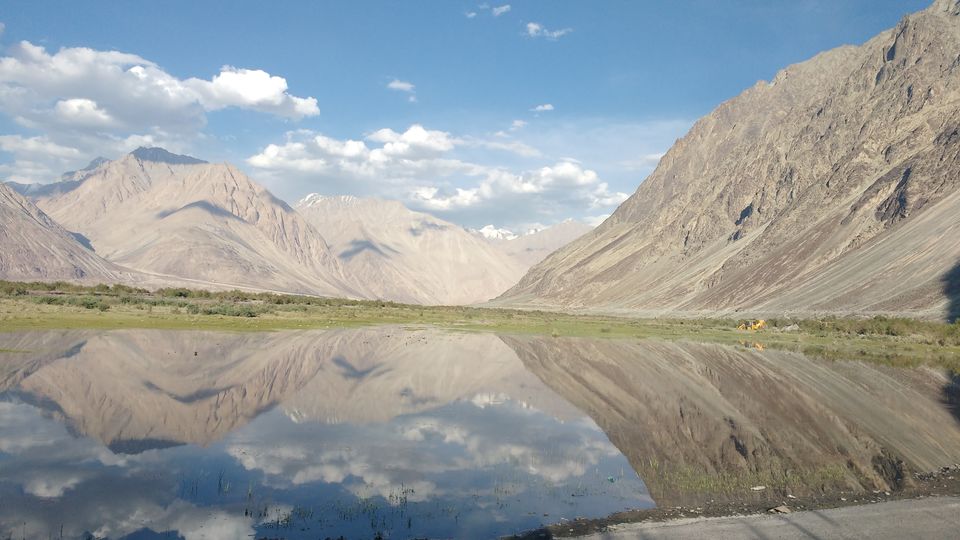 "The best view comes after a hardest climb!!"
If ever I ask an IT professional regarding a favorite place he would like to visit in his life time, the obvious answer would be 'Ladakh'. Most of us want to- 'Just escape' to an adventurous journey after hitting deadlines after deadlines in the IT hub. Frankly speaking I never knew about the beauty hidden in Ladakh till I watched Bollywood movie '3 idiots. Like how, most of the goa group trip plans fail and re-fail, Ladakh trip was a tortoise in the race, for our group.
We had gone on couple of local trips within Karnataka, organized potlucks and sleep overs just for the sake of planning a trip to Ladakh. All I had in my mind was Ladakh is a place to be visited in larger groups and I stand by the same even after my return- Group with Likeminded people is a must !

How to reach Ladakh-
1. Take a flight to Srinagar- travel by road to Ladakh(open from June to October)
2. Fly  to Leh
3. Flyto Manali and travel towards Ladakh
One thing that you should know while planning a trip to Ladakh is 'AMS- Acute Mountain Syndrome' that can attack anybody anytime due to the low oxygen levels. Hence, it's very important to acclimatize to the weather before heading upwards. Option 2 and 3 are generally known to cause AMS quickly as we are directly travelling in an upward direction. To avoid AMS and to save some money with a larger margin, we went ahead with option 1.
Day 1-20th June 2016
Kashmir- "If there is heaven on earth- It is here, it is here, it is here".
Straight from the airport, we reached the Dal lake to stay on the boat house. There are colorful boats taking tourists on a ride, boats selling local souvenir, kesar and fresh flowers, boats with kids travelling to school, boats with talented photographers who can dress you up like a Kashmiri for a pose …what not! There are floating markets to indulge yourself in the pashmina works, Kashmiri arts!! Time flies while taking a ride here and we did not realize that it was 08:00 PM as there was still some dusk light. Foodies have great options to try.
Day 2:
Pehelgam-We had to make a choice between Gulmarg and Pehelgam for Day 2. The boat house owner suggested to go to the latter as there wouldn't be any snow in Gulmarg in June. It was a better decision, which gave us a chance to travel through pine and apple gardens, pass by lakes with frozen water to reach the starting point of the trek.
One needs to take a horse ride to visit a beautiful grassland on the top of a mountain. That was an epic journey. I bow to soldiers in the olden days who have taken continuous rides on the horse back! Trust me! We had broken backs at the end of this climb. After spending some peaceful time, we headed back to Srinagar and stayed in Nigin lake which is less crowded than Dal lake.
Day 3: We had to start our travel towards Ladakh at 400kms from Srinagar that can be covered in a span of 2 days. Passing through a beautiful hill station Sonmarg, we visited the zero point, a snow studded area. Use your bargaining skills for the snow activities in zero point as we had a near bitter experience with the locals. We landed at Kargil at in the evening. There is nothing more or nothing less to be told about our soldiers sacrifices. The below wordings I read there says it all!
"When you go home, tell them of us. And say that for your tomorrow, We Gave our Today"
Day 4: This day was a continuous journey from Kargil to Leh city. There was no single dull moment in this journey as the changing landscapes offered a beautiful site. Posers like me will feel like taking pictures throughout this journey. Leh city is buzzling with tourists and there are shops selling warm clothes, customized t-shirts,necessities and good food. Cozy cafes are the icing on the cake.
Day 5: Its very important to stay in Leh for 2 nights to help yourselves well acclimatize to the low oxygen levels. We dedicated this day to do a sightseeing around Leh covering the Palace, Rancho school (3 idiot fame), shanti stupa, Buddhist temples. We were lucky enough to visit a local Ladakh home which is built with lots of woods to beat the cold in winter. Butter tea is a common beverage in Ladakh where tea is prepared using butter and salt instead of sugar. Rice, chapathi are available in most of the eateries, Thukpa a soupy noodle is a must try.
Day 6: This day proved to be one of the best examples for the changing landscapes in Ladakh. In the middle of snow-clad mountains there is a vast sand dune with double humped camels providing you a desert safari during sunset. That's Nubra valley offering a cultural extravaganza to the tourists. There are tent houses and guest houses offering decent stays
Day7: We woke up to start our journey to the most awaited Pangong Tso, pristine blue waters surrounded by snow mountains. We visited the Diskit monastery and reached Khardungla pass-the highest motorable road in the world. There are warning boards here asking the tourists not to stay for more than 20mins as the oxygen levels are way too low. But to click pictures and have some hot maggi we forgot about the warning that resulted in breathing problem for one of our friends. The army camps came to our rescue .

It is necessary to keep yourself well hydrated throughout the journey. Also carry some ORS tetra packs, garlic pods. Consuming the water with garlic helps increase the oxygen levels. These were some local advises.
Around 4 PM we reached Pangong Tso, a salt water lake partially flowing between India and China. The color of the lake changes with the sunlight. The lake shines in pristine blue when there is bright sun. It was unbearably cold when we reached there. We could hardly stand there, click some pictures. We headed back to our stay. To avoid the stay in tent houses fearing the cold breeze, we stayed in the mud house recommended by our driver. This was a basic stay owned by Tibetan couple. The dinner offered was not that great and we were forced to eat even when we didn't like it. There are not many options available in this place and hence we will have to deal with what is provided.
Day8: We visited the Pangong tso in the  early morning for some beautiful clicks and headed towards Tsomoriri lake. Each of these places were at a higher altitude than the previous ones bringing down the oxygen levels drastically. The journey was beautiful but most of us had light headache due to AMS. People are asked to carry a tablet 'diamox' to overcome AMS. We tried not to consume it as far as things were under control. Tsomoriri is less visited by tourists hence you get to enjoy the lake all by yourself. We stayed in  deluxe tents near the lake that gets very breezy through the night but its something to be experienced once a lifetime.
Day 9: We wanted to complete the circuit by starting at Srinagar and ending at Manali through Tanglang-la Pass . After about 5-6 days of travel through Ladakh, we were finally able to see lush green mountains on entering Rohtang pass. Driving here needs great skills as the roads are covered with dense fog causing very low visibility.
Day 10: As we were falling in short of energy to roam around in Manali, We took good rest and started our journey towards Chandigarh overnight. Headed back to Bangalore from Chandigarh.
Sightseeing/Hotels: We had booked a Xylo with a driver named Rigzin who had great reviews online. However, he sent different drivers for the journey. Driver Tsonam who took us through Leh city was very professional whereas the one with whom we had to spend rest of the days in Ladakh, was very rude and I don't recommend him. We had pre-booked stays in Srinagar and Leh city. The other stays were recommended by the driver on the go.
These 10 days in Ladakh showed us the best and the worst. We had prayed for each other's good health throughout the journey. They say, some of the life's best journeys come with several hurdles. Those who cross the hurdles are the ones who get to cherish the flying colors. I am not sure if ever we all will get together for such a fabulous trip again, but we all wish to unite together, share our life stories and enjoy another journey!!
"Because in the end you wont remember the time you spent working in the office or mowing your lawn-Climb the goddamn Mountain-Jack Kerouac"