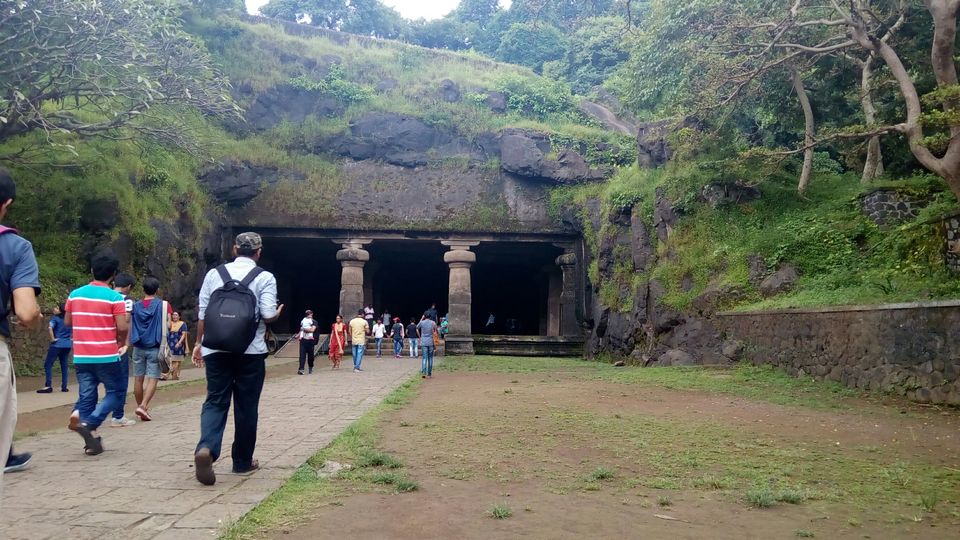 It was a one day tour to Elephanta Caves. An island named Gharapuri situated at 10 km away from Mumbai. You have to travel from Gate Way of India via ferry. It's about a 1¼ hour journey. The sea ride is not the best. You can see various cargo ships there. Luckily you can see seagulls there. After reaching the island you have to cover half a kilometers, there is a toy train, but if you are smart you will walk and enjoy your journey. Toy train is best where it belongs 'Darjeeling'. You have to ride to the caves. There are a couple of entry fees(why?). There are restaurants available and many stalls for fancy things. The details of the caves you can found in this link https://en.m.wikipedia.org/wiki/Elephanta_Caves. You can also search videos in YouTube. If you go to monsoon season the greenery will make you refreshed. But avoid that or be well prepared carrying sufficient amount of plastics for electronic gadgets and umbrellas. We faced a vast amount of rainfall and became totally rain soaked for 4 hours while returning. The ferry journey while returning was so dangerous, we were counting the minutes of our lives as waves were terrific. The ferry took us to Dockyard Road station, which is a station in harbor road. You can use 'm-indicator' app to get details of trains and tracks. All the best for everyone who are going, explore and enjoy.
Cost: The ferry service takes ₹180 per head for the going and return journey. You can sit on the top of ferry paying ₹10. After reaching the island you have to pay two entry fees costing ₹5 and ₹30.
Food: There you can found restaurants where you will find food in the range ₹100-180. There is veg, non veg, Chinese etc. You can try snacks also which are expensive, like Vada pav costs ₹30. They takes the double price of MRP. You can also get the fancy things starting from ₹100.
It will take a maximum of 3 hours to cover all the caves.