The Idea !!!
It was just a busy evening for me when my best friend gave me a casual call and during our chat he asked me if I am interested in Nepal trip with two of our friends. The immediate response was YES. I was onboard right away. The most interesting part was that this was the ROAD TRIP. Then came the planning phase where 3 of my friends were in Pune and I was in Bangalore. Start point was obviously Pune. I was supposed to fly to Pune from Bangalore and then starting our trip from airport. I love driving and this was best opportunity to drive on extremely new and unknown land. The best part was it was BOYS TRIP :D
I am writing much details, so expect this post to be very long !!!
Four of us from right: Gaurav ( me ), Abhishek, Vishal and Akshay.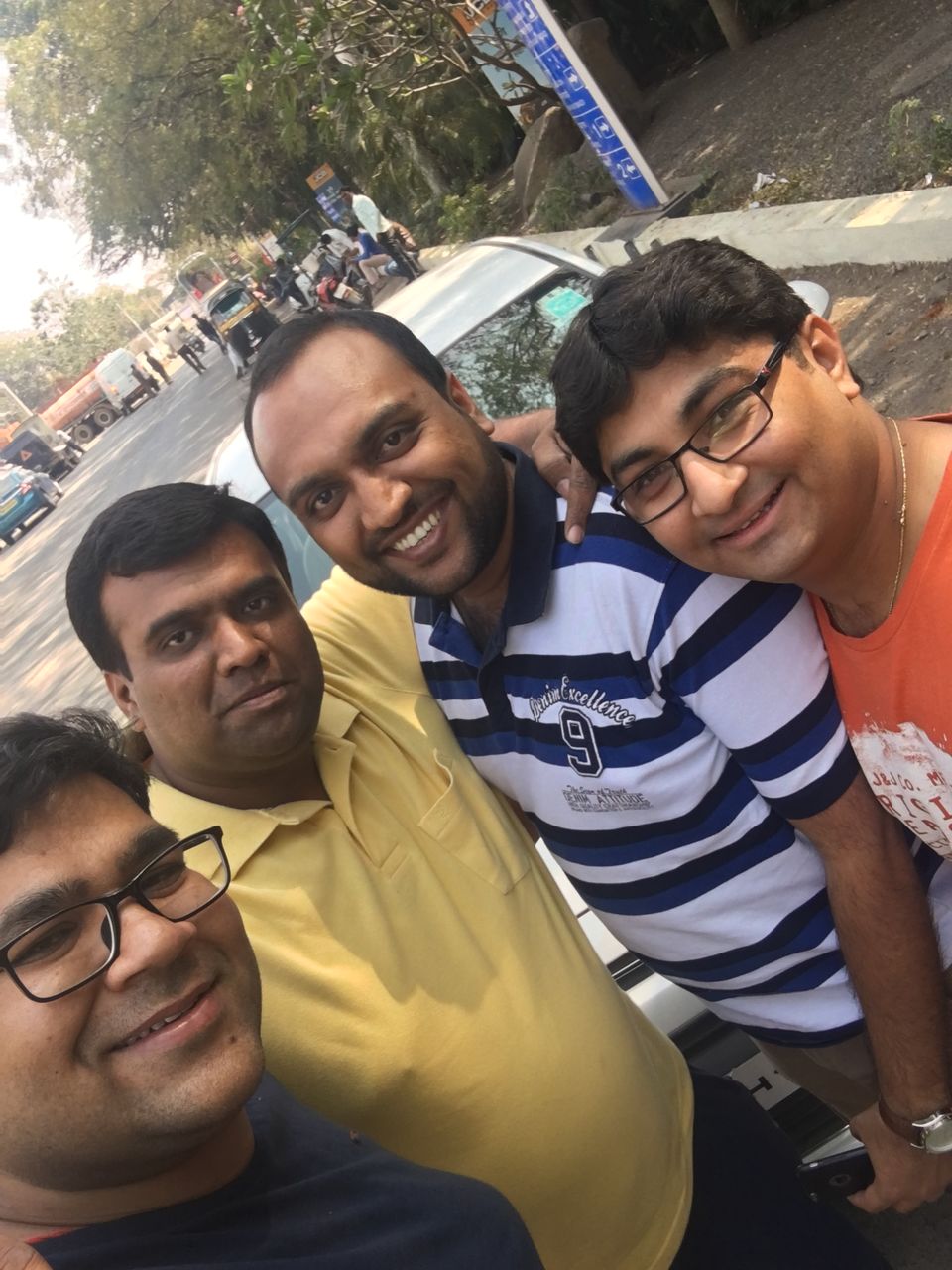 This was definitely a very long trip from Pune to Nepal and Back to Pune. We were aware of the odds and long and tiring journey it was to be. We decided to take Vishal's car, the Hyundai Accent on the trip. 1.2 l engine and in my experience Hyundai cars are pretty good on driving on most of the terrains.
3 out of 4 people were comfortable in driving car, so that's good amount of people taking turns on a very long road trip. The road trips always turns out to be different from what you plan :D. We had our share of twists and turns, misses and some lifetime experiences.
The Final Plan which we thought we will follow ;)
After so many iterations and conference calls, we settled on the best route and 15 days of time to complete the trip. The total distance coming was around 4700 Kms.
Pune --> Indore --> Lucknow --> Kathmandu --> Pokhara --> Lumbini --> Lucknow --> Indore --> Pune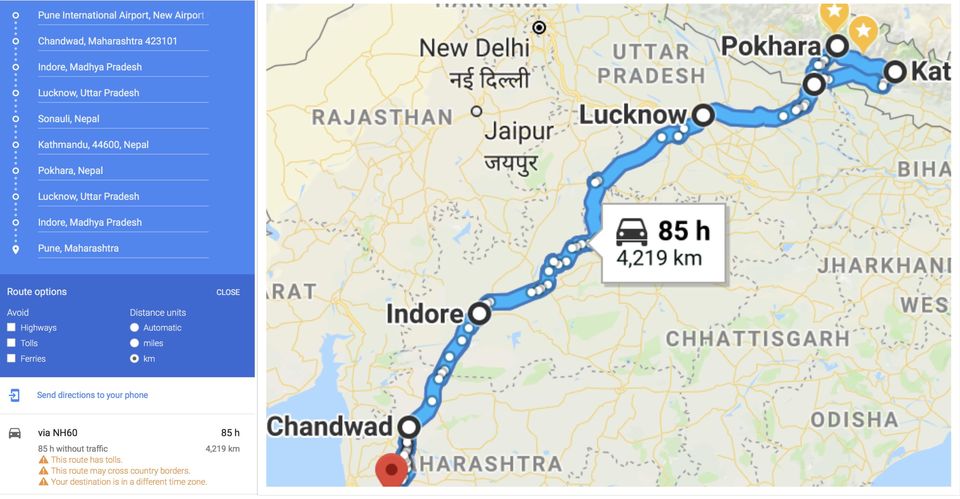 19th Jan --> Starting from Pune Airport
19th Jan --> Reach Indore on same day (589 Kms)
20th Jan --> Start early from Indore, Madhya Pradesh
20th Jan --> Reach Lucknow on same day (864 Kms)
21st Jan --> Start early from Lucknow and Reach Kathmandu, Nepal (599 Kms)
22nd Jan --> Sight Seeing in Kathmandu
23rd Jan --> Another day in Kathmandu, covering near by places like Nagarkot and Bhutwal.
24th Jan --> Start from Kathmandu in afternoon and reach Pokhara (205 Kms)
25th Jan --> Sightseeing and adventure in Pokhara
26th Jan --> Another day in Pokhara
27th Jan --> Start from Pokhara to Lucknow via Lumbini (510 Kms)
28th Jan --> Lucknow to Indore (800+ Kms)
29th Jan --> Indore to Pune (590 Kms)
30th Jan --> Spare Day ( if things go south and they did :D )
31st Jan --> Spare Day ( Another day for unplanned things )
All 4 of us were very excited as none of us had travelled so long on road that driving on our own.
The Final Preparation:
On Planning of such trips one has to be mentally prepared for challenging stuff's that might come in the way. Pressure of reaching planned destination at end of the day sometimes makes the trip little stressful , else possibility of getting stranded in some outskirts of villages and fields is always there. A single day miss might result in complete change of plan. Getting good food, clean water sometimes becomes difficult because of long highway stretches.
1) Vishal made sure to get car serviced before the trip, this is very important part. For such long trip this is no compromise on that part.
2) We stocked good amount of mineral water and snacks to make sure that long drives should have less stoppages.
3) Taking good rest before the drive is very very important, especially the people who are driving.
The most important part is to make sure don't get stress take over you. Take proper breaks during drive and not to stretch too far if you miss destinations. Forceful driving sometimes results to be FATAL. Nothing is more important than safe driving. We always remembered that we were going for fun not for some task to be completed in x amount of time.
The Journey Begins : Day 1
My flight landed at Pune around 11:45 and plan was to start around 12:30, because we had to reach Indore same day. That was around 589 Kms, quite long considering that time we were starting.
Funniest part, when we left from aiport, we took the wrong way to get outside of the side which costed us 1.5 hours. From airport via Rajgurunagar, we left Pune. Since, no body had eaten anything, we stopped around 2:30 pm to have lunch around 50-60 kms from Pune. The route we took to Indore was Pune -> Sangamner -> Chandwad -> Malegaon -> Dhule --> Sendhwa --> Maheshwar --> Indore.
Till Dhule it its National Highway 60 and then NH-52. Both of the highways are really good.
Stopped every 100-125 Kms to get refreshed and have tea. Feeling refreshed is very important if you are continuously driving in long journeys. This helps to concentrate as well.
One of the thing we learn is that google maps keeps improvising your maps which screws up the path you chose. It assumes that you always want to travel in less time, so keeps adopting the new path. This costed us a lot of time because the new path wasn't highway but a village road with no traffic.
TIP: If possible select a path on long journey and turn off internet, so google does not improvise and try to be smart :P.
By the time it was 10 pm and we were still far from Indore and target for the day was quite far. The overall road is great and you just zoom past everything. Consistent speed over 100 Kms/hour can be easily maintained if you are on highway. Roads after Chandwad was really good and we really enjoyed night driving.
One thing to remember in the night is to have dinner if you are passing from the city itself. On the highway sometimes becomes very difficult to get good place to eat food and get refreshed. We realized it a lot of time during this trip towards Indore.
Around 1 am, I was super tired and we stopped on some dhabha on the outskirts of Maheshwar, still Indore was around 95 kms. Now we decided to see if we can get good accommodation, because around 1:3o am by the time we had food and left from dhabha, we realized that we cannot complete another 95 kms now.
One the way towards Indore, we got a good resort Shri Balaji Family Restaurant and resort. It was 2:00 am now. Got a good deal with restaurant guy after bargaining alot with him and convincing him that he will not get customers at 3:00 am so give us the remaining rooms at cheaper rate :D.
We realized it this many times during this trip, that you can get good deal in hotels if you bargain on the spot.
The day ended for us at 3:00 am in the morning when we went to bed to get up early and start again for another exciting day. 
This is a long trip, so stay tuned for many such detailed parts of the story. Picture abhi baaki hai mere dost ;)