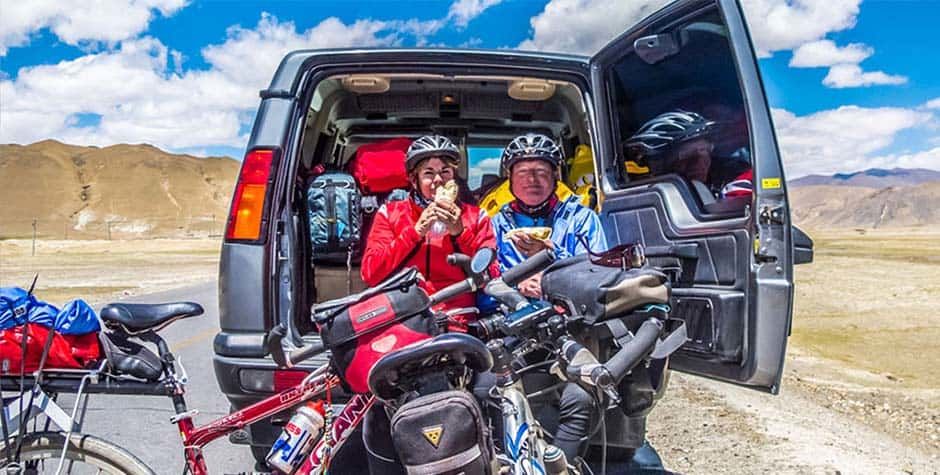 Tibet cycling tour from Lhasa to Kathmandu offers you a unique opportunity to explore the Tibetan plateau as no other tours can. Your Journey begins from Lhasa and ends with Sino-Nepal border at the Kyirong town. While on your way, you will be exploring all the towns and villages along the friendship high way, including Gyantse, Shigatse, Nangartse, Tingri, Lhatse, Rongbuk, and Everest Basecamp.
You will arrive in Lhasa and for the next four days, you will try to get proper acclimatization. The first day will be the rest day for the reason, then gradually you will ride in Lhasa city. While in Lhasa, you will be visiting all the attractions of Lhasa, including; Potala Palace, Jokhang Temple, Norbulingka Palace (Optional), Sera Monastery, and Drepung Monastery.
This tour is specially designed by i-Tibet travel and tours to host the average Cyclist wishing to experience Tibet with the world greatest descent on Bike. The original tour can only be cover in 21 Days until the Nepal border. But this tour, we have carefully compress the entire tour into 40% to travel in vehicle skipping the most arduous journey.
https://itibettravel.com/tibet-tour-packages/tibet-cycling-tour-from-lhasa-to-kathmandu/