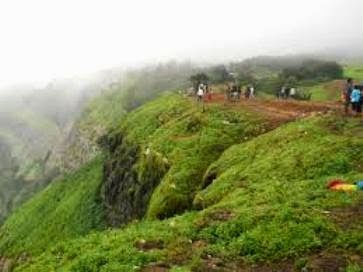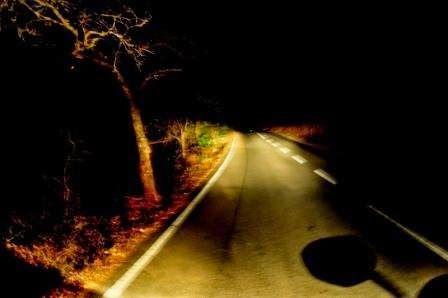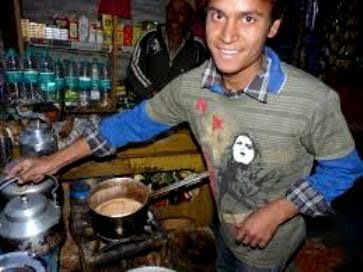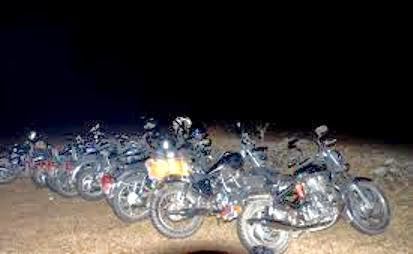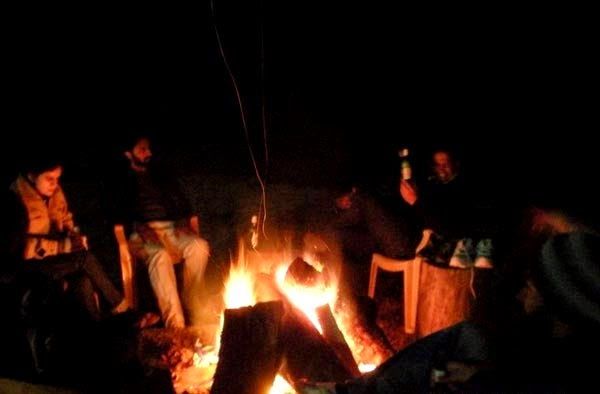 Relaxing and sipping my drink at my friend's place in Pune , while I learnt to give a damn about my work back in Delhi, my friend asked if I would like to ride to Lonavala that very night.  Well everyone knows my answer, I am sure ! How can a rider ever miss out a chance to ride through the night to a hill station !
It was back in January and the weather in Pune was already sweltering hot !! But my friend warned me to gear myself as the night ride to lonavala was sure to get chilly , but less I knew how much chilly she really mean!
So the ride was decided, but we both didn't know how to ride bikes ! But that's the charm of being a girl! By evening 9 pm , me and my friend were ready with our boots and jackets just like old country style !
A flock of 8 bikes started this journey from Pune at 11pm.The jackets and winter boots that made us sweat 30minutes back , now seemed like a cotton tshirt and flip flops !!  How can weather change so drastically!  All  16 people on bikes felt the chills running down their spine, so much so that we had to take breaks every 10 minutes to shake ourselves off the numbness.  
An average road journey to Lonavala from Pune via Talegaon Chakan Road and Old Mumbai Pune Highway takes  1.5 hour over a distance of apporx. 65 km .  But due to chilly winds and less winter gears,  it took us 20 pit stops,  2 tea breaks ( Road side dhabbas) , 1 minor slip of a bike , and almost 2.5 hours to reach our  destination, what I called "God's CAVE" – Tiger Hill Point. 
All blacked out, with just shinning stars and a valley surreal at such a distance , it was a feeling I never felt.  Wind gushing through us so hard that we had to take covers to stand and not fall down the valley !  No tea vendor in near sight , just some riders like us and some party poopers who turned their car speakers and jammed as if it was a rock concert!
FYI :  You got to be extra cautious of the police-walas , as stopping at this point after sunset is not allowed, so anytime you hear a siren approaching or "lathis" flying out of police vans, you better run for your LIFE !  You sure don't want a trashing at such a beautiful location .
After non stop shivering and on-off unbalancing ,  we decided to drive back down before dawn . But if you plan ever, DO NOT miss the sunrise at Tiger Hill Point . It's an experience you have to witness . Well I missed out due to bad cold and not rightly equipped to stay the whole night.
It was almost 3 am when we started our journey back down , frozen , hungry and tired we had to look for a food joint at this dark cold night in no where !  We all left and soon after 5 minutes the flock segregated and all drove at their pace, my bike companion was laid back like me and we preferred driving the slowest and stayed at the last of the group. After almost 2-3 km of ride , all I could see was the headlight beam of the bike at the curves, pitch dark sides , no other car/bike / human in any near sight. The chilly waves didn't seem to bother anymore and the nature was at it's best . 
Out of nowhere we saw some bonfire lighted up at a distance, scared to death ( Black Magic/ Voodoo??) and at same time sigh of relief that we're not the only one left on this dark hill !  As we approached the bonfire , it was a family enjoying the bonfire night with hot tea and cigarettes ! One happy family I must say. 
 Right there was a small cottage like shop( No Lights), where we decided to ask for some tea if possible, and to our surprise an  old lady was making some hot tea right on the stove (God sent an angel I suppose that night ). After 10 minutes halt we started riding down again .
Once you start approaching the plains , you can find a range of restaurants like McDonalds, Kfc, Punjabi dhabbas, but no such sight once you start invading the hills ! So gear up well in advance if you have a big appetite .
Also if you manage to find a dhabbas on the hills, be ready to shell some good bucks, as they charge you the rates of a 5 star, as it seems out we all became their prey ! Re-uniting at this small shop dhabba in the hills , all bikers stopped to get some munching.  
1 omelette and 1 slice bread for bloody Rs.100 ! After cursing the guy for over charging and eating 1 egged  omelet, we decided to hit the road and stop now at our Pune stop .  It was almost dawn when we entered pune and all the jackets and boots now again seemed to be eating us !
Well the journey came to an end, but the memories of chilly waves, pitch dark road , slipping bikes , tea Aunty in middle of no-where, 100 Rs. Omelette at dhabbha , and the magnificent view at the Tiger Leap , it was all the beginning of my love for rides !