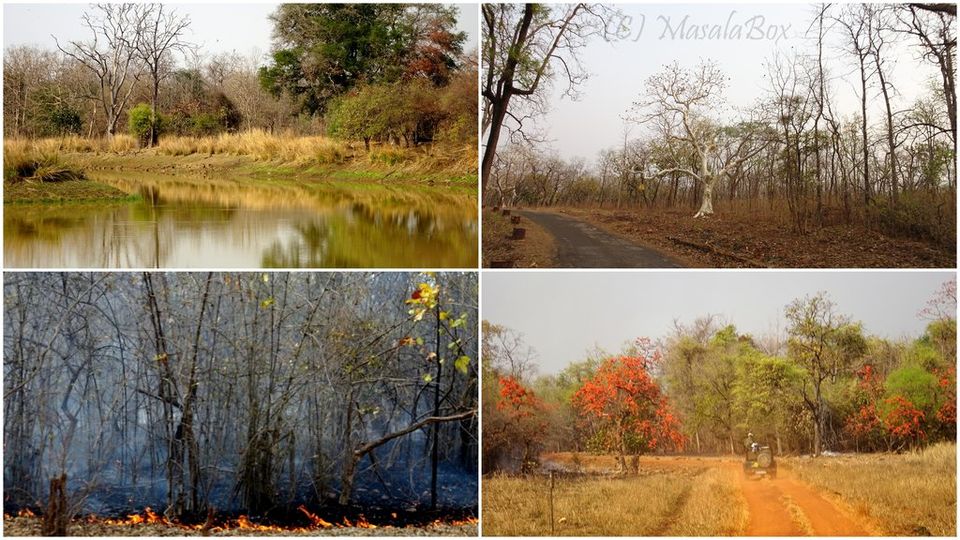 The jeep passed through the well tarred roads of Tadoba Andhari National Park while one side of the forest had slightly caught on fire. It was the beginning of March and the temperature was already at a high of 40 degrees. The smoke from the forest fire drove out the langur, sambar deer and some spotted deers. "Will the tiger come now bhaiya?", our very first safari and I had already asked this for the tenth time to our guide. I had high hopes on Tadoba as a lot of people have talked about sure sighting of Tiger here. "Madamji, once tiger chased a biker on the road because he came in between the mother and cubs and she got so angry! So, if you have luck you can spot it on the road near the gate itself or it may not show up at all. Let us see your luck!" Luck!! I so hate that word. The Sambar deer ensured her fawns wait till the jeeps passed by and then crossed the road.
We were on look out for Sonam and Madhuri with their respective cubs. The cubs were around 8 to 9 months old, but still cubs of this age will be with their mother and hence it will be a delight to watch. "Wagdoh is the biggest male in India! However big he is, he is the best father one can have..", there was an obvious pride seen in the face of the guide when he said so. "Tiger and best father, how is that?" "Well, he is one tiger who will not just mate but come back spend time with kids even if the kids are from multiple mothers! Never shows any partiality between his children from different mothers." I stopped to figure out the logic but well, good father is all that matters. "Possible to see Wagdoh?" my mind had only one question, when will I get to see the tiger? "Wagdoh has now moved to buffer zone. He has become old, so he gave up his territory and went off to buffer. Tigers keep changing their territory." We stopped by a lake to find a crocodile basking in the sun. And then suddenly came the barking of the deer. Deer alert other deer of tiger or leopard movement by barking. "It is barking, deer is barking!" I looked excitedly at the guide who didn't seem any interested. "It is mating call madam, not alert call!" Sighh.. I sat down in the jeep. The deer kept looking for a mate for long time. As the sun was going down my heart sank that there was no tiger sighting in the first safari..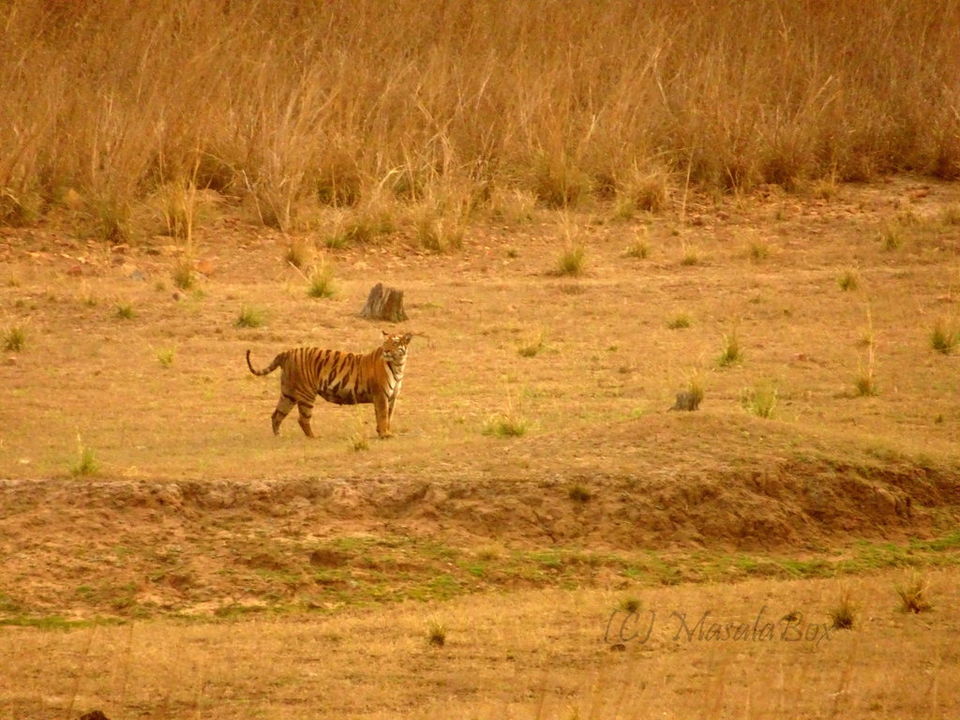 We decided to come around Telia lake as one last round before leaving. Nope nothing to be seen. Just when we passed the lake and came to clearing there they were, so many jeeps all lined up waiting for Sonam and her cubs. They had spotted the tiger moving! The beauty of Tadoba is there are plenty of plains that you can spot Tiger. And there came Sonam walking cautiously. She was miles away but we could very well see her.
Follow the tiger tales here - http://bit.ly/2afbk6A