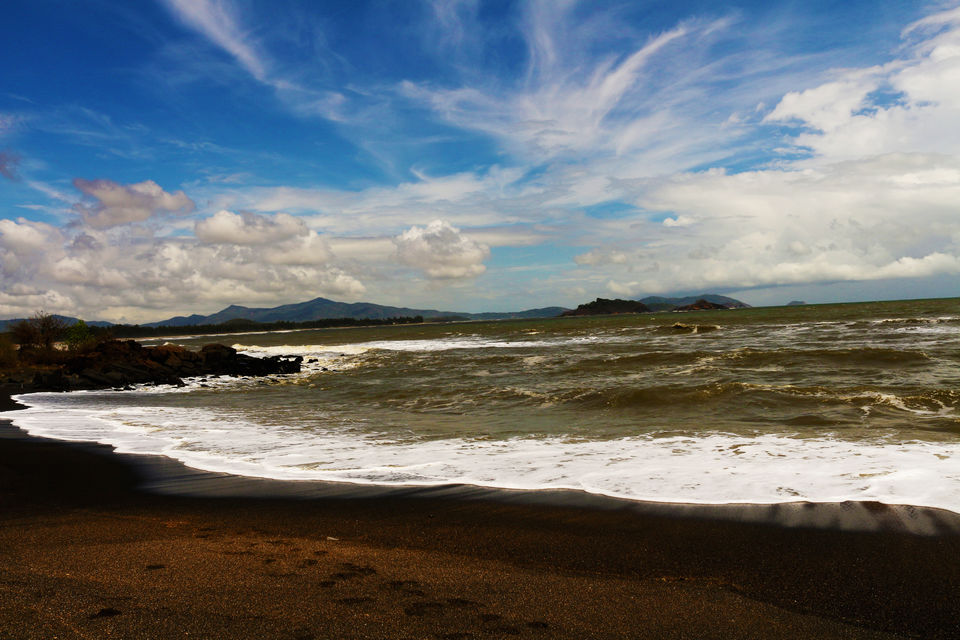 As I was returning from my week long trip to Coorg, there is one place that I wanted to camp for a night: Tilmati Beach. As I have been informed and found out, that this was a virgin beach, some 12 kms from Karwar, with Black Sand. Virgin and Black sand got me hooked on to it, since the time I came to know about it, and I just wanted to see it for myself. Hence, I moved from Mangalore to Karwar, in a KSRTC state transport Bus, as unfortunately all the Luxury Buses have left for the day.
I reached Karwar, around 12:30 in the morning. It was midnight and I didn't have much options to rest, apart from going to the beach. So, I walked to the beach, and it had the most calming effect on the tensed nerves of my brain, due to the long day. Once there, I thought of clicking some good images of the moon, however, unfortunately, moon disappeared in clouds, soon, leaving me high and dry; alone at the beach.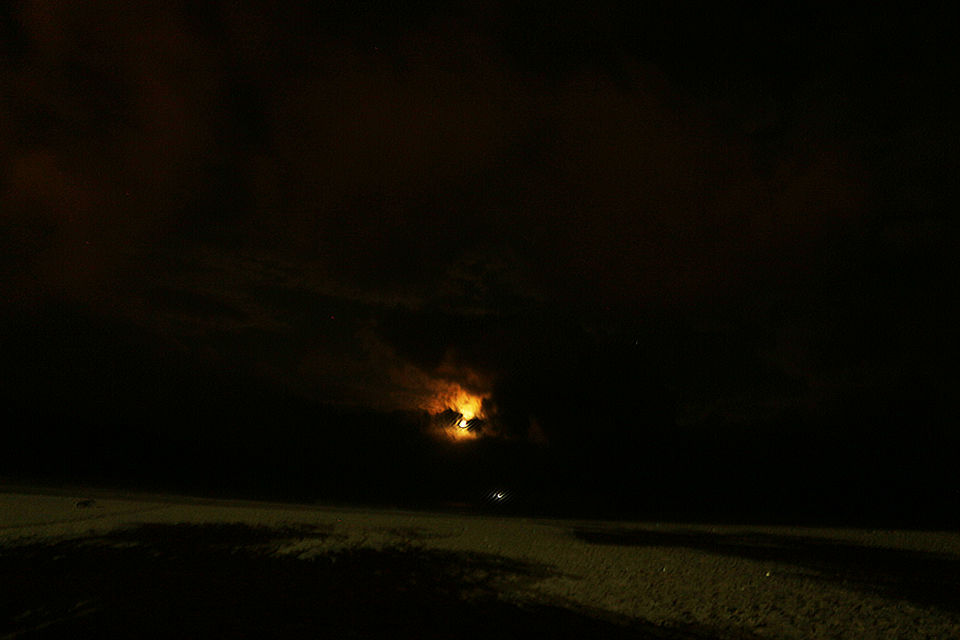 Since I didn't have much to do at midnight, I soon lied down, at a bench. Woke up around 04:30 am, and walked back to the bus stop, so that, I can get the Bus to Majali: the village from where I needed to hike for Tilmati Beach. The Bus moved from Karwar at 06:20 am, being the first bus for the day, and I was on to Majali within 15 mins. Once I reached there, I walked again towards Majali Beach, and then onwards to Tilmati. It is a distance of 2-3 kms that you need to cover to reach to Majali Beach from the Bus stand.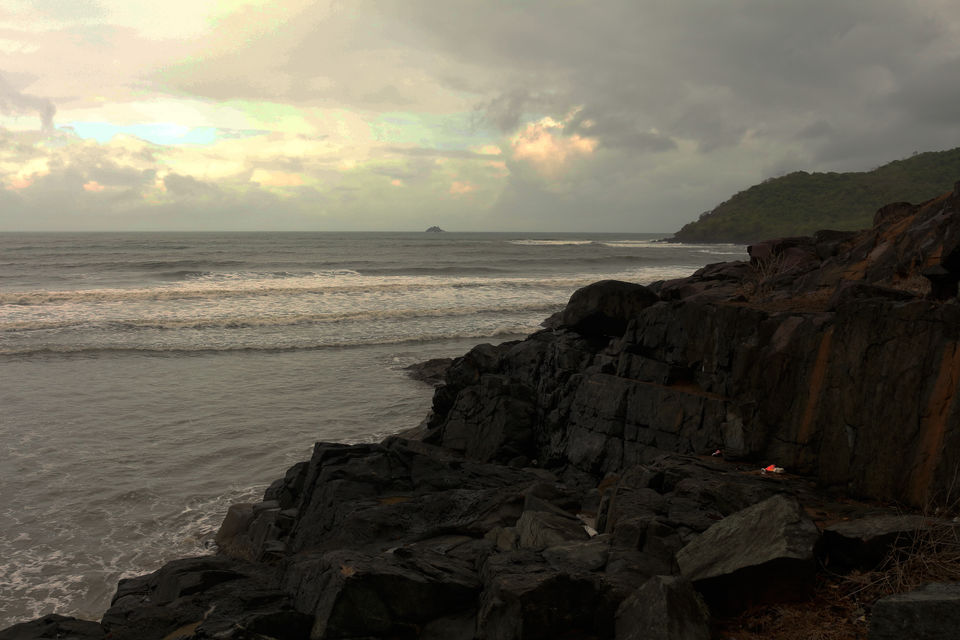 From here on, I had to walk around 1 km on a very narrow trail, with sea facing rocks on one side, and hills on the other, however, since it is a short walk to the beach, the effect is less pronounced.
Once at Tilmati, I was dumbfounded by the ambience, soon as I reached there. The sound of waves in front of you, and the songs of birds and wind passing through the thick forest behind you, will leave you astounded. I was spellbound by the beauty of the place, however, unfortunately, it is not a virgin beach, as I expected. It is quite popular among weekend crowds of Bangalore and Mumbai, hence, I could see a lot of human waste, such as liquor and water bottles strewn there.
I started clicking the beauty around and had some food. After that, I pitched the tent and started looking for wood as I had to plan for the bonfire for night. While gathering fuel, I also picked up few big rocks, lots of pebbles and sand for my bonfire. Made a fine bonfire place for myself!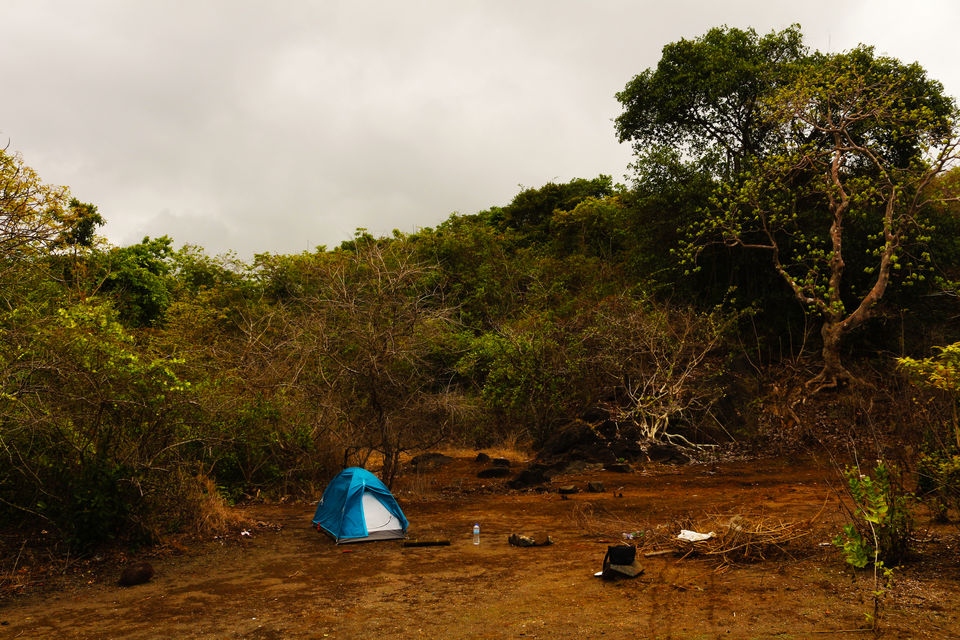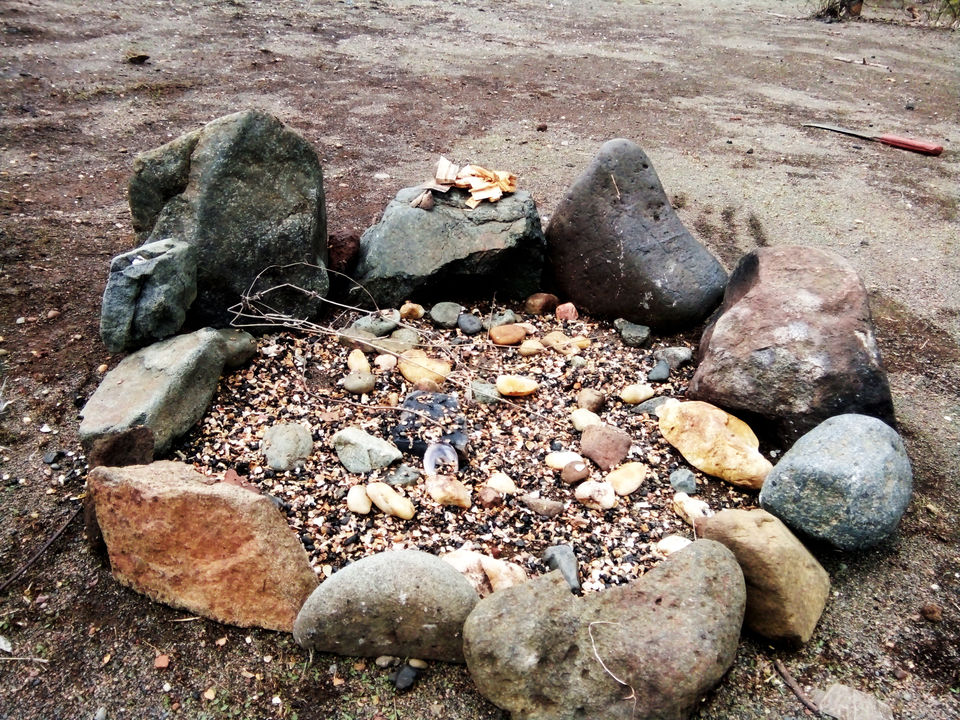 By now, the Sun was almost above my head, and I decided to take a nap in the shade. I was woken up by a fisherman, who came to take care of his boat and other things. One thing that I loved here was the people around were generous and kind. This guy helped me with a lot of dry timber and local information. Now that I was all set for the night with a great looking bonfire and lots of dry timber, I again set out to get some good evening clicks.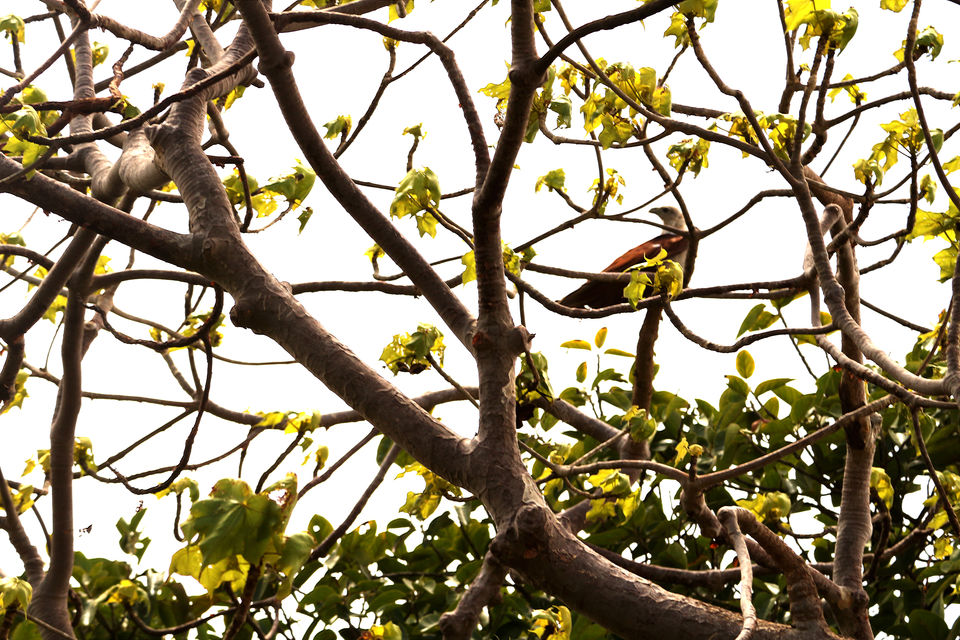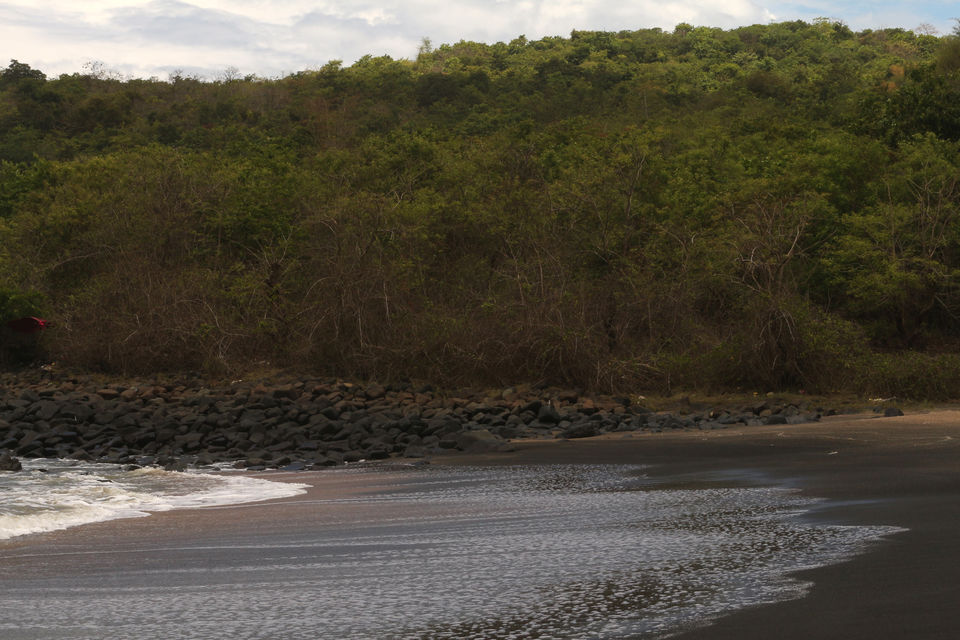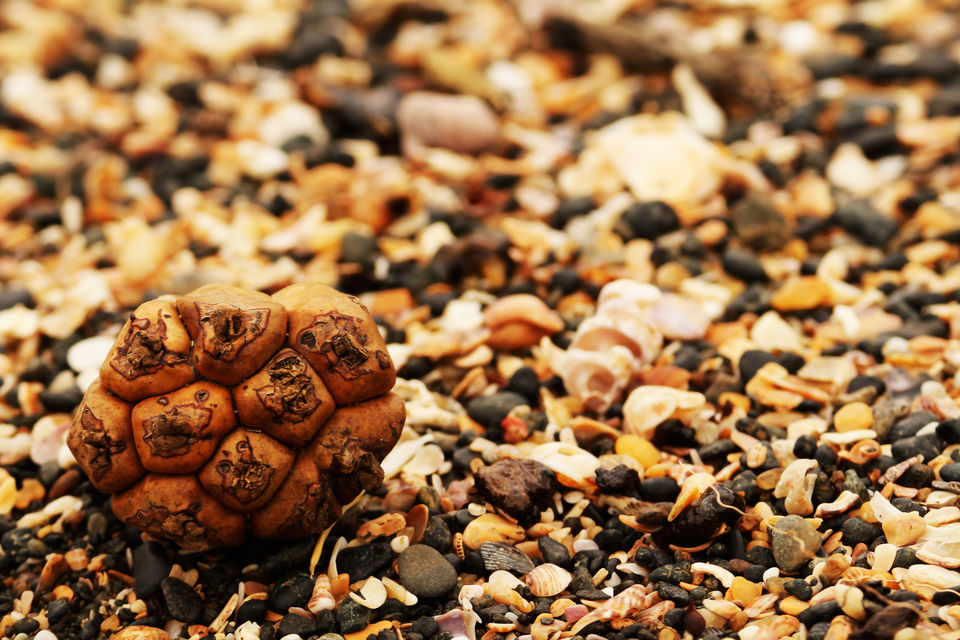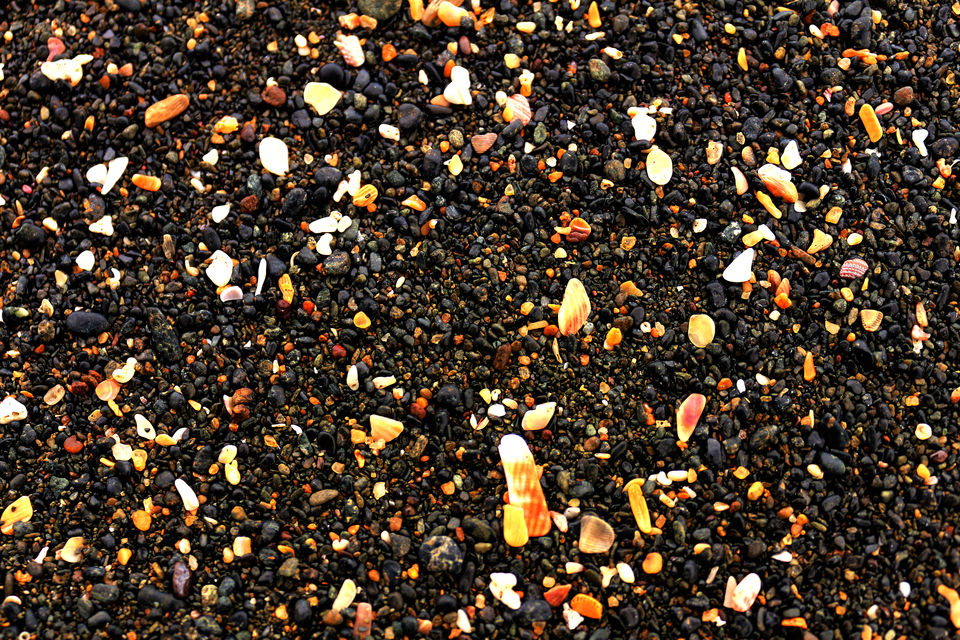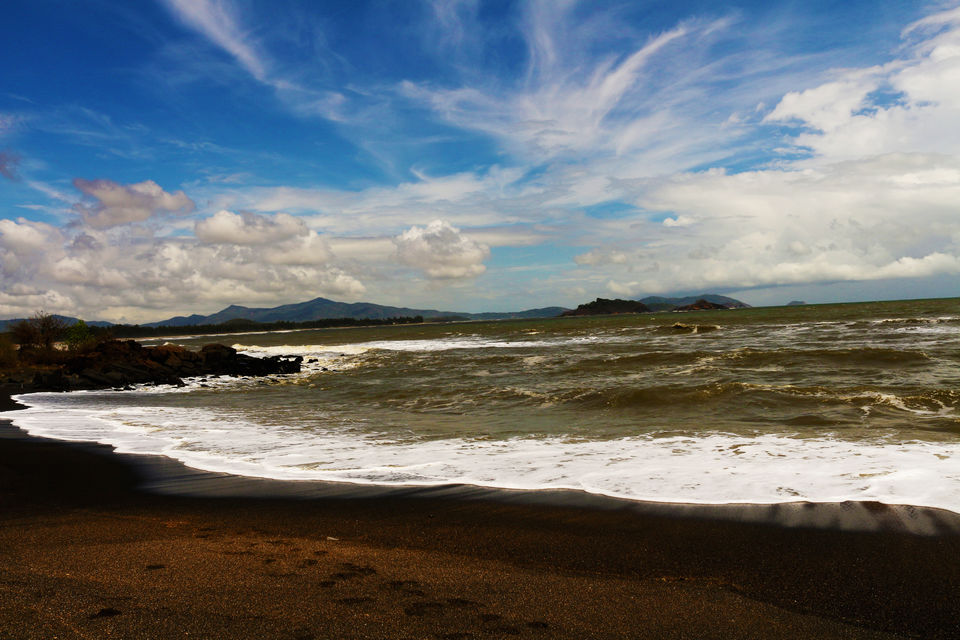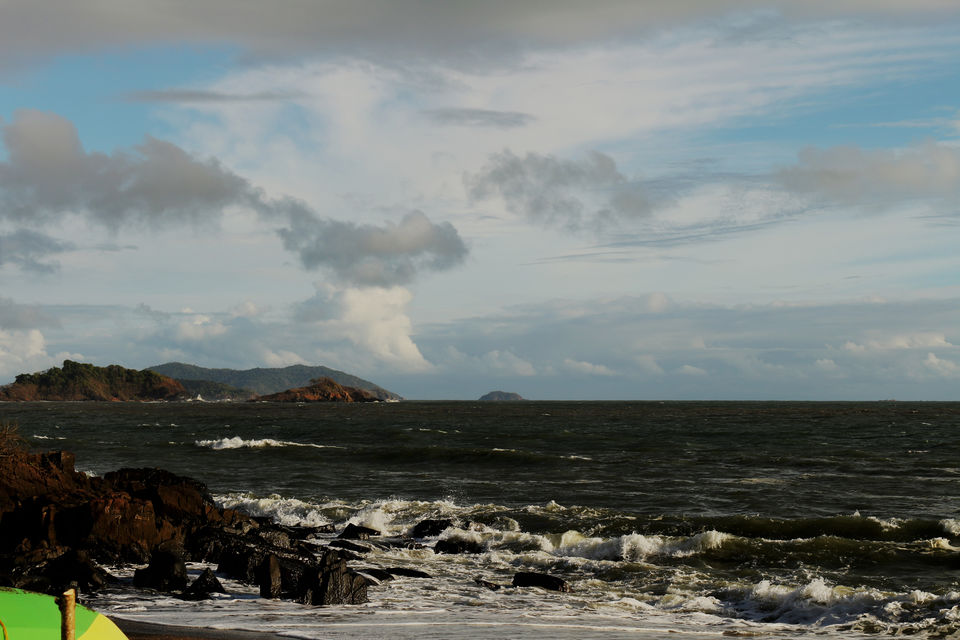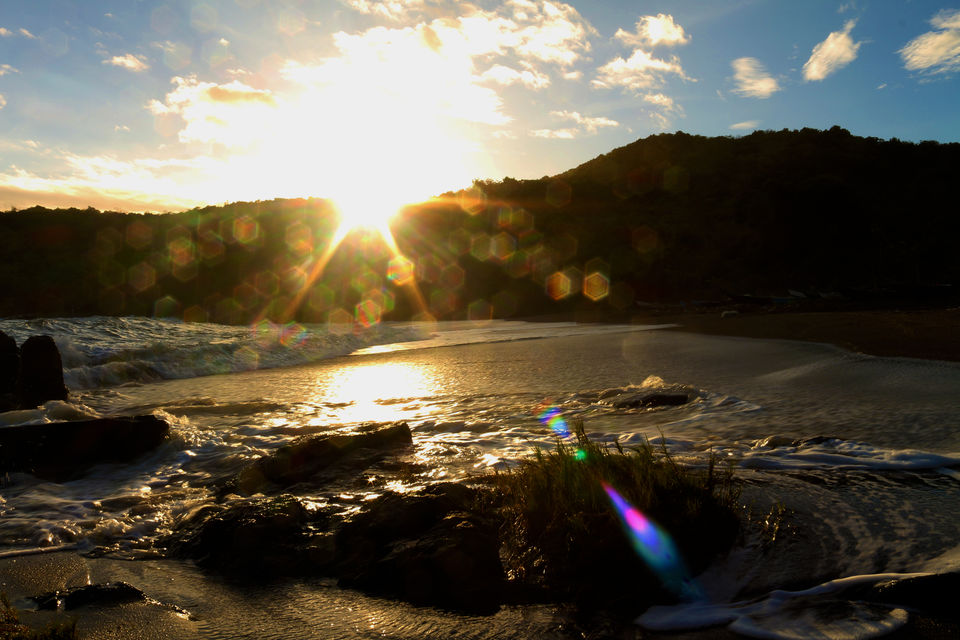 As I was clicking last clicks of the day, a group of 20 Bangalorean IT crowd came along, to spend the night here. Not that, I had any issue with people, however, I love it when they are not around.
I am sorry, I just start drifting to my thoughts, at times, away from the content. And, by the way, the group of people were quite nice, and I spoke to a few. If I remember correctly this guy named Murugan burnt his feet, trying to lit the bonfire. Poor guy, went to the ocean, and dipped his feet. Rest of the bunch were pretty cheerful, and I hope they had a gala time at the beach.
Regardless, I lit my bonfire for the night, had some food, smoked some and hit the sack.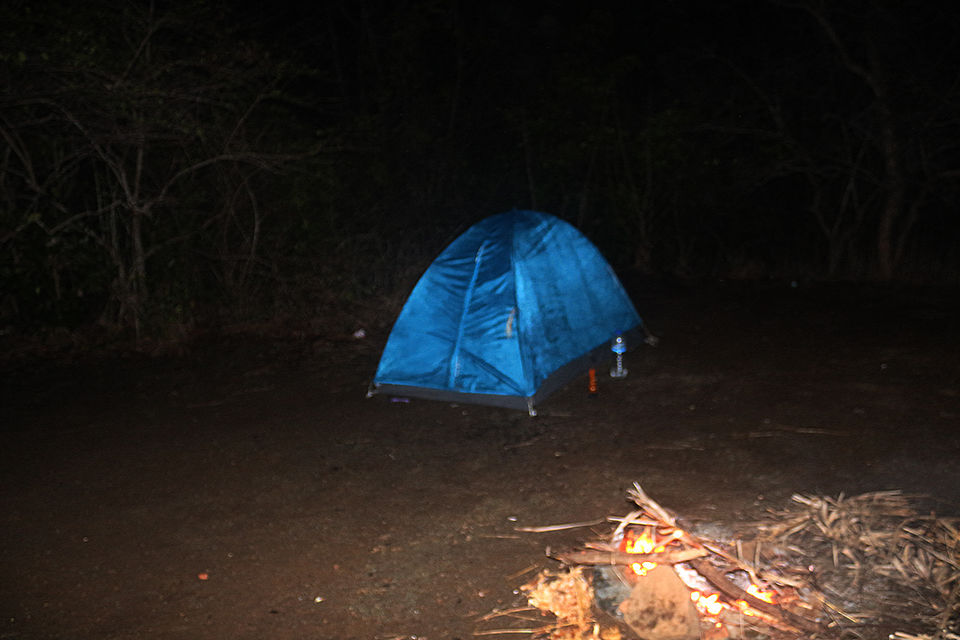 I slept around 09:00 PM, as I was hoping to get some good clicks at night, in case the clouds subside, however, I guess, I wasn't lucky enough, as it kept raining the entire night. Woke up at 07:00 am to the sounds of birds, and fisherman, and set out for a walk to the extreme end of the beach.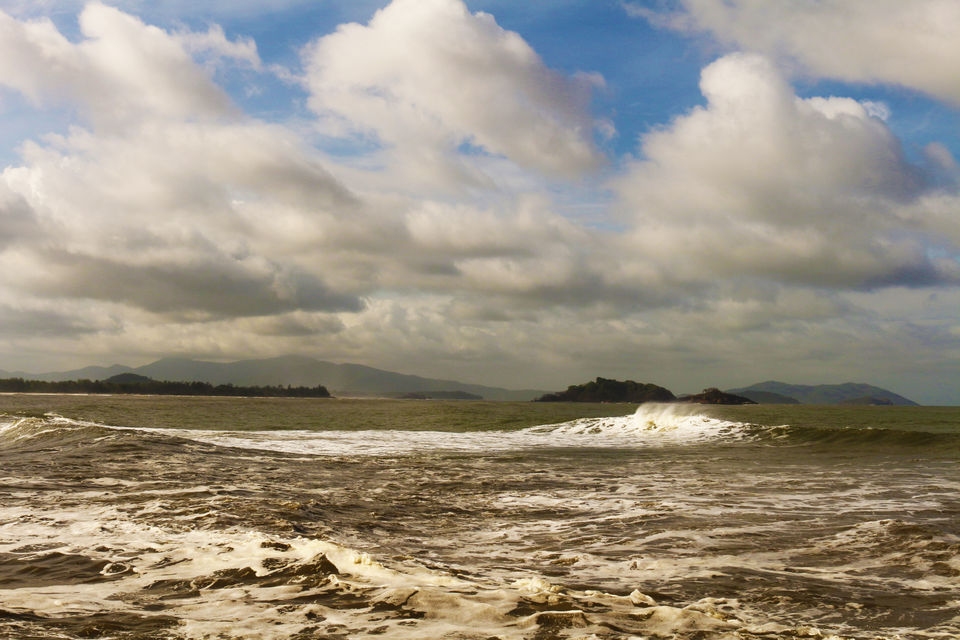 Now, we all might have seen the crabs, sunbathing at the beach, so the same was going on here as well, with the only highlight that, each crab had their own stone to sunbathe on.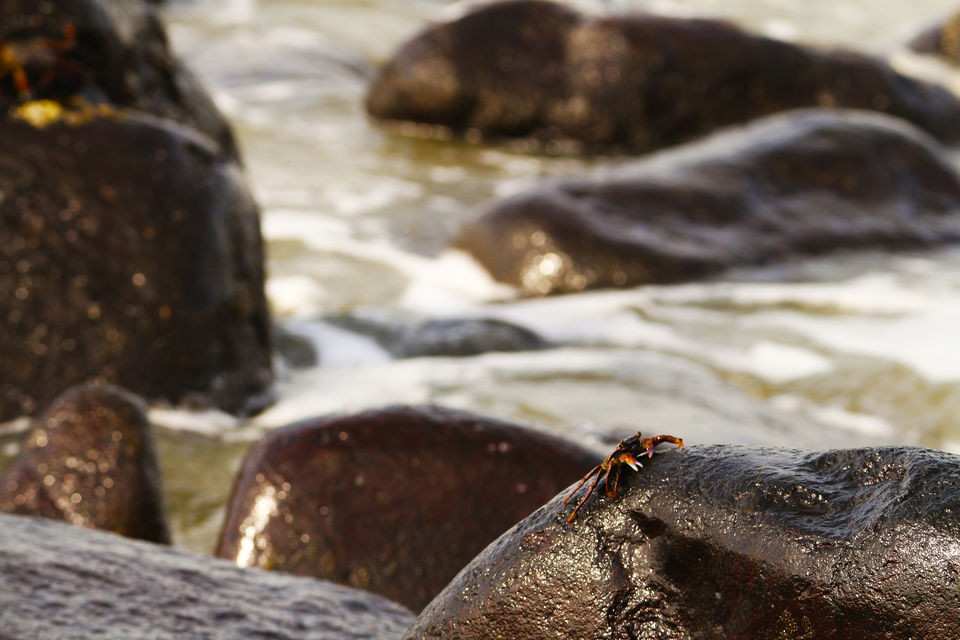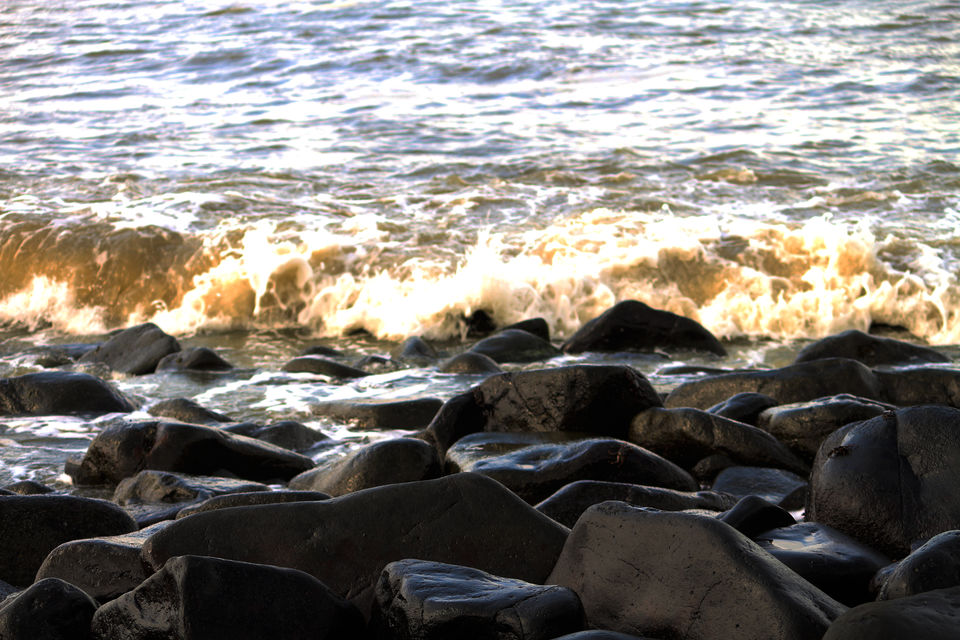 After the refreshing walk, I started packing, as I had to move to home now, however, soon as I removed the tent, I saw a cute little scorpion running to safety, from under my tent.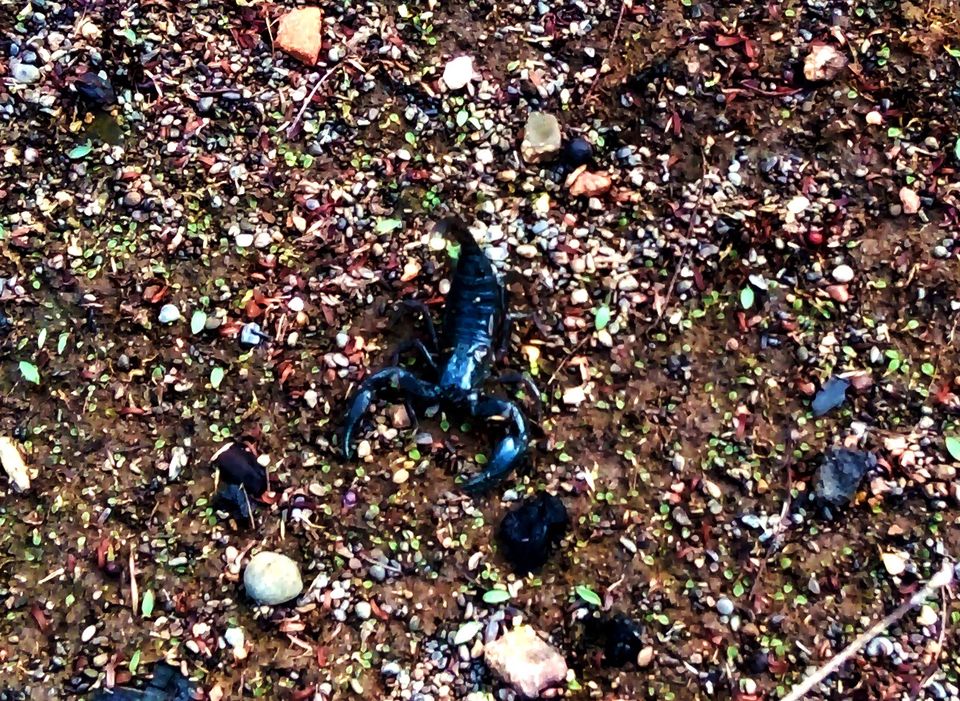 As I took my heavy steps away from the beach, I could not say Goodbye, after such a marvelous day at this secluded little beautiful beach. Clicked some again, coz, I guess, I try to collect as much memories as possible. And the beauty was, that the bald eagle who has been perching on the tree above my tent the entire previous day, came to bid me adieu, as I was taking my leave from his home.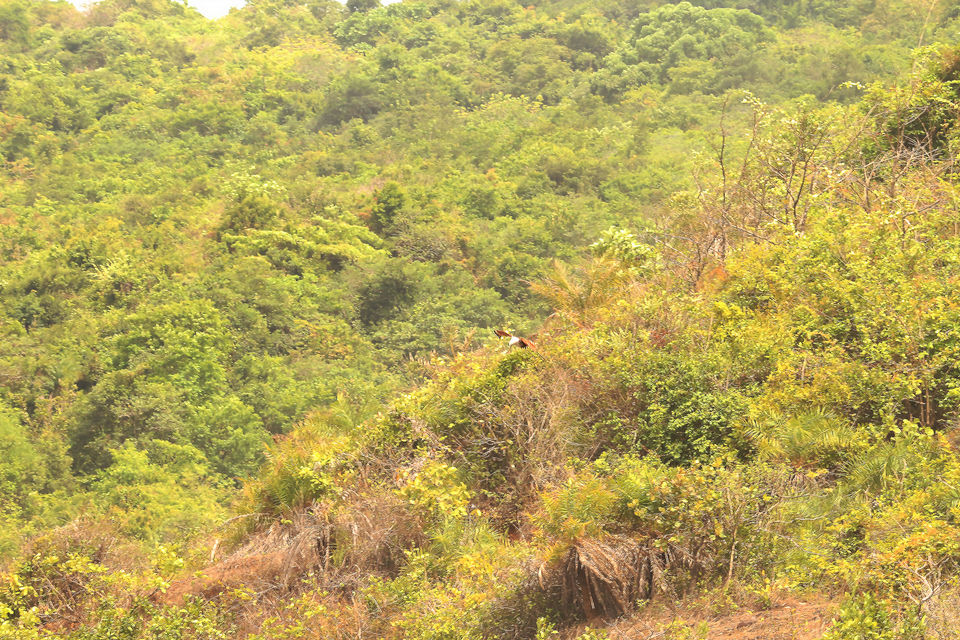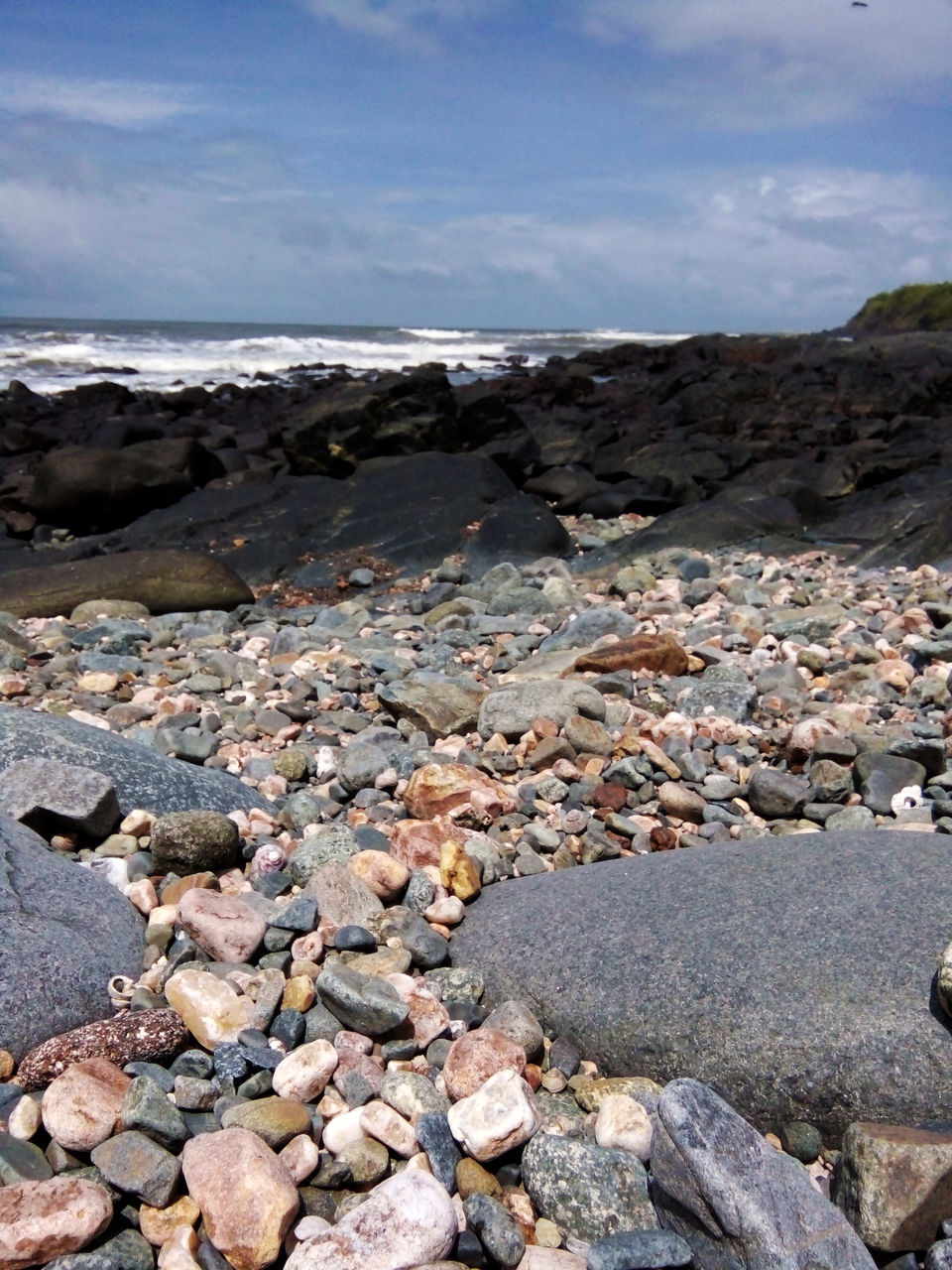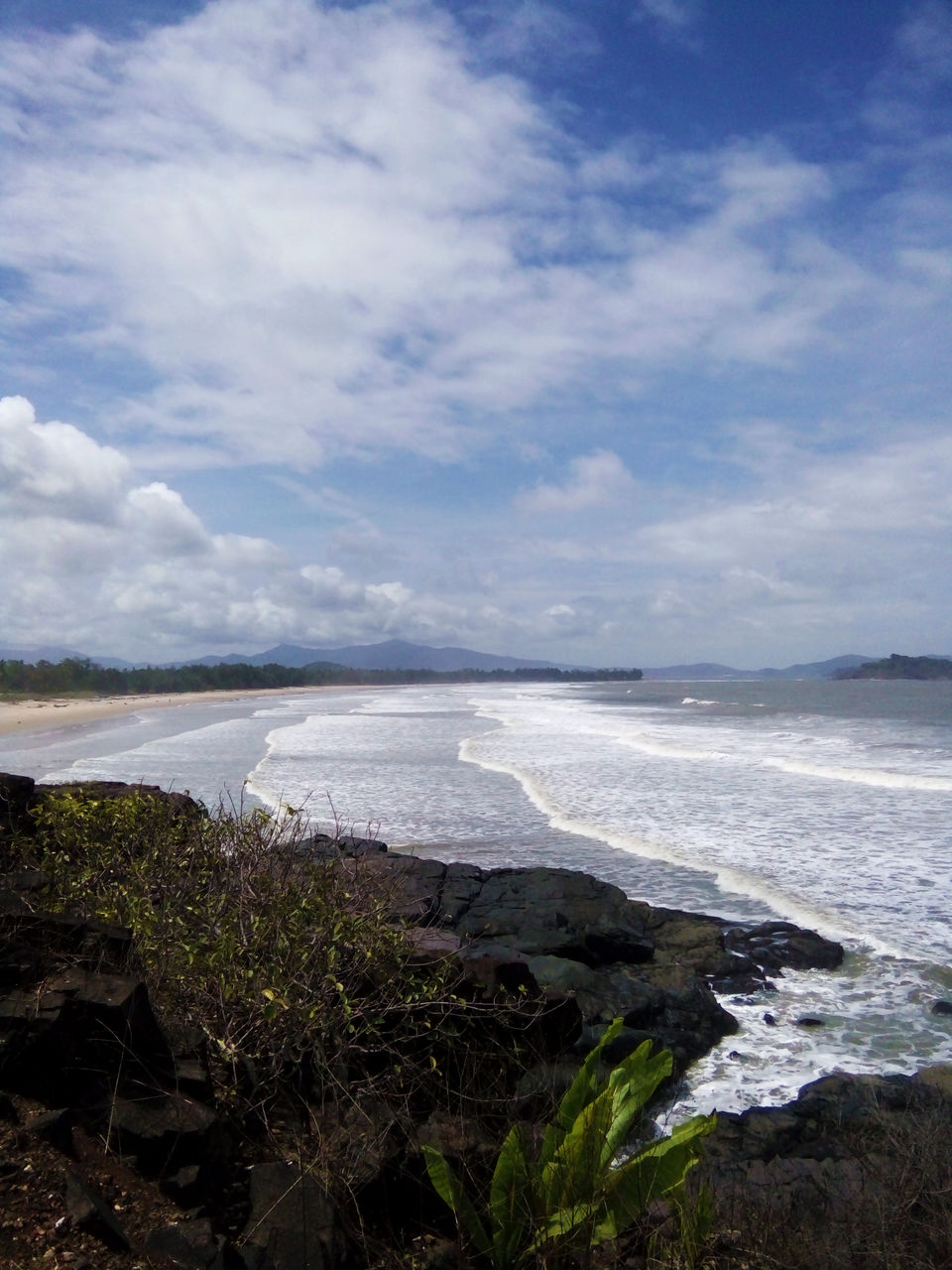 Now, since, I have spent a day at the beach, in June, when the weather was warm and humid, I was feeling all sweaty and sticky, and wanted to take a bath before, I get back to civilization. Luckily, I met the same fisherman, who helped me the previous day, and offered me a bathe, and tea, at his home. Now since Majali, is a fishing village, I wasn't expecting anything 5 star, but just a bathroom, however, this is what I got. Looks tropical...:P.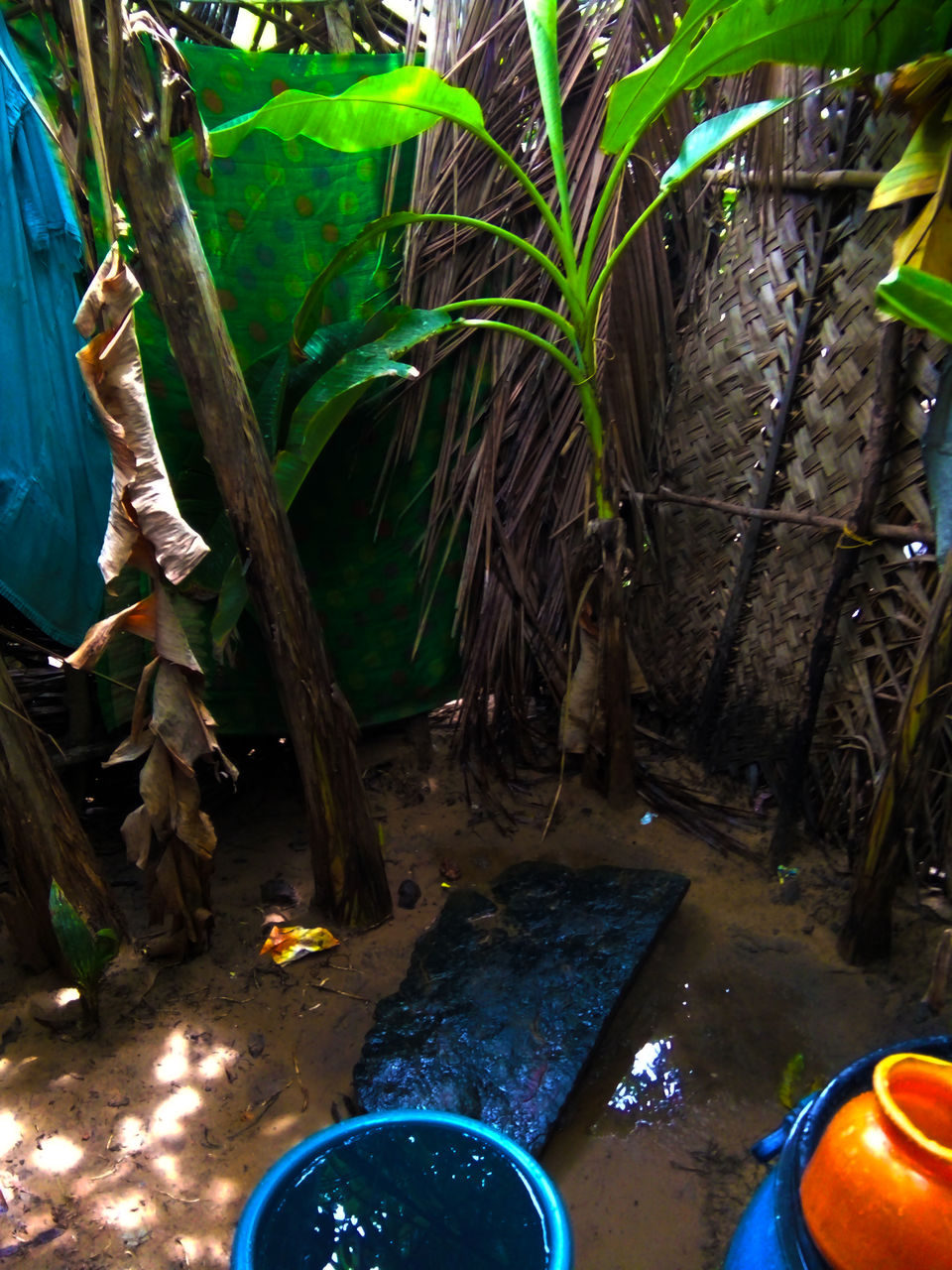 So, had a bathe here, and then moved towards the highway to get a Bus to Murgaon, Goa from where I can board a Sleeper bus to Pune, and dozed off to memories that words can't imagine.
How to Reach Tilmati : You can get Luxury buses from Mumbai, Bangalore, Goa or Pune to Karwar, from where you can either board a taxi or a state transport bus, as you and your pocket demands, till Majali. From Majali to Tilmati Beach I walked for around 20-30 mins. Suit yourself.
Where to Stay : Sorry to say that there are no hotels or lodge at, or around, Tilmati or Majali, to stay, however you can try for Homestay options. Needless to say that, since Majali is a fishing village, these people are not yet introduced to homestay, so please understand that it is not a business for them, but a kindness to you.
A good option will be to stay at Karwar as there are Hotels available, and take a day trip to Tilmati.
Precautions : There are absolutely no wild animals in the jungle around Tilmati, however, since it's a rainforest, you will find all kind of creepers, and crawlers here, please beware. Also please take villager's help and prepare a bonfire for yourself, if you wanna stay for the night, or make it yourself if you are self sufficient.
My Experience : I was on a week long trip to Coorg, which has a been fantastic, and Tilmati was just cherry on top, for all the beautiful memories. Honestly, I hate to leave such places, however, bread and butter calls me, for another beautiful day and another awesome place.
@instagram: thevk56
Personal Blog : https://banjarooh.wordpress.com