31st December: On 31st December last year, we, a group of friends boarded the Shealdah-Alipurduar Kanchankanya Express to visit North Bengal for 5 days. The travelogue I have written here is more of a personal rant because I enjoyed reliving those beautiful moments all the while I was scribbling and therefore perhaps could not stop at a decent length for the article. It's long but I hope you take your time to read it and enjoy it.
1st January: It was terribly cold in the train at night and I woke up at 5 , trembling and coughing; and pulled up every possible winter items to cover my head and face. But it was a beautiful morning too and soon, we noticed the land getting more and more slanted and tea-gardens appearing on both sides of the track. We crossed numerous large rivers which were all more or less dry with white sand river beds and beautiful boulders. Blue hills appeared on the horizon and I cheered up immediately.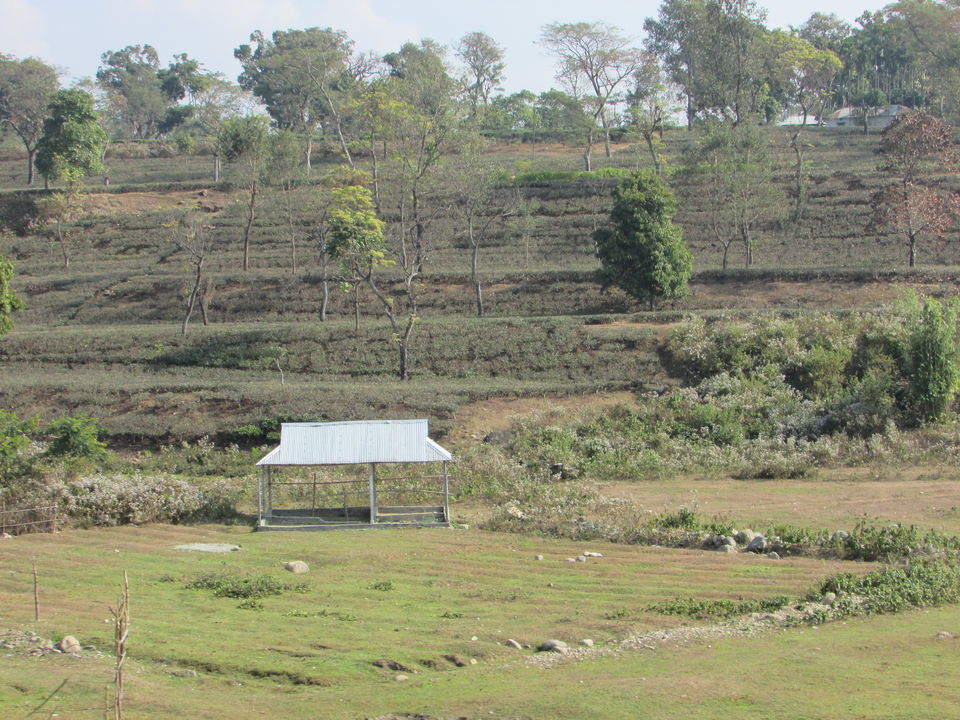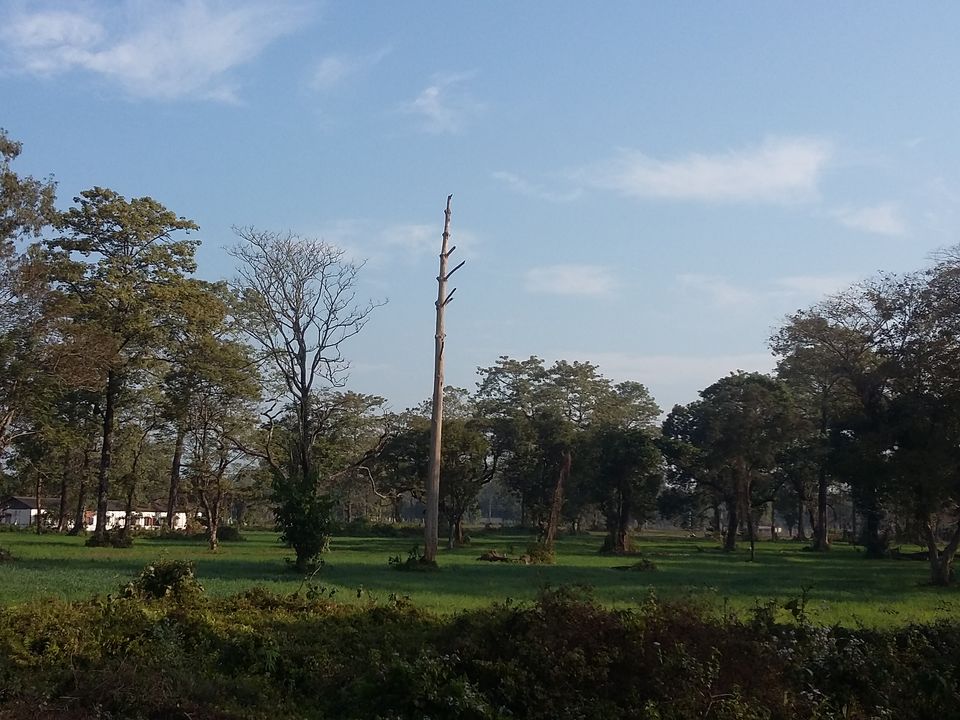 The train reached NJP and then proceeded to Siliguri Town Station which was very old and had a perceptibly British architecture. Then came Siliguri Junction -which used to be the most important railway station in the north before NJP was built. After Siliguri the scenes around the train became picturesque. The train entered the forests of Dooars and large tea estates. There were large rivers whose names I could not register and numerous small streams which gushed out of the woods.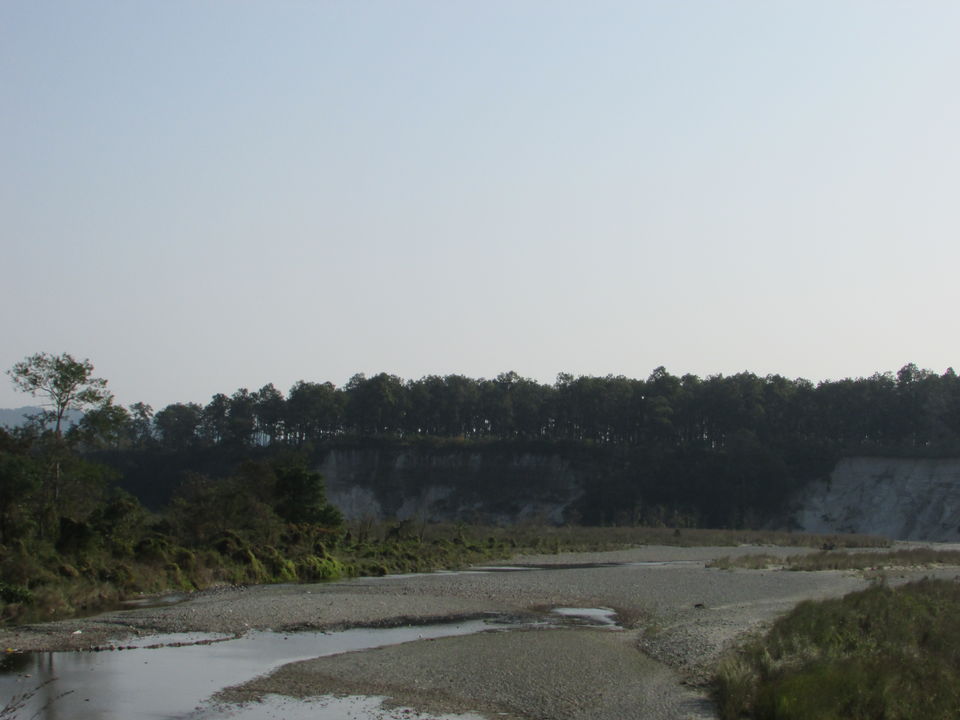 Occasionally there were small villages and roads around the tea-gardens; but mostly there were forests and a few beautiful tiny rail-stations by the single-track. The train stopped at Sivok station and its ticket counter was over-ridden with bright purple bougainvilleas.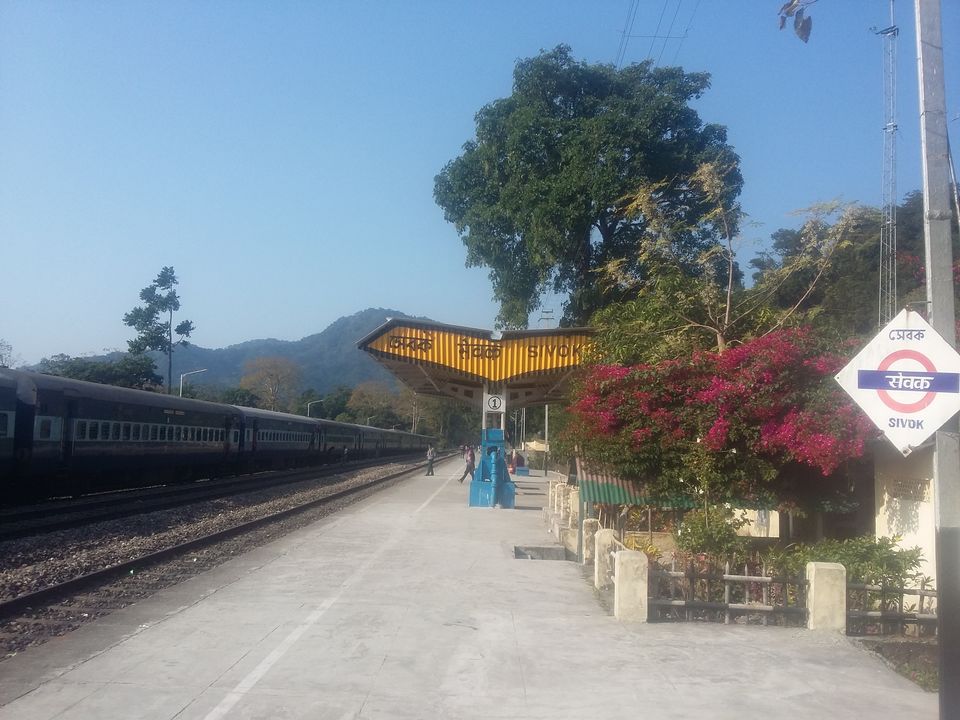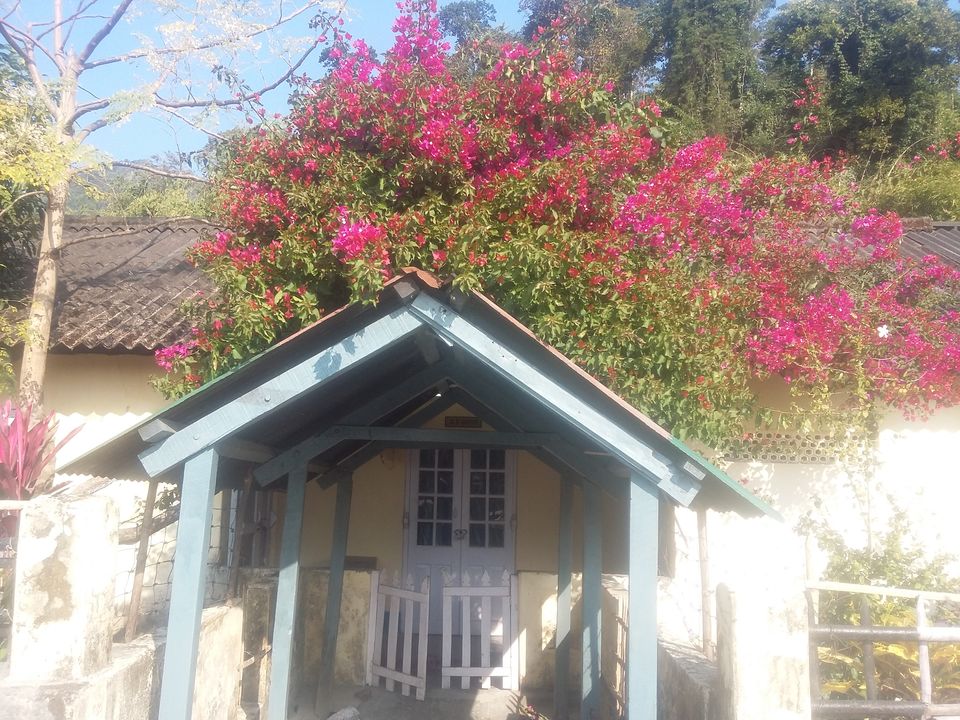 One could also see the hills at the backdrop of the station. Again there were forests and some of us stood at the door to look out. I tried in vain to spot some wild animals.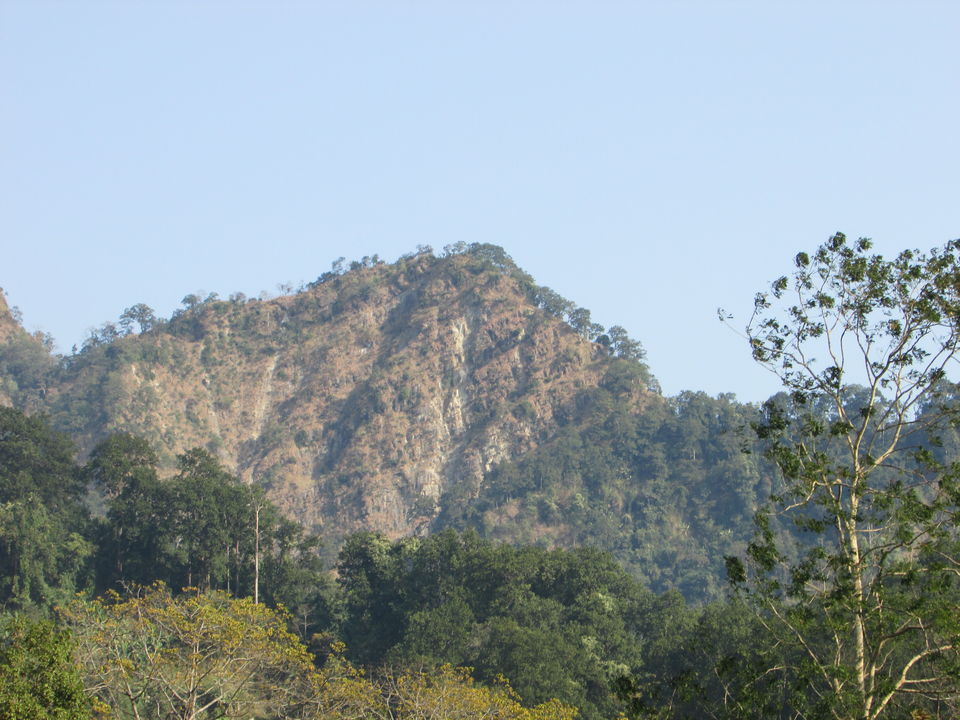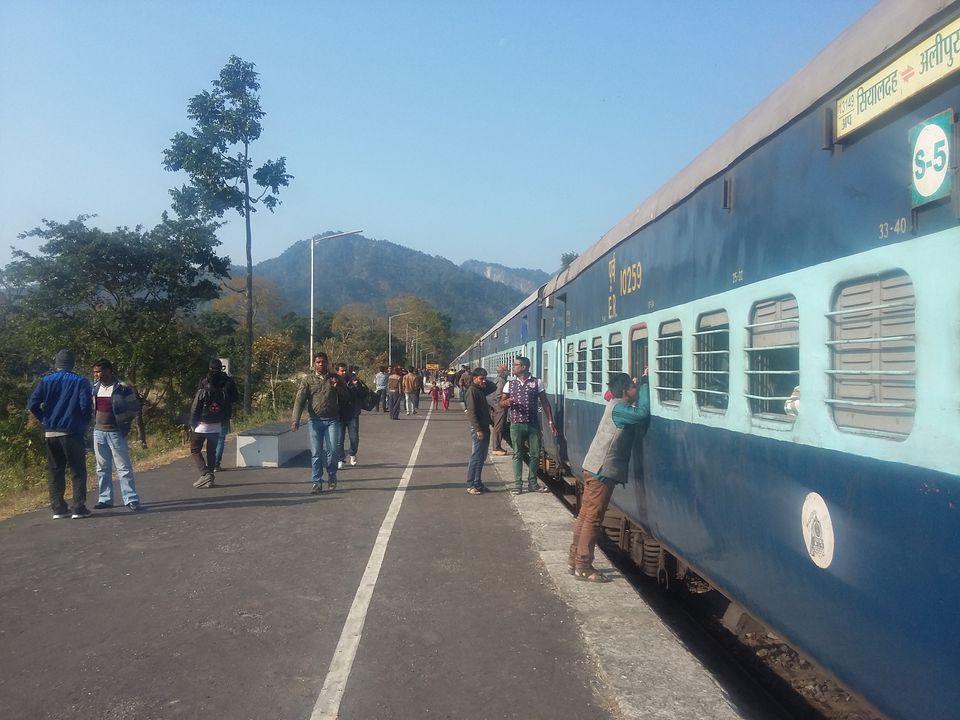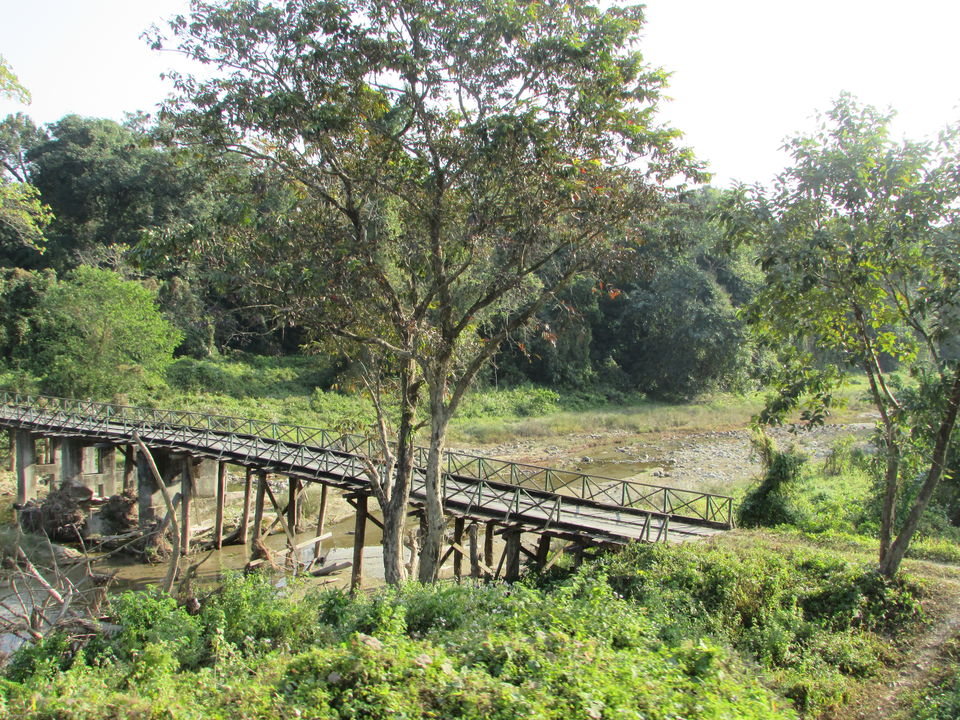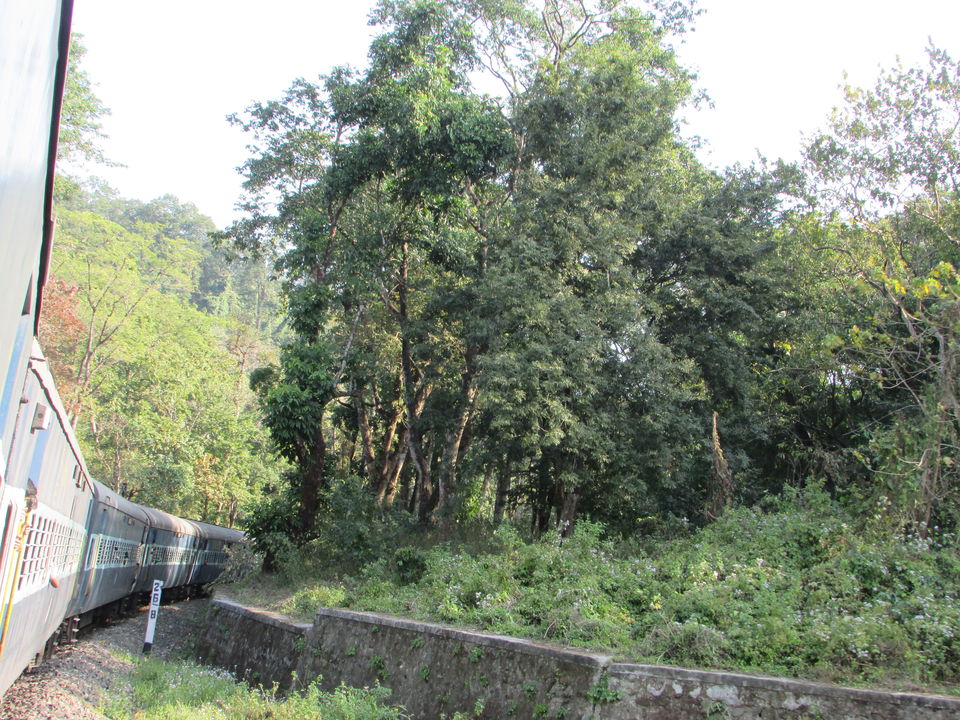 This track was famous for being a regular haunt of the Dooars elephants. Often we'd read in the newspapers that a herd of elephants had crossed over the rail-line, thus causing the train to stop for an hour or more and sometimes tragic stories of the elephants being killed by speeding trains were also known. The forests here were similar to those I have seen in the plateau of Bihar and Jharkhand, with similar kinds of trees, rivers and geographical features. We passed Binnaguri and Mal stations. There were a couple of dark tunnels as well through which the train went slowly. Sometimes the rail-track would take a round turn and one could see, if one looked out of the window the head or tail of the train around the curved rail-line. The rivers too were amazing; with clear water flowing over white sands and colorful stones. Suddenly out of the deep forests the rivers would appear like a curved white road and everybody would rush from one window to another desperately trying to capture the best picture possible . At about 11.30 the train reached Dalgaon station.
It was extremely hot at Dalgaon and I had bad premonitions about the tour. The conductor of the tour met us at the station and we boarded two Tata Sumos to reach the hotel. Dalgaon was extremely disappointing. There was absolutely nothing remarkable about it and the weather too was blatantly hot. We reached the lodge Dutta Nibas at Madarihaat. It was dirty but we didn't mind. I had a quick bath as soon as possible. After lunch and a quick rest, we embarked on the journey to Phuntsholing.
At first we saw the Chilapata forest. It was possibly a part of the Jaldapara Wildlife Sanctuary. When the cars speeded through the desolate forest in the afternoon, the entire ambiance became incredible. We stopped at a place where a tiny foot-track went into the forest and I was greedy to just follow the trail and explore the silence of the forest in afternoon light. I have never been to such a forest before and it was majestic. The curved high road that went through it, was unspeakably alluring, but we had to hurry for Phuntsholing. Near the entrance of Chilapata forest there was a pretty army campus amidst all the greenery and even that simple thing looked beautiful in the glow of the sun.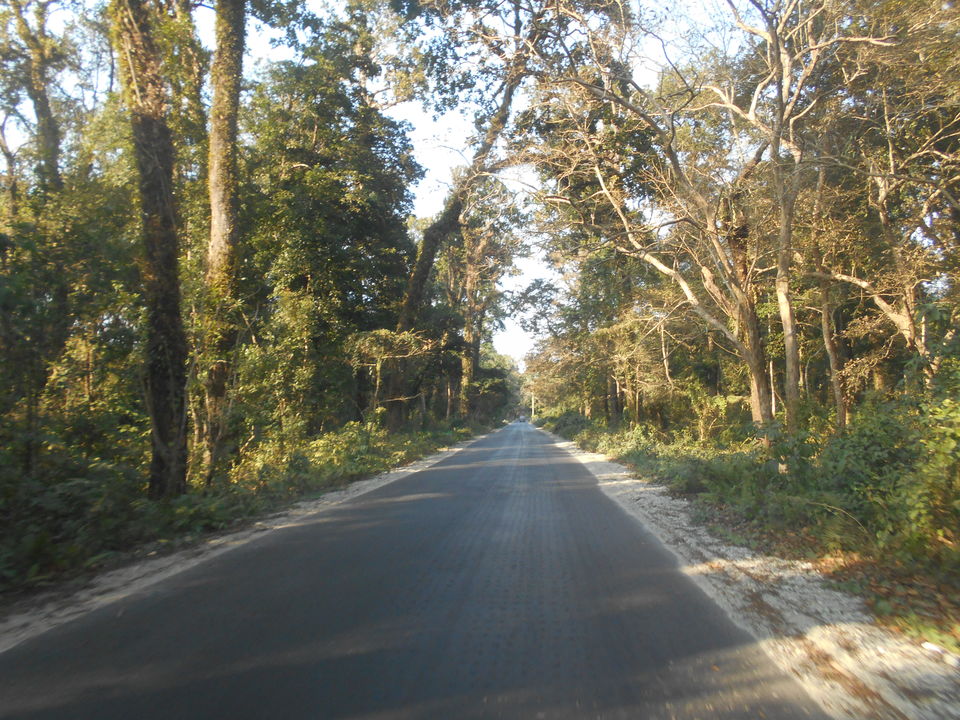 The road to Phuntsholing was not that interesting except for the few tea-gardens we encountered along the way. We saw the Torsha river too and desperately wanted to get down but we were getting late already so that was postponed for the time being.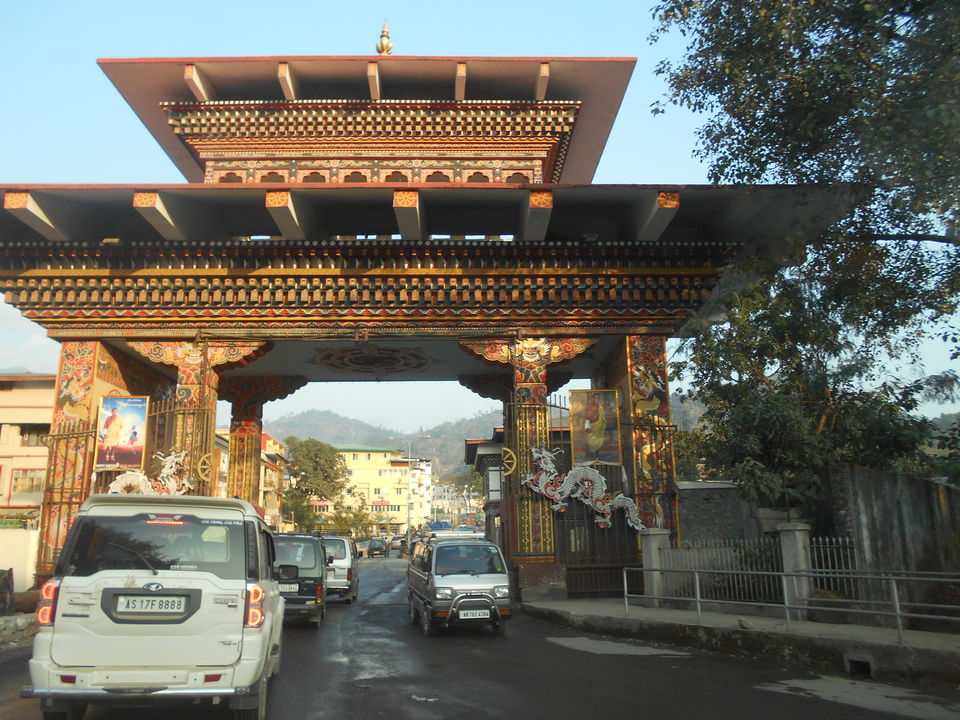 Phuntsholing town was extremely nice---clean and pretty. Well-dressed people walked along the beautifully paved streets and sat in small parks. Many women wore a kind of wrapper-skirt which I assumed was Bhutan's national dress. There was a national dress for the men as well---a wrapped shawl type upper shirt which extended down to the knee and long socks which covered the legs. The young king and the queen of Bhutan were apparently very popular. Large photographs of them dressed in fashionable colourful traditional clothes adorned the shops and the street corners. They were a very handsome couple too and probably enjoyed the status similar to that of popular film stars. Some people went to see a crocodile park. Afterwards we walked about in the market area. Some went in to buy the Bhutanese red wine which were 100 rs a bottle! Some also exchanged Indian notes for Bhutanese money, and from a small shop I bought a kind of salty sweet dried plums which were delicious. Others also bought Tentul achar which they first mistook for chocolate candies.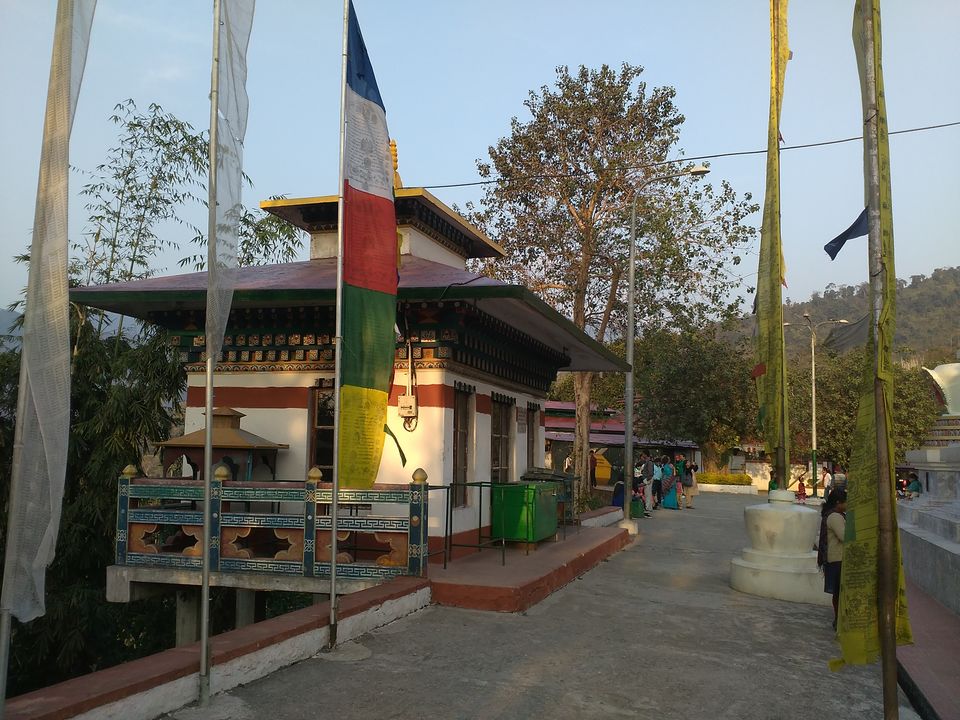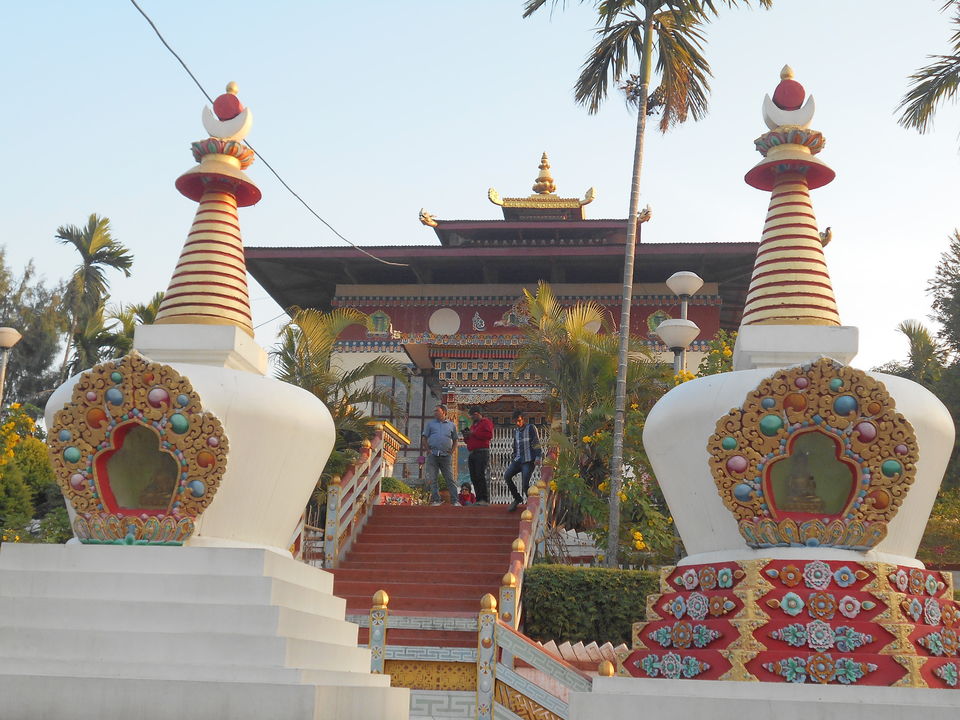 We went to see a monastery which was right on a hill-top at Phuntsholing and one could look down and have a birds-eye view of a vast expanse of lands below---towns and serpentine rivers. Beside the Monastery was a royal summer palace, and in between on a large green ground dotted with colourful Buddhist prayer-flags, many people were busy in picnics. It was a bright and pleasing place.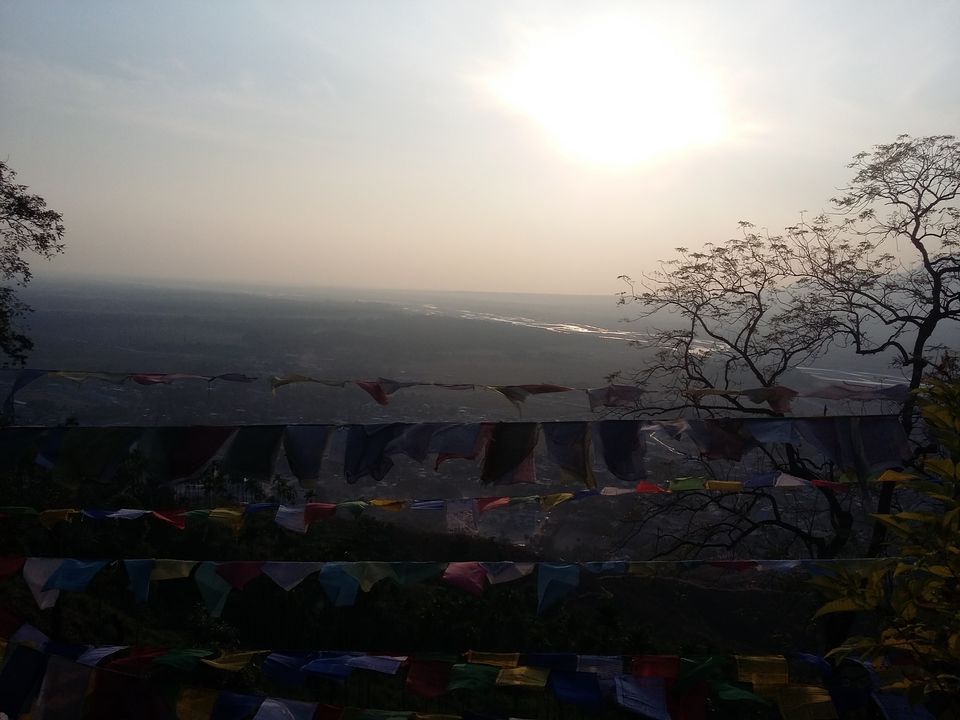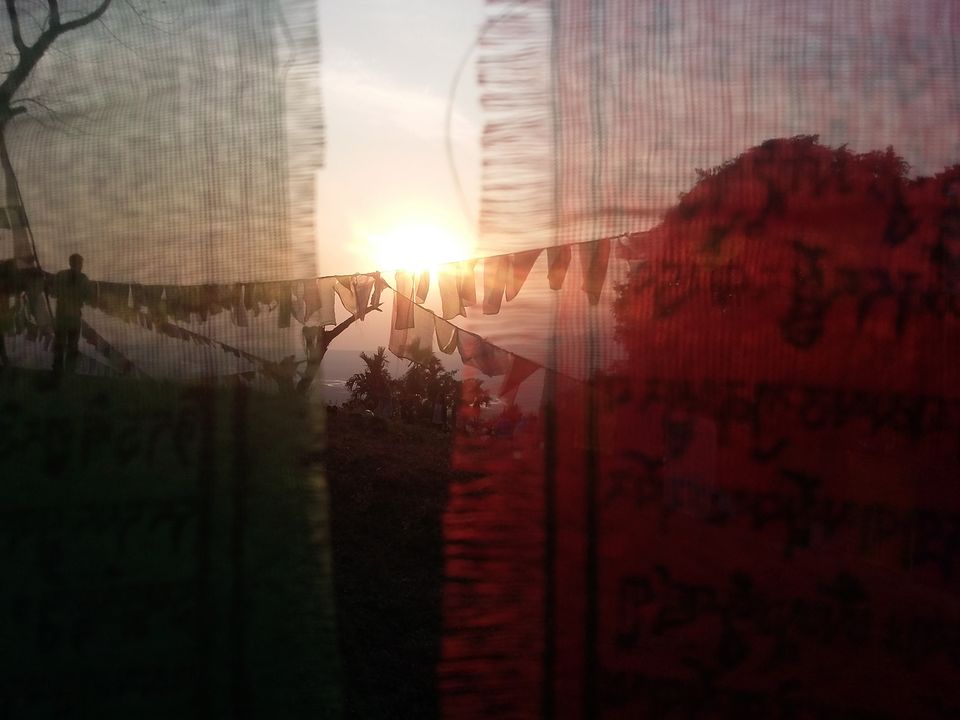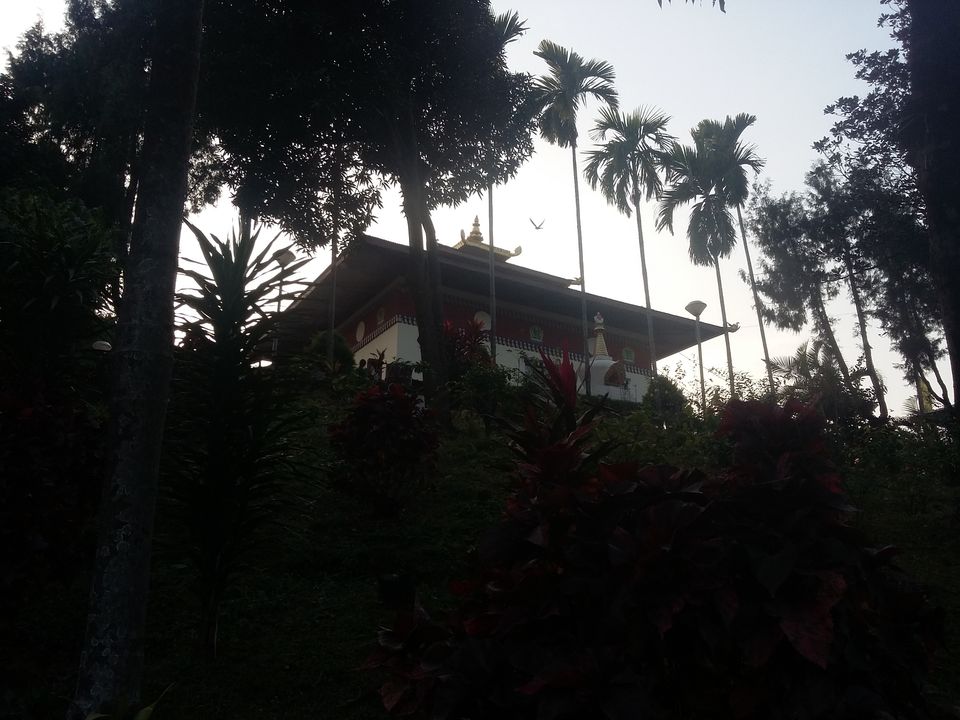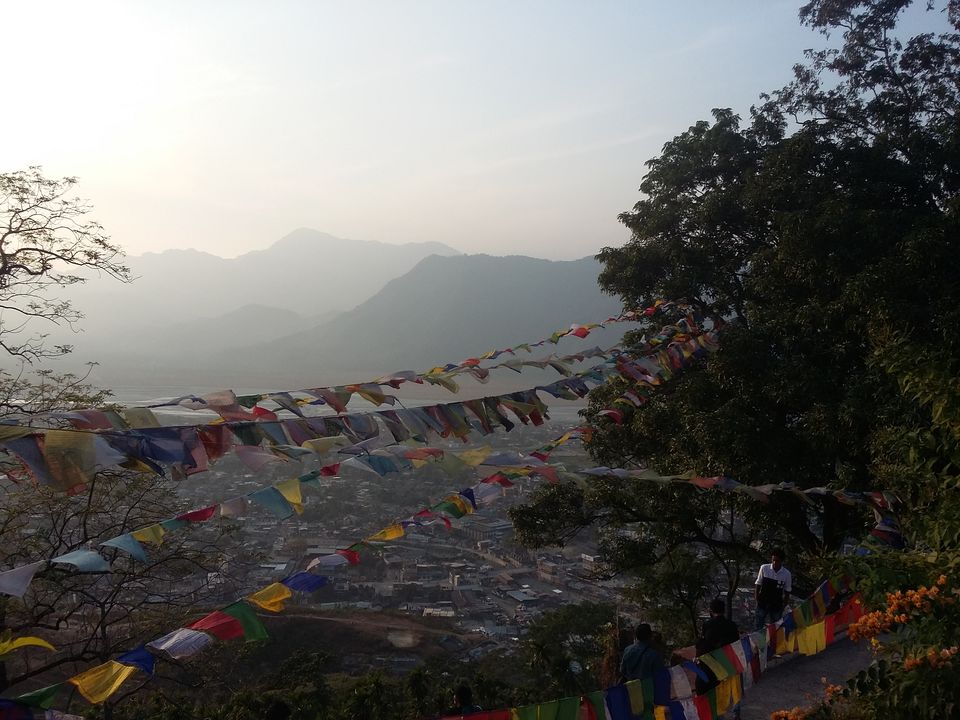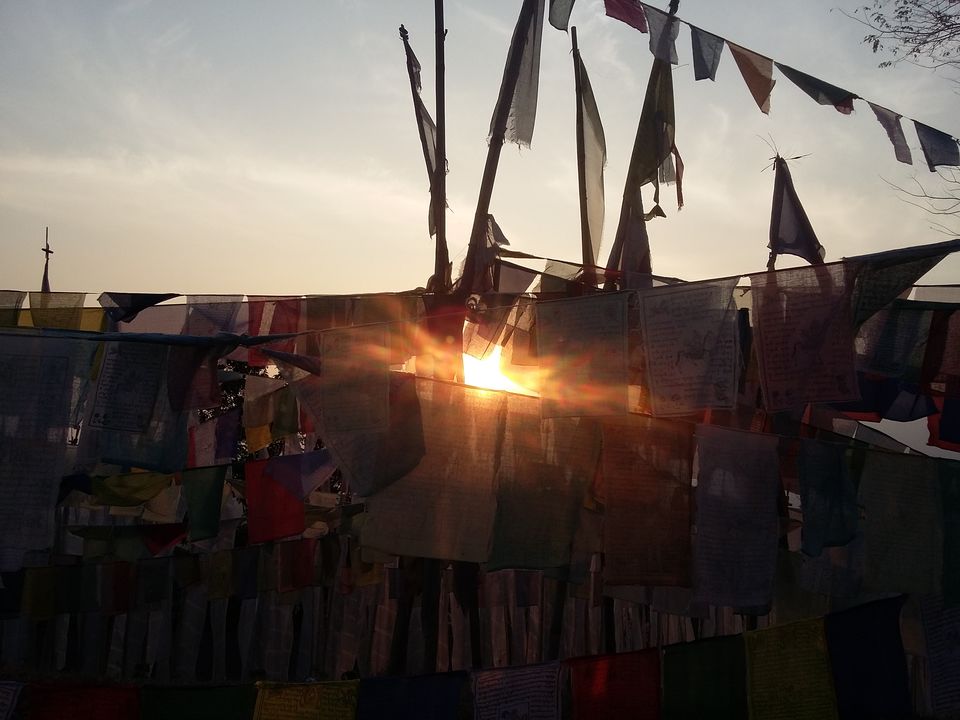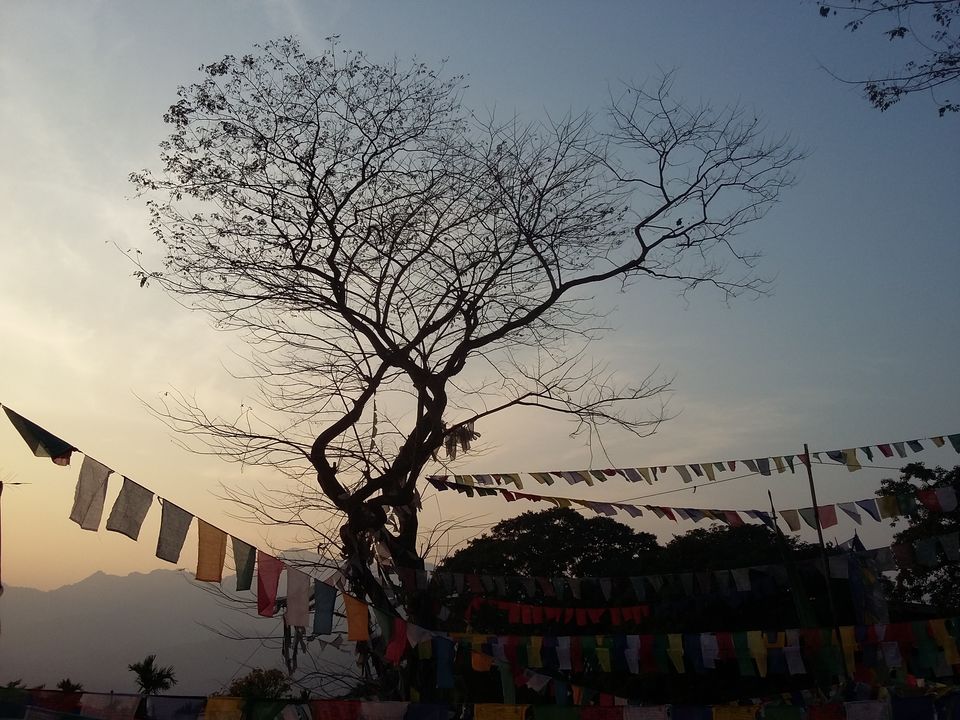 As the evening came upon the town, it started glowing in bright lights and I felt quite disheartened when we had to leave the quaint charming city and emerge instead in India which was all squalor and noise. It was now night and extremely cold.
2nd January:
We started early in the morning for Lava. Lava was a tiny village, surrounded all around by green hills and was immensely cold and isolated, except in the very high touristy seasons and this was not one of them. The road to Lava was at first through the usual Dooars tea-gardens and the winter woods full of dead leaves; the grey hills were lurking close and but still seemed out of reach.
Then suddenly, as if out of nowhere the hills were right onto us and the cars were moving upwards than forwards and I felt, as did everybody, the sudden burst of exhilaration at going up! The roads were now circling and writhing around the hills and plain lands were beneath our feet, gradually being lost in the pine forests of the crevices.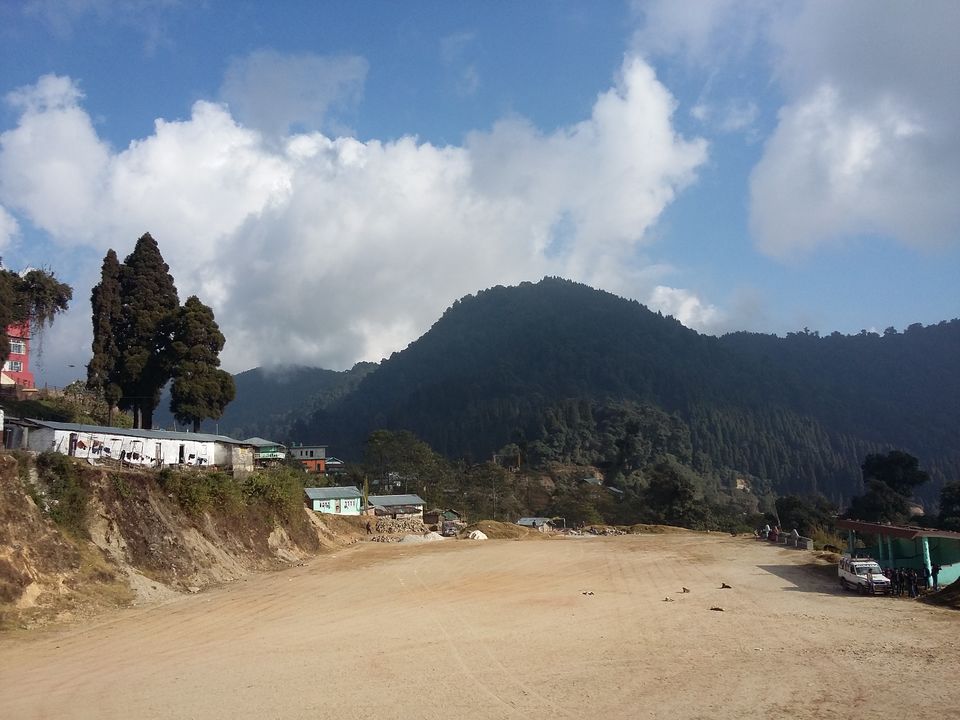 It was around 2 when we reached Lava. It was freezing cold already and we were given shabby rooms without heaters or geysers. So much for cheap travel. But you can learn to put up with anything when your spirit is high. So I took a bath in a pail of freezing cold water and changed into a set of clothes, which I didn't get out of until the next day. At Lava, throughout the nights, without the room-heating, even under the heavy blankets, we slept with all our clothes on including the jeans and the gloves.
After a late lunch, we sauntered down the descending road to visit the Lava Monastery. Our hotel was one of the tiny places along the downwards lane which goes to the monastery from the bus-stop. It was lined with little home-owned shops selling colourful souvenirs and some restaurants.The short winter day was speedily closing up and the last golden lights of the sun were already on the Monastery when we reached it. It was freezing cold. The monastery was on a relatively flat surface on the top of a hill and flanked at all the sides by the hills. As gushes of January winds came blowing to us unhindered from the mountains, I felt my very toes to be freezing and my ears growing red and numb.
In the evening, we had momos at a small street-side home owned place. It tasted nothing special. By 8 at night, every shop and house were closed and when we were returning, the roads were dark and strange, as if lifted from a Gothic novel.
3rd January:
Sudipa and I woke up early in the morning and went for a walk. The day was cold but sunny, and the fog had receded down to the forests. We had worked up a heavy sweat by the time we had reached the bank of an old abandoned water-reservoir which lay further out from the monastery, where we sat down on a bench and petted some fluffy dogs who came wagging their tails to us, hopeful for some breakfast. Then for returning, we asked the local people about a short-cut to the bus-stop because the meandering road we had followed down was no less than a few kilometers and thus could be very difficult when ascending. They pointed us to a rough narrow flight of stairs, very rudimentary, which went steadily up, between the houses and the rooms and through people's courtyards and backyards. We took it and were soon out of breath. We hadn't anticipated how difficult a simple climb of stairs could be. We had to sit down every now and then and ask for drinks of water from a couple of houses. I must express my admiration for the beauty of tiny hill-houses here. They are, almost all of them really small and are inhabited by people who are by no means very well-off. Yet these houses are made of woods painted in cheery colors like read, green and yellow and each and every house possesses a little garden and loads of potted flower-plants adorning their window-sills, verandas and terrace. Many a time you would find a fluffy mountain dog or even a cat reclining lazily on their doorsteps. I always adore these beautiful houses and good taste of their owners.
After breakfast, we started for Lolegaon, which was another small village amidst forests, and boasted of a scenic view of the Kanchenjunga as well as a hanging wooden-bridge in its woods.
Unfortunately at Lolegaon, we could not see the Kanchenjunga because suddenly the day had become cloudy, but we explored the forest nevertheless. The long wooden bridge could only support 5 people at a time and we took turns in getting onto it. I enjoyed the forest immensely, despite it's being slightly gloomy due to the clouds. Every time I have been to a forest, I have felt an incorrigible urge to go further, to its utmost depth and perhaps sit on a tree-log and look at the wild flowers, collect scattered winter leaves, and stoop to find some wild fungi on the tree-barks.
Sometimes, during the Monsoons, these Dooars forests became really dangerous. Even now, when it was winter and much drier, we were told to always carry umbrellas because apparently the leeches could slide down onto you from the overhead branches. During the rains, I suppose there would be landslides and one could always get lost.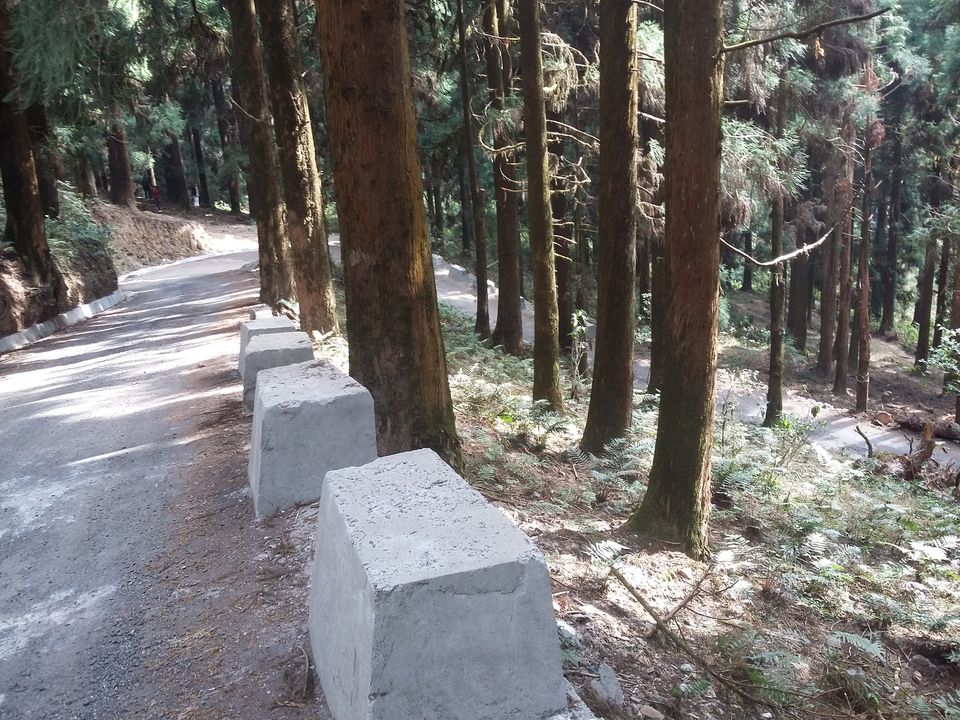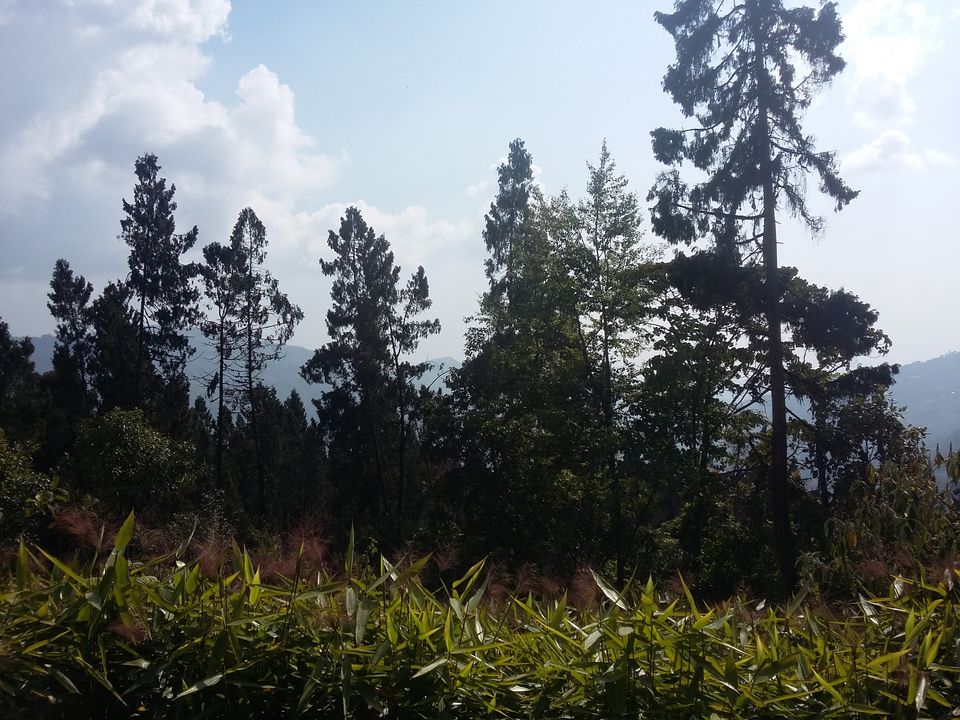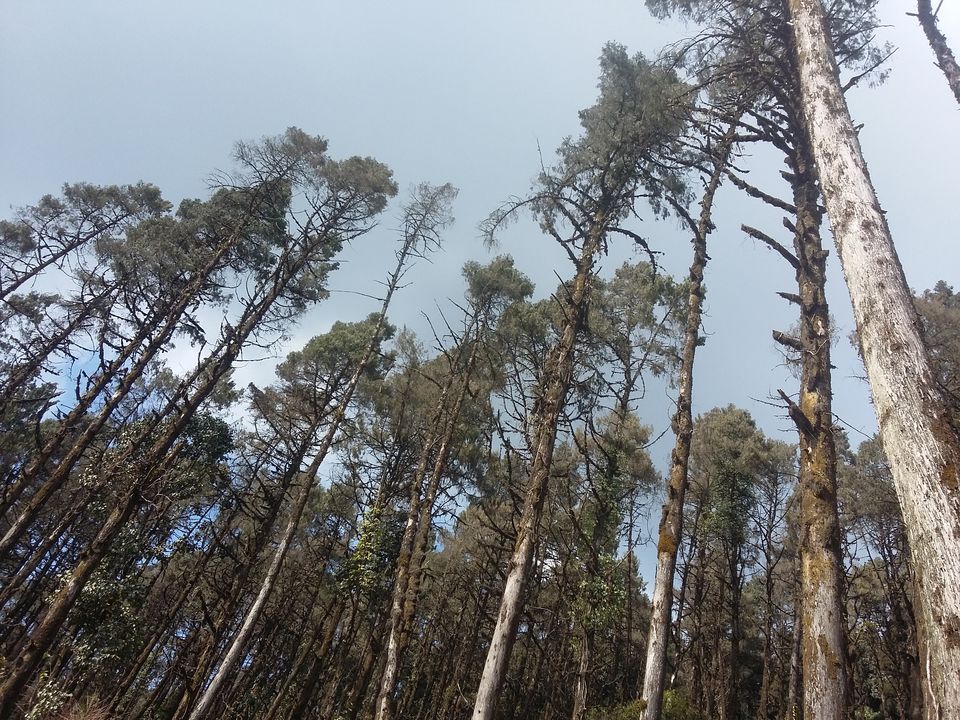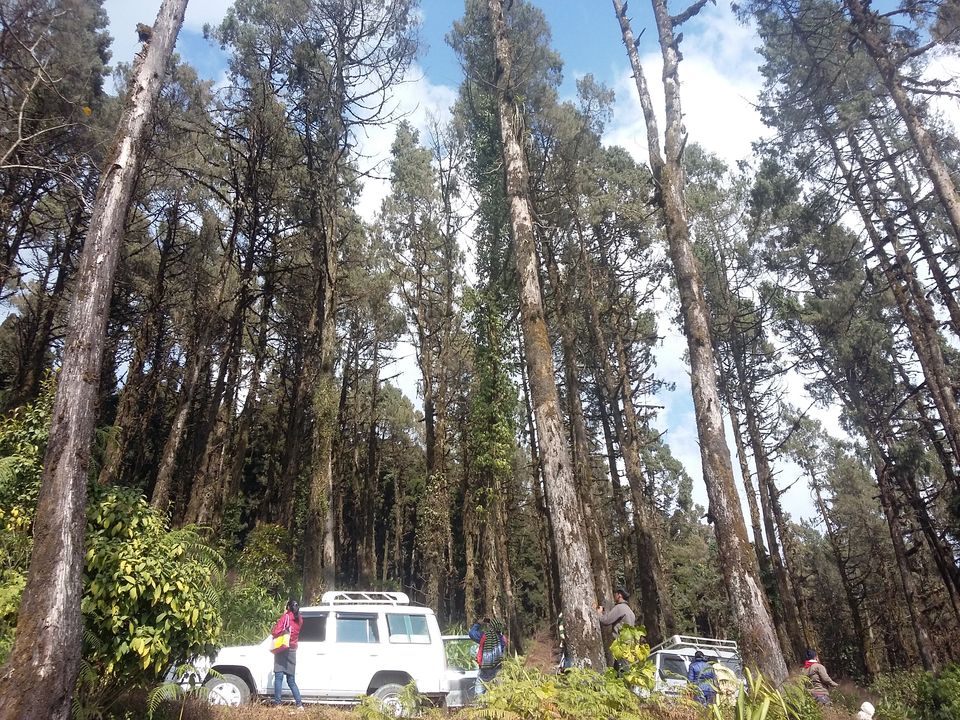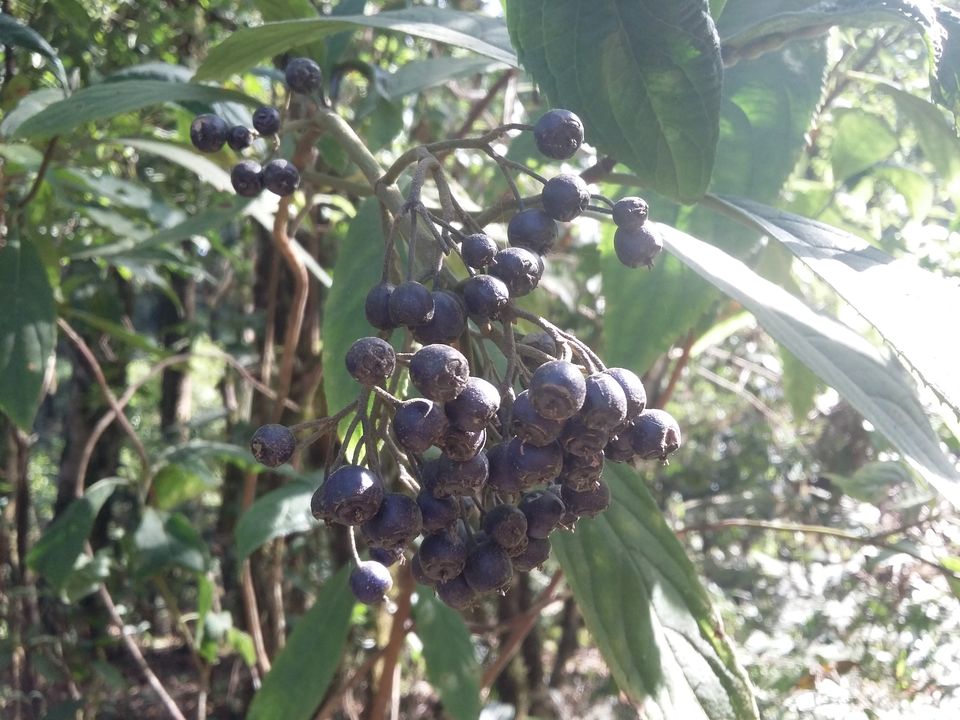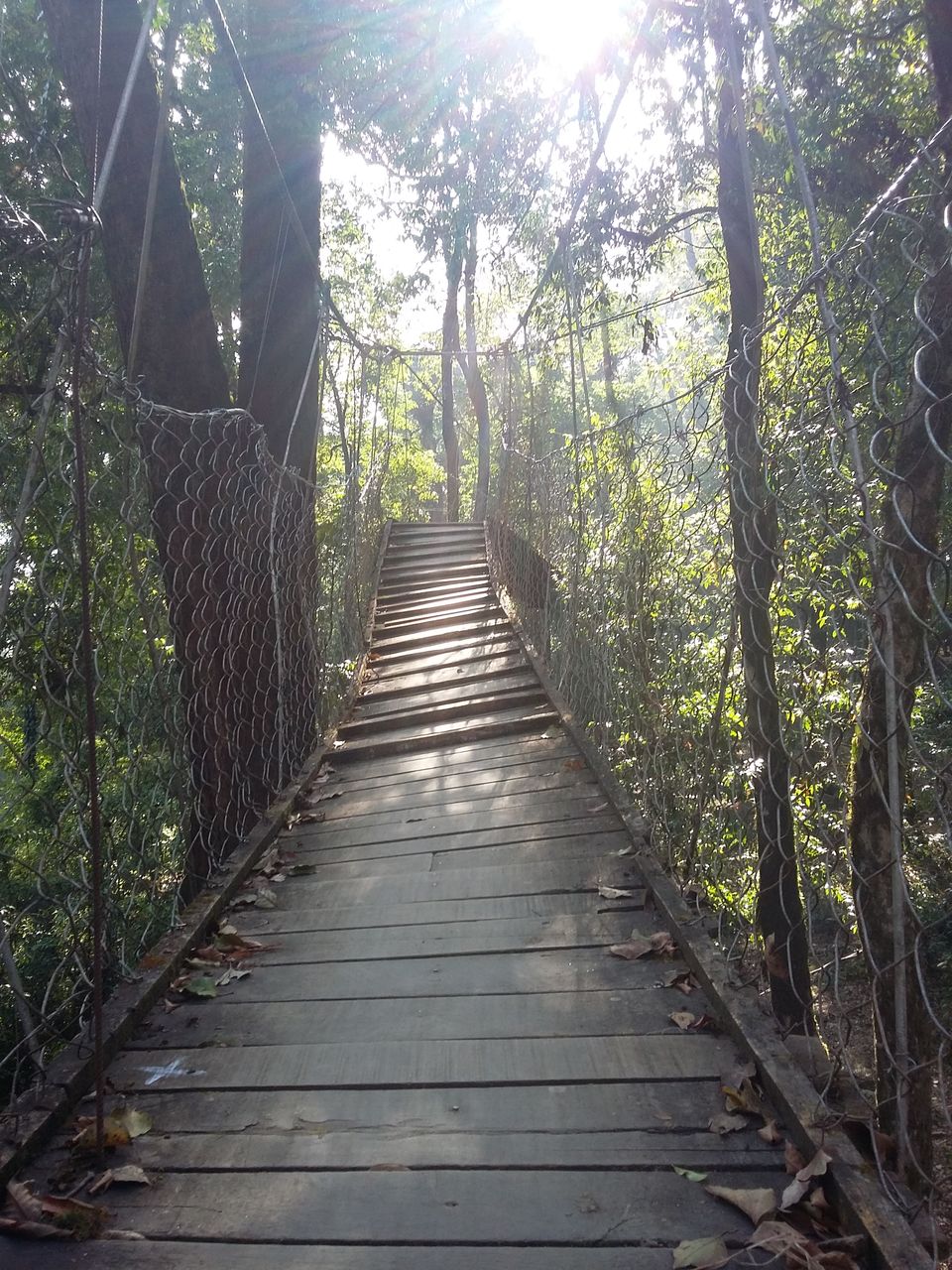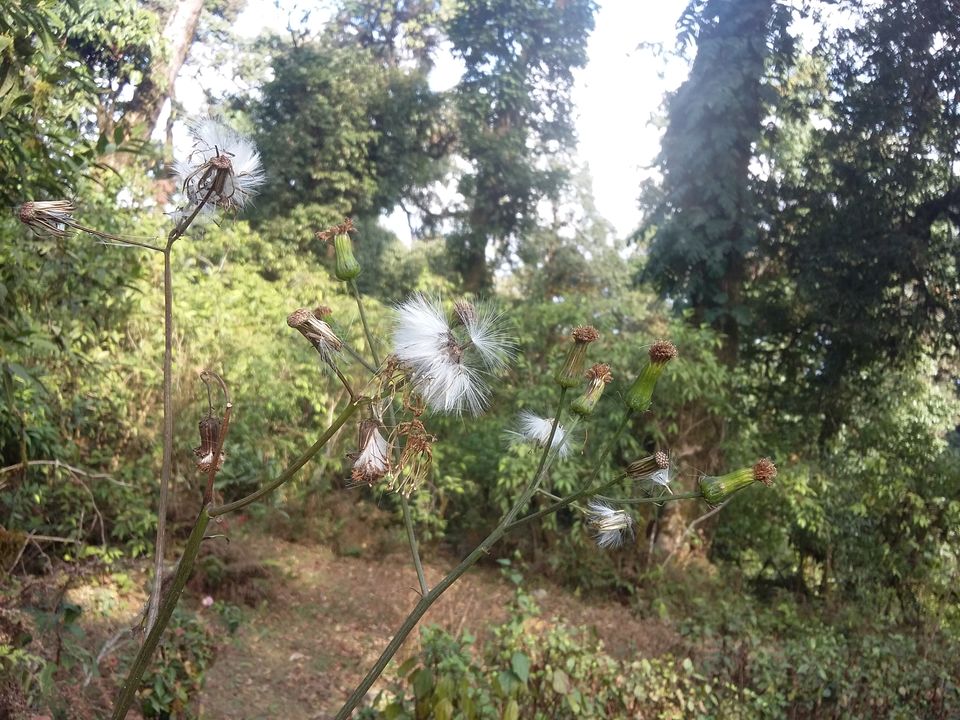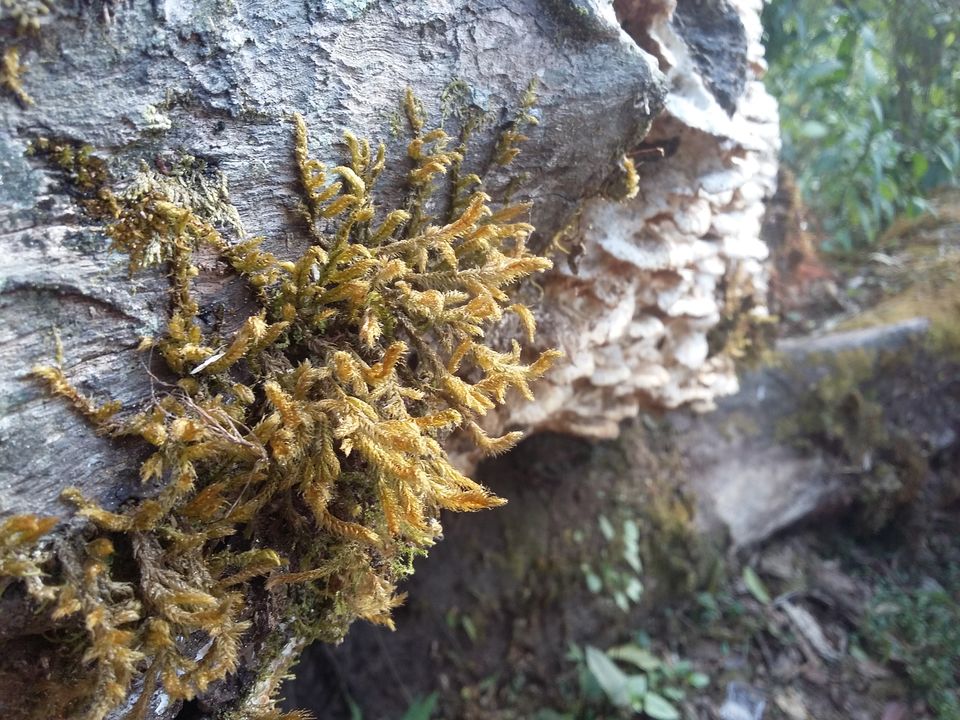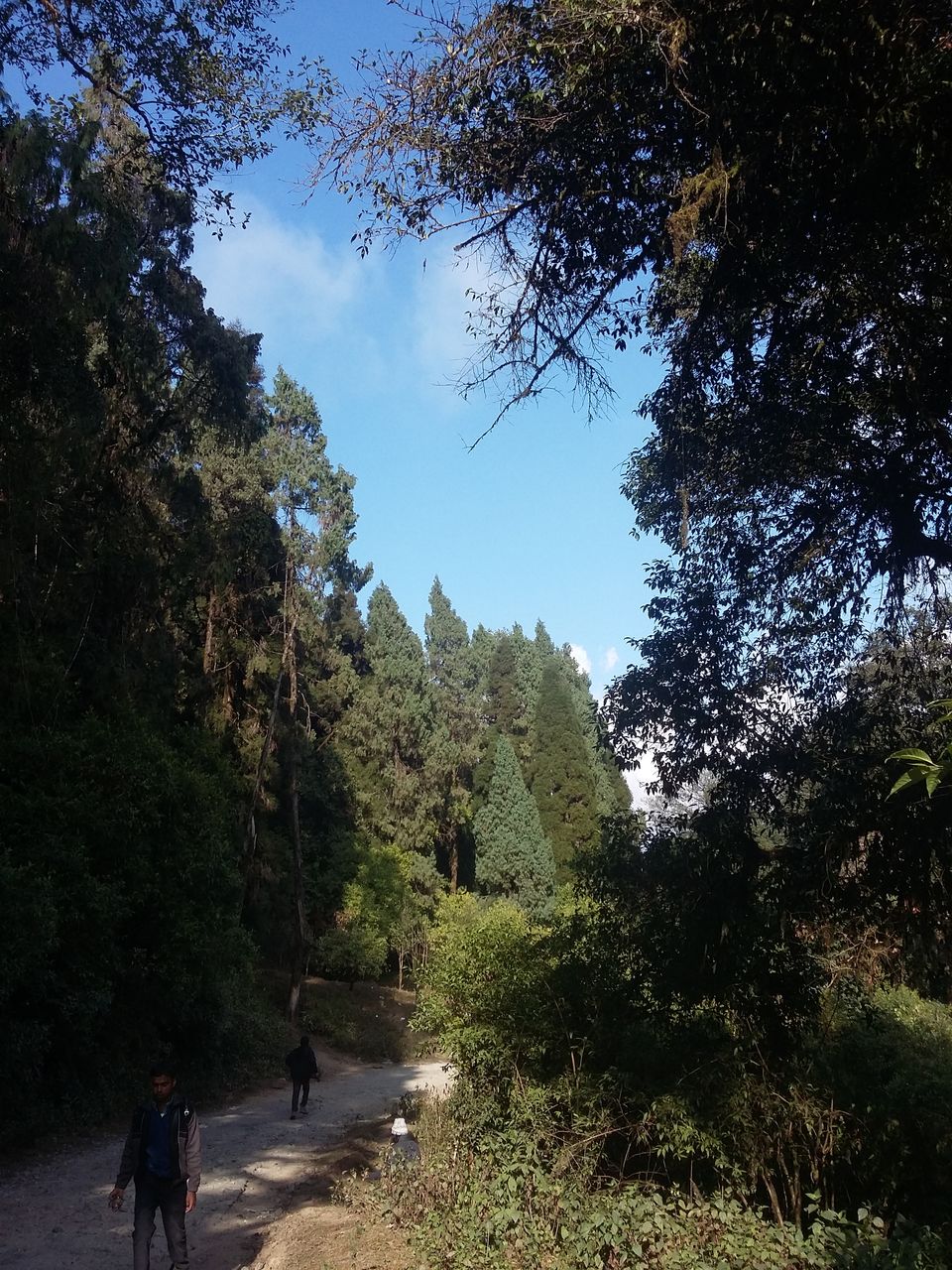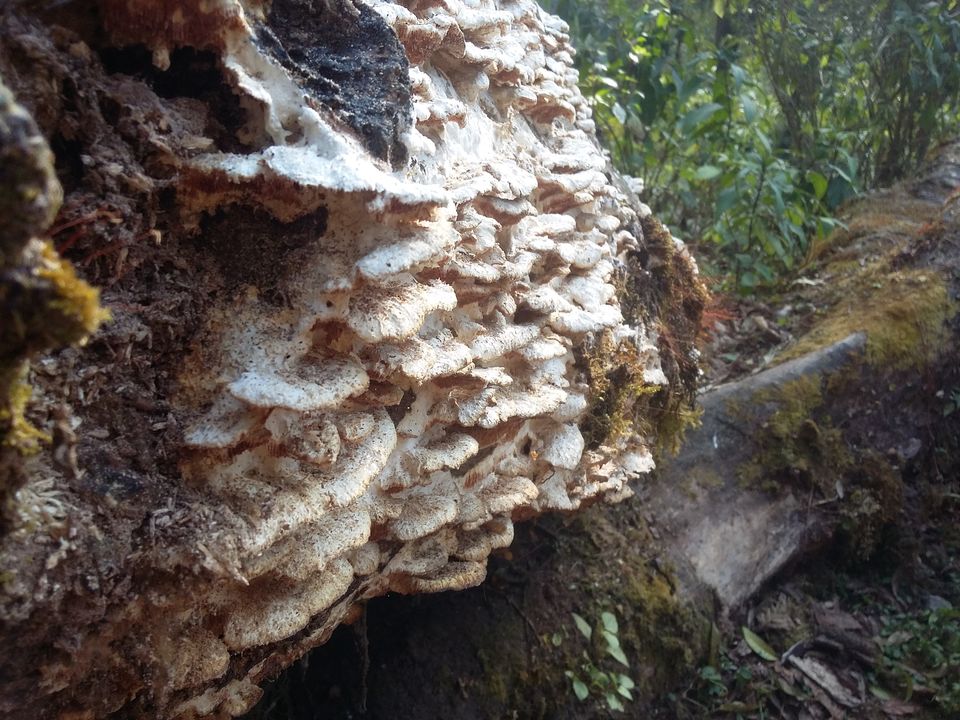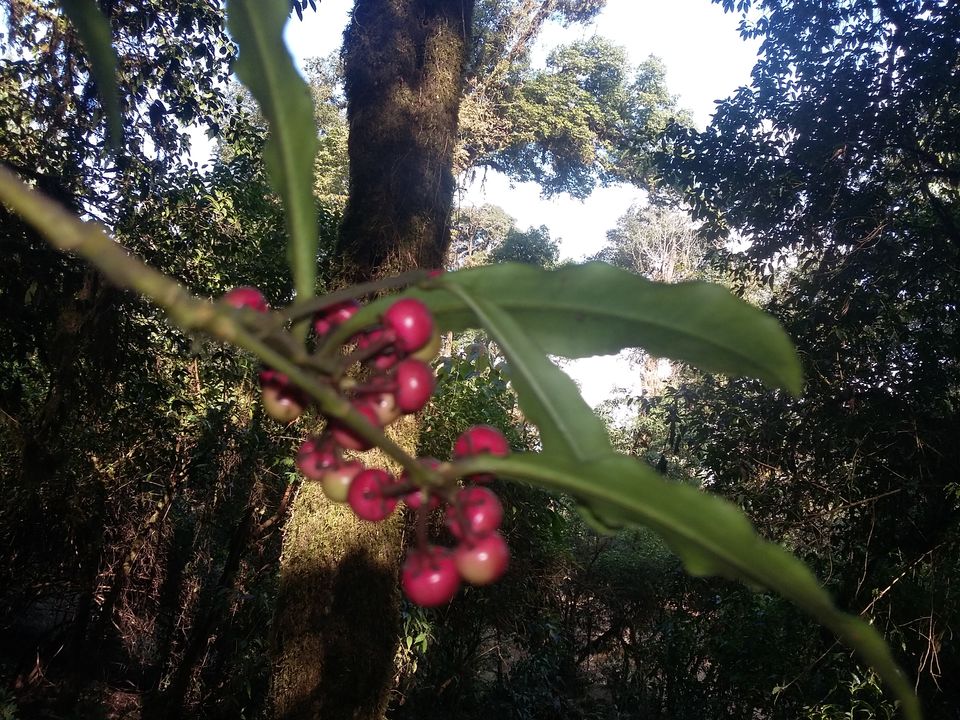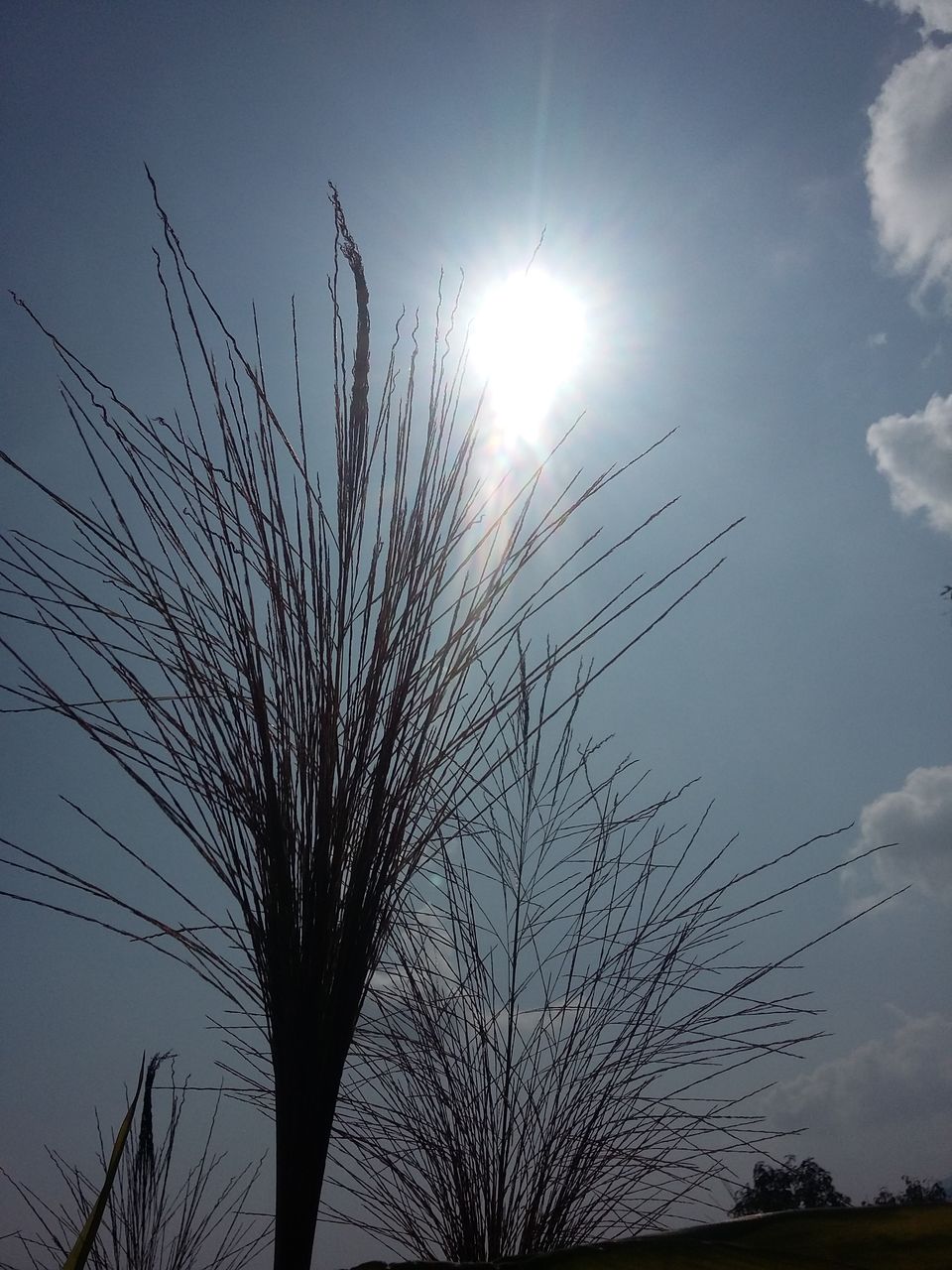 Once again, we came back to Lava in a very late afternoon. The winter days were so short and it was not even 4.45 when a darkness seemed to have descended on the roads and a dense fog lied all around Lava. The fog was really fascinating—in the way it coiled around the trees and lurked around the corners and made one feel strangely oppressed. We however had decided on our way back that we were going to use the daylight as long as it lasted to explore this little place before we left the following morning. So after a tiny evening snacks, we packed our torches and water-bottles and went ahead a kilometer or so out of the town and sat beside the road, a little distance into the forest--looking into the foggy darkness. There was hardly anything else one could do, now that it was so cold and dark. The darkness was only momentarily pierced by the headlights of cars which were rare. Generally people would never take these roads after darkness, because the fog alone could kill you.
4th January.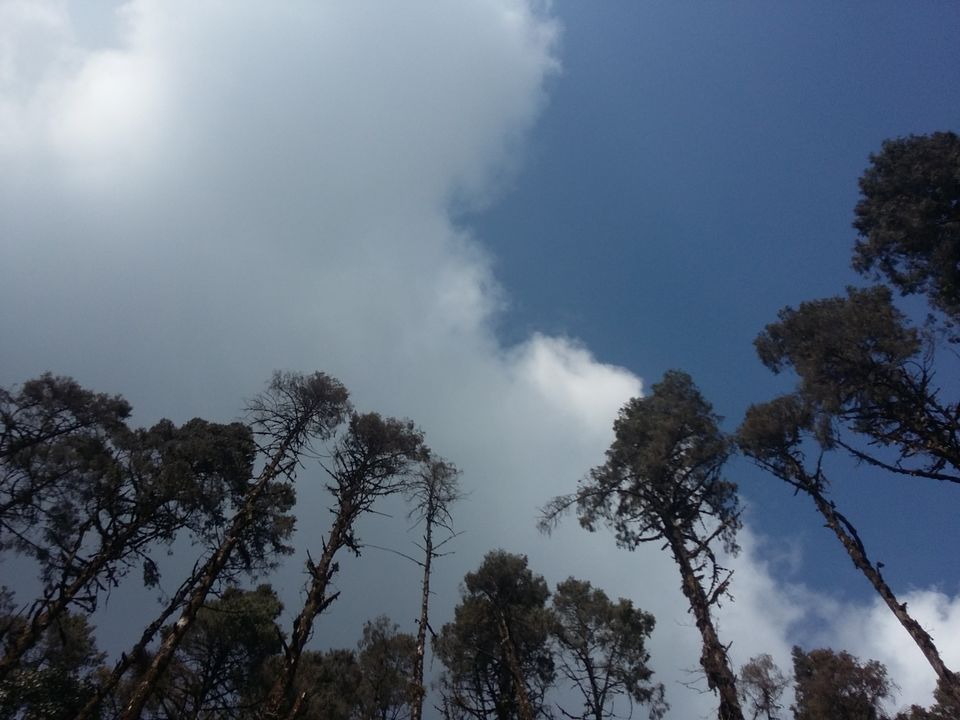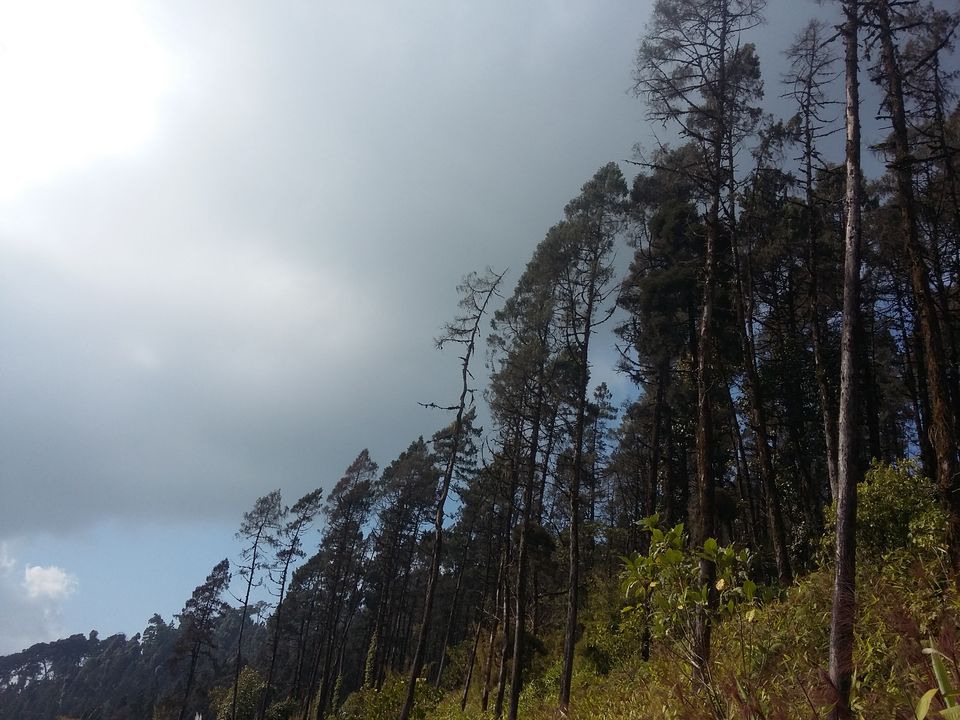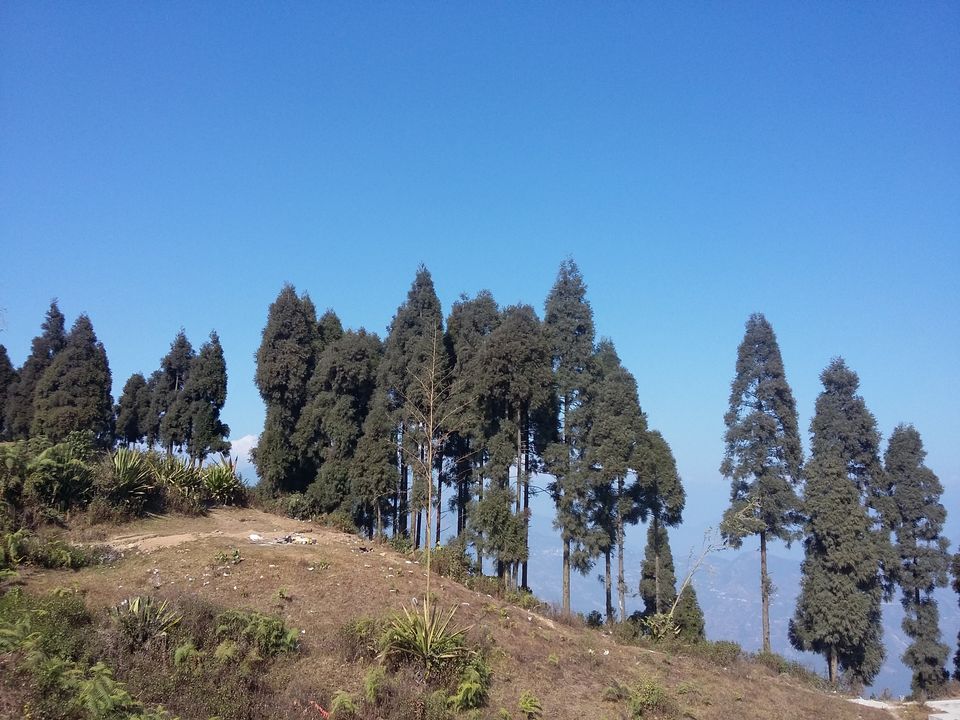 After another shivering cold night, and another brisk but short morning walk, we started early in the morning for Kalimpong. We would visit Rishop, and the Delo Hill on our way. Rishop is a pretty famous place by itself; mostly because of its extraordinary view of the Kanchenjunga and the scenic beauty; and also because it's quite off the route and is thus generally undisturbed. People who love solitude would definitely spend a few nights here, as we too should have done had we not been on a budget. I hear there is a manageable trekking route from Lava to Rishop which would be amazing if one dares take it, because the car-road is awful. The view of the peak however is worth anything. ANYTHING really. I could go on and on about it; or perhaps I just couldn't. It's better if I just remain silent and celebrate the moment inside my head for a moment.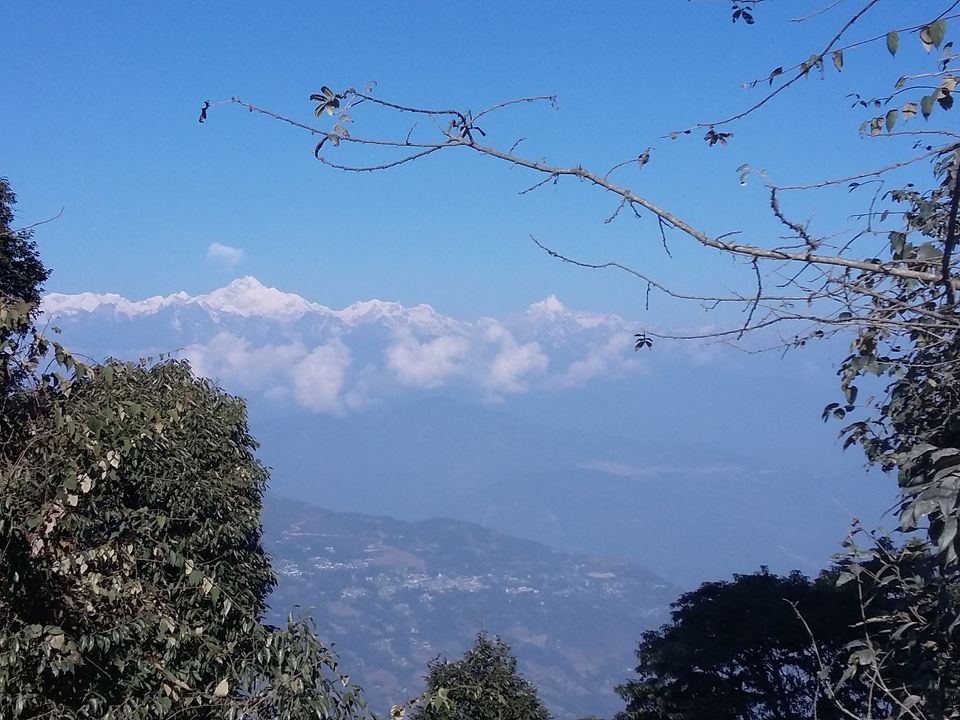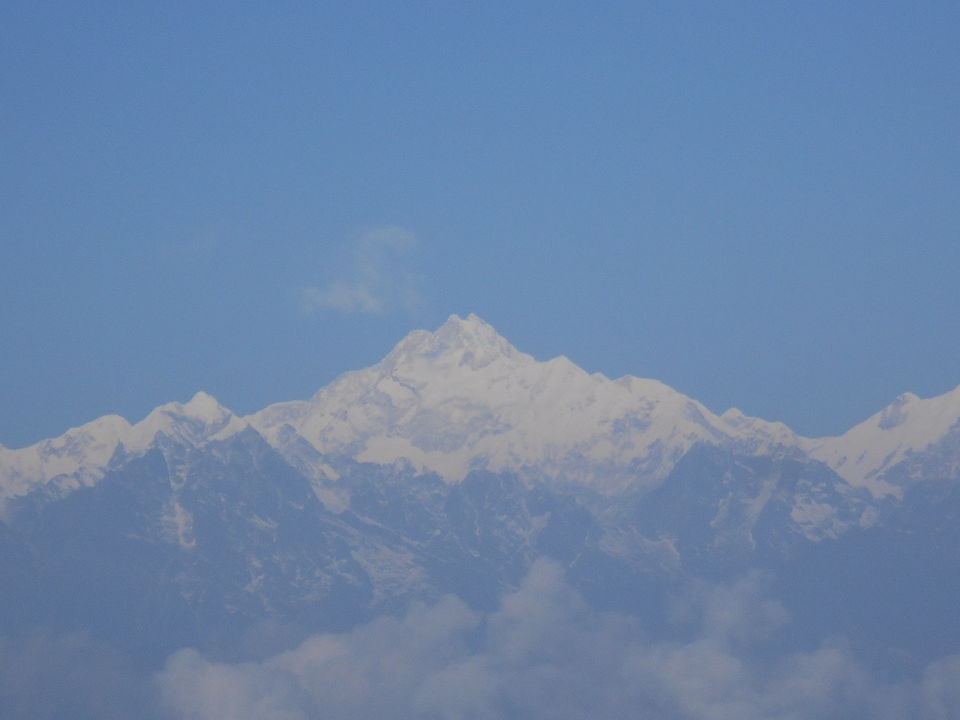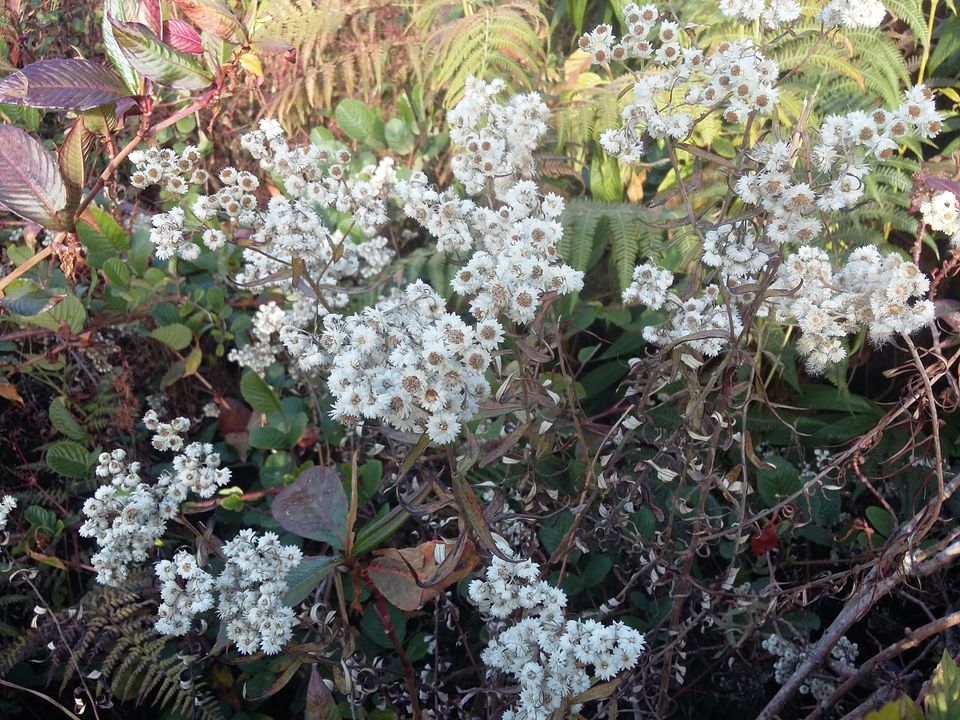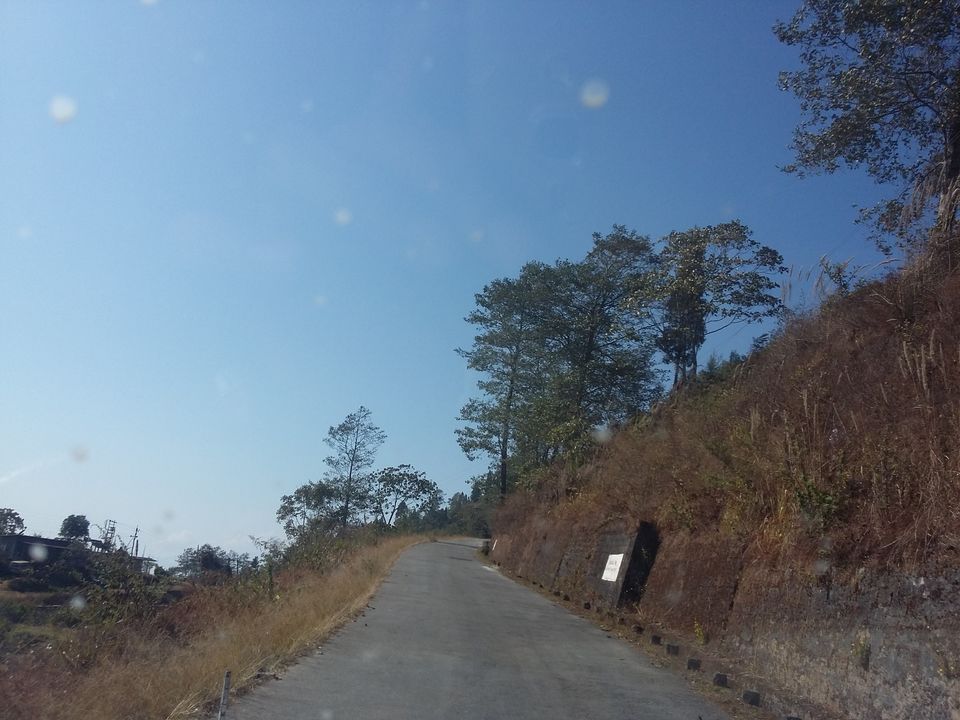 Off we went again, and came upon a beautiful nursery and a horticultural garden in the outskirts of Kalimpong, near the Delo Hill. I am very fond of gardening and immediately bought some saplings; though it was rather doubtful whether the hot climate in Kolkata would suit these plants. This place was beautiful; had large greenhouses for its cactus; ivies and creepers with bright orange flowers shaded the long verandas. I wish I could own such a place. Make my living by selling flowers and plants, gardening all around the day, and perhaps having a little tea in the afternoons while sitting outside the glass-houses and viewing the mountains.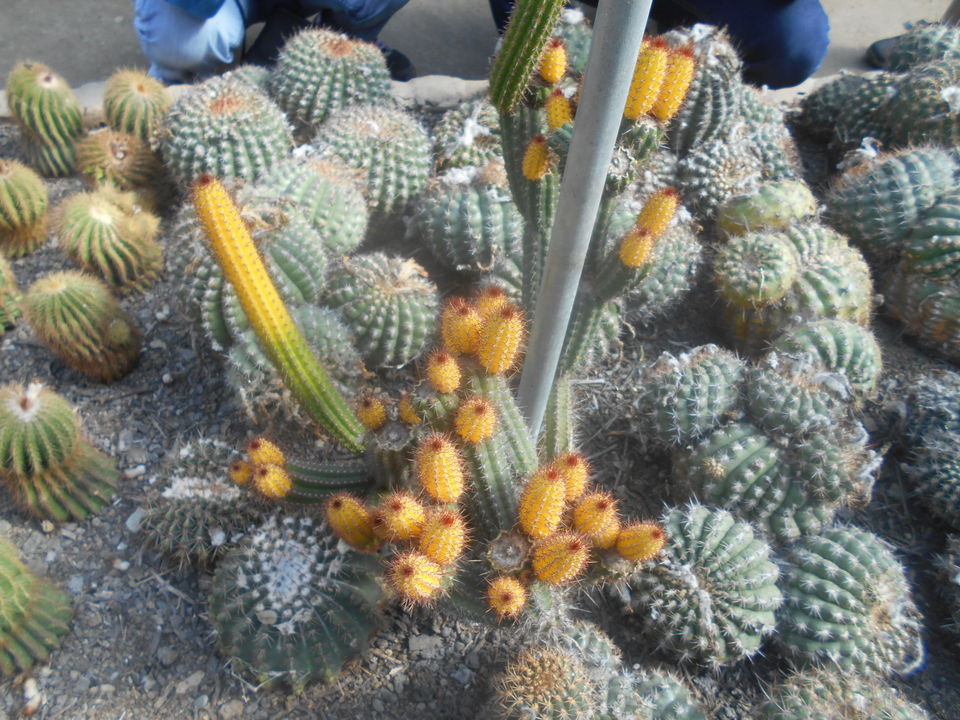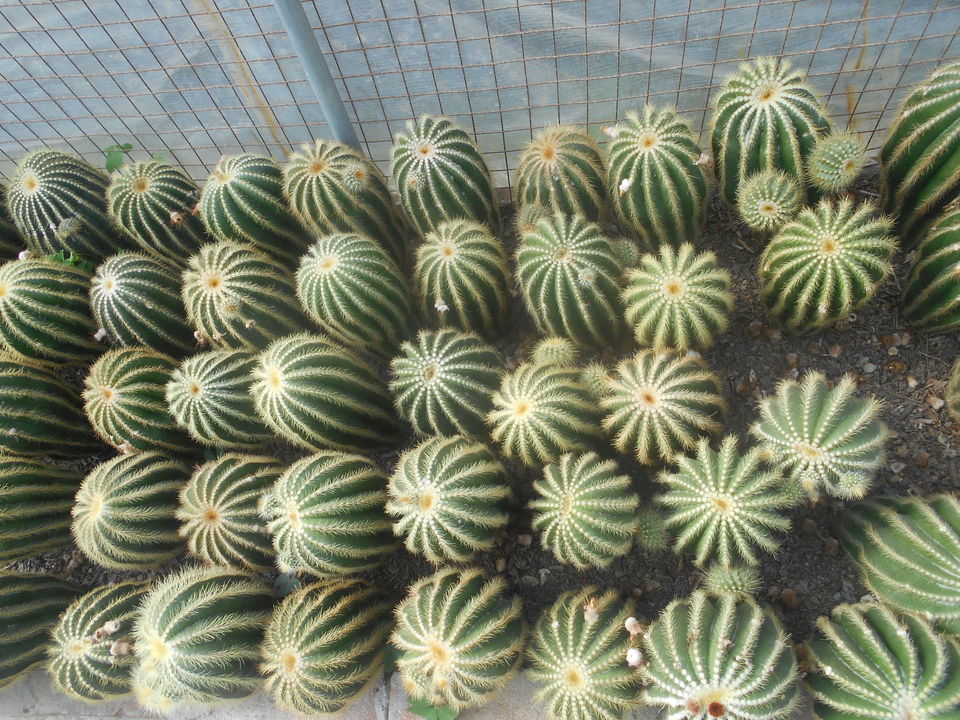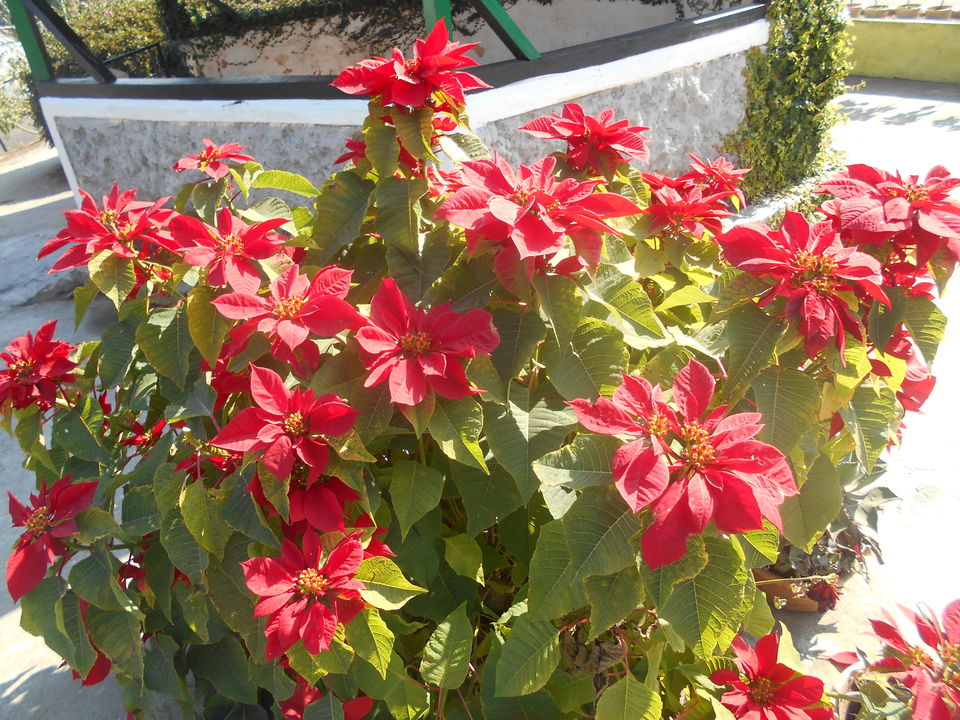 I wouldn't dwell long on Delo, because it was artificial and boring. It's nothing but a large park on a hill, on the top of which there is a Bungalow reserved for the VIPs, chief ministers and such. There were also arrangements for paragliding. Kalimpong is a pretty big town, sister to Darjeeling and Kurseong, and is always haunted by tourists. Like Darjeeling and Kurseong this too was built by the British as one of their summer sojourns. Now it's a big town, bustling with people, cars, hotels, houses and shops. Fortunately we were provided with a quaint little home-stay somewhat outside the city centre and it was quiet and cozy. After lunch, we went out immediately but there were only the markets to explore and I was running out of enthusiasm to hop around the numerous shops.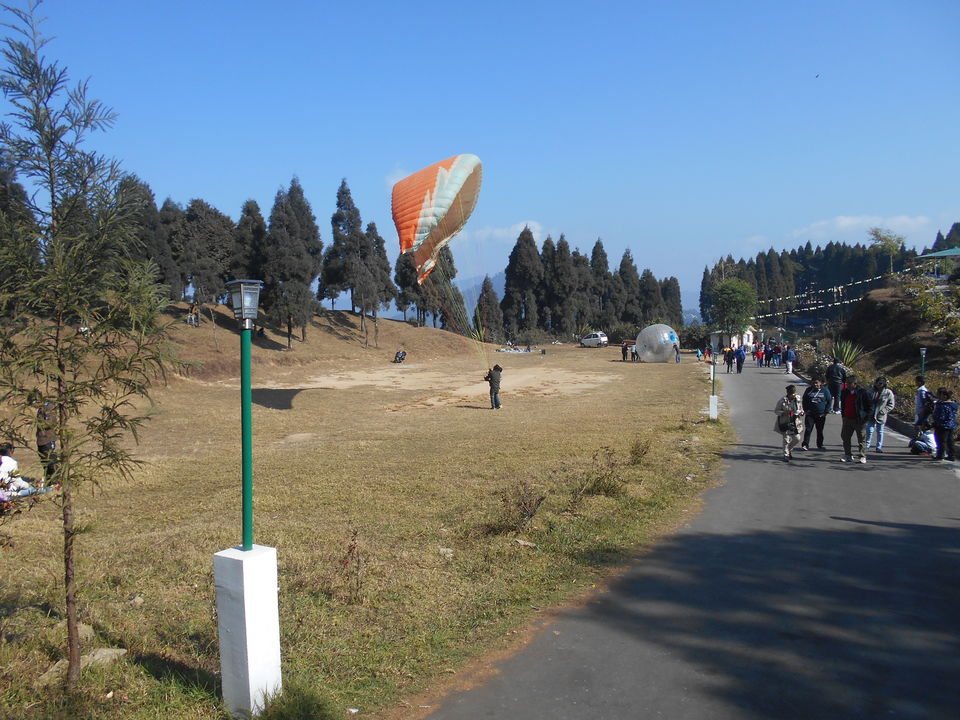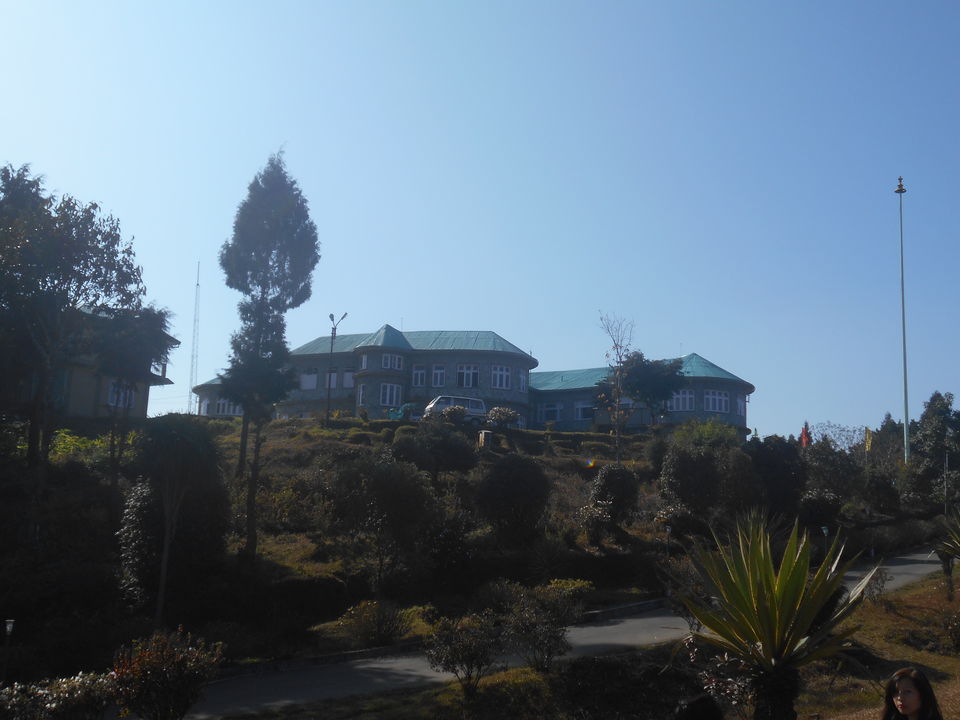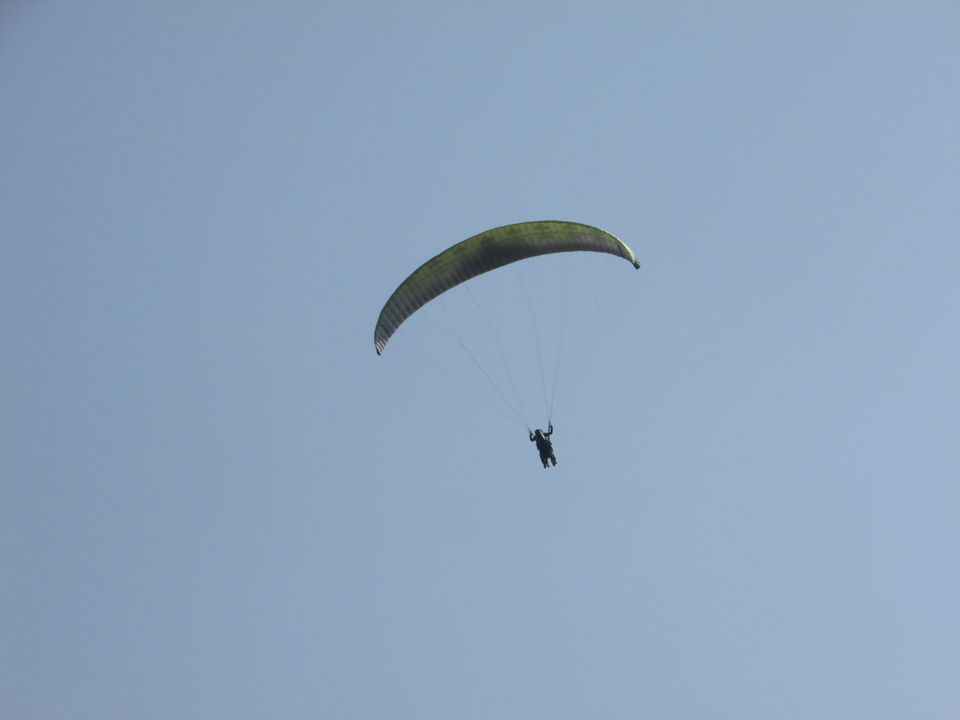 5th January.
A day given for Kalimpong and what did I do? I got up early, and sneaked out alone and followed one of the four roads which went in four directions from the City-centre clock-tower crossing. Sometimes, it's weird to wander about all by yourself because you always feel conscious and have to be on your guard. I walked for about 40 minutes and was on the verge of going out of the city when I decided to return. On my way back I also managed to befriend a local kid and his dog. Then I took off in another direction from the city-centre but soon lost interest in the noisy squalor of the roads and went back to the hotel. After breakfast, people being still enthusiastic about shopping, we went out again. Finally in the afternoon, Sudipa and I went for one of our walks and just wandered around aimlessly through some green lanes and back-roads generally avoiding the big streets.
6th January.
It was time to bid a goodbye to the hills and return to the plains. I would not lengthen this story anymore except one last mention of a nice place which lay by the Teesta river on the way to Siliguri. This was one of those places which your guide would enthusiastically point out to you as being popular destinations for film shooting. In this case, it turned out to be pretty good. It was just a piece of rocky shore of Teesta to be honest, but the river here was deep and speedily gushed over the boulders in a whirling motion. The river bed was of white sand and multi-coloured stones ( I got two pockets full) which stood out in stark comparison with the river which was characteristically green. It was here that we saw our last sunset in the hills in this vacation.