Duration of Stay: 3-5 days.
Situated: Near Kolkata, West Bengal; 4 hours by train from Howrah station.
Cost: Around 3 thousand for 4-5 days including train fare.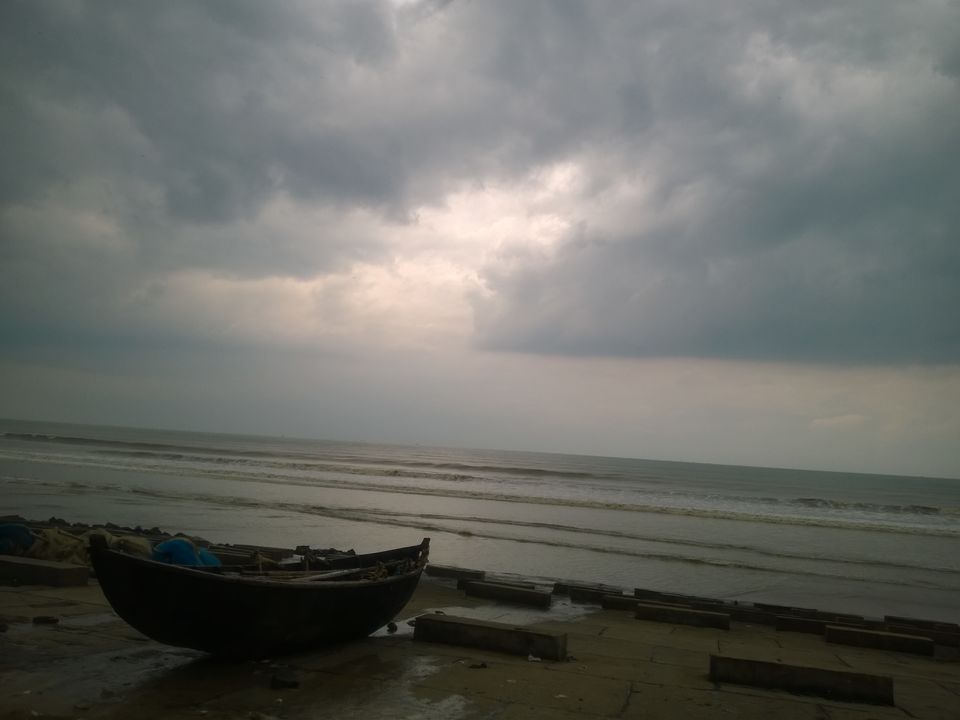 How to Go:
One can reach Shankarpur and Old or New Digha by bus, car or train. There are numerous buses available from Kolkata Esplanade Bus terminus; but generally buses take too long (almost 5-6 hours) and the fare is as much as or more than that of the train. The cheapest and most reasonable train is Tamralipta Express which leaves from Howrah station at 6.30 in the morning. The ticket price is only 100 rs for both the general and the reserved seats. One will easily reach Shankarpur around 10.15 ( the Rail-station is called Ramnagar), or New Digha station around 10.40 by this train.
From Ramnagar station, one needs to take a trekker (8-10 rupees per person) or a van-rickshaw (150 rs in total) to reach the hotels at Shankarpur beach. From New Digha station, one can take a rickshaw, toto or auto to reach the hotels or the beach.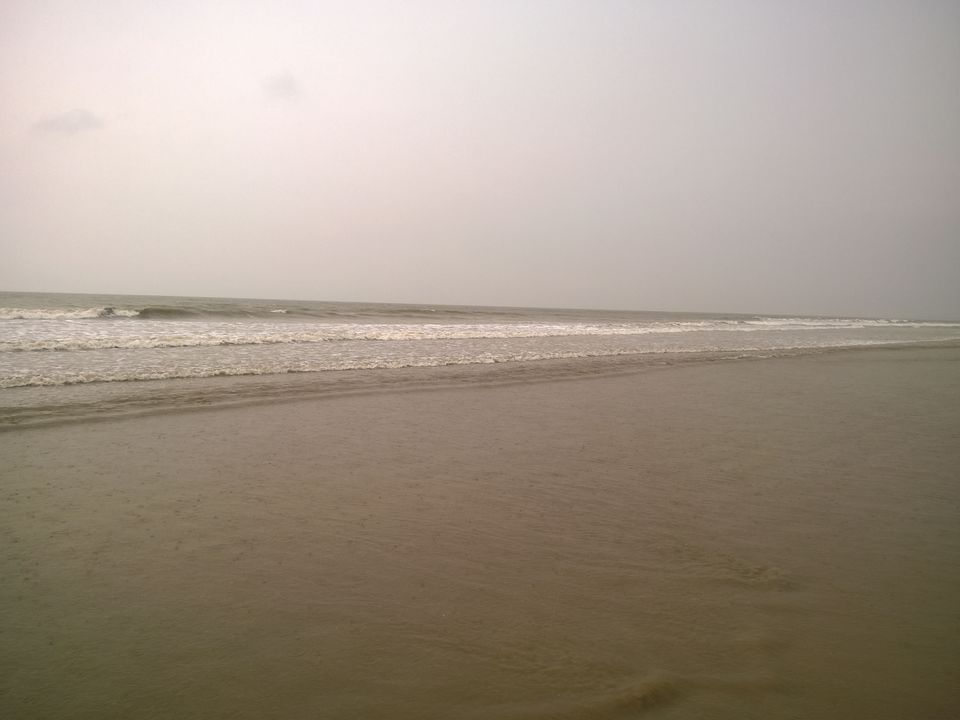 When to Go:
The Monsoon. The crowd is mostly absent then; in fact at Shankarpur it should be non-existent. We, the five friends who went to Shankarpur in late July this year, practically had the entire beach for ourselves. Digha, (Old or New), is always crowded. So, if you prefer solitude, Shankarpur is the best place to visit.
Also, if you could manage to visit on a full-moon night, it would be simply breath-taking. Sometimes, on the full-moon nights, the heavy tidal waves flush over the guard-walls in Old Digha and flood the streets. To be present there at such a time is a unique experience.
When Not to Go:
The National Holidays and the weekends.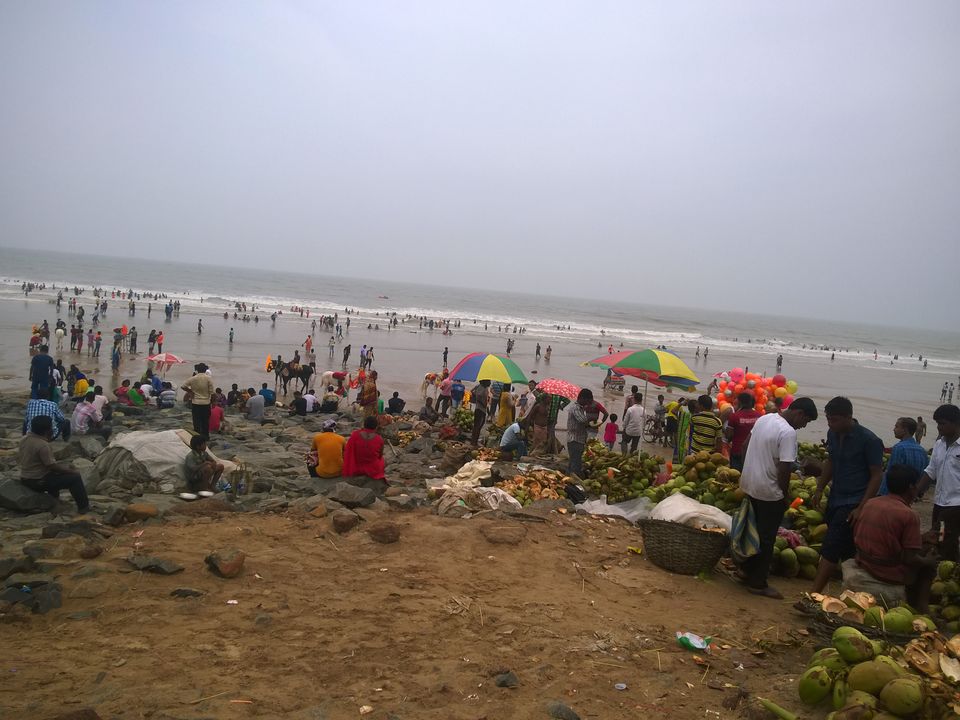 Where to Stay:
We would prefer Shankarpur to Digha any day. There are only 4/5 hotels right beside the sea beach and the Casuarina forests. One need not pre-book the rooms in the off-seasons and there would be scopes for haggling in the smaller lodges. We got a first floor sea-facing three-bedded room (which 5 of us shared) for 850 rupees per night.
At Old Digha and New Digha there are hundreds of hotels ranging from cheap budget ones to luxury establishments. One may choose to pre-book, depending on the seasons. We stayed at the West Bengal Youth Hostel dormitory which was very cheap but had too many regulations ( The gate closes at 10 pm and food and drinks are not allowed inside the rooms.) and lacked basic amenities too ( It has no generator for electricity and load-shedding is too frequent.).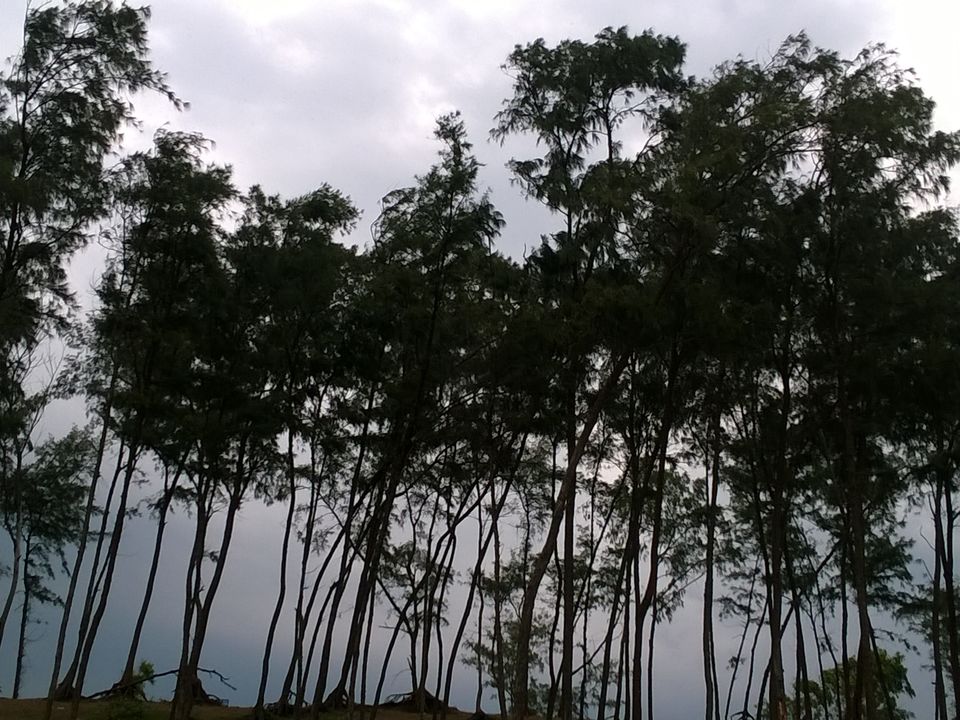 What and Where to Eat:
At Shankarpur, there are only a few shops of thatched-roofed huts near the beach where one can have breakfast, lunch and dinner. Needless to say, the food is very basic (egg-toast, rice, daal, fish-curry, egg-curry etc.). One can also choose to eat at the hotel where one is staying. Drinks are available at only one place near the beach and are expensive. Therefore if one intends to drink, it is definitely advisable to carry it from Kolkata. In addition one can always drink plenty of green coconuts at very cheap prices (20-30 rs for one).
In Old or New Digha, the options of eating out are much more extensive. There are all kinds of restaurants and hotels where pretty much everything is available. A good restaurant at New Digha is The Canteen, where a hearty rice-and-fish meal would cost around 90-160 rs. , depending on the type of fish.
Apart from that, in the afternoons, there are many beach-sides stalls at both the Dighas, which sell fried fish as snacks (25-65 rs a piece depending on the type and size). They are absolutely delicious if not so healthy. I always made sure to gorge on a few pieces of fish-fries and a glass of gola (A type of ice-candy where a handful of snow is dipped in a syrup of your choice--green mango/orange/cola etc.) during my afternoon strolls.
Where to Visit:
A reasonable itinerary for Shankarpur-Digha would be:
Day 1.
Reach New Digha by train at around 10.45.
Find a hotel, have lunch, and after a quick bit of rest, take a long stroll to Old Digha from New Digha, along the Beach Road. The distance is about 1-1.5 kilometre and the walk is extremely enjoyable. As you go along, the road eventually becomes solitary and is flanked at one side by the sea and at another by the green Casuarina forests. As the afternoon recedes into the evening, you can choose to sit on the low cement-wall or the benches which separate the road from the sea beach and watch the sun set and the moon rise. Then as you walk gradually towards Old Digha, you can listen to the chimes of the bells from the road-side temples and watch the city-lights of Old Digha slowly proceeding.
Spend the evening at Old Digha, walk along the road, have dinner on fish-fries and other such unhealthy delicacies and then head back to New Digha by a toto or auto. It only takes 10 minutes, so there is no need to hurry.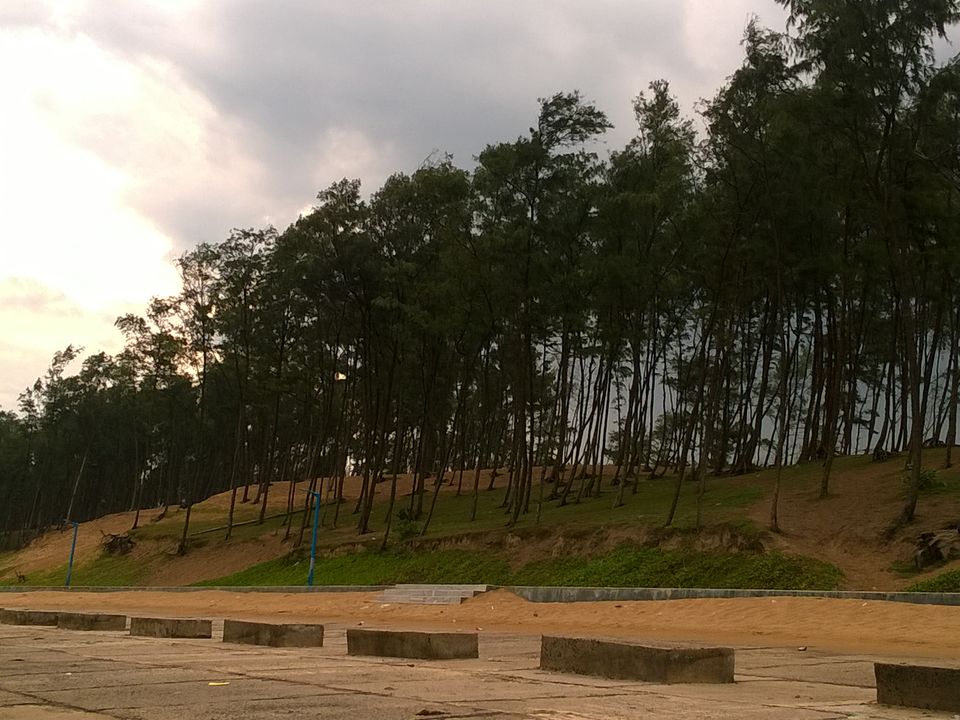 Day 2.
Get up early (at 4 in the morning) and stroll on the sea-beach to watch the sun-rise; you can even choose have a bath in the morning if the tide is not on the point of returning. I especially liked those morning baths because then the beach was clean and wide and the water clear and green.
Have breakfast, usually luchi and daal (10 rs a plate) on your way back and reserve an auto or a car for a day trip to Mondarmoni, Tajpur and Mohana. It is advisable not to book a Toto or a Motor-Van. Generally the Autos would also include Shankarpur in this trip but you should skip it if you plan to visit Shankarpur later in your trip, as we did. The booking would cost around 1000 rs and the auto can accommodate 5 persons easily. Haggling is a must-do.
Go to Mondarmoni but you are most likely to be disappointed because the beach is not good at all. At least I did not like it. So, without wasting much time here, go immediately to Tajpur.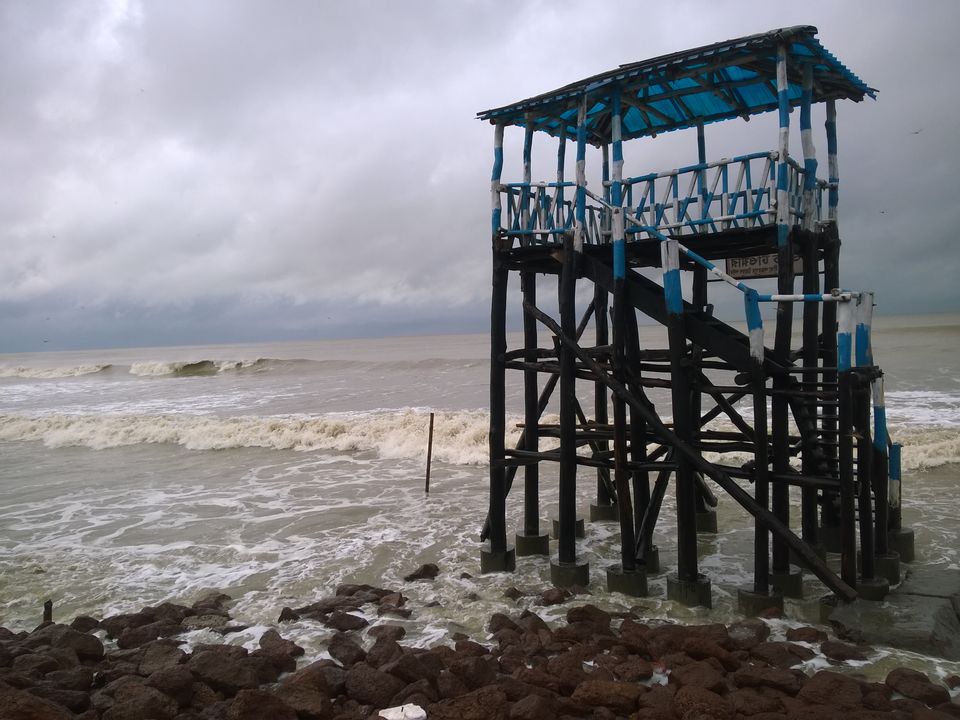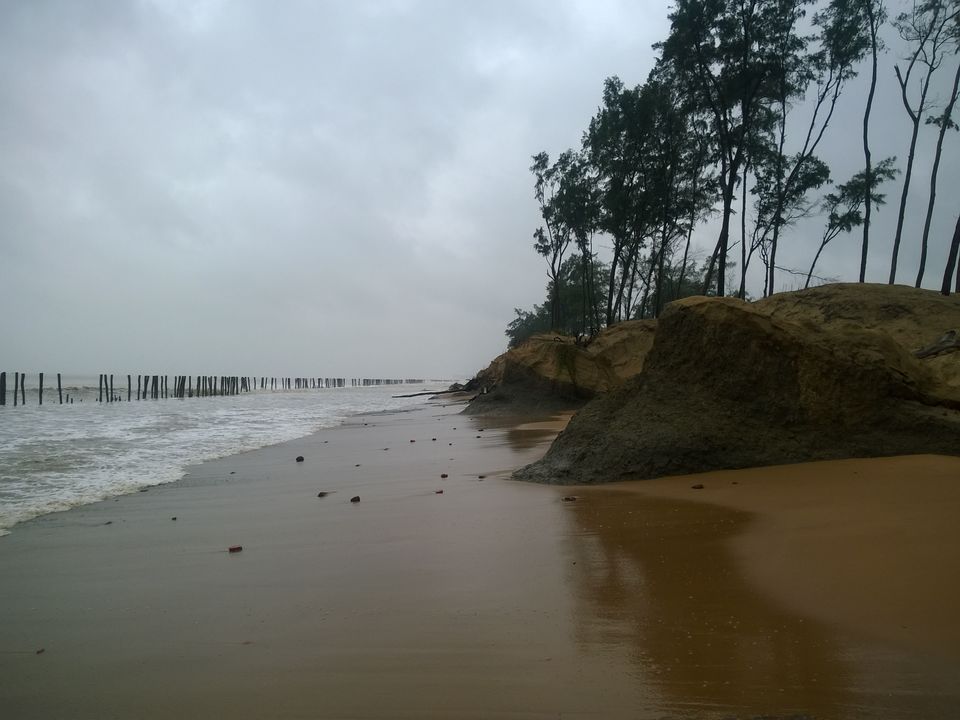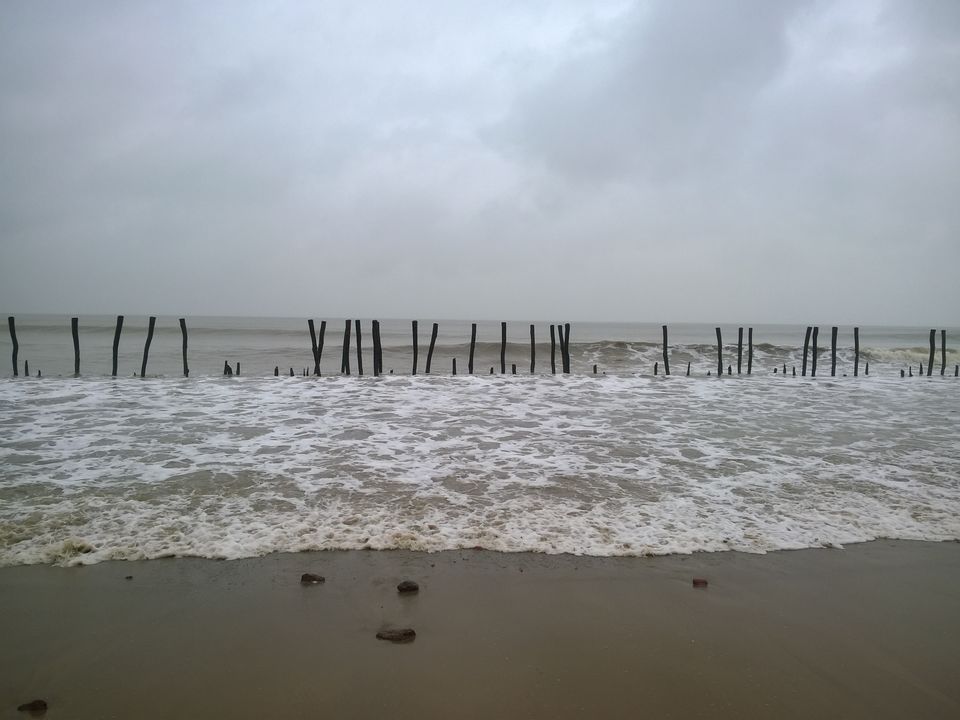 Tajpur is simply marvelous. It is a weekend destination in itself for those who have a larger budget and can afford staying in resorts, because there is no budget-stay at Tajpur. The beach is serene and completely empty. The sand is a bright white and the woods seem to come down straight to the beach. A stroll around the beach is highly recommended and you can even have lunch on the beach itself, because there are a few shops nearby which have make-shift arrangements for setting up tables and chairs under colourful canopies on the beach, and will cook and serve you steaming rice and fish curry if you order.
The next stop would be the Mohana or the confluence of Champa river, where there is a large stinky fish market, a low dyke made of boulders and a long stretch of beach. It was raining heavily by the time we reached this place and the beach was golden and seemed to stretch for miles. We collected a lot of sea-shells and watched a few people hunting for crabs in knee-deep mud on the other side of the dyke.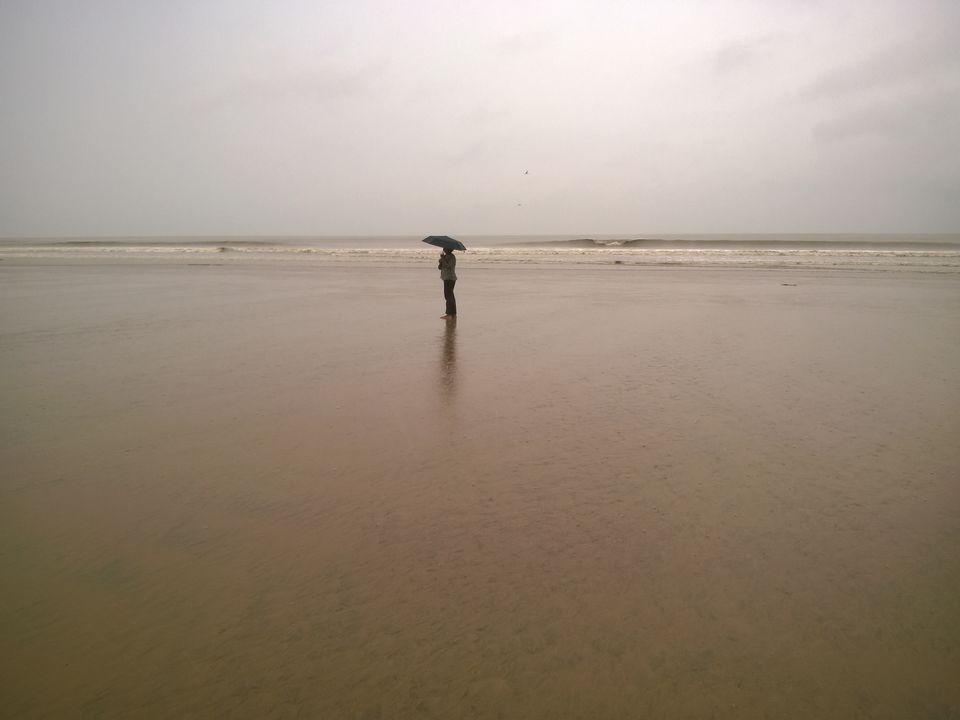 Come back to the hotel and take a brief siesta, after which you can go to the beach and spend a leisurely evening by the sea-side. Perhaps sit on the boulders and watch the phosphorescent waves at night.
Day 3:
Get up early in the morning, go to the beach and take a long walk again, but this time in the opposite direction, towards the Udaypur sea beach. It is another 1.5 kilometre walk along the straight Beach road. You can get down on the beach too and walk on the wet sand if the tide is low, which it would be in the very early mornings. We enjoyed the walk in heavy rains and sought refuse in a hut at Udaypur. Udaypur is a solitary fishing-village and there is hardly any accommodation nearby. A resort called Oceania is possibly the only option for staying. Even a proper tea-stall is quite hard to find.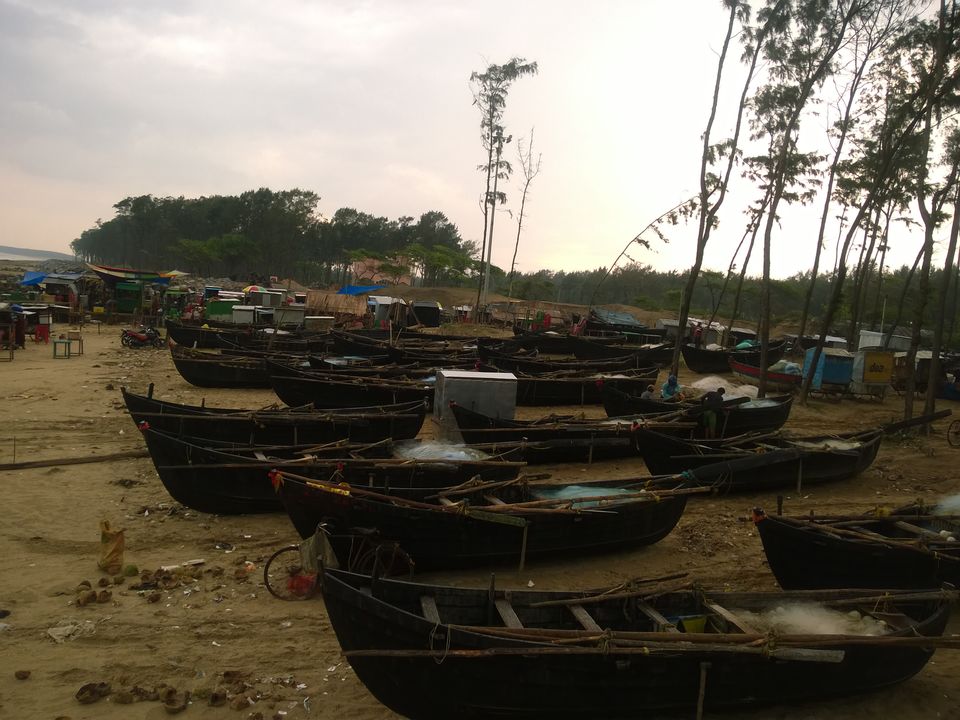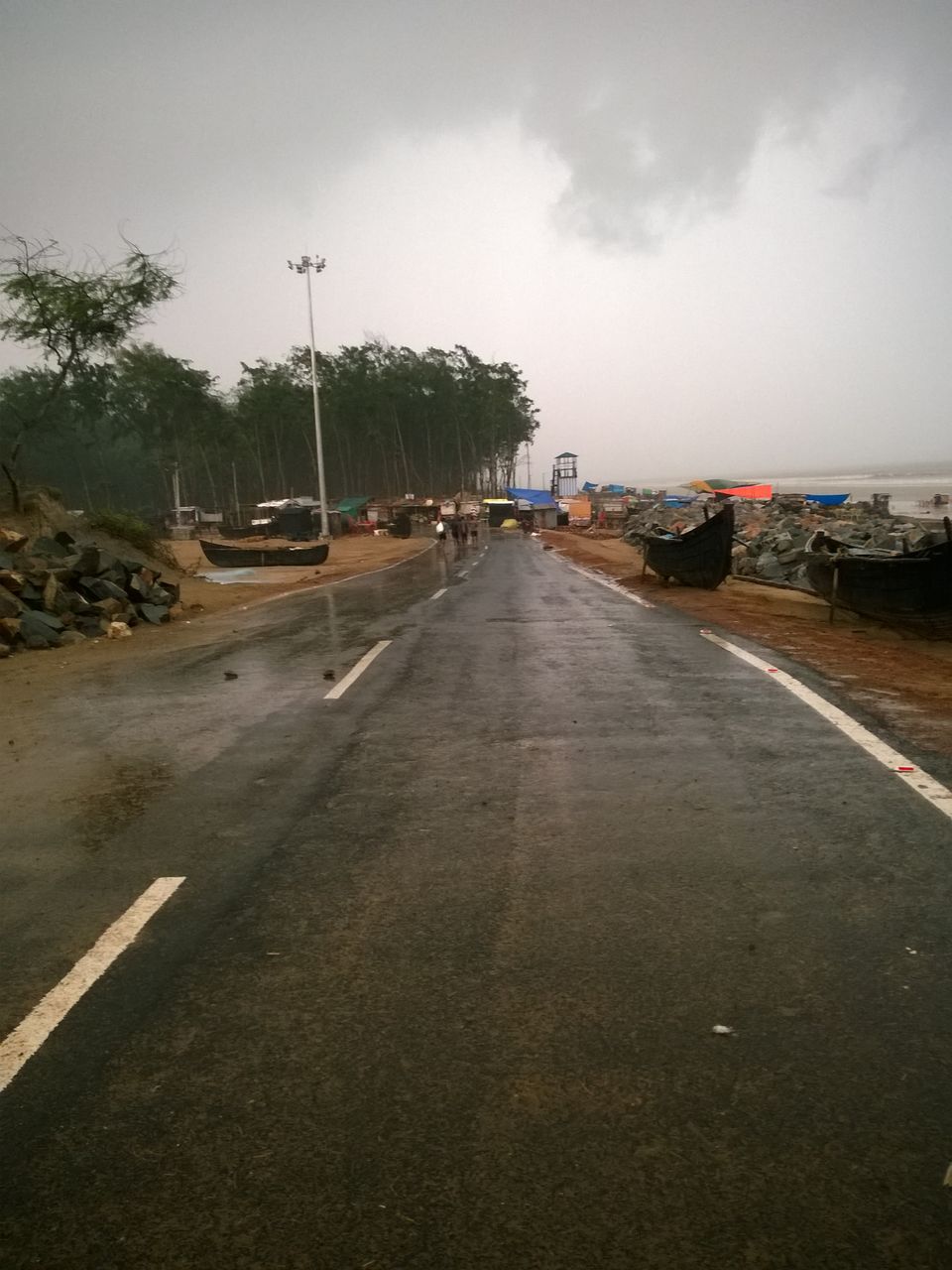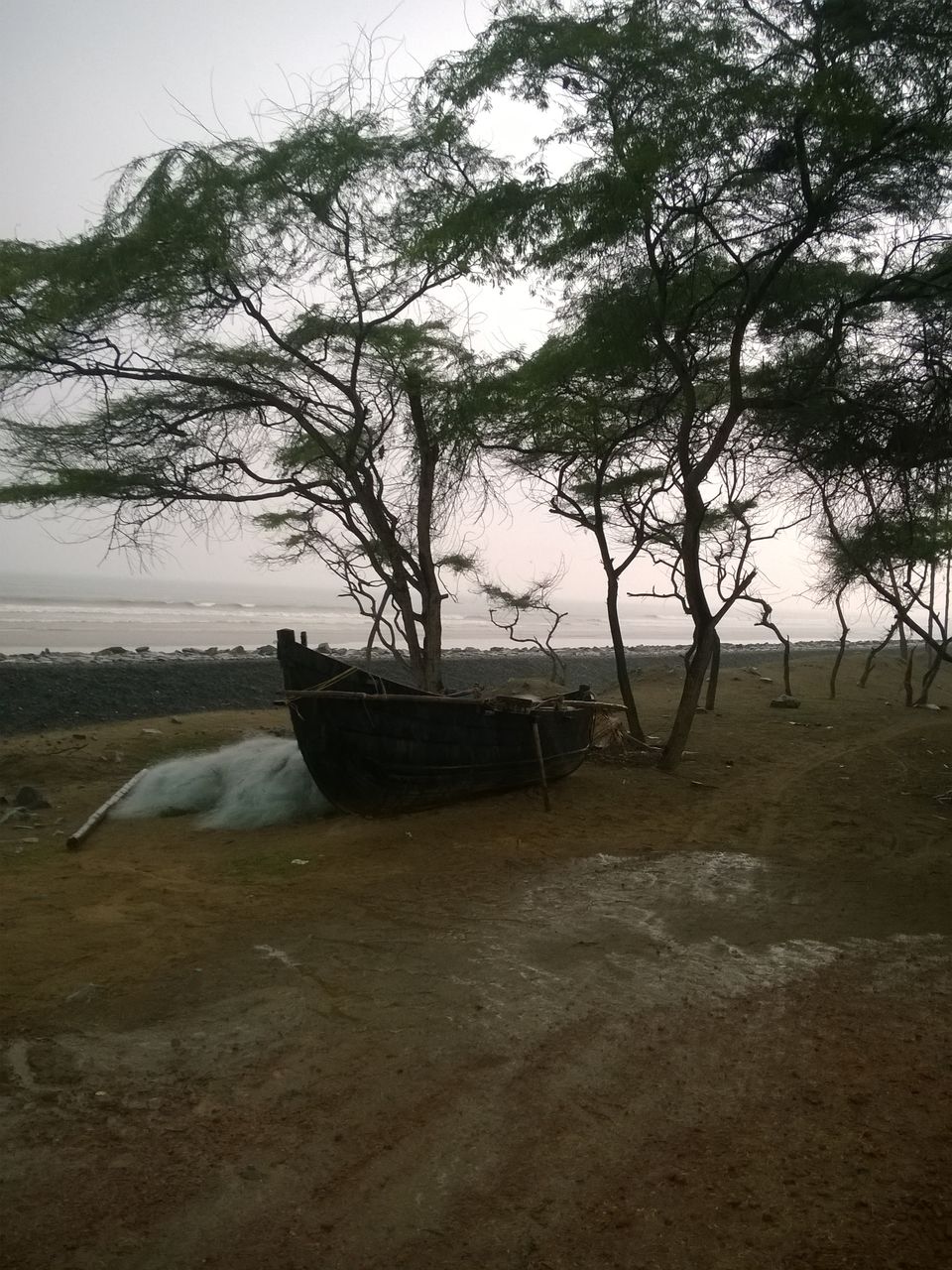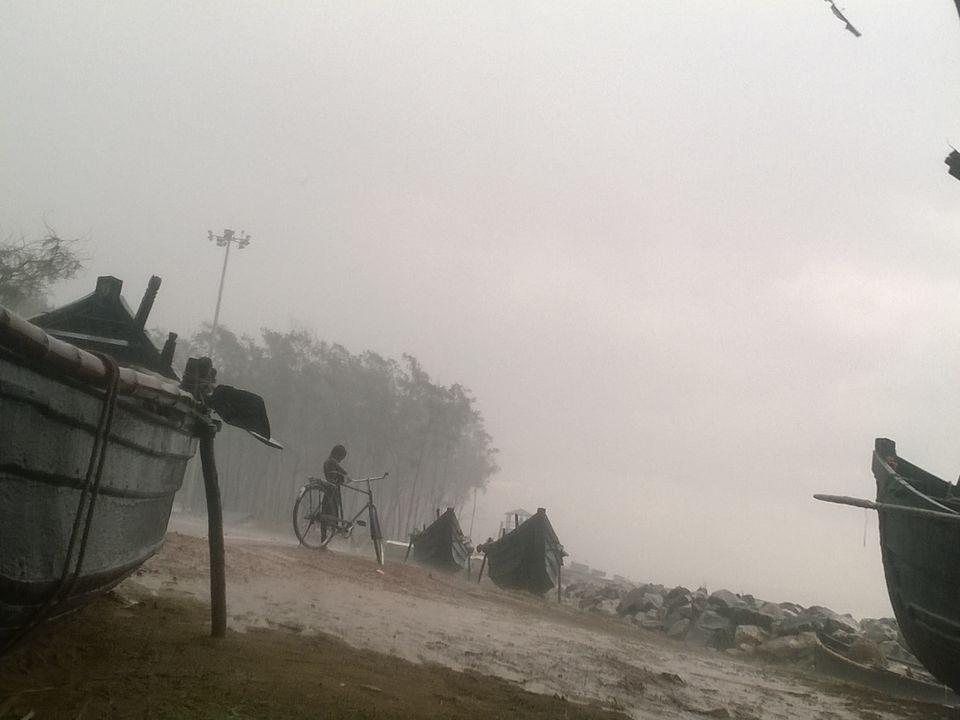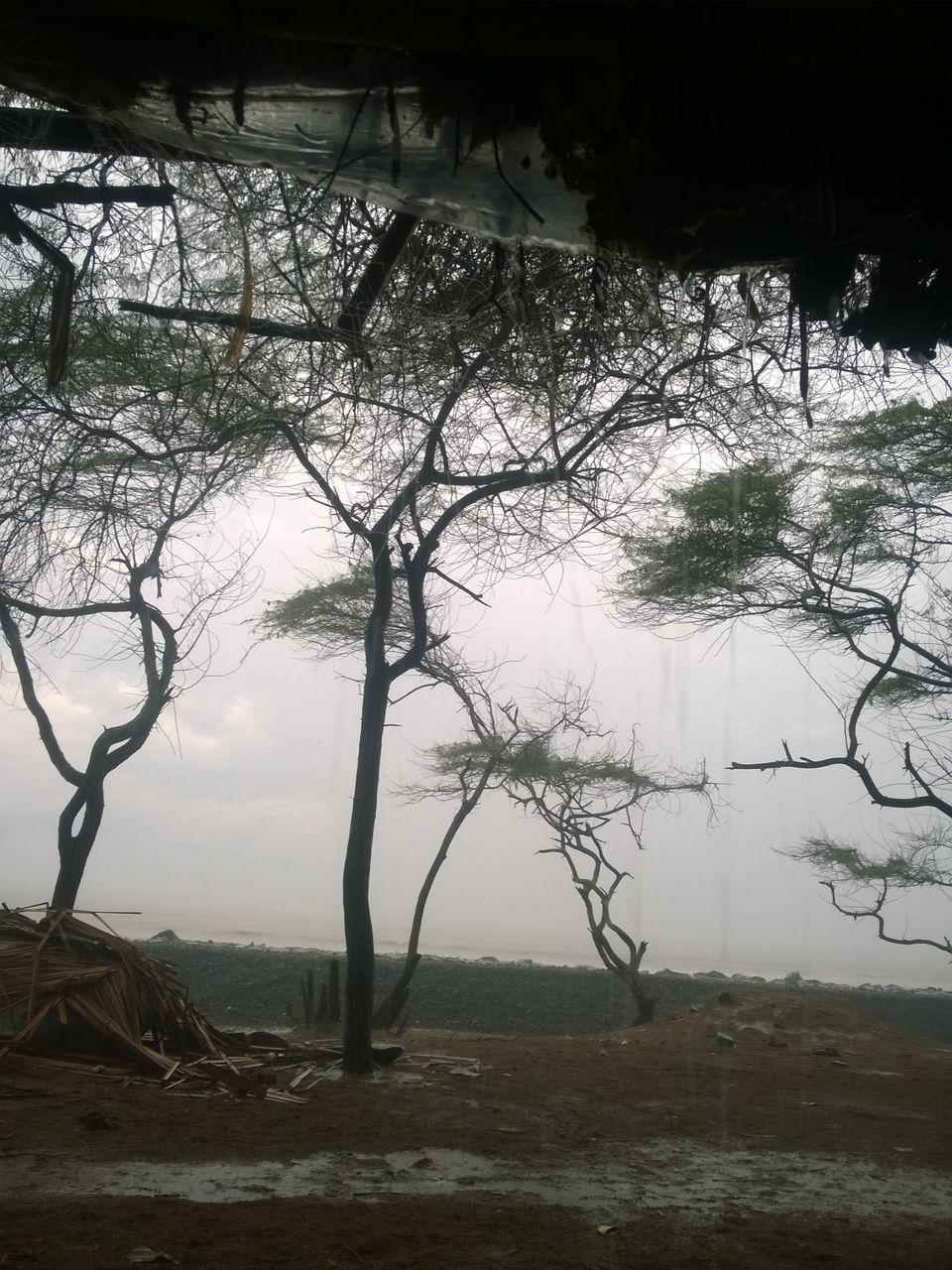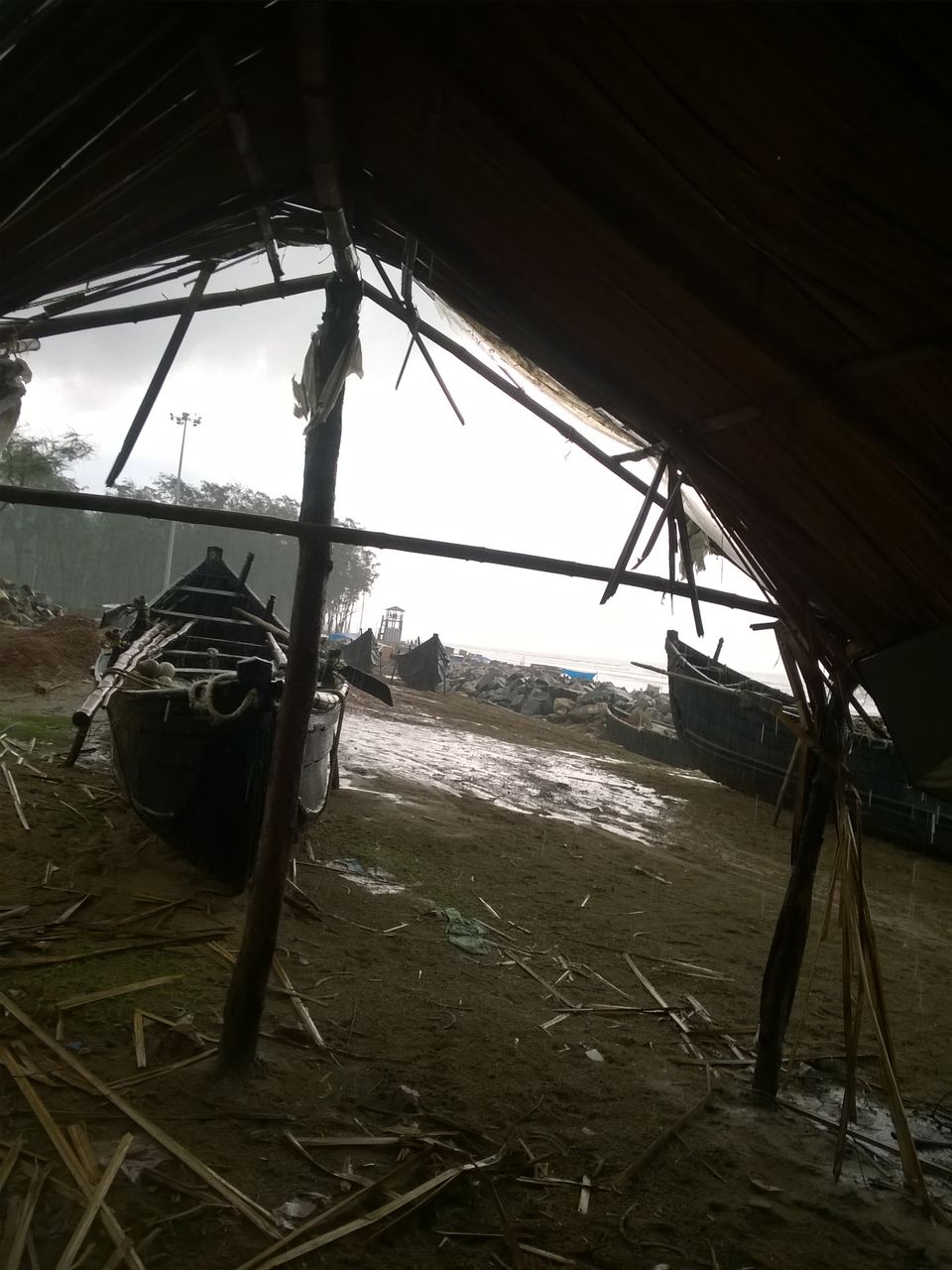 Hire a Motor-Van for 150-200 rs. to come back to the hotel or go straight to Talsari. Talsari is an island-beach at the confluence of Subarnarekha river and there are boats to take people from the bank of the river to the island. It is beautiful in its own way but you can only take a stroll. We took a quick one.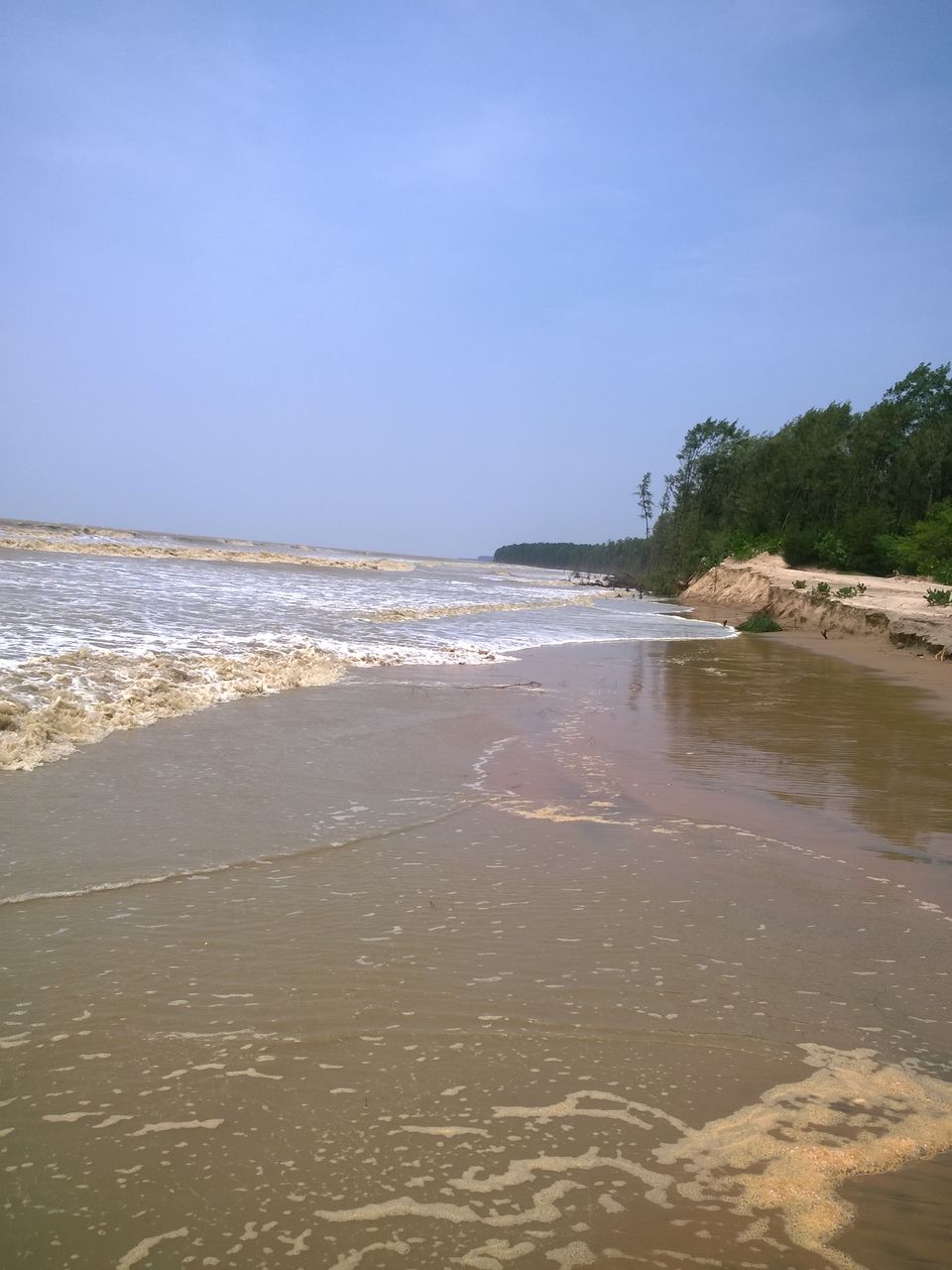 After that we came back to the hotel.
Day 4.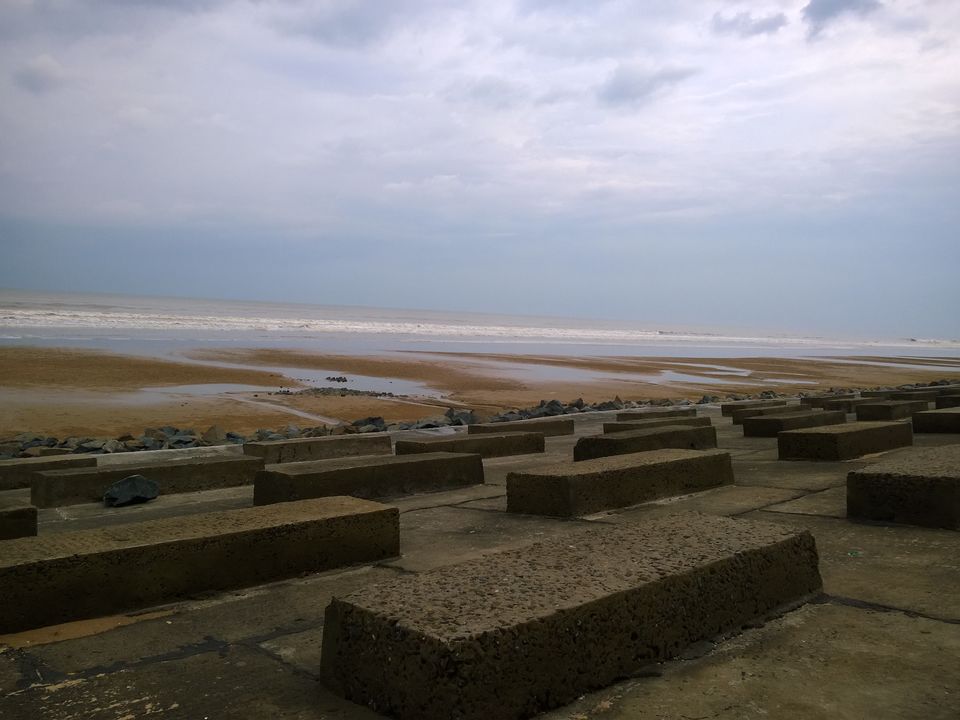 Pack up and leave for Shankarpur. You'll have to hire an Auto again and that would cost more; or take a bus to a stop called 14 mile and hire a trekker or van-rickshaw from there to reach the beach. Or, Take the train Tamralipta Express at around 1o from New Digha and get down at Ramnagar station and reach Shankarpur by trekker.
Find a hotel and go to the sea-side, to enjoy the calm and solitude of Shankarpur after the probable squalor of Digha. There is absolutely nothing you can do in Shankarpur, except sitting or lying by the sea on the cement-benches and gossiping. It is a perfect place for simply relaxing.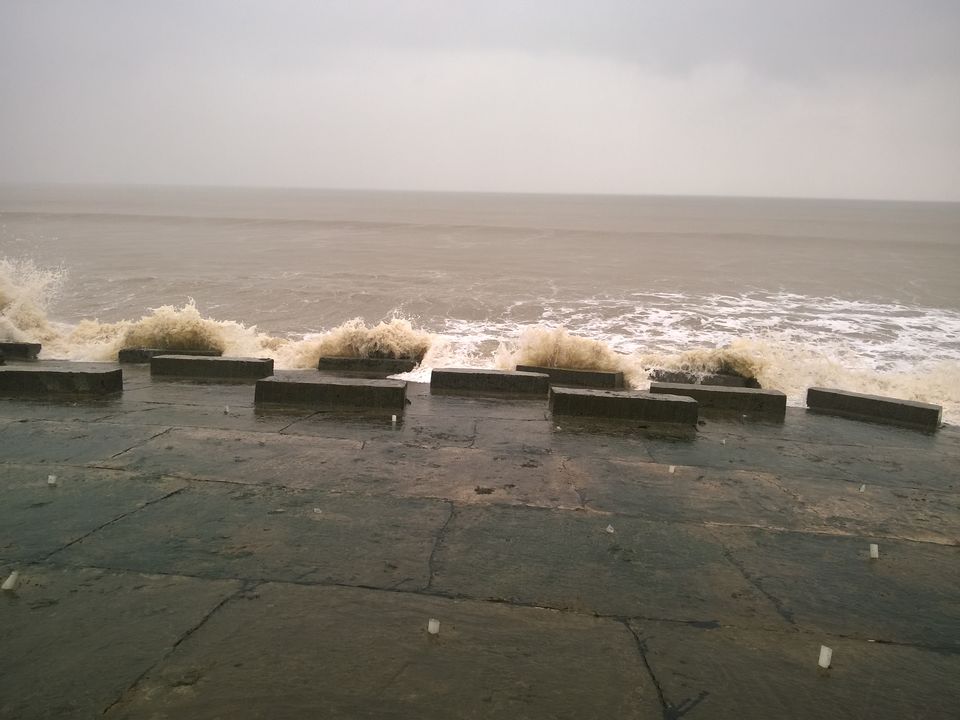 Now that you are in Shankarpur, you are free to use your unofficial private beach as you like.
Take a bath in the sea in the late morning, around 12.30 or 1 and you can stay in until at least 3.30. Well, we did at least; and had an amazing time in general because we had strolled away a little from the beach close to the road to seek a lonely spot; and when we found it, we stripped down to our underwear and splashed around in the water for a long time because, believe it or not, we were the only 5 to be bathing the sea for the entire length of the beach.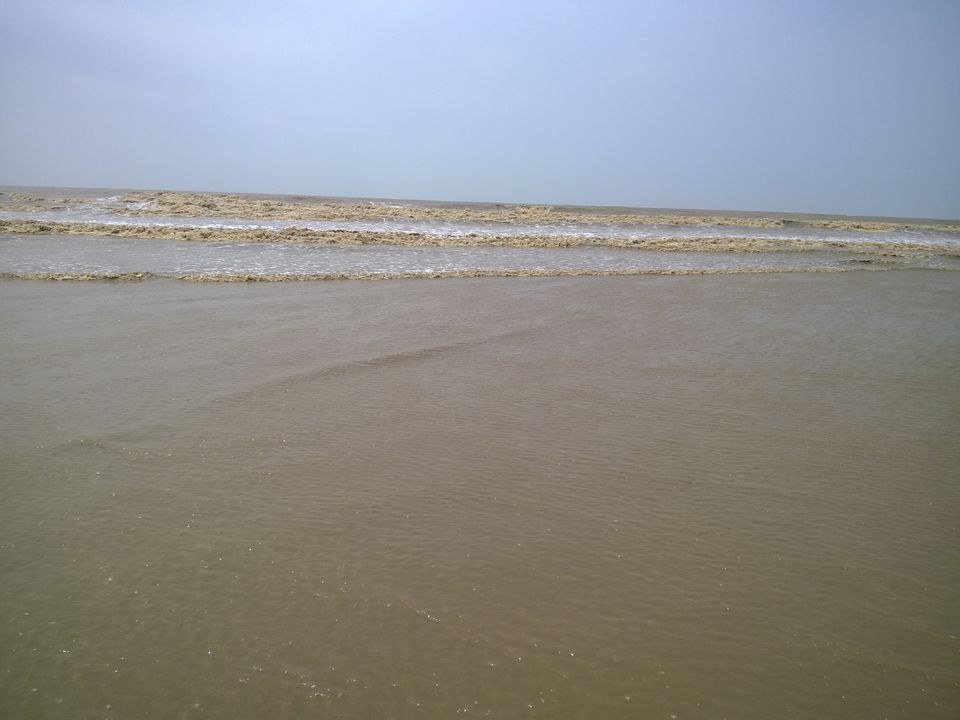 Day 5:
The next day, we bathed in the sea again and had some really long walks; one can even walk up to the other side of the Champa river at the Mohana if one likes; but then one would have to walk back the entire length again, and the beach being absolutely empty (There is not even a single shop to be found, and there is no road by the beach; only casuarina, cactus and eucalyptus forests), we didn't venture that much. But we collected sea-shells and had an extremely good time.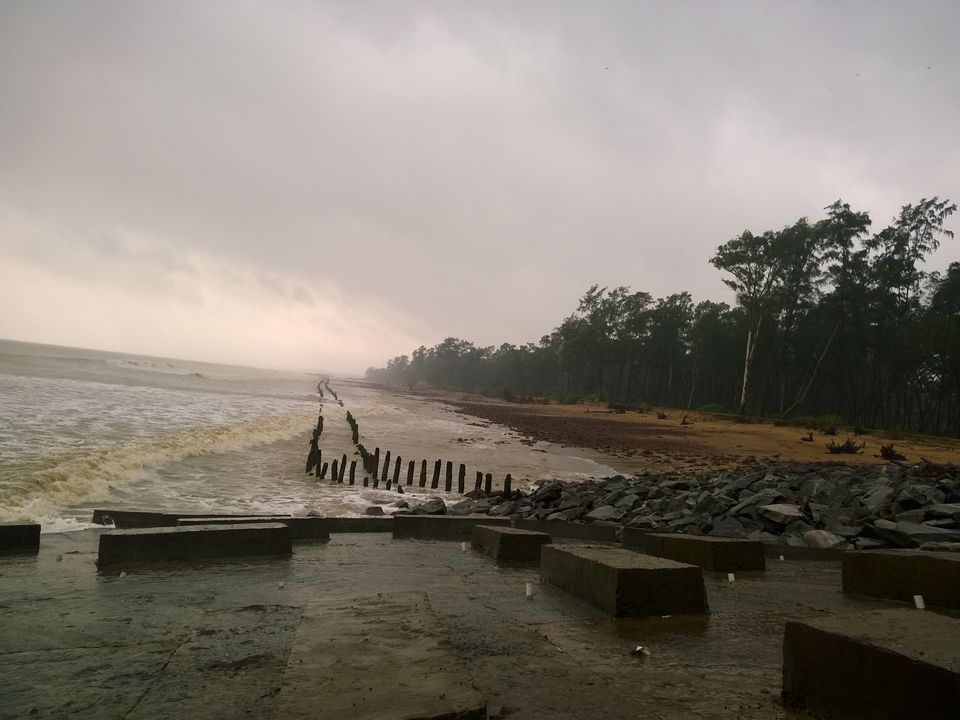 The forests by the beach are beautiful and sometimes they are divided by some sand dunes. So one could explore those too.
The next morning, we boarded the Tamralipta Express from Ramnagar station around 10.3o and came back to Kolkata.