A couple of weeks back, I wrote a post about the ancient forgotten city of Palestrina near Rome in the Lazio region which hosts a prominent temple that is even older than the Roman Empire. Apart from Palestrina, Ivano – my host in Zagarolo (Check Olive Tree Hill), told us about the many hidden stories in the Lazio region. Now, let's explore the renaissance villas of Tivoli near Rome.
This was probably the only location in Italy I've been to where there were more locals traveling than tourists. I was happy to have stumbled on to this timeless beauty, thanks to Ivano.The popularity of this Italian paradise is now on the rise and for a good reason.
This hilltop town is a perfect escape from the Rome, and moreover, the ancient Romans thought so too. Tivoli has been a popular summer residence among ancient Romans due to its higher altitude and cooler temperatures. Also, thanks to its proximity to 2nd century Hadrian's Villa.
Two of the three sprawling Renaissance villas in Tivoli, Italy – Villa Adriana and Villa d'Este are UNESCO World Heritage sites as well.
Spend a day in Tivoli to explore the sprawling villas and masterpiece gardens of Tivoli. Start by taking a 15 min bus ride to Villa Adriana from Tivoli center, and back, followed by walking to Villa Gregoriana from Tivoli center and then to Villa D'Este.
Traveling to Italy from India? Here's a DIY Guide for scoring a Schengen Visa through Italy.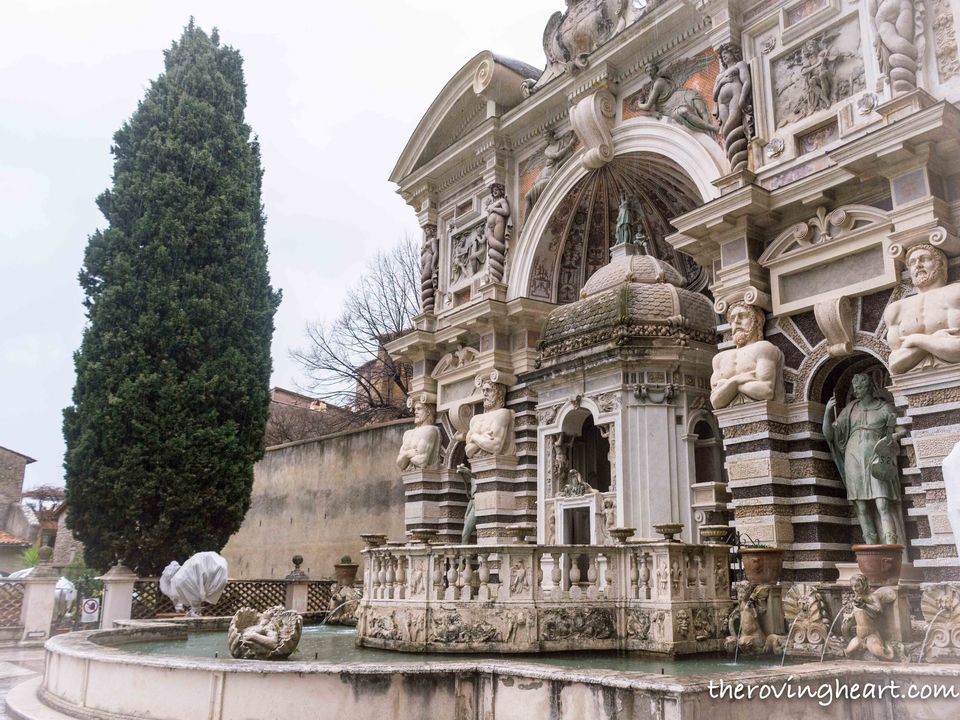 Villa Adriana, Tivoli, Italy
The prominent and wealthy Romans built villas as a retreat from everyday life. And Hadrian's villa is no different.
Hadrians Villa (6 km away from Tivoli town) served a retreat to Roman Emperor Hadrian. Apparently, the Roman Emperor disliked the palace in Palatine Hill, and it seemed to have led to building the Hadrian Villa near Tivoli. It has a charming mix of ruins and natural landscapes.
"It is over ten times bigger than the forum in Rome and is much better preserved.", Ivano claimed.
Maybe if you are familiar with the attractions of Rome, you might have come across Castel St. Angelo in Rome. But did you know that it wasn't meant to be fortress at the start? The Roman emperor Hadrian built a Tomb for himself and his families as the previous one was filled in this location. And it served for over 100 years of emperors and their families since then. Later, they built a fortress on top of it. It now even houses a prison and torture chamber. And, we are talking about the same emperor's villa in Tivoli here.
The C.A.T. Company (Urban Local Transportation of Tivoli) offers connections departing from Tivoli centre to Villa Adriana.
Entrance fee: 8 Eur.
Opens at 9 am. The closing timings vary depending on the months. Find more information about it here.
Reserve to spend at least a couple of hours here.
Villa Gregoriana, Tivoli, Italy
Built on the precipice of the Aniene river and fluvial slopes of Monte Catillo, Villa Gregoriana is best known for its nature trail passing through waterfalls, forests, and caves – it's an experience right in the lap of nature.
It includes a downhill walk for about 1km, and then uphill climb to finally reach the villa. Honestly, I was more amused by the nature walk than the villa.
It takes about 1.5 – 2 hours to complete the nature trail.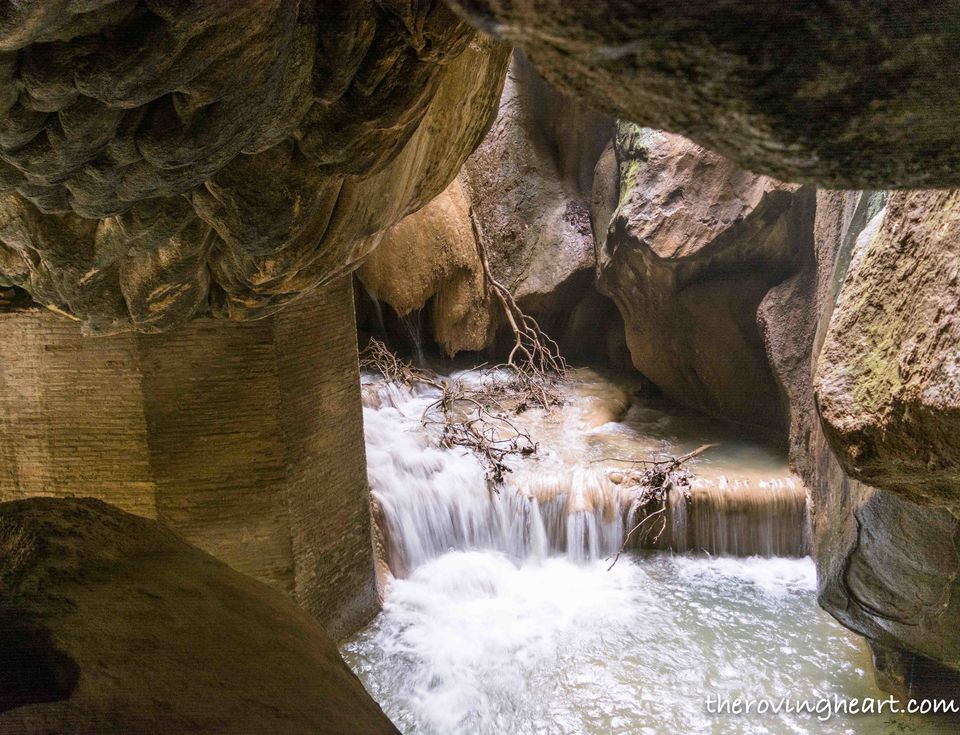 Entrance fee: 6 Eur
Timings: 10 am – 3.30 pm (March, November and December). Last admission at 2.30 pm.
10 am – 6.30 pm (April, October). Last admission at 5.30 pm.
It's closed on Mondays.
Reserve at least a couple of hours here.
Villa d'Este, Tivoli, Italy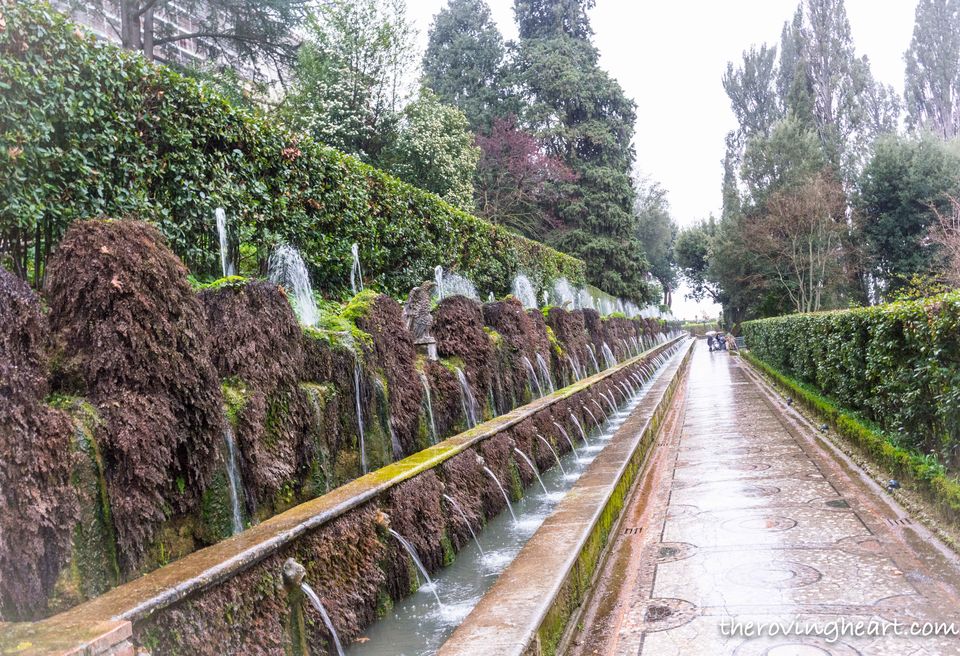 Even though the gardens in Villa d'Este pales in comparison to the sheer size of the Versailles gardens, the architecture and the layout of these villas was an inspiration for the well known Versailles gardens in France. And in extension, it serves as an inspiration to garden design throughout Europe.
This 16th-century villa commissioned by Ippolito II d'Este – the richest cardinal of his time, stands as a testimony to the brilliant Italian gardens.
Villa d'Este is especially acclaimed for its terraced Italian Renaissance garden. This garden also hosts a bewildering 500 fountains ranging from Fountain of dragons, Neptune, eagles, Organ, Pegasus, and so on. Each with its own distinct architecture depicting the name of the fountain.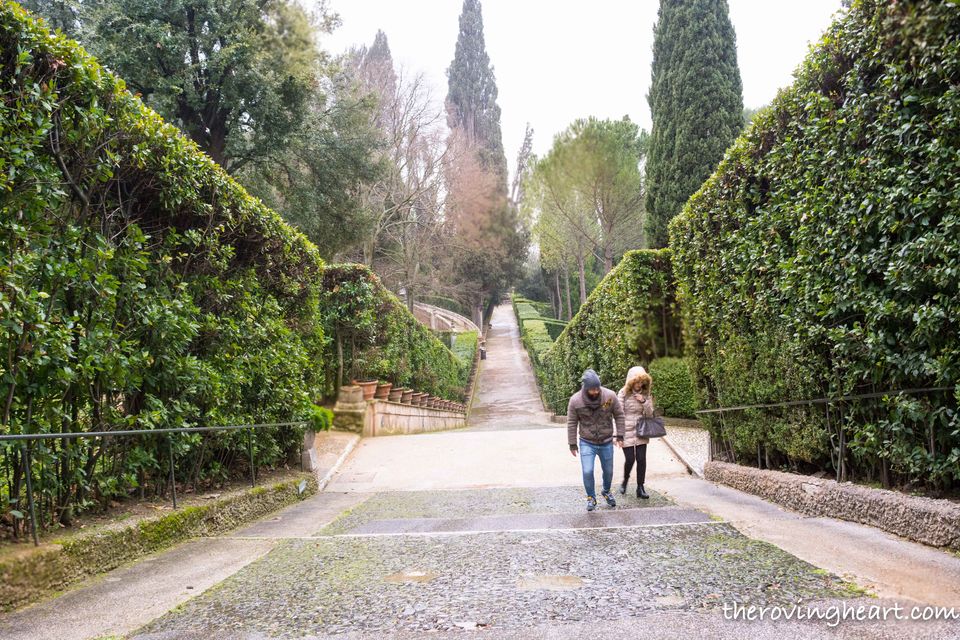 Timings: 8.30 am – 7.45 pm (6.45 pm last entrance). Plan to visit latest by 3.30 pm to take advantage of the full location. The hydraulic organ of the Organ Fountain is active daily, from 10.30 am, every two hours and last show at 4.30 pm. The garden closes at around 5 pm.
Entrance Fee: 8 Eur/ 4 Eur after 4 pm
Reserve at least a couple of hours here.
Apart from the three villas mentioned above, you can explore the Sanctuary of Hercules Victor, Sanctuary of the Madonna of Quintiliolo and thermal baths in Tivoli. Find the Tivoli itineraries here.
More information at therovingheart.com